The 2022 MotoGP season is now well past the halfway point, and much like in 2021, it seems like the Ducati effort, headed by number one rider Pecco Bagnaia, is already out of the running.
But given Bagnaia was able to make an exceptional comeback last year and with his rivals suffering in recent rounds, is there still a faint chance that he can claw his way back into the fight?
That's something that at least one of those rivals, Aleix Espargaro, believes.
Currently runner-up to reigning champion Fabio Quartararo in the standings, Espargaro's had his fair share of bad luck in recent races thanks first to being pushed off-track by Quartararo at Assen and then racing injured at Silverstone in a monster practice high-side.
Of course, Quartararo, who fell in the contact with Espargaro at the Dutch TT and was then forced to serve a penalty for it in the British Grand Prix, is still very much in control of the standings.
He sits 22 points clear of closest rival Espargaro, a gap that has fallen in recent weeks from a post-Sachsenring peak of 34, but is still quite comfortable all things considered.
But behind him, there is no question that the race is tightening up, with consecutive wins from Bagnaia (quick to capitalise on his rivals' troubles) meaning that he's now another 27 points back on Espargaro.
Though on paper there remains a fairly significant 49-point disadvantage to Quartararo, it's worth noting that it's significantly less than the 70-point deficit Bagnaia had at this point last year. And he got that down to 26 by the end, even with crashing from the lead at Misano.
"Today, I think that they've really made a big step in terms of championship," Espargaro admitted of Ducati after Bagnaia's win at Silverstone.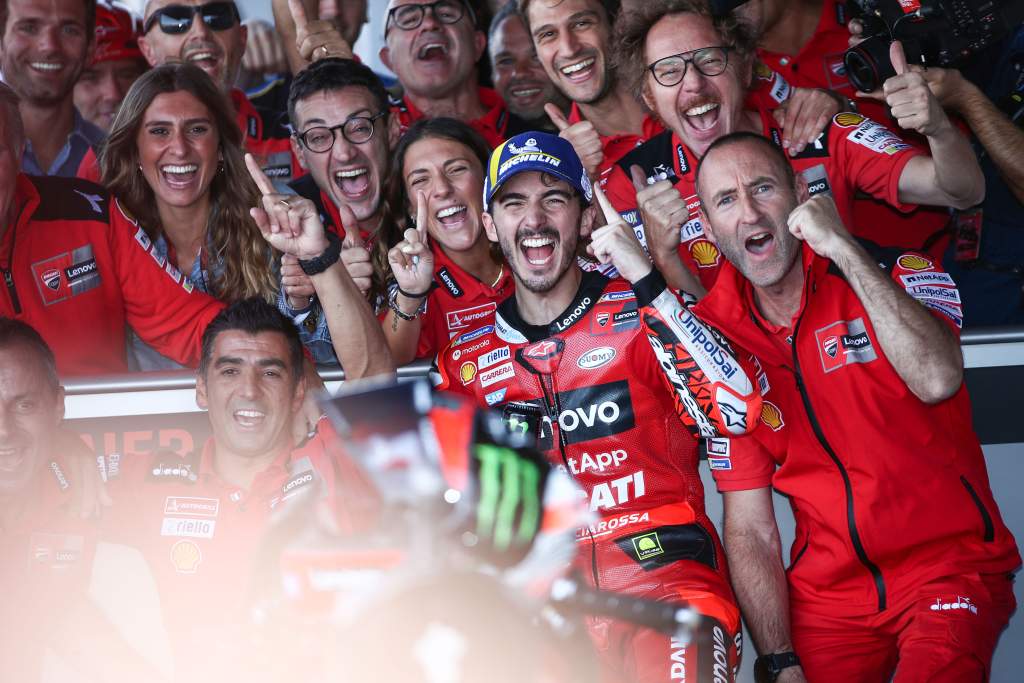 "It's not an easy job for them because they're still at two races [win points] of a disadvantage, but they have a lot of bikes, they can do a lot of teamwork, and they go to some good circuits for Pecco like Austria and Misano.
"Everything is open, and I think we have a very tight last eight races in terms of the championship."
But while there might well be a chance for Bagnaia to continue closing down the gap at the coming races, is there really a chance for the Italian to truly launch himself back into contention for the ultimate crown in only eight races?
The simple fact of the matter so far is that, given his form so far this year, it's frankly going to take something more significant than maintaining his current form to continue to close down Quartararo and Espargaro. It's going to take a full psychological shift from last year's runner-up, given the spotty nature of his record so far this season.
After 12 races, Bagnaia's won four of them – more than anyone else.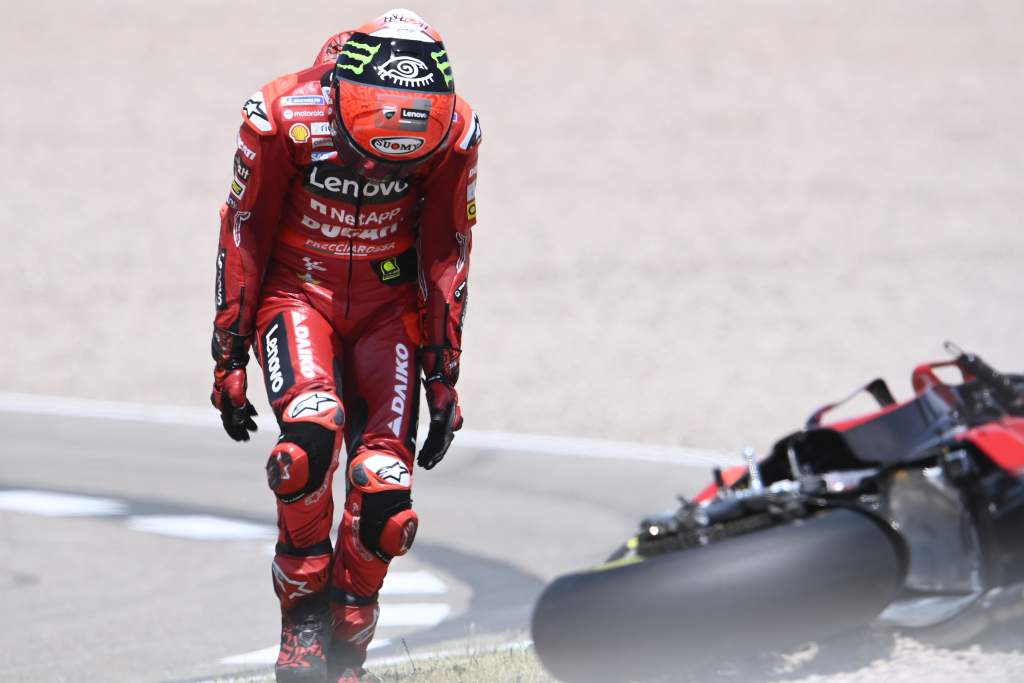 However, crashing out of a further four (including the race after both of his first two wins of the year at Jerez and Mugello), is a big contrast with both of his rivals.
Quartararo has failed to score only once this season, at Assen, while Espargaro has largely built a title tilt on consistency alone – and in fact is the only rider on the current grid to have scored points in every single race.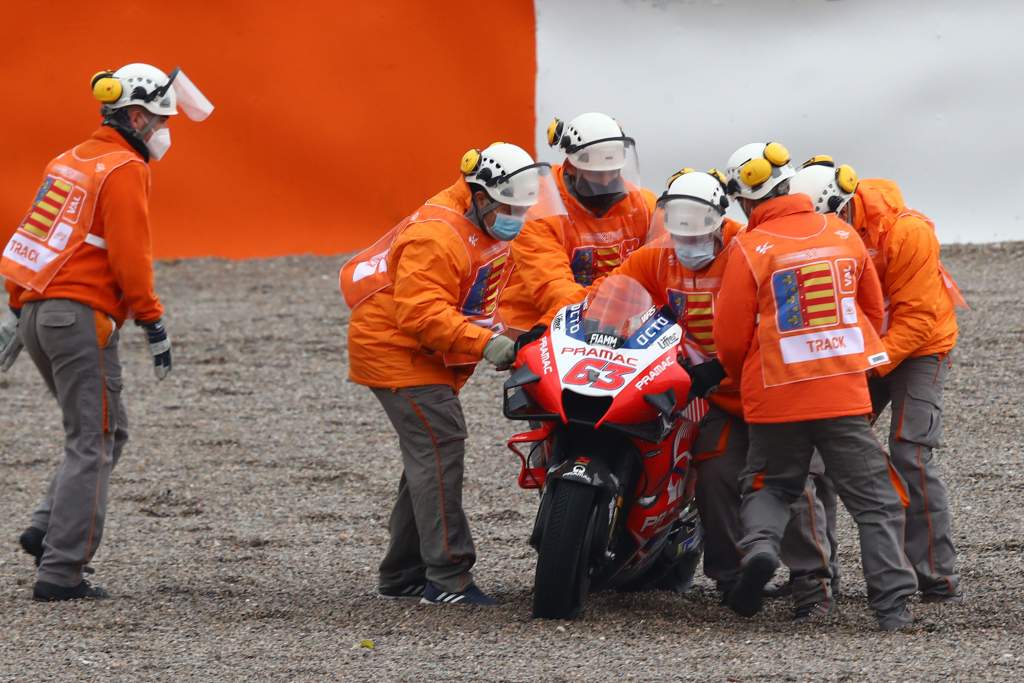 And, in reality, consistency is something that Bagnaia has always struggled with, with his 2020 sophomore season in particular being hit with crashes. He fell six times from 14 races and failed to start another three thanks to injuries sustained in practice at Brno.
He looked to have it more under control after stepping up to factory status in 2021, falling only once in the early season at Mugello, in what he later described exclusively to The Race as exceptional circumstances following the tragic death of Moto3 rider Jason Dupasquier.
However, he also crashed out of perhaps the most important race of his season last year too: falling from the lead at Misano, bringing to an end the impressive run of podium form that had helped him close down Quartararo in the first place. That crash came on the first day that the Frenchman could win the title – something he duly did with fourth place.
And while Espargaro might well have a wary eye on Ducati's strength in numbers (something that has ensured it's had a bike in first or second place in every race but one of 2022 so far), it's far from certain that even that will be enough to tip the odds in favour of Bagnaia.
That's because what ought to be Ducati's greatest strength can also become a weakness.
It's been able to field six machines capable of podium finishes so far this year, but its scattergun development effort has also meant those six bikes are rarely all near the front in the same race.
Perhaps a consequence of the way in which Ducati seems to have spread itself too thinly, there are no fewer than three different specs of its bike currently on the grid, a situation that leads to patchwork data and no clear team strategy.
Should team orders be effected, there's also no guarantee that they'll play a pivotal role, if Ducati's past efforts at trying (and failing) to make Jorge Lorenzo assist Andrea Dovizioso are anything to go by.
Jack Miller has so far been a loyal wingman for Bagnaia, but his move to KTM for 2023 might change that dynamic as the year progresses. Jorge Martin and Enea Bastianini, currently in a battle of their own for Miller's seat next year, will give nothing up in their attempts to outdo each other.
Only the VR46 duo Luca Marini and Marco Bezzecchi, practically brothers to Bagnaia as all three are Valentino Rossi proteges, are guaranteed assistants – but with Ducati's inconsistency, it's not even sure that they'll find themselves in a position to help when it's necessary.
So conclusion, it's definitely possible – and if 2021 taught us anything, even probable – that Bagnaia will continue to close down the points gap to Quartararo and Espargaro in the coming races.
But whether he's got it to be a title contender or not seemingly relies more than anything else on Bagnaia and Ducati own biggest enemies: themselves.