Aprilia MotoGP rider Aleix Espargaro says that the FIM MotoGP stewards need to take a better look not just at incidents between top riders at the front of races but also pay more attention to clashes further down the field, after a Portimao weekend where he says he was both the victim of and witness to a number of aggressive moves that went unpunished.
That call come as the stewarding panel, chaired by former world champion Freddie Spencer, is already under heat for a series of events at Portimao.
First electing not to sanction Luca Marini for a crash that took out championship contender Enea Bastianini and left him with a broken shoulder in Saturday's sprint race, they then went on to hand a long-lap penalty to Honda rider Joan Mir for making contact with Fabio Quartararo and pushing him wide, despite Quartararo remaining on the bike.
The stewards then sanctioned Marc Marquez with a double long-lap penalty for his torpedoing of both Jorge Martin and Miguel Oliveira, a sanction seen by many (including Espargaro, who called for a race ban) as too minor. It is also a sanction that is now at the centre of a full-on dispute and appeal in terms of whether it will be served at all.
However, while inconsistencies in the way the stewards apply the rules have become more regular rather than the exception in recent seasons, Espargaro maintained that it's even worse the further down the grid you go, with the Spaniard adamant that he both saw and received multiple hits throughout the weekend on par with those that received penalties.
Stressing that this isn't a case of him being afraid to race, but rather seeking consistency in how the rules are applied, he admitted that the reason he ended up fighting in the back half of the grid was largely his own fault in the first place – but that it didn't excuse what some riders get away with.
"I did a good start," he said of Sunday's race, "and then Binder hit me hard in corner three, and I was the last one. I don't know why he didn't receive a penalty.
"Still I don't understand this, or why yesterday's [Saturday's] action between Alex Marquez and my team-mate [Maverick Vinales] didn't receive any action as well. We are repeating the mistakes of the past."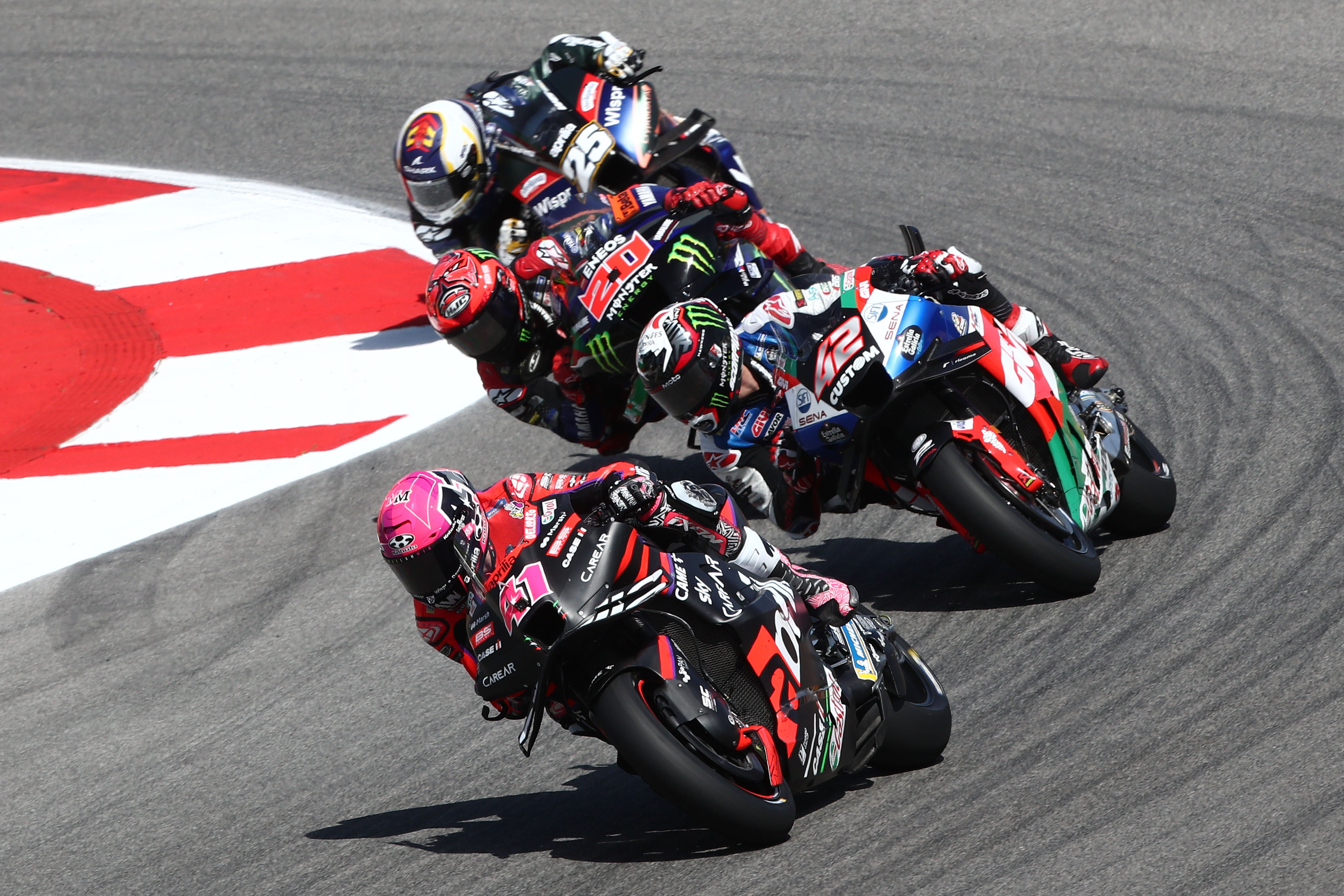 Binder's manoeuvre is visible clearly on the available helicopter cam footage of the main race, the South African seeing a gap at Turn 3 and moving to fill the inside line despite as many as three bikes on the outside, with Espargaro seen receiving a whack as a result.
That meant he had to pick up his Aprilia going through the corner, which also compromised Quartraro right behind him.
"I had good pace, I did the fastest lap of the race, and I arrived quite easily to the group of the KTMs and Zarco, but it's very difficult to overtake," added Espargaro. "They were crossing the lines, you overtake and they overtake back again with a block pass. This is racing. This wasn't my group, but that's racing and I couldn't overtake.
"My position in the race was my fault because I f***** up in qualifying and crashed, but Brad Binder didn't help when he hit me in corner three. I hope that he'll receive a penalty. Maybe they can see the cameras. I don't know what they were doing in race direction, but hopefully they can find it during the week."
The other referenced incident comes from the sprint, where Alex Marquez pushed Vinales out of the way in an aggressive move that happened just a few metres behind the Marini fall that injured Bastianini.
Beyond that, there was a little-reported opening-lap collision on Sunday as Fabio Di Giannantonio barged into Franco Morbidelli at the back of the field, while there were also a number of the usual weekend grievances – with Espargaro getting on the bad side of Marco Bezzecchi on Saturday for a too-fast entry at the very same Turn 3 where he'd be hit by Binder the following day.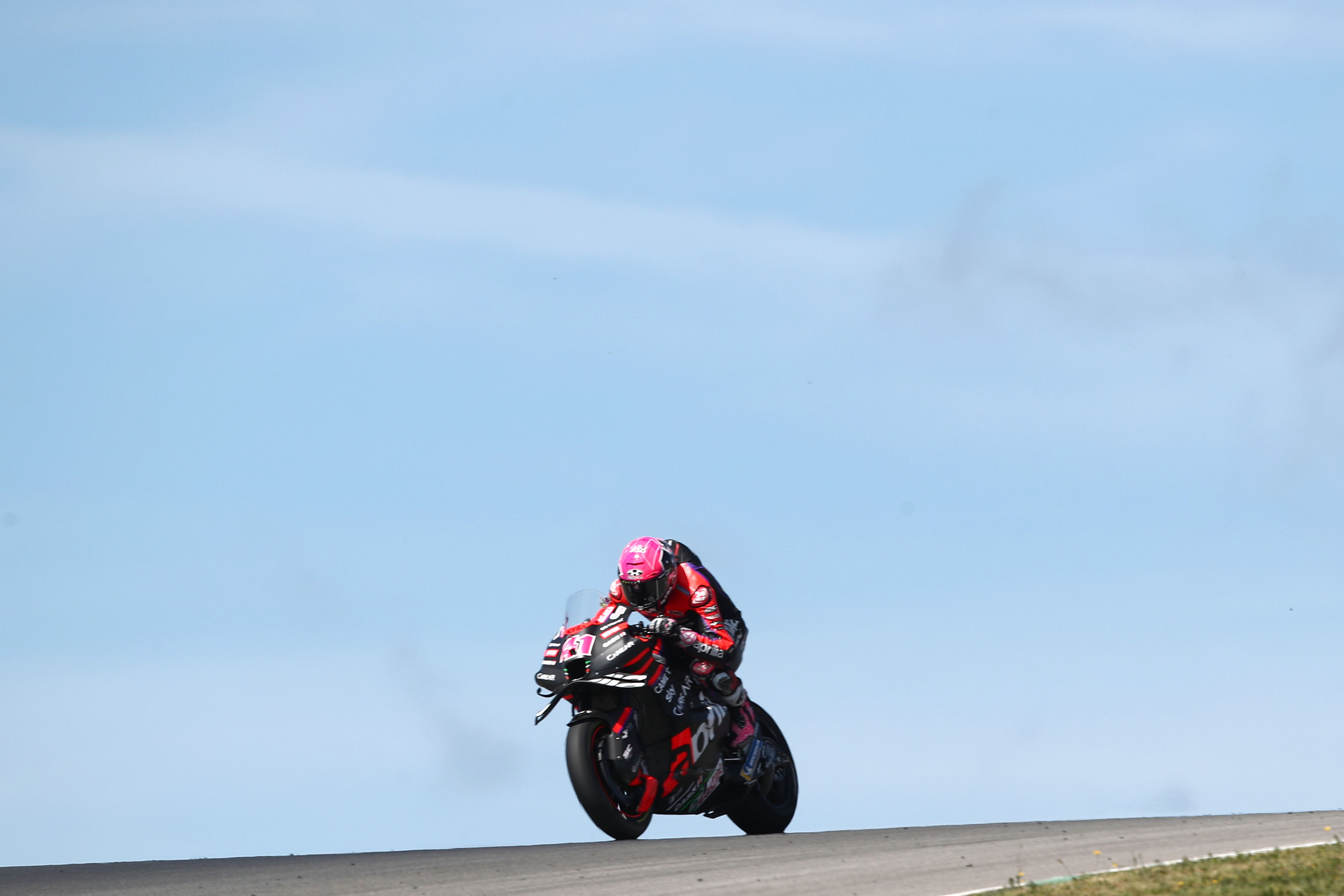 Of course, the possibility is that each of the aforementioned incidents were reviewed by the stewards without opening an official investigation and dismissed as within-the-rules racing action.
On the issue of available footage, Espargaro was adamant that there's no shortage of opportunities for the stewards to gather evidence, given the number of cameras now fitted as standard to every bike.
"There is one thing I don't understand," he explained. "We have one million cameras on the bike. I always say to [series promoter] Dorna that I don't want more cameras for the weight, but I have three or four cameras one my bike. So why can they not see these cameras and analyse? It's not that difficult, no?
"We are not 100 riders. We are 20. It's just about repeating everything. For me, the action between Mir and Fabio, and between Alex Marquez and Maverick were exactly the same, but Joan crashed and Alex didn't. But Maverick lost five places, so why does Joan get the penalty and Alex didn't?
"I'm not saying that Joan deserves a penalty, I'm not saying that. But if you put a penalty to Joan, then you have to put one on Alex for the same action. It's the same story. I'm not saying it's a penalty for Mir – maybe it's not. But if you do the same action it has to be the same result."
And, in terms of the stewards' reported new approach to sanctions this year and the efforts to shore up consistency, Espargaro said: "In the past, it was the same people working there as is working there in the present."