MotoGP points leader Pecco Bagnaia struggled to hide his frustration at a "useless" battle between two fellow Ducati riders that he felt hugely hindered his progress in the Thailand sprint.
It was a costly 13-lap sprint outing for the reigning champion, whose advantage over main rival Jorge Martin was reduced to just 18 points by Martin winning and Bagnaia finishing only sixth.
But Bagnaia was 4.4s off Martin after four laps already and ultimately finished 4.1s behind.
And his feeling that his pace had warranted a much better result meant the Italian, though far from requesting any kind of manufacturer orders, couldn't resist throwing a dig towards Johann Zarco and Alex Marquez.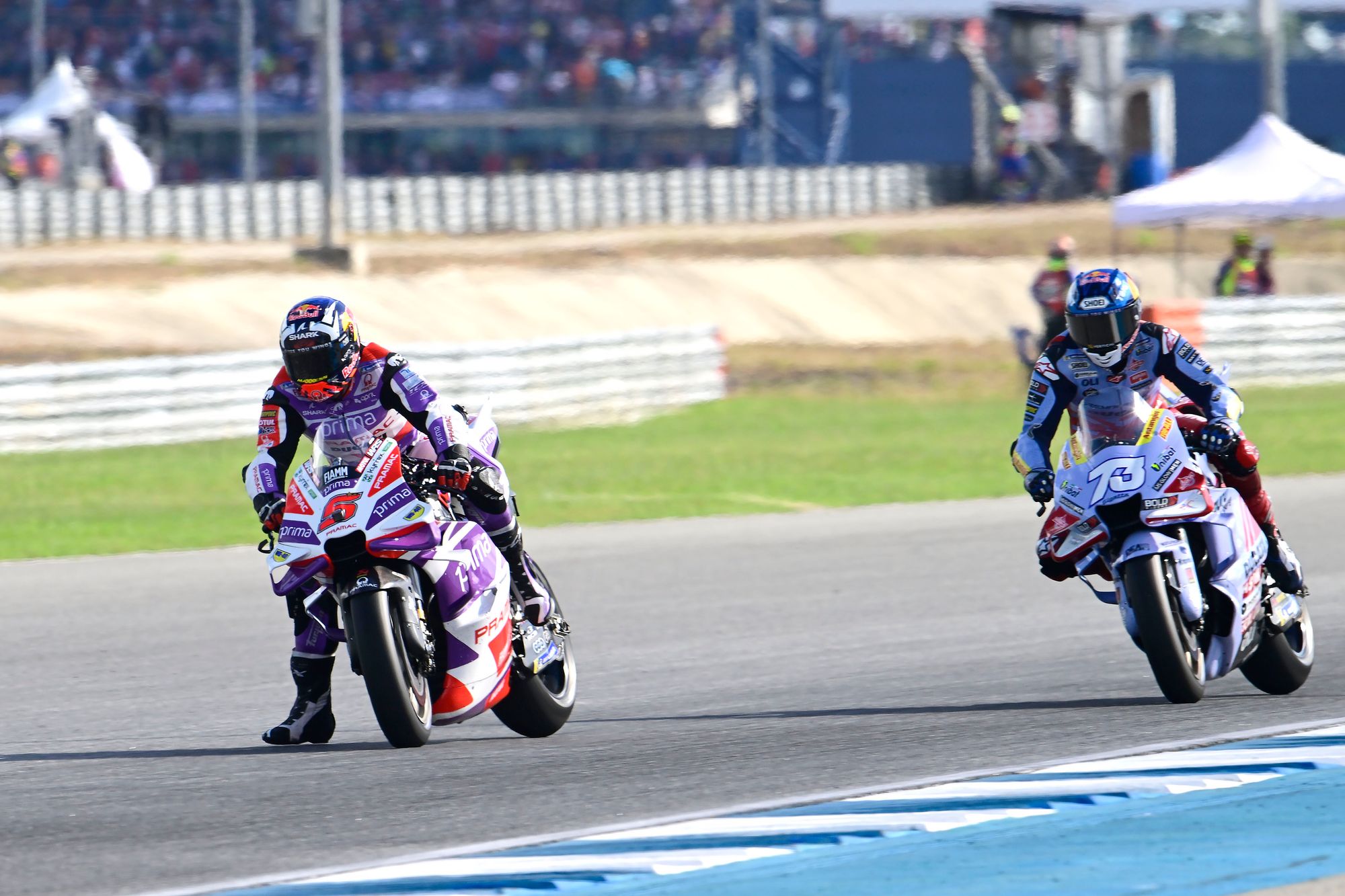 After having Marquez go around his outside at Turn 1 on the opening lap and getting divebombed by Zarco shortly thereafter, Bagnaia received a front-row ticket to a ding-dong battle between the pair on the fourth lap.
That contest ultimately ended with Marquez launching it down the inside of Zarco at the final corner, with both of them running out wide and Bagnaia overtaking both in one move.
Excuse me, passing through! 👋

It ended up being a 2x1 overtake as @PeccoBagnaia sneaked by @alexmarquez73 and @JohannZarco1 😎#ThaiGP 🇹🇭 pic.twitter.com/NRZzUOx1su

— MotoGP™🏁 (@MotoGP) October 28, 2023
Despite this, there was an undeniable time loss for everyone involved - evidenced by Bagnaia immediately going eight tenths faster on the next lap.
"I missed a bit the start and then I lost a lot of time, first with Zarco and then with the battle between Johann and Alex Marquez - that in that moment was quite useless, considering the amount of time we had lost," Bagnaia lamented.
"They were overtaking like it was the last lap, and it was useless.
"When I was able to be in the front, I was like 1.6 seconds off Marc Marquez, that was in front. And we managed to close the gap, we managed to control everything perfectly, my feeling was again so good on my bike.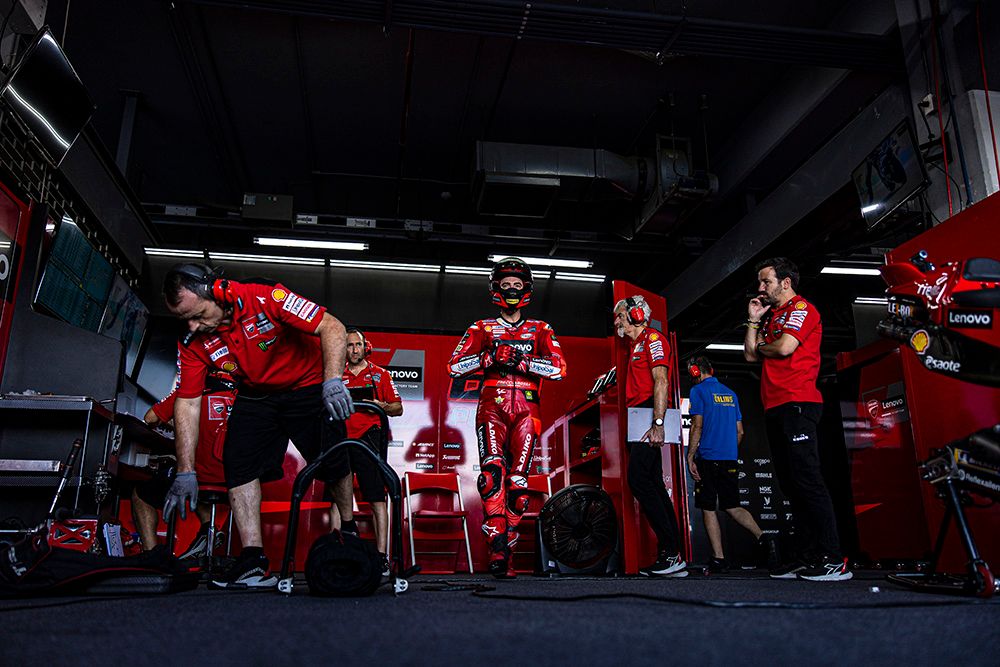 "And I'm happy with the tyre consumption, I'm happy with everything, with the feeling.
"But finishing seventh in a moment where you are so fast, so strong, it's not good for us.
"So for me we have to consider that and for tomorrow I have just to improve my pace in the first laps, to be out from some battles that make us lose too much time."
Bagnaia also regretted what he felt was an inconsistency between the front tyres he used in qualifying, which he felt "made our job so much harder".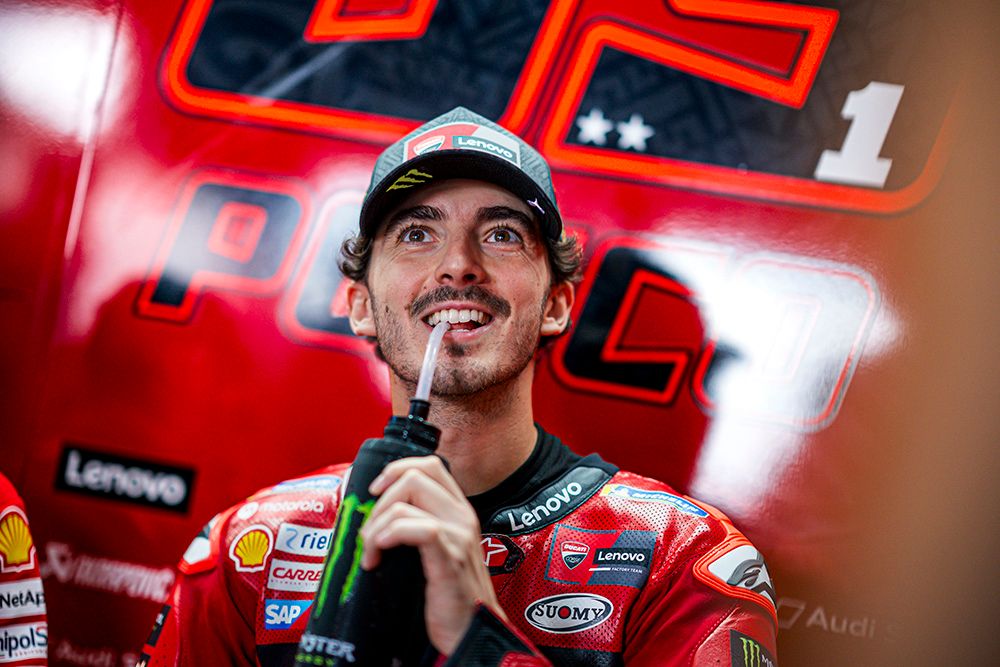 When it came to the Marquez-Zarco battle, one of the participants was surprisingly in full agreement.
"I completely agree with him," said Marquez of Bagnaia's view.
"I was just trying to overtake [Marco] Bezzecchi - I don't know why Johann touched me really hard two times, I don't know for what. And then in the end he showed he was not faster than me [by finishing behind].
"I don't know why - but it's normal, everyone wants to be more in front, everybody wants to win more positions.
"He was really aggressive and me too - because I said 'okay, if you want to play, we play'."
And the clue - besides the innate aggression of both riders involved - seems to have been a simple one.
Both Zarco and Marquez hinted they were in a rush due to front tyre temperatures getting out of control while running behind other bikes, with Marquez citing a front tyre temperature of 115°C and a front tyre pressure of 2.2 bar.