Pecco Bagnaia succeeded Fabio Quartararo as the MotoGP riders' champion by finishing ninth in the 2022 season finale at Valencia, while Suzuki signed off with an Alex Rins win.
Valentino Rossi protege Bagnaia, needing just a 14th-place finish regardless of what main rival Quartararo did, spent most of the race on the defensive with a damaged aero set-up but never looked under serious threat of losing the crown – Ducati's first riders' title since Casey Stoner in 2007.
Quartararo and Bagnaia started four places apart on the grid, but were already side by side exiting Turn 1, the former dropping back and the latter moving forward.
But Quartararo did ultimately fend off his rival to run fifth, and then used a Marc Marquez pass on Jack Miller up ahead to also successfully send it down Miller's inside.
However, the Aussie showed off Ducati's straightline speed advantage to ease past Quartararo on the main straight the next time.
He then fought off a Quartararo lunge at Turn 1 and forced him just wide enough at Turn 2 for Bagnaia to appear on the inside line, with the title rivals making contact as Quartararo sought to get back on the racing line.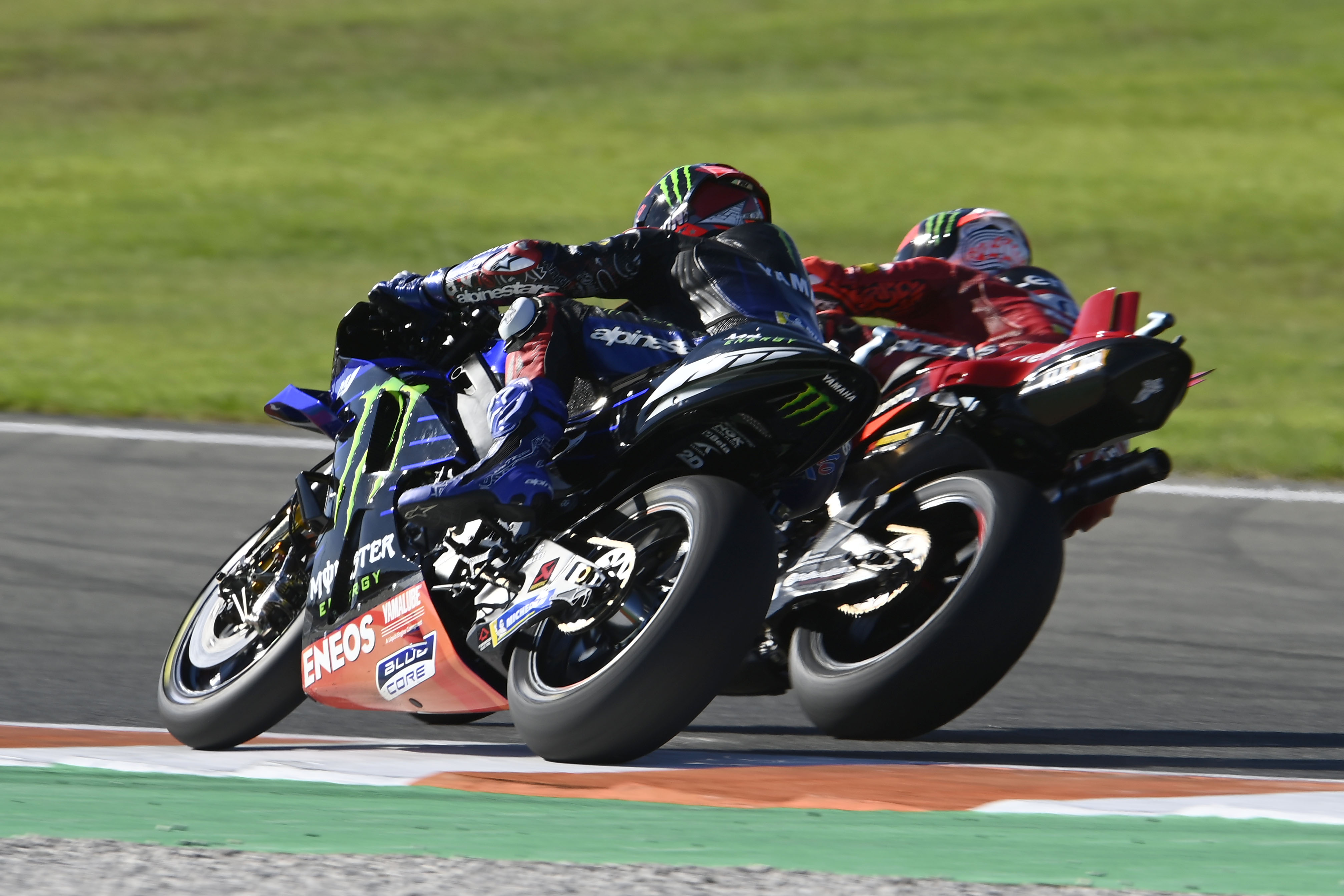 That run-in had promoted Bagnaia ahead of Quartararo, yet the Ducati man had lost a lower right winglet on his front fairing in the process – and on lap four Quartararo got back ahead of him, setting his sights on whittling down the 1.5-second gap to the leading quartet.
At the front of that quartet was Rins, having made a lightning start from fifth on the grid to assume the lead immediately, and the quartet soon became a trio as fourth-placed Marquez, having been repassed by Miller, crashed out at Turn 8.
Quartararo did gradually close up to the leading trio as the race settled down, but he also came under pressure from KTM's Brad Binder, who had worked his way past Bagnaia when the latter went wide at Turn 1.
Ever the Sunday specialist, Binder passed Quartararo on the 18th lap, with the Yamaha man's pace and victory hopes beginning to fade soon after. Binder then got Miller at the Doohan corner – with Miller crashing out of fourth later into the lap coming up to Turn 11.
On the penultimate lap, Binder overtook poleman Jorge Martin, who had spent virtually the entire race in second, and set after Rins – who by that point had established a nine-tenth buffer.
Binder reduced it to four tenths at the chequered flag, but was unable to prevent Rins from scoring a win – his and the departing Suzuki team's second from the last three races.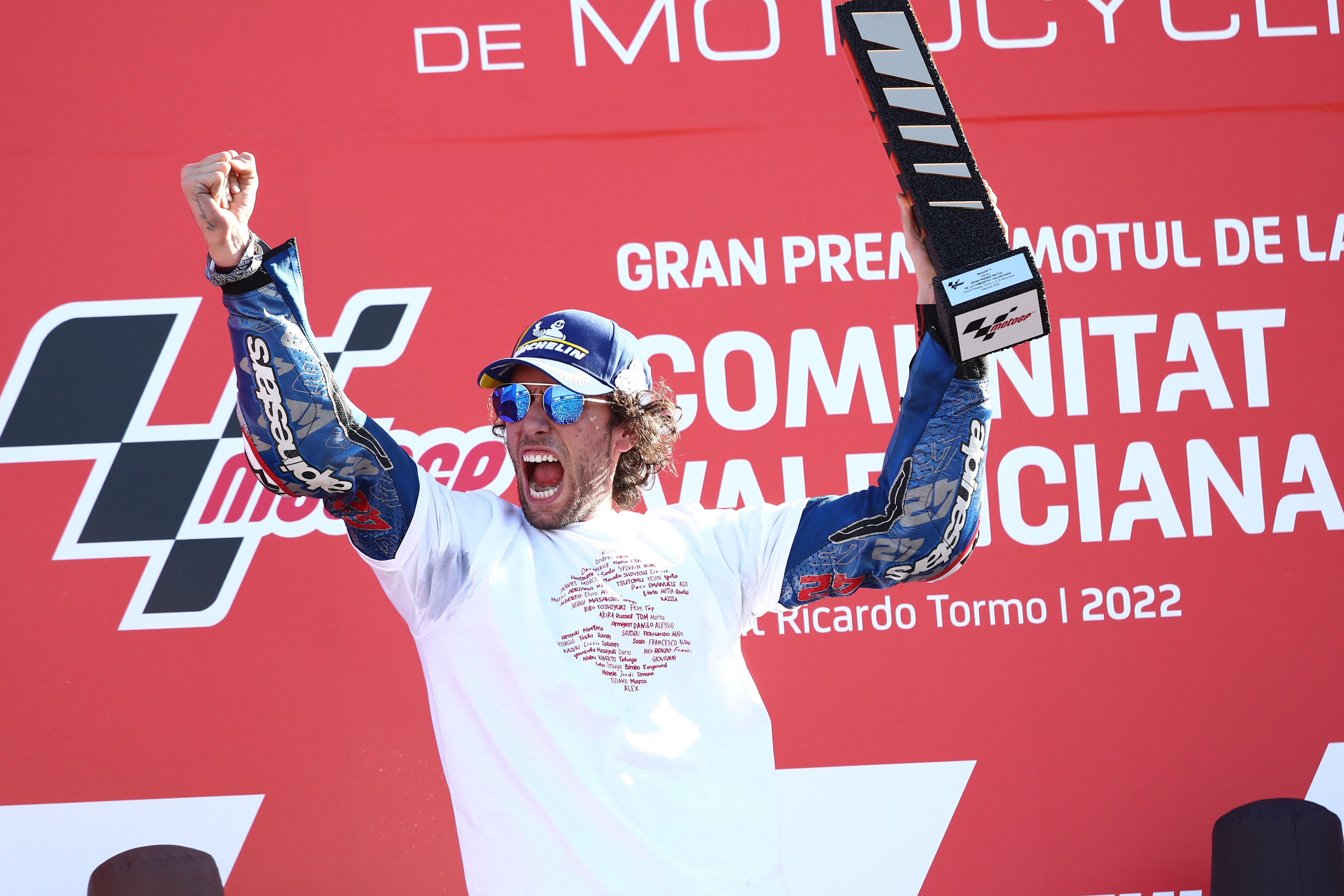 Quartararo took the chequered flag in fourth 0.85s behind Martin, surrendering his title, followed by RNF Aprilia-bound Miguel Oliveira on his KTM farewell and Honda-bound Joan Mir on the second Suzuki.
Bagnaia spent much of the second half of the race waving riders by, with both VR46 Ducati's Luca Marini and Gresini Ducati's Enea Bastianini finding their way through, though Bagnaia did fight off Yamaha's Franco Morbidelli for ninth.
Bastianini's eighth-place finish secured him third in the championship, as Aprilia's Aleix Espargaro was in the pits after just three laps with a mechanical problem. The other Aprilia, that of Maverick Vinales, was also parked up 12 laps later.
Their retirements were part of a high attrition rate that made Bagnaia's run to the title even more comfortable, with crashes for Cal Crutchlow (RNF Yamaha), Alex Marquez (LCR Honda), Johann Zarco (Pramac Ducati), Pol Espargaro (Honda) and Darryn Binder (RNF Yamaha) meaning that there were only 16 lead-lap finishes – one of them being Crutchlow, having remounted to finish a minute and a half down.
Race Results
| Pos | Name | Team | Bike | Laps | Laps Led | Total Time | Fastest Lap | Pitstops | Pts |
| --- | --- | --- | --- | --- | --- | --- | --- | --- | --- |
| 1 | Alex Rins | Team SUZUKI ECSTAR | Suzuki | 27 | 27 | 41m22.25s | 1m31.345s | 0 | 25 |
| 2 | Brad Binder | Red Bull KTM Factory Racing | KTM | 27 | 0 | +0.396s | 1m31.192s | 0 | 20 |
| 3 | Jorge Martin | Pramac Racing | Ducati | 27 | 0 | +1.059s | 1m31.294s | 0 | 16 |
| 4 | Fabio Quartararo | Monster Energy Yamaha MotoGP | Yamaha | 27 | 0 | +1.911s | 1m31.41s | 0 | 13 |
| 5 | Miguel Oliveira | Red Bull KTM Factory Racing | KTM | 27 | 0 | +7.122s | 1m31.693s | 0 | 11 |
| 6 | Joan Mir | Team SUZUKI ECSTAR | Suzuki | 27 | 0 | +7.735s | 1m31.688s | 0 | 10 |
| 7 | Luca Marini | Mooney VR46 Racing Team | Ducati | 27 | 0 | +8.524s | 1m31.568s | 0 | 9 |
| 8 | Enea Bastianini | Gresini Racing MotoGP | Ducati | 27 | 0 | +12.038s | 1m31.687s | 0 | 8 |
| 9 | Francesco Bagnaia | Ducati Lenovo Team | Ducati | 27 | 0 | +14.441s | 1m31.701s | 0 | 7 |
| 10 | Franco Morbidelli | Monster Energy Yamaha MotoGP | Yamaha | 27 | 0 | +14.676s | 1m31.794s | 0 | 6 |
| 11 | Marco Bezzecchi | Mooney VR46 Racing Team | Ducati | 27 | 0 | +17.655s | 1m31.722s | 0 | 5 |
| 12 | Raul Fernandez | Tech3 KTM Factory Racing | KTM | 27 | 0 | +24.87s | 1m32.023s | 0 | 4 |
| 13 | Remy Gardner | Tech3 KTM Factory Racing | KTM | 27 | 0 | +26.546s | 1m32.197s | 0 | 3 |
| 14 | Takaaki Nakagami | LCR Honda IDEMITSU | Honda | 27 | 0 | +26.61s | 1m32.234s | 0 | 2 |
| 15 | Fabio Di Giannantonio | Gresini Racing MotoGP | Ducati | 27 | 0 | +31.819s | 1m32.041s | 0 | 1 |
| 16 | Cal Crutchlow | WithU Yamaha RNF MotoGP Team | Yamaha | 27 | 0 | +1m28.87s | 1m32.013s | 0 | 0 |
| 17 | Alex Marquez | LCR Honda Castrol | Honda | 26 | 0 | +1 lap | 1m32.179s | 0 | 0 |
| | Jack Miller | Ducati Lenovo Team | Ducati | 22 | 0 | DNF | 1m31.381s | 0 | 0 |
| | Johann Zarco | Pramac Racing | Ducati | 15 | 0 | DNF | 1m31.695s | 0 | 0 |
| | Maverick Viñales | Aprilia Racing | Aprilia | 15 | 0 | DNF | 1m31.663s | 0 | 0 |
| | Marc Marquez | Repsol Honda Team | Honda | 9 | 0 | DNF | 1m31.419s | 0 | 0 |
| | Pol Espargaró | Repsol Honda Team | Honda | 4 | 0 | DNF | 1m31.923s | 0 | 0 |
| | Darryn Binder | WithU Yamaha RNF MotoGP Team | Yamaha | 4 | 0 | DNF | 1m32.465s | 0 | 0 |
| | Aleix Espargaró | Aprilia Racing | Aprilia | 3 | 0 | DNF | 1m36.052s | 0 | 0 |