MotoGP's 27-lap Australian Grand Prix at Phillip Island will take place on Saturday rather than Sunday as originally planned due to a perilous weather forecast.
The full-distance, full-points-awarding race is being swapped with the sprint, which comes as a consequence of concerns over the viability of getting the main event in on Sunday.
It had already been anticipated coming into the weekend that, while Friday's running would take place in serene weather (an estimation which has now proven to be accurate) and Saturday's would only be slightly more challenging, the conditions would then take a turn for the particularly inhospitable for the final day of the race weekend.
Estimates of persistent 50km/h winds and potentially much faster gusts had left much of the MotoGP grid on edge - with Pramac Ducati's Johann Zarco openly advocating for the main race to be moved to Saturday so that MotoGP at least ensures it gets that in in case racing on Sunday proves impossible.
That suggestion has now been formally heeded by the series organiser.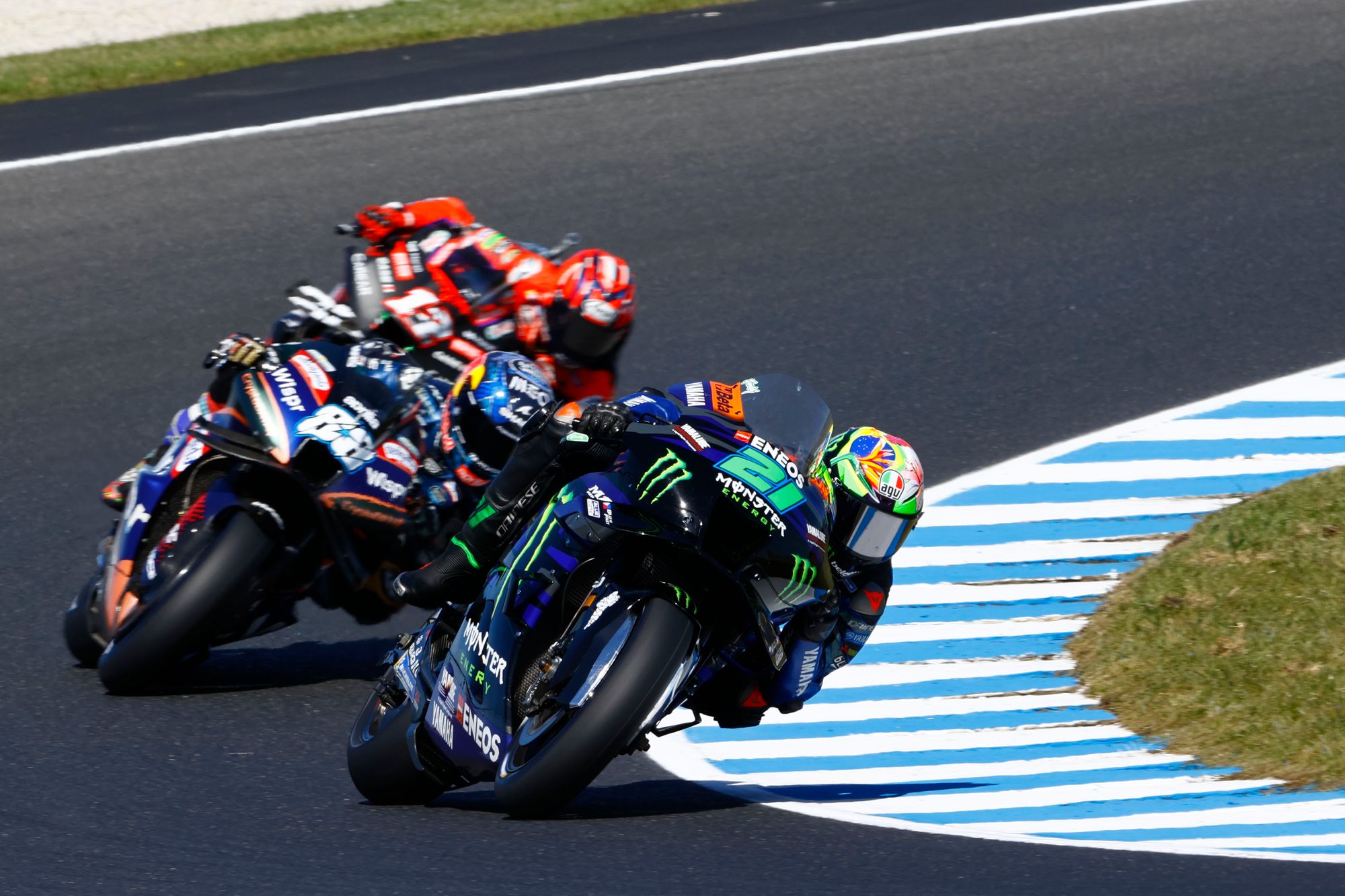 "This decision has been taken proactively in order to guarantee the best and safest possible show for all competitors and fans attending Phillip Island Grand Prix Circuit this weekend," said MotoGP in a statement.
The grand prix is now due to take place at 3.10pm local on Saturday - 10 minutes after the original start time for the sprint - while the sprint itself, "weather permitting", is scheduled to begin at 2pm local on Sunday.
"It's the same procedure," said Aprilia's Aleix Espargaro, who reckoned there would be minimal disruption.
"They don't call it [the usual Saturday sprint] a race, they call it Tissot [Sprint] but it's a full race but shorter. So, you just need to increase by 10 laps. It'll change 15-20 minutes of the schedule.
"In my opinion, this is the most far away race in the world, so if we come here, if there is any possibility on Sunday is bad, [it is good] maybe to change the race, to put on a good show, a long race, for the people, for the show, for the championship points and everything.
"And if Sunday the conditions are good enough to race - in the wet, in the wind, whatever - you do the sprint. But I think it's fair and good enough to do the long race tomorrow."
🚨 Updated Schedule for the #AustralianGP 🇦🇺🚨

The #MotoGP Race will now take place on Saturday due to inclement weather forecast for Sunday 🏁

The #TissotSprint is now scheduled to begin at 14:00 local time (GMT+11) on Sunday, weather permitting ⏰ pic.twitter.com/56SQ4q2XQ3

— MotoGP™🏁 (@MotoGP) October 20, 2023
MotoGP sporting director Carlos Ezpeleta indicated that the premier-class sprint would be prioritised when it comes to fitting in track time during the Sunday schedule - but also suggested that, because of the proliferation of aero, MotoGP is more affected by wind and thus is less flexible in terms of the conditions it can race in compared to Moto3 and Moto2.