Team Gresini Aprilia's Aleix Espargaro and Lorenzo Savadori have revealed their 2021 MotoGP machines today at Qatar, with the bikes featuring a prominent tribute to former team boss Fausto Gresini, who tragically succumbed to complications from the coronavirus late last month.
Unveiled at Qatar's Losail International Circuit ahead of tomorrow's pre-season testing, the new RS-GP bikes feature a revised livery for 2021 and sport Gresini's name prominently across the front wings in tribute to the former world champion's role in establishing Aprilia's return to the premier class.
"Fausto was with us, with this project, since the very beginning," said Aprilia MotoGP boss Massimo Rivola at the launch, "and we will continue working with his teams. Our desire is to make him proud."
Having unveiled the bike at the track, Aprilia also released studio shots of the new RS-GP, albeit having presumably been taken in advance they are pictured with Aprilia branding in yellow on the wings of the fairing instead of the Gresini tribute.
The bike retains title sponsorship from Sky Italy despite rumours suggesting that they would no longer be involved in 2021, and sees the addition of iconic oil company Castrol as well as the Indonesian Racing brand, part of Gresini's new link-up with interests from the MotoGP-mad Asian country.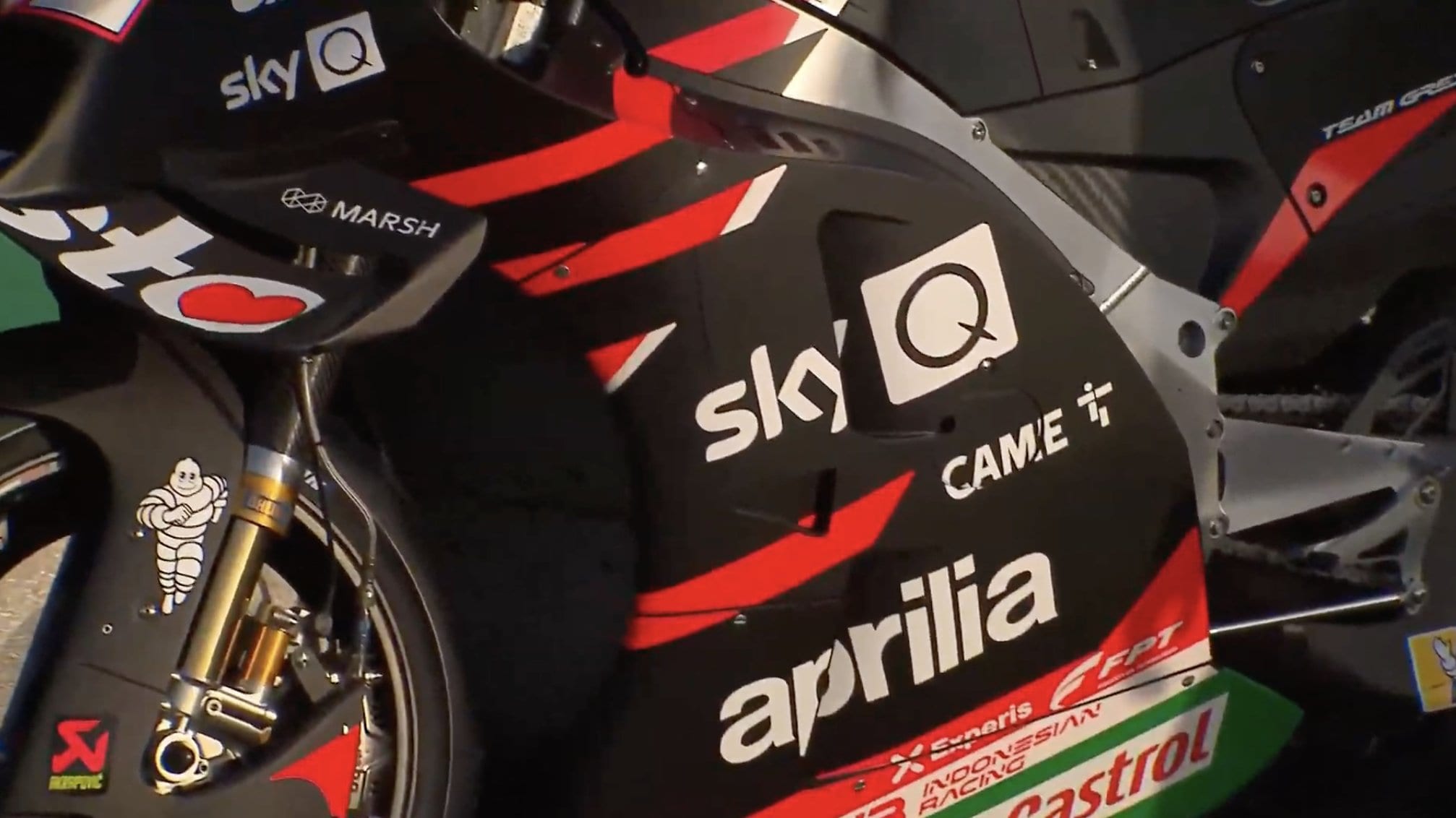 The rider line-up now seems to be set in stone for 2021 with Espargaro and former test rider Lorenzo Savadori present at the launch but British rider Bradley Smith absent – a move that looks to confirm that he will have no further role in the squad.
Savadori, best known for his time in World Superbikes and being Italian Superbike champion last year, made his MotoGP debut late last year, contesting three races. The late Gresini was his manager.
"Our captain [Aleix Espargaro] has long experience with us, he's a very good reference for Lorenzo. Fausto believed a lot in him, and so do we," Aprilia MotoGP tech chief Romano Albesiano said of the line-up.
This season is due to be the final campaign in which Gresini runs Aprilia's works set-up, with the team set to strike off independently in 2022 and Aprilia expected to take its MotoGP operation in-house.