On the whole, Arrow McLaren SP's season-opening IndyCar weekend looks like a disaster.
Its two cars qualified 16th and 21st at St Petersburg, and finished the race 12th and 17th.
However, it shouldn't have been as bad.
Ultimately qualifying was the low point of the weekend, as Patricio O'Ward clouted the wall at Turn 9 (see below) and ended his chance of fighting in the top-12 segment.
Felix Rosenqvist said he'd taken too much out of his tyres too soon, and that was something other drivers fell foul of. It's just not the kind of thing Rosenqvist can afford to get wrong at this stage of his career.
Neither driver could afford a scrappy qualifying. O'Ward is supposed to be the heir apparent to the IndyCar title. Rosenqvist is supposed to have a much better year that allows him to keep his seat at the team. Neither will be successful without cutting out the errors.
Plus there's the small matter of the off-season reshuffling and momentum made at the team. New engineer Gavin Ward spearheaded a number of changes, which has included F1 personnel coming into the team as well. All this has been geared towards the team taking the next step.
It wasn't supposed to fall foul of the same kind of problems that held it back last year.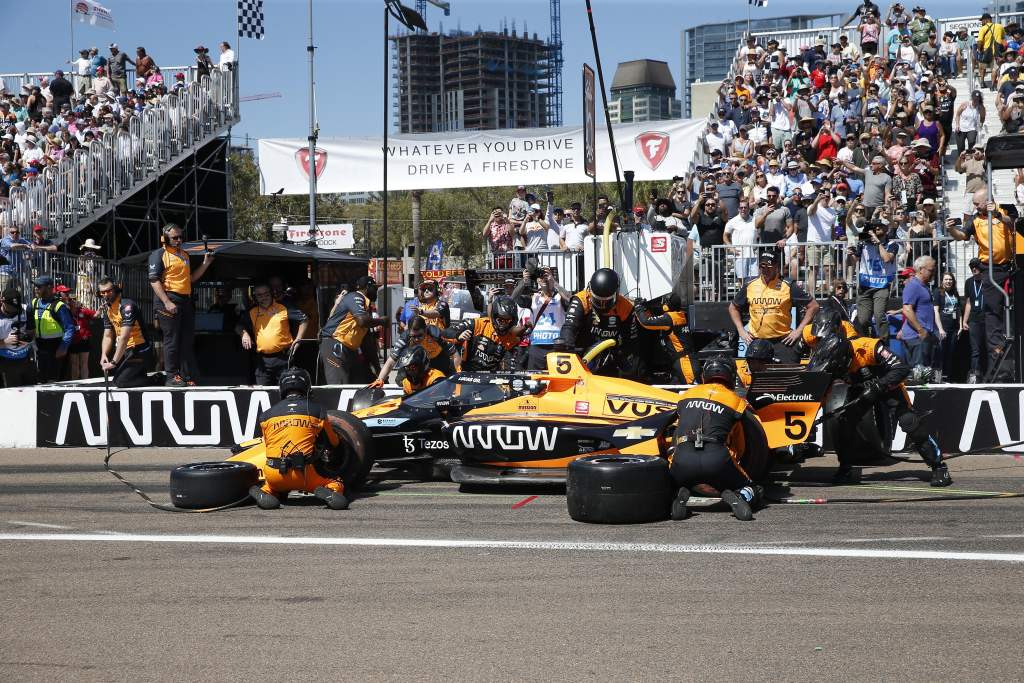 Unfortunately, the drivers weren't really given the chance to bounce back properly in the race.
O'Ward did his best to atone for his mistake with a ballistic start from 16th to ninth on the first lap alone, including a wheel-banging match with Simon Pagenaud.
The red tyres were slated to only really last five laps before dropping off, and it was no surprise to see O'Ward and Rosenqvist pit early given the team's historic trouble with keeping tyres alive.
But drivers including Scott McLaughlin and Marcus Ericsson proved the tyres could last over 20 laps.
Perhaps Rinus VeeKay is a better example because his tyres went off quickly but he persevered and, even though he sank in the first stint because he had no grip, he was paid back later in the race by only having to make one further stop – usually the prime strategy at St Pete – and took fourth.
O'Ward may still have salvaged a top-10 finish, had he not got caught in the train of cars stuck behind Jimmie Johnson for what seemed like forever after his second stop. It absolutely ruined O'Ward's chances of being among the five-to-10 drivers fighting for a top 10, depending on how they'd handled the last stint.
Scott Dixon escaped being stuck and pulled out well over 10 seconds on O'Ward in that stint, and went on to finish eighth as the primary driver on the strategy O'Ward followed.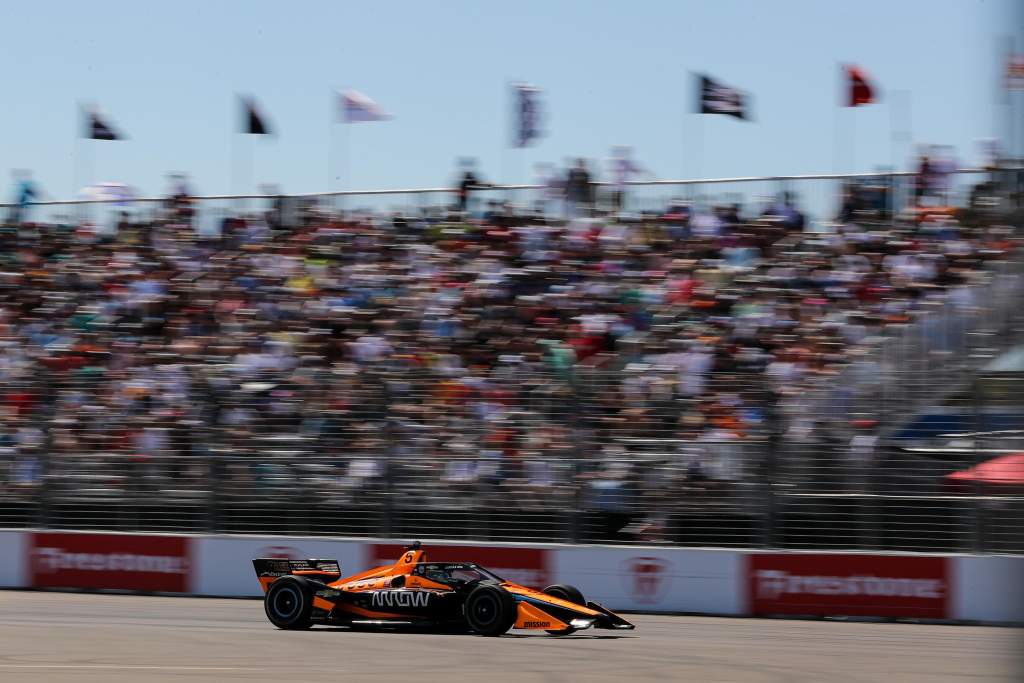 However, on a three-stop and therefore needing less fuel saving than his opposition, Dixon still struggled to pass cars, which was a problem once again at St Pete.
"We had a great start, going from 16th to ninth on the first lap," said O'Ward.
"From there, I was like, 'Oh yes, let's get a great race in', but we didn't really nail the strategy. We weren't on the right strategy with the three-stop and got stuck back in 12th. We will give it hell [at the next round] in Texas."
Rosenqvist found it even harder to move forward given where he started, having been put on the same strategy.
So, ultimately it was the strategy – not the qualifying error – that cost O'Ward a strong result.
However, St Petersburg was one of the team's worst tracks last year and here it had a quick car in the race and potentially even in qualifying, in O'Ward's hands at least.
Some issues do remain, such as Rosenqvist's struggles and errors in execution. You can't afford to do that often when the level of the IndyCar series is as high as it is.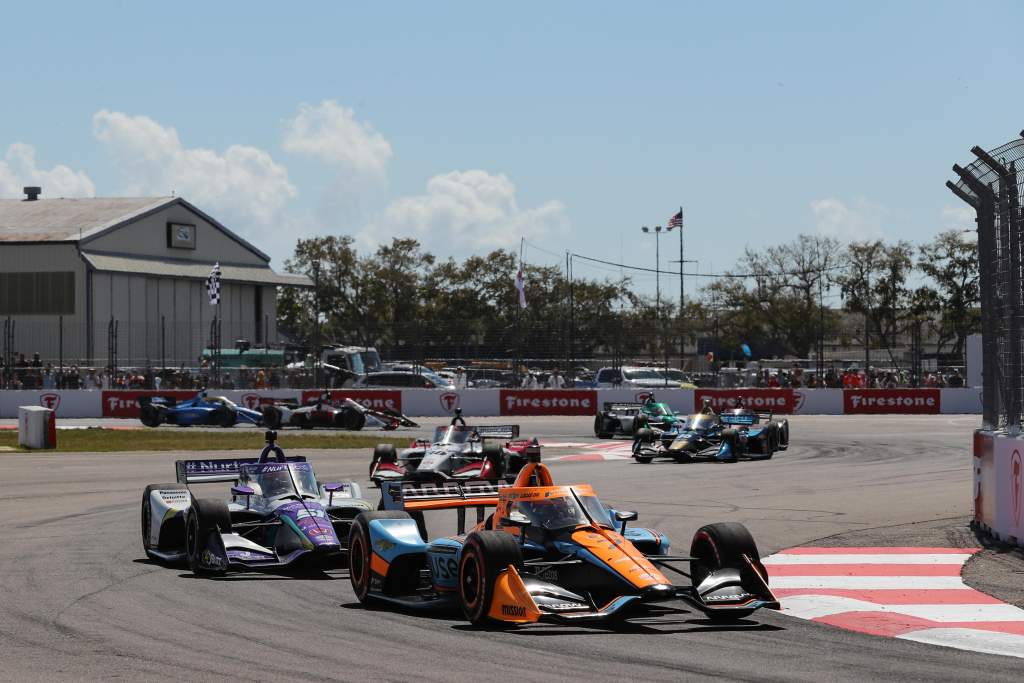 The prophetic Zak Brown said it correctly when he addressed whether he felt the team was part of a 'big four' in IndyCar, now capable of challenging the top teams.
"I think we're still inconsistent," he said. "Our bad days aren't good enough.
"A Dixon bad day is sixth. Our bad day is 14th.
"When we're good, we're as good as anyone. We're still too inconsistent and when we're inconsistent, our bad days need to be inside the top 10.
"That's what [Alex] Palou did last year, that's what Dixon's been doing for 15 years. If he gets shuffled back, somehow he's always there at the end.
"If we get shuffled back we can't seem to come through the field as quickly. So I think we lack consistency."
He said all of that on Saturday before the race had happened.
Giving such a display in front of the CEO isn't ideal. But there was plenty that worked against the team and it certainly wasn't as bad as it looked. Especially given the pace increase from last year.
It just can't afford to make this a habit.