You might feel the IndyCar finale isn't worth watching now Alex Palou's bagged the 2023 title, but there's an almost $1million prize for 'last' place still up for grabs at Laguna Seca this weekend.
The Leaders Circle is a contract between IndyCar teams and the series itself. Providing a number of criteria have been achieved, it gives the 22 top-scoring cars just over $900,000 each.
With Andretti mulling over whether to slim from four cars down to three next year, and with its fourth right on the bubble of being in a position to earn the prize money, the outcome of this contest could even go a long way to deciding one of the top teams' driver line-ups for next year, or at least how many cars it can run.
The prize is slightly down from previous years as IndyCar asked the teams if it could redirect some of the money towards upping its marketing efforts for the 2023 season.
By The Race's maths, there are nine cars that have been dragged into this battle this weekend.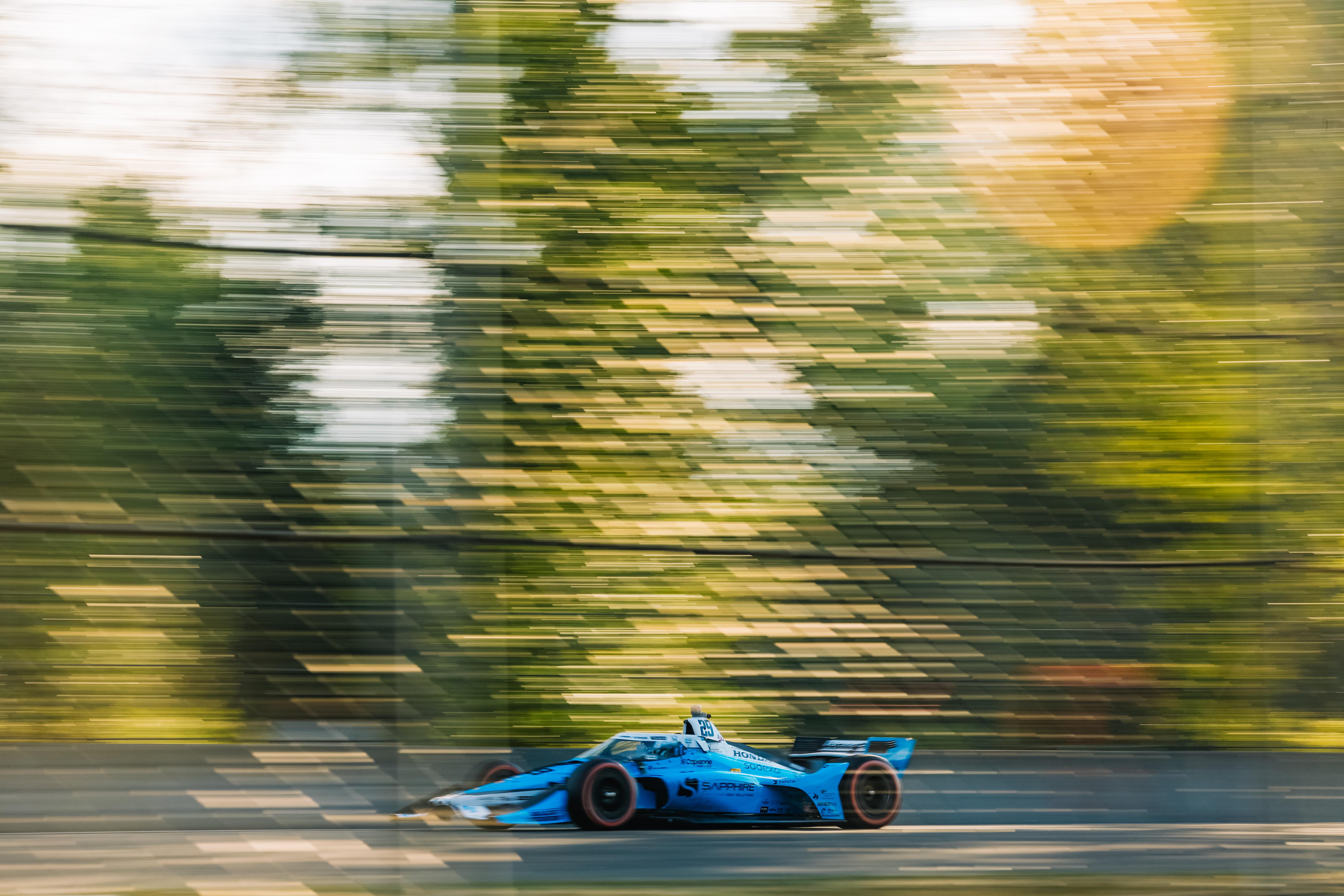 First of all, some admin. The Leaders Circle teams only get the prize if they do the full season. Also, a relatively new rule restricting teams to three cars eligible for the Leaders Circle means Ganassi's Marcus Armstrong/Takuma Sato entry isn't eligible.
Andretti's fourth car in the points – driven by Devlin DeFrancesco – is eligible, because that entry was established before the rule change.
So, with those things factored in, here are the points – scored by each car so far this season, remember, rather than each driver – as they run heading to Laguna Seca.
| | | | | |
| --- | --- | --- | --- | --- |
| Points position | Car no. | Driver | Points | +/- to cutoff |
| 18 | 14 | Ferrucci | 201 | +35 |
| 19 | 06 | Castroneves | 200 | +34 |
| 20 | 20 | Hunter-Reay | 179 | +13 |
| 21 | 30 | Vips (R) | 172 | +6 |
| 22 | 29 | DeFrancesco | 169 | +3 |
| 23 | 60 | Blomqvist (R) | 166 | -3 |
| 24 | 78 | Canapino (R) | 164 | -5 |
| 25 | 51 | Robb (R) | 124 | -40 |
| 26 | 55 | Pedersen (R) | 115 | -54 |
It's worth noting that more than half of the contenders this year are IndyCar rookies (denoted by (R)), which makes any sort of predictions very difficult indeed.
As you can see, DeFrancesco's car in 22nd is the last one that will earn a Leaders Circle payout, if that entry remains in 22nd place.
The best-placed car that could still yet be knocked out is Santino Ferrucci's in 18th, but the good news for the AJ Foyt Racing driver is that he has a 35-point buffer back to 23rd and none of the cars behind his have scored that amount this year in a single race.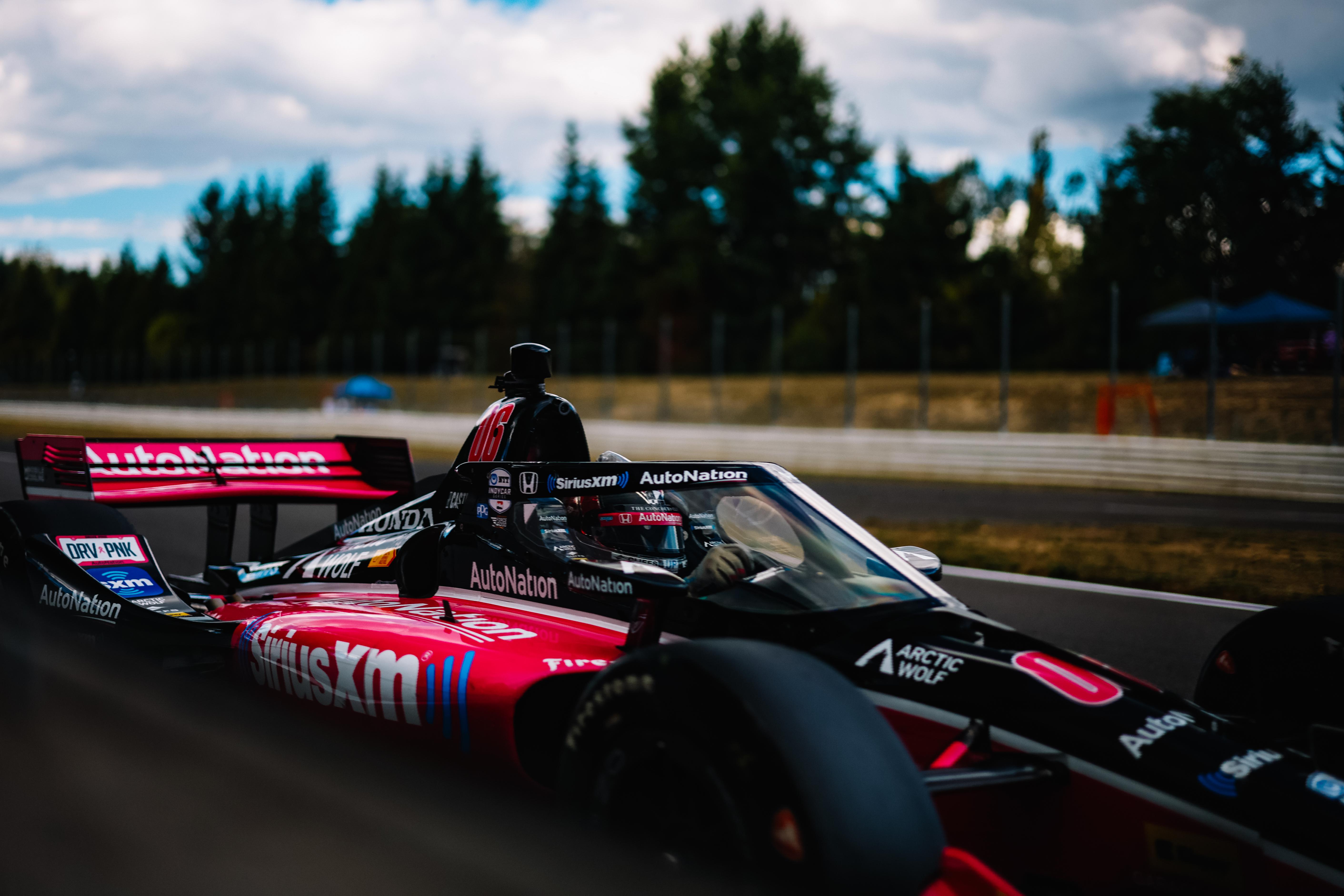 Helio Castroneves is in a similar situation with a 34-point buffer to the sister Meyer Shank Racing entry, being driven at the season finale by Tom Blomqvist, which sits just three points on the wrong side of the cutoff in 23rd.
However, Ed Carpenter Racing's Ryan Hunter-Reay and Rahal Letterman Lanigan's Juri Vips are in much more precarious positions, just 13 and six points to the good respectively.
Both are drivers who have come in during the campaign. Hunter-Reay has at least had almost half a season to get back up to speed after a year and a half out of action, but points have been a struggle for the 2012 champion. His best finish since taking over the seat from Conor Daly was 14th, at Gateway less than two weeks ago, which paid out 16 points.
---
Leaders Circle contenders' best Laguna Seca IndyCar finishes
1st Castroneves (2000)
10th Hunter-Reay (2019)
15th DeFrancesco (2022)
24th Ferrucci (2019)
---
Vips finished one spot behind DeFrancesco on his IndyCar debut at Portland last week.
Both drivers' teams have won races this year, and there's little doubt you'd expect ex-Red Bull Formula 1 reserve Vips to beat DeFrancesco generally, but Vips' inexperience especially at Laguna Seca is an issue.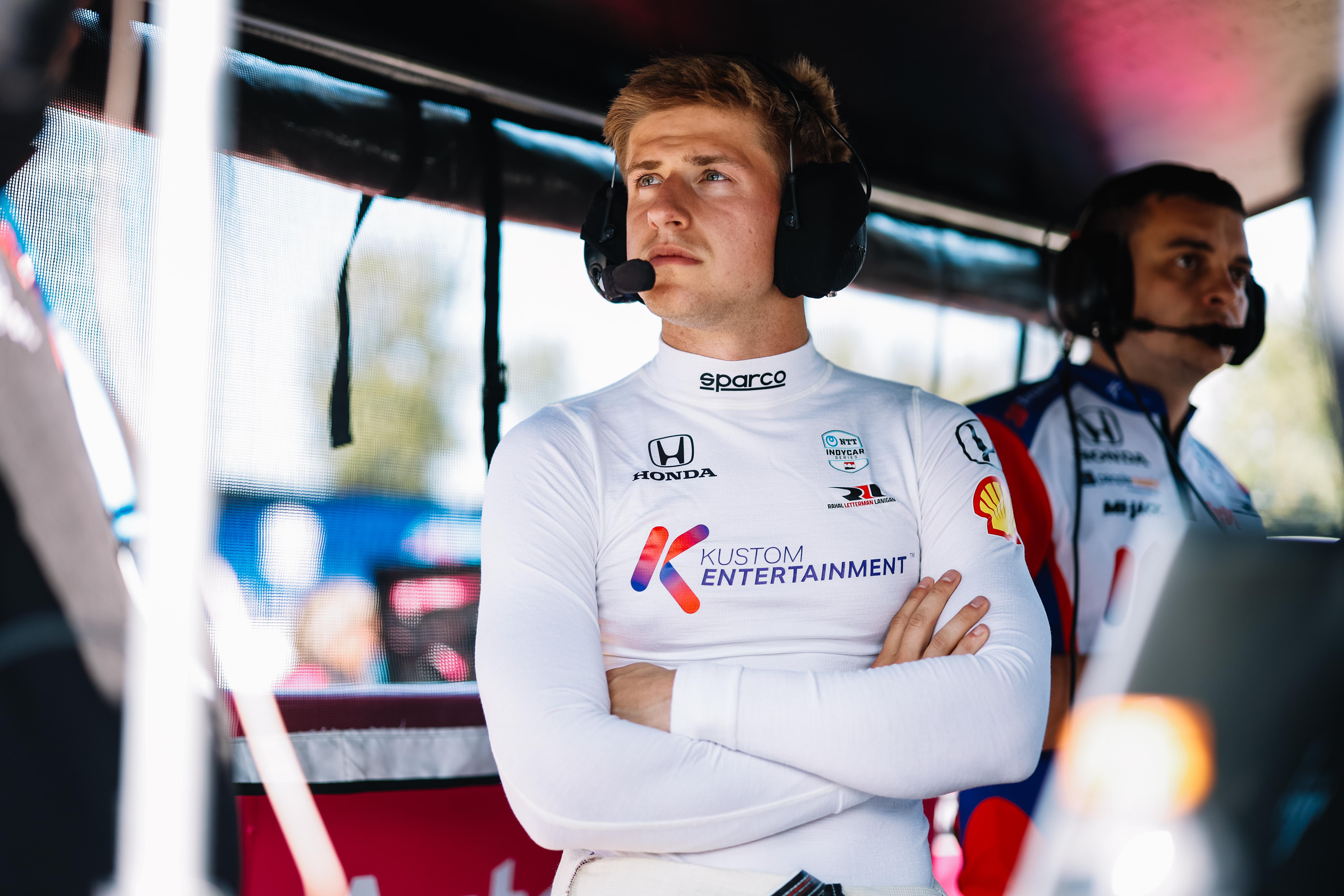 In Vips' favour is the fact there's a full series test on Thursday to prepare before the weekend starts. Considering the Rahal car he'll drive starts the weekend ahead of DeFrancesco's on points too, you have to like his chances given that extra prep time.
Behind DeFrancesco is Blomqvist – Castroneves' team-mate – who really struggled at Portland last time out, qualifying 1.4 seconds adrift and finishing 24th.
He too will benefit from a test and knows Laguna from his sportscar outings, unlike the other IndyCar tracks he's raced at. There's every chance he can outscore DeFrancesco by the three points needed to haul the second Meyer Shank entry up to 22nd but it will be tough.
---
Tie-break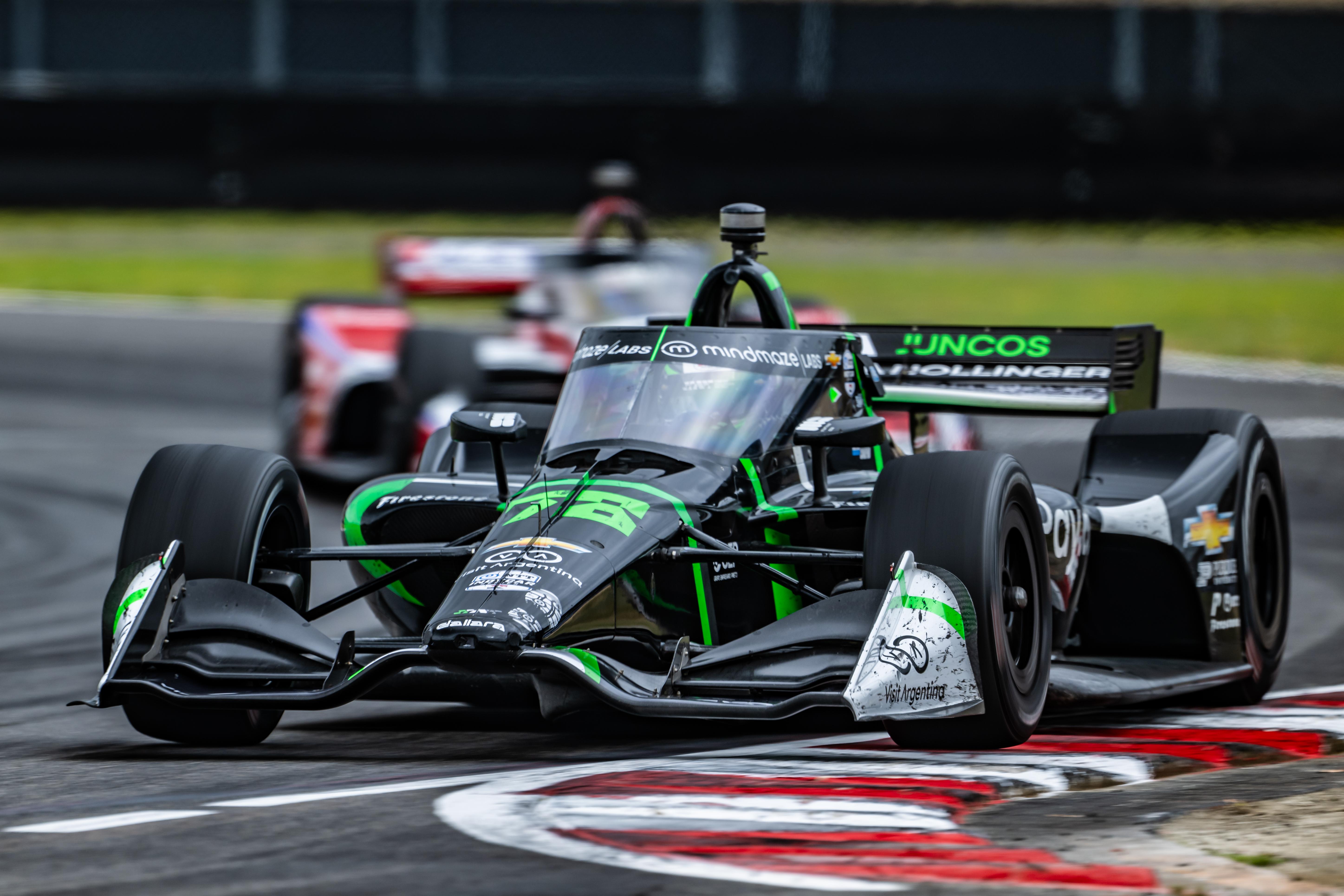 In the event of a tie-break, the driver with the most number of wins takes the position. If the drivers in question have no wins, then it's the most second places, and so on. So it's effectively who has the best finish of the season, or the most of those best finishes, who is judged to be ahead. Here are best finishes for the cars in the Leaders Circle's battle.
3rd #14 (Ferrucci)
8th #20 (Daly)
10th #06 (Castroneves)
12th #78 (Canapino)*
12th #29 (DeFrancesco)*
12th #60 (Lundqvist)*
13th #30 (Harvey)
15th #55 (Pedersen)
17th #51 (Robb)
*Canapino would win, having scored the most 12th places (two)
---
Agustin Canapino is 24th and only five points behind DeFrancesco.
He might not have been in this mess without a spin that left him 26th after what had been his most competitive IndyCar weekend to date before that at Portland last time out.
Laguna was a strong race for Juncos last year, as Callum Ilott qualified on the front row. But at this stage there's little to chose between DeFrancesco and Canapino in terms of race results.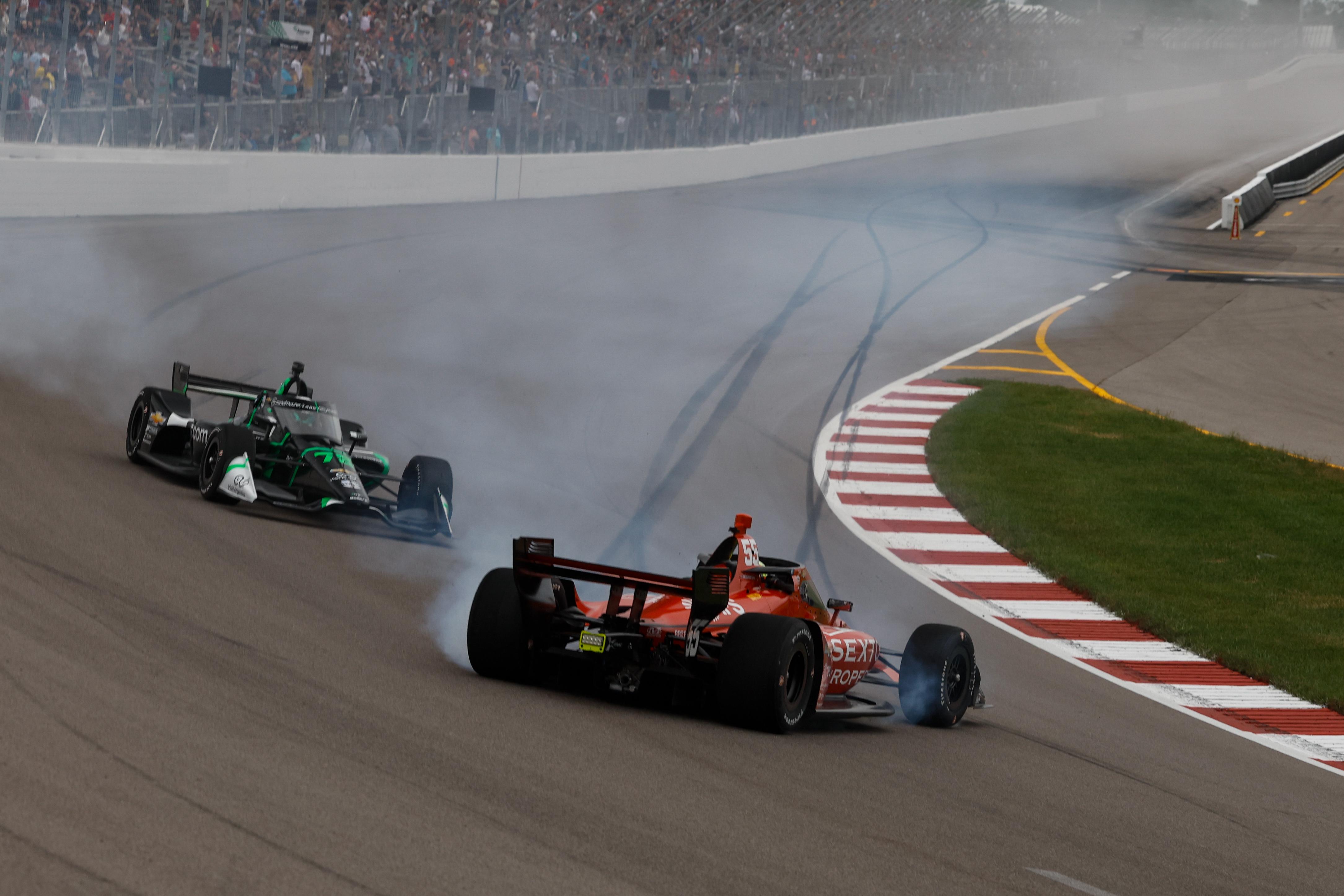 Sting Ray Robb's and Benjamin Pedersen's poor maiden IndyCar seasons would need the injection of a miracle to get in on the action here.
Robb's best result so far is 17th – worth 13 points – and he needs to gain 40 on DeFrancesco to at least contend.
Pedersen will likely immediately be ruled out of this fight as the green flag drops to start the race.
There are 54 points on offer in the race – that's 39 more than his best score this year – but DeFrancesco will get five points for merely starting the race, because that's the minimum score in IndyCar even if you retire on the first lap.
In reality, it looks like Ferrucci and Castroneves (on the right side of the cut), and Robb and Pedersen (on the wrong side) are out of this battle.
But that still leaves five cars in the mix and judging who will get those final three spots is so, so tough.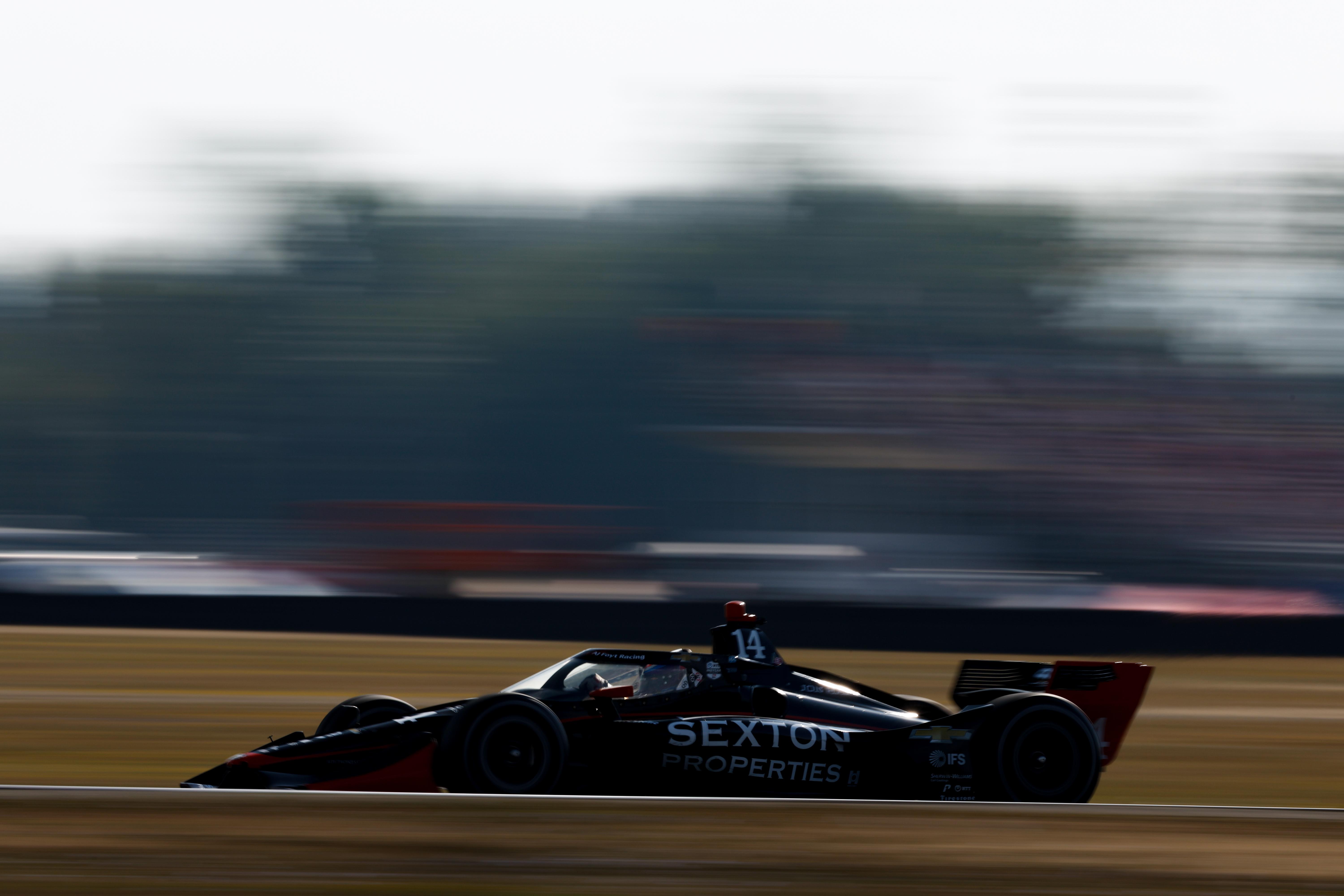 And just to throw another spanner in the works, a resurfaced Laguna Seca will no doubt make any previous results at the track irrelevant.
That could even the playing field for the rookies – especially with Thursday's test – so expect a spicy battle for what is a really significant amount of cash for these teams.