Despite initial hopes it could at least go ahead behind closed doors, the 2020 St Petersburg IndyCar race is officially off.
In the absence of an event to follow this weekend, we've delved into the street race's history to recount some of its most significant moments.
St Pete's combination of wide airport runway front stretch and challenging street circuit twists has generated plenty of entertainment over the years.
We pick out some of the best – and most emotional and memorable – races from the event's history.
2015 – Montoya's renaissance begins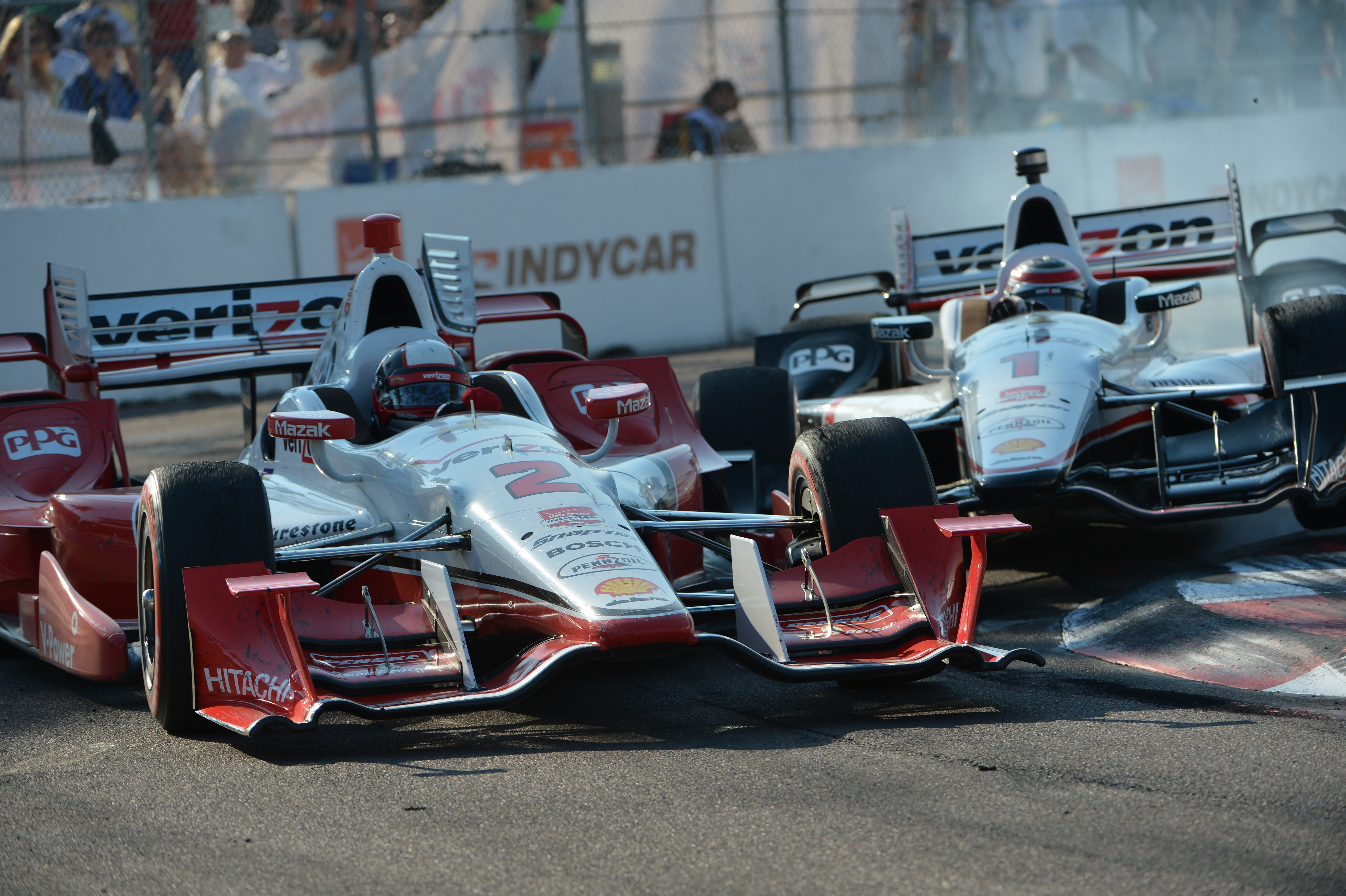 Penske bringing Juan Pablo Montoya back to single-seater racing after he lost his Ganassi NASCAR drive for 2014 was a gloriously left-field move. But there were times in his first season back in IndyCar when it looked like Penske had signed him more for the memory of what he could do in 1999/2000 than what he was actually capable of 14 years on after a long stock car stint.
Montoya himself admitted he was tentative in racing situations and struggled to get used to the tyres early in 2014 as he reacclimatised but he found his feet as the year went on and ended up fourth in the championship thanks to a Pocono win.
But it was St Pete 2015 where Montoya really announced that he was back in business. He took the fight to reigning champion Penske team-mate Power, jumped him in the pits then cemented his win by fending the sister car off even though he was on harder tyres.
It was back to classic Montoya form, and it was the springboard for a season that included a second Indianapolis 500 win and very, very nearly a championship victory – with Scott Dixon only denying Montoya on countback thanks to Montoya and Power clashing in the season finale. – Matt Beer
2003 – The start of the just-about-cobbled-together era
This probably should be filed under 'significant' rather than 'best'. St Pete's only Champ Car race was the opener of the season after the mass exodus to the Indy Racing League, in which big guns Ganassi and Team (soon to be Andretti-) Green plus engine suppliers Honda and Toyota followed Penske to the rival series, while Team Rahal and Fernandez Racing kept a temporary foot in both camps.
CART literally bankrupted itself to bankroll a field propped up by new entrants – many of them with big names involved, such as American Sprit Team Johansson (Stefan Johansson), Fittipaldi-Dingman Racing (Emerson Fittipaldi) and PK Racing (Craig Pollock – but ultimately more significantly, Kevin Kalkhoven too), plus sportscar convert Rocketsports and former IRL squad Conquest Racing. They joined loyalists including Newman/Haas, Forsythe, Walker and Patrick Racing in a now all Ford-powered field.
Eventual champion Paul Tracy dominated a messy but flat race, which featured the debuts of two future title-winners. While Ryan Hunter-Reay was fairly anonymous before crashing heavily, reigning Formula 3000 champion Sebastien Bourdais announced his arrival in America by taking pole by half a second and leading before brushing a wall.
Other debutants in the rookie-heavy field – such as Joel Camathias, Patrick Lemarie, Roberto Gonzalez and Rodolfo Lavin – would make less impact on the US single-seater scene…
Though CART and its Champ Car successor put on plenty of decent races over the following five seasons, it was always in the shadow of the knowledge that elsewhere its IRL nemesis had a higher quality grid saddled with a worse car and a far less interesting calendar as the self-destructive schism dragged on and on. – MB
2005 – IRL rights its lefts with maiden street race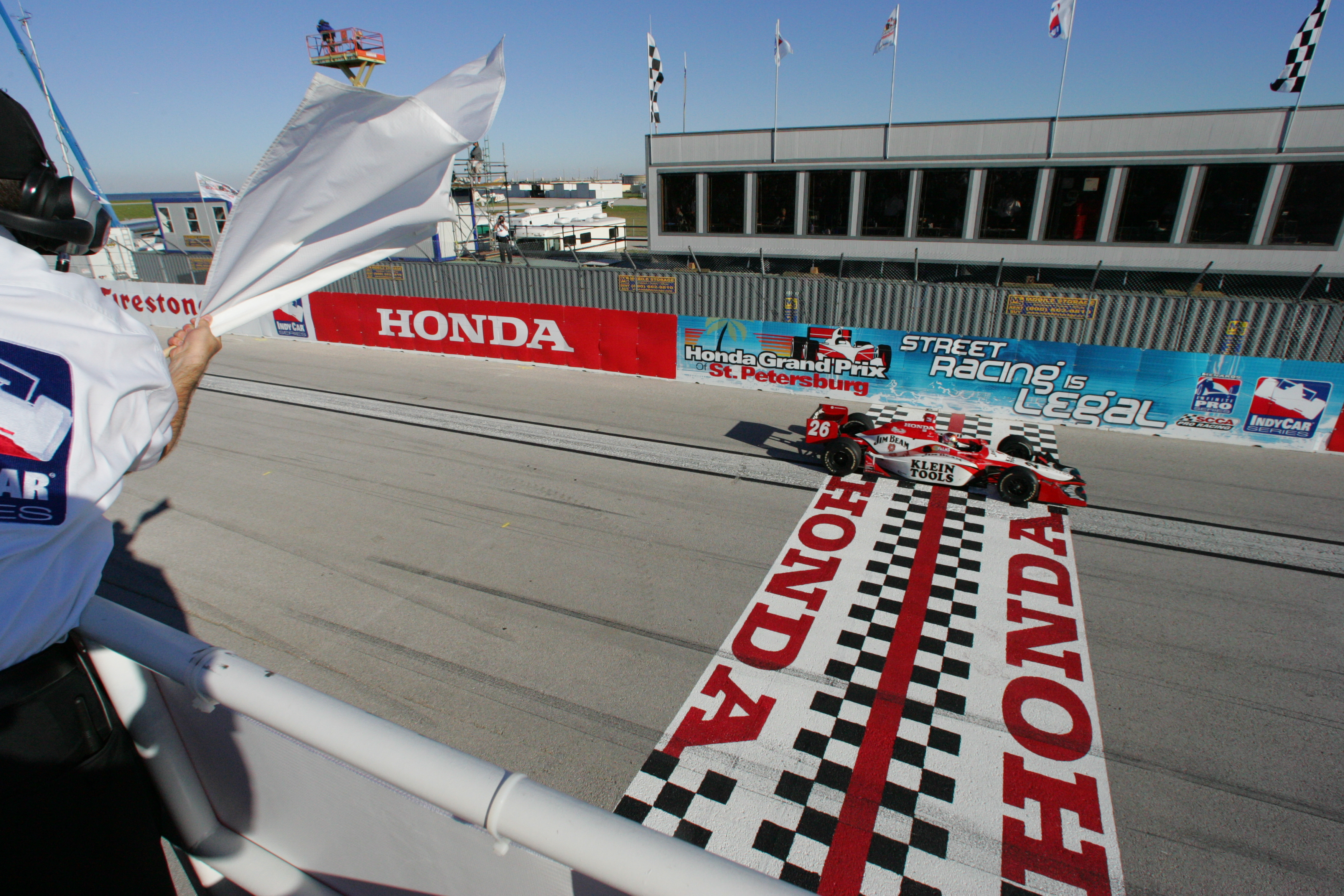 After that brief flirtation with CART two years before, St Petersburg joined the IndyCar landscape for real in 2005 when it became the Indy Racing League's first street race. Its first race with any right turns whatsoever in fact.
The race was very much an Andretti affair – Marco Andretti won in one of the support races, Michael Andretti promoted the event, and his cars dominated on track.
Bryan Herta started from pole for the second race in succession and faced intense pressure from team-mate Tony Kanaan early in the race. Kanaan and another Andretti-Green driver Dario Franchitti both looked to be in with a shot of winning until they suffered issues during pitstops, although Kanaan was able to fight his way back to the front late on.
Spoiling the Andretti party was Ganassi rookie Ryan Briscoe, who shuffled to the front during the first caution, brought out after a collision between pre-race favourite Helio Castroneves and the lapped AJ Foyt IV.
Briscoe led a race-high 43 laps and looked set to claim a surprise first win until he collided with Kanaan with nine to go.
The incident allowed Dan Wheldon to sneak into the lead for Andretti-Green and claim his second win of what would be a championship-winning year. – Dominik Wilde
2008 – Teenage Rahal's shock win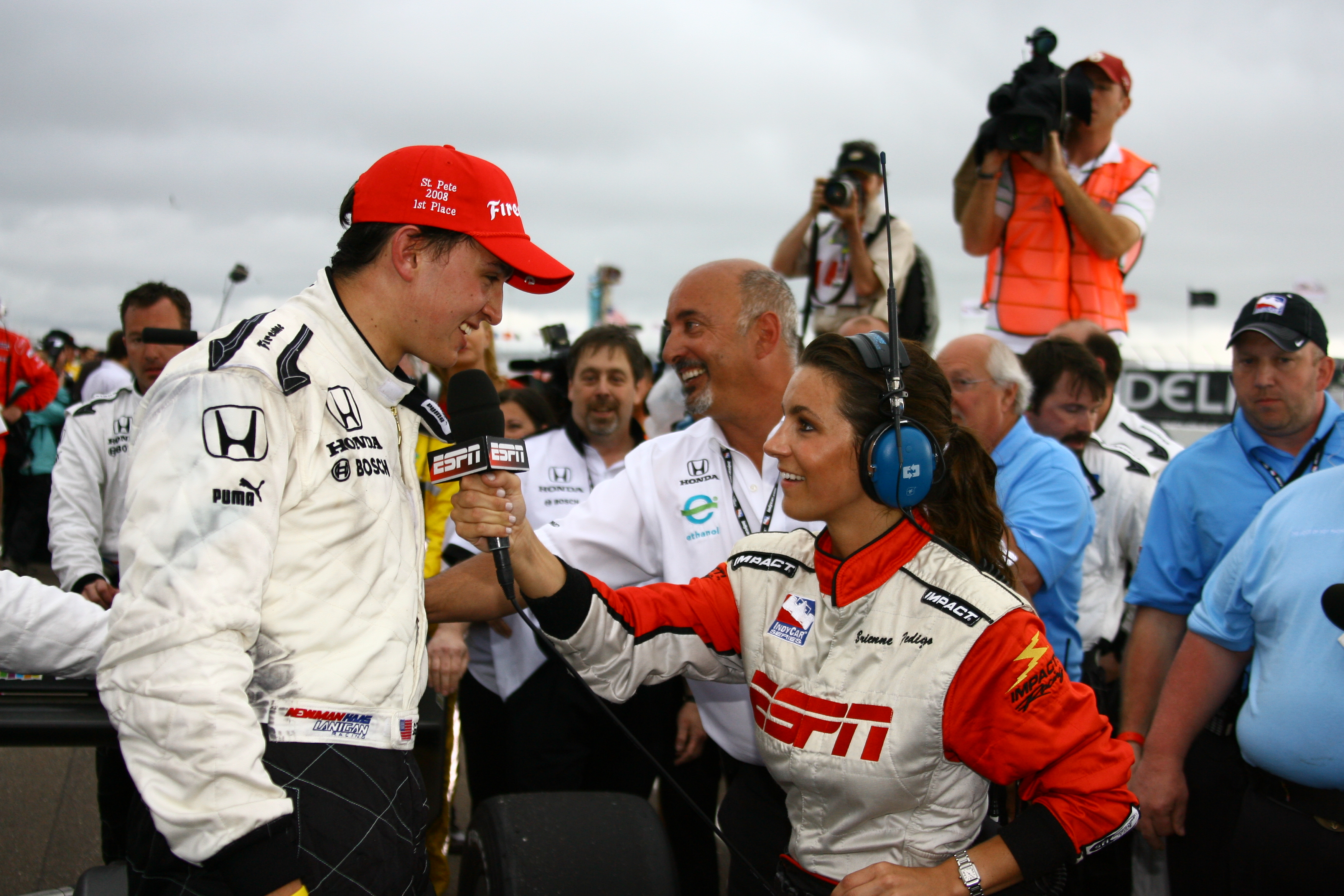 St Pete 2008 was race two of the unified IRL IndyCar/Champ Car era, and the first on a street course.
With the merger having been finalised barely five weeks before the season-opener at Homestead, the handful of Champ Car teams were inevitably massively on the back foot on the Miami oval – up against squads with half a decade of more of experience with the Dallara chassis on ovals. Rahal didn't even make that race due to damage from a testing crash early in the race week.
So St Petersburg became the then-19-year-old's debut in the IndyCar Series. The 'transition teams', as the ex-Champ Car contingent became known, were expected to be more competitive on the familiar territory of a street track despite the car being new to them, and they overperformed on those expectations – KV Racing Technology's Will Power and Newman/Haas/Lanigan's Justin Wilson qualifying second and third. Rahal, Wilson's team-mate, started ninth.
A very wet start to the race levelled the playing field even more, though it also meant a lot of yellows.
Penske's Ryan Briscoe was the only driver from the established IndyCar teams to have much of a spell in the lead, as Wilson, Conquest's Enrique Bernoldi and HVM driver EJ Viso were among those battling for victory at first.
Rahal was soon among the frontrunners before a tangle with Power sent him spinning back to 23rd. But a pitstop soon afterwards on the drying track paid dividends as subsequent yellows scattered strategies.
He was elevated up to second when others stopped, outduelled Vision Racing's Ryan Hunter-Reay for the lead and then nursed his fuel to take charge of the remainder of a race curtailed on the two-hour limit. – MB
2017 – Bourdais comes from the back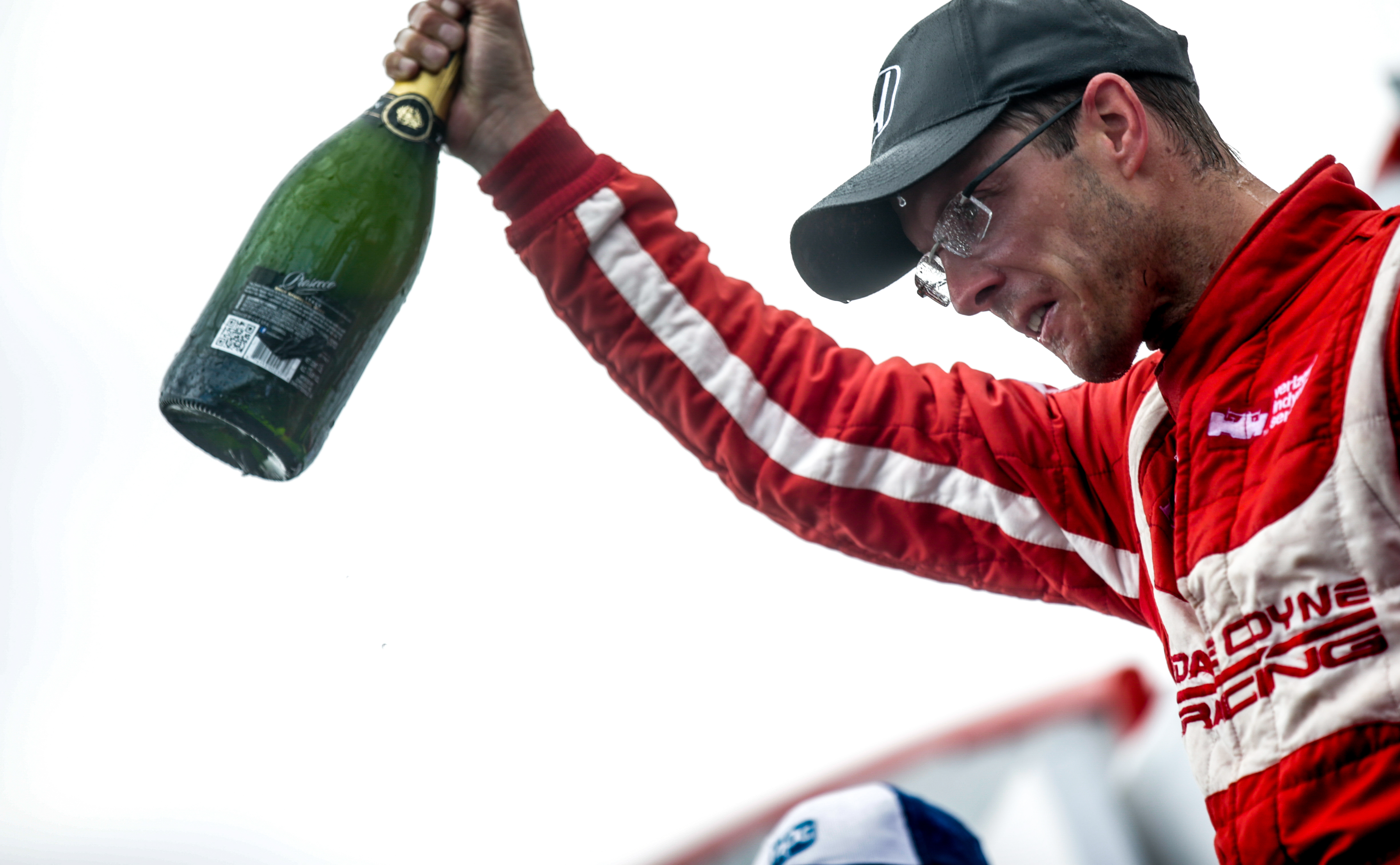 After he crashed during qualifying, you could've bet your house that Sebastien Bourdais, driving for the small Dale Coyne Racing, would not be a threat for the win come Sunday.
Had you placed that bet, you would've had to endure a few cold nights, because miraculously, that's what happened.
Two early cautions aided Bourdais' charge from the back of the 21-car grid, and after the second of those yellow flag periods meddled with the erstwhile lead group's pit strategy, dropping them to the back of the field, Bourdais found himself in a straight fight with fellow Frenchman and reigning champion Simon Pagenaud – who had started back in 14th.
He passed the Penske driver on lap 36 of 110 and never looked back, leading Pagenaud through lapped traffic all the way to the finish.
Polesitter Power meanwhile languished in 19th after engine issues and pitstop mishaps (which bred penalties) ruined his day. – DW
2012 – Castroneves wins for Wheldon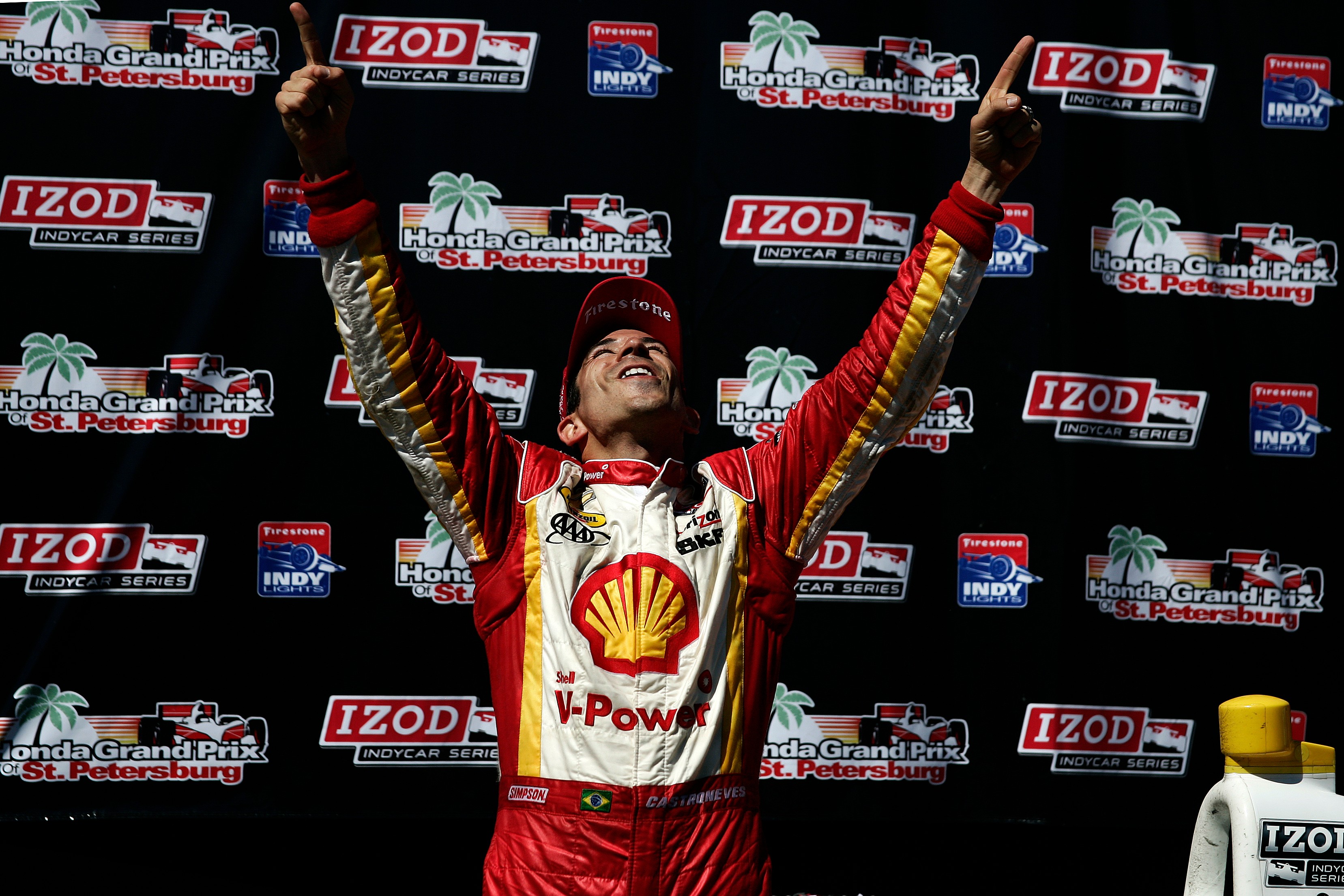 As IndyCar headed to Florida for the 2012 season opener it was still numb from the untimely passing of Wheldon at the previous season's finale. It also went to St Pete full of intrigue thanks to the introduction of the new car, bearing Wheldon's initials.
The unorthodox-looking Dallara DW12, powered by a new breed of turbocharged V6 engines, proved to race better than it looked – and more importantly the 2012 race showed IndyCar's resilience.
Having lost one of its brightest stars, it had to pick itself up, dust itself off, and go again. What's more, the race took place mere miles from Wheldon's family home.
Seven drivers shared the lead of the race but it was Castroneves, who led the final 25 laps, who prevailed.
Castroneves took the lead after passing Scott Dixon, who'd been a dominant force in the middle part of the race. He had moved to the front during the first round of pitstops, a sequence that had cost polesitter Power the lead after he opted to stop early in a bold, but ultimately flawed, strategy call.
Castroneves' win was his first for nearly two years, and Chevrolet's first since its previous exit from the series in 2005. – DW
2009 and '10 – Wilson underdog magic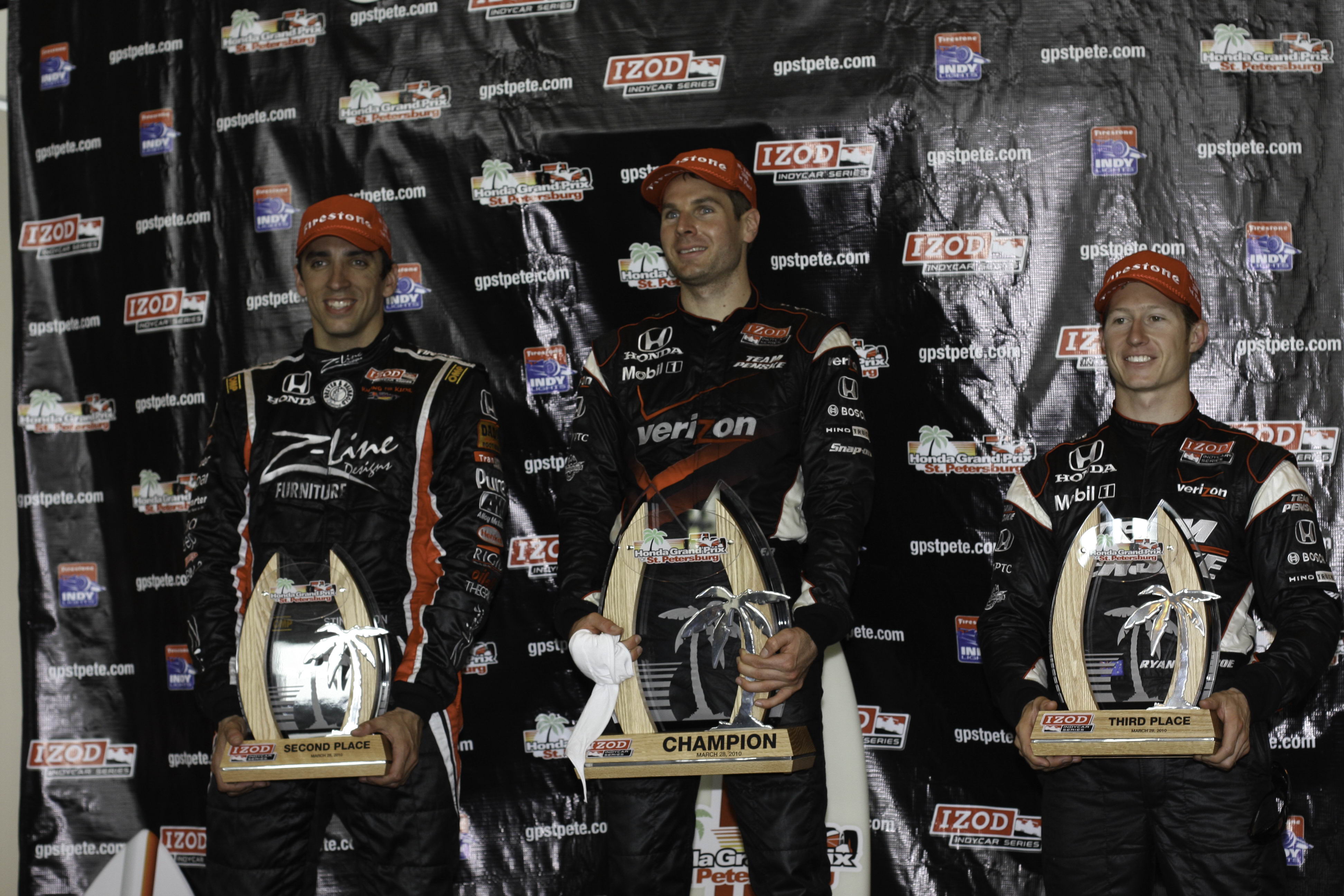 This double entry is all about one driver: the much-missed Justin Wilson. He lit up St Pete in both those years by coming agonisingly close to breakthrough victories for two of the minnow teams that he spent so much of his career battling for.
Dale Coyne Racing's recruitment of Cristiano da Matta and Bruno Junqueira earlier in the 2000s had begun to show ambition beyond its perennial backmarker state, but it was Wilson who made the team a winner.
Though the breakthrough came later in 2009 at Watkins Glen, at St Pete Wilson qualified on the front row, led most laps and came within 0.9490s of winning, having lost out to Power and Hunter-Reay in a late restart battle.
The following year Wilson switched to Dreyer & Reinbold, a team whose only IndyCar win so far remains its shock victory with Robbie Buhl in its very first IRL race at Disney World in 2000.
But Wilson so very nearly changed that on his first appearance for DRR, coming within 0.8s of denying repeat victor Power after a late chase. – MB
2018 – Wonderful Wickens wiped out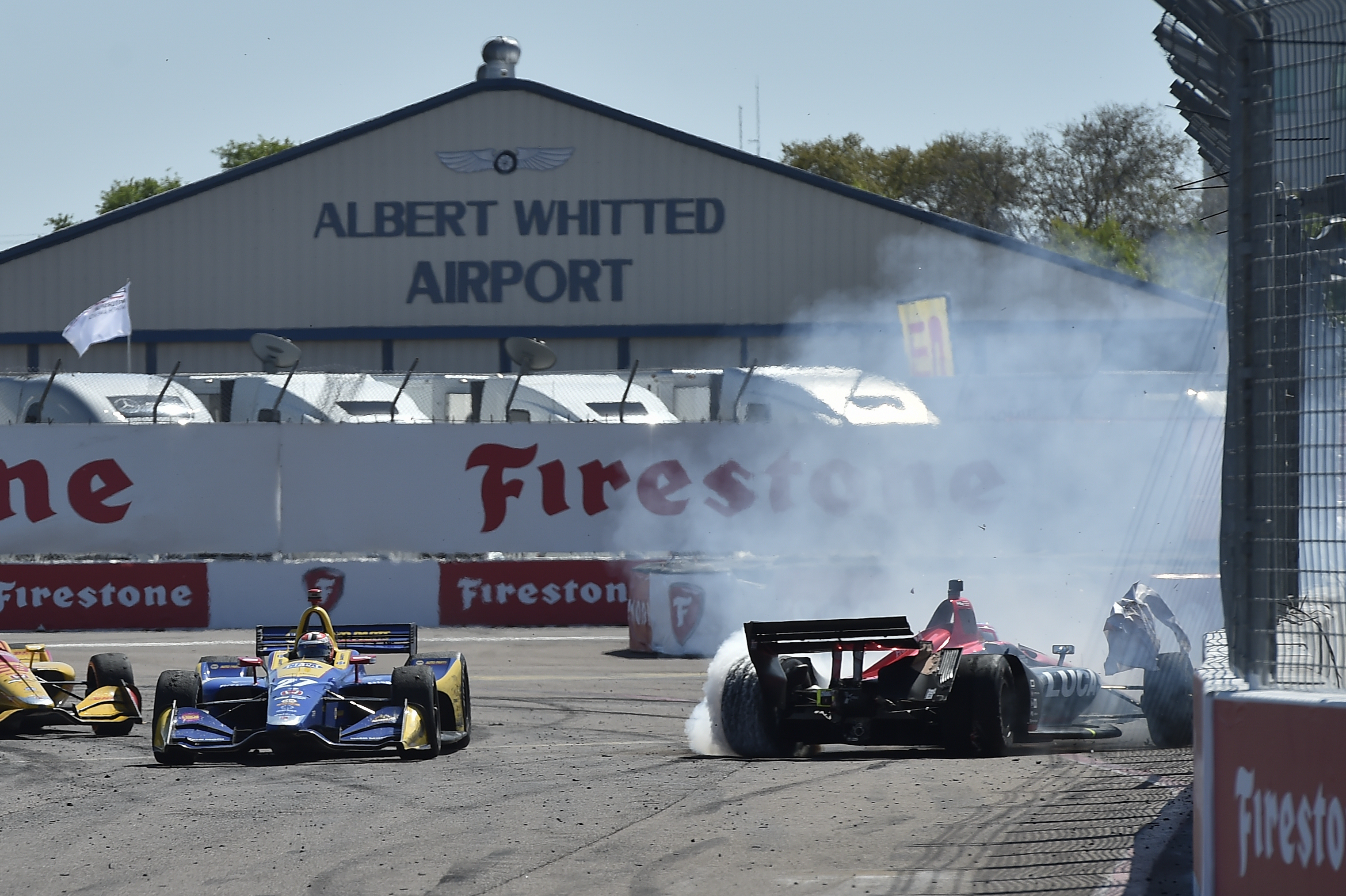 Bourdais went back-to-back in 2018 but nobody remembers the 2018 St Petersburg Grand Prix for that. No, that edition of the race is remembered for the rookie who didn't win.
Robert Wickens already had a decent single-seater pedigree when he left the DTM for IndyCar at the end of 2017, but nobody expected a performance quite like this in what was his first open-wheel race for six years.
The Canadian led from pole, escaping a tangle with Power early on, and led 69 of the race's 110 laps. He faced pressure from rising star Alexander Rossi late on, with the American running wide but recovering.
A late race caution, brought about after rookie Rene Binder binned it, set up a fantastic shootout between Wickens and Rossi, but when they collided at Turn 1 on the restart, Bourdais snuck through from nowhere (again) to win, with Rossi slipping to third and Wickens retiring. – DW