There was a hint of a new IndyCar driver rivalry in Long Beach as Scott Dixon declared "all gloves are off from this point" after Pato O'Ward shoved him off at Turn 8 and O'Ward refused to apologise for it after the race.
That and another incident soon afterwards meant O'Ward lost his championship lead and were a stark contrast to the composure with which he's started his 2023 title bid.
But this wasn't as simple as O'Ward reverting to bad habits and being too rash.
The pair crashed on lap 20 of 85, with O'Ward surprising Dixon by diving down the inside at Turn 8 while both were in the lead group.
Dixon limped back to the pits after smashing into the tyre barrier and being restarted by safety crews but then stopped shortly after with a suspected loss of oil pressure.
O'Ward finished 17th after another crash at Turn 8 – this time mostly involving only himself – which set up a tough end to the race.
"I haven't seen proper replays of it yet but that seemed extremely late," Dixon told NBC TV of the lap 20 incident with O'Ward.
"[Watching a video of the contact] it starts way before that, we're already committed to the corner. I understand there's tyre deg and all that sort of stuff going on but I wouldn't have chosen to do that.
"But if that's how the series wants us to race then I guess it's all gloves off from this point. That's how it would be."
Scott Dixon goes into the tires!

He had help from Pato O'Ward. 👀 #INDYCAR | @NBC and @Peacock pic.twitter.com/F33m2ZLWBh

— INDYCAR on NBC (@IndyCaronNBC) April 16, 2023
O'Ward certainly didn't agree that he was to blame for the incident.
"I was on the inside, he decided to stay on the outside," O'Ward said.
"Don't know what to say, I mean, I've been racing Scott for a few years, if he feels like that was my fault, sorry you feel that way but I don't agree."
Asked if he felt the need to seek out Dixon to discuss it, O'Ward replied: "I'm sure I'll circle back with him this weekend or the next one, but I'm not going to apologise for that.
"We're racing, so…a lot of the times when I've been in that situation I kind of just let the guy go.
"Because if you're on the outside you're more vulnerable to those things happening."
---
The Race's verdict on O'Ward vs Dixon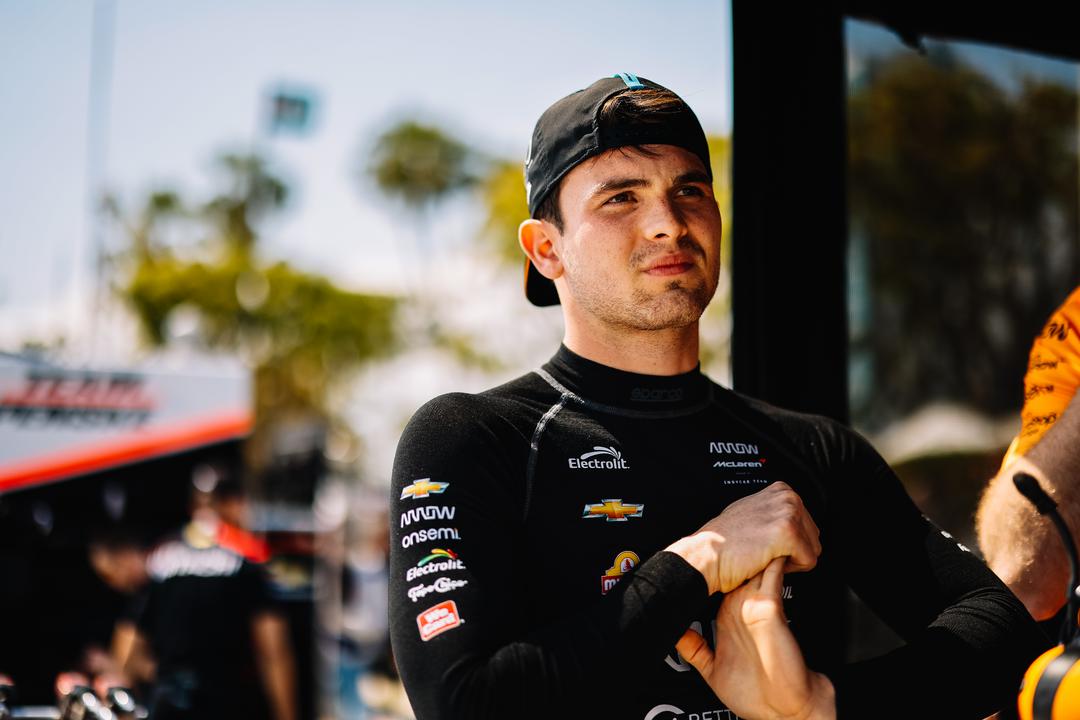 Dixon is absolutely right that O'Ward made a very late move. It's also really important to consider that a) that corner used to be bumpy on the inside and not a passing zone, and b) that the natural racing line is to approach from wide, leaving the whole inside of the track clean.
So while O'Ward initiated the contact, is Dixon partly to blame for not covering off the space on the inside better and being a bit more spatially aware of O'Ward's position and acting accordingly?
In recent years there have been a number of incidents where the driver being overtaken has been put out but could have yielded the spot if they had been aware and lived to fight back to score vital points.
"I guess it's all gloves off from this point."

Scott Dixon is out of the race not long after his incident with Pato O'Ward. #INDYCAR pic.twitter.com/QLDLKlcSe6

— INDYCAR on NBC (@IndyCaronNBC) April 16, 2023
That's exactly the sort of thing you expect from Dixon. But maybe a mix of the natural corner entry and the fact it hasn't been an overtaking zone before lulled him into a false sense of security.
Perhaps he's right and it was too late to avoid the contact. But it certainly looked avoidable from the outside and while he was ahead, he was also vulnerable on the outside with so much inviting space on the inside.
It's hard to criticise Dixon as he's almost always good at these racecraft aspects and right when he discusses them. But it certainly appears he could have avoided the incident had he been aware, and maybe he has to take a small part of the blame for not backing out to take a net win out of the situation instead of ending a run of completing every race lap that goes back to the August 2021 Gateway race!
---
Dixon had a podium and a fifth to start the year so arrived in Long Beach with momentum, qualifying fifth.
But he immediately dropped two spots at the start which he was clearly unhappy with as O'Ward and Josef Newgarden both made up significant places.
"Frustrating day, it was going to be hard on the strategy that we were, plus the start was a complete joke as well," he said.
RETWEET if you're watching @IndyCar!

The @GPLongBeach is underway on @nbc and @peacock! pic.twitter.com/zN7S9FwoiV

— INDYCAR on NBC (@IndyCaronNBC) April 16, 2023
"I don't know what they're calling up there but it seemed like row six or five went way before even the leader did."
Having watched the replay, it seems more that Newgarden and O'Ward were accelerating to close a gap to the car ahead and were then able to capitalise when the start properly began, while Dixon had to check up at the same time as Romain Grosjean slowed slightly ahead of him.
IndyCar didn't penalise anyone for the start.
O'Ward's gain in places there ultimately didn't matter because of the Dixon incident and then another crash a short time later following a chaotic restart with lapped and delayed cars plus strategy gambler Agustin Canapino up front.
As the traffic bunched, O'Ward again moved to the inside at Turn 8, lost control and spun. He just avoided eventual winner Kyle Kirkwood, but did clip Marcus Ericsson and delay Alex Palou.
It may have looked like O'Ward was dive-bombing but seemingly he was trying to avoid the slowing cars ahead. Ultimately he took full blame for the incident.
"The other issue that I had in Turn 8 was completely my fault. I feel bad I let my team down, the amazing crowd that came out today, by the time that I kind of remembered to stop the car it was already too late, I squeezed myself," said O'Ward.
"I didn't want to take out Kirkwood so I just slammed on the brakes, locked the rears and spun.
"It's been a weekend… not to forget, I think there's a lot of positives we can take out of this weekend, but obviously I'm just disappointed in myself.
"I don't have to be making those stupid moves. Not up to the level that I expect from myself."
Pato O'Ward SPINS!

Same corner as his incident with Scott Dixon, he slides into the barrier! #INDYCAR

📺 : NBC and Peacock pic.twitter.com/kzgCTwqBAq

— INDYCAR on NBC (@IndyCaronNBC) April 16, 2023
It's easy to see why O'Ward is angry with himself. You could argue that Dixon could have backed out of their crash, but the second incident was down to O'Ward solely.
He knows better than anyone that things out of his control – mainly reliability issues – have hindered his championship bids in the last two years.
Making mistakes like this one turned a top 10 into 17th and the loss of points could well cost him the championship if he looks back on it in such a way at the end of the year.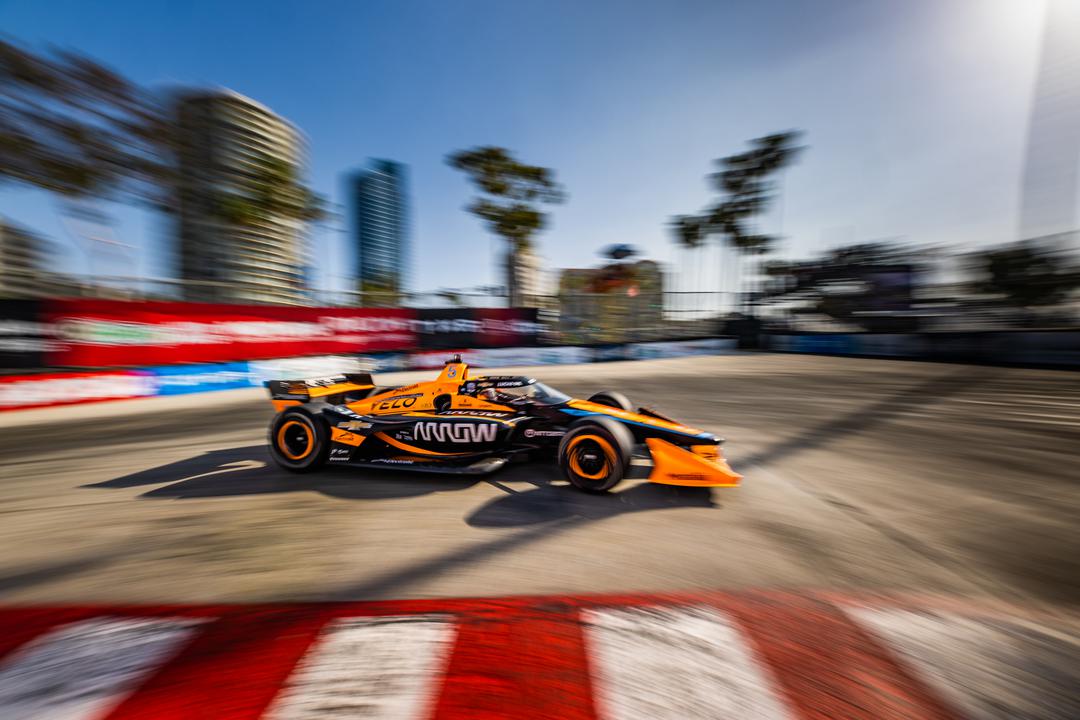 But in typical O'Ward fashion, he managed to be strong in the face of adversity and error.
The way he assumed the blame for the second incident and apologised to his team was classy. Few drivers can be as accountable for their actions as OWard when it comes to admitting errors.
That it also shows you he wholeheartedly believes he wasn't at fault for the Dixon incident, which many people will disagree with, but he has his opinion.
Looking at his comments it's easy to see why his Arrow McLaren team loves him and rallies around him even when he is arguably the sole reason the team leaves Long Beach without the championship lead, which he held coming into the weekend. He's now 15 points behind new leader Ericsson.
With McLaren having added a third car and over 40 staff it's been a rollercoaster off-season of growth that O'Ward clearly used to his advantage to start the year.
But if he wants to be mentioned in the same breath as Dixon and Newgarden etc more frequently, cutting out days like Long Beach is crucial.
After all, he's proven he can win races and lead the championship already.