On one hand Romain Grosjean's Barber podium was a third IndyCar pole unconverted, on the other it was arguably his best drive in IndyCar.
A three-stop strategy that usually doesn't work at Barber was boosted by a well-timed caution that allowed eventual winner Scott McLaughlin into contention but Grosjean gave him a proper run for his money.
His win chances ended with an error but Grosjean says his team boss Michael Andretti had some of the highest praise for his drive that was so strong despite so many things being against it.
Here's how it unfolded:
The stunning overtake
"Aggressive but calculated."@RGrosjean with the pass around @smclaughlin93.#INDYCAR // #INDYBHM pic.twitter.com/mhpxNGYtgL

— NTT INDYCAR SERIES (@IndyCar) April 30, 2023
Grosjean led from pole on the usual, historically preferable two-stop strategy. But after a caution on lap 39/90, Scott McLaughlin's three stop meant he had to do less fuel saving for the rest of the race and had fresher tyres to attack Grosjean with.
When Grosjean pitted from the lead for the final time, McLaughlin was able to stay out for three laps in clean air and run qualifying laps to build an advantage.
He pitted and emerged just ahead, but did a fantastic job to hold Grosjean at bay in the obvious passing zone at Turn 5.
Grosjean continued to get close to his rival but just couldn't find a way through until Turn 13 and 14 where McLaughlin went really defensive covering off the inside line on the entry. But that left the door open on the outside, which becomes the inside at Turn 15, the last corner of the lap.
Grosjean gunned the throttle once he had the car pointing at the centre of Turn 14 and dived down the inside, drawing just alongside at the entry of Turn 15.
The two banged wheels but McLaughlin allowed enough room for Grosjean to stay on the inside, unscathed.
When asked by The Race to explain the move, Grosjean said: "The beauty of IndyCar is the track evolves a lot during the race. You never really know what the grip is.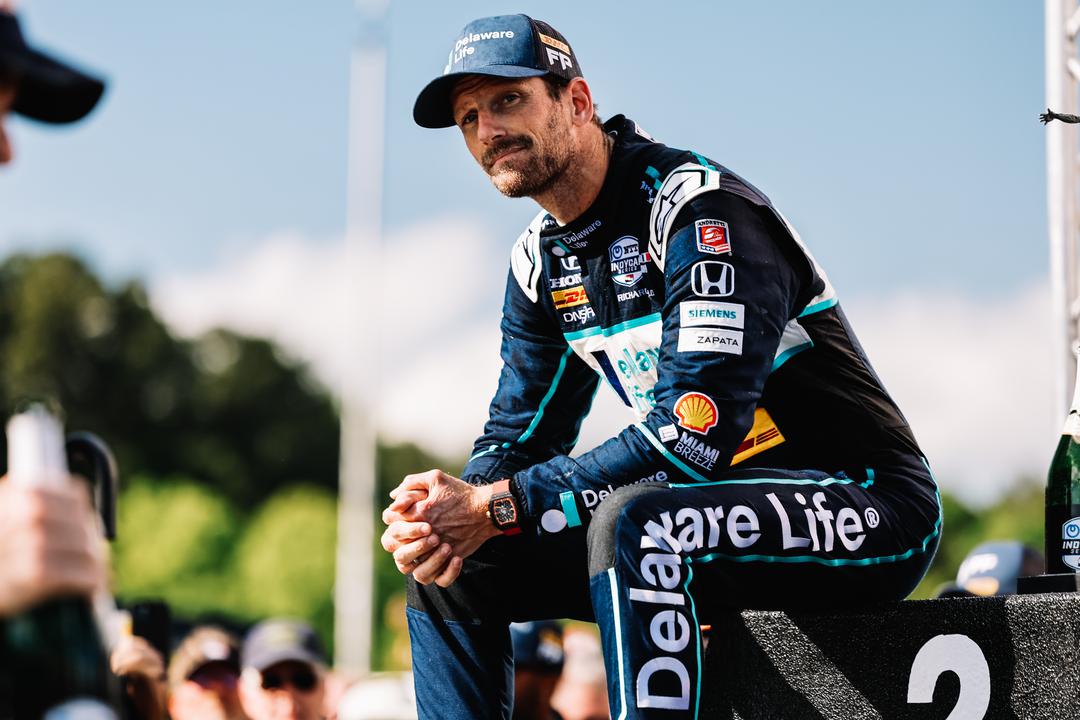 "Scott saw I wanted to go on the inside in 15, 16 [Turns 13 and 14]. He closed the door. I thought my only option is to go on the outside, roll some speed, see if the grip is there. The grip was there. I managed to get side by side in the apex.
"I was hoping for grip and I got the grip."
Grosjean's move had been pulled off to delicious perfection by Christian Lundgaard on Scott Dixon of all people earlier in the race, but with Lundgaard, he was on softs compared to Dixon's hards and was already a nose ahead going into Turn 14.
Textbook pass for @lundgaardoff!#INDYCAR // #INDYBHM pic.twitter.com/RY4zsnd4Z1

— NTT INDYCAR SERIES (@IndyCar) April 30, 2023
With Grosjean, he was alongside McLaughlin, but not ahead, and had to rely on McLaughlin to give him space. If you take the inside line like Grosjean did at that corner, you naturally wash out and run wide on the exit.
"He caught me napping," said McLaughlin. "It was a great move by him."
The slight coming together and McLaughlin allowing room gave Grosjean the impetus he needed to pull off a move that was brilliant, but even more so given it was fighting for the lead in the context of St Petersburg.
There's history with these two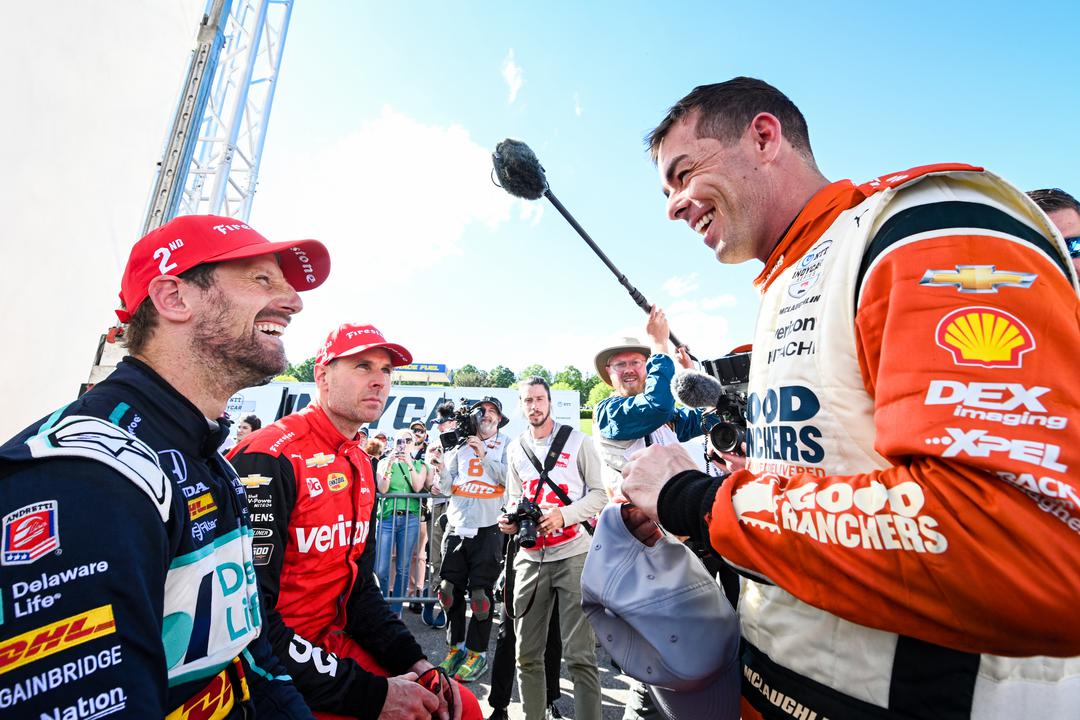 It's fair to say Grosjean hasn't always been the most popular driver in the field but McLaughlin's spoken highly of Grosjean and apologised after taking Grosjean out at Turn 4 at St Petersburg when he similarly came out on cold tyres with Grosjean attacking behind.
"Scott made a mistake in St. Pete, I know he doesn't race that way, it was all clean," was Grosjean's take and said he didn't race McLaughlin differently given the St Petersburg incident.
Asked a similar question, McLaughlin said: "I think we showed today it's no big thing. It's just hard racing.
"We'll race each other to every bit of the track, use each other up when we need to. That's just part of it and that's why I enjoy racing Romain."
McLaughlin added he thought It was "awesome racing" and "ain't no procession here, that's for sure".
McLaughlin said it was "probably the most complete race I've ever driven in an IndyCar", further elevating how highly we should rate Grosjean's performance. McLaughlin is a four-time race winner having entered IndyCar around the same time as Grosjean.
A ridiculous all-around race performance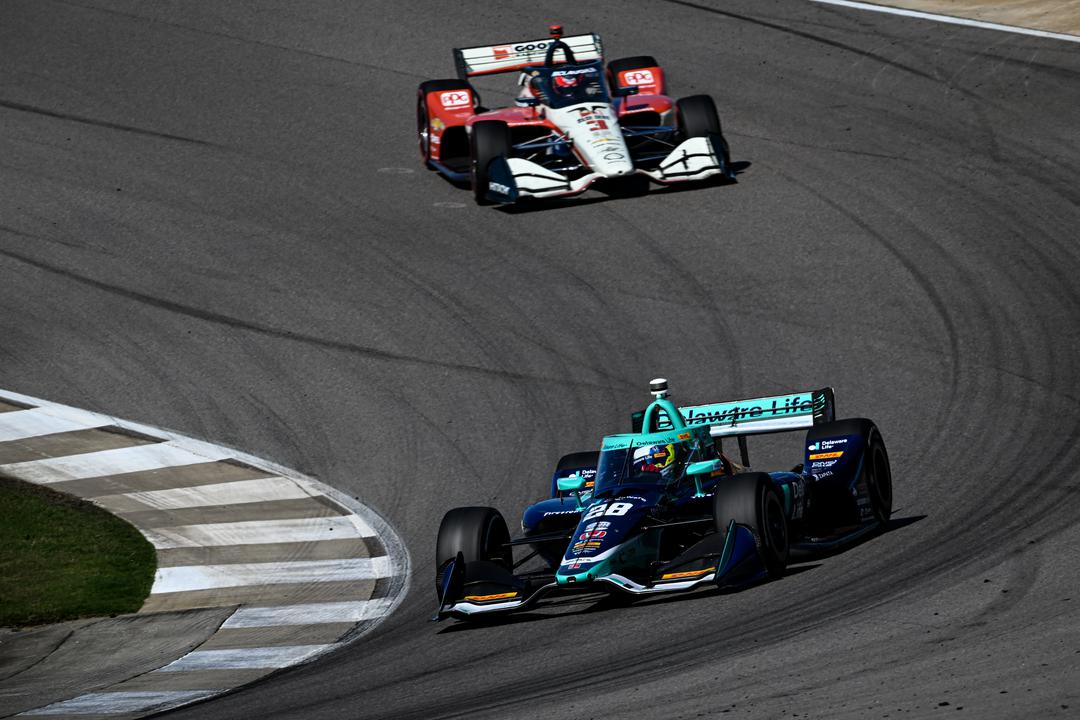 Grosjean was pressured by McLaughlin in Turn 5 which handed McLaughlin the lead, but rather than seeing that as some sort of race-costing error, it's more pertinent to look at how Grosjean was even there in the first place and that he was almost certainly going to lose the lead to McLaughlin somewhere in that stint.
The three-stop strategy – which benefited from the caution and was ultimately the best strategy even if it wasn't predictable pre-race and a big gamble – was the best and Grosjean was on the sensible pre-race choice of the two-stop.
But in the closing stages as the three-stoppers came to the fore, Grosjean was able to keep up a ridiculous pace.
In the stint following his first stop Grosjean held McLaughlin at bay on hard tyres compared to McLaughlin's softs, and cleared third-place Pato O'Ward by nearly eight seconds. By the end of the race, that gap to O'Ward – who fell another spot to three-stopper Will Power – was just over 19 seconds.
"I have to say what he [Grosjean'] did is extremely difficult and technical, to finish 20 seconds ahead of the next guy [on the same strategy] is pretty impressive," said Power.
Grosjean added: "I think when your team boss comes to see you and says that's probably the best drive he's seen in IndyCar, he's been around for a long time, Michael [Andretti], you take that as a win.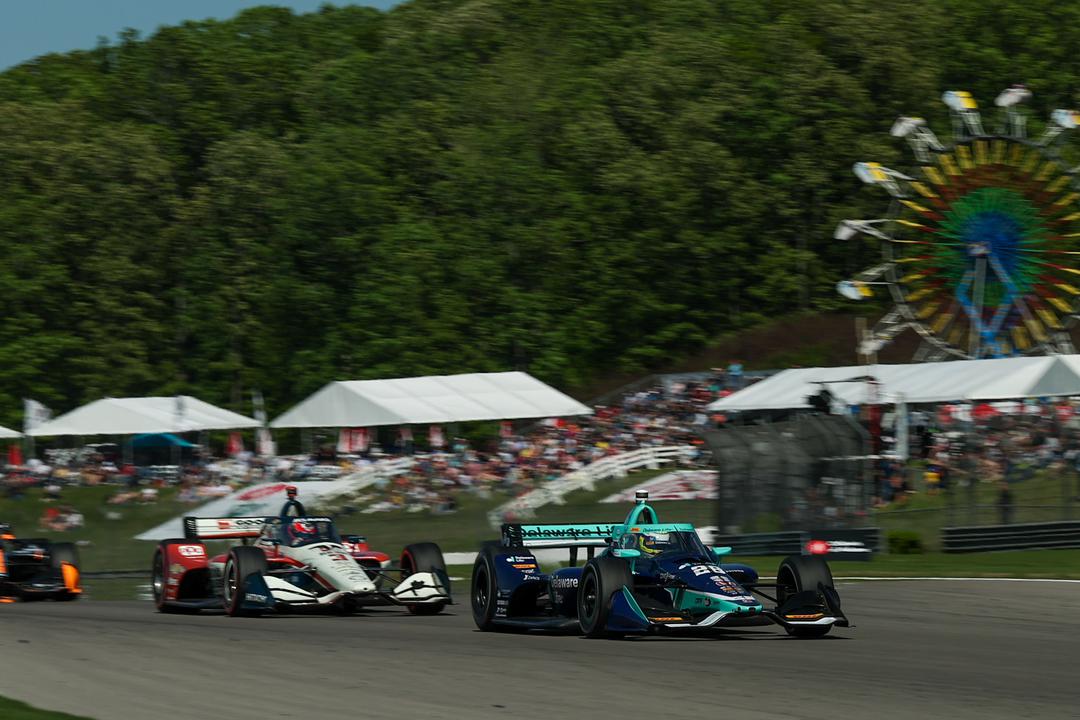 "Very proud of my engineer, my mechanics. We made P1, so we beat them on the back foot and got them with pole.
"We had a fast car today. With the fuel number we had to hit doing the lap times we were doing, pretty amazing. I'm really happy with that.
"I saw Will coming, but I knew it would be at the end of his red tyre life. When he was in dirty air, it would be hard for him. Try not to make any mistakes and keep enough fuel for the last two laps."
Even with fresh hards and Power on used softs, Power erased a gap of over 12 seconds to Grosjean to harry him until the end. To hold on was uber impressive and to see that his team-mates were well outside the top 10 further demonstrates Grosjean's weekend performance level.
The error that cost him the race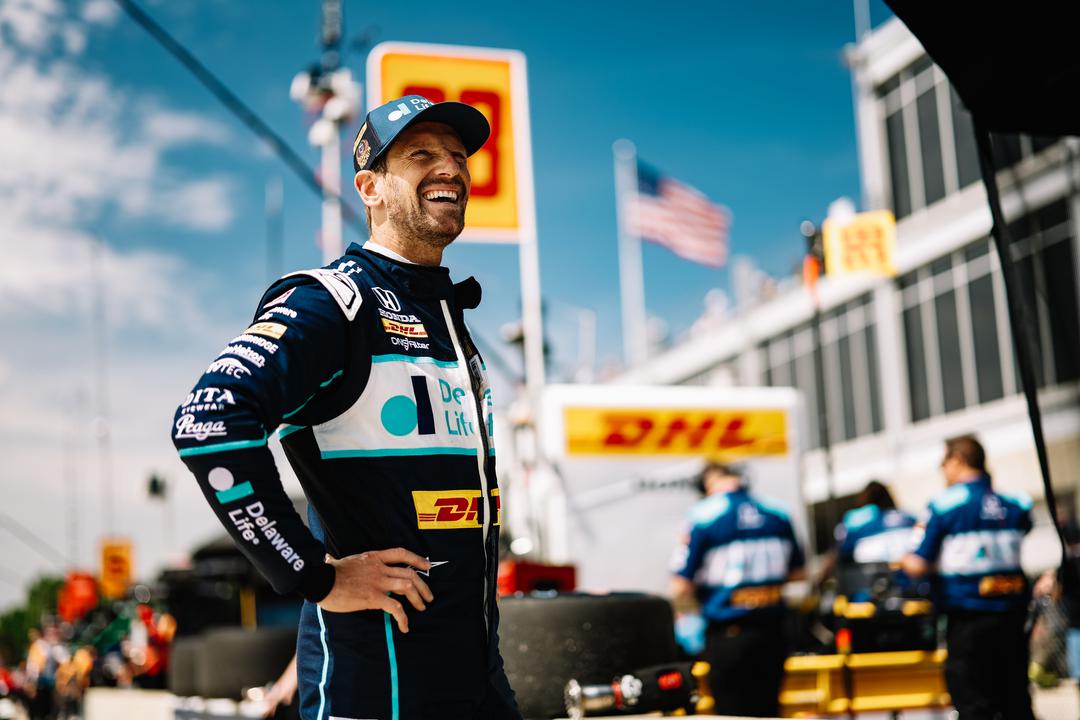 Grosjean was having to deal with saving more fuel than McLaughlin, and ultimately the fact that the two Penske cars that didn't have underlying performance issues finished on the podium tells you it had the stronger package at Barber.
Grosjean defended well until lap 71 where he ran fractionally too deep at Turn 4 which allowed McLaughlin to steal the lead on the drag to Turn 6.
"I was pressuring him, I knew he was starting to save fuel and stuff," said McLaughlin.
"I was biding my time. I was really surprised. I didn't think I was going to pass him at that point. Sort of just took my chance.
"I had a lot more push to pass than he did. I just used push to pass all the way up to Turn 7, managed to clear him. He was never going to sort of pass me into Turn 8.
"If he did pass me into 8, he was probably going to crash me. Just sort of hoped to God that he didn't do that, and he didn't. We got out of there and pressed on."
Ultimately it was an error by Grosjean, that's easy to acknowledge. But it's arguably more impressive that he was in that fight in the first place and that he hung on as long as he did in the onslaught of a fuelled up, soft-tyre shod McLaughlin. He was never going to pressure McLaughin for another 20+ laps.
What he says about another unconverted pole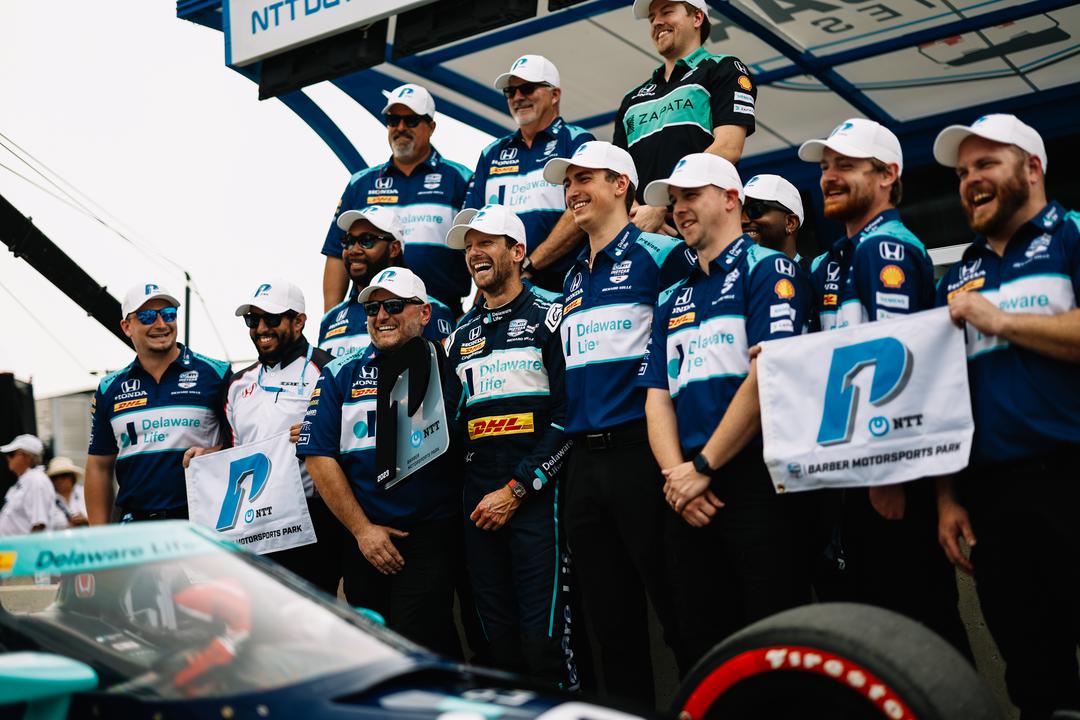 Grosjean scored a pole in his rookie year which he couldn't convert when he was held up battling with a driver trying to stay on the lead lap and he was jumped in an undercut by Rinus VeeKay. In St Petersburg this year he was taken out by McLaughlin.
Chalk his third unconverted pole up to being on the wrong strategy, although Grosjean's strategy was the sensible one heading into the race and a huge amount of luck was what made the three-stopper possible.
"You need to do everything perfect to win," he said.
"Today we didn't have the right strategy. It is what it is. Control what you can control. That's what we did.
"We executed very well this weekend. We had a fast car. Got pole. 20 seconds ahead of the two stoppers on the race finish. That shows how fast we were. We just didn't have the right strategy today.
"I'd say we were not too bad. Put me P5 in the championship. Big picture, yes I wanted to win today, it hurts to not do it.
"We have a lot more occasions. If I can win Indy and the 500, it would be good."
The good news is, of the races he's finished, Grosjean's been second twice. St Pete we've addressed and in Texas he crashed fighting for a top four in a difficult incident where he encountered dirty air.
While his other poles at the time may have seemed like they were more the exception than the rule, that's reversed now and Grosjean's constantly in contention everywhere we've been, arguably more so than any other driver.
It doesn't feel like long before he converts his first win in IndyCar and in cars since 2011.
And even while he waits for that, his current performances are making a return to Andretti more and more likely as it simply won't be able to afford to lose him if he carries on as comfortably the team's standout driver and its most likely 2023 title contender.