Pato O'Ward gave the Arrow McLaren SP team its first victory as a collective, and is set to earn a Formula 1 test with McLaren later this year after winning the second IndyCar race of the weekend at Texas.
Just before the season began AMSP released a video where McLaren boss Zak Brown promised O'Ward a test after Abu Dhabi in F1 if he took the first IndyCar win of his career in 2021.
A huge crash before the field even got to green wiped out six cars from the running instantly. What seemed like slow pace at the front caused a concertina effect at the back of the field, with Pietro Fittipaldi clipping Sebastien Bourdais into a spin.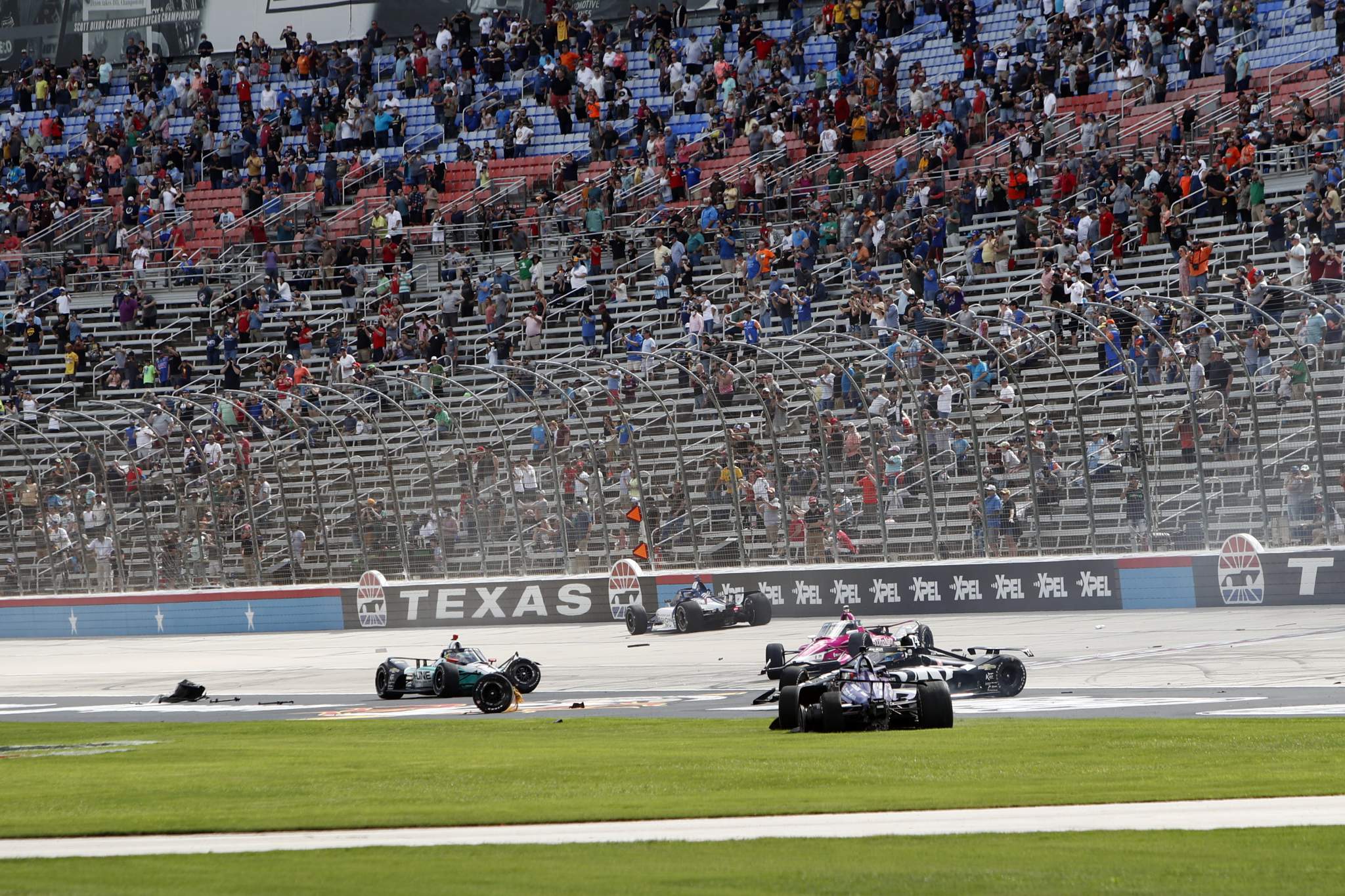 Conor Daly was catapulted into the air and ran on the car's roof before falling upright, while Alexander Rossi, Ed Jones and Dalton Kellett were also involved. James Hinchcliffe looked to have escaped but retired later in the race and Tony Kanaan took on damage which hindered his race.
Chip Ganassi Racing's Scott Dixon dominated the early running with team-mate Alex Palou closely in tow as they dropped the chasing pack.
Early on that pack had been headed by Jack Harvey – but the Meyer Shank Racing driver appeared to suffer the same issue as Andretti stable-mate Colton Herta in race one of the weekend, with a blown bearing on the right-rear wheel.
That caused a caution on lap 116/248, which neutralised the field, and all of the leaders pitted, making it a one-stop race with heavy fuel saving.
Palou was the big loser in this round of stops as he dropped four spots from second and then was passed by Simon Pagenaud on the restart to fall to eighth.
O'Ward – who displayed plenty of aggression and fast hands making moves in the race – and Graham Rahal came to the fore after that second caution for Harvey's woe, and Rahal took over the lead before handing it back to Dixon as he had to switch to a snail's pace compared to normal due to the fuel saving.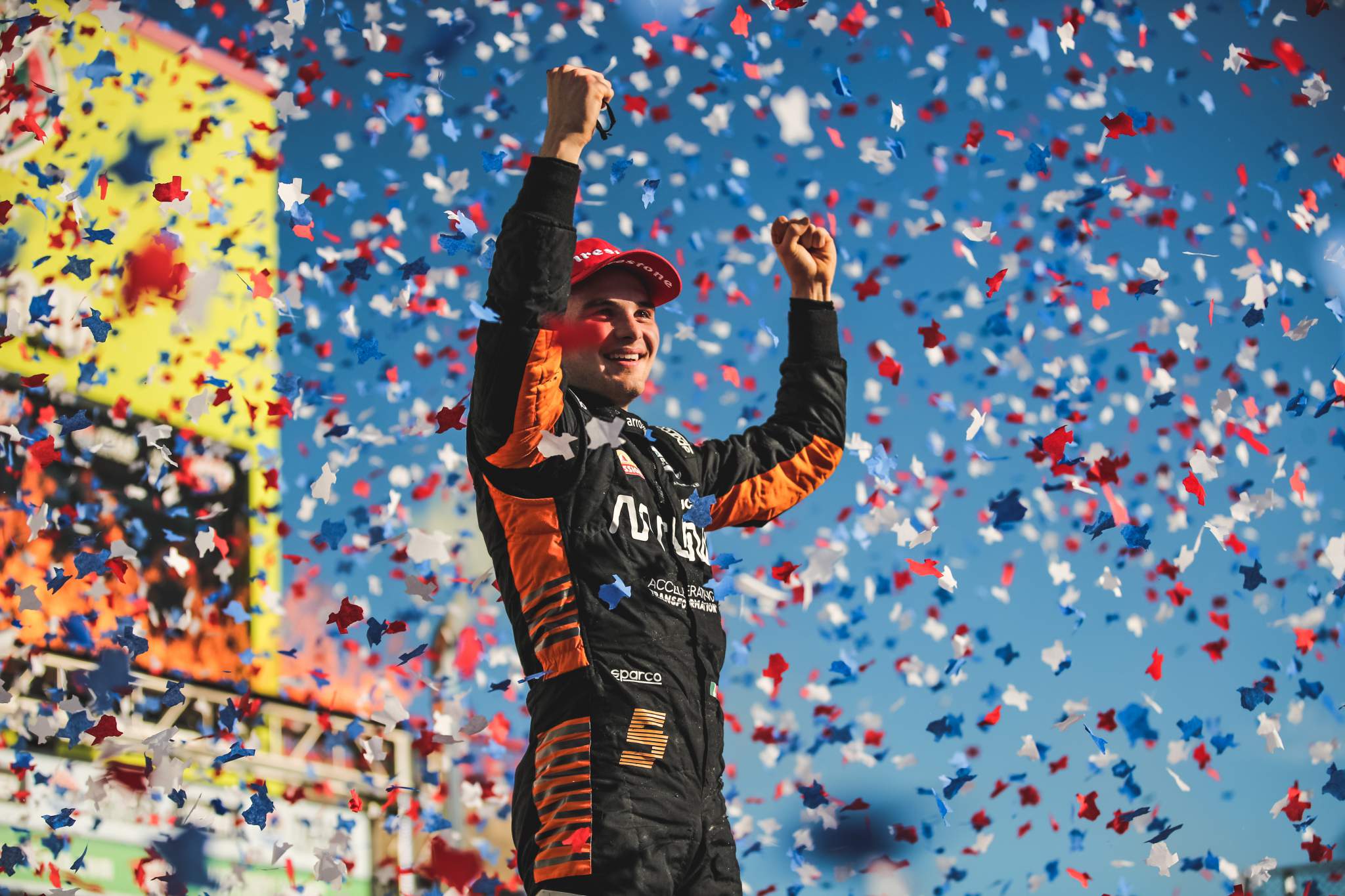 Such was the complexity up front of whether to lead and how hard to push, six-time champion Dixon asked his crew for "any wisdom, guys?".
At the last pitstops held under green flag conditions, Dixon and Rahal pitted nose to tail and on their out-laps, Rahal got a run and passed Dixon for the lead. However, O'Ward jumped both as he pitted a lap later and got ahead.
Unfortunately for O'Ward though, his team-mate Felix Rosenqvist had yet another decent result – this time a top 10 – fall through his fingers as his right rear wheel came off after the final stop.
The wheel ran across the race track and brought out a caution, shuffling Josef Newgarden to the lead with some epic strategy by Penske's Tim Cindric.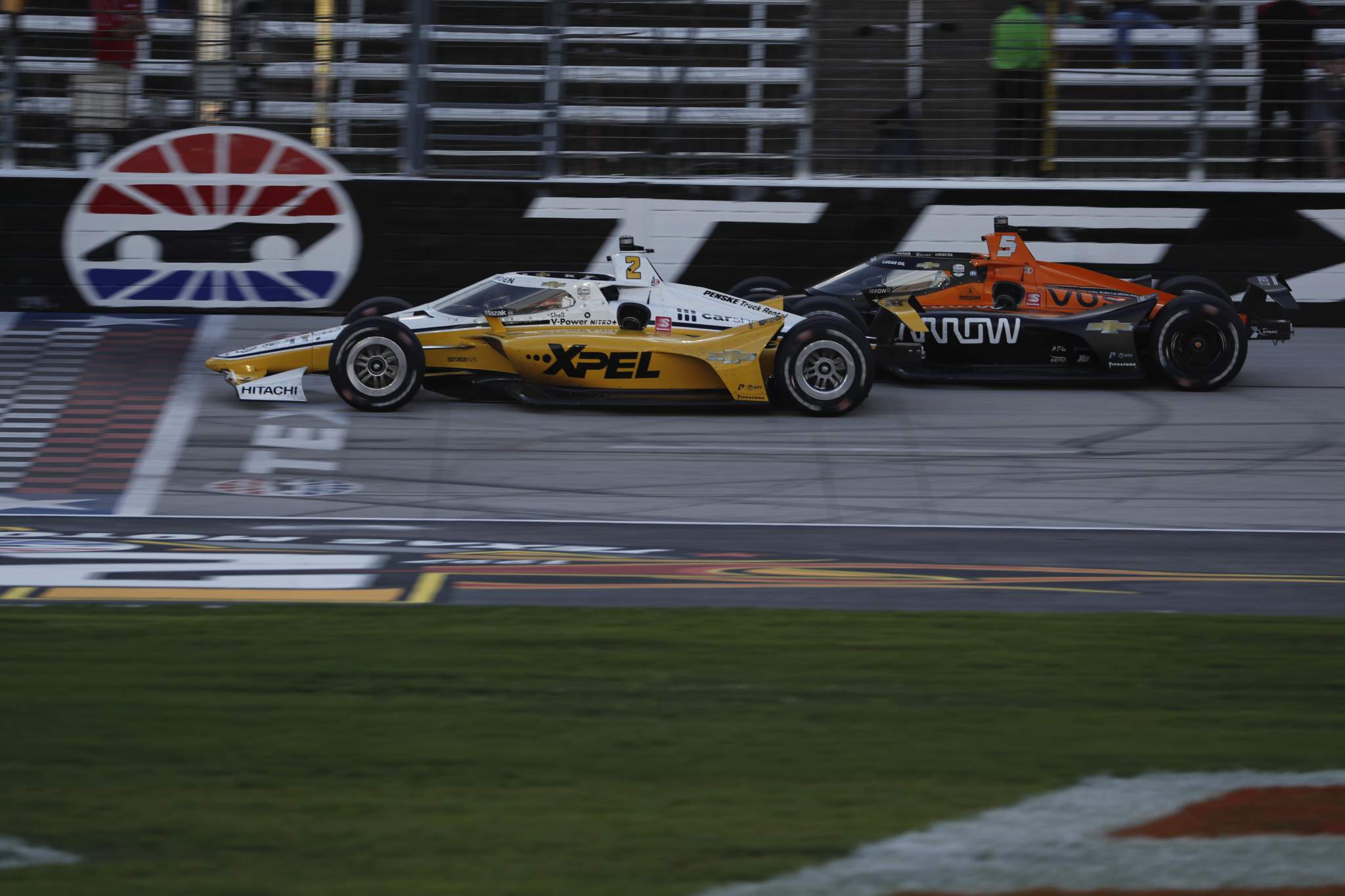 Fifth-place Newgarden had stayed out longer than the cars ahead and was second only behind Takuma Sato on the restart, who was on a different strategy and pointlessly elected not to pit under the caution.
Newgarden dived by Sato with a hair-raising move at Turn 1 around the outside to secure the lead with 47 laps to go, as drivers got aggressive without the need to save fuel.
O'Ward kept within arm's reach of Newgarden but made his intentions known with ferocity as the race reached 25 laps to go.
He had to back out of a move around the outside of Turn 1 but then dove to the inside to take the lead at Turn 3 on the same lap.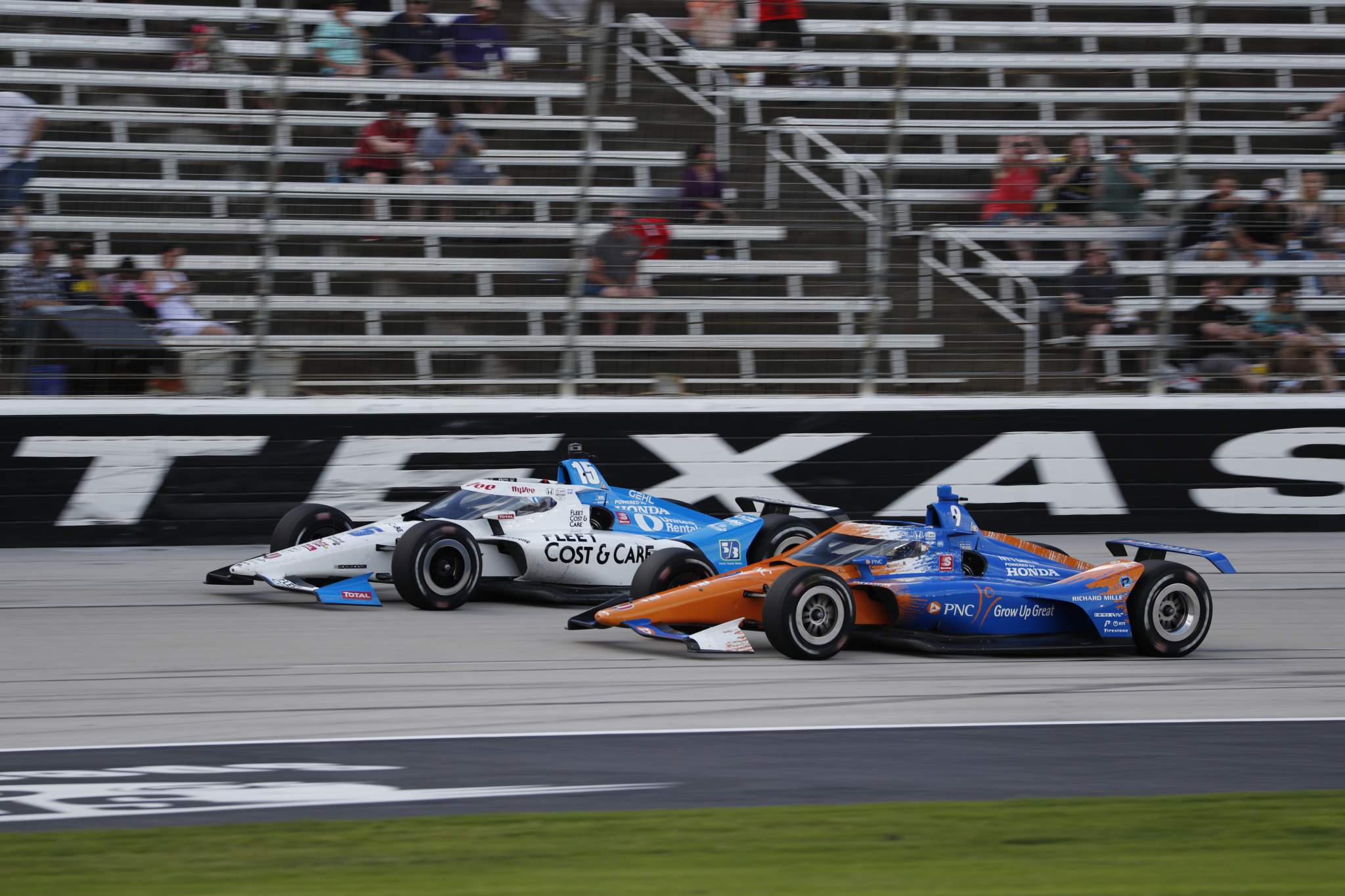 AMSP managing director Taylor Kiel had told O'Ward on the radio that Newgarden had slowed at the end of stints and it rang true as O'Ward put the gap beyond all doubt driving away from the two-time IndyCar champion.
O'Ward is the fourth different winner in 2021 and the second first-time winner after Palou at Barber. It was also Chevrolet's first win of the season.
Rahal (above, #15) couldn't keep Newgarden's pace and had to settle for third after a rollercoaster start to the season for him, while race one winner Dixon was also stuck in position after the final caution and took fourth.
Herta rounded out the top five with an under-the-radar but excellent recovery drive after his Saturday issues.
Simon Pagenaud was part of drama on that last restart as Herta dove to the inside of him. As Pagenaud moved up the track he cut off Power who edged up into the wall and dropped to 13th at the finish.
For the second race in a row pitstops dropped Palou out of second place and he took seventh, but is still third in the points.
Saturday standout runner-up Scott McLaughlin took eighth ahead of Rinus VeeKay and Ryan Hunter-Reay.
Race Results
| Pos | Name | Team | Car | Laps | Laps Led | Total Time | Fastest Lap | Pitstops | Pts |
| --- | --- | --- | --- | --- | --- | --- | --- | --- | --- |
| 1 | Patricio O'Ward | Arrow McLaren SP | Dallara DW12-Chevrolet | 248 | 25 | 2h6m31.115s | 24.05s | 16 | 51 |
| 2 | Josef Newgarden | Team Penske | Dallara DW12-Chevrolet | 248 | 25 | +1.244s | 24.132s | 16 | 41 |
| 3 | Graham Rahal | Rahal Letterman Lanigan Racing | Dallara DW12-Honda | 248 | 13 | +5.645s | 24.005s | 16 | 36 |
| 4 | Scott Dixon | Chip Ganassi Racing | Dallara DW12-Honda | 248 | 163 | +6.039s | 24.011s | 16 | 35 |
| 5 | Colton Herta | Andretti Autosport | Dallara DW12-Honda | 248 | 0 | +6.378s | 24.068s | 16 | 30 |
| 6 | Simon Pagenaud | Team Penske | Dallara DW12-Chevrolet | 248 | 0 | +7.009s | 23.969s | 16 | 28 |
| 7 | Alex Palou | Chip Ganassi Racing | Dallara DW12-Honda | 248 | 3 | +8.369s | 23.85s | 16 | 27 |
| 8 | Scott McLaughlin | Team Penske | Dallara DW12-Chevrolet | 248 | 0 | +11.893s | 24.195s | 16 | 24 |
| 9 | Rinus VeeKay | Ed Carpenter Racing | Dallara DW12-Chevrolet | 248 | 5 | +12.721s | 24.106s | 17 | 23 |
| 10 | Ryan Hunter-Reay | Andretti Autosport | Dallara DW12-Honda | 248 | 0 | +14.593s | 24.165s | 17 | 20 |
| 11 | Ed Carpenter | Ed Carpenter Racing | Dallara DW12-Chevrolet | 248 | 1 | +15.318s | 24.098s | 16 | 20 |
| 12 | Marcus Ericsson | Chip Ganassi Racing | Dallara DW12-Honda | 248 | 0 | +16.074s | 23.88s | 18 | 18 |
| 13 | Will Power | Team Penske | Dallara DW12-Chevrolet | 248 | 1 | +17.814s | 24.054s | 16 | 18 |
| 14 | Takuma Sato | Rahal Letterman Lanigan Racing | Dallara DW12-Honda | 247 | 12 | +1 lap | 23.963s | 17 | 17 |
| 15 | Tony Kanaan | Chip Ganassi Racing | Dallara DW12-Honda | 246 | 0 | +2 laps | 24.043s | 17 | 15 |
| 16 | Felix Rosenqvist | Arrow McLaren SP | Dallara DW12-Chevrolet | 246 | 0 | +2 laps | 23.898s | 19 | 14 |
| | Jack Harvey | Meyer Shank Racing | Dallara DW12-Honda | 115 | 0 | DNF | 24.04s | 15 | 13 |
| | James Hinchcliffe | Andretti Autosport | Dallara DW12-Honda | 30 | 0 | DNF | 25.051s | 16 | 12 |
| | Sébastien Bourdais | A.J. Foyt Enterprises | Dallara DW12-Chevrolet | 0 | 0 | DNF | 0s | 0 | 11 |
| | Alexander Rossi | Andretti Autosport | Dallara DW12-Honda | 0 | 0 | DNF | 0s | 0 | 10 |
| | Pietro Fittipaldi | Dale Coyne Racing with RWR | Dallara DW12-Honda | 0 | 0 | DNF | 0s | 0 | 9 |
| | Ed Jones | Dale Coyne Racing with Vasser-Sullivan | Dallara DW12-Honda | 0 | 0 | DNF | 0s | 0 | 8 |
| | Dalton Kellett | A.J. Foyt Enterprises | Dallara DW12-Chevrolet | 0 | 0 | DNF | 0s | 0 | 7 |
| | Conor Daly | Ed Carpenter Racing | Dallara DW12-Chevrolet | 0 | 0 | DNF | 0s | 0 | 6 |
Driver Standings
| Pos | Driver | Team | Points | R1 | R2 | R3 | R4 | R5 | R6 | R7 | R8 | R9 | R10 | R11 | R12 | R13 | R14 | R15 | R16 |
| --- | --- | --- | --- | --- | --- | --- | --- | --- | --- | --- | --- | --- | --- | --- | --- | --- | --- | --- | --- |
| 1 | Alex Palou | Chip Ganassi Racing | 549 | 53 | 14 | 33 | 27 | 36 | 85 | 15 | 35 | 51 | 35 | 26 | 5 | 10 | 52 | 40 | 32 |
| 2 | Josef Newgarden | Team Penske | 511 | 7 | 40 | 28 | 41 | 32 | 36 | 20 | 44 | 13 | 54 | 20 | 25 | 53 | 30 | 26 | 42 |
| 3 | Patricio O'Ward | Arrow McLaren SP | 487 | 34 | 11 | 35 | 51 | 15 | 65 | 37 | 51 | 22 | 24 | 17 | 32 | 41 | 17 | 30 | 5 |
| 4 | Scott Dixon | Chip Ganassi Racing | 481 | 35 | 30 | 53 | 35 | 23 | 36 | 25 | 26 | 33 | 32 | 40 | 13 | 11 | 36 | 17 | 36 |
| 5 | Colton Herta | Andretti Autosport | 455 | 8 | 54 | 8 | 30 | 17 | 37 | 16 | 32 | 40 | 18 | 15 | 36 | 13 | 24 | 54 | 53 |
| 6 | Marcus Ericsson | Chip Ganassi Racing | 435 | 24 | 26 | 11 | 18 | 20 | 39 | 51 | 22 | 28 | 41 | 51 | 22 | 22 | 27 | 28 | 5 |
| 7 | Graham Rahal | Rahal Letterman Lanigan Racing | 389 | 26 | 15 | 30 | 36 | 30 | 11 | 31 | 30 | 19 | 28 | 30 | 26 | 7 | 23 | 32 | 15 |
| 8 | Simon Pagenaud | Team Penske | 383 | 18 | 36 | 20 | 28 | 28 | 71 | 18 | 24 | 12 | 16 | 9 | 15 | 25 | 9 | 24 | 30 |
| 9 | Will Power | Team Penske | 357 | 41 | 24 | 16 | 18 | 19 | 10 | 13 | 28 | 35 | 5 | 16 | 53 | 37 | 17 | 5 | 20 |
| 10 | Alexander Rossi | Andretti Autosport | 332 | 22 | 9 | 24 | 10 | 26 | 10 | 27 | 17 | 26 | 30 | 13 | 32 | 13 | 40 | 5 | 28 |
| 11 | Takuma Sato | Rahal Letterman Lanigan Racing | 324 | 17 | 28 | 22 | 17 | 14 | 33 | 32 | 18 | 25 | 20 | 5 | 20 | 28 | 18 | 5 | 22 |
| 12 | Rinus VeeKay | Ed Carpenter Racing | 308 | 29 | 22 | 10 | 23 | 51 | 56 | 40 | 12 | 0 | 14 | 6 | 6 | 9 | 13 | 12 | 5 |
| 13 | Jack Harvey | Meyer Shank Racing | 308 | 19 | 32 | 26 | 13 | 7 | 24 | 14 | 11 | 13 | 11 | 15 | 28 | 20 | 33 | 15 | 27 |
| 14 | Scott McLaughlin | Team Penske | 305 | 16 | 19 | 40 | 24 | 24 | 20 | 11 | 10 | 16 | 18 | 8 | 7 | 32 | 23 | 18 | 19 |
| 15 | Romain Grosjean | Dale Coyne Racing with RWR | 272 | 20 | 17 | 0 | 0 | 44 | 0 | 8 | 6 | 30 | 26 | 15 | 40 | 16 | 8 | 36 | 6 |
| 16 | Sébastien Bourdais | A.J. Foyt Enterprises | 258 | 31 | 20 | 6 | 11 | 11 | 10 | 19 | 14 | 14 | 19 | 5 | 15 | 31 | 12 | 16 | 24 |
| 17 | Ryan Hunter-Reay | Andretti Autosport | 256 | 6 | 16 | 14 | 20 | 19 | 19 | 9 | 19 | 17 | 6 | 32 | 12 | 26 | 15 | 19 | 7 |
| 18 | Conor Daly | Ed Carpenter Racing | 235 | 14 | 14 | 9 | 6 | 5 | 37 | 17 | 15 | 10 | 15 | 18 | 19 | 19 | 14 | 14 | 9 |
| 19 | Ed Jones | Dale Coyne Racing with Vasser-Sullivan | 233 | 15 | 10 | 18 | 8 | 16 | 10 | 23 | 13 | 7 | 5 | 28 | 16 | 6 | 20 | 20 | 18 |
| 20 | James Hinchcliffe | Andretti Autosport | 220 | 13 | 12 | 7 | 12 | 12 | 18 | 13 | 16 | 15 | 13 | 35 | 8 | 15 | 5 | 10 | 16 |
| 21 | Felix Rosenqvist | Arrow McLaren SP | 205 | 9 | 18 | 17 | 14 | 13 | 11 | 5 | 0 | 0 | 7 | 24 | 17 | 14 | 28 | 11 | 17 |
| 22 | Hélio Castroneves | Meyer Shank Racing | 158 | 0 | 0 | 0 | 0 | 0 | 103 | 0 | 0 | 0 | 0 | 22 | 9 | 0 | 7 | 6 | 11 |
| 23 | Dalton Kellett | A.J. Foyt Enterprises | 148 | 12 | 7 | 12 | 7 | 10 | 14 | 12 | 7 | 5 | 9 | 7 | 5 | 18 | 5 | 7 | 11 |
| 24 | Santino Ferrucci | Rahal Letterman Lanigan Racing | 146 | 0 | 0 | 0 | 0 | 0 | 57 | 28 | 20 | 0 | 22 | 19 | 0 | 0 | 0 | 0 | 0 |
| 25 | Max Chilton | Carlin | 134 | 10 | 6 | 0 | 0 | 0 | 12 | 8 | 8 | 21 | 12 | 12 | 10 | 0 | 11 | 9 | 15 |
| 26 | Jimmie Johnson | Chip Ganassi Racing | 108 | 11 | 8 | 0 | 0 | 6 | 0 | 6 | 9 | 8 | 8 | 5 | 11 | 0 | 10 | 13 | 13 |
| 27 | Ed Carpenter | Ed Carpenter Racing | 107 | 0 | 0 | 13 | 20 | 0 | 66 | 0 | 0 | 0 | 0 | 0 | 0 | 8 | 0 | 0 | 0 |
| 28 | Tony Kanaan | Chip Ganassi Racing | 96 | 0 | 0 | 19 | 15 | 0 | 45 | 0 | 0 | 0 | 0 | 0 | 0 | 17 | 0 | 0 | 0 |
| 29 | Oliver Askew | Arrow McLaren SP, Ed Carpenter Racing | 61 | 0 | 0 | 0 | 0 | 0 | 0 | 0 | 5 | 19 | 0 | 0 | 0 | 0 | 6 | 22 | 9 |
| 30 | Juan Pablo Montoya | Arrow McLaren SP | 53 | 0 | 0 | 0 | 0 | 9 | 44 | 0 | 0 | 0 | 0 | 0 | 0 | 0 | 0 | 0 | 0 |
| 30 | Sage Karam | Dreyer & Reinbold Racing | 53 | 0 | 0 | 0 | 0 | 0 | 53 | 0 | 0 | 0 | 0 | 0 | 0 | 0 | 0 | 0 | 0 |
| 32 | Pietro Fittipaldi | Dale Coyne Racing with RWR | 34 | 0 | 0 | 15 | 9 | 0 | 10 | 0 | 0 | 0 | 0 | 0 | 0 | 0 | 0 | 0 | 0 |
| 33 | J. R. Hildebrand | A.J. Foyt Enterprises | 30 | 0 | 0 | 0 | 0 | 0 | 30 | 0 | 0 | 0 | 0 | 0 | 0 | 0 | 0 | 0 | 0 |
| 34 | Cody Ware | Daley Coyne Racing with RWR | 26 | 0 | 0 | 0 | 0 | 0 | 0 | 0 | 0 | 11 | 0 | 10 | 5 | 0 | 0 | 0 | 0 |
| 35 | Marco Andretti | Andretti Herta-Haupert w/Marco & Curb-Agajanian | 22 | 0 | 0 | 0 | 0 | 0 | 22 | 0 | 0 | 0 | 0 | 0 | 0 | 0 | 0 | 0 | 0 |
| 36 | Charlie Kimball | A.J. Foyt Enterprises | 20 | 0 | 0 | 0 | 0 | 8 | 0 | 0 | 0 | 0 | 0 | 0 | 0 | 0 | 0 | 0 | 12 |
| 37 | Christian Lundgaard | Rahal Letterman Lanigan Racing | 19 | 0 | 0 | 0 | 0 | 0 | 0 | 0 | 0 | 0 | 0 | 0 | 19 | 0 | 0 | 0 | 0 |
| 38 | Callum Ilott | Juncos Hollinger Racing | 18 | 0 | 0 | 0 | 0 | 0 | 0 | 0 | 0 | 0 | 0 | 0 | 0 | 0 | 5 | 8 | 5 |
| 39 | Stefan Wilson | Andretti Autosport | 10 | 0 | 0 | 0 | 0 | 0 | 10 | 0 | 0 | 0 | 0 | 0 | 0 | 0 | 0 | 0 | 0 |
| 39 | Ryan Norman | Dale Coyne Racing with RWR | 10 | 0 | 0 | 0 | 0 | 0 | 0 | 0 | 0 | 0 | 10 | 0 | 0 | 0 | 0 | 0 | 0 |
| 39 | Simona De Silvestro | Paretta Autosport | 10 | 0 | 0 | 0 | 0 | 0 | 10 | 0 | 0 | 0 | 0 | 0 | 0 | 0 | 0 | 0 | 0 |
| 42 | Kevin Magnussen | Arrow McLaren SP | 7 | 0 | 0 | 0 | 0 | 0 | 0 | 0 | 0 | 7 | 0 | 0 | 0 | 0 | 0 | 0 | 0 |
| 43 | RC Enerson | Top Gun Racing | 5 | 0 | 0 | 0 | 0 | 0 | 0 | 0 | 0 | 0 | 0 | 0 | 5 | 0 | 0 | 0 | 0 |