Chip Ganassi Racing's Scott Dixon scored his fifth Texas victory in the first race of IndyCar's third race weekend of the year, holding off star oval debutant Scott McLaughlin in the closing stages.
The race carried a sinister weather undertone as rain had delayed practice and forced the cancellation of qualifying meaning the starting grid was set by the championship points order.
Because of the threat of further rain the teams and drivers had one eye on lap 106, after which if the race was halted for rain it could be declared complete.
While most of the cars in the field struggled with tyre vibrations, Dixon reported no such issues as he took the lead from his team-mate and polesitter Alex Palou after two laps.
Dixon led through tricky strategy cycles as many contenders around him fell away.
As many cars began to pit for the first time starting on lap 53/212, three tours later seventh-placed Sebastien Bourdais had to lift off in Turn 2 for Colton Herta slowing ahead, and Josef Newgarden behind had nowhere to go in a concertina effect.
Newgarden – who had already lifted before the incident – clipped Bourdais into a spin and he rear-ended the wall for a heavy impact. The car was destroyed but Bourdais was cleared from the medical centre, and Newgarden was penalised and dropped to the back of the lead lap cars in 19th place but without any damage.
Because the leaders hadn't pitted yet and due to the short nature of the lap putting drivers stopping under green flag conditions a lap down, it was a nightmare situation for the drivers who had pitted before the caution as anyone who hadn't pitted got a free pitstop.
Team Penske's Will Power (from third to 14th) and his team-mate, sixth-placed Simon Pagenaud (18th after his stop) pitted before the caution. Takuma Sato (ninth to 19th) and Marcus Ericsson one spot behind (dropped to 16th) were also caught out.
From there that set up a two-stop strategy to the end of the race, but such was the degradation of the new Firestone tyre, the undercut was incredibly powerful.
Arrow McLaren SP's Felix Rosenqvist – chasing eventual winner Dixon last year before crashing lapping James Hinchcliffe – erased a five second deficit on track following a seven-lap undercut on Dixon moved him up from ninth in the order to second.
However, as the last stops began Dixon edged away again, while Rosenqvist came under pressure from rookie Scott McLaughlin who had benefitted from that first caution and an undercut in the second to run third.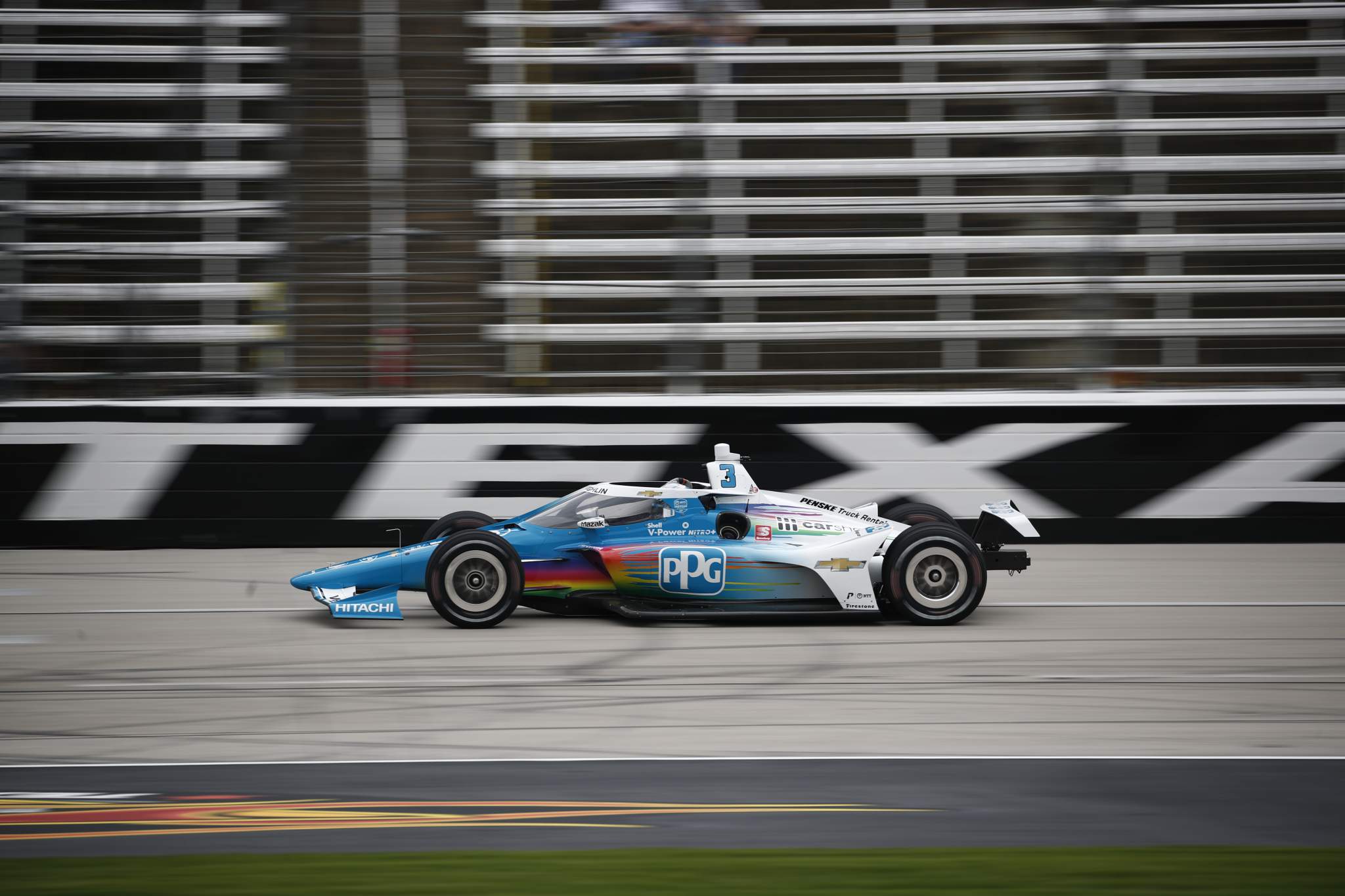 Before McLaughlin could make a move, Hinchcliffe crashed with 51 laps to go after being lapped by Rosenqvist in a reversal of the 2020 race incident.
That froze the field strategy wise as everyone was able to pit and fill with fuel.
Rosenqvist had to swerve and go on the grass in the pits to avoid Marcus Ericsson, which meant he dropped to 12th promoting McLaughlin to run behind Dixon.
Dixon's countryman McLaughlin had tested twice before coming to the race weekend but showed no sign of inexperience as he gave Dixon plenty to think about.
However, he couldn't get close enough to pass on the one-lane track, and Dixon became the first driver to defend a Texas victory in the IndyCar Series.
Rosenqvist's team-mate Patricio O'Ward went two laps down gambling on an undercut in the second round of stops mid-race, but that and a rapid job on his final pitstop elevated him into third, ahead of Ganassi's Palou.
Palou had stayed out longer in that key second pitstop phase which dropped him back to fourth having stayed out longer than all his rivals.
Graham Rahal rounded out the top five after passing three cars after the last caution, including Andretti's top driver Herta. The dominant St Petersburg winner had a brake fire inside the final 20 laps which cost him a top five and a chunk of vital championship points.
Behind Rahal, Newgarden delivered an epic recovery to sixth following that early penalty for that Bourdais incident, mostly achieved by a now familiar mid-race undercut.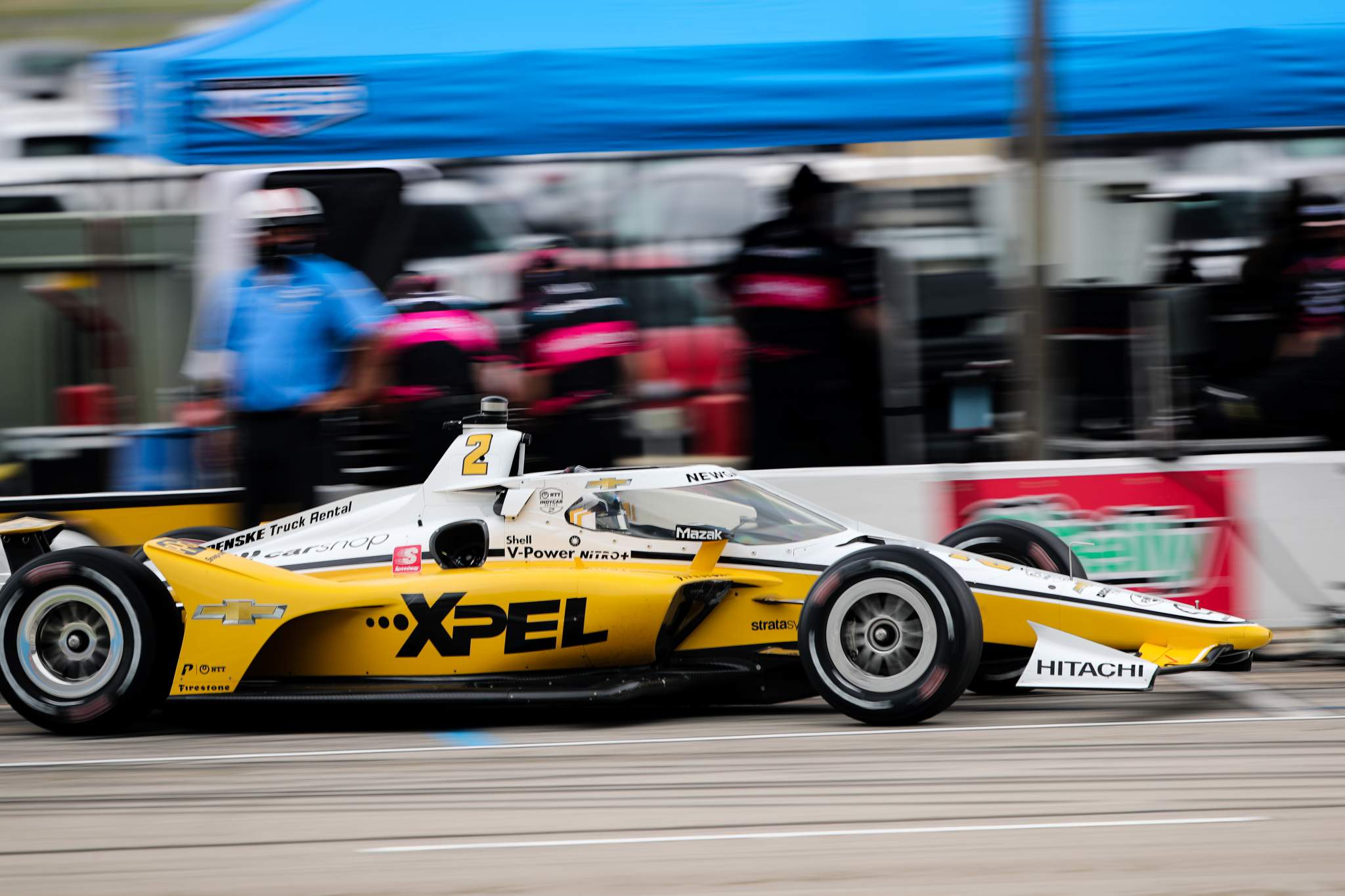 Jack Harvey delivered a second top 10 in a row for Meyer Shank Racing in seventh, ahead of Alexander Rossi who had a slow second pitstop which cost him dearly.
Sato bounced back from being caught on the wrong strategy early to take ninth, ahead of fellow-sufferer Pagenaud.
Just outside the top 10, practice pacesetter Tony Kanaan bounced back from downshift and gear ratio issues to take 11th on his season debut, driving Jimmie Johnson's #48 car on the oval events.
Kansan's team-mate Ericsson was the only Ganassi driver out of the top 11 as his bad luck at Texas continued.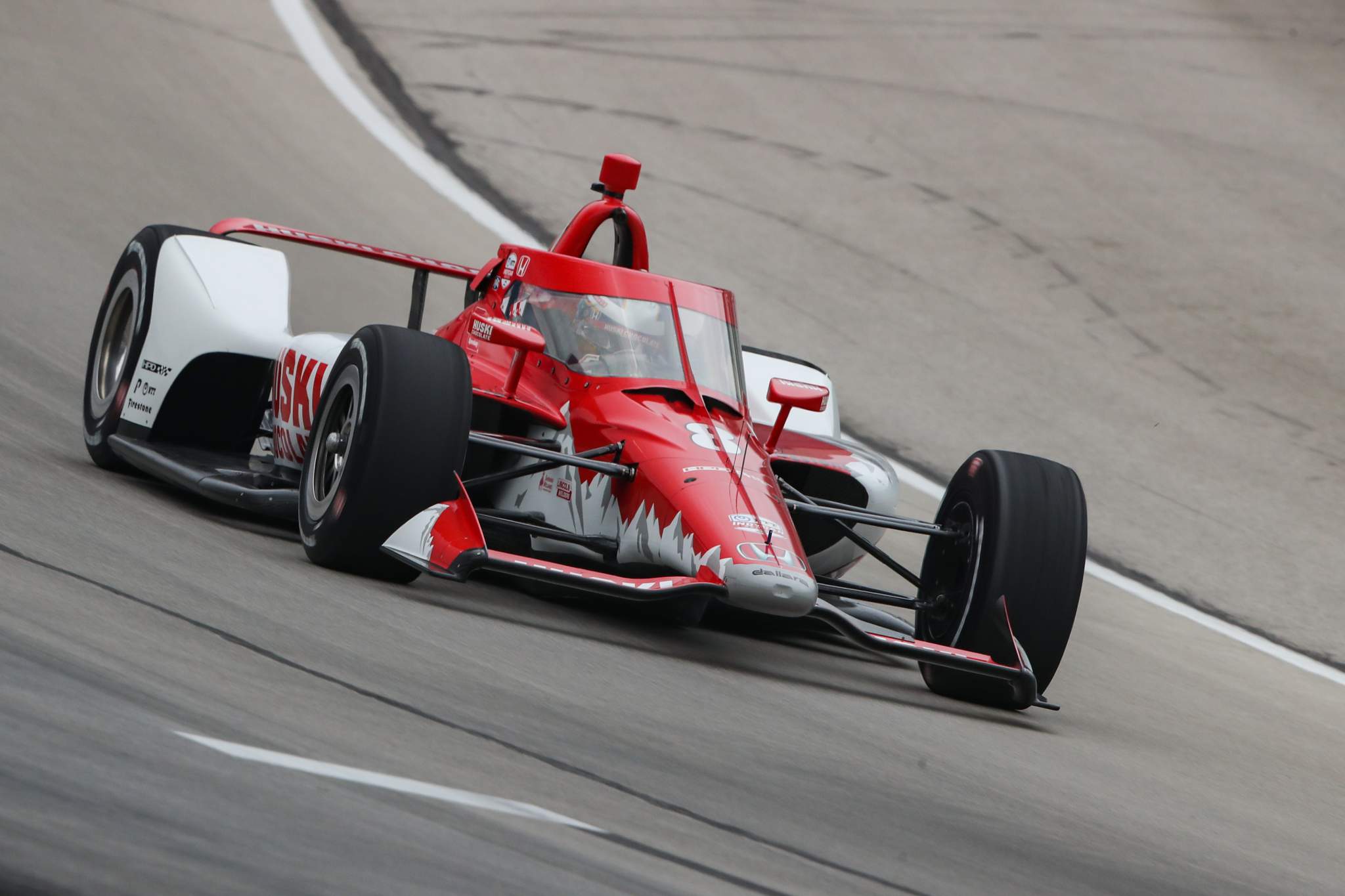 Last year a broken fuel hose meant he ran out of fuel fighting for a top 10 at the end of the race. In Saturday's race, Ganassi driver Ericsson left the box without a right-rear wheel while running sixth and finished 19th.
Herta, Hinchcliffe and Bourdais failed to finish.
The grid for Sunday's race two will be set from the championship points following this race, which are listed underneath the race result below.
Race Results
| Pos | Name | Team | Car | Laps | Laps Led | Total Time | Fastest Lap | Pitstops | Pts |
| --- | --- | --- | --- | --- | --- | --- | --- | --- | --- |
| 1 | Scott Dixon | Chip Ganassi Racing | Dallara DW12-Honda | 212 | 206 | 1h45m51.341s | 23.734s | 3 | 53 |
| 2 | Scott McLaughlin | Team Penske | Dallara DW12-Chevrolet | 212 | 0 | +0.265s | 24.001s | 3 | 40 |
| 3 | Patricio O'Ward | Arrow McLaren SP | Dallara DW12-Chevrolet | 212 | 0 | +1.781s | 23.909s | 3 | 35 |
| 4 | Alex Palou | Chip Ganassi Racing | Dallara DW12-Honda | 212 | 6 | +2.856s | 23.916s | 3 | 33 |
| 5 | Graham Rahal | Rahal Letterman Lanigan Racing | Dallara DW12-Honda | 212 | 0 | +6.604s | 23.846s | 4 | 30 |
| 6 | Josef Newgarden | Team Penske | Dallara DW12-Chevrolet | 212 | 0 | +7.903s | 24.015s | 3 | 28 |
| 7 | Jack Harvey | Meyer Shank Racing | Dallara DW12-Honda | 212 | 0 | +8.505s | 23.732s | 3 | 26 |
| 8 | Alexander Rossi | Andretti Autosport | Dallara DW12-Honda | 212 | 0 | +9.59s | 23.882s | 3 | 24 |
| 9 | Takuma Sato | Rahal Letterman Lanigan Racing | Dallara DW12-Honda | 212 | 0 | +10.066s | 23.904s | 4 | 22 |
| 10 | Simon Pagenaud | Team Penske | Dallara DW12-Chevrolet | 212 | 0 | +10.427s | 24.007s | 3 | 20 |
| 11 | Tony Kanaan | Chip Ganassi Racing | Dallara DW12-Honda | 212 | 0 | +12.019s | 23.906s | 3 | 19 |
| 12 | Ed Jones | Dale Coyne Racing with Vasser-Sullivan | Dallara DW12-Honda | 212 | 0 | +12.579s | 24.088s | 3 | 18 |
| 13 | Felix Rosenqvist | Arrow McLaren SP | Dallara DW12-Chevrolet | 212 | 0 | +12.948s | 23.849s | 3 | 17 |
| 14 | Will Power | Team Penske | Dallara DW12-Chevrolet | 212 | 0 | +14.355s | 24.047s | 3 | 16 |
| 15 | Pietro Fittipaldi | Dale Coyne Racing with RWR | Dallara DW12-Honda | 212 | 0 | +15.051s | 24.132s | 3 | 15 |
| 16 | Ryan Hunter-Reay | Andretti Autosport | Dallara DW12-Honda | 212 | 0 | +17.494s | 23.779s | 3 | 14 |
| 17 | Ed Carpenter | Ed Carpenter Racing | Dallara DW12-Chevrolet | 212 | 0 | +19.894s | 23.999s | 3 | 13 |
| 18 | Dalton Kellett | A.J. Foyt Enterprises | Dallara DW12-Chevrolet | 212 | 0 | +23.957s | 24.275s | 3 | 12 |
| 19 | Marcus Ericsson | Chip Ganassi Racing | Dallara DW12-Honda | 211 | 0 | +1 lap | 23.66s | 3 | 11 |
| 20 | Rinus VeeKay | Ed Carpenter Racing | Dallara DW12-Chevrolet | 211 | 0 | +1 lap | 24.124s | 3 | 10 |
| 21 | Conor Daly | Ed Carpenter Racing | Dallara DW12-Chevrolet | 211 | 0 | +1 lap | 24.179s | 3 | 9 |
| | Colton Herta | Andretti Autosport | Dallara DW12-Honda | 190 | 0 | DNF | 23.93s | 4 | 8 |
| | James Hinchcliffe | Andretti Autosport | Dallara DW12-Honda | 158 | 0 | DNF | 24.232s | 2 | 7 |
| | Sébastien Bourdais | A.J. Foyt Enterprises | Dallara DW12-Chevrolet | 55 | 0 | DNF | 24.171s | 0 | 6 |
Driver Standings
| Pos | Driver | Team | Points | R1 | R2 | R3 | R4 | R5 | R6 | R7 | R8 | R9 | R10 | R11 | R12 | R13 | R14 | R15 | R16 |
| --- | --- | --- | --- | --- | --- | --- | --- | --- | --- | --- | --- | --- | --- | --- | --- | --- | --- | --- | --- |
| 1 | Alex Palou | Chip Ganassi Racing | 549 | 53 | 14 | 33 | 27 | 36 | 85 | 15 | 35 | 51 | 35 | 26 | 5 | 10 | 52 | 40 | 32 |
| 2 | Josef Newgarden | Team Penske | 511 | 7 | 40 | 28 | 41 | 32 | 36 | 20 | 44 | 13 | 54 | 20 | 25 | 53 | 30 | 26 | 42 |
| 3 | Patricio O'Ward | Arrow McLaren SP | 487 | 34 | 11 | 35 | 51 | 15 | 65 | 37 | 51 | 22 | 24 | 17 | 32 | 41 | 17 | 30 | 5 |
| 4 | Scott Dixon | Chip Ganassi Racing | 481 | 35 | 30 | 53 | 35 | 23 | 36 | 25 | 26 | 33 | 32 | 40 | 13 | 11 | 36 | 17 | 36 |
| 5 | Colton Herta | Andretti Autosport | 455 | 8 | 54 | 8 | 30 | 17 | 37 | 16 | 32 | 40 | 18 | 15 | 36 | 13 | 24 | 54 | 53 |
| 6 | Marcus Ericsson | Chip Ganassi Racing | 435 | 24 | 26 | 11 | 18 | 20 | 39 | 51 | 22 | 28 | 41 | 51 | 22 | 22 | 27 | 28 | 5 |
| 7 | Graham Rahal | Rahal Letterman Lanigan Racing | 389 | 26 | 15 | 30 | 36 | 30 | 11 | 31 | 30 | 19 | 28 | 30 | 26 | 7 | 23 | 32 | 15 |
| 8 | Simon Pagenaud | Team Penske | 383 | 18 | 36 | 20 | 28 | 28 | 71 | 18 | 24 | 12 | 16 | 9 | 15 | 25 | 9 | 24 | 30 |
| 9 | Will Power | Team Penske | 357 | 41 | 24 | 16 | 18 | 19 | 10 | 13 | 28 | 35 | 5 | 16 | 53 | 37 | 17 | 5 | 20 |
| 10 | Alexander Rossi | Andretti Autosport | 332 | 22 | 9 | 24 | 10 | 26 | 10 | 27 | 17 | 26 | 30 | 13 | 32 | 13 | 40 | 5 | 28 |
| 11 | Takuma Sato | Rahal Letterman Lanigan Racing | 324 | 17 | 28 | 22 | 17 | 14 | 33 | 32 | 18 | 25 | 20 | 5 | 20 | 28 | 18 | 5 | 22 |
| 12 | Rinus VeeKay | Ed Carpenter Racing | 308 | 29 | 22 | 10 | 23 | 51 | 56 | 40 | 12 | 0 | 14 | 6 | 6 | 9 | 13 | 12 | 5 |
| 13 | Jack Harvey | Meyer Shank Racing | 308 | 19 | 32 | 26 | 13 | 7 | 24 | 14 | 11 | 13 | 11 | 15 | 28 | 20 | 33 | 15 | 27 |
| 14 | Scott McLaughlin | Team Penske | 305 | 16 | 19 | 40 | 24 | 24 | 20 | 11 | 10 | 16 | 18 | 8 | 7 | 32 | 23 | 18 | 19 |
| 15 | Romain Grosjean | Dale Coyne Racing with RWR | 272 | 20 | 17 | 0 | 0 | 44 | 0 | 8 | 6 | 30 | 26 | 15 | 40 | 16 | 8 | 36 | 6 |
| 16 | Sébastien Bourdais | A.J. Foyt Enterprises | 258 | 31 | 20 | 6 | 11 | 11 | 10 | 19 | 14 | 14 | 19 | 5 | 15 | 31 | 12 | 16 | 24 |
| 17 | Ryan Hunter-Reay | Andretti Autosport | 256 | 6 | 16 | 14 | 20 | 19 | 19 | 9 | 19 | 17 | 6 | 32 | 12 | 26 | 15 | 19 | 7 |
| 18 | Conor Daly | Ed Carpenter Racing | 235 | 14 | 14 | 9 | 6 | 5 | 37 | 17 | 15 | 10 | 15 | 18 | 19 | 19 | 14 | 14 | 9 |
| 19 | Ed Jones | Dale Coyne Racing with Vasser-Sullivan | 233 | 15 | 10 | 18 | 8 | 16 | 10 | 23 | 13 | 7 | 5 | 28 | 16 | 6 | 20 | 20 | 18 |
| 20 | James Hinchcliffe | Andretti Autosport | 220 | 13 | 12 | 7 | 12 | 12 | 18 | 13 | 16 | 15 | 13 | 35 | 8 | 15 | 5 | 10 | 16 |
| 21 | Felix Rosenqvist | Arrow McLaren SP | 205 | 9 | 18 | 17 | 14 | 13 | 11 | 5 | 0 | 0 | 7 | 24 | 17 | 14 | 28 | 11 | 17 |
| 22 | Hélio Castroneves | Meyer Shank Racing | 158 | 0 | 0 | 0 | 0 | 0 | 103 | 0 | 0 | 0 | 0 | 22 | 9 | 0 | 7 | 6 | 11 |
| 23 | Dalton Kellett | A.J. Foyt Enterprises | 148 | 12 | 7 | 12 | 7 | 10 | 14 | 12 | 7 | 5 | 9 | 7 | 5 | 18 | 5 | 7 | 11 |
| 24 | Santino Ferrucci | Rahal Letterman Lanigan Racing | 146 | 0 | 0 | 0 | 0 | 0 | 57 | 28 | 20 | 0 | 22 | 19 | 0 | 0 | 0 | 0 | 0 |
| 25 | Max Chilton | Carlin | 134 | 10 | 6 | 0 | 0 | 0 | 12 | 8 | 8 | 21 | 12 | 12 | 10 | 0 | 11 | 9 | 15 |
| 26 | Jimmie Johnson | Chip Ganassi Racing | 108 | 11 | 8 | 0 | 0 | 6 | 0 | 6 | 9 | 8 | 8 | 5 | 11 | 0 | 10 | 13 | 13 |
| 27 | Ed Carpenter | Ed Carpenter Racing | 107 | 0 | 0 | 13 | 20 | 0 | 66 | 0 | 0 | 0 | 0 | 0 | 0 | 8 | 0 | 0 | 0 |
| 28 | Tony Kanaan | Chip Ganassi Racing | 96 | 0 | 0 | 19 | 15 | 0 | 45 | 0 | 0 | 0 | 0 | 0 | 0 | 17 | 0 | 0 | 0 |
| 29 | Oliver Askew | Arrow McLaren SP, Ed Carpenter Racing | 61 | 0 | 0 | 0 | 0 | 0 | 0 | 0 | 5 | 19 | 0 | 0 | 0 | 0 | 6 | 22 | 9 |
| 30 | Juan Pablo Montoya | Arrow McLaren SP | 53 | 0 | 0 | 0 | 0 | 9 | 44 | 0 | 0 | 0 | 0 | 0 | 0 | 0 | 0 | 0 | 0 |
| 30 | Sage Karam | Dreyer & Reinbold Racing | 53 | 0 | 0 | 0 | 0 | 0 | 53 | 0 | 0 | 0 | 0 | 0 | 0 | 0 | 0 | 0 | 0 |
| 32 | Pietro Fittipaldi | Dale Coyne Racing with RWR | 34 | 0 | 0 | 15 | 9 | 0 | 10 | 0 | 0 | 0 | 0 | 0 | 0 | 0 | 0 | 0 | 0 |
| 33 | J. R. Hildebrand | A.J. Foyt Enterprises | 30 | 0 | 0 | 0 | 0 | 0 | 30 | 0 | 0 | 0 | 0 | 0 | 0 | 0 | 0 | 0 | 0 |
| 34 | Cody Ware | Daley Coyne Racing with RWR | 26 | 0 | 0 | 0 | 0 | 0 | 0 | 0 | 0 | 11 | 0 | 10 | 5 | 0 | 0 | 0 | 0 |
| 35 | Marco Andretti | Andretti Herta-Haupert w/Marco & Curb-Agajanian | 22 | 0 | 0 | 0 | 0 | 0 | 22 | 0 | 0 | 0 | 0 | 0 | 0 | 0 | 0 | 0 | 0 |
| 36 | Charlie Kimball | A.J. Foyt Enterprises | 20 | 0 | 0 | 0 | 0 | 8 | 0 | 0 | 0 | 0 | 0 | 0 | 0 | 0 | 0 | 0 | 12 |
| 37 | Christian Lundgaard | Rahal Letterman Lanigan Racing | 19 | 0 | 0 | 0 | 0 | 0 | 0 | 0 | 0 | 0 | 0 | 0 | 19 | 0 | 0 | 0 | 0 |
| 38 | Callum Ilott | Juncos Hollinger Racing | 18 | 0 | 0 | 0 | 0 | 0 | 0 | 0 | 0 | 0 | 0 | 0 | 0 | 0 | 5 | 8 | 5 |
| 39 | Stefan Wilson | Andretti Autosport | 10 | 0 | 0 | 0 | 0 | 0 | 10 | 0 | 0 | 0 | 0 | 0 | 0 | 0 | 0 | 0 | 0 |
| 39 | Ryan Norman | Dale Coyne Racing with RWR | 10 | 0 | 0 | 0 | 0 | 0 | 0 | 0 | 0 | 0 | 10 | 0 | 0 | 0 | 0 | 0 | 0 |
| 39 | Simona De Silvestro | Paretta Autosport | 10 | 0 | 0 | 0 | 0 | 0 | 10 | 0 | 0 | 0 | 0 | 0 | 0 | 0 | 0 | 0 | 0 |
| 42 | Kevin Magnussen | Arrow McLaren SP | 7 | 0 | 0 | 0 | 0 | 0 | 0 | 0 | 0 | 7 | 0 | 0 | 0 | 0 | 0 | 0 | 0 |
| 43 | RC Enerson | Top Gun Racing | 5 | 0 | 0 | 0 | 0 | 0 | 0 | 0 | 0 | 0 | 0 | 0 | 5 | 0 | 0 | 0 | 0 |