When the top three are a driver likened to Juan Pablo Montoya and who is set for a McLaren Formula 1 test, a 55-time IndyCar polesitter and a recent F1 convert who was the last polesitter at this racetrack, coming fourth is no small feat. Especially if you miss out on pole by only 0.0286s.
When that driver behind Pato O'Ward, Will Power and Romain Grosjean in fourth place is an IndyCar rookie in his first qualifying session, it gets even more impressive for Alpine F1 junior Christian Lundgaard.
"Let's just say I didn't expect to be here now when I left home," he said following his heroics on the Indianapolis road course on Saturday evening.
"I know my family is asleep right now. I guess they will have a heart attack when they wake up in the morning.
"I'm just super happy to be here. I'm enjoying every second of it. It's so different to Europe.
"Just seeing fans is amazing. We've had one or two races this year in Formula 2 where we've had fans. It's only half capacity. So to come here and see so many people near us is just awesome."
He sure didn't look like an @IndyCar rookie in practice! 🤔

🏎🔥🔥🔥

Ride shotgun with @lundgaardoff on his fastest lap in practice, which was seventh overall. 🤩 pic.twitter.com/OsPxO4PB6J

— Rahal Letterman Lanigan Racing (@RLLracing) August 13, 2021
The 20-year-old Dane, the youngest driver in the field, didn't get to make the track walk at Indy and his only sim time was the F1 layout of the circuit on iRacing. Hardly ideal preparation.
However, the Rahal Letterman Lanigan Racing driver had one thing going for him.
It was here that Grosjean was able to take pole in just his third IndyCar race at his first time at the venue.
It's also a place drivers like Jack Harvey who have come from Europe have excelled at, Harvey having never qualified outside of the top 10 here and started in the top three for three of his five races at the track.
Lundgaard's often had a bit of a knack for being good quickly. He won the SMP and Spanish F4 championships in his first season of car racing in 2017 and backed that up by finishing second and being the top rookie in Formula Renault Eurocup, a championship which at that point had a habit for rewarding second-year drivers.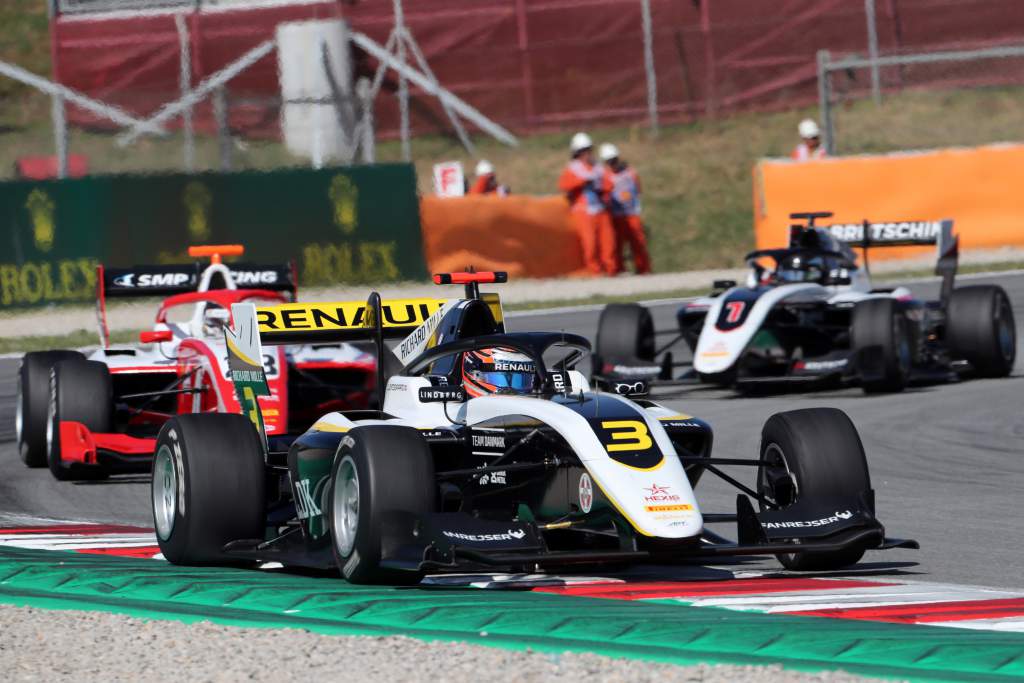 Even his sixth in FIA Formula 3 in 2019 was impressive in many ways as ART Grand Prix struggled to deal with the new F3 car. Then in F2 when a changing of the wheel size ended the team's dominance, he still won two races.
Indy polesitter O'Ward is a good person to canvas on just how good Lundgaard's performance. That's both because O'Ward himself is a two-time F2 race starter from 2019 in his shortlived Red Bull dalliance, but also because he too into an IndyCar race weekend debut without much testing when he made his first appearance for Harding Racing at Sonoma in 2018. He qualified fifth and finished ninth.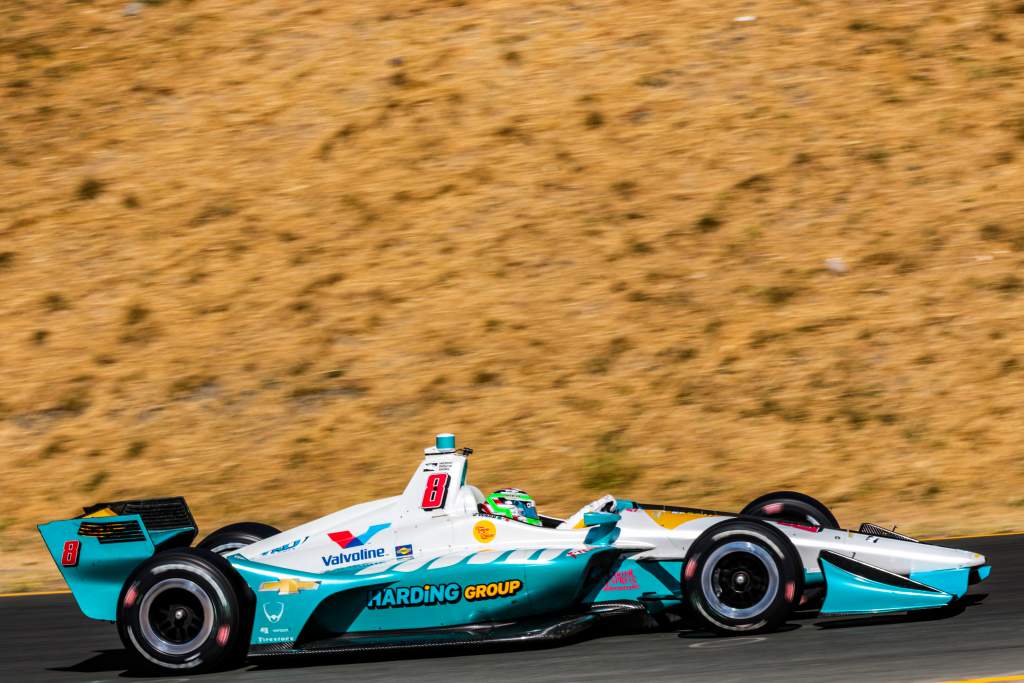 "I know he has a good, strong car under him, he's a good driver – I don't think anybody doesn't agree with me – he's strong, he has a lot of experience in Europe with Formula 2 and Formula 3 and other categories," O'Ward replied when asked by The Race when asked to evaluate Lundgaard's performance.
"I think he likes this IndyCar. I didn't really get much out of him. He's very quiet.
"From experience, from driving an F2 car, I guarantee you he likes this IndyCar.
"This IMS road course is probably the closest track that we have to a 'Formula 1-spec' racetrack with just being very flat, lots of run-off, just the type of course fits to what he's used to.
"Not as in a place like going to a Detroit and going out like, 'man, something is broken with this car with all the bumps'.
"I think it's great we're having new faces up into the series.
"I remember my memory from Sonoma. It's a good one."
Arguably the biggest difference between racing in IndyCar and F2 will be the tyres, as the Firestones last longer and are less temperamental than Pirelli F2 rubber, even if both have their quirks.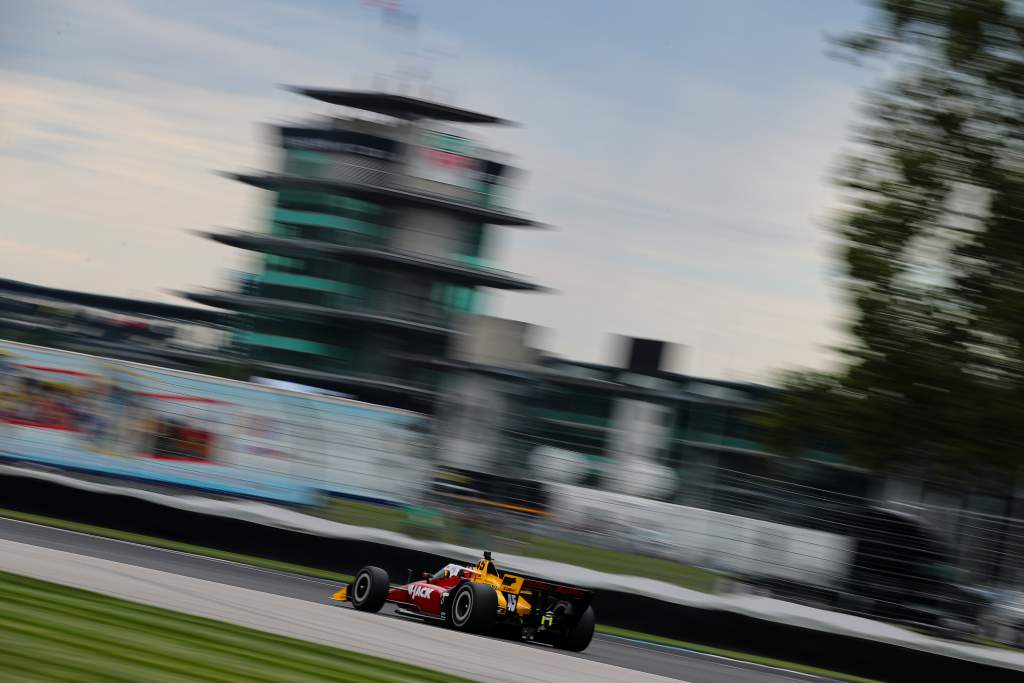 Usually qualifying is the most difficult part in terms of getting the tyres up to temperature – but Lundgaard had no issues as he topped the first run in the pole shootout before others were able to improve later on.
Lundgaard is instead eyeing a specific element of the race as a potential area of difficulty.
"These tyres come in a lot quicker than what I'm used to," he said.
"We basically do two warm-up laps. We go out and do one, then we push for two laps, and that's it.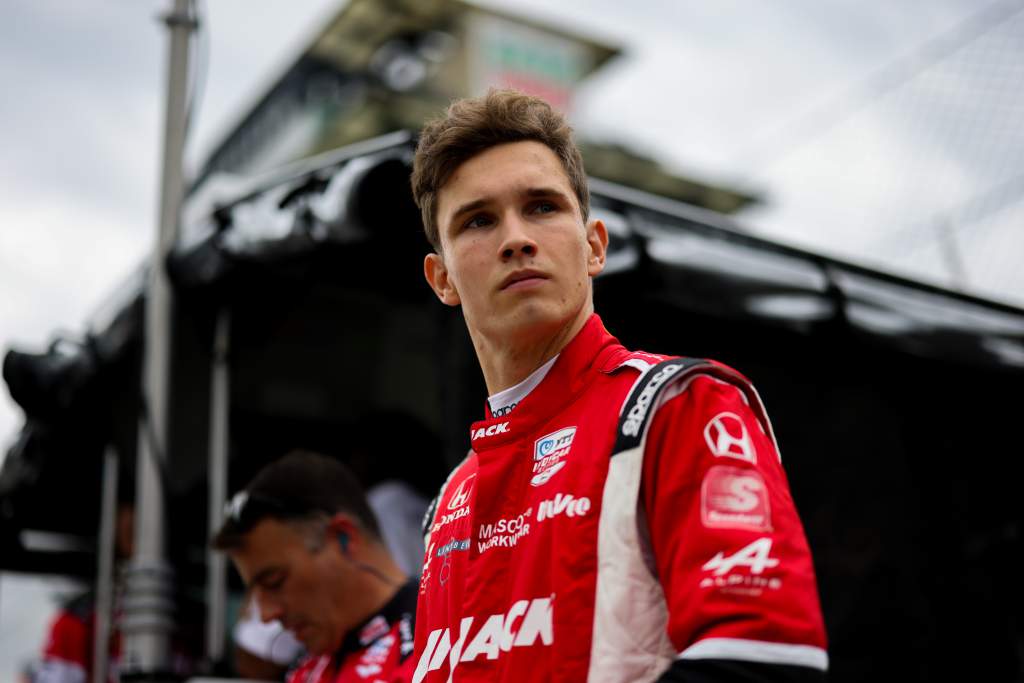 "Here, it's going straight out of the box. You basically want to push as hard as you can going straight out of the box. That's quite different to what I'm used to.
"I think I'll be struggling with going straight out of the box [on an out-lap] and being sure I'm at the right braking point because I haven't got used to that because it's nothing that I've done before.
"That will probably be something to learn."
Restarts and in and out laps are a crucial part of Saturday's race that Lundgaard will have to adapt to, as well as the potential for things getting very unpredictable with strategy. An ill-timed caution can destroy the race of even the fastest cars. It's happened frequently in recent years.
However, Grosjean was able to deliver in those areas at Indy earlier this year – you could argue he was caught out by strategy putting him in traffic but it was a move that needed hindsight – and there's no reason Lundgaard can't impress either.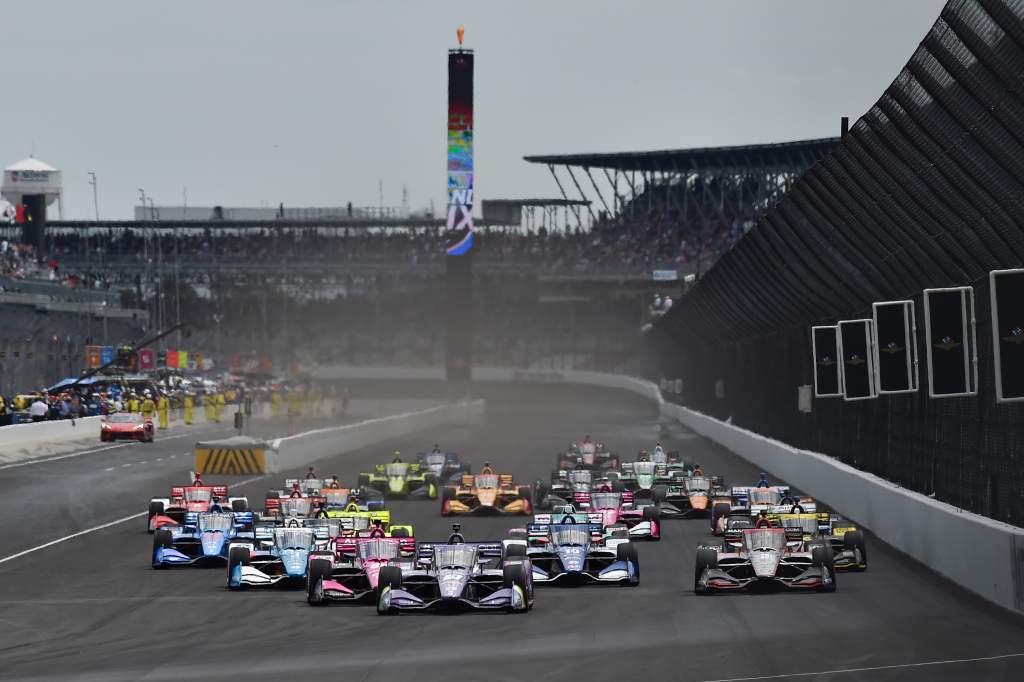 Say he finishes in the top five. What does that mean for his IndyCar future?
Rahal Letterman Lanigan is one of the keys to unlock the IndyCar silly season with Takuma Sato right at the centre. The team would like to expand to a third car full-time next year, and is rumoured to have signed Harvey to the car Takuma Sato is expected to vacate at the end of the season.
That leaves a third car with Santino Ferrucci impressing in it earlier in the season, while 2019 Indy Lights champion Oliver Askew tested at Barber on the same day as Lundgaard last month.
Great day of testing with @RLLracing at Barber! An IndyCar around here is pretty incredible to say the least. pic.twitter.com/eRr13FpnYt

— Oliver Askew (@Oliver_Askew) July 26, 2021
Lundgaard himself keeps repeating there are multiple options on the table for him next year, although F1 is unlikely to be one of them after a poor second season in F2 where he lies 12th in the standings halfway through the season. Besides, Alpine has signed its current drivers through next year.
Alpine has at least opened the door on this opportunity for Lundgaard, but his admission that ovals are "not my target" complicates matters if Rahal wants a full-time driver for its extra car for 2022.
So if this weekend has already persuaded the team it needs the young Dane, it'll either have to persuade him to do the full calendar or run another driver on the ovals.
Lundgaard says the remaining focus for 2021 is on his F2 season where he is eager to save face, and with two of the last three IndyCar road course races clashing with F2 and the other looking logistically difficult, this may be Lundgaard's one and only chance to nail a genuine, race-winning IndyCar entry for next year.
There aren't that many of those available next year, so if racing in the States is his ideal future, he needs to avoid this momentum fizzling out as he disappears back to F2 competition for the rest of 2021.
Especially when people like Alex Albon and fellow F2 racer Marcus Armstrong (a Ferrari protege) are also looking at potential IndyCar moves, and given the series regular drivers who could become available and a scholarship-financed rookie always coming from Indy Lights.
"Whatever the future brings, there is a lot of different options," said Lundgaard.
"I'm not going to say this isn't one of them. It definitely is. But there is also others.
"To come here to do this race, I think is a good thing for us for the future, to be able to decide. I would say looking at the results and from the performance today, it probably looks bright for the future.
"But I'm not going to say it's going to be this. There's so many options.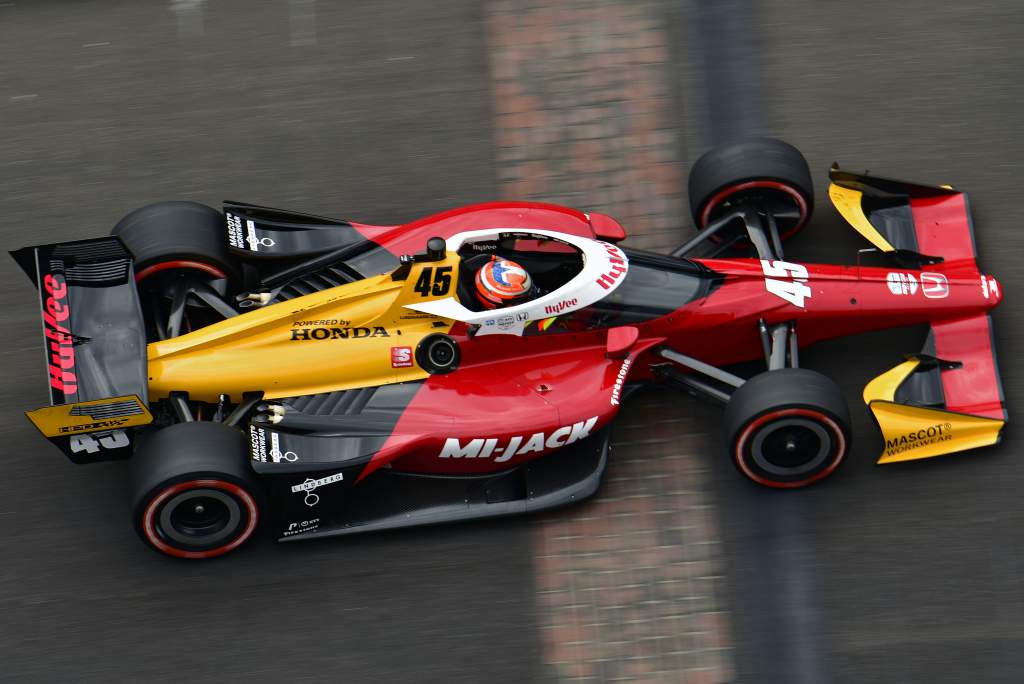 "I'm here to explore. I'll probably also explore some other things later on. But I've still got half a season to go in F2.
"That's still where the focus is, to finish that season, be sure we improve the championship position we're in at the moment."