During the wait for real-world motorsport to resume, we'll occasionally be revisiting classic IndyCar and Champ Car races.
With IndyCar back at Motegi – in virtual form – for this weekend's round of its iRacing Challenge series, that spurred us to take a look back to the momentous 2008 race there…
The 're-split' weekend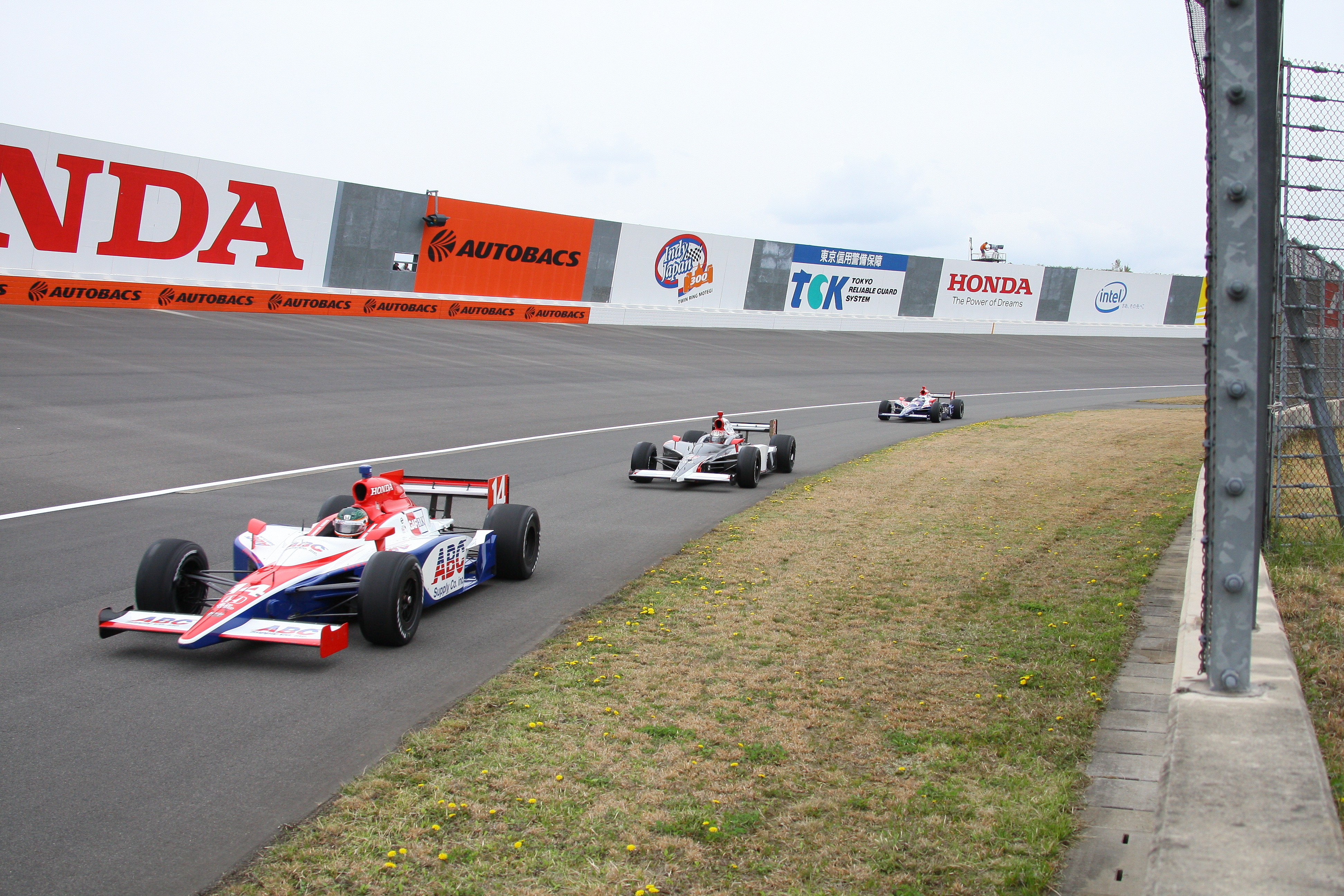 Even before the race began, the 2008 Indy Japan 300 was a highly unusual affair.
This was the year of the desperately-needed American single-seater reunification, when Champ Car and the Indy Racing League put their differences behind them and tried (ultimately successfully) to create one thriving series from the two husks they were smashing themselves into as their war dragged into a second decade.
But the lateness of the peace deal being completed – just weeks before the beginning of the 2008 seasons – made this a year of compromise, primarily on the Champ Car side. A relatively small band of ex-Champ Car teams would line up for a calendar featuring relatively few Champ Car venues, and running hurriedly-acquired IndyCar machinery.
The April 19-20 weekend, however, presented a real stumbling block.
Long Beach, with its popularity and glorious heritage, was the Champ Car race IndyCar wanted to safeguard. Motegi was a non-negotiable event for its owner Honda, which supplied the entire field with engines. They were scheduled for the same weekend on the original calendars, and it was impossible to move either at short notice given the logistics of closing the Long Beach streets and of getting an IndyCar field to Japan and back.
So for that weekend, the field split again. The ex-Champ Car teams dusted off their 2007 Panoz cars for a final fling for the old series' rules in Long Beach, while it was back to pre-2008-business-as-usual for the IndyCar teams in Japan, but both races would count for unified championship points.
Skipping Motegi was something of a relief for what were known as the 'transition teams'. The scale of the challenge they faced getting fully up to speed with the Dallara IR03s on ovals against rivals that had spent half a decade finetuning them for a mostly-oval calendar was laid bare in the Homestead opener where KV Racing Technology's Oriol Servia was their top representative in 12th, five laps down.
A wet/dry St Petersburg street race for round two gave a hint of the more open competition to come. Will Power and Justin Wilson put KV and Newman/Haas/Lanigan in the top three on the grid and Wilson's team-mate Graham Rahal – who hadn't even raced at Homestead because the new teams were so short of spares his car couldn't be repaired in time after a test crash – won a wild event.
A 10,000 gallon washout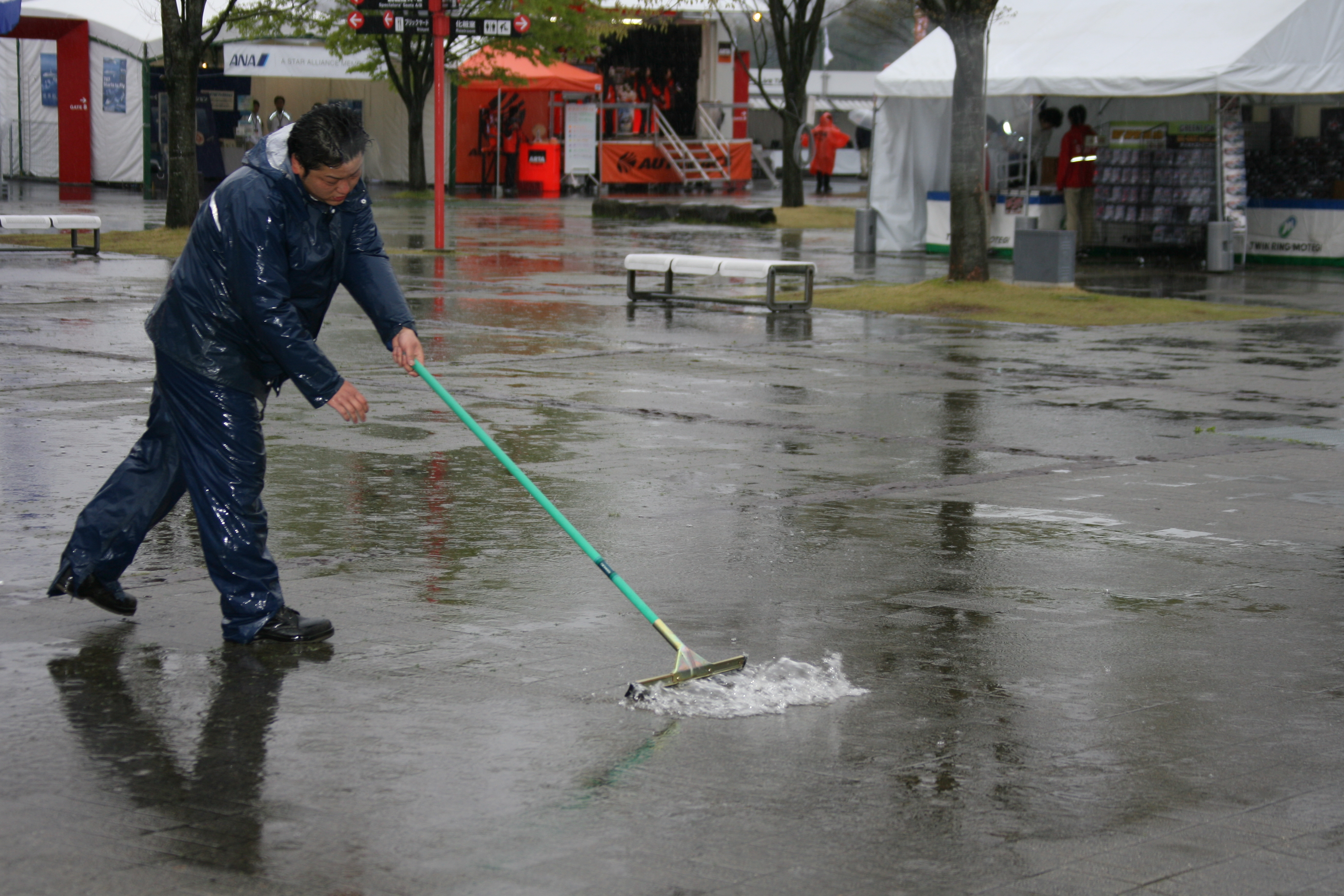 The Motegi and Long Beach legs of the 're-split' round three should at least have been on separate days. But then a downpour hit Motegi on Friday, the qualifying day. It had finished by Saturday, the intended race day, but the track remained wet – the water coming from below, not above. 'Weepers' in the track surface, as underground moisture soaked through, were making the track unusable.
The race was postponed 24 hours and an all-night effort by the circuit authorities made it possible to start on Sunday. The track workers managed to drain 10,000 gallons of water from under the oval via small holes drilled into the track surface and then resealed prior to the race.
With qualifying impossible, the grid was set on championship standings. Fourth at Homestead and second in St Petersburg put Penske's Helio Castroneves on pole ahead of round one winner Scott Dixon, Andretti-Green Racing duo Tony Kanaan and Marco Andretti, Dixon's Chip Ganassi Racing team-mate Dan Wheldon and Danica Patrick in another AGR entry in sixth.
The main victim of the lack of a qualifying session was Ryan Briscoe, thanks to the nightmare start to his Penske career. Being wiped out by Milka Duno at Homestead and then crashing solo at St Pete left triple champion Sam Hornish Jr's replacement 15th on the Motegi grid.
An egg-shaped fuel headache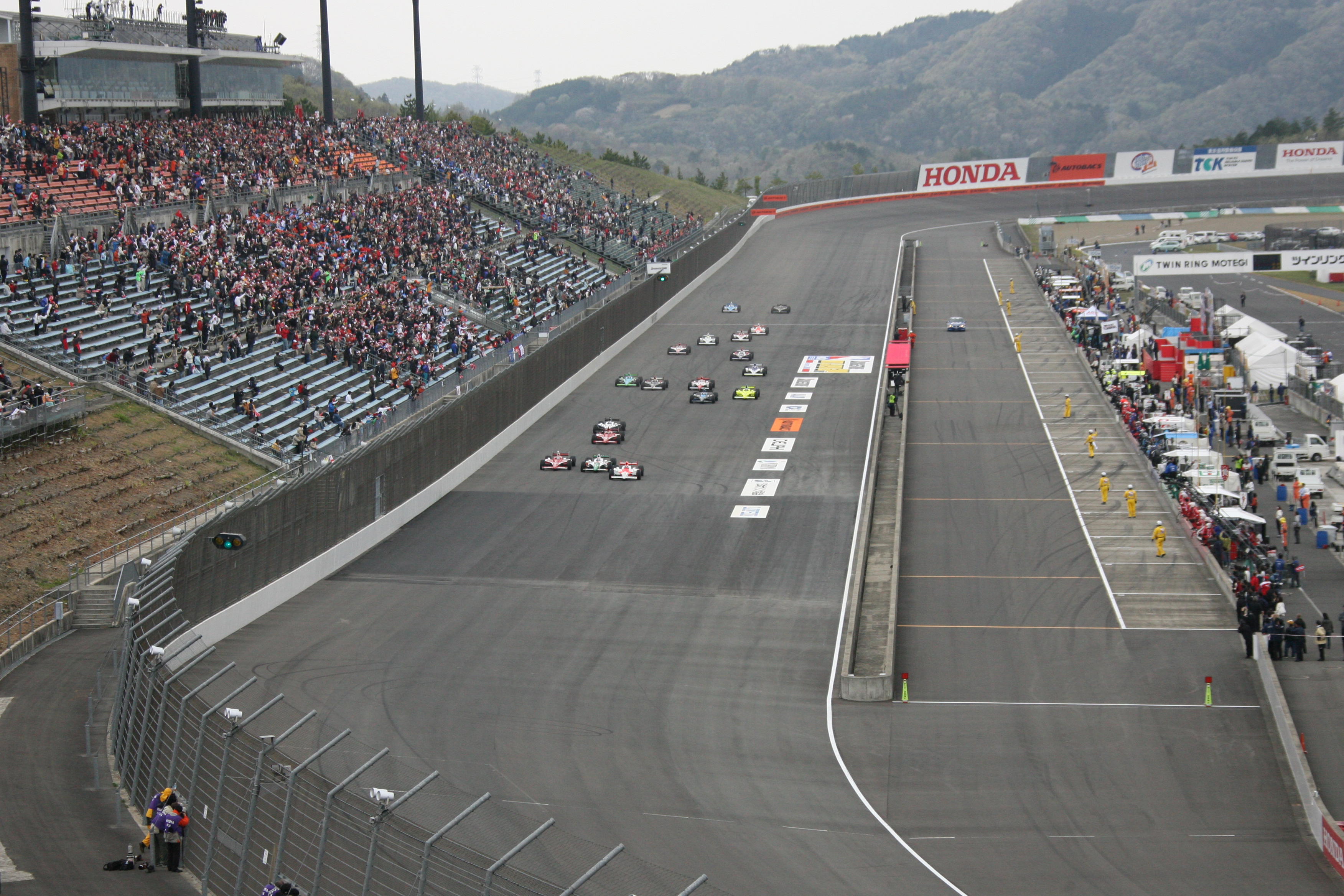 Honda's home oval was always an awkward prospect for drivers and teams. A mile and a half long egg shape that required downshifting and a significant lift for its pointier end, it was relatively tough for overtaking and its 200-lap distance effectively required a 'three-and-a-half-stop' strategy.
That meant teams were always anxiously recalculating their fuel mileage around yellows. Marco Andretti did everyone else an early favour when the race began by spinning straight into the wall on cold tyres at the start, meaning an immediate seven-lap caution.
A cagey first stint followed with Castroneves just ahead of Dixon, Wheldon and Kanaan.
"Basically I was saving fuel as soon as we started the race," said Castroneves, with Dixon adding "I was in the same situation, really saving fuel from go".
"When's she going to win?"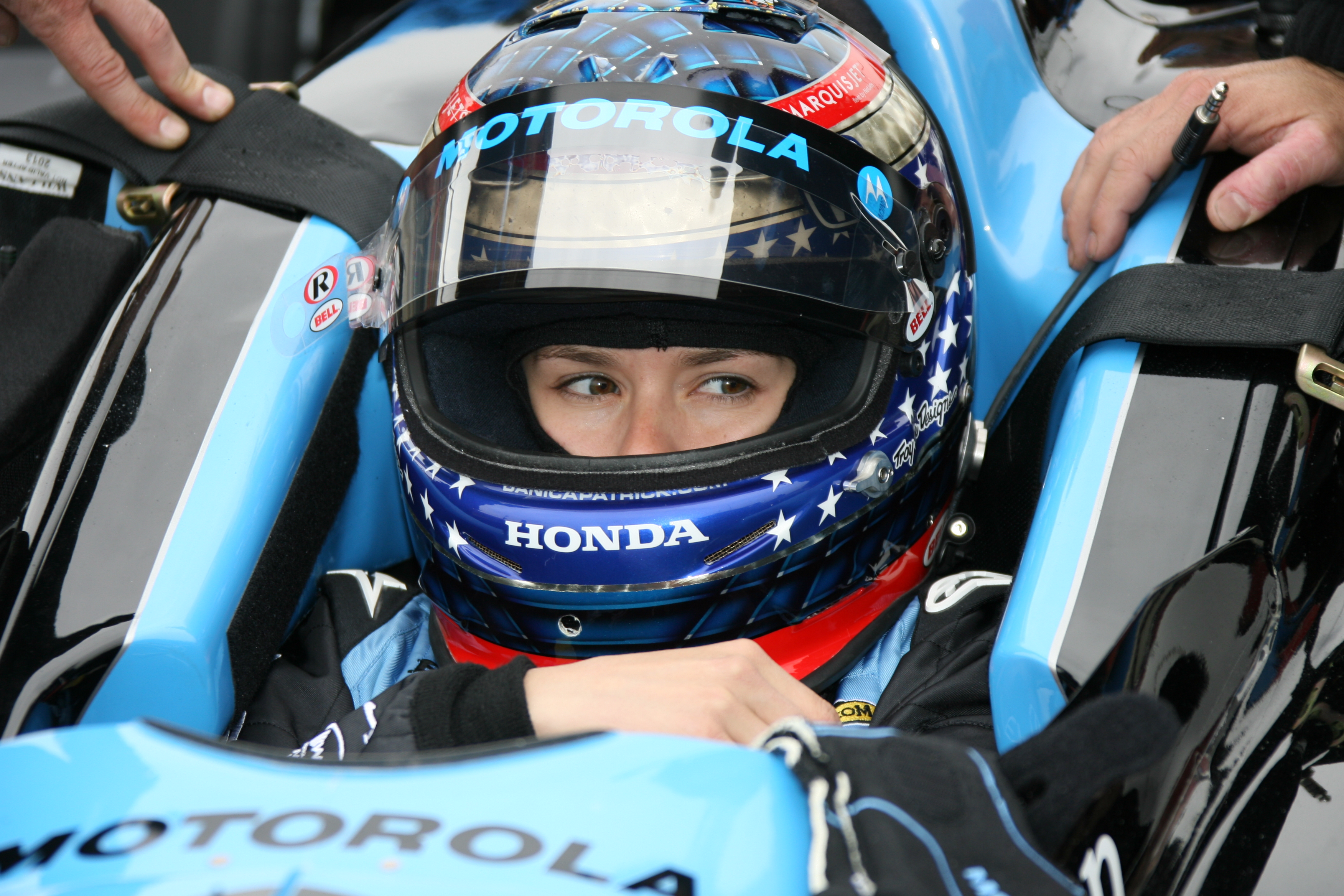 Behind them, Patrick initially fell back and was under occasional pressure from Ed Carpenter.
This was Patrick's second season at Andretti-Green, and the enormous media and fan attention – both positive and negative – that had surrounded her since her IndyCar debut in 2005 had not relented at all.
"If I didn't prove that over the last three-and-a-bit years then they won't ever think that I belong here, so they'll find some way to brush off any successes" :: Danica Patrick
Motegi had been the scene of her first big IndyCar performance in her rookie season with Rahal Letterman in 2005, when she qualified on the front row, fought for victory and finished fourth. Coming close to winning the Indianapolis 500 the following month before being edged back to fourth then sent the focus on her stratospheric – which was where it stayed.
The 2007 move to AGR didn't begin very smoothly, but results came as she settled – three podium finishes, front row qualifying spots at Mid-Ohio and Sonoma, and seventh in the championship.
And that made questions over when her first win might come all the more insistent, and generally irritating to Patrick. But not as irritating as the questions asked on her bad days – about whether it was her publicity value, not her speed, that was behind her place in a team of AGR's calibre.
"I believe that if I didn't prove that over the last three-and-a-bit years then they won't ever think that I belong here, so they'll find some way to brush off any successes," she replied to one such question in 2008.
"I believe that I have the respect of my team-mates, and hopefully others too, and that's what matters most to me."
Fuel game gets tougher
As the Motegi race progressed, the timing of yellows slid from very handy to extremely unhelpful.
The early caution meant drivers could get close to lap 50 on their first fuel load, so Marty Roth (pictured above) hitting the wall when the leaders were on lap 48 was useful. A second incident in which AGR's fourth driver Hideki Mutoh spun in the pit exit while wheel to wheel with Kanaan, and nearly collected the pace car in the process, contributed to the caution stretching for nine laps.
Then on lap 91 Vitor Meira clouted the wall and triggered a third yellow under which everyone could make second stops. That was too early to be confident of making it to the finish on one more refuel, yet the risk of not pitting under the yellow and losing a lap by doing so under green soon afterwards was too great so everyone dived in.
"When we were running fast at the front, none of us could save enough fuel to get to the end" :: Scott Dixon
Patrick had spent the second stint eighth, but made an aggressive lap 98 restart after the Meira yellow and overtook Darren Manning and Briscoe in quick succession.
Briscoe then repassed her in traffic and she fell away from a tight second-place battle between Castroneves, Kanaan, Wheldon and Briscoe. This was raging in the distance behind an escaping Dixon, who had jumped Castroneves in the pits then pulled away into a lead of up to six seconds.
Dixon said he was doing that "running in the leanest mode that we had the whole time", but that it was impossible to save sufficient fuel while leading.
"The speed took a toll more on the MPG than how much you could lean it up," he added. "When we were running fast at the front, none of us could save enough fuel to get to the end."
The crucial caution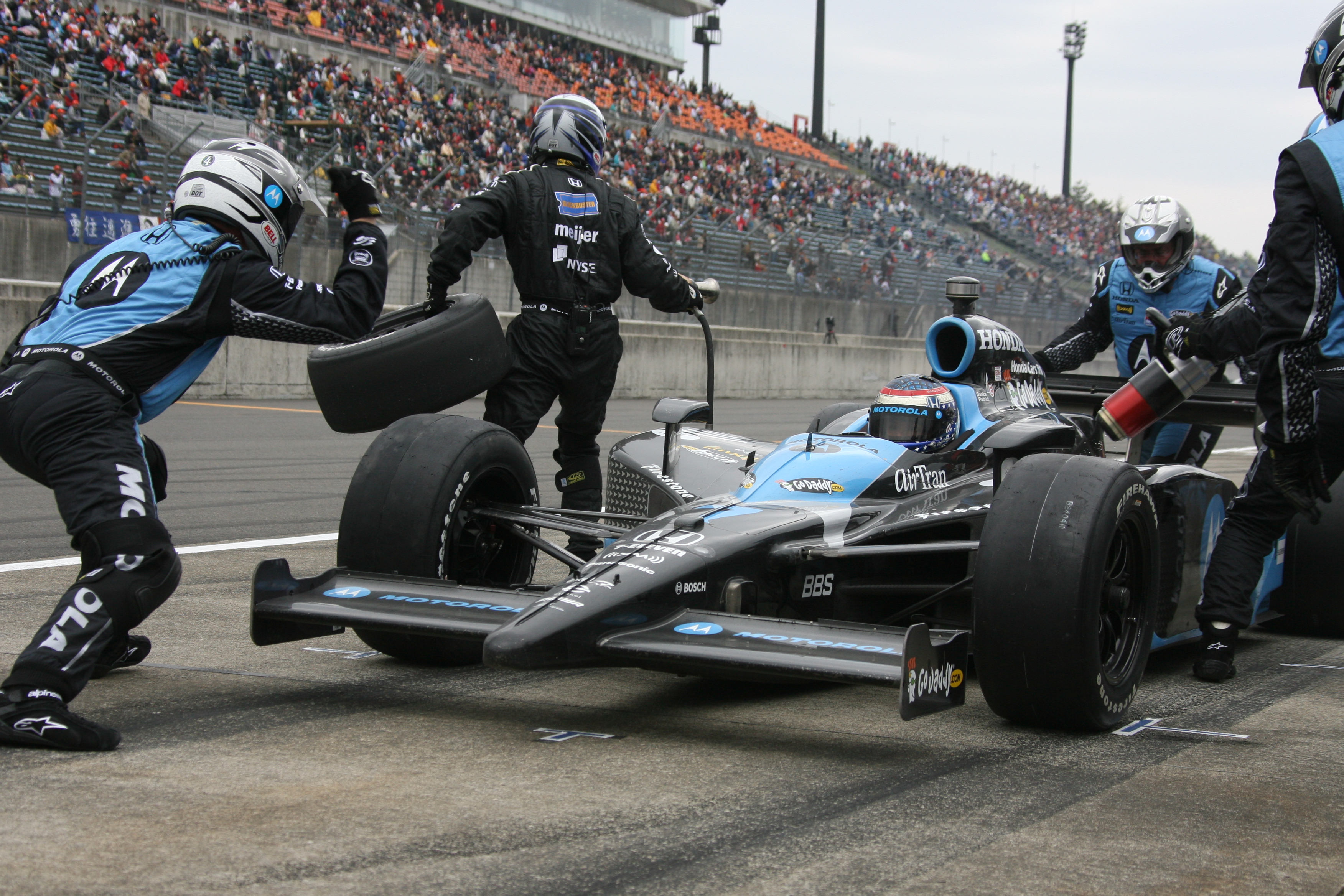 Yellow number four hit on lap 142 when Roger Yasukawa's car stopped on the pits straight. Everyone dived in once the pits opened two laps later, knowing that 56 laps on one tank of ethanol was not going to be doable unless a very large number of those laps were under caution.
As the pace car period dragged on, three crews took a very sensible punt. Castroneves, Patrick and Carpenter all nipped back in for top-up stops with 51 laps left.
For long-time leader Castroneves this was a chance to make up for an error. His initial stop under that caution had been a slow one because he had pulled up too far forward so he was already down to fifth and had less to lose than prior to that slip.
"It was just one of those days where you pretty much knew you were a sitting duck" :: Scott Dixon
Patrick was first back out and rejoined still very well placed in fifth, but then made a poor restart on lap 151 and was quickly jumped by her two rivals on the same strategy.
Even for Castroneves, Carpenter and Patrick, getting to the finish without another top-up was going to be a very tall order if the race stayed green. For everyone else, it would be impossible – and tactics among that group diverged between a 'just charge, use the fuel and sort it out later' approach and attempts at miraculous fuel conservation that might pay off if there were enough caution laps.
Patrick throttled back, dropping as low as ninth, and focused on being able to push with confidence in the final laps.
And as those final laps began, the drivers ahead fell one by one.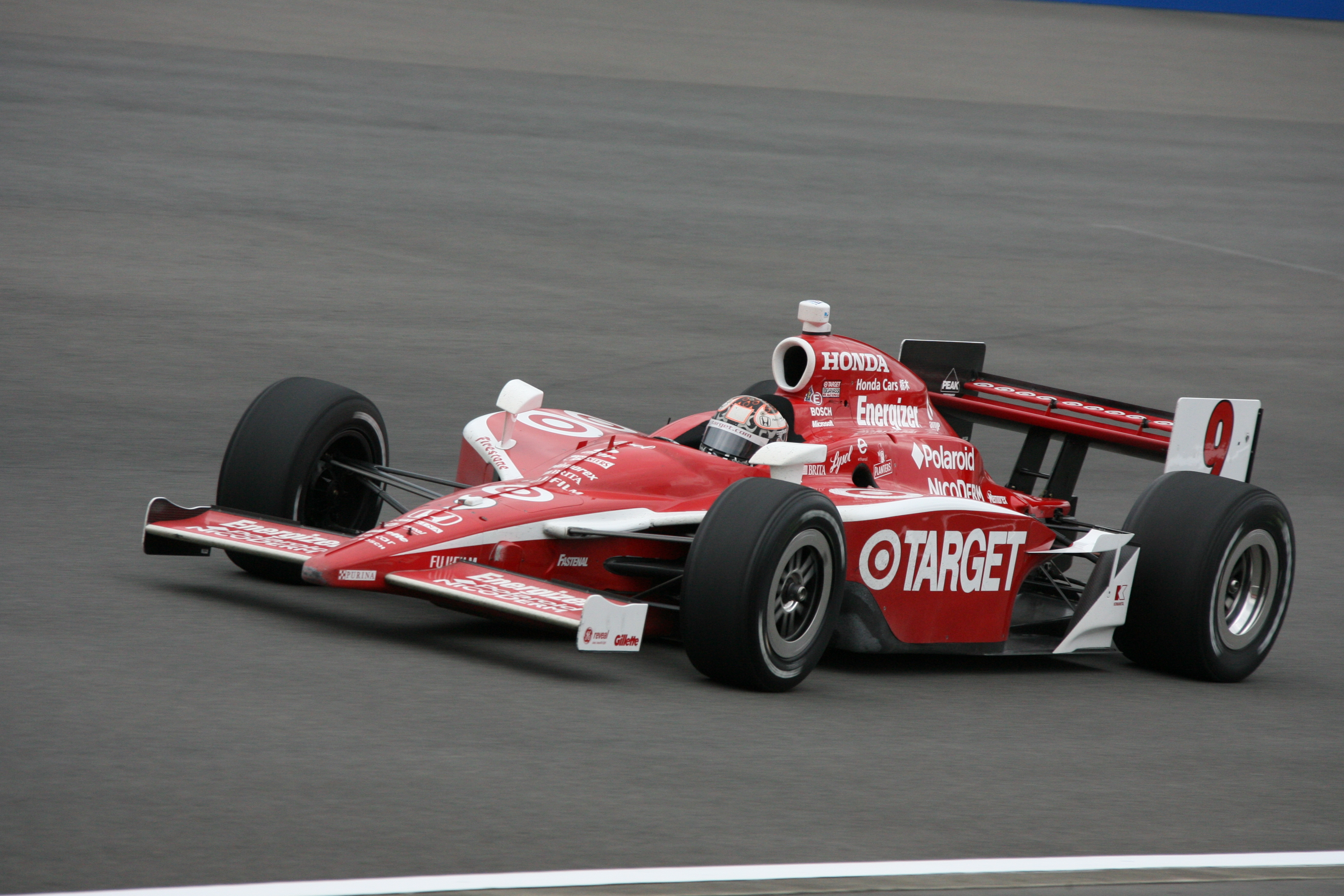 "It was a whole day of strategy and wondering whether we should save fuel or go fast or let the other guys catch a little bit," rued Dixon. "It was just one of those days where you pretty much knew you were a sitting duck.
"In the end it bit us. I think that backmarkers definitely had the upper hand on strategy. They knew exactly what it was going to come down to when it went green."
"I was pretty sure that I was going to win. But there was always that worry that the yellow flag would come out or that I wouldn't be able to catch Helio" :: Danica Patrick
Rahal's Ryan Hunter-Reay was first to head for the pits from fourth. He'd been the most gung-ho about cracking on, using the fuel and hoping for the best, and bailed out with 11 laps to go.
Despite being on the same strategy as Patrick, Carpenter – who had stayed much closer to the lead pack than Castroneves and Patrick – pitted with six laps left.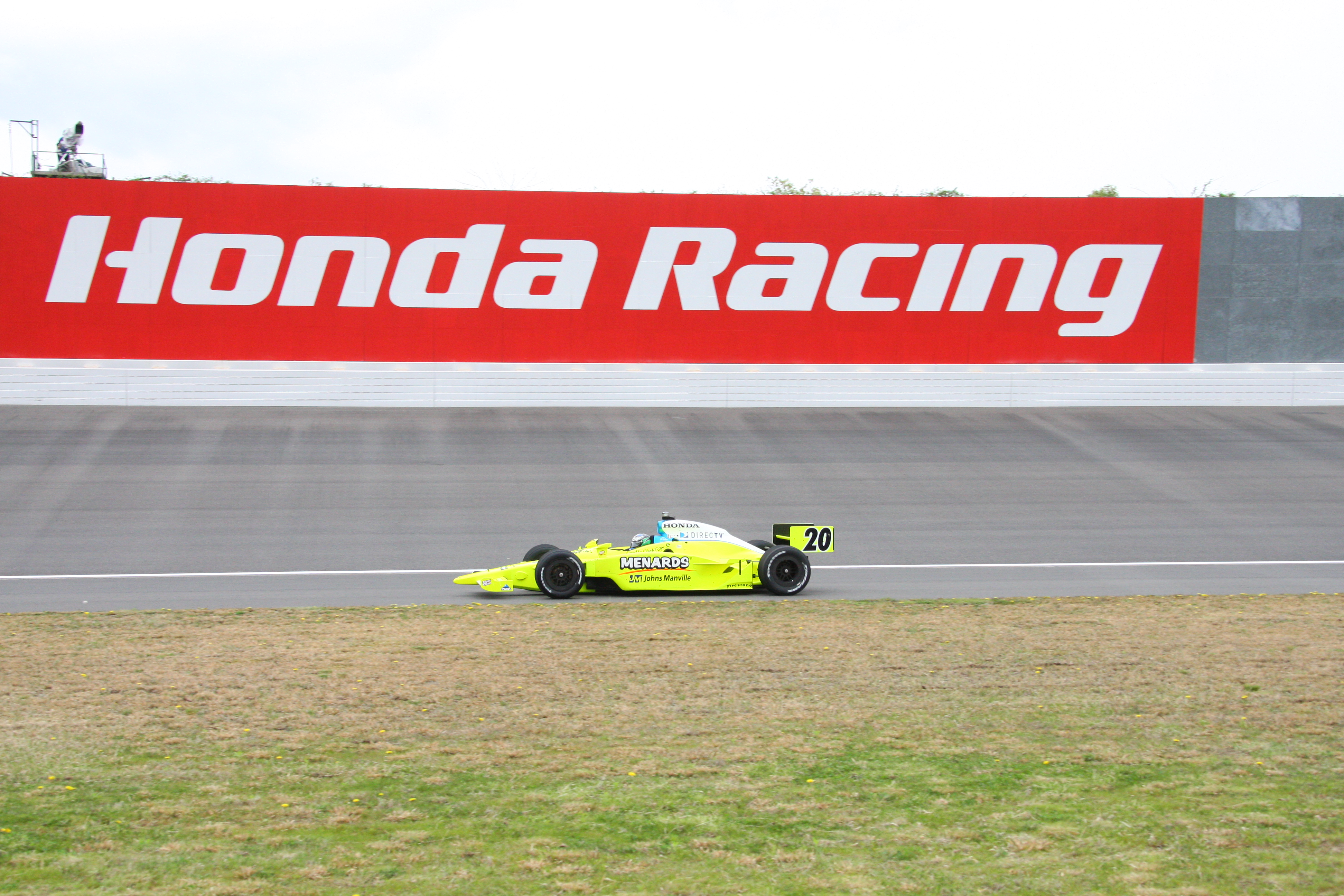 One lap later, leader Dixon came in, then Wheldon and Kanaan from a very brief first and second the next time around. The pitstops were for the smallest splashes of fuels, the cars stationary for just two to three seconds, yet each one was taking a potential winner out of the hunt.
Suddenly Castroneves and Patrick were running 1-2 with four laps left. But Castroneves was in trouble.
"I knew I needed to do some kind of [fuel mileage] number that was really hard to do, and I was trying as much as I could," he said. "My car was becoming very difficult to drive, I don't know why."
He had been seven seconds clear of Patrick with half a dozen laps left, but was now having to slow dramatically and "really, really" save fuel.
Patrick could keep her foot down.
"I kind of knew from the start if we had enough fuel that I was going to have a chance because I was saving fuel from the first lap and nobody else looked like they were," she said.
"So I knew at that point there was a chance to finish much higher.
"But it wasn't until halfway through the [final] stint that I heard it was Helio and myself. I was either going to be second with the rate that the fuel was going [or win].
"It wasn't until I actually passed Helio that I knew, [but] I was pretty sure that I was going to win. But there was always that worry that the yellow flag would come out or that I wouldn't be able to catch Helio.
"But I maintained pretty good speed for how much fuel I was saving."
Castroneves admitted at that point he had "no idea what's going on" as the final strategies unfolded. As Patrick overtook him, it was only by looking at the scoring tower that he even realised he'd briefly been back in the lead – and that he had just lost it again.
The win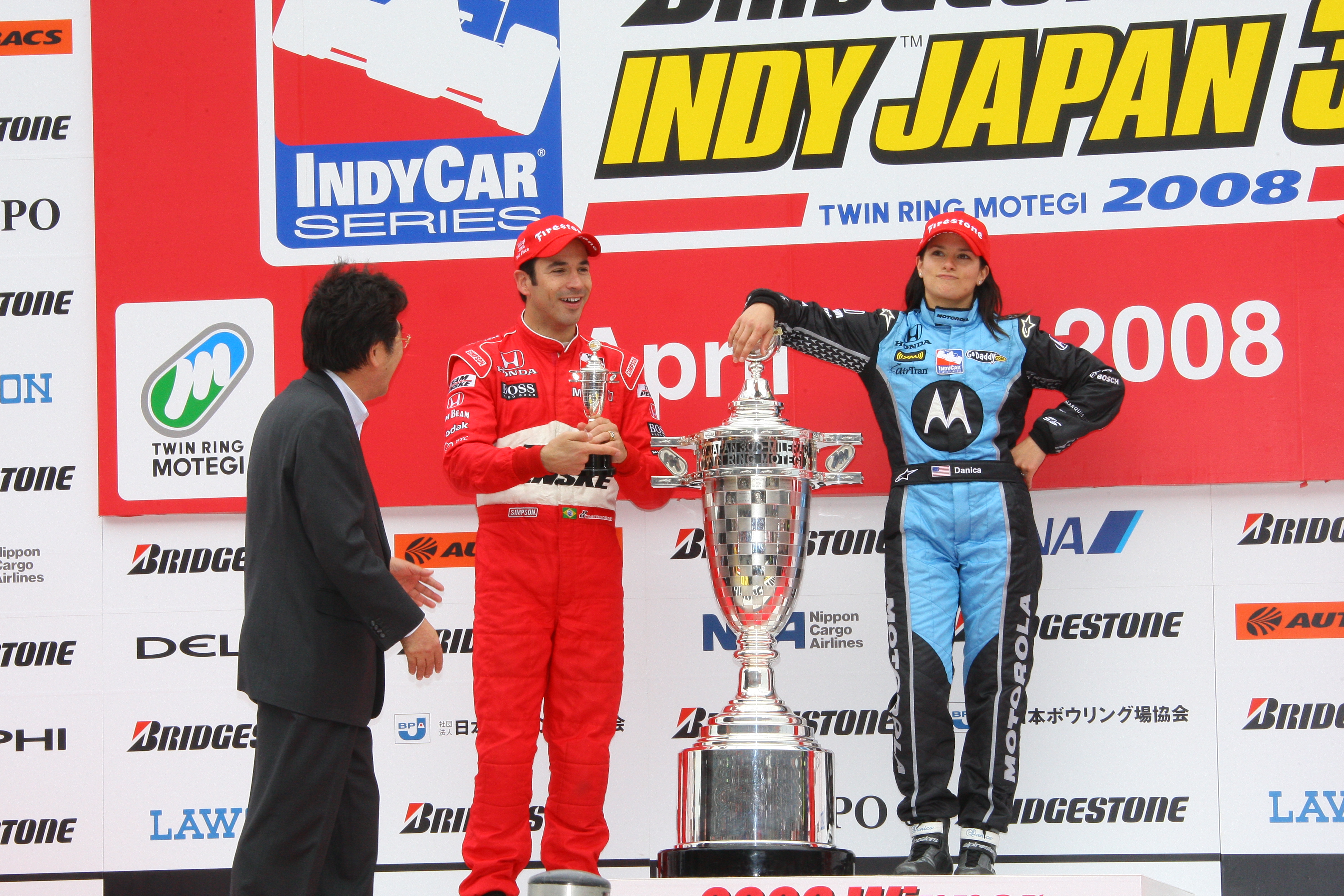 Patrick pulled nearly six seconds clear of Castroneves over the final two laps. Dixon, Wheldon, Kanaan and Carpenter completed the top six in a race where no one was ever likely to remember anyone other than the winner.
That winner had just become the first woman ever to triumph not only in a top-level American racing championship, but in a top-level international single-seater race. It instantly put her alongside Michele Mouton – a multiple winner in the World Rally Championship across 1981 and '82 – as a history-maker for women in motorsport.
In the moments after taking the chequered flag that day at Motegi, Patrick was simultaneously a trailblazer making a point on behalf of her entire gender – a gender so often maligned or pigeonholed throughout all of motorsport history – and simply a driver like any other who'd been batting off pressure and criticism while frustratedly waiting for a first major victory and was relieved it had finally come.
"A lot of women hadn't really proved on a consistent basis that they could be a good driver and always run up front" :: Danica Patrick
Though she generally tried to maintain the 'just another driver' approach, she did manage to reflect on the significance of her achievement for women in motorsport while fielding the many – often wince-inducing – questions on that topic that followed.
"It's a first, and firsts are always in history books. I've definitely thought about it before and I've always wanted to be that person," she said.
"It's probably one of the only things where I ever really thought of myself as a girl. Otherwise, I don't really think about it a lot.
"But I did think it would be nice to be the first female to win in history.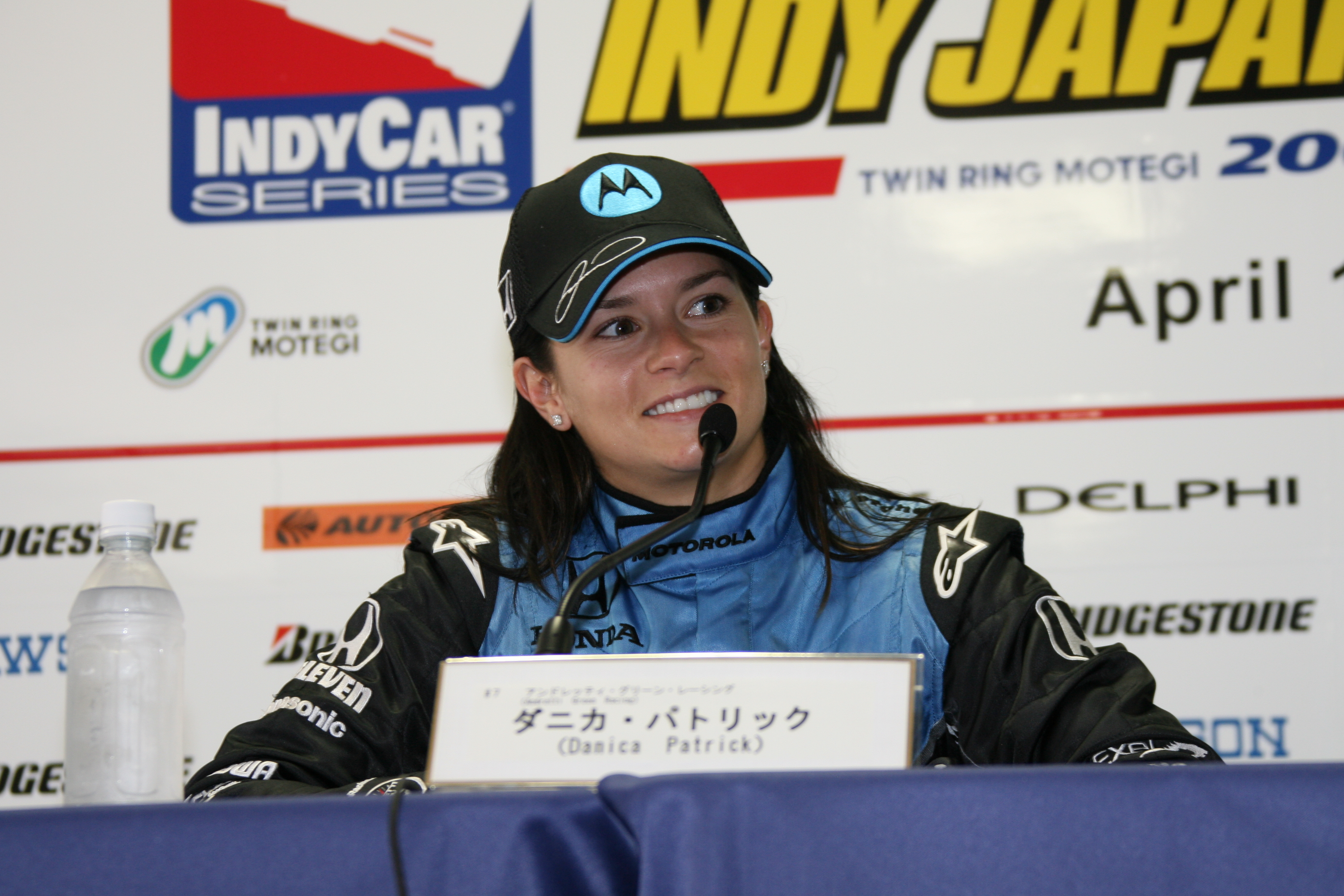 "I grew up never really thinking of guys as a reference, I was just using drivers as a reference and if I wasn't fast enough, I wasn't fast enough.
"That was always the most important thing, I didn't think 'I'm the best girl out here today', I grew up with the right attitude to translate into a more competitive world."
Asked about any 'disadvantages' she'd faced being a woman in motorsport, she shot back "the disadvantage to overcome was just that I hadn't won". But she also attempted to empathise with the sceptics.
"A lot of women hadn't really proved on a consistent basis that they could be a good driver and always run up front. There had been times when they had done well but not consistently," Patrick added.
"I can't tell you that I blame them for not believing that we could do it.
"But when you have 100 guys coming through, the odds are a lot better for finding one good one than with 100 girls since it takes a lot longer for 100 [girls] to come through. The odds are against us."
Awareness of those doubters was probably why she was so quick to castigate herself for being "a wuss" for crying as she celebrated the win.
"On my last lap I was kind of just excited. And then when I actually had to talk on my radio, finally the emotion came out. I really couldn't manage any other words than 'thank you'.
"And then I was as relieved as I expected I would be years ago, how I knew I would feel when I won my first race.
"But I guess over time that feeling has only got bigger, and over time I've been asked so many times when I'm going to win my first race. Finally, no more of those questions.
"I'm a driver and I knew I could win, so I'm relieved.
"I don't think it's going to change a lot. This is what I'm supposed to do."