At the end of IndyCar's inaugural Music City Grand Prix, even Marcus Ericsson didn't really know how he had won the race – given he'd had an airborne crash and a resulting stop/go penalty.
"I thought my race over there," said Ericsson, as he tried to digest what had just happened.
"Then we had to repair the car. I got a stop-and-go. We were dead last. It was all about trying to recover.
"I think the car got some damage, as well, from that flight. There was definitely some damage on the car.
"I thought I would try and recover as many positions as possible and have a solid [finish]. Top 15 was sort of my game plan after that incident.
"Then the team did a great job with the strategy. Pitstops were great. There were so many incidents.
"For sure there was a little luck there, as well, no doubt about that."
Ericsson was mired in the pack at the start of the 80-lap race because he had hit the wall in qualifying and started 18th, having been top seven in the preceding sessions.
At the race start, Ericsson made up three positions to run 15th immediately, fell back a spot on lap four and then on the next restart, he was over-eager and failed to spot Sebastien Bourdais slowing for a concertina effect.
That incident between Ericsson and Bourdais just before the restart 😮pic.twitter.com/dlcpANvmmx

— The Race (@wearetherace) August 8, 2021
Ericsson was launched over the AJ Foyt car's rear wing, landed heavily and, predictably, damaged his car.
He was able to make it back to the pits with the front wing flailing, which could be fixed, but there was other damage he was stuck with.
"It was on the right front suspension, but not a lot," he said.
"There was some [damage] on the floor that I could see after the race, which is pretty incredible.
"I was flying quite high in the air. I thought the car was going to break in half.
"It shows that these IndyCars are pretty strong machines."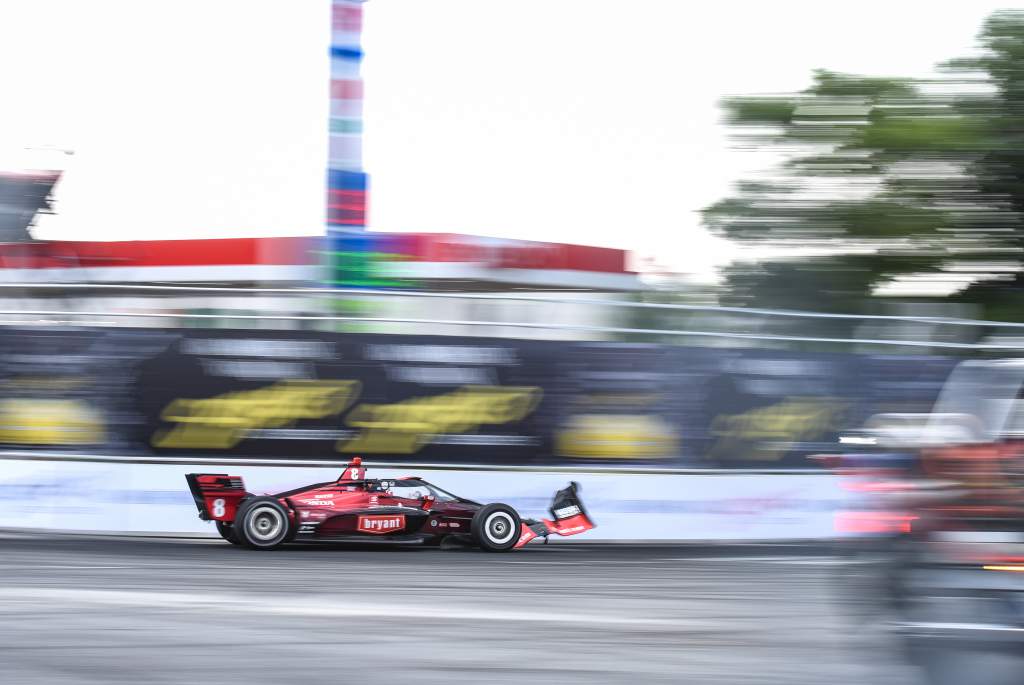 Luckily the floor wasn't as big an issue in Nashville because it is less effective when the cars are running high ride height to deal with the bumps of the circuit.
The suspension damage didn't cause any driveability issues, so from there the next question was: would Ericsson be penalised?
He was, and he served his stop/go on the next restart, dropping to 25th.
"After the stop-and-go, I came out, I couldn't see a single car," Ericsson recalled when asked by The Race about his mid-event heroics.
"I was, what, 20 seconds behind the last car. I just tried to put down lap times. I think we were as fast as the leaders at that point."
While he couldn't serve his stop-go under caution to negate the time loss, he did at least benefit from the next caution allowing him to catch the back of the pack and for it to be bunched up, which occurred on lap 16 of 80.
Ericsson jumped to 19th thanks to five cars choosing to pit, and then in what was arguably the most important point in Ericsson's race, he was elevated from 19th to 12th around the first red flag.
On a restart, Will Power tagged his Penske team-mate Simon Pagenaud at Turn 10 – which caused a number of cars to pile up and block the track.
Ericsson was able to slip through on the inside relatively unscathed, in 12th, and this had a number of benefits for him.
REPLAY: The incident involving multiple drivers that brought out the red flag in Nashville.

WATCH LIVE:
📲: INDYCAR APP powered by NTT DATA – https://t.co/vyuISIgHnX
📺: NBCSN#INDYCAR // #MusicCityGP pic.twitter.com/V1TaCBVf10

— NTT INDYCAR SERIES (@IndyCar) August 8, 2021
It meant he was the highest placed driver in the field who had pitted and therefore had more fuel than the 11 cars ahead, and he was also right behind them because the field had been bunched up by the stoppage.
The Power/Pagenaud crash had taken out or forced a number of Ericsson's rivals to the back and off-strategy with him, and the leaders chose to stay out, which meant Ericsson had nine laps more fuel than them – which would come into play later on.
On lap 23 the race went green and Ericsson moved up a spot to 11th as Jack Harvey pitted from seventh, and then Ericsson moved into the top 10 on lap 24 as Ed Jones pitted.
When Rinus VeeKay crashed on lap 31, leader Colton Herta had no choice but to pit, even if he was at risk of the undercut from the drivers like Harvey who had stopped before.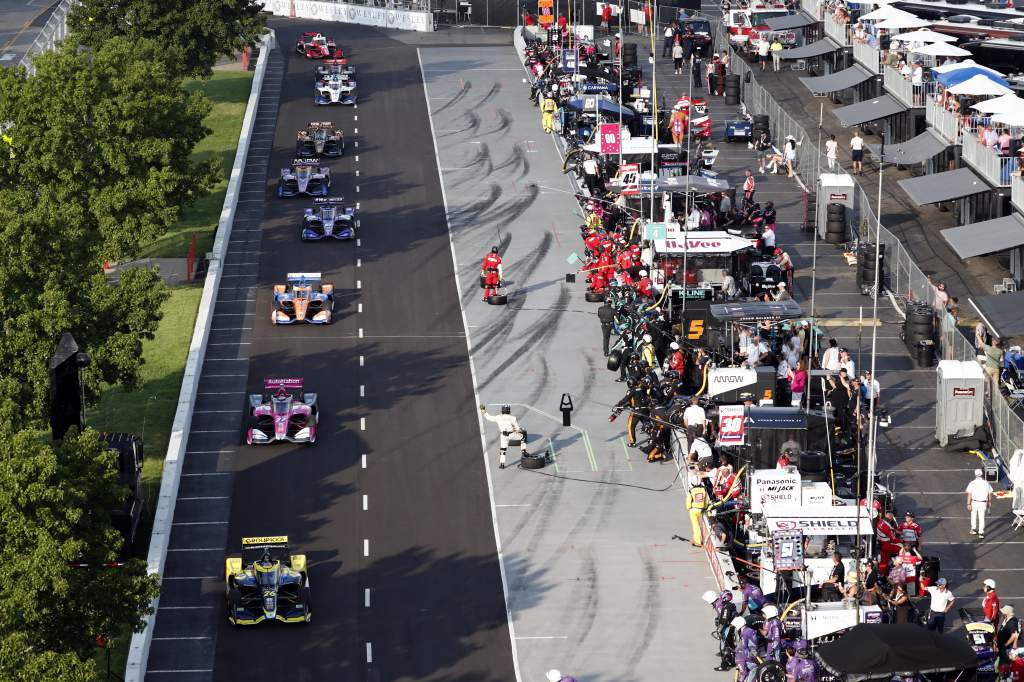 But Ericsson immediately became the obvious threat because of the number of cautions happening and the fact he had the extra fuel.
Incredibly, Herta most maintained the race lead – despite pitting under caution – through a bizarre turn of events. When Herta and five cars behind him pitted, the pace car slowed to pick up the new leader, Ericsson. But the pace car then slowed again to avoid the chaos of VeeKay's crashed car at Turn 1.
Such a slow pace from the pace car gave the cars in the short pitlane an advantage. Ericsson led, but Herta and his team-mate Rossi came out on fresh tyres and full of fuel in fourth and fifth respectively.
Ericsson took the lead on lap 33, the race restarted on lap 36 and then four laps later, came another caution, this time for Power hitting another team-mate, Scott McLaughlin, into a crash at Turn 9.
REPLAY: Incident involving @smclaughlin93 and @Dalton_Kellett that brought out the yellow flag earlier in Nashville.

WATCH LIVE:
📲: INDYCAR APP powered by NTT DATA – https://t.co/vyuISIgHnX
📺: NBCSN#INDYCAR // #MusicCityGP pic.twitter.com/CL8vlnAwDP

— NTT INDYCAR SERIES (@IndyCar) August 8, 2021
With 26 race laps on his tyres and with 21 race laps of fuel used, Ericsson needed to pit as staying out would mean gambling on another caution. With the time lost in a pitstop under caution proving beneficial, he came in on lap 45 and emerged in eighth!
At this point Ericsson was helped by running water from the nearby suites at Turn 3 creating dampness on track, which increased the number of laps under caution while it was attended to.
With another caution or two, he wouldn't have to stop again whereas most of the cars ahead, including Herta, would need to.
This happened sooner than expected as on the restart at lap 50, Pato O'Ward dived down the inside of Rossi at Turn 4 and hit him, taking himself out of contention and causing the race's seventh caution with 50 of 80 laps run.
When the pitlane opened, the leaders had to pit with it being a very realistic chance to make it to the end from there without another stop. Ericsson duly inherited the lead.
All of these caution laps helped Ericsson and those on the same strategy to save fuel, with the green flag fuel stint being around 28 laps but at no stage did the race manage that many laps consecutively without a caution.
Herta emerged in sixth but made rapid work of the cars ahead by passing three on successive laps.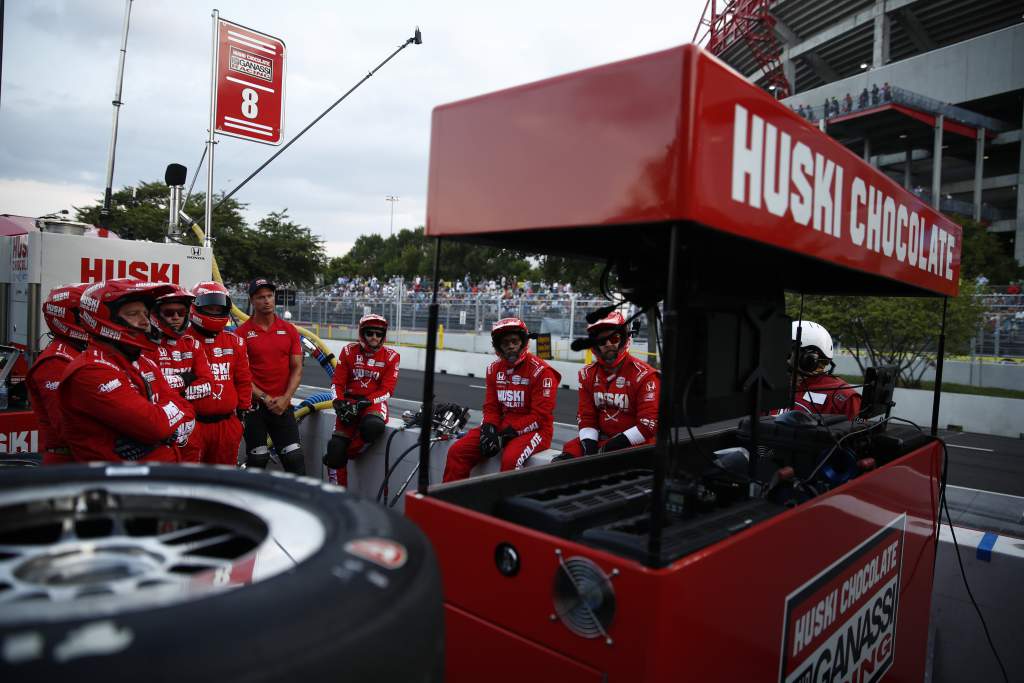 It took him two laps to work past Scott Dixon – who'd made a fuel only stop previously and would finish the race with 47 total laps on his tyres – with a daring move at Turn 9 and then he was on Ericsson's tail.
It was this part of the race that made Ericsson rate it as one of the best drives of his career.
Herta had topped every session of the weekend heading into the race and took pole with one of the biggest margins of the season so far. He looked effortless on track, regularly passing at Turn 10 – which few of the rest of the field managed even once.
He had dominated the St Petersburg street circuit race earlier in the year from pole too. So with Herta zeroing in on the back of Ericsson with fresher tyres, no need to fuel save and having made four overtakes in six laps, the result seemed a foregone conclusion.
However, Ericsson managed the gap by saving fuel in the corners and booting the throttle onto the straights, as Herta became more and more exasperated on the radio.
"In the end when Colton was behind me and I had to do a really big fuel number to get us to the finish line and still keep him behind, that was one of the toughest challenges of my career," said Ericsson.
"I'm very proud that I could keep him behind and keep the pace up. That won me the race.
"When he pulled off behind my gearbox, I was thinking this is not going to work!
"We've seen all weekend how fast he's been. I'm thinking, 'I'm not going to be able to hold him back'.
"I just went into myself and tried to focus on where can I save most fuel, where he cannot attack me, where can I push to make sure I stay ahead?
"I was really trying to just use all my experience to try and figure out how I was going to keep this guy behind. I was really proud of doing that."
Less than 10 laps to go.

THIS CAR IS LEADING. #INDYCAR pic.twitter.com/Vdp3dj5xT8

— IndyCar on NBC (@IndyCaronNBC) August 9, 2021
In the end the pressure was too much for Herta. He almost crashed attempting such a late move down the inside of Turn 9, but he was never close enough and needed his lightning reflexes to stay out of the exit wall.
Then with 12 laps to go his luck ran out as he did hit that wall, and was out of the race.
Another caution then! It actually became the second red flag of the race.
The race restarted with two laps to go and Ericsson still had Dixon, who had more fuel but older hard tyres compared to Ericsson's softs (you can't change tyres under a red flag), behind him.
"To be honest, I didn't know he had 50 laps on the tyres," said Ericsson.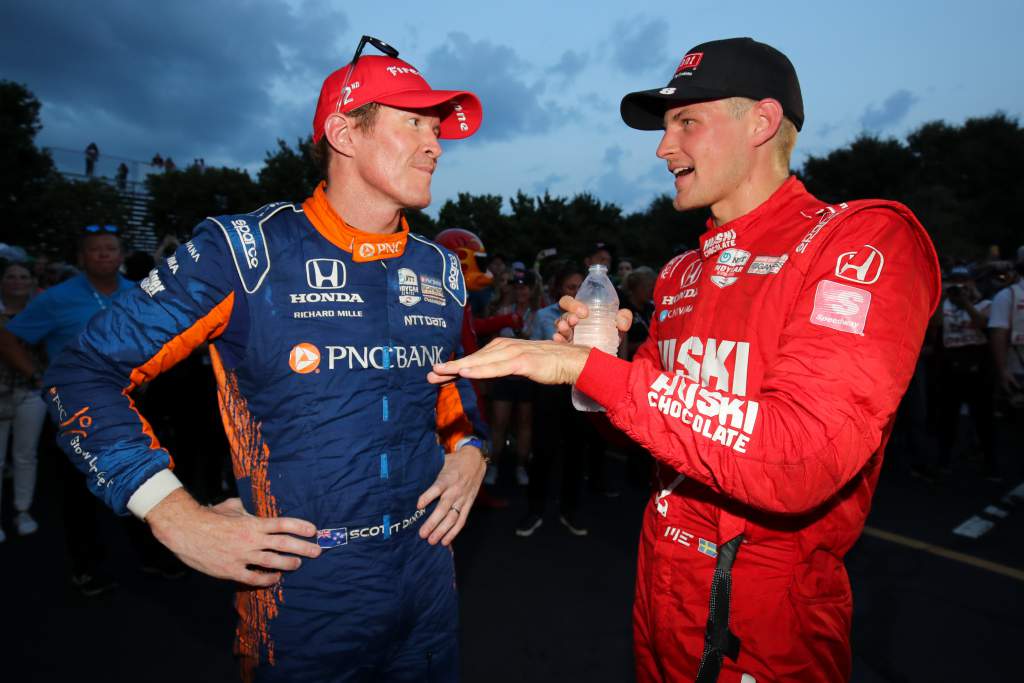 "I knew he was on blacks. I knew I had an advantage because I was on reds. I didn't know they were that old.
"But the thing is, even if Scott was on wet tyres, he would still be difficult to keep behind because he's such a good driver.
"It's never easy to have Scott Dixon behind. But I knew also he wouldn't do anything silly.
"I knew if I did all my things right, I would win the race. So I was just focusing on that."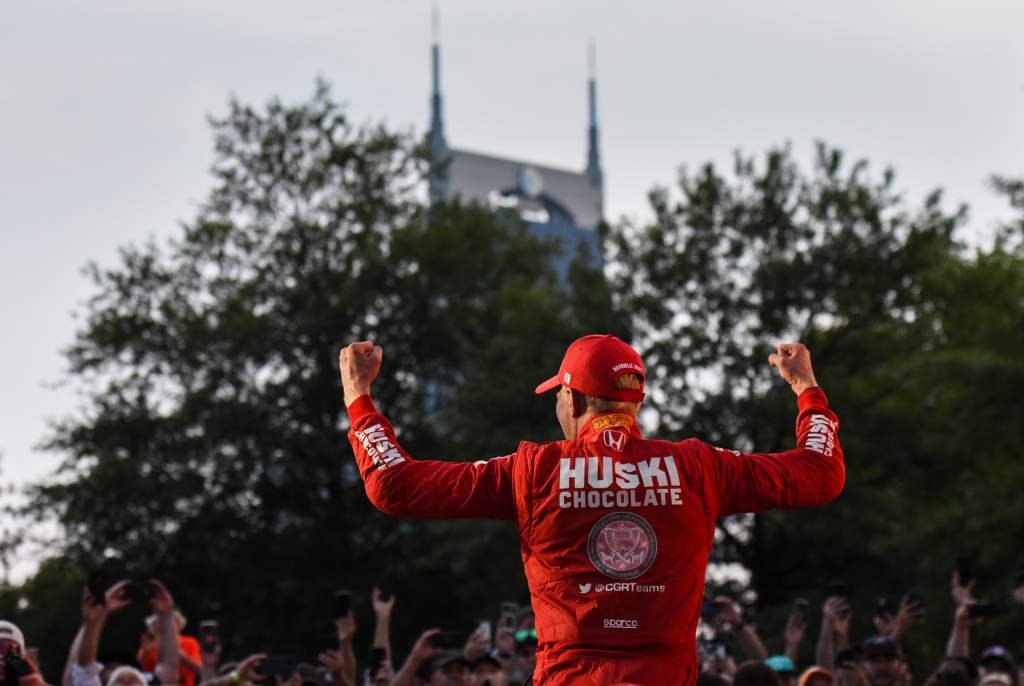 After nine cautions and 33 laps of the 80 lap race being run behind the safety car, a river forming at Turn 3, nine penalties including two disqualifications, two red flags and only four leaders in the end, the inaugural Music City GP was over. And Ericsson had won it.
The result continues his record of scoring more points than anyone since the Indianapolis 500 in May. It was a 25-point swing in his favour in the championship, as he trails series-leading team-mate Alex Palou by 79 points.
Ericsson needs to outscore Palou by 16 points per race on average to win the title, but if Nashville has taught us anything, it's that there's nothing predictable when it comes to Marcus Ericsson.