Conor Daly's fun-loving side may have come across during IndyCar's iRacing Challenge during the off-season, but the son of ex-Formula 1 driver Derek proved he knows exactly how to take things seriously in the series' season opener at Texas, spearheading the Carlin team with "radical" ideas that has led to its breakthrough on ovals.
Daly and Carlin share a lot in IndyCar. Both have scored impressive results elsewhere, Daly having won the Star Mazda IndyCar feeder series title in 2009 before going on to finish third in GP3 with ART Grand Prix in 2013, making his IndyCar debut in the same year.
Carlin's single-seater history needs no introduction and it was an instant success when it came to America in Indy Lights in 2015. But on its full IndyCar arrival in 2018, it's fair to say it took some time to adapt to the intricacies of the championship.
"When we first went to the States we just thought an oval was an oval," explains eponymous team owner Trevor Carlin tells The Race.
"There's three distinct types, styles, and they are all totally different."
Carlin's oval IndyCar results – 2018
| | | | | | | |
| --- | --- | --- | --- | --- | --- | --- |
| 2018 | Phoenix | Indy | Texas | Iowa | Pocono | Gateway |
| Kimball | 17 | 18 | 10 | 14 | 9 | 19 |
| Chilton | 18 | 22 | 12 | 15 | 13 | 17 |
Carlin's oval IndyCar results – 2019
| | | | | | |
| --- | --- | --- | --- | --- | --- |
| 2019 | Indy | Texas | Iowa | Pocono | Gateway |
| O'Ward | DNQ | | | | |
| Chilton | DNQ | | | | |
| Kimball | 25 | 21 | | 10 | 15 |
| Daly | | 11 | 13 | | |
| Karam | | | 22 | 11 | 6 |
For its two cars, there was only one top 10 on an oval in its first season in 2018 and two in 2019 the year after, with Daly's sixth-place finish at Gateway last year joining a pair of top-1os from Charlie Kimball at Pocono. The year 2019 was also one that yielded two DNQs at the Indianapolis 500 and the biggest embarrassment of a Carlin-supported Fernando Alonso in a McLaren entry also failing to make the grid.
The relationship between Daly and Carlin – formed in 2011 for his first GP3 effort – has laid foundations for a turnaround in the now-IndyCar squad's oval fortunes. At least on the ovals outside of Indy, as proven by its sixth at Gateway, which was matched by sixth again in the next oval race, this time at Texas in the season opener earlier this month.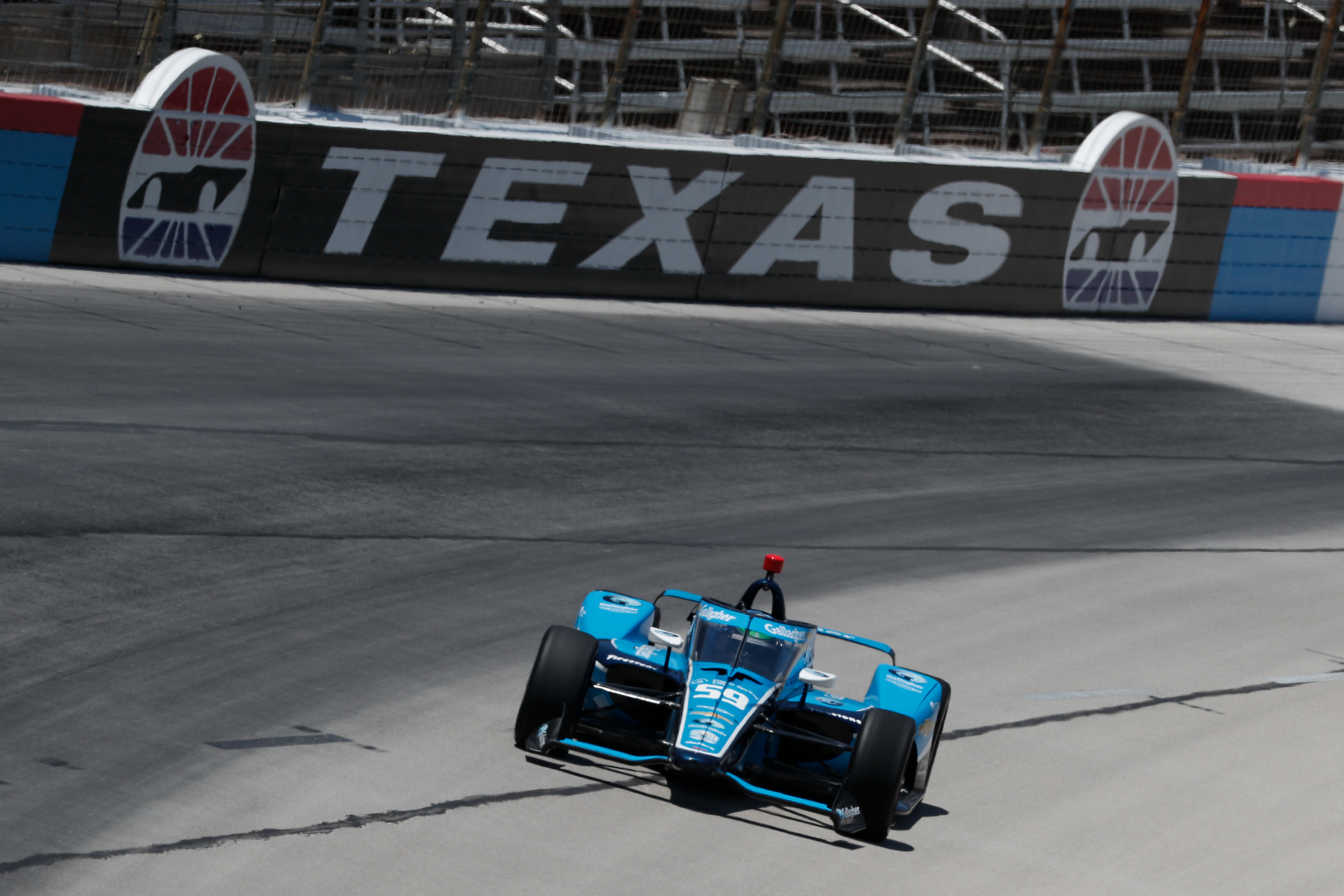 "To be honest, we had some good direction from Conor last year when he drove for us, and he was pushing to do all sorts of radical stuff to the car," Carlin continues.
"We took everything on board that he said. Implemented some of it, came up with our own solutions for some of it, and in Gateway we had a reasonably fast car, it was [what should have been] a podium-finishing car in Gateway, and that was thanks to Conor and the engineering group.
"We've done some more work over the winter, specifically on our damper programme which we've accelerated a bit, and having Conor back in the car for the next short oval, we've taken the strong finish at Gateway and matched it really in Texas.
"Just an evolution really, hard work and consistency. It's nice. Really satisfying."
It's clear there's a camaraderie, a bond, between Carlin and the Daly family. Not unlike a now-former Carlin driver, Lando Norris, Daly has never shied away from his fun side in a world where sponsor-driven PR robot drivers can be the norm, and the lightheartedness is something that Carlin not only likes, but encourages.
"I've known Derek, Conor's dad, since 1979!" says Carlin. "I've known the family for a long, long time. They are friends of the team. They are pals. When you go racing with your friends, it's good fun, and the communication is seamless.
"With Conor it's great, because I've known him for a long time, he's driven for us before, we respect him, we trust him, he gets us Brits, the sense of humour, the directness we're happy to cope with.
"It's motivating. It's fun and when people have fun they tend to do a good job. When you have Conor in the team, you have fun."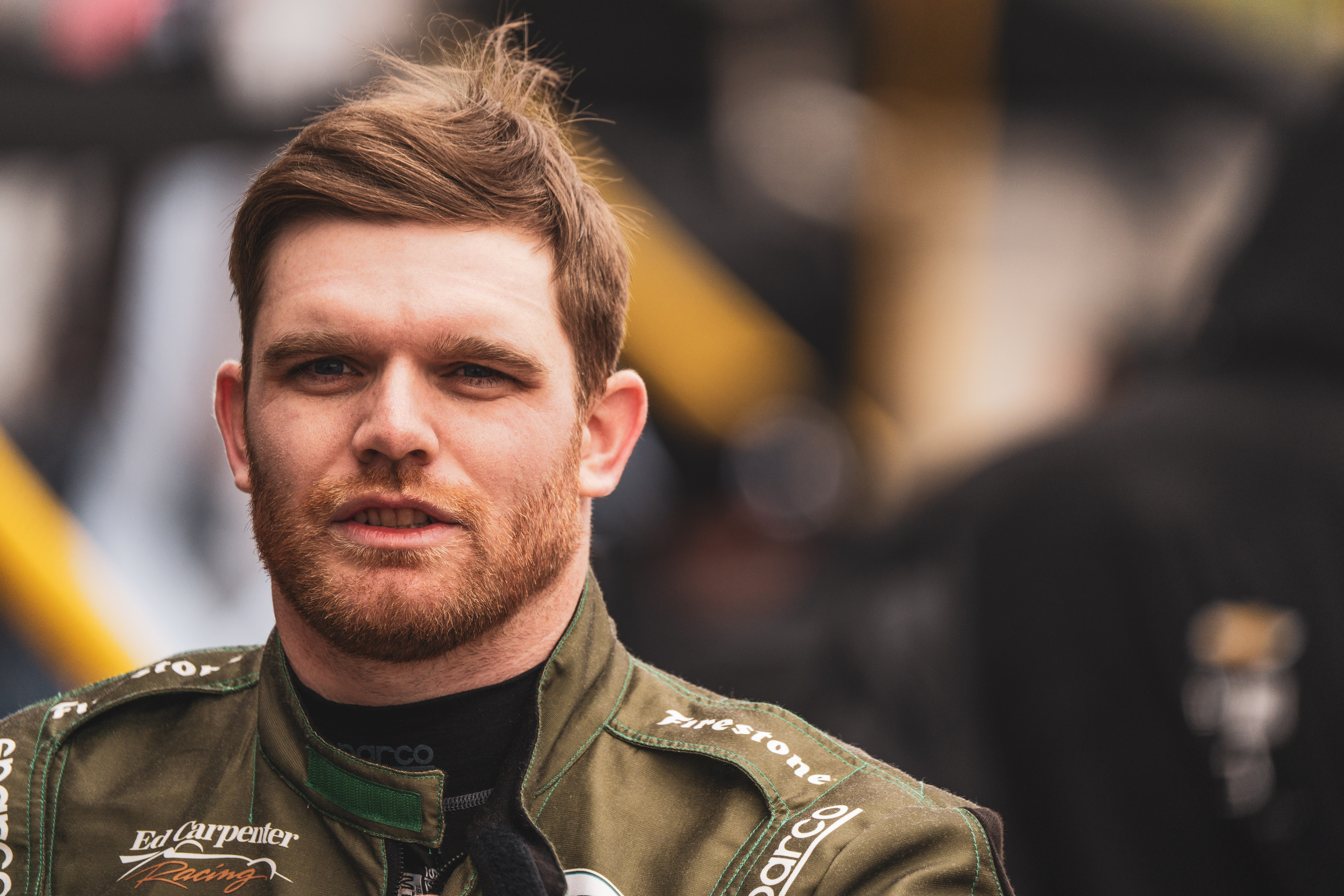 There's no doubt that the communication between the two has led to an improved car for Carlin – in turn giving Daly confidence that the back-end is planted and he can drive the car hard into the corner.
That's a result of hard work on both sides, but something that might have been harder had that bond between the two not been in place.
Instead it meant that the strong finish at Gateway for Carlin and Daly in 2019 was only the start, a building block on which to build for Texas in what was unusual circumstances.
With the coronavirus halting the start of the season, Texas should have been nine races into the campaign but instead became the curtain raiser.
That could have meant a huge negative for a smaller, one-car team like Carlin with so little time to make changes across the course of a shortened race weekend, now down to just a single-day. Especially as Carlin wasn't able to fill its second seat for the race, meaning one car fewer for data. But instead, it worked out.
"I give the team a huge amount of credit," Daly tells The Race. "They did their job in the off-season, of continuing to work on what we started working on from the oval races we did together last year, and I think an incredible sign of how much a team puts into what the driver says, what they think they need out of a car as well.
"I had the same engineer that I had for Texas last year and for most of the races, we were the same core group of people that I've worked with before. I think continuity is really powerful, that's something that I see in Carlin.
"They weren't out hunting to bring new people in because they have a lot of smart people there. It was just a matter of continuing the development. They are still a fresh team on the IndyCar scene. Damper development, the technical packages you can work through as a team, they're getting there, and it's really cool to see the work that's been done and the result of that."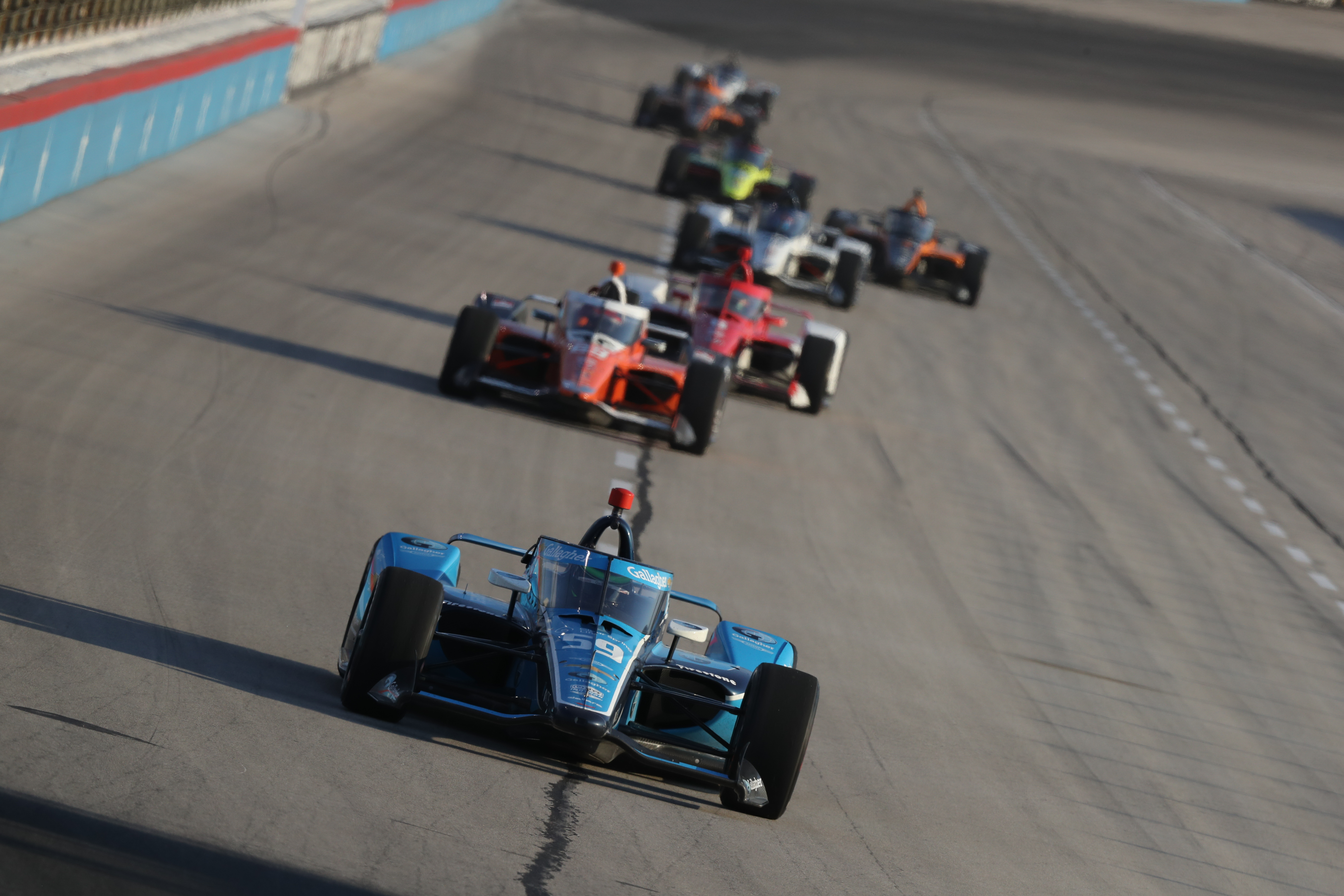 Daly hopes that the Texas performance inspires other one-car teams to show they can take on the might of IndyCar. With Andretti Autosport (and its offshoots), Chip Ganassi Racing and Team Penske taking up at least 12 spots on the grid, breaching the top 10 is no mean feat.
There's a higher proportion of ovals to road and street courses than usual on IndyCar's reformed calendar. The problem is, fixing your car for Texas doesn't equal improved oval form everywhere. It equals improved Texas form.
IndyCar's ovals are so dissimilar to each other that it's a completely different challenge when the series visits Indianapolis, Iowa and Gateway again.
"If we can get the feel we had at Texas and I can get the feel in the rear of the car that I had at Texas, I think we'll be in really good shape for the ovals," adds Daly, clearly buoyed by the Texas outing. "Even though Iowa and Gateway are very different.
"I think with the set-up development we've done, I'm definitely confident going into the rest of the ovals. We're just going to go with it, keep fighting, keep doing some more work now we've obviously got more data to look over, and hopefully we can just keep this season rolling strong through the rest of the season, road courses and ovals."
The pleasing side-effect for the team is that Carlin has had more calls about his second entry for ovals, as that seat needs to be funded.
This season Daly will contest the ovals and then cede his car to Max Chilton for road courses, switching to Ed Carpenter Racing there, while the identity of Carlin's second driver is yet to be confirmed. Ex-Sauber Formula 1 driver Felipe Nasr was due to race in the original 2020 season-opener in St Petersburg before it was cancelled. But he has IMSA commitments that will make regular appearances unlikely. That means it's back to the drawing board.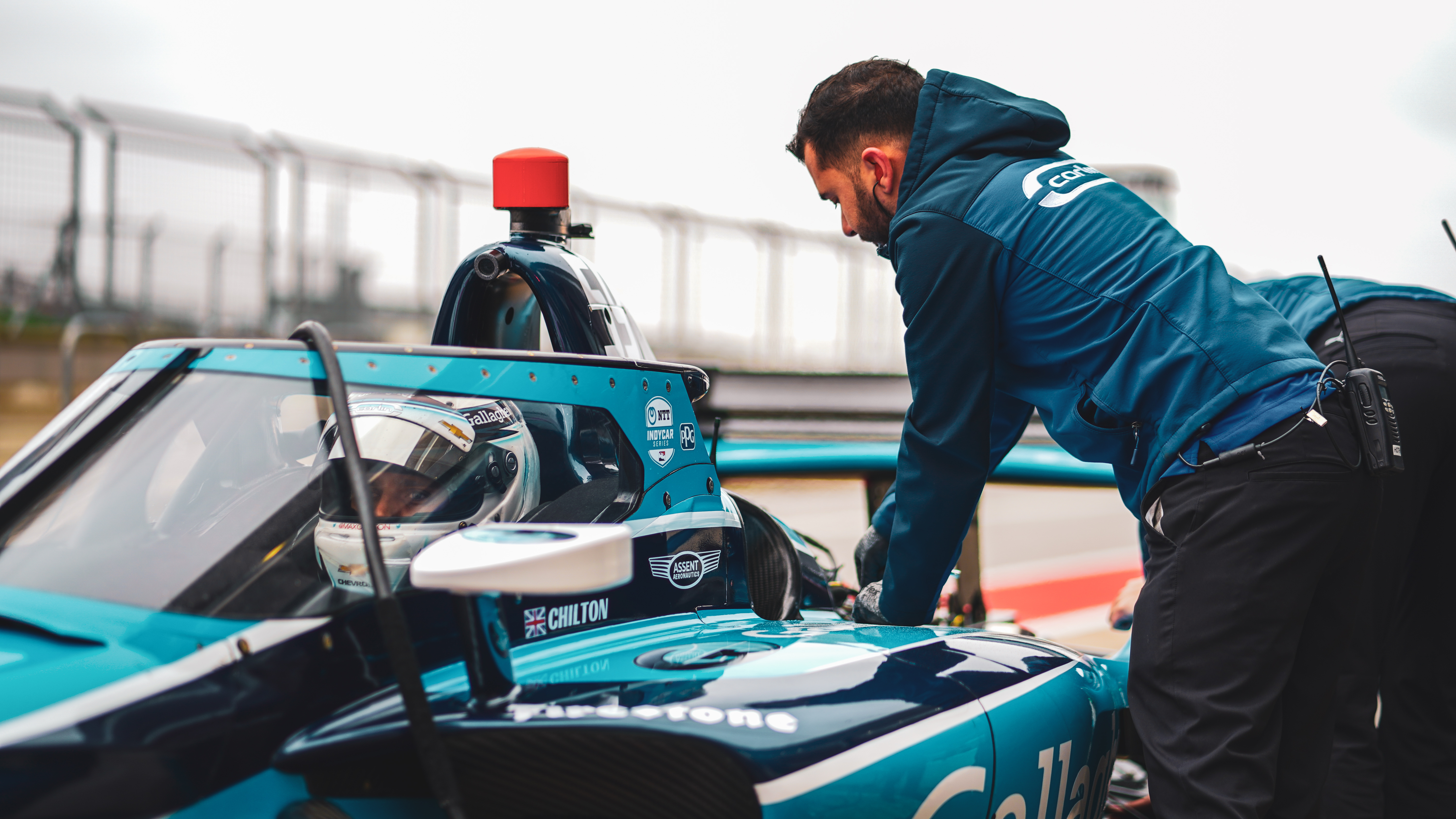 "I was fighting tooth and nail to make a deal and get the second car out," says Carlin. "In myself I was positive we'd get one. I think the coronavirus situation just put an element of doubt out there for a couple of sponsors and the money wasn't available. So it's tough.
"But Texas, with the limited running, I don't think it hindered us at all really because it was such a crazy day. It was enough to keep the cars running let alone think about big set-up changes. As the car rolled out of the truck it was fast and we were happy campers.
"You know motor racing, it's a pretty black and white business. The minute you get a decent result, the phone starts ringing! We've got some interest all of a sudden. Whether that turns into anything, we'll see. I'm very hopeful. Put it like that."
Carlin has been wheeling and dealing in motorsport for decades, and if anyone can pull off something, it's him. Now his team is delivering a car that is worthy of top 10 finishes against more established opposition, selling that seat should be an easier deal.
As for Daly, he's scored a ride at Ed Carpenter Racing for the road courses this year, replacing another eponymous team owner, with Carpenter only doing the oval races.
It's not a situation any driver wants to be in, swapping between teams during the season, but for Daly, he just has to be happy he has a seat and he's racing.
For someone who has marked out consistency as something that was so key for Carlin from Gateway to Texas, what of switching operations back and too throughout the season?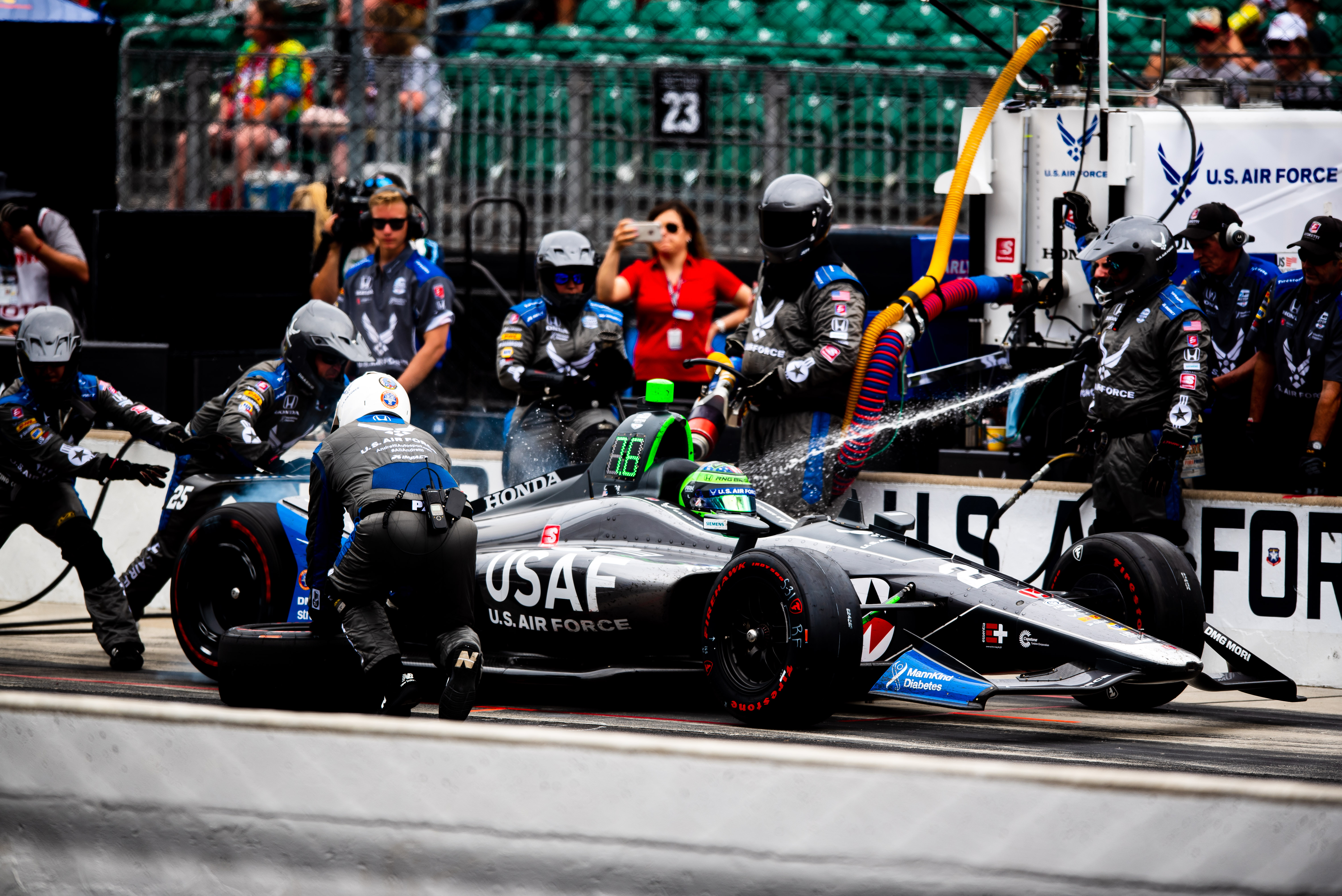 "Honestly, ask me after the Indy GP," says Daly, referring to his debut with Ed Carpenter that will come next week at IndyCar's second round on the Indianapolis road course.
"We'll be going from Carlin to ECR, I have a lot of confidence in both of those guys. Obviously Carlin I knew, going over to ECR will be new with a new group of people, a new pitcrew. They're both great operations.
"Definitely ask me again after we've done the switch, but the teams have worked together pretty well, whether it's getting my seat from one to another or working with helmets. I have two helmets, one that I wanted to use but couldn't for Texas so I had to use the other team's, and they've been super cool like that.
"They understand the situation I'm in and it's a weird one, but they know I want to be as competitive as possible each time out, no matter which team I'm with."
Chilton will be back in the car for the Indianapolis road course round on July 4 and could have a new team-mate. If he does, a lot of that will be down to Carlin's improvement and Daly delivering on that at Texas.
It could be the start of something special in America after years of trying, for a very British team steeped in impressive motorsport history.