We've all seen and been annoyed by qualifying log jams, especially at places such as Monza – where no number of gentleman's agreements in Formula 1 appear able to stop someone's qualifying lap being ruined.
Of course, this is a symptom of drivers often wanting to wait until the last possible moment to get optimal conditions for a lap.
That's no different in IndyCar, but it does have a really clever way of reducing traffic in qualifying.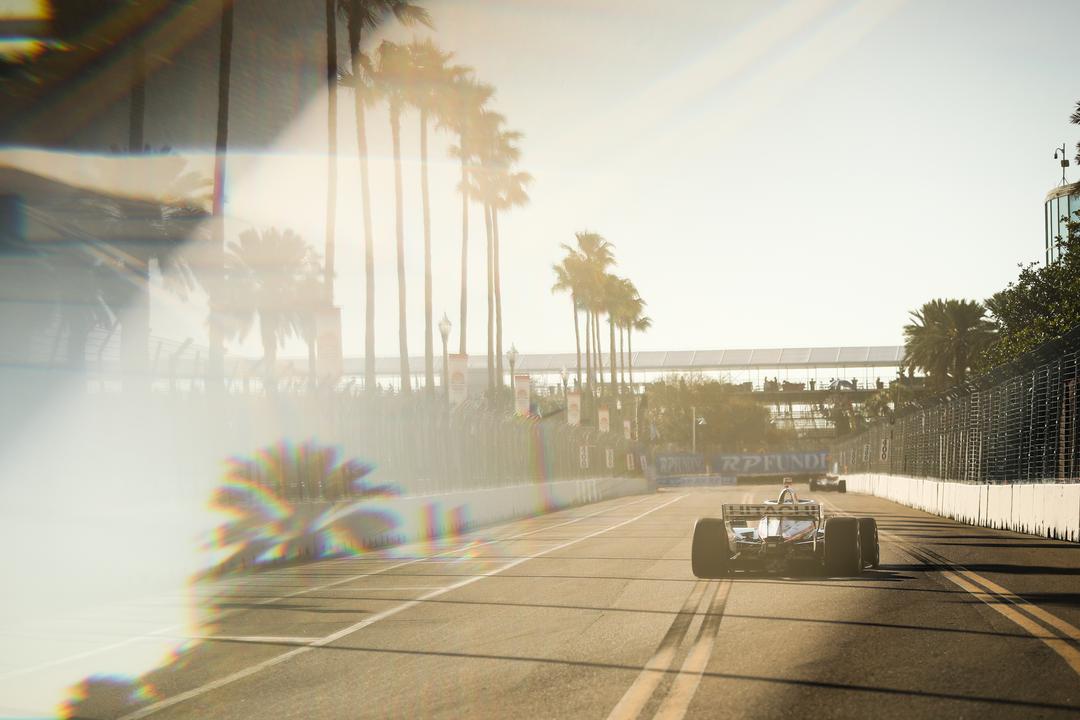 Instead of having the start/finish line as the start and end of a lap, at multiple tracks IndyCar has the start and the end of the lap set before pit entry.
This means IndyCar has a shorter out lap from the pits, and it also means that, after finishing a run, drivers can dive straight into the pits. As there's effectively no in-lap, there are no cars trundling around on the racing line.
Honestly, it's a fantastic idea. Unless the line is in the wrong place.
Early morning traffic jam at the @GPSTPETE.

The red flag is back out for an incident involving @RGrosjean and @TakumaSatoRacer.#INDYCAR // #FirestoneGP pic.twitter.com/TAHrDY8Mbs

— NTT INDYCAR SERIES (@IndyCar) February 26, 2022
In practice at St Petersburg last weekend, Romain Grosjean was caught out when he arrived at the final corner at full speed, where he met around five cars in a train loitering on the track trying to back up to get a clean start to their next lap.
Watching the footage, Grosjean really ought to have seen the slow-moving cars and braked much sooner than he did, but that's easy to say writing from behind a hotel desk and not driving an IndyCar at 170mph.
"There was just no flags on the track, and I think we should have flags when these cars are that slow," said Grosjean, explaining his initial criticism of the marshalling as he claimed there were no flags at the previous corner to warn him cars were slow.
"I just think if I had known there were like four cars…because you cannot see. I know there was one on the left, one on the right. That's all I knew. I didn't know there were some in front.
"If there's only one, the guy should accelerate. Obviously there were more, but I think just a white flag to tell us that [would have helped], and I just think you shouldn't be driving that slow on the racing line, that's all."
At this point, polesitter Scott McLaughlin politely cut in to give his take on the situation.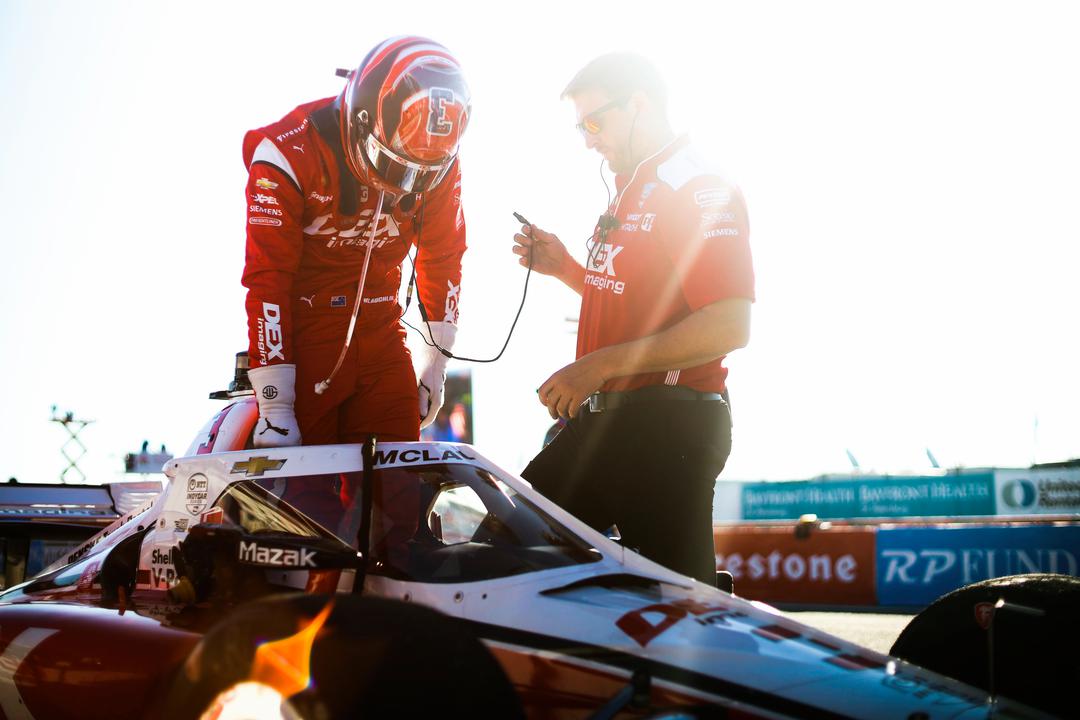 "Sorry," he said, "but I think that the alternate start/finish line, I probably don't agree with it. I think it should just be the start/finish line.
"I said that before; it happened at Portland a couple times, and I caught Romain in a peculiar spot.
"I feel like coming around a blind corner, everyone is trying to get a lap started. That's the only point we can really start our lap to get a good run.
"It does choke up there and it's just [that] you don't see. Unless we get a flag, you don't see.
"I'm a big fan of probably moving the line depending on what track we go to. That's just my personal opinion."
McLaughlin's nailed the solution to this problem, and that's just to take a pragmatic view of where the finish line is on each track and adapt.
At St Pete, having it just before a blind 90-degree corner after a long straight that has a kink in the middle obscuring sight is not ideal.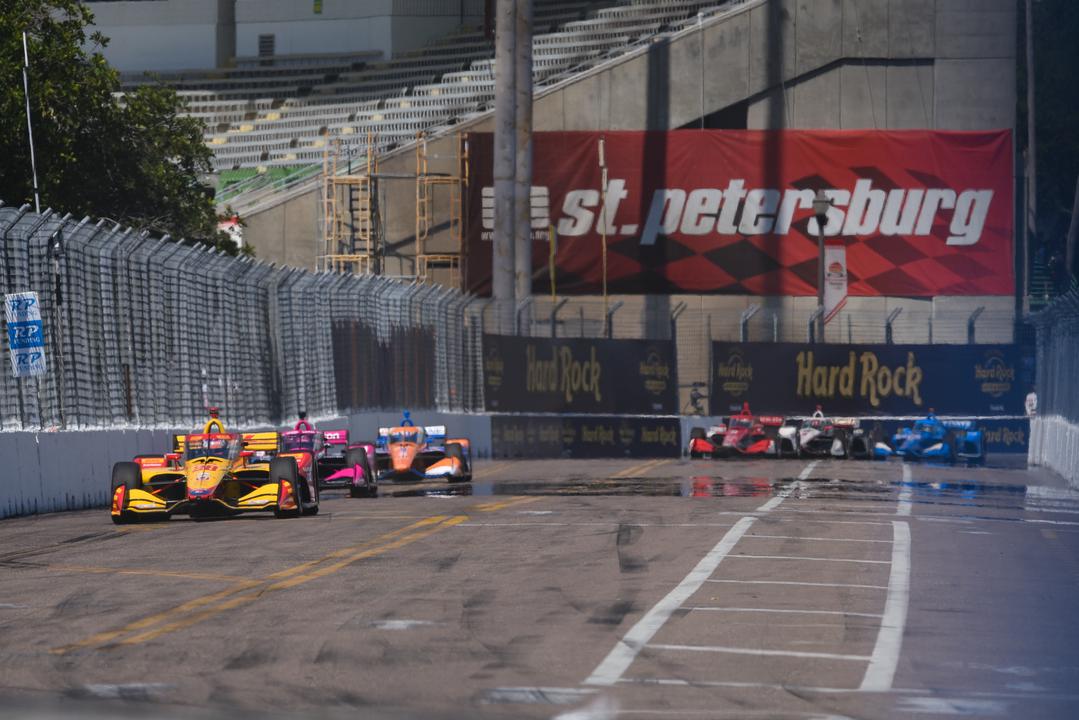 Having it just before the braking point for that corner would work far better, but the drivers may decide that's not enough time to warm up tyres – although at St Pete, the drivers were reporting the soft tyres were coming in immediately after leaving the pitlane.
IndyCar's ability to move the timing line is a massive plus that gives it an advantage over other series that struggle with traffic issues in qualifying, which is basically every circuit racing series in the world.
However, getting the line in the right place is crucial.
The Grosjean crash may have been the highest-profile proof of that, but countless times traffic at that corner almost caused similar incidents.