Colton Herta called reigning IndyCar champion Will Power an "ass" after a collision that took him out of the St Petersburg season opener, one that ensured all four Andretti cars were involved in major incidents.
Herta started second and harried his polesitting team-mate Romain Grosjean early on, but a lack of clean air while shadowing Grosjean, combined with an Andretti car that may well have been tough on its tyres in that circumstance, meant Herta dropped to the back end of the top 10 before pitting earlier than planned to ditch his soft tyres.
A number of caution periods then meant Herta was fighting drivers on alternate strategies and eventually he tangled with Power.
Power was forced to slow while duelling with eventual winner Marcus Ericsson and, rather than crash into Power, Herta took to the outside to avoid hitting the Penske driver.
Herta was ahead entering Turn 8 where Power first bumped Herta, and then a final shove mid-corner put Herta in the tyre barriers and out of a race he could still have finished inside the top five.
"It sucks because I don't want to start the season off like this," Herta told NBC, having spoken at length during the off-season about wanting to avoid execution errors on race weekends and be more consistent in 2023.
"I think what happened [with Power] was pretty obvious on TV, so I'm not going to elaborate too much on that.
Full course caution again in St. Pete.

This time, @ColtonHerta is in the tire barrier.#INDYCAR // #FirestoneGP pic.twitter.com/1z6qDiv25G

— NTT INDYCAR SERIES (@IndyCar) March 5, 2023
"Not sure what happened. I thought I was pretty far ahead of him, and I felt a tag – I left room – but felt a tag in the right rear."
Upon seeing the footage, he added: "Oh yeah, he wanted to use [all of the track] on the exit there.
"I don't know what I can do there apart from hit the wall. It sucks. We were on the black tyres and a lot of people in front were on the reds. We were going to be able to make some passes there when their tyres went off. It felt good, so it's unfortunate."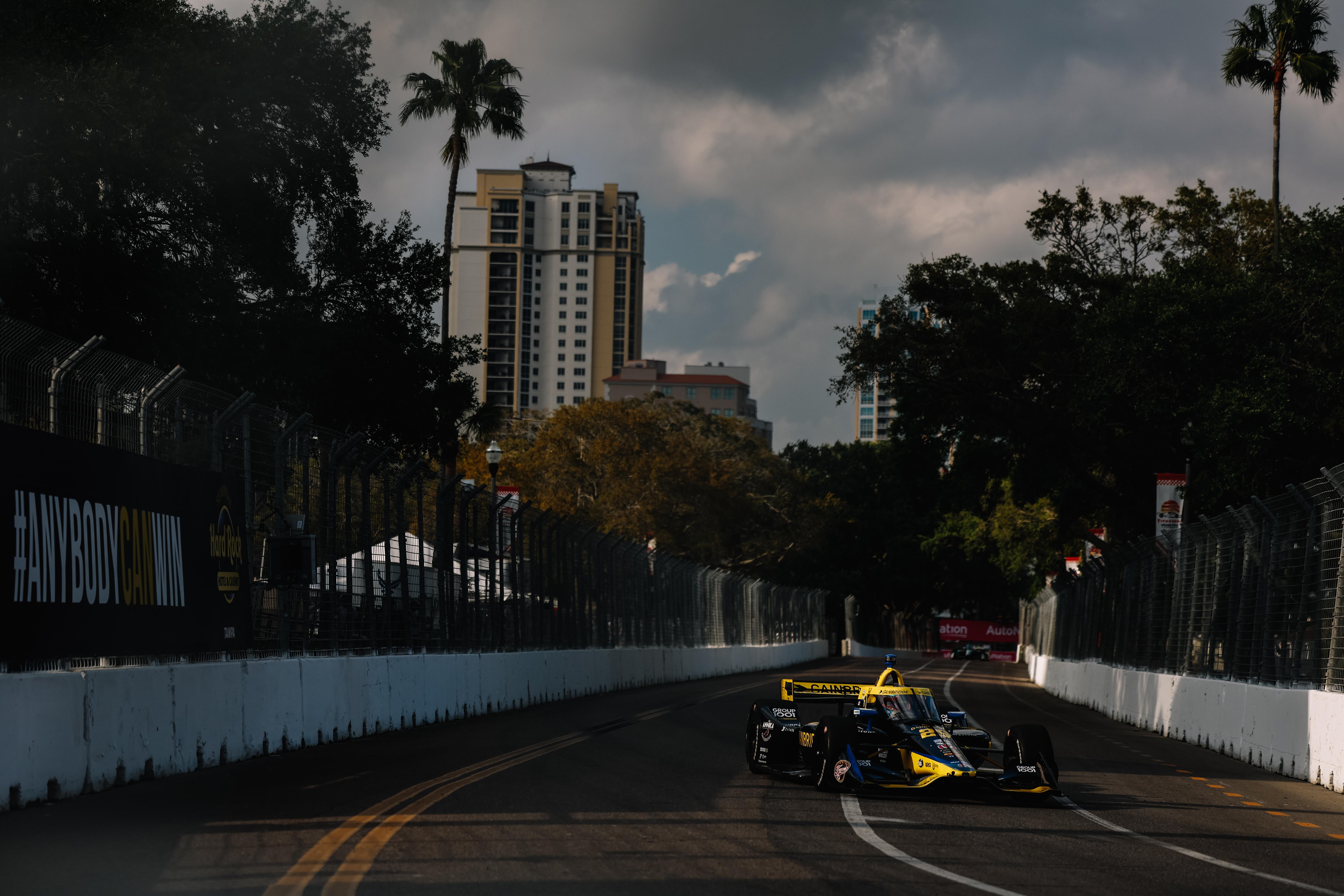 Herta then added as the replays continued: "So he hits me there, and then… yeah, what an ass."
Power did apologise but also tried to defend the move. He was given a penalty by IndyCar race control, went to the rear of the pack, but because of the number of incidents he was able to race back to seventh.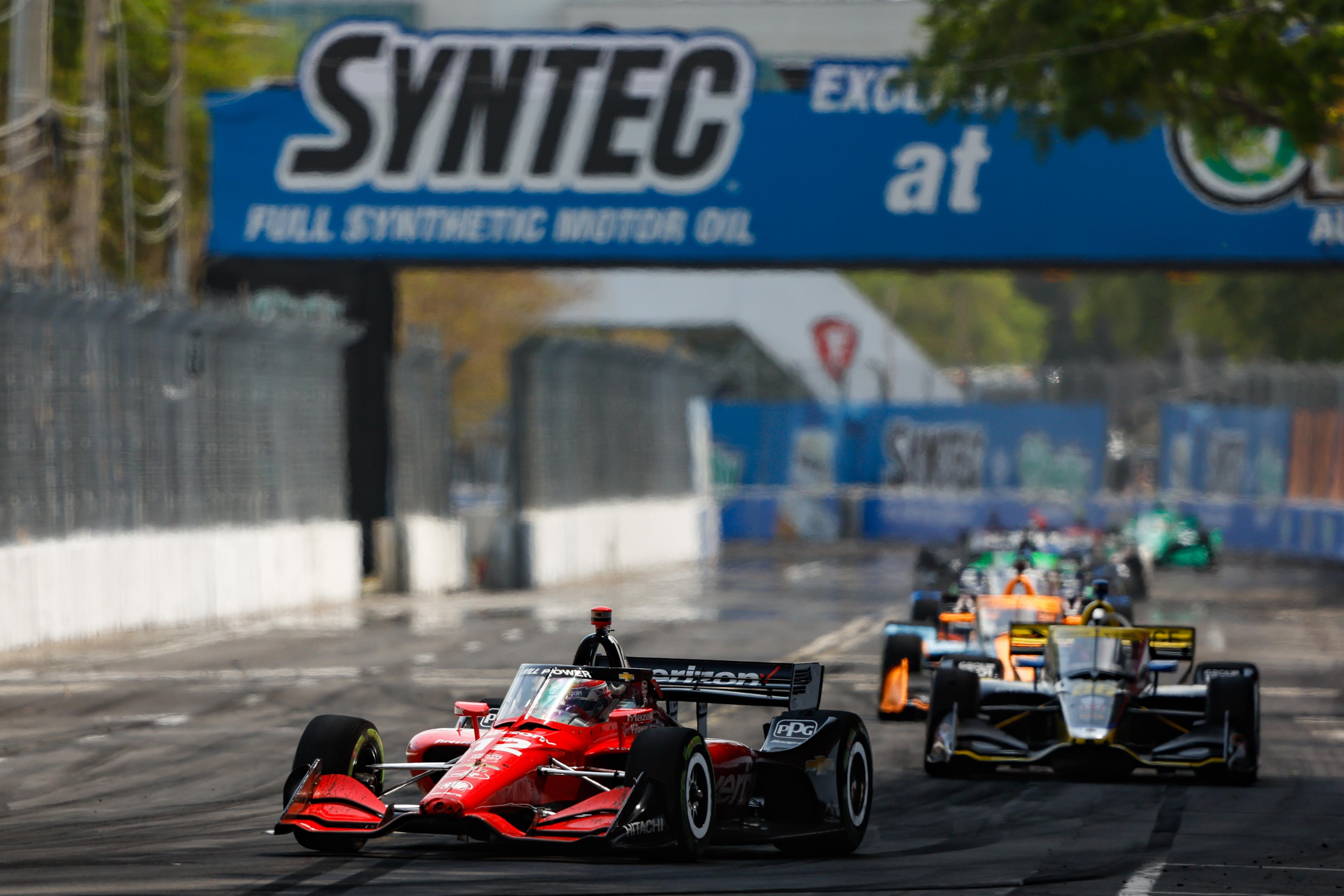 "We banged all the way in, I went up the inside and I had as much lock as I could," he told NBC.
"For sure he knew I was there, I was up his inside, there was understeer. It wasn't just like a big divebomb, I'm here, he hung around the outside. I hate to ruin anyone's day.
"I want to race these guys clean and he races me clean so I feel really bad. He ended up out and I was able to keep going. It's still a very good day for us."
---
The other elements as Andretti's race imploded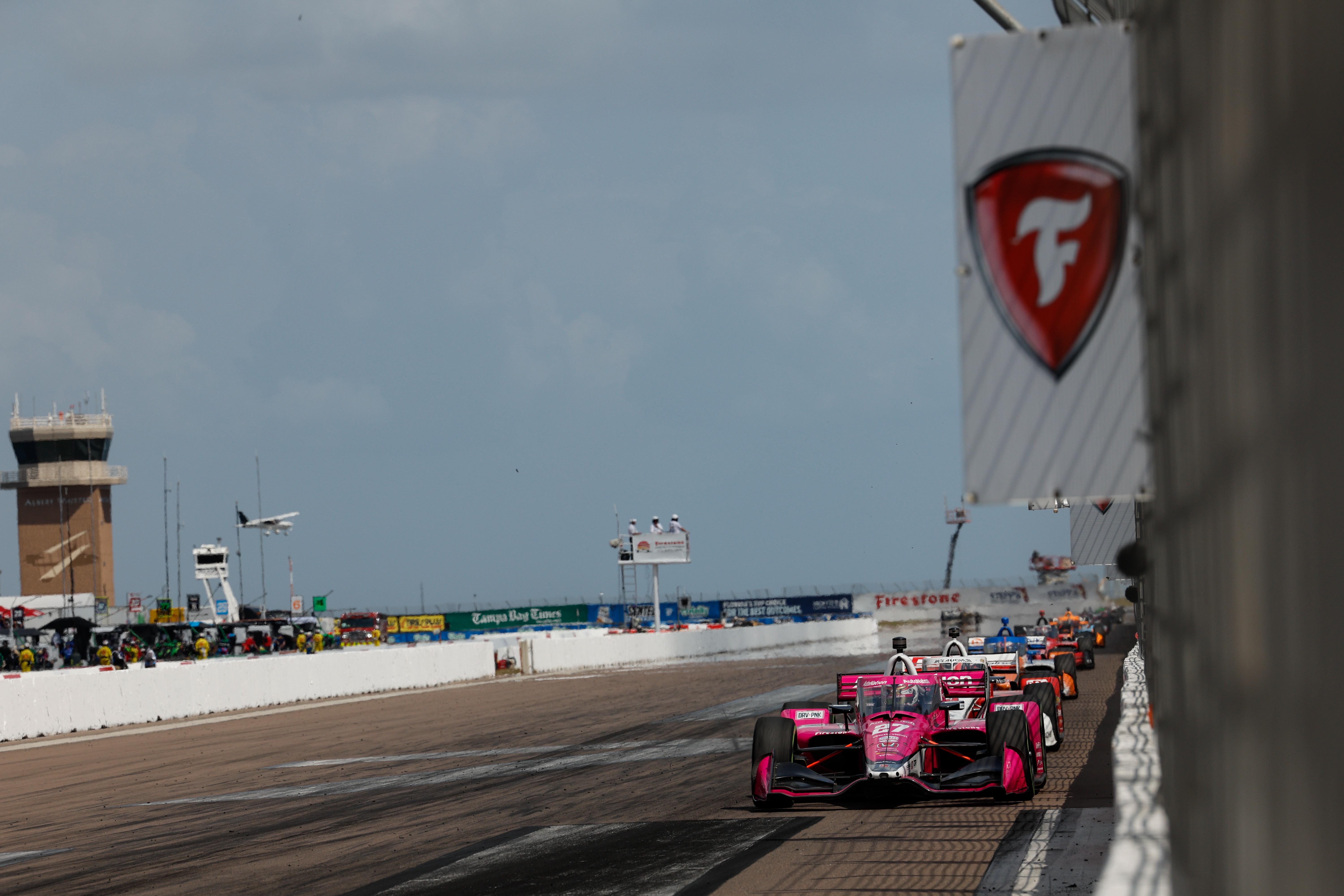 Kyle Kirkwood was a big off-season topic of conversation after seven non-finishes through collisions in his rookie year at AJ Foyt last year, but a strong pre-season following his switch to Andretti and his St Petersburg practice form led to positivity.
He managed to qualify fifth despite crashing in the Fast Six pole shootout but, as with Herta, Kirkwood's tyres also slipped away in the race.
Andretti will be keen to analyse where Herta and Kirkwood struggled. It's possible the advantage enjoyed by Grosjean – who was eliminated in a collision with Scott McLaughlin – came purely with clean air where the additional downforce allowed him to take better care of his rubber.
The other suggestion is that Grosjean's driving style is more geared towards oversteer than understeer, and it's possible that Herta and Kirkwood suffered more because their styles differ slightly to Grosjean's.
Kirkwood doesn't subscribe to that opinion though, and has an alternative suggestion for why he and Herta struggled.
"There was a cord showing on the rear left," said Kirkwood, debriefing on his Andretti debut with The Race.
"It's a little bit puzzling to me as I was behind [Alex] Palou and I watched him absolutely roast his tyres, and I took care of mine and all of a sudden it was like a light switch, the rear left just went away.
"I'm a little bit suspicious that we corded a tyre or something was failing, to be honest, because it was a light switch moment, honestly.
"His [Herta's tyre] went probably a lap earlier than me, but Romain was fine, that's what's puzzling. He had a cord showing on one of his tyres, too.
"So to me, it's either, for some reason we are working the tyre harder than we should be, or that we happened to have the same issue at the same time.
"I know I really babied my tyres, it never gave me an indication that it was even starting to go off. It just let loose on me. I'm more on the side that it was the cord that ripped the grip.
"I know Colton pushed a lot harder on that first stint, and his happened a lap earlier, so maybe that's the reason. Romain, he had to have been pushing quite a bit too.
"Even though he [Grosjean] had clean air, I don't think it would have really helped that specific tyre, the one that went off for us. There's nothing specific with his driving style that I think would cause him to save tyres a lot more."
Either way, that's what really hurt both drivers' race. Kirkwood was caught up in two incidents, first punting Conor Daly into a spin at Turn 8 with an over-ambitious move out of his 2022 playbook. He then did a monster truck-style leap over Rinus VeeKay and Jack Harvey's crashed cars at the Turn 4 right-hander.
Carbon fiber meets carbon fiber.#INDYCAR // #FirestoneGP pic.twitter.com/lqDamwDrAZ

— NTT INDYCAR SERIES (@IndyCar) March 5, 2023
He was lucky to escape the heavy landing without serious injury and he was able to continue in the race, albeit classifying 15th and three laps down at the end.
A more conservative approach will no doubt be demanded by Michael Andretti at Texas, where Kirkwood crashed last year despite showing great speed in the race.
Devlin DeFrancesco had a much worse qualifying than his three team-mates starting in the top five, and was caught up in a lap one incident where he was crashed into and did a spin in the air, luckily escaping without serious injury.
A big crash at the start of the @GPSTPete.

Devlin DeFrancesco got airborne after being hit by Benjamin Pedersen. #INDYCAR pic.twitter.com/1v3z5C6zq6

— INDYCAR on NBC (@IndyCaronNBC) March 5, 2023
It was a confusing race all in all for Andretti, and to reassess its tyre uncertainties it will have to wait until after Texas at Long Beach, where it also showed form last year.
Ultimately it feels like its strong start in qualifying is not the false dawn it has been in the past and it has found some set-up and development items that have made its drivers more comfortable for 2023, especially Grosjean.
But it can't afford to lunch tyres or keep getting caught up in race-ending incidents when its Ganassi, Penske and Arrow McLaren rivals rack up the points.