On Saturday, Maximilian Guenther won the test race for Formula E's Race at Home Challenge on the Monaco FE circuit and then one hour and 20 minutes later triumphed in his heat in The Race All-Star Cup – Fully Charged by ROKiT Phones using an LMP3 car around Lime Rock.
BMW i Andretti Motorsport driver Guenther led home Stoffel Vandoorne in the Formula E test event before getting back into practicing for the All-Star minutes later, with Lime Rock acknowledged as one of the toughest tracks in both real and virtual racing to master. Both events used rFactor 2.
After his dominant Lime Rock heat win, the 22-year-old was the third-best professional driver in the final in seventh place just behind Lamborghini factory GT racer Dennis Lind and sometime British Touring Car driver Mike Epps. Guenther, ex-IndyCar racer Gabby Chaves and Epps are now tied as leading pros in the championship table ahead of next weekend's decider.
"I really enjoyed it all because it was like a full racing day for me with the two separate events," Guenther told The Race.
"It is all about adaptation and this is something I like a lot because it is a good challenge to jump from a Formula E car to the LMP car and go from Monaco to Lime Rock in a few minutes!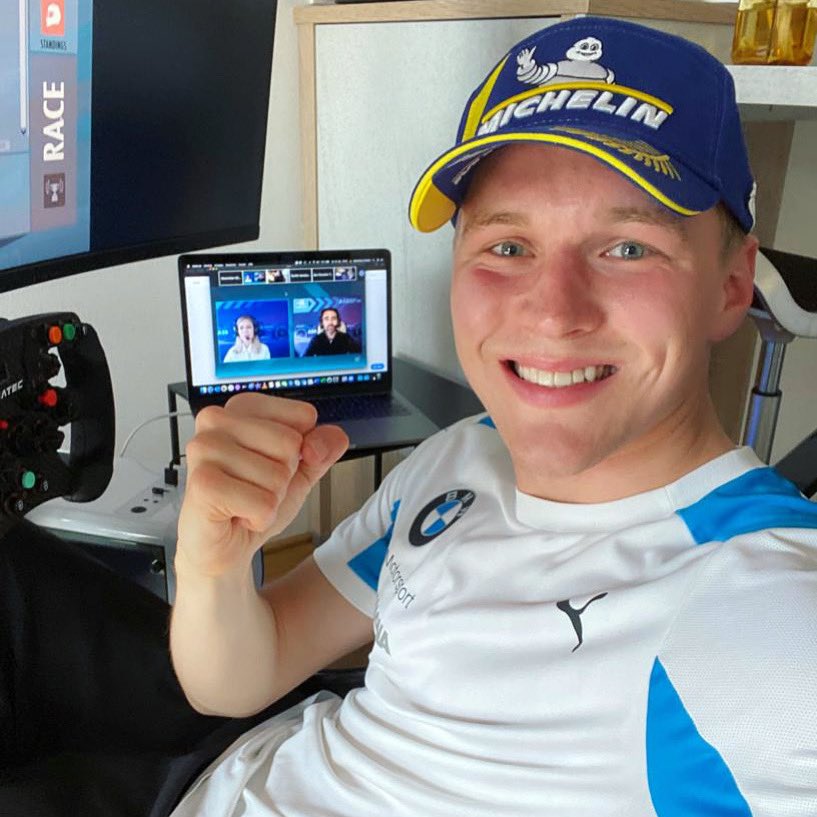 "There had to be a reset in many regards and it is something unique to go from two very different tracks in the pace of 10 minutes but I guess this is the beauty of esports that we can do this now."
Guenther, who replaced Antonio Felix da Costa at the BMW Formula E team last September and currently lies fifth in the 2019-20 standings, said achieving the Monaco pole was particularly satisfying.
"I was actually more happy to get my first Formula E pole position if you can call it this," he said.
"That was nice but I knew Stoffel would be right with me for most of the race and this is the way it happened."
Non-stop action! Your highlights from the test round of the ABB Formula E Race At Home Challenge In Support Of @UNICEF #RaceAtHome #ABBFormulaE https://t.co/9KqVKEr3qA pic.twitter.com/yhXRIJ5eE9

— ABB Formula E (@FIAFormulaE) April 18, 2020
Guenther is recently new to esports and used a sim rig at BMW's factory before being able to race at home with equipment that was delivered by Formula E recently.
He thinks that sheer practice time and understanding some subtleties of esports is helping him mix it with much more experienced gamers.
"The way of driving in esports [compared] to real world is similar but there are many things different even if the basics are really similar," he said.
"If you have to find the last tenth of a second in a lap then it is a very different way to finding that. That is why the gamers are so strong because they are doing it every day.
"The more races you do, the more you develop as a sim driver.
"In the last five weeks since you messaged me about driving in the All-Star race I have developed because I have been on the sim practicing so there is no big secret.
"I didn't do it before so the adaptation, which is important as a racing driver, is something that you really bring to the foreground in these games especially now where we are racing at different places on the same day."