Robin Frijns surged to his first ABB FIA Formula E World Championship pole in Diriyah, as the Mercedes team that has dominated the event so far was barred from running.
Just before the session began it was announced that both the works Mercedes team and its customer Venturi would not be allowed to take to the track as investigations continued into Venturi driver Edoardo Mortara's massive practice crash.
Mortara had ploughed straight on at the first corner immediately after his practice start at the end of the earlier session, violently hitting the wall at the end of the runoff area head-on.
He was taken to hospital for precautionary checks, with the Venturi team saying he was conscious and communicating.
The FIA ruled that the four cars with Mercedes powertrains could not take to the track until the cause of the accident was fully identified and measures taken to prevent a repeat.
That meant Friday race winner Nyck de Vries, his works Mercedes team-mate Stoffel Vandoorne and Mortara's new Venturi team-mate Norman Nato all had to remain in the garage.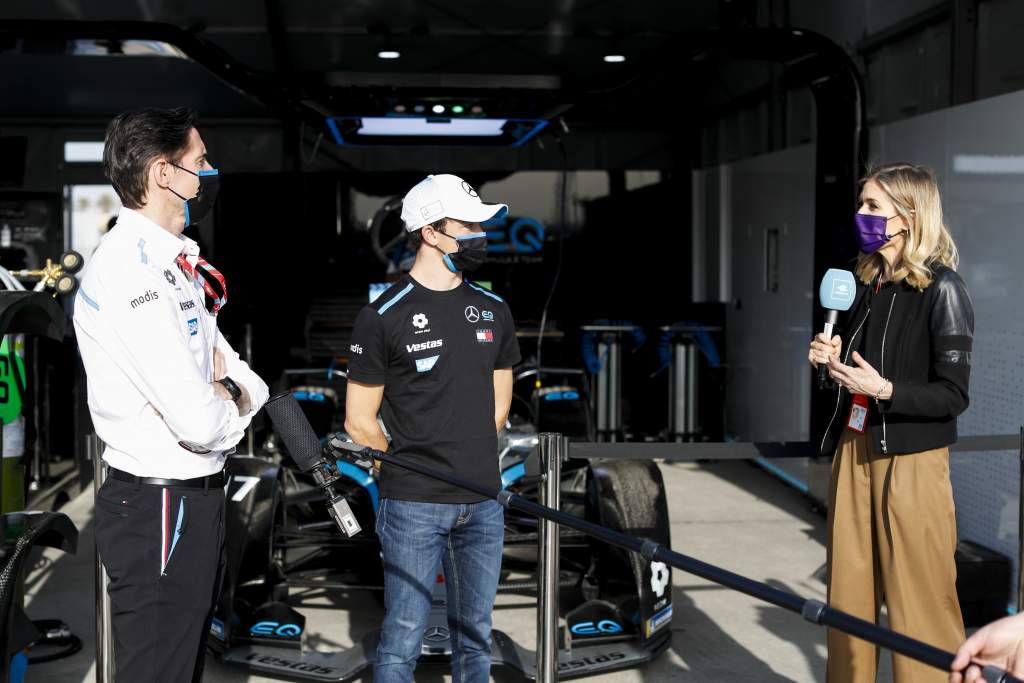 They joined Andre Lotterer, whose Porsche was still being rebuilt after his practice crash.
Then two more frontrunners joined the back-of-the-grid crowd in the first qualifying group – already depleted by de Vries and Mortara's absences – when timing miscues meant both Jaguar's Mitch Evans and Audi driver Rene Rast narrowly failed to cross the line in time to start their proper flying laps.
.@allanmcnish was not pleased when @ReneRastRacing missed out on crossing the start-finish line in time to set a full-power lap*

*no tables were damaged in this clip

Find out how to watch here >> https://t.co/j2NbmM8ASn#DiriyahEPrix pic.twitter.com/8xDKYhPZuh

— ABB FIA Formula E World Championship (@FIAFormulaE) February 27, 2021
That coupled with a surprisingly poor performance from reigning champion team DS Techeetah and superb efforts from underdog squads NIO333 and Dragon Penske Autosport led to a superpole session packed with unusual names.
Sergio Sette Camara looked like he might have pulled off a first Formula E pole as he put in a gloriously wild lap to depose Jaguar's new signing Sam Bird.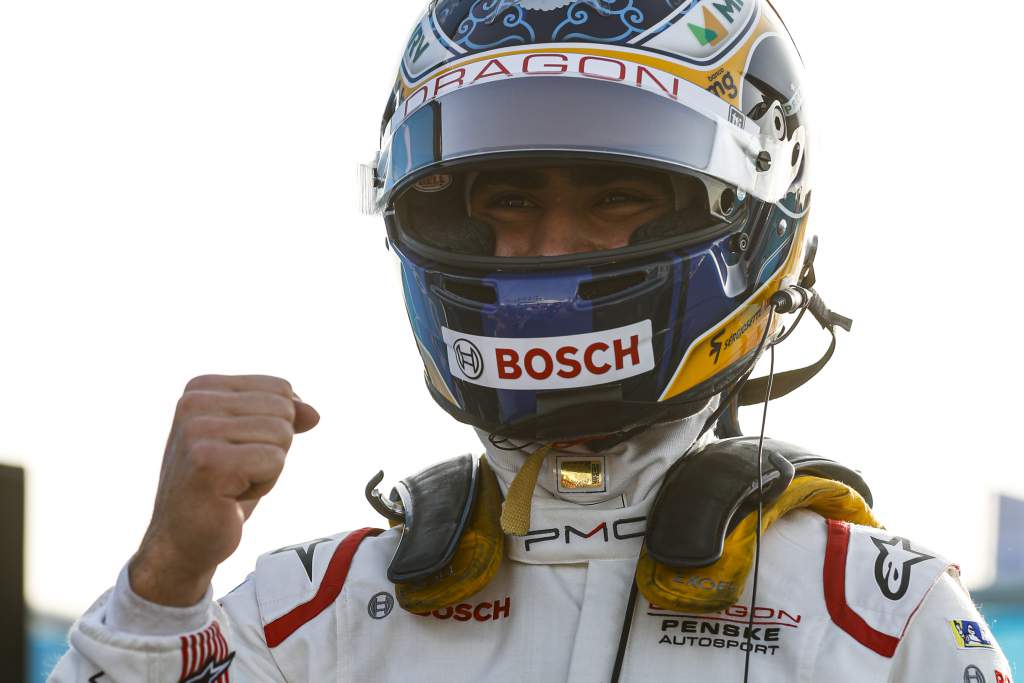 But Envision Virgin driver Frijns – who had hinted at his pace by topping practice after a miserable Friday in which a practice crash forced him to miss qualifying for a battery change – repeated his group qualifying form to beat Sette Camara by 0.289s with a 1m07.889s.
Behind Frijns, Sette Camara and Bird, Oliver Turvey and Tom Blomqvist put NIO333 – which didn't even score a point last season – a remarkable fourth and fifth on the grid.
Sette Camara's team-mate Nico Mueller added to Dragon's delight with sixth, though he might've been a pole threat without an error late in his lap.
Jean-Eric Vergne starts highest of the Techeetah drivers in seventh, three places ahead of 2019/20 title-winning team-mate Antonio Felix da Costa – who will gain a spot when ninth-place qualifier Alex Lynn's three-place grid penalty for colliding with Bird in yesterday's race is applied. Sebastien Buemi's Nissan joins Vergne on row four.
Oliver Rowland and Pascal Wehrlein were the only two cars that actually set a proper time in the first group – containing yesterday's top six finishers – and will start 13th and 16th.
Qualifying Results
| Pos | Name | Team | Car | Group 1 | Group 2 |
| --- | --- | --- | --- | --- | --- |
| 1 | Robin Frijns | Envision Virgin Racing | Audi e-tron FE07 | 1m07.81s | 1m07.889s |
| 2 | Sérgio Sette Câmara | Dragon / Penske Autosport | Penske EV-4 | 1m08.333s | 1m08.178s |
| 3 | Sam Bird | Jaguar Racing | Jaguar I-Type 5 | 1m08.384s | 1m08.405s |
| 4 | Oliver Turvey | NIO 333 Formula E Team | NIO 333 001 | 1m08.424s | 1m08.439s |
| 5 | Tom Blomqvist | NIO 333 Formula E Team | NIO 333 001 | 1m08.367s | 1m08.732s |
| 6 | Nico Müller | Dragon / Penske Autosport | Penske EV-4 | 1m08.432s | 1m09.06s |
| 7 | Jean-Eric Vergne | DS Techeetah | DS E-Tense FE20 | 1m08.471s | |
| 8 | Sébastien Buemi | Nissan e.DAMS | Nissan IM02 | 1m08.544s | |
| 9 | Alex Lynn | Mahinda Racing | Mahindra M7Electro | 1m08.632s | |
| 10 | António Félix da Costa | DS Techeetah | DS E-Tense FE20 | 1m08.649s | |
| 11 | Nick Cassidy | Envision Virgin Racing | Audi e-tron FE07 | 1m08.733s | |
| 12 | Maximilian Günther | BMW i Andretti Motorsport | BMW iFE.21 | 1m08.797s | |
| 13 | Oliver Rowland | Nissan e.DAMS | Nissan IM02 | 1m08.798s | |
| 14 | Alexander Sims | Mahinda Racing | Mahindra M7Electro | 1m08.876s | |
| 15 | Lucas Di Grassi | Audi Sport ABT Schaeffler | Audi e-tron FE07 | 1m08.97s | |
| 16 | Pascal Wehrlein | TAG Heuer Porsche Formula E | Porsche 99X Electric | 1m09.601s | |
| 17 | Jake Dennis | BMW i Andretti Motorsport | BMW iFE.21 | 1m11.194s | |
| 18 | Mitch Evans | Jaguar Racing | Jaguar I-Type 5 | 1m13.868s | |
| 19 | René Rast | Audi Sport ABT Schaeffler | Audi e-tron FE07 | 1m13.954s | |
| 20 | Nyck de Vries | Mercedes-Benz EQ | Mercedes-EQ Silver Arrow 02 | | |
| 21 | Edoardo Mortara | RokIT Venturi Racing | Mercedes-EQ Silver Arrow 02 | | |
| 22 | Stoffel Vandoorne | Mercedes-Benz EQ | Mercedes-EQ Silver Arrow 02 | | |
| 23 | Norman Nato | RokIT Venturi Racing | Mercedes-EQ Silver Arrow 02 | | |
| 24 | André Lotterer | TAG Heuer Porsche Formula E | Porsche 99X Electric | | |