Where do you start when trying to summarise the 2023 Dutch Grand Prix?
The wet-dry-wet pattern was effectively matched by how hectic the race was, with the arrival of rain effectively at lights out and the shuffling of the pack that came with it succeeded by a spell of relative calm – until all hell broke loose inside the final 10 laps with the arrival of a much heavier shower than first predicted.
And while all of that offered the chance for drivers and teams to make heroes of themselves – and there were some big winners at Zandvoort – more are likely to reflect on the race as a case of what might have been.
Winners
Max Verstappen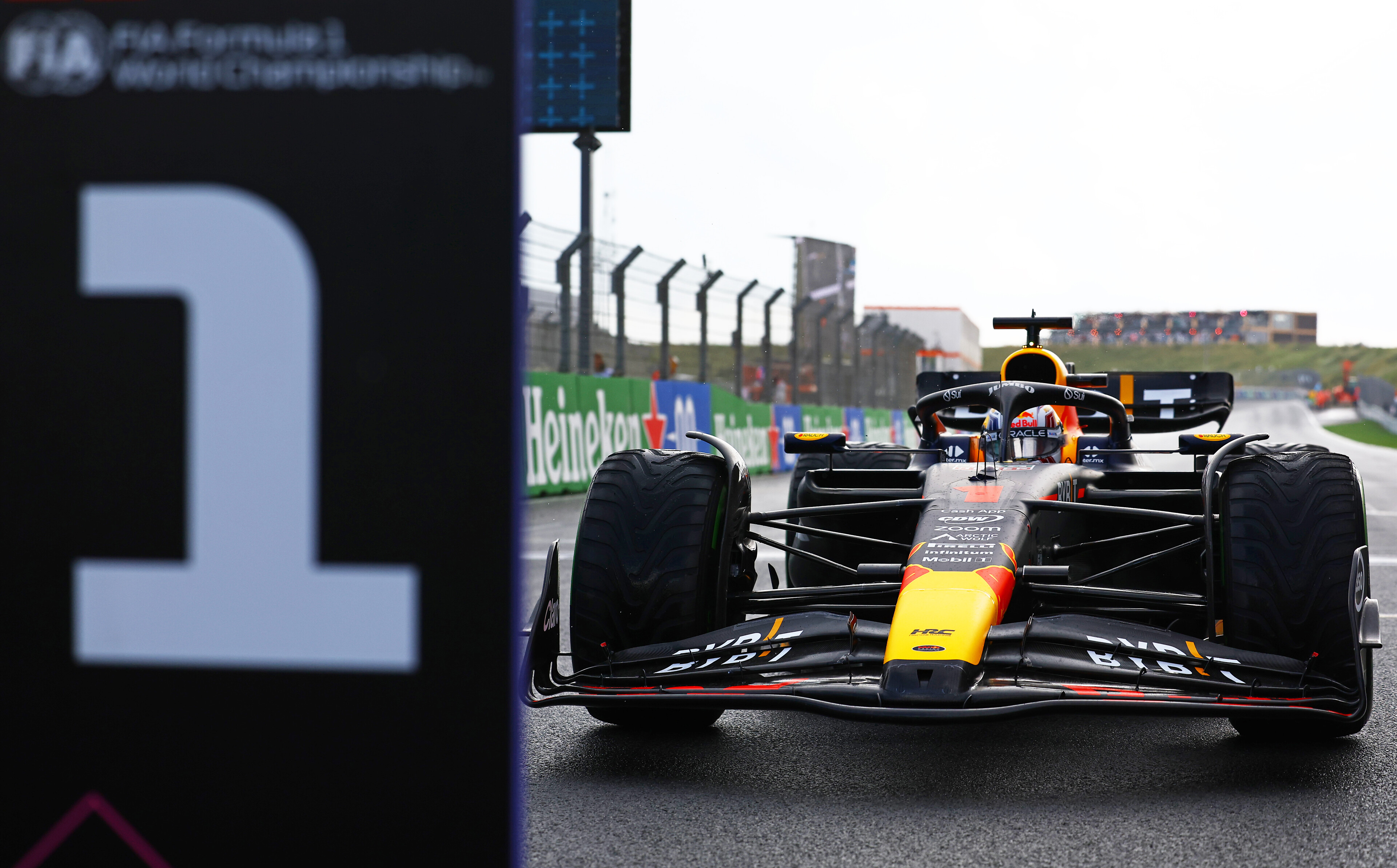 Nothing quite sums up the sheer scope of Verstappen's current F1 dominance like the overall vibe when team-mate Sergio Perez found himself in a massively advantageous circumstance early in the race, pitting just as the heavens opened up and ending up several places and double-digit seconds up on Verstappen.
Did anyone at that point think that the race had decidedly swung in Perez's favour over Verstappen? I certainly didn't – and was very quickly reassured of this when Verstappen started taking absolutely massive chunks of laptime out of Perez in that first stint, even if it did take an advantageous strategy to actually get him ahead.
It is tough luck for F1 that Verstappen is not only the fastest driver in the fastest package but is so absurdly adaptable, meaning that run-of-the-mill chaos – or even massive chaos, like today – is just not enough to seriously threaten his wins.
Only a Sunday error or a reliability problem look like they could stop him, and, even now that he's equalled the record for the most consecutive wins in F1, it may be a fair few races more until we see anyone else get even a sniff of victory. – Valentin Khorounzhiy
Fernando Alonso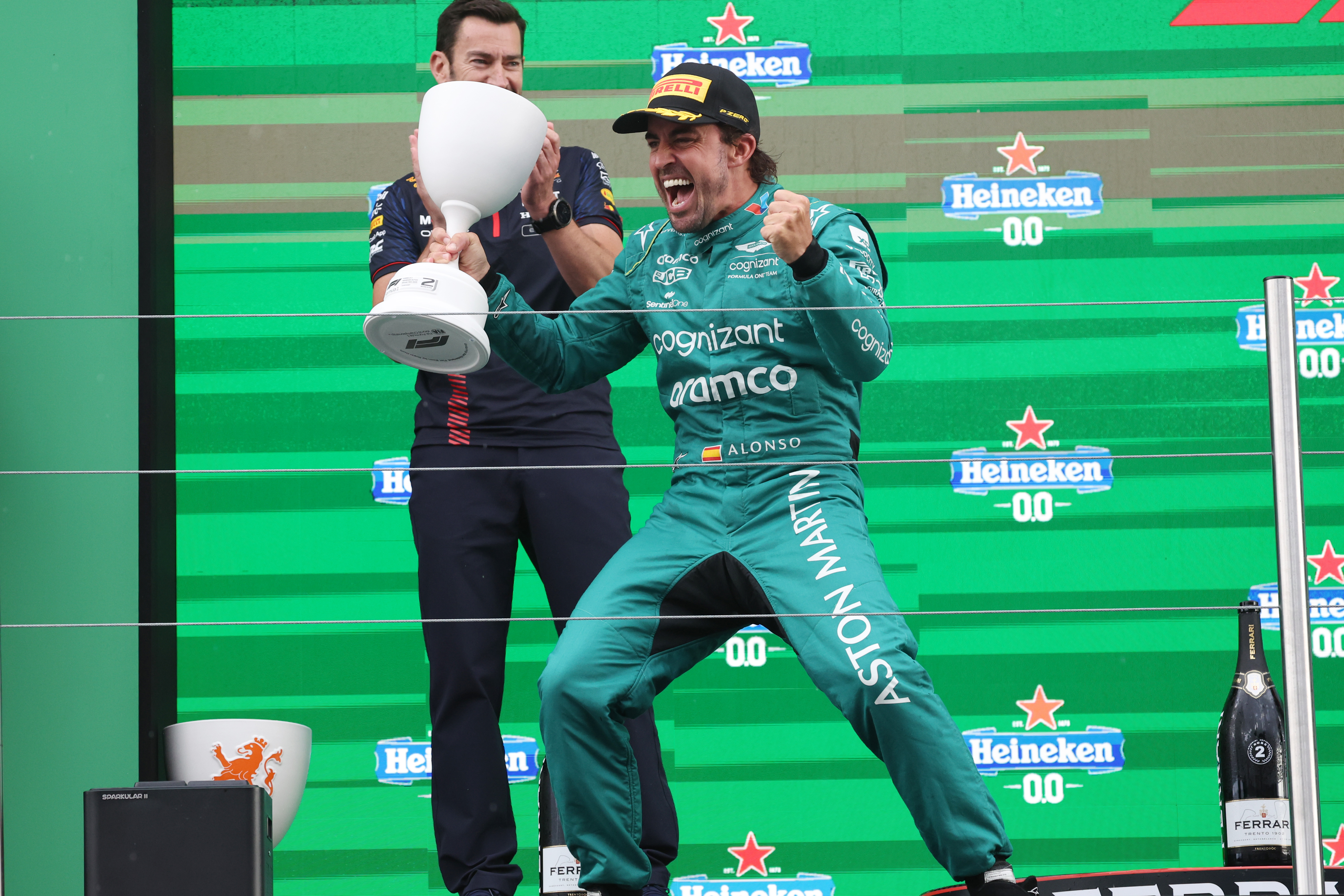 The two-month-plus gap since Alonso and Aston Martin last visited the podium might be a bit of a disingenuous sell considering the four-break summer break F1 has just returned from, but this was nevertheless a welcome return to form for a team that had experienced a pretty drastic drop-off in performance after Alonso's Canadian GP runner-up finish.
This was Alonso absolutely at his best. Armed with a best starting position since the aforementioned Montreal race, Alonso put it to good use by leaping George Russell and Alex Albon at the start to run third. Aston wasn't as sharp as others on strategy but it wasn't the worst either and got him in early enough to negate the ground lost from the switch to intermediates, then Alonso was decisive with moves on Russell (again) and Zhou Guanyu.
And the pace of the Aston held up in the dry, too. Sure, it wasn't enough to contend with the Red Bull, but Alonso recovered excellently from a slow pitstop to get back into third and then put himself in just the right spot to benefit should anything untoward happen to Verstappen or Perez – as it later did.
Second matched Alonso's best result of the season, and it was arguably his best performance of the lot too. – Jack Cozens
Liam Lawson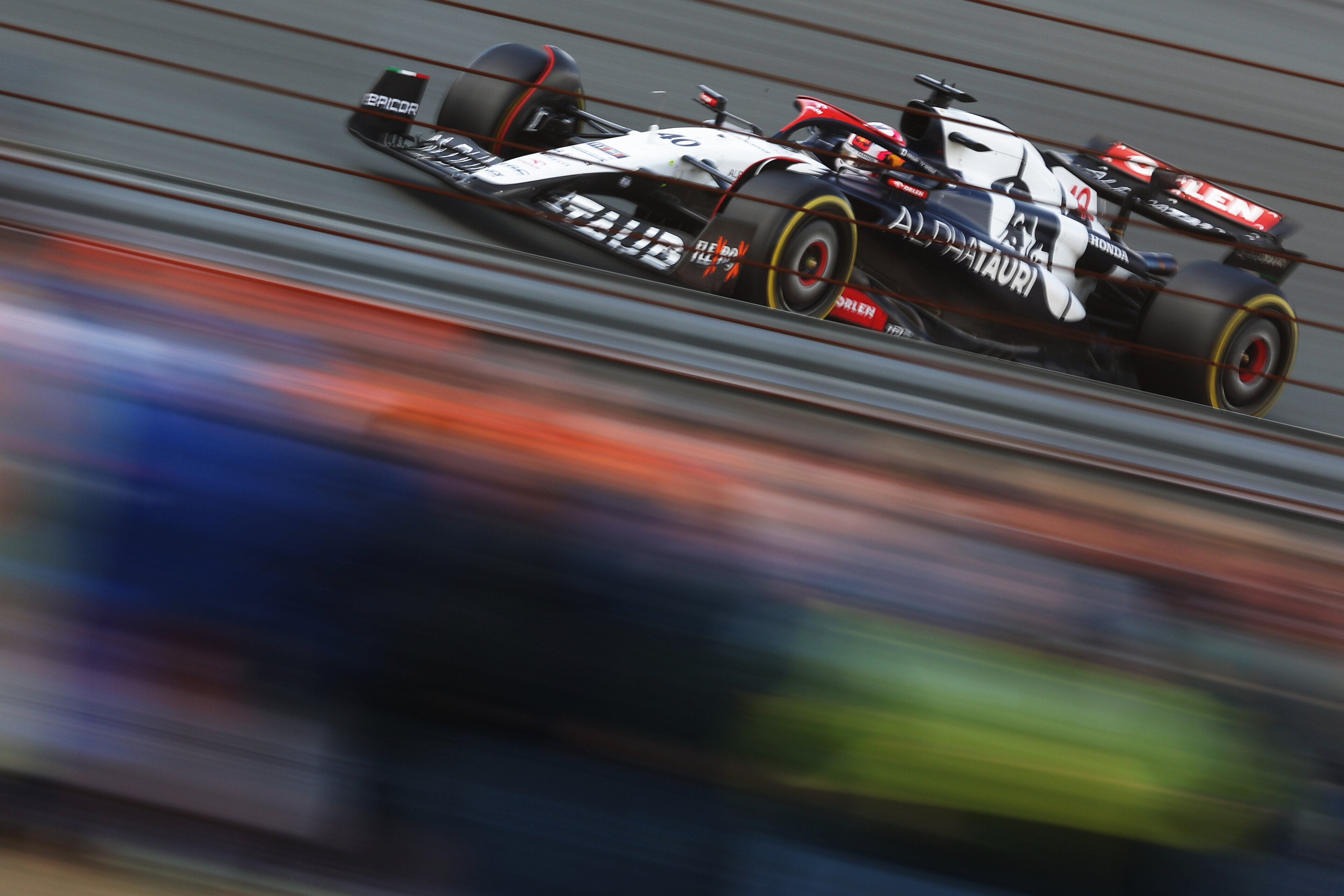 A dream debut? Not quite, a dream debut would've been points.
But Lawson didn't just fare as well as AlphaTauri could've reasonably expected – he fared better.
He only described himself as "reasonably satisfied", perhaps because there weren't exactly what you'd call 'heroics' – and Red Bull/AlphaTauri will obviously take a closer look at the underlying pace in the actual dry parts of that race (it looked unobjectionable at first glance, especially given his non-existent previous experience).
But keeping it neat and tidy throughout such an insane race, getting some nice broadcast time in the battle with the (admittedly damage-hobbled) Ferrari of Charles Leclerc and finishing ahead of the (admittedly penalised) other AlphaTauri of Yuki Tsunoda is a great day's work.
And 13th place? Only once has the 'other' AT04 finished higher than that all season.
Well done. – VK
Pierre Gasly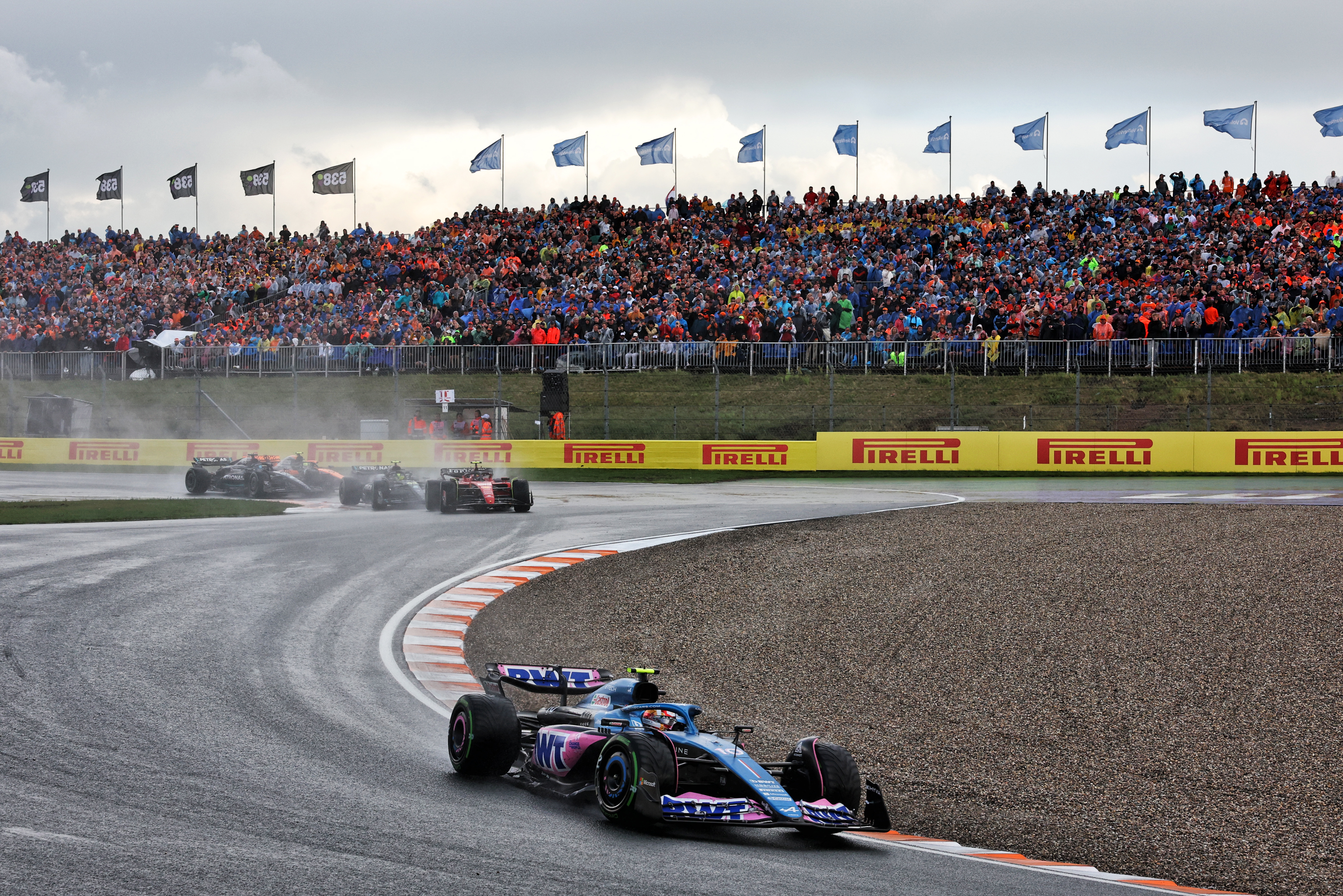 It's been a tough first few months as an Alpine driver for Gasly (although he is still obviously better off than if he'd stuck around driving the AT04).
So, a really decent weekend like that capped off with a really good Sunday drive – even though early strategy obviously helped so much – felt karmically correct to be rewarded by the podium-gifting stroke of luck in the form of Perez's late penalty.
And Gasly's own pitlane speeding faux-pas only meant that Alpine's engineers got to see their car repeatedly mug off the Ferrari – first overtaking Carlos Sainz around the outside of Tarzan, then breaking away from it with ludicrous ease on the late-race restart. – VK
Losers
Sergio Perez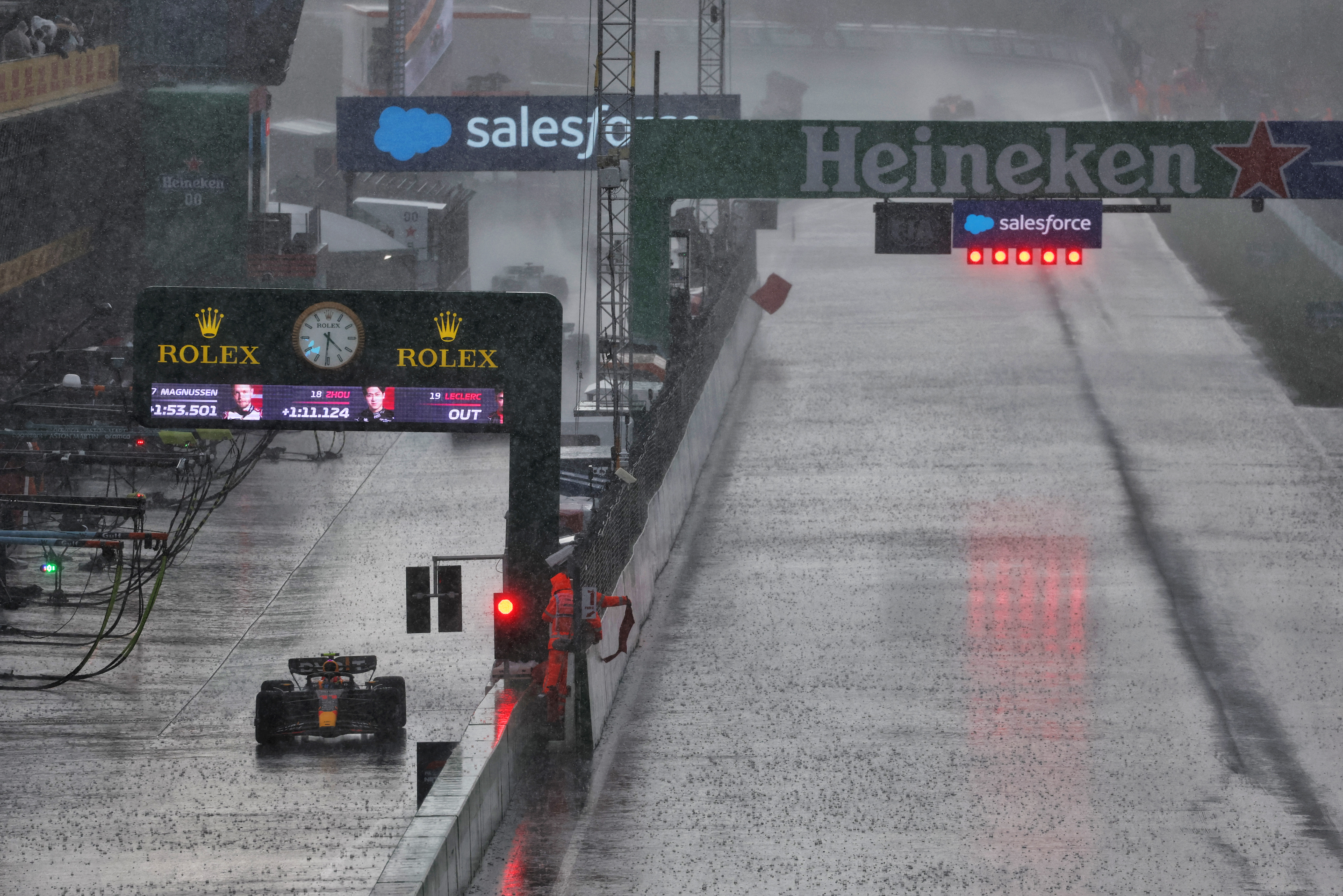 Until Perez's excursion at Tarzan in the shower just before the red flag, it was hard to find too much fault with his Dutch GP performance.
Red Bull team boss Christian Horner credited Perez with the inspired call to stop for inters at the end of the first lap that elevated him into the lead, and while the rate at which Verstappen closed in was rapid, and the…wooly justification Red Bull gave for the order in which the two pitted confusing, Perez definitely stayed close enough to his leading team-mate thereafter for his drive to fall into the 'job done' category.
That was until lap 63.
His off on inters at Turn 1 handed Alonso second on a plate, then on his way into the pits he clouted the wall. And although Perez got a reprieve in terms of being elevated back up to third – his stop dropped him to sixth when the red flag came out – that was lost to a needless five-second penalty for pitlane speeding.
A case of quite close yet so far in the end. – JC
Lando Norris and M
c

Laren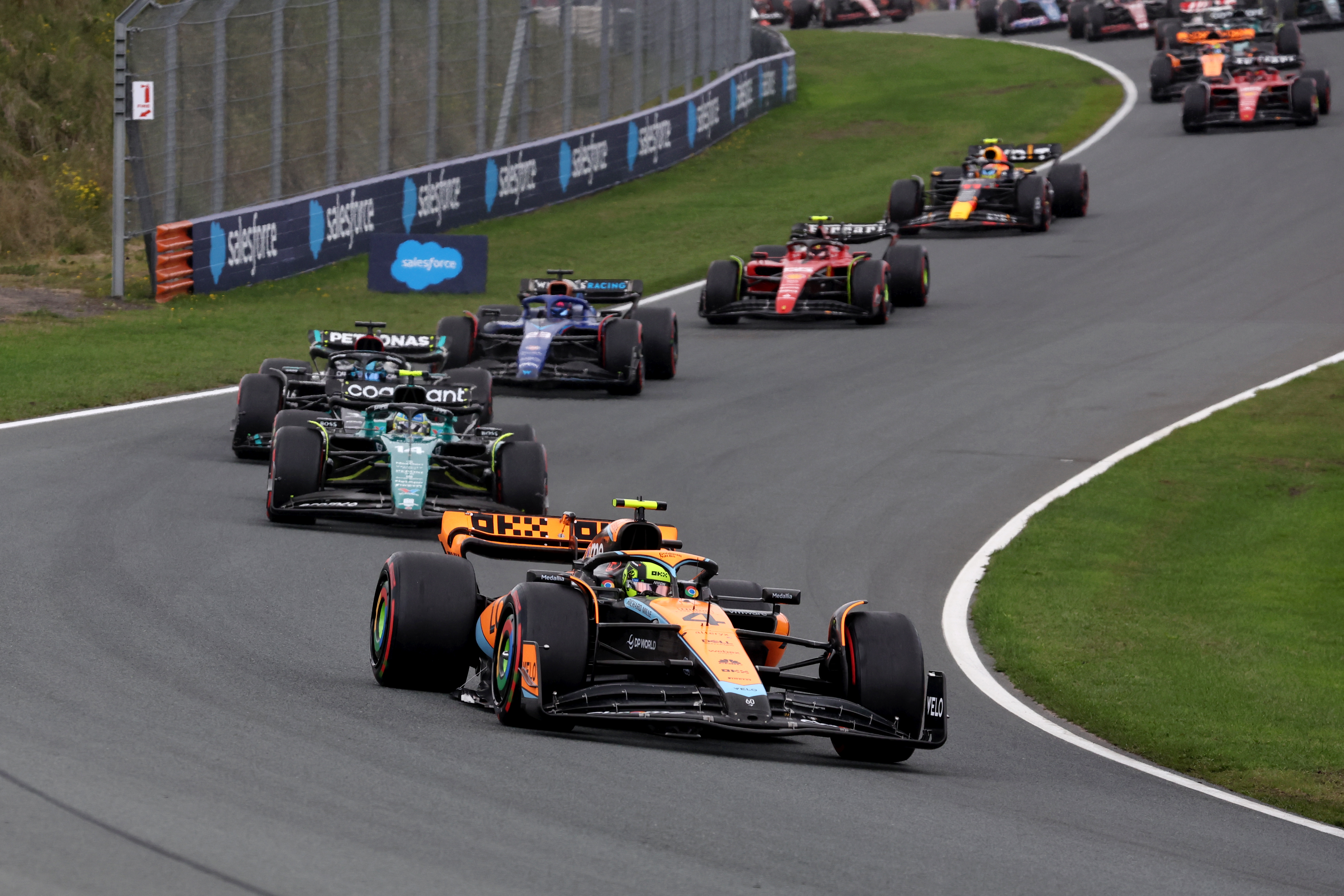 Norris's result shares one similarity with his seventh-place finish four weeks ago at Spa, in so far as it looked unlikely early on in the race.
With that in mind six points seems a decent save, but the fact of the matter is McLaren wasn't anywhere near decisive enough when the rain arrived in the opening laps and wasted so much race time with its indecision. Norris made his dissatisfaction known over the team radio, too.
Ultimately an Alpine podium shouldn't worry McLaren – it's not likely that Renault's works team is going to make a regular habit of this and suddenly come back at it in the championship. But on a day where such a podium was on the cards this has to go down as a missed opportunity for a driver-team combination that started second on the grid. – JC
'Class C'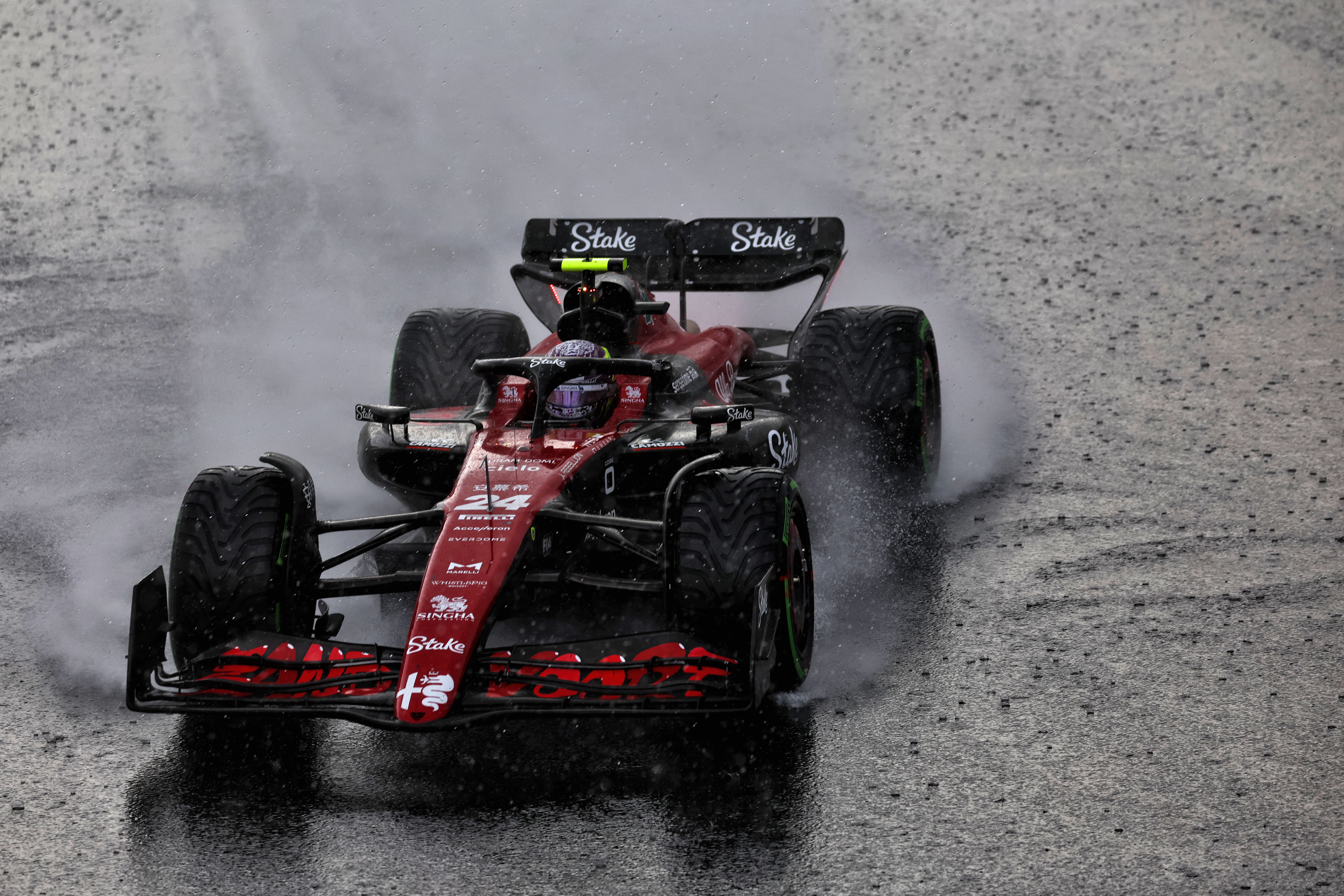 When you end up with easily the wildest race of the season, you expect to look at the classification and see some of the smaller teams, the lesser cars, making hay.
The Williams did, in the hands of Alex Albon, but the FW45 wasn't a 'lesser car' this weekend. And you could call Sainz's Ferrari SF-23 a 'lesser car' at Zandvoort if you were being mean, but that's also not quite who I'm thinking of.
The Haas, the Alfa Romeo and the AlphaTauri are clearly the three worst cars right now – and, presented with such a chaotic race, they got nothing out of it.
Alfa nailed the early call with Zhou Guanyu but he was a sitting duck during his time in the top 10 before his race ended with aquaplaning into the Tarzan barriers. Haas did great work with Kevin Magnussen early on, but while other cars eked out the softs for around 30 laps, Magnussen's looked done after half that.
And AlphaTauri with Tsunoda? Well, more on that later.
The point is, if these teams aren't scoring on this kind of day, when are they supposed to score? – VK
Charles Leclerc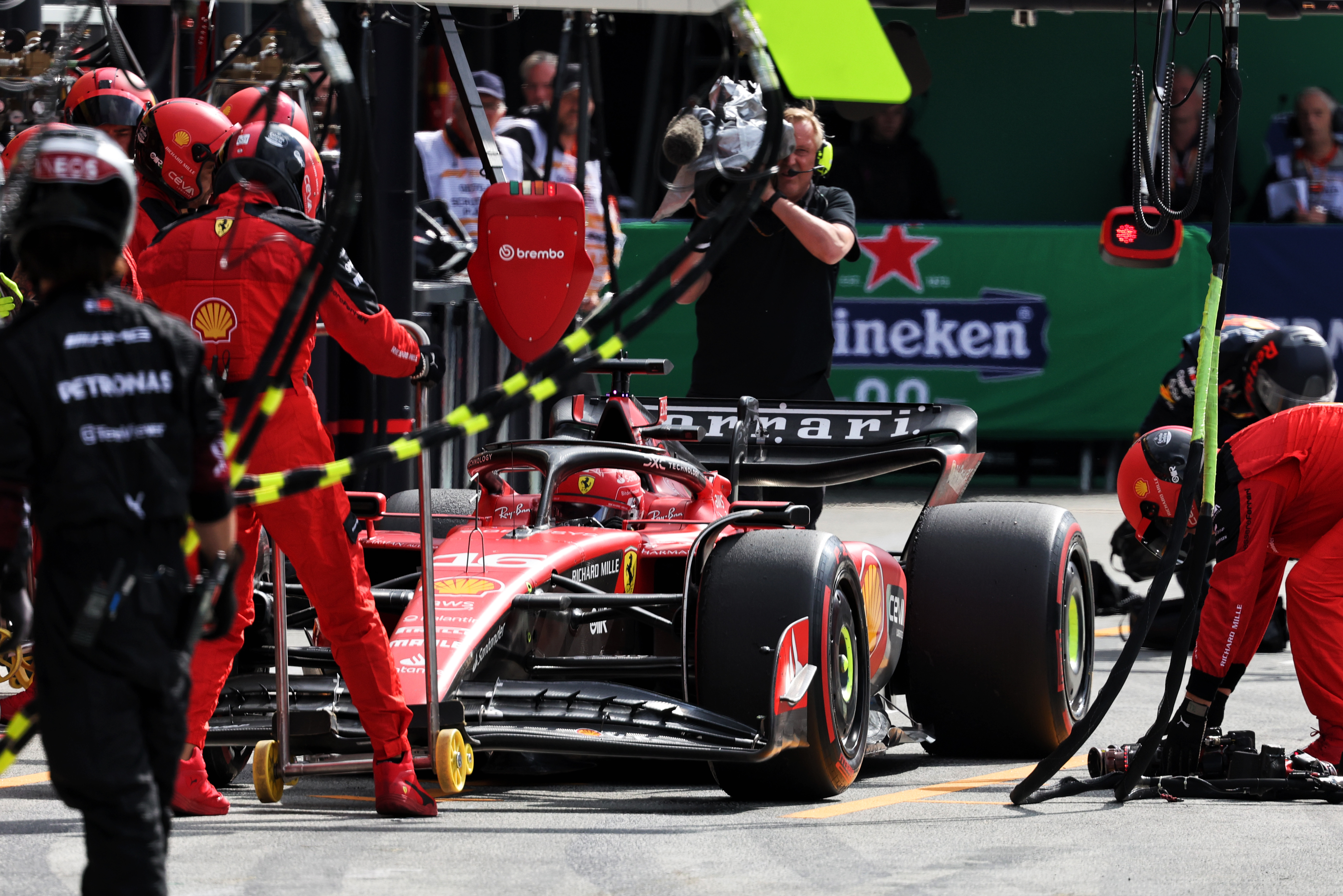 Leclerc could have never guessed his Sunday would involve F1 debutant Lawson passing him into the Turn 11 right-hander but it was a marker of just how badly his race spiralled out of control, even if he'd get that place back briefly before Ferrari called it quits.
Contact with Oscar Piastri damaged his floor and doomed him to a race where he only went backwards.
Based on what Sainz was able to do in the sister Ferrari, a strong points finish would have still been a struggle for Leclerc without that contact. Fifth place for Sainz was ultimately him punching above the weight of the car with a faster Mercedes and McLaren right behind him. – Josh Suttill
Yuki Tsunoda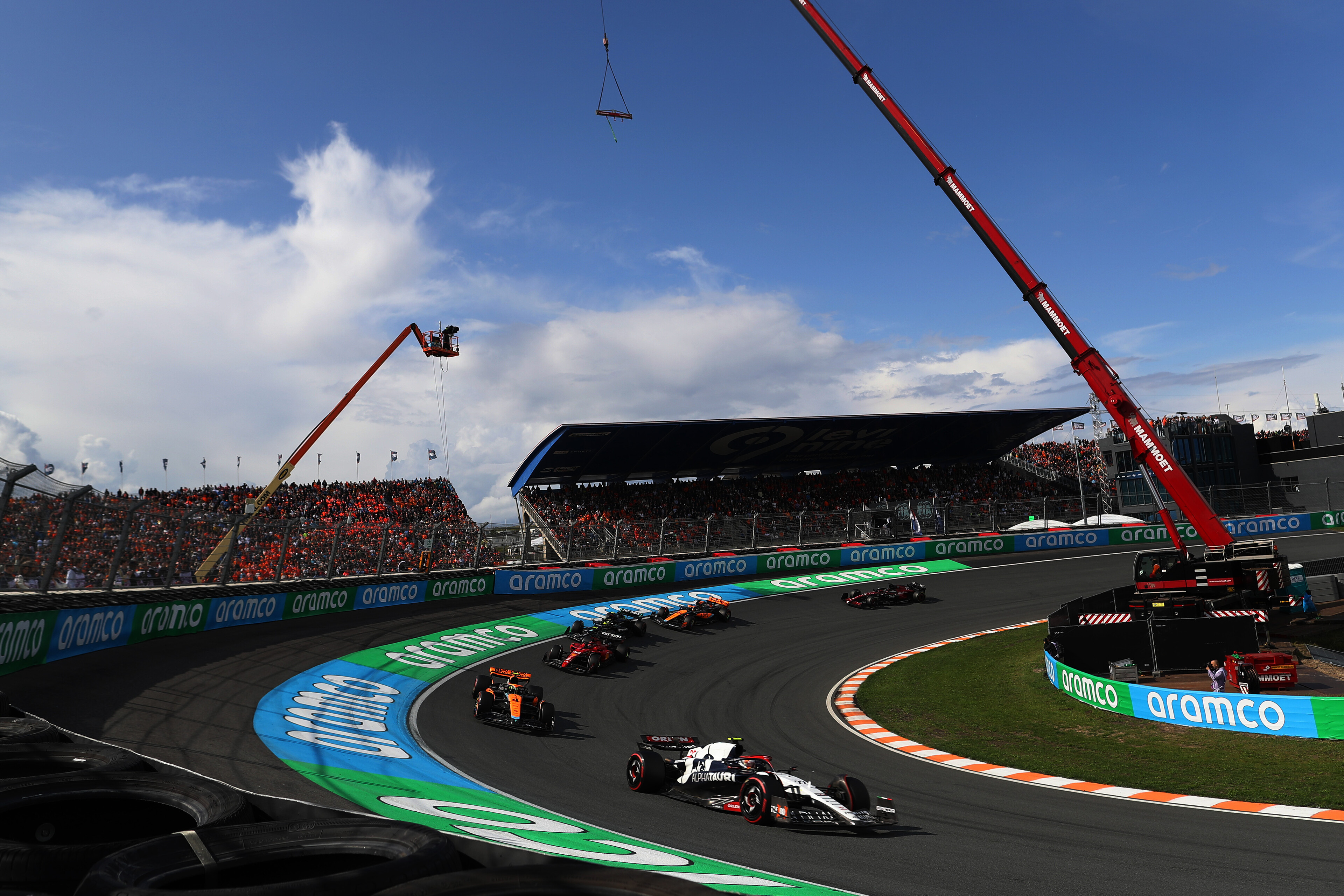 Tsunoda looked on course for his customary 10th- or 11th-place finish with a solid opening stint where he was hanging onto the minor points-paying positions and giving a spirited defence against the likes of Norris and Hamilton in the middle of the race.
When those faster cars started pitting around him, AlphaTauri decided to keep Tsunoda out on ageing slicks.
Even if the team was waiting for the incoming rain this seemed ambitious, with Tsunoda routinely dropping over a second per lap to those drivers who pitted. Contact with Russell didn't help things either, nor did the penalty for causing it.
That penalty ultimately left him 16th in the classification. A shame when he'd be building a strong weekend before Sunday with a third different driver alongside him in four races. – JS
George Russell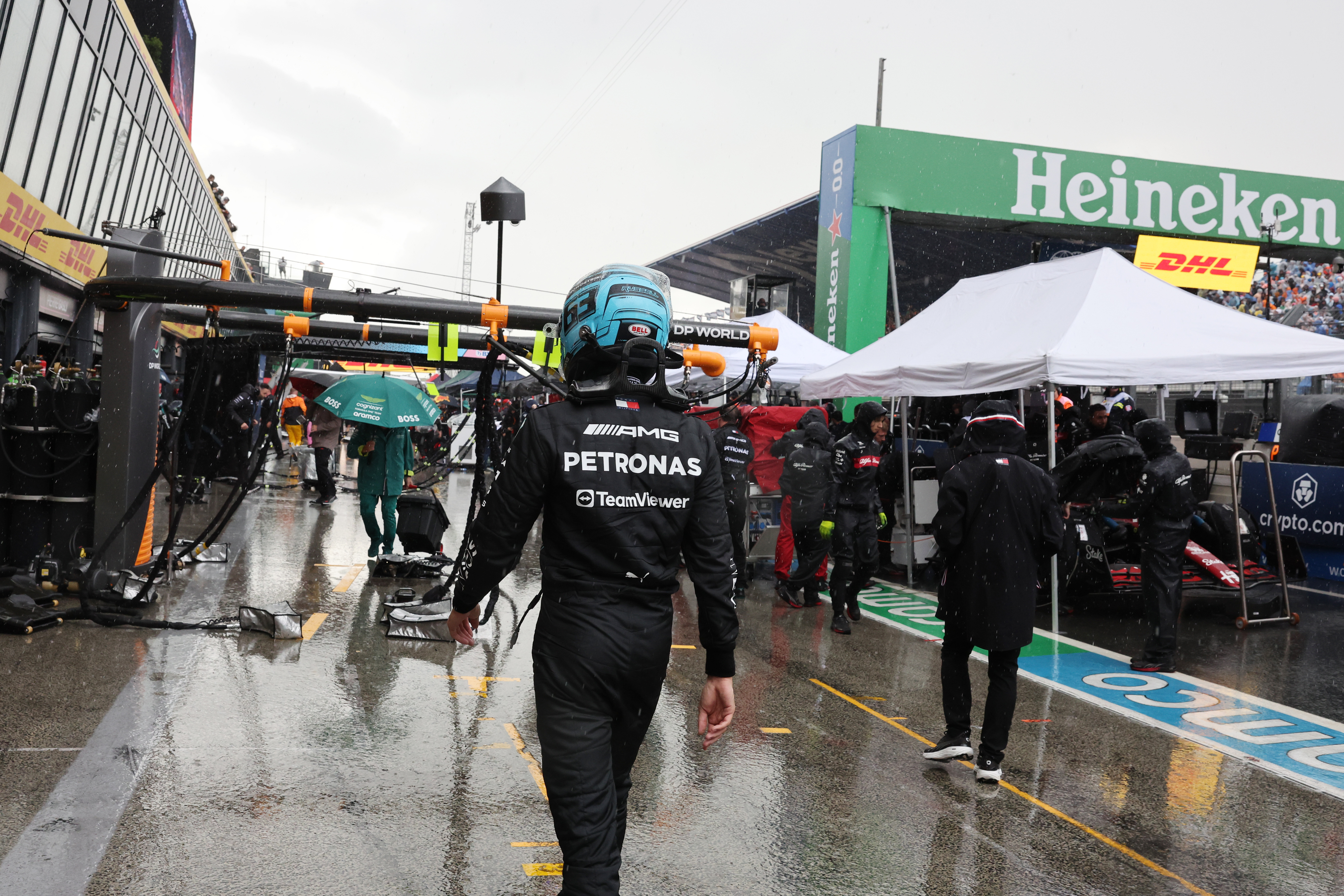 Russell deserved much more from this weekend, in which he really looked like he rediscovered some of his mojo after a run of grands prix in which he'd looked distinctly second-best to team-mate Lewis Hamilton.
Some will have taken issue with him proclaiming that he was on for a podium as early as he did, but Russell's pace in mixed conditions was clearly top-drawer and yet everything possible was done to squander it.
Both Mercedes cars were ill-served by their early-race strategy – the team's forecast was clearly just wrong – but Russell's side in particular was hit by what really did seem like the absolute worst possible succession of calls short of just ordering him to park up in the gravel somewhere.
There was more misfortune later on, in race-affecting damage from a Tsunoda battle and race-ending damage from a Norris battle, but even if he'd stayed out of the wars it was never going to live up to what it should've been. – VK
Logan Sargeant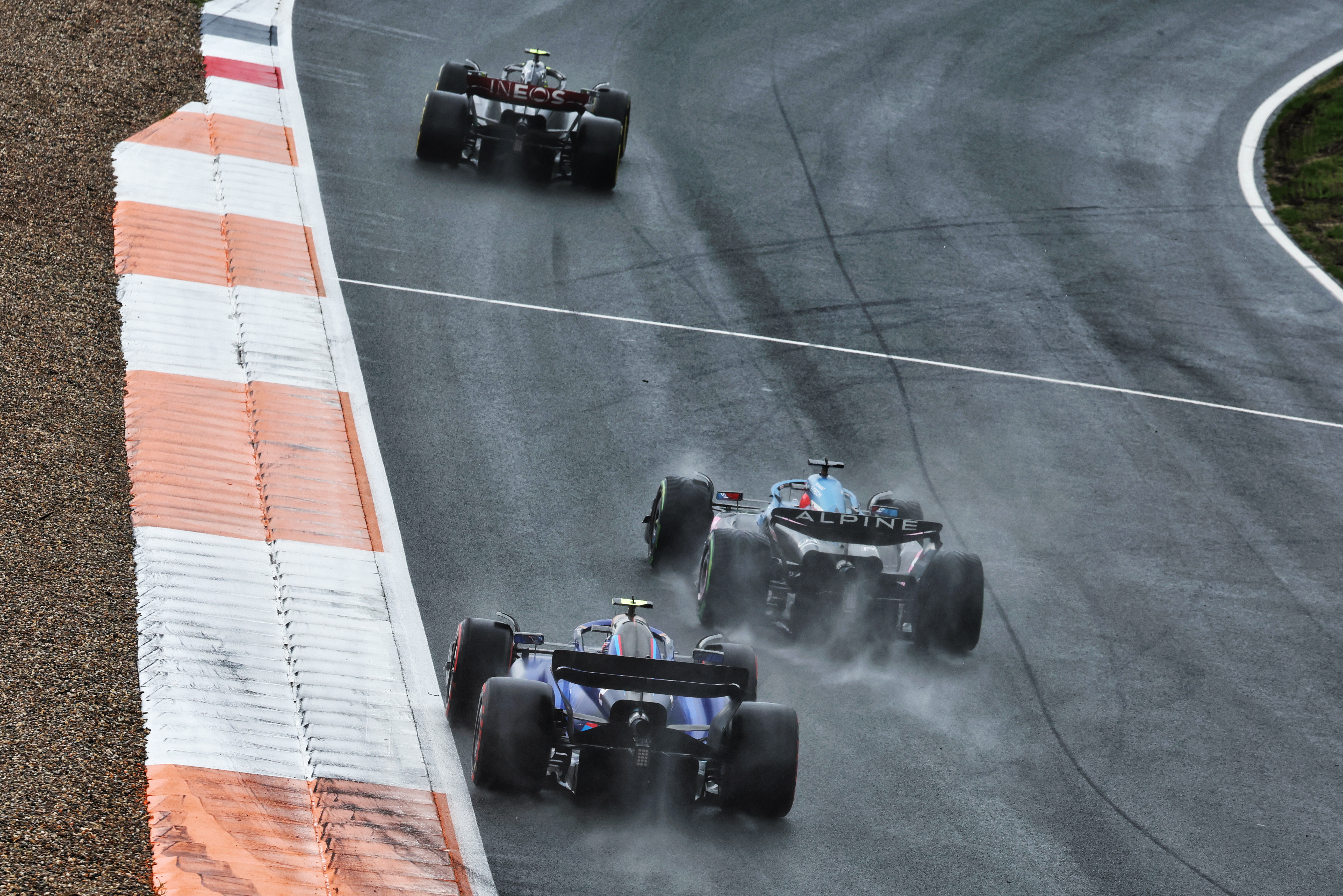 The last thing Sargeant needed after such a hefty shunt on Saturday was another big one on Sunday.
This race, with a good starting position of 10th, was a chance to right that wrong but it all quickly went wrong and terminally so when he speared off the road 16 laps into the race.
He says he rode over the same apex kerb he'd be riding over all weekend but this time something broke and he lost the power steering. Whether Williams's post-race analysis confirms that remains to be seen.
But whatever the cause it's such a costly blow for arguably the most under-pressure driver in the F1 paddock. – JS