Ferrari duo Charles Leclerc and Carlos Sainz have a complementary skillset and good relationship that makes the pairing "as good as it gets" according to the Formula 1 team's racing director Laurent Mekies.
It's not unusual for senior personnel in Formula 1 teams to talk up their current drivers, but Mekies should be taken serious given Leclerc and Sainz is arguably the best-balanced driver line-up in Formula 1. That's for far broader reasons than the fact they ended 2021 separated by just 4.5 points – the narrowest margin of any pairing outside of pointless Haas.
One aspect Mekies picks up on is their feedback. This is a particularly strength for Sainz, who has proved over his six seasons in F1 so far that he's an intensely analytical driver – something that has been refined through his experiences with Toro Rosso, Renault and McLaren prior to joining Ferrari last year.
While Leclerc is a different kind of driver, one whose skill behind the wheel means he's remarkably adept at adapting to car characteristics – sometimes to the point where by his own admission he might not pick up certain limitations other drivers would – but he also has enormous sensitivity and feel.
By working with Sainz, he's also had to sharpen up the feedback he gives – as well as accepting Sainz very much as an equal number one on that score in a team that he went into last year as the established leader of.
"On that side, we are enjoying very high-quality feedback from them," said Mekies.
"It's one of our strongest points, not only because they are good at describing what they feel but because they have the will and the motivation to work with us to find different solutions.
"They use different words, so we can put things together. And they do not always agree, which encourages us to look at things in a wider way.
"The way Charles and Carlos complement each other is as good as it gets."
But it's not just in terms of technical feedback that the duo's dovetailing works. They also have very different ways of extracting pace from the car and contrasting styles.
Often, that would be considered a weakness given the risk it leads to divergent set-up strategies and development philosophies. But it also means they each put the car on the limit in different ways, showing up characteristics that might otherwise be hidden.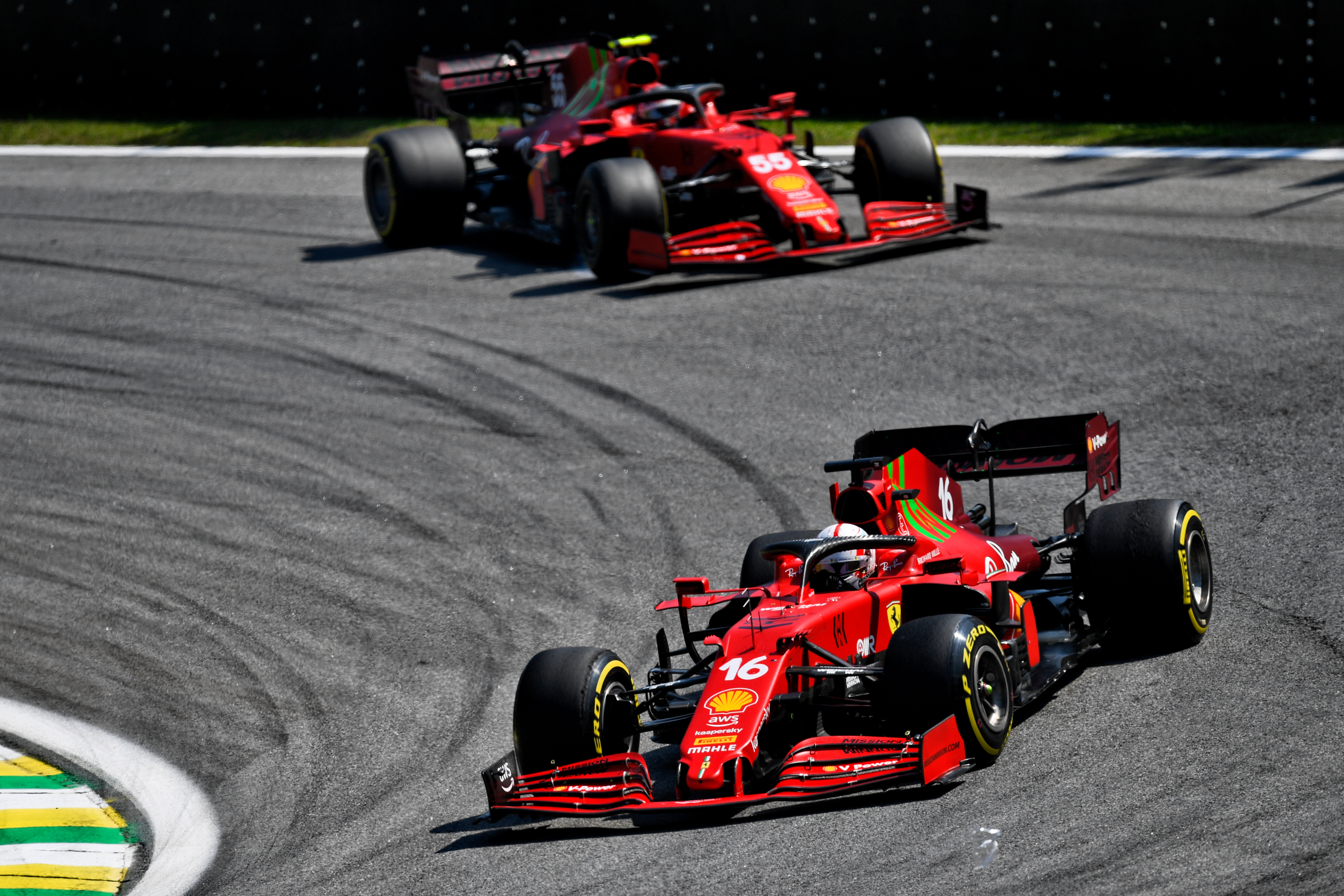 "Absolutely correct," said Mekies when asked by The Race if having different driving styles also helps Ferrari.
"The fact that they drive in a different way, use the tyres differently, are on a different point on the chart hels us massively in our understanding."
Leclerc has a more livewire driving style, capable of living with a lively rear end and showing tremendous sensitivity for traction in slower corner exits in particular. This often proves valuable towards the end of qualifying laps, where his ability to maximise the traction of overheating tyres can gain him significant time.
Sainz admitted last year he was shocked by Leclerc's extreme driving style and spent much of the season trying to make gains in the areas where is team-mate had the edge. This perhaps played a part in the spate of accidents Sainz had during the year, which is unusual for him.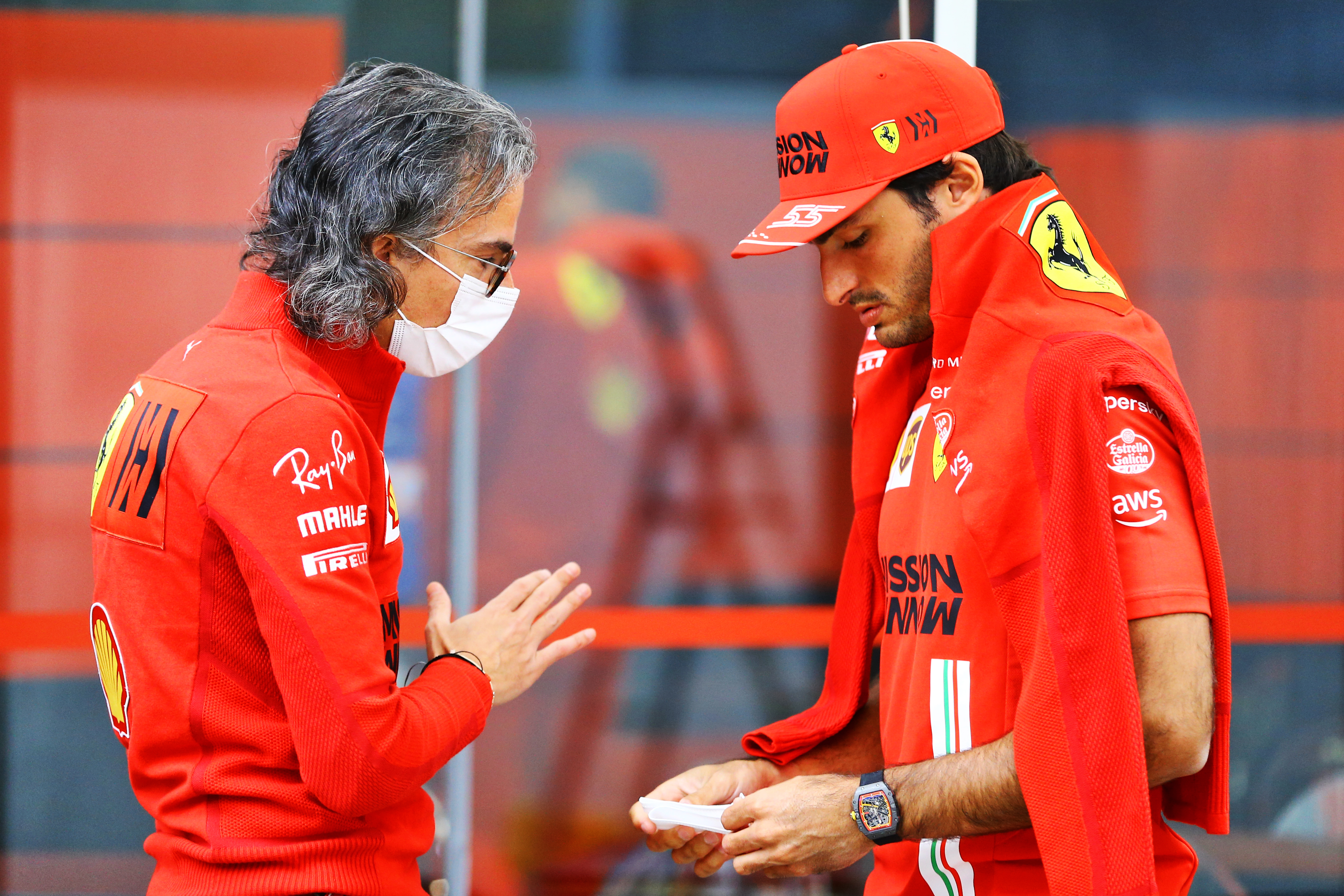 But Sainz has also excelled in fast corners, as well as at times when conditions were less predictable – for example in the windy conditions in qualifying in Portugal. Sainz also outqualified Leclerc four times in the last six races, showing he had made progress on single-lap pace even though over the season as a whole he was marginally the slower Ferrari driver.
Sainz, who is expected to agree a new contract with Ferrari soon, made a positive impression in his first season. That helped him to edge ahead of Leclerc in the championship – although by The Race's evaluation Leclerc was still marginally the stronger Ferrari driver given other performance metrics – with more expected this year.
"He did acclimate very quickly, if you look back to Bahrain's performance in race one," said Mekies. "Was there more to come? Yes, a lot more. So the starting point was excellent.
"But F1 is such now that you need the two years, three years and you see that [progression] from the beginning to the end of the season.
"There's a level of trust, a level of understanding, when you make a call, when he gives a feedback developed."
The relationship between Leclerc and Sainz has always proved constructive to date.
While it remains to be seen how that might change should Ferrari achieve its ambition of re-emerging as a title-winning force, that's an encouraging sign.
"I don't know if they are friends or not, but what I can tell you is that the level of respect, the level of desire to work together, the level in both as characters and for their technical abilities, is huge," said Mekies. "They both share the same drive to push the team to recover.
"The way they work with us, the way we have integrated them, the weight they are contributing is a very significant competitive advantage.
"We don't want to stop there. We want to develop that because we think there is more to come as well. But certainly it's s one of the strong points we have."