Sebastian Vettel says the "short answer" to whether he has confidence in the integrity of Pirelli's Formula 1 tyres is "I can't say 100% yes, and I can't say 100% no".
The four-time F1 world champion's comments come following the conclusion of an investigation by Pirelli into two high-speed failures at the recent Azerbaijan Grand Prix.
Vettel's Aston Martin team-mate Lance Stroll suffered a left-rear blowout in Baku while leader Max Verstappen experienced the same problem late in the race in his Red Bull.
Pirelli has absolved itself of blame by stressing the tyres did not suffer a defect and its verdict that debris did not damage the tyres – combined with a series of new protocols in place for this weekend's French Grand Prix – has hinted it believes Red Bull and Aston Martin are responsible for the problems for how they ran the tyres.
But that has been disputed by the two teams involved because they did adhere to Pirelli's stated minimum starting tyre pressures, creating an opaque situation where no party is admitting fault.
Asked on Thursday ahead of the French Grand Prix if he has confidence in the structural integrity of Pirelli's tyres, Vettel replied: "I think the short answer would be, I can't say 100% yes, and I can't say 100% no."
The Baku failures came after Pirelli made its tyres more robust for 2021, following failures at last year's British Grand Prix.
Pirelli's time as F1's sole supplier has been dogged by constant criticism from drivers about the tyres' thermal sensitivity and sporadic failures.
"I think I'll leave it there. I've said enough" :: Sebastian Vettel
On whether he feels more concern over Pirelli than other tyre suppliers he had experience of in the past, Vettel said: "No, I don't think I need to add a lot.
"The demands are very high and it's not always easy to get everything right.
"So, if you're trying for the perfect product, to make everybody involved happy, probably it's not going to happen.
"I think I'll leave it there. I've said enough."
Stroll was also asked if he still had confidence in Pirelli's tyres.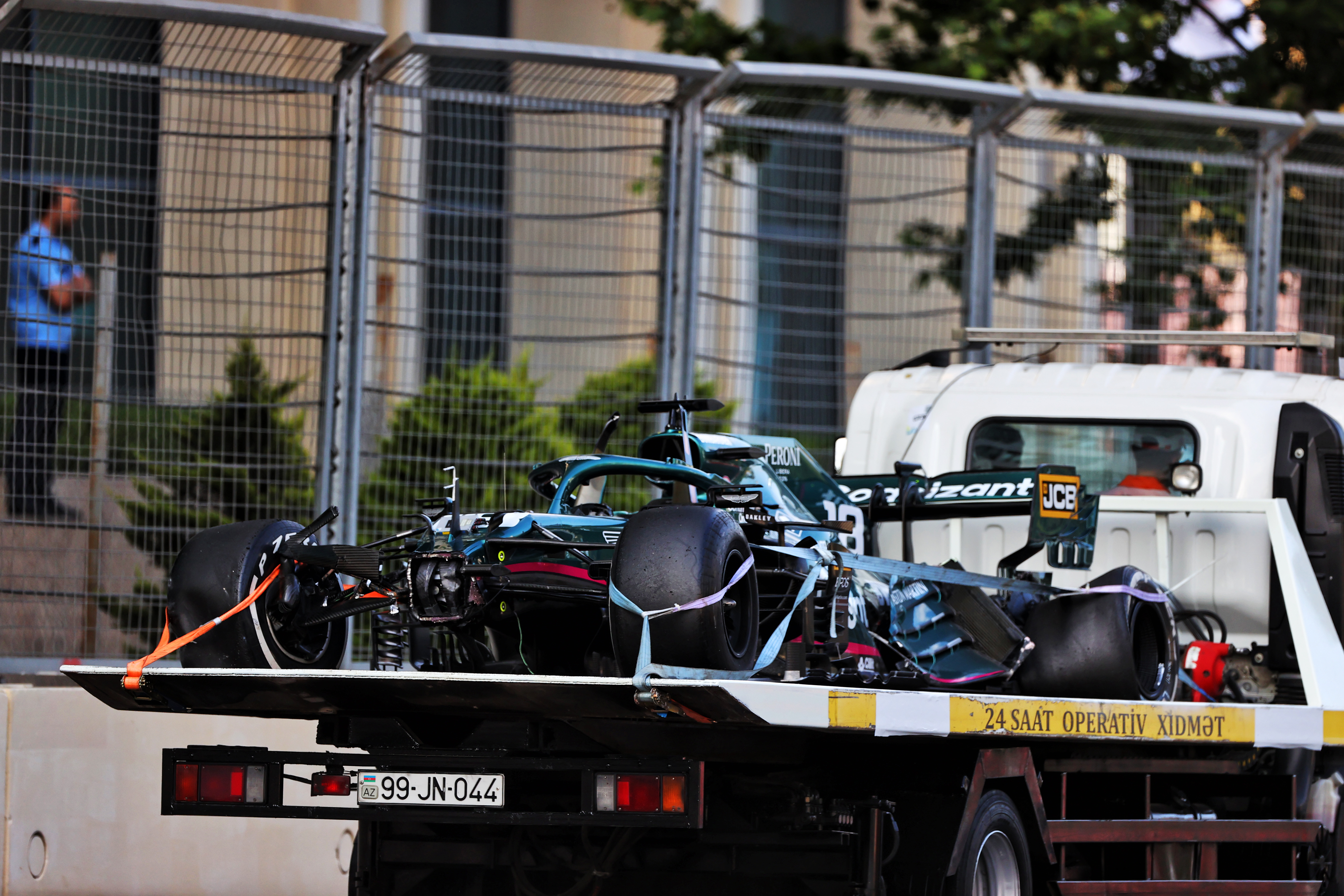 "We know we're running our pressures at the legal prescribed pressures from Pirelli," said Stroll.
"And there was nothing wrong with our car during the race, that we could see.
"Probably now we're just going to bump up the pressures and they believe that's going to be a better solution for the safety this weekend.
"There's not much more to say on it."
Asked by The Race if he was satisfied with the result of Pirelli's investigation, Stroll said: "It's hard to say.
"It could be a cut in the tyre from a kerb, it could be a failure.
"All I think is this weekend, they're making changes to the pressures, they're pumping them up for a safer, better tyre coming into this weekend. And I just hope we don't see more blowouts for whatever reason that might be.
"It's not fun at that speed to have unexpected punctures or whatever you want to call it."
Baku race winner Sergio Perez, team-mate to Verstappen, was asked the same question as Vettel over trusting Pirelli's product.
"From what we've seen in Baku, all the teams have stuck to the regulations or what Pirelli has asked for us to do," Perez replied.
"And it's a concern. We know that Baku's a special place and so on but still it's a concern what happened.
"We'll see what they come up with. It's all about our safety in those moments."
Verstappen expects Pirelli to raise the mandated minimum starting tyre pressures for this weekend's race in response to the failures.
The Pirelli guidelines have not yet been communicated. But a series of new protocols have been introduced for this weekend to stamp out any techniques potentially employed by teams to run the tyres at slightly slower pressures on-track.
That will ensure the running conditions of the tyres are exactly as Pirelli expects.