Max Verstappen took the Formula 1 world championship lead by winning the Spanish Grand Prix, despite an early trip into the gravel, after Charles Leclerc retired from a commanding position and Sergio Perez twice allowed Red Bull team-mate Verstappen past.
Leclerc had looked completely in control of the race and certain to halt Verstappen's recent run of victories until an engine problem forced his Ferrari to slow after 27 of the 66 laps.
He had been gradually pulling away from Verstappen early on, before Verstappen slewed through the Turn 4 gravel and down to fourth on lap nine, having been caught out by a sudden gust of wind.
Two laps earlier Leclerc's Ferrari team-mate Carlos Sainz had spun through the gravel at the same spot, dropping from fifth – where he had been due to a poor start – to 11th.
Verstappen's recovery was hampered by his DRS only working sporadically, in a repeat of the problem that had struck in qualifying despite the DRS actuator being replaced for the raced.
His trip off the road had elevated George Russell's Mercedes to second, under heavy pressure from Perez, and though Verstappen rapidly moved ahead of his team-mate he then struggled to pass the Mercedes with his DRS not functioning. On the one occasion Verstappen got ahead into Turn 1, Russell managed to successfully come back at him around the outside.
LAP 24/66

Sensational mini-battle between Russell and Verstappen 💪

The Briton holds off the Dutchman for now#SpanishGP #F1 pic.twitter.com/iWOngjq0Sb

— Formula 1 (@F1) May 22, 2022
This fight became a battle for the lead when Leclerc retired. Red Bull reacted to Verstappen's DRS issue by changing his strategy onto a three-stop – the tactic most would eventually follow – so he could charge in clear air.
Perez, who had run a very long first stint, was back on Russell's tail once Verstappen made his second pitstop and was soon past the Mercedes into the lead.
Verstappen's strategy allowed him to jump Russell for second with no headaches, rejoining clear of the Mercedes after his third stop.
He then closed down Perez for the lead, with Red Bull telling the Mexican he would need to let Verstappen past as they were on different strategies. Perez sounded disgruntled but complied, then made a third pitstop for a successful chase of fastest lap.
Russell also switched to three stops and completed the podium.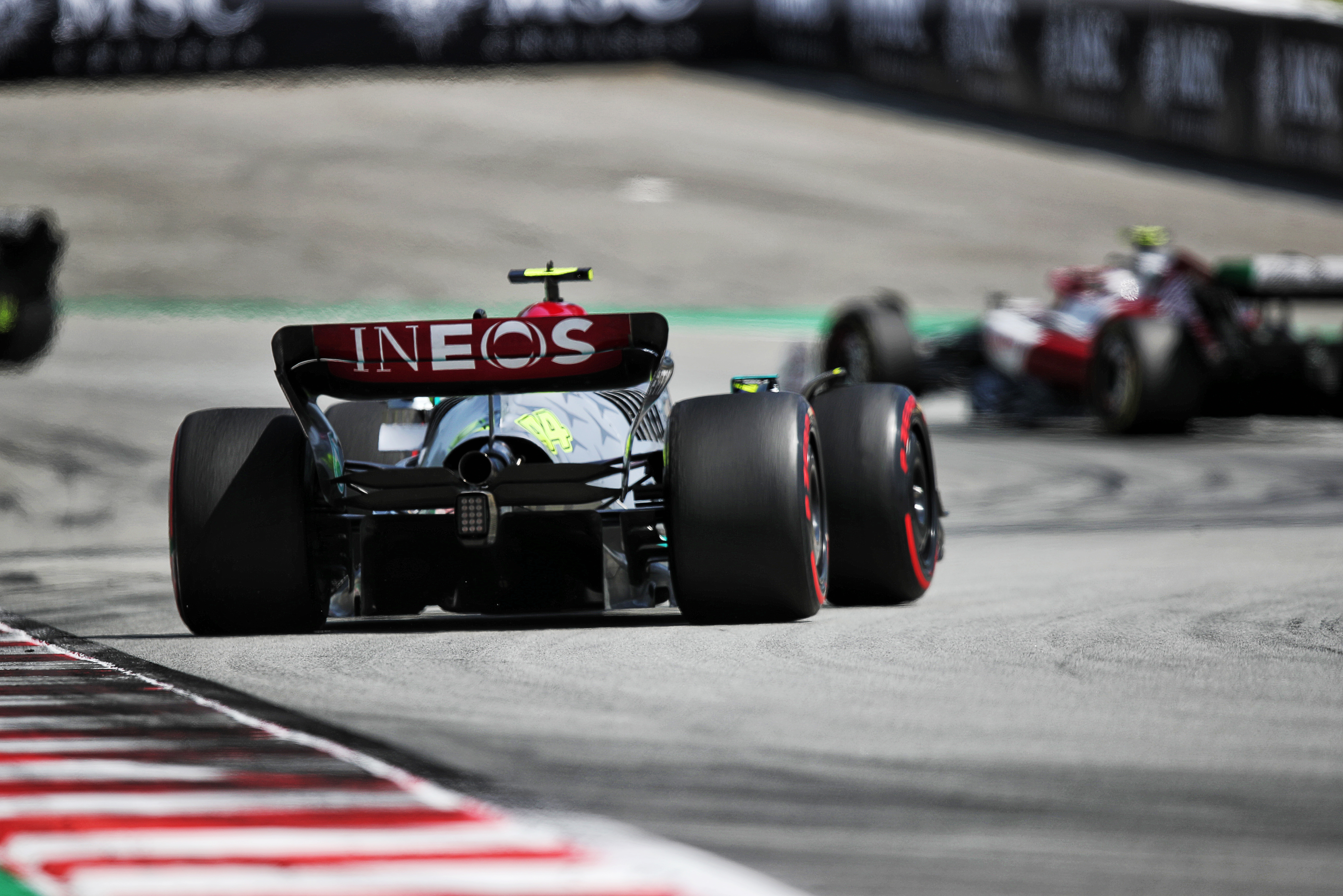 His Mercedes team-mate Lewis Hamilton had dropped to 19th on lap one when contact with Kevin Magnussen's Haas left him with a puncture. The seven-time champion initially suggested Mercedes might be best to retire his car and save the engine, but he instead mounted an incredible recovery drive and made it right back to fourth place only for a late engine problem to force him to slow, allowing Sainz through.
Valtteri Bottas had been fourth for Alfa Romeo for most of the race, but sticking to a two-stop when most swapped to three cost him and he was overtaken by Sainz and Hamilton late on.
Alpine showed excellent race pace to take seventh with Esteban Ocon and ninth – from the back of the grid – with Fernando Alonso, the pair sandwiching Lando Norris's McLaren. Yuki Tsunoda completed the scorers for AlphaTauri.
Staying on two stops also cost Mick Schumacher, who looked set for his first F1 points until the three-stoppers forced him down to 14th in the closing laps.