Max Verstappen dominated Formula 1's Spanish Grand Prix while Mercedes drivers Lewis Hamilton and George Russell secured a double podium finish for their team.
A medium tyre-shod Verstappen fended off those around him on softs at the start of the race, narrowly edging out Ferrari's Carlos Sainz through Turn 1 to hold the race lead.
Behind Verstappen and Sainz, third place starter Lando Norris clipped the back of Hamilton's Mercedes, picking up front wing damage that necessitated an opening lap pitstop.
Lando's view of that contact with Lewis 👀#SpanishGP #F1 pic.twitter.com/LGqOGeHF3V

— Formula 1 (@F1) June 4, 2023
There was no such drama for Verstappen who was never challenged thereafter. He ran a long first stint on the mediums, switched to the hards for his middle stint and then ran softs to the end of the grand prix.
His biggest rival proved to be track limits as he picked up a handful of infringements and left himself one track limits error away from a penalty in the final seven laps – leading to pleas from his Red Bull team to stay within the white lines.
Verstappen avoided picking up a penalty despite pushing and securing the fastest lap bonus point en route to claiming his fifth victory of the season and 40th of his F1 career, allowing him to further extend his comfortable championship lead.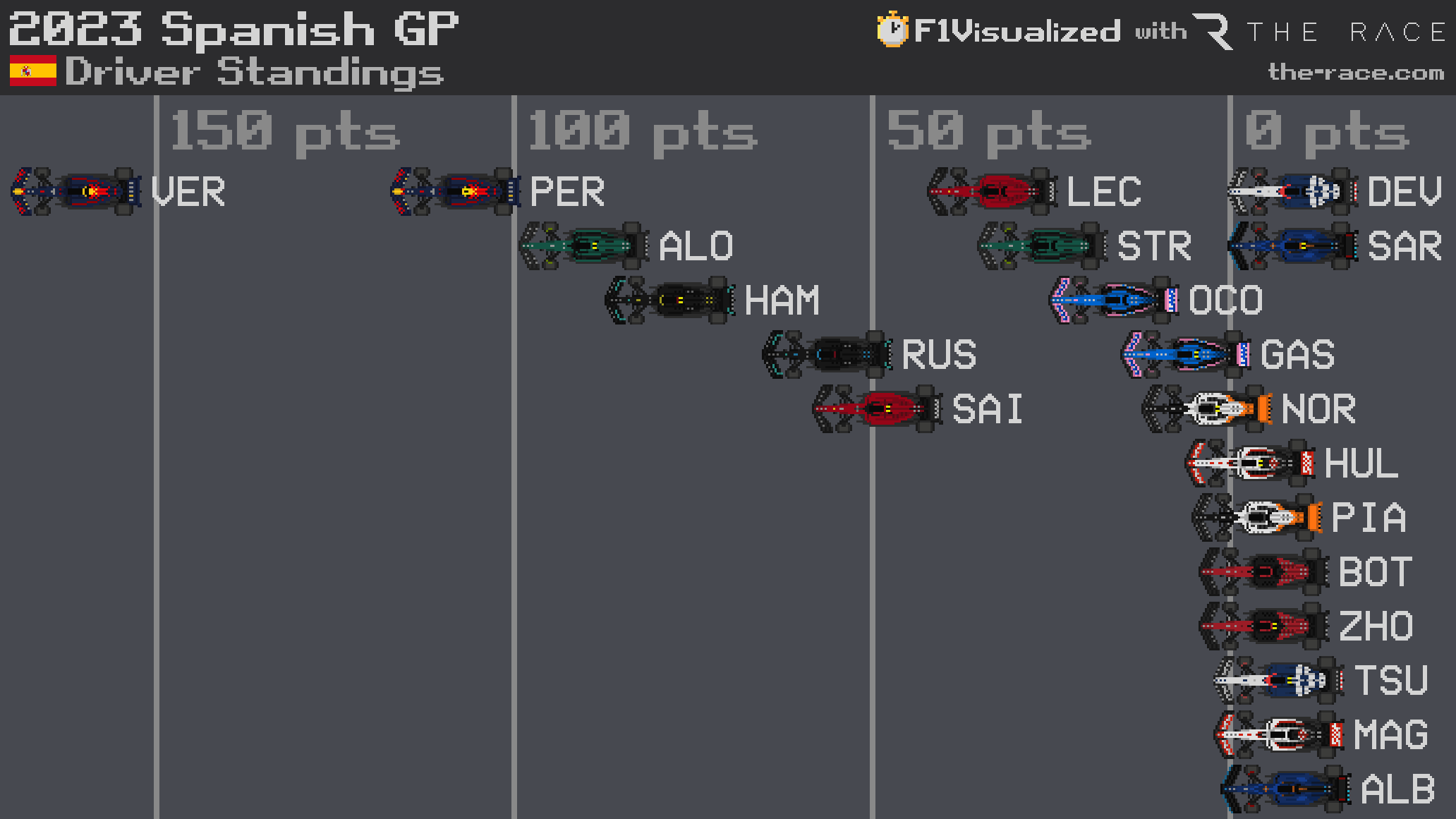 Behind him the Mercedes drivers quickly asserted themselves as the best of the rest.
Hamilton survived the contact with Norris but was passed by Aston Martin's Lance Stroll around the outside of Turn 4.
Hamilton soon corrected that by repassing Stroll and he overtook Sainz during the middle stint with ease to settle into second place.
His team-mate Russell was up to seventh from 12th on the grid at the start – he was investigated for leaving the track at Turn 1 and gaining an advantage but no action was taken – and he also passed Sainz with ease.
Verstappen's team-mate Sergio Perez started one place ahead of Russell and set about chasing him down at the end of the race. Perez ultimately ended up 3.4s short as Russell completed Mercedes' first double podium of 2023 and secured his own first podium of the year.
Sainz came home in fifth place, without the pace in his Ferrari to challenge the Red Bull or Mercedes drivers.
Aston Martin didn't have the pace either with Stroll and Fernando Alonso finishing in sixth and seventh place after unusual soft-soft-hard strategies.
Alonso told his team "not to worry" in the closing stages as he caught Stroll but expressed no desire to pass him, with Sainz a further 17s up the road.
Alpine's Esteban Ocon had a quiet run – bar an aggressive brief defence against ex-team-mate Alonso – to eighth place ahead of Alfa Romeo's Zhou Guanyu and team-mate Pierre Gasly.
LAP 51/66

Alonso swerves to avoid Ocon down the start/finish straight 😱

The Spaniard gets past his former team mate and up to P7 #SpanishGP #F1 pic.twitter.com/jR5tXQJQp5

— Formula 1 (@F1) June 4, 2023
AlphaTauri driver Yuki Tsunoda crossed the line in ninth place but he was handed a five second penalty that dropped him to 12th place after he was deemed to have forced Zhou off at Turn 1 while defending ninth in the closing stages.
Rewind to Lap 59 ⏪

Tsunoda running in P9 is hit with a five-second penalty for forcing Zhou off track

Looks like Yuki will now be missing out on points 😖#SpanishGP #F1 pic.twitter.com/XoQaXuGKq5

— Formula 1 (@F1) June 4, 2023
Norris ended up 17th after his opening lap calamity while team-mate Oscar Piastri was only 13th, behind Charles Leclerc, who made only muted progress from his pitlane start.
Race Results
| Pos | Name | Car | Laps | Laps Led | Total Time | Fastest Lap | Pitstops | Pts |
| --- | --- | --- | --- | --- | --- | --- | --- | --- |
| 1 | Max Verstappen | Red Bull | 66 | 66 | 1h27m57.94s | 1m16.33s | 2 | 26 |
| 2 | Lewis Hamilton | Mercedes | 66 | 0 | +24.09s | 1m16.676s | 2 | 18 |
| 3 | George Russell | Mercedes | 66 | 0 | +32.389s | 1m17.875s | 2 | 15 |
| 4 | Sergio Pérez | Red Bull | 66 | 0 | +35.812s | 1m16.666s | 2 | 12 |
| 5 | Carlos Sainz | Ferrari | 66 | 0 | +45.698s | 1m18.403s | 2 | 10 |
| 6 | Lance Stroll | Aston Martin-Mercedes | 66 | 0 | +1m03.32s | 1m18.722s | 2 | 8 |
| 7 | Fernando Alonso | Aston Martin-Mercedes | 66 | 0 | +1m04.127s | 1m18.083s | 2 | 6 |
| 8 | Esteban Ocon | Alpine-Renault | 66 | 0 | +1m09.242s | 1m18.946s | 2 | 4 |
| 9 | Guanyu Zhou | Alfa Romeo-Ferrari | 66 | 0 | +1m11.878s | 1m18.753s | 2 | 2 |
| 10 | Pierre Gasly | Alpine-Renault | 66 | 0 | +1m13.53s | 1m18.375s | 2 | 1 |
| 11 | Charles Leclerc | Ferrari | 66 | 0 | +1m14.419s | 1m18.357s | 2 | 0 |
| 12 | Yuki Tsunoda | AlphaTauri-Honda RBPT | 66 | 0 | +1m15.416s | 1m18.904s | 2 | 0 |
| 13 | Oscar Piastri | McLaren-Mercedes | 65 | 0 | +1 lap | 1m18.679s | 2 | 0 |
| 14 | Nyck de Vries | AlphaTauri-Honda RBPT | 65 | 0 | +1 lap | 1m18.594s | 2 | 0 |
| 15 | Nico Hülkenberg | Haas-Ferrari | 65 | 0 | +1 lap | 1m18.776s | 3 | 0 |
| 16 | Alex Albon | Williams-Mercedes | 65 | 0 | +1 lap | 1m19.133s | 2 | 0 |
| 17 | Lando Norris | McLaren-Mercedes | 65 | 0 | +1 lap | 1m17.182s | 3 | 0 |
| 18 | Kevin Magnussen | Haas-Ferrari | 65 | 0 | +1 lap | 1m18.069s | 3 | 0 |
| 19 | Valtteri Bottas | Alfa Romeo-Ferrari | 65 | 0 | +1 lap | 1m18.242s | 2 | 0 |
| 20 | Logan Sargeant | Williams-Mercedes | 65 | 0 | +1 lap | 1m19.247s | 2 | 0 |