Max Verstappen denied George Russell a sensational maiden Formula 1 pole position in a thrilling wet Belgian Grand Prix qualifying session.
Russell produced a superb final Q3 effort that put him on provisional pole, beating F1 championship leader Lewis Hamilton by just 0.013s.
But Verstappen posted a 1m59.765s in the dying stages of Q3 to deny Williams its first pole since the 2014 Austrian Grand Prix.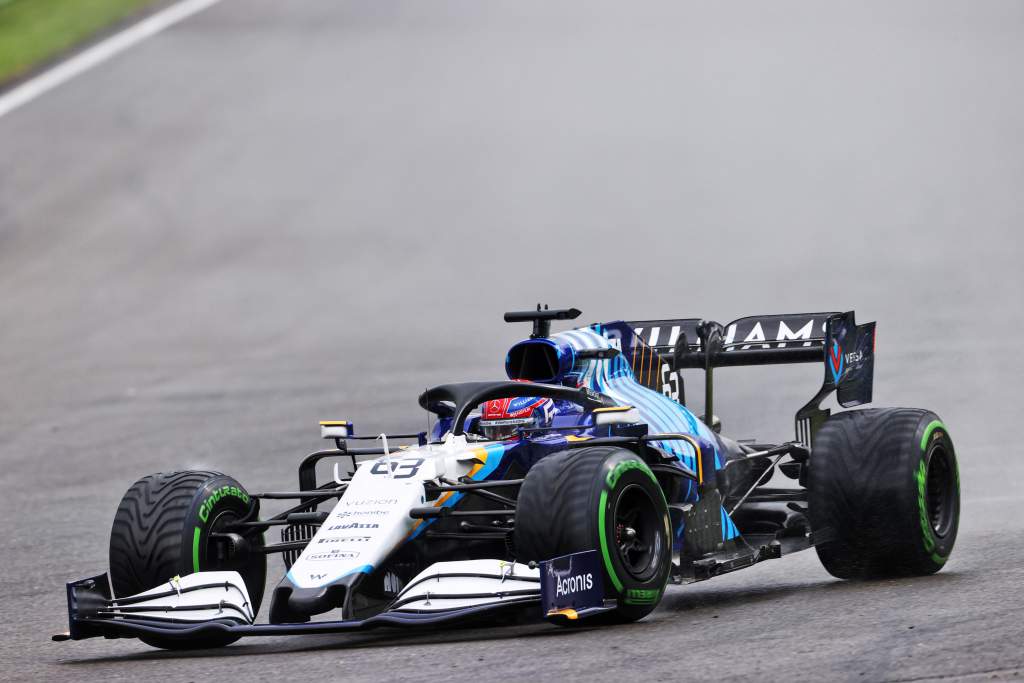 It marks Verstappen's first pole since the second weekend at the Red Bull Ring.
Q3 was red-flagged after just three minutes following a frightening shunt for Lando Norris at the top of the hill at Eau Rouge, as he lost control of his McLaren and speared into the barriers.
Norris emerged from his car seemingly unscathed although he destroyed three of the four corners on his car and will likely need to start tomorrow's race from the pitlane.
RED FLAG: Lando Norris is into the barriers – and Q3 is halted

Lando tells McLaren over the radio that his ok #BelgianGP 🇧🇪 #F1 pic.twitter.com/u1mbNytWiF

— Formula 1 (@F1) August 28, 2021
Norris had topped both Q1 and Q2 and looked likely to be in the mix to secure his maiden F1 pole before a rain shower before Q3 caught him out in the pole position shootout.
After a delay of around 40 minutes while the rain intensified and then receded, Q3 resumed with the nine remaining cars.
Verstappen claimed pole ahead of Russell, Hamilton and Norris's McLaren team-mate Daniel Ricciardo who earned his best qualifying result for the team in fourth place.
Sebastian Vettel was left fuming that Q3 wasn't red-flagged prior to Norris's crash, and stopped to check on the McLaren driver as he drove through the debris, but he was able to take fifth place on the grid when the session resumed.
AlphaTauri's Pierre Gasly edged the second Red Bull of Sergio Perez to sixth place, with Valtteri Bottas eighth – although he'll start five places further back because of his grid penalty for causing the Hungarian GP opening lap pile-up.
Hungarian GP victor Esteban Ocon was ninth ahead of Norris.
Prior to Q3, Mercedes drivers Hamilton and Bottas scraped their way through Q2, requiring a fresh set of intermediate tyres to haul themselves into the top 10 shootout.
A frustrated Hamilton told his Mercedes team that it was "way too close" after he and Bottas were outside the top 10 until their final laps.
Ferrari suffered a double elimination in Q2 with Charles Leclerc and Carlos Sainz 11th and 13th respectively.
They were split by the Williams of Nicholas Latifi who survived a spin in Q1 to record his best ever F1 qualifying result in 12th place in Q2.
Nicolas Latifi slides off onto the grass early in Q1

But Williams are looking quick here on their intermediates…#BelgianGP 🇧🇪 #F1 pic.twitter.com/WOG09rkAEZ

— Formula 1 (@F1) August 28, 2021
Fernando Alonso couldn't make the most of his last driver on track position in Q2 as he was grounded to 14th on the grid, just ahead of the second Aston Martin of Lance Stroll who will start at the back of the grid when a five-place grid penalty is applied for his part in the opening lap Hungarian GP calamity.
A wet but progressively drying Q1 teased the potential for shock eliminations with the Williams drivers starting the session on intermediates while the rest of the field opted for full wets, but the final bottom five featured regular Q1 dropouts.
Antonio Giovinazzi was 16th for Alfa Romeo, but he was half a second adrift of a sixth consecutive Q2 appearance. He was followed by F1 rookies Yuki Tsunoda (AlphaTauri) and Mick Schumacher (Haas).
Kimi Raikkonen's troubled Spa weekend continued as he could only secure 19th place on the grid, labelling the session a "disaster" – he was only faster than the Haas of Nikita Mazepin.
Qualifying Results
| Pos | Name | Car | Q1 | Q2 | Q3 |
| --- | --- | --- | --- | --- | --- |
| 1 | Max Verstappen | Red Bull-Honda | 1m58.717s | 1m56.559s | 1m59.765s |
| 2 | George Russell | Williams-Mercedes | 1m59.864s | 1m56.95s | 2m0.086s |
| 3 | Lewis Hamilton | Mercedes | 1m59.218s | 1m56.229s | 2m0.099s |
| 4 | Daniel Ricciardo | McLaren-Mercedes | 2m01.583s | 1m57.127s | 2m0.864s |
| 5 | Sebastian Vettel | Aston Martin-Mercedes | 2m0.175s | 1m56.814s | 2m0.935s |
| 6 | Pierre Gasly | AlphaTauri-Honda | 2m0.387s | 1m56.44s | 2m01.164s |
| 7 | Sergio Pérez | Red Bull-Honda | 1m59.334s | 1m56.886s | 2m02.112s |
| 8 | Valtteri Bottas | Mercedes | 1m59.87s | 1m56.295s | 2m02.502s |
| 9 | Esteban Ocon | Alpine-Renault | 2m01.824s | 1m57.354s | 2m03.513s |
| 10 | Lando Norris | McLaren-Mercedes | 1m58.301s | 1m56.025s | |
| 11 | Charles Leclerc | Ferrari | 2m0.728s | 1m57.721s | |
| 12 | Nicholas Latifi | Williams-Mercedes | 2m0.966s | 1m58.056s | |
| 13 | Carlos Sainz | Ferrari | 2m01.184s | 1m58.137s | |
| 14 | Fernando Alonso | Alpine-Renault | 2m01.653s | 1m58.205s | |
| 15 | Lance Stroll | Aston Martin-Mercedes | 2m01.597s | 1m58.231s | |
| 16 | Antonio Giovinazzi | Alfa Romeo-Ferrari | 2m02.306s | | |
| 17 | Yuki Tsunoda | AlphaTauri-Honda | 2m02.413s | | |
| 18 | Mick Schumacher | Haas-Ferrari | 2m03.973s | | |
| 19 | Kimi Räikkönen | Alfa Romeo-Ferrari | 2m04.452s | | |
| 20 | Nikita Mazepin | Haas-Ferrari | 2m04.939s | | |