Statistics have never told the full story of Sebastian Vettel's Formula 1 career. So it seems appropriate that the strongest public defence of his most recent Ferrari performances and his reputation flies in the face of the numbers as well.
In numbers, 2019 was Vettel's worst season at Ferrari, his lowest finish in the championship since 2014, his first defeat to a team-mate in that time too. The torch at Maranello passed to Charles Leclerc, the trust in Vettel's credentials seemingly lost.
None of that works in Vettel's favour and has played a part in his unexpected shuffle towards the F1 exit door at the end of 2020. Rob Smedley knows that. It's why his theory seems so out of step. He knows that too.
"We've got a really good driver there, a really wonderful driver," says Smedley, assessing what F1 will lose if Vettel walks away entirely when he leaves Ferrari.
"And do you know what I think his best year in Formula 1 is? And I'm going to get hammered for this.
"His best year in Formula 1 was last year. It was 2019."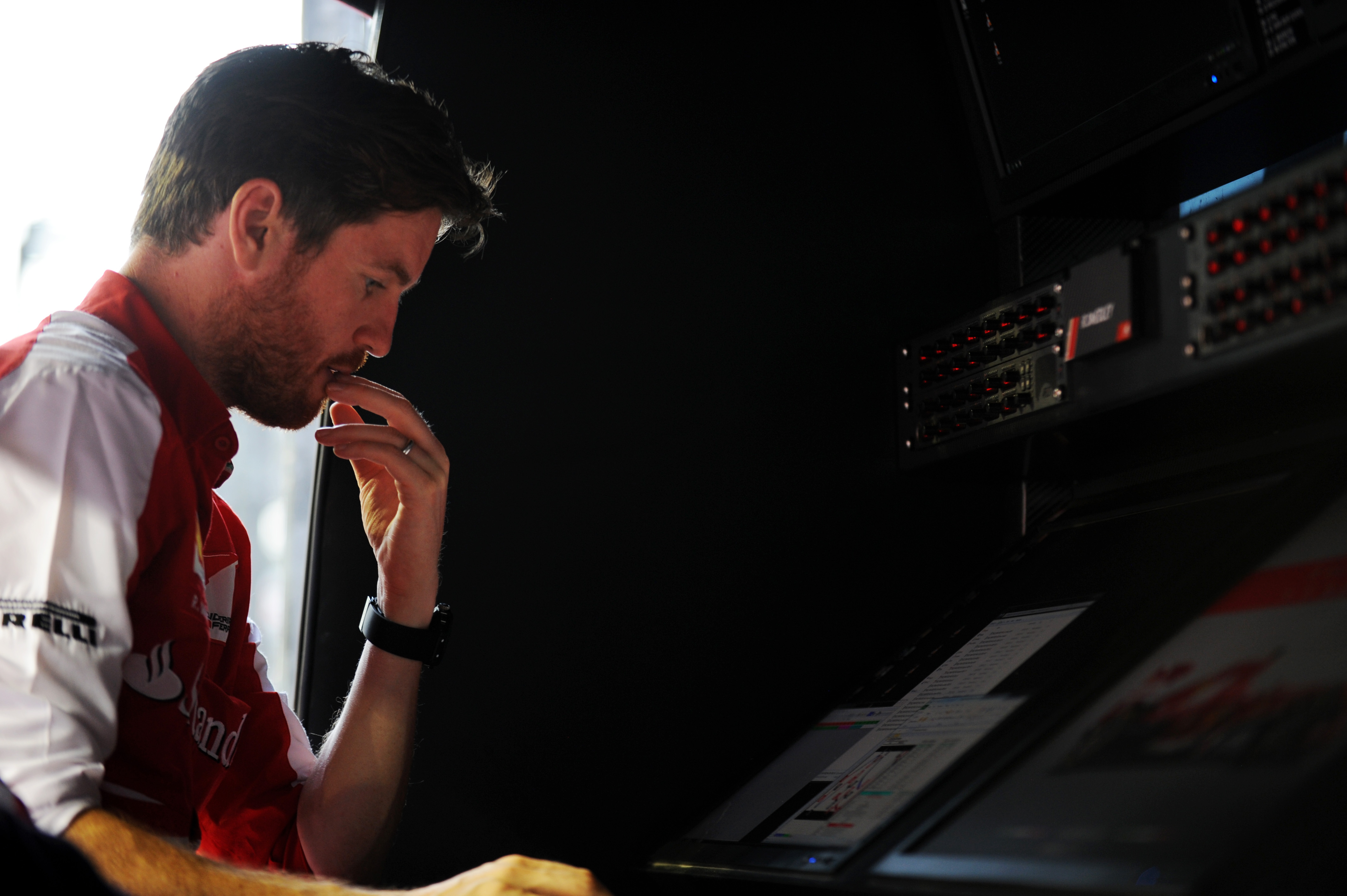 Smedley, who now works for F1 and was speaking in the latest edition of its official podcast, knows a lot more than the average F1 personality about the realities of life at Ferrari. He spent a decade working for the team and very nearly engineered Felipe Massa to the 2008 world title.
His comments in the same podcast about Vettel's replacement Carlos Sainz Jr needing "very thick skin" stem from his first-hand experience of the trials and tribulations that accompany the soaring highs of life at Ferrari.
So, Smedley can also place Vettel's ups and downs in a better context than most. And he recognises the difficulty of a driver on the back foot steadying themselves and pushing forward.
"I think he faced the biggest challenge of his career that year, and everybody kind of wrote him off because it was the easy thing to do," Smedley says.
"That Charles is just going to get better and better and it's the end of Sebastian, if you like."
But how strong, really, is the argument that Vettel's statistically weakest season since becoming a regular race winner in F1 was his best? Especially in a career that includes four world titles with Red Bull and two campaigns finishing runner-up with Ferrari…
Ferrari's relative competitiveness is a mitigating circumstance. It's not reasonable to directly compare Vettel's performance in a second-best Ferrari to his other-wordly brilliance in a Red Bull that was streets ahead in 2011 and 2013, for example.
And within that trickier environment, he had a hotshot team-mate.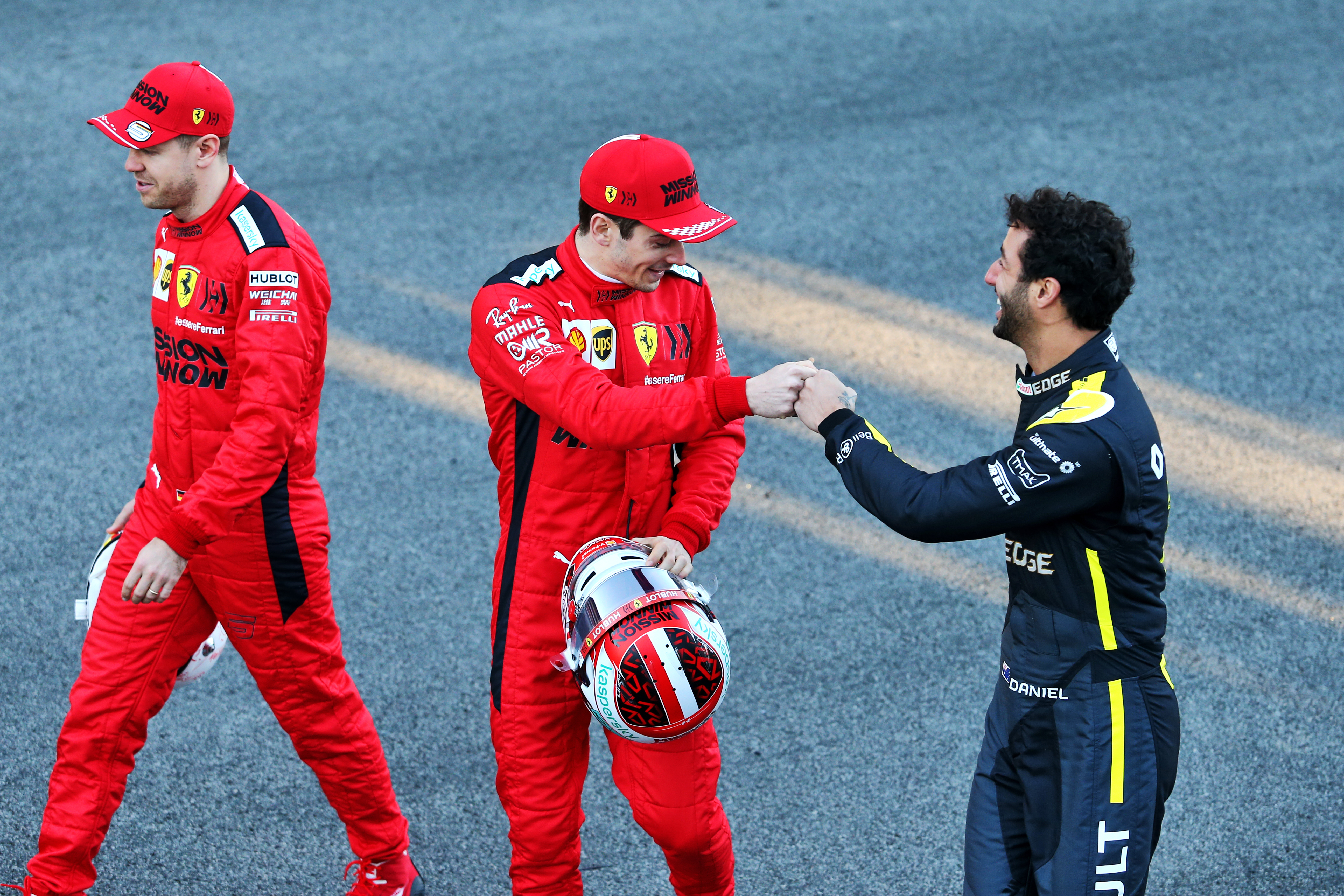 Vettel went into 2019 with plenty of people expecting him to trip up against Leclerc. There were rapid comparisons to the situation he faced at Red Bull in 2014, when as world champion Vettel was outgunned by new team-mate Daniel Ricciardo.
But the dynamic at Ferrari was different. Vettel's status was under threat, there was a lot riding on 2019, and the frustrations of missed opportunities and broken promises on Ferrari's side had already eroded the foundations he was working from. These aren't just excuses, they are legitimate factors.
"For him to cope with that, and to come back and kind of stamp his authority after a shaky start, I personally think we saw something special" :: Rob Smedley
Plus, Leclerc arrived at Ferrari as an established wonderkid. Ricciardo, while highly-rated, had question marks attached. So the situation was definitely different: compared to 2014, Vettel's stock was lower and his opponent's stock was higher.
"Sebastian had all the pressure, there's no doubt about it," Smedley says. "I think that's the most pressure he's probably ever had in his career.
"And he's been against good drivers, he's been against world champions. He dominated Kimi [Raikkonen], with Mark [Webber] at Red Bull – who's absolutely no slouch, Mark's a really fast driver – and [Vettel] managed to always come out on top.
"But I'm just not sure that he's ever had the challenge that he had in 2019."
For the most part, absolutely not.
Vettel's completed 12 full years in F1 so far, and in that time his team-mates' average points tally per season is 75% of what Vettel's scored.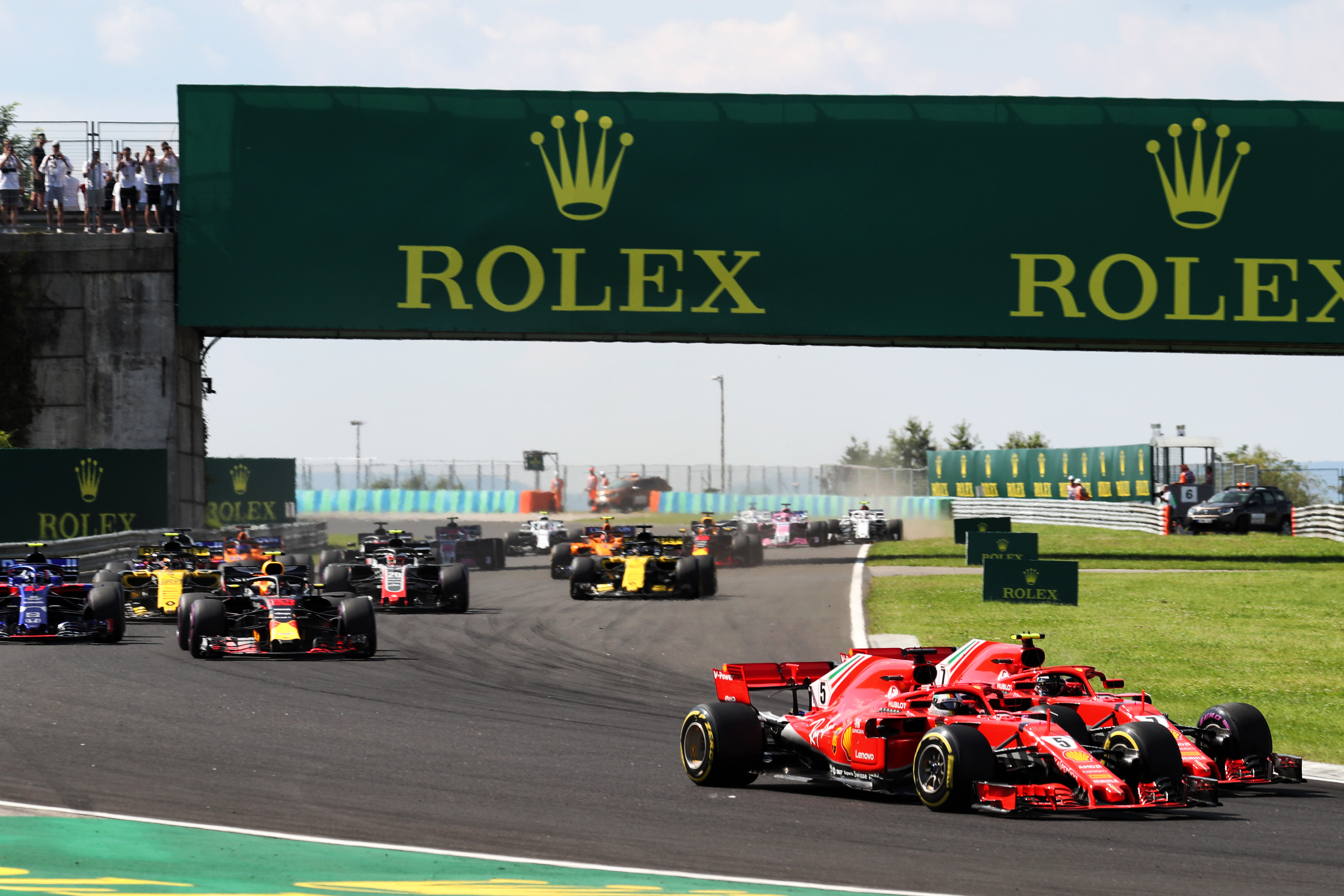 And while Vettel had his dips against Raikkonen during frustrating 2016 and 2018 seasons, the best Raikkonen ever managed in comparison was 87% of Vettel's tally.
So Smedley's right, Vettel has tended to keep his team-mates at arm's length. Ricciardo scored 142% of Vettel's tally in 2014 (238 points to 167), while Leclerc's victory was much slimmer – 110% (264 to 240).
But excluding the Red Bull situation in 2014 when the car was so uncompetitive after four title-winning seasons, it's fair to view the Leclerc challenge as an all-new experience: Vettel in a different phase of his career, without form or momentum on his side, and with a team-mate that's got his feet under the table already.
So, the first part of Smedley's argument is fair. It can be contested, with reasonable strength, that Vettel's challenge in 2019 was greater than anything before it.
Leclerc also started strongly, piling more pressure on Vettel, and shortly after the summer break the tables had been turned. Leclerc was ahead. He stayed there to the end of the season.
The easy conclusion is that Vettel was defeated. But Smedley disagrees.
"For him to cope with that, and to come back and kind of stamp his authority after a shaky start, I personally think we saw something special," says Smedley.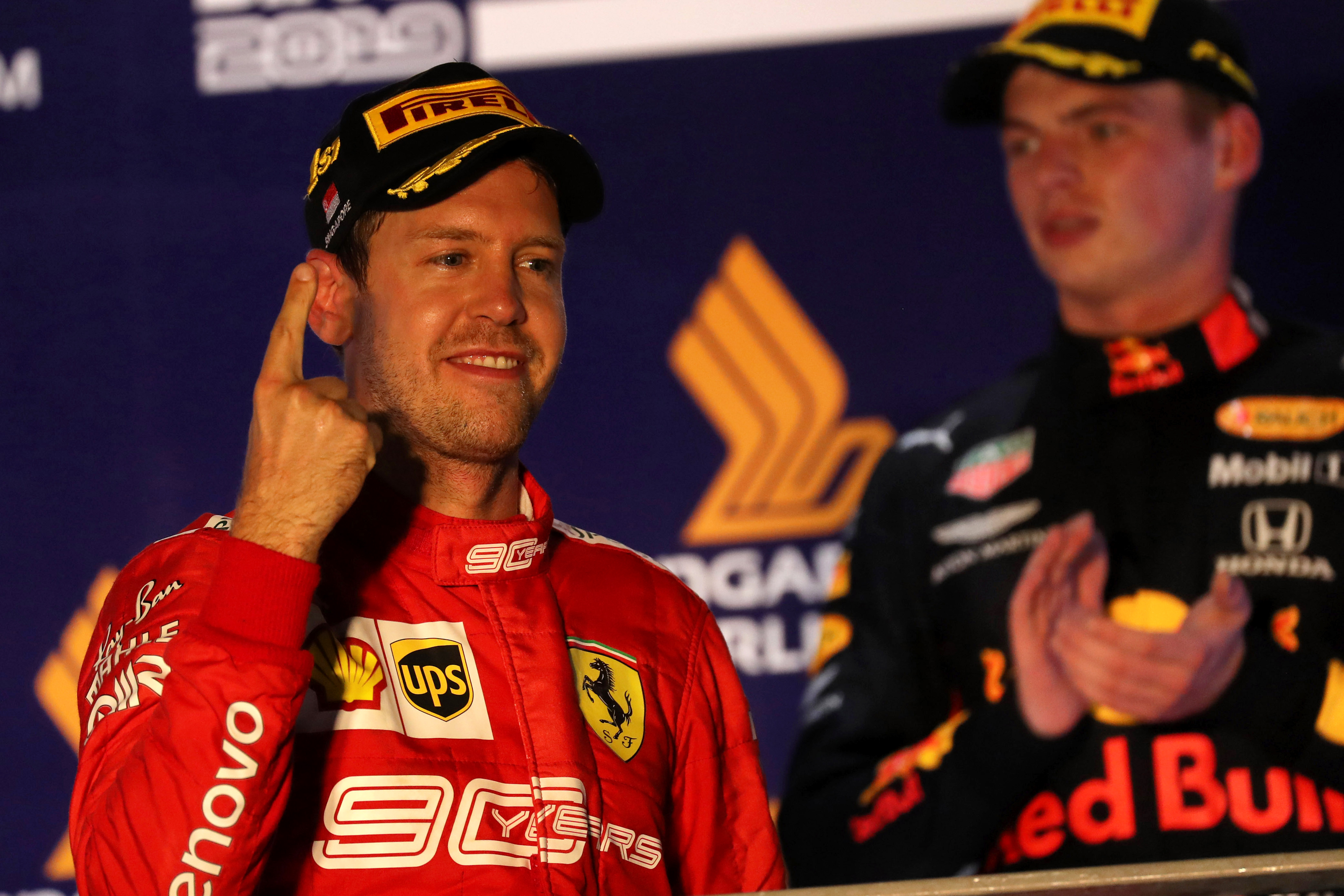 Let's assess this part of the theory, then. Did Vettel come back? Did he stamp his authority?
He won in Singapore by a stroke of 'fortune', as Ferrari's strategy hurt poleman Leclerc and handed Vettel track position. But he was excellent in traffic and made that win his own.
Then he defied a team agreement to hold the lead in Russia, and Leclerc couldn't force his way past. Eventually, the undercut got Leclerc ahead.
But Vettel had sent a message.
"I'm sure Mattia [Binotto, Ferrari team principal] will disagree with me on this particular point, but Russia was a case in point," Smedley says.
Leclerc's superiority over Vettel was impressive but it was not resounding. And when we reassess Ferrari's form in the context of performance question marks and reliability, the picture changes
"He got out in front – however he did it, whatever the machinations were of him getting in front at that point were, he made that decision inside his own head that he was staying there, and he wasn't going to let him back past.
"I think that the sign of a true great is that they're relentless in their pursuit of winning."
That Vettel was, even if victory eluded him. It did in Japan as well, as a poor start undid the great work of a tremendous pole lap in the morning.
A needless intra-team clash in Brazil after being mugged at the first corner wasn't Vettel's finest hour. It was the mark of an emotional driver frustrated and reacting with poor judgement: as he went to repass Leclerc he couldn't resist a little move left. Ruthless? Yes, but ill-judged on this occasion. Both cars retired.
At this point Vettel's refusal to lie down was clearly undermining Ferrari's efforts to manage two top drivers harmoniously, but Smedley thinks this counts in Vettel's favour for the above reason: relentless in his pursuit of winning.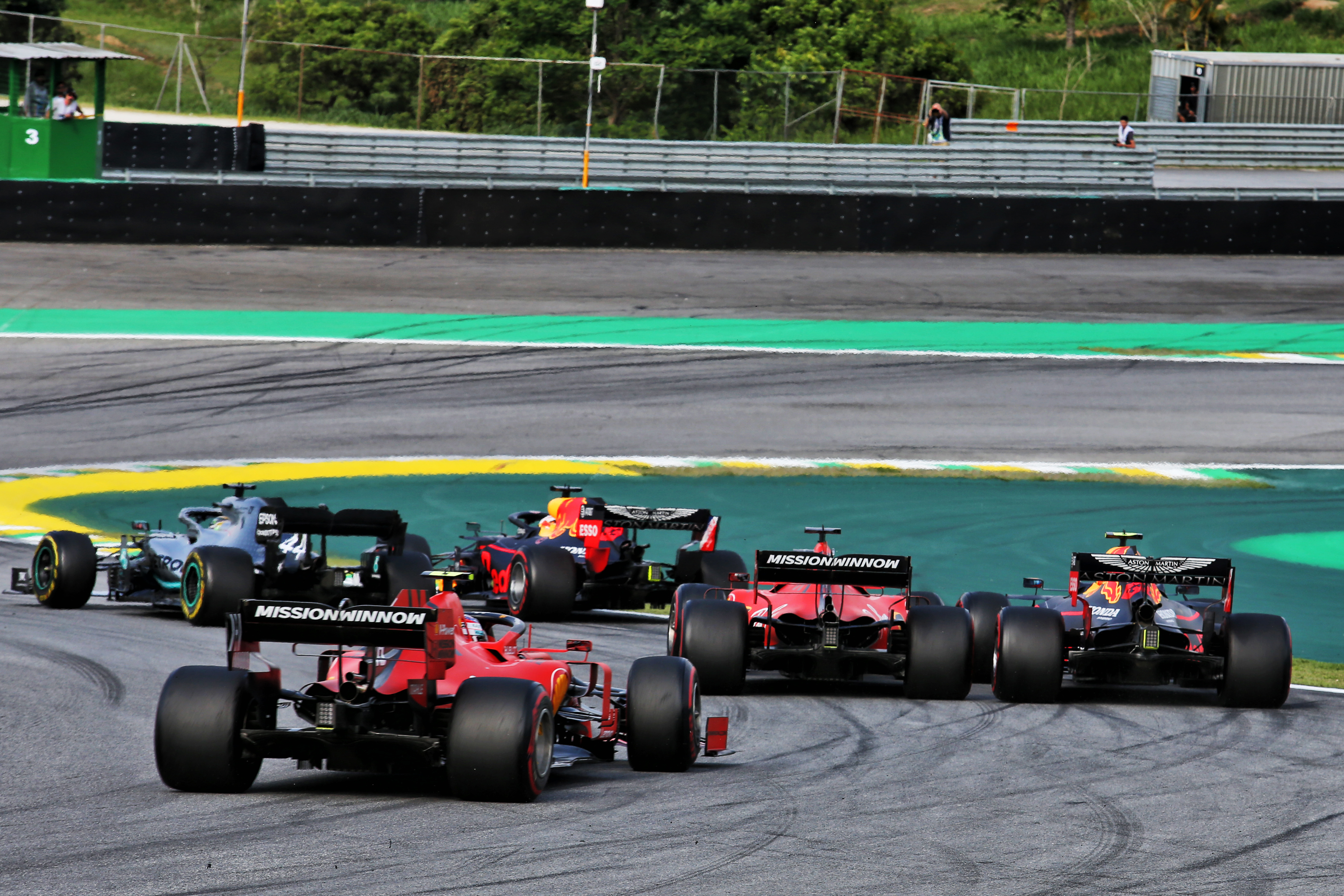 Whatever your view on that, by the end of the season Vettel's 24-point lead into the summer break became a 24-point deficit. That, at face value, unpicks Smedley's assertion that Vettel came back.
However, Leclerc's superiority over Vettel was impressive but it was not resounding. And when we reassess the championship order, and Ferrari's form, in the context of performance question marks and reliability, the picture changes.
A solid argument can be made that he could, or even should, have beaten Leclerc in the championship.
If Vettel scored the points he lost in Russia to a mechanical problem, and the minimum 12 points he'd have likely earned in the United States without a car failure, it would have almost been a dead heat between him and Leclerc.
The huge legality controversy that erupted over Ferrari's engine also casts a question mark over the team's form from Belgium through to Mexico, where talk of a protest first emerged.
Leclerc, not Vettel, was the star man during this period. He scored five poles in six races and won twice, while Vettel had just one pole and victory.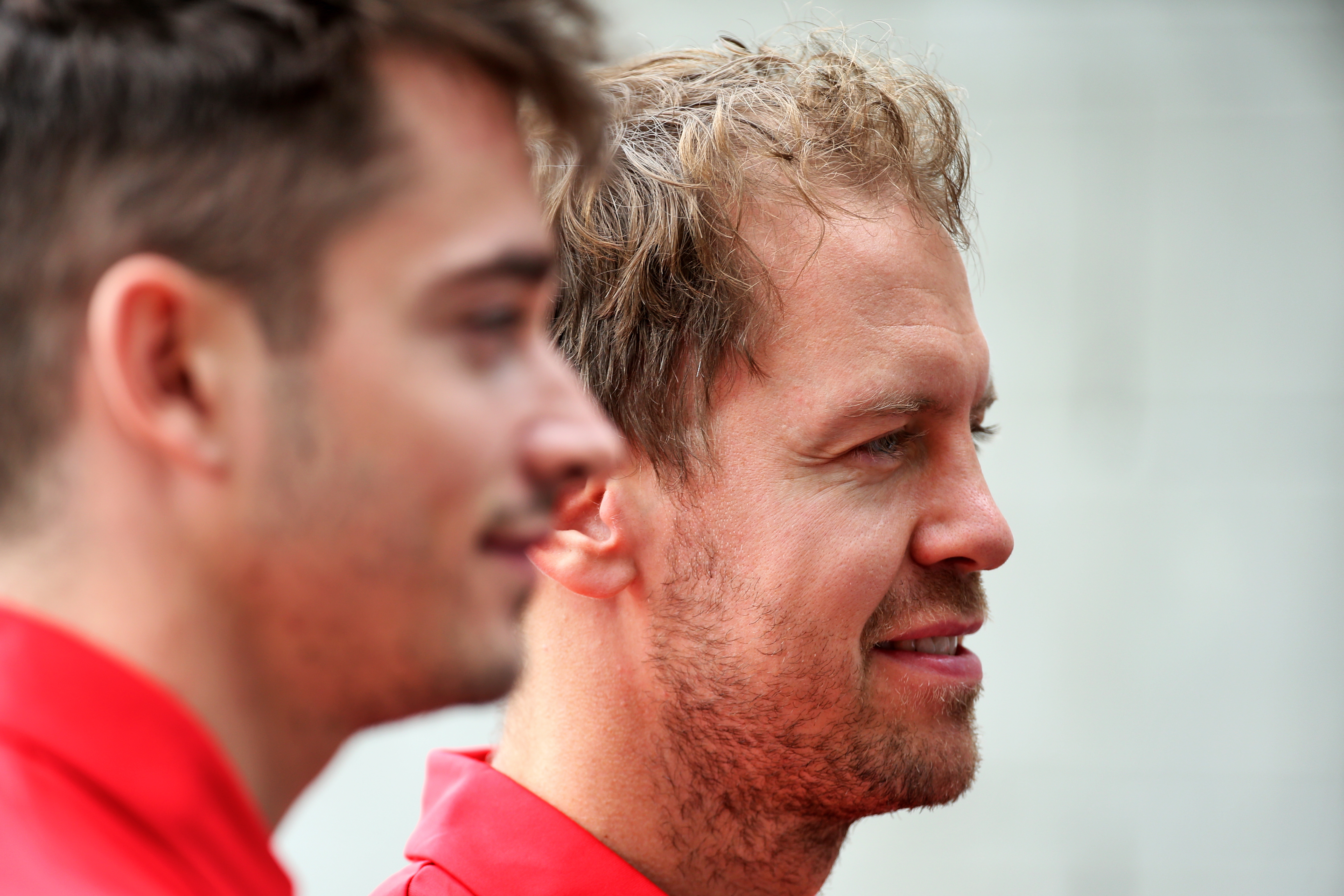 Ferrari has not been found guilty of any wrongdoing so we cannot expunge those races from history – but for the sake of argument, we can imagine the championship without them. And if we do, Vettel outscores Leclerc. If we then award Vettel his lost points in Texas, he outscores Leclerc quite comfortably.
The point here is that the 2019 pecking order was subject to many variables and any verdict is far from black and white. For Smedley, the key is that Vettel did not disappear without a trace in 2019, and fought back.
Strip away the headline numbers and reality does reflect that. Vettel fell behind Leclerc and looked on the ropes, but regained stronger form by the end of the season.
He doesn't need people to agree with him. Smedley just wants to give credit where he thinks it's due
"I think we saw the real Sebastian Vettel towards the end of the year, [which] Sebastian had a little bit lost," Smedley says.
"And I'm sure he'd freely admit that, that he wasn't where he wanted to be, both within the team and with his team mate at the start of the year.
"But then he actually got his head down, and that's the sign of a true champion, he came back."
On all this, Smedley is correct. Vettel was far from washed-up by the end of the year, and he may yet prove that by bouncing back in 2020 and beating Leclerc in a straight fight.
That would be awkward for Ferrari but not a great surprise given the reality of Vettel's final third of 2019.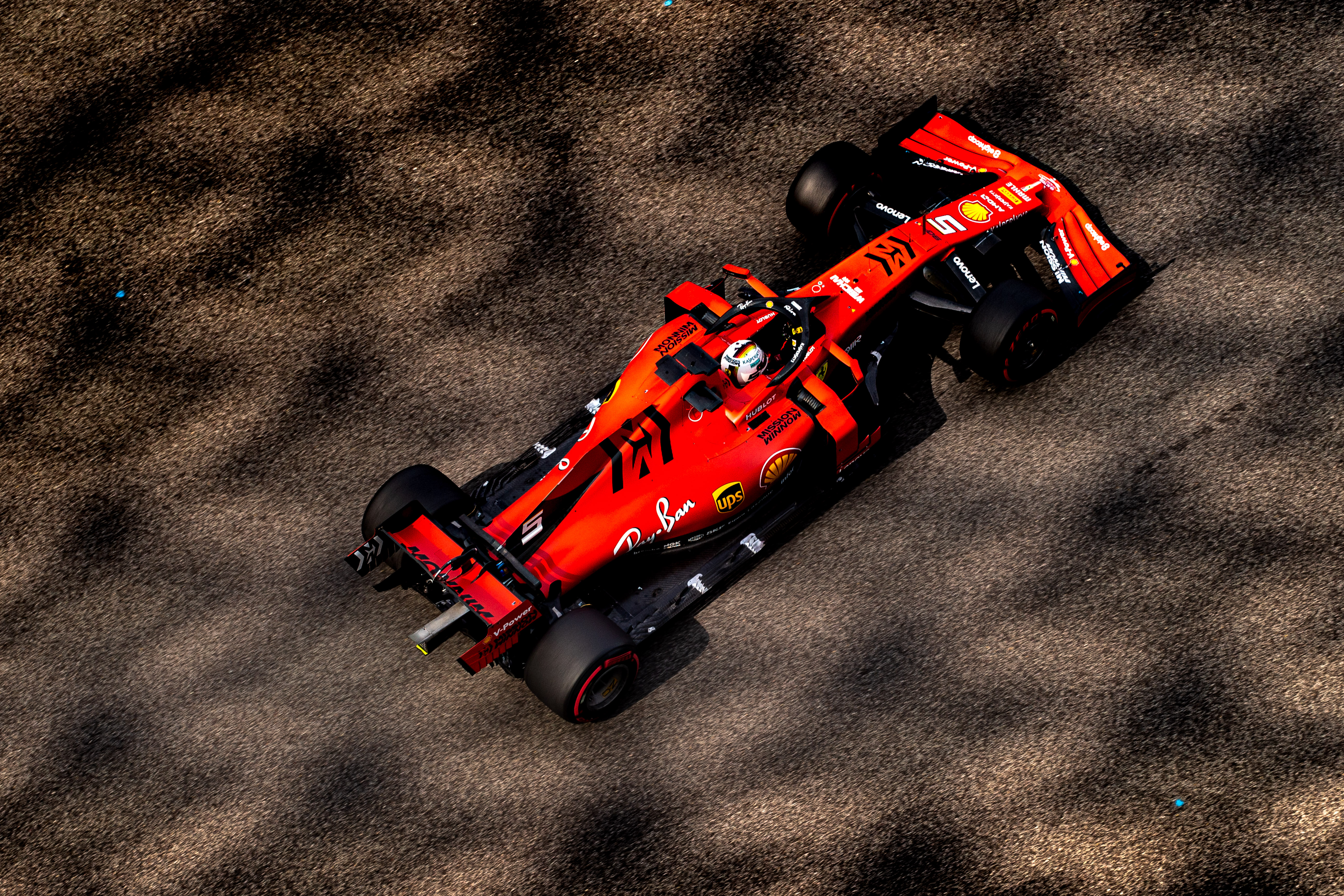 However, while it's actually quite easy to agree with many of Smedley's points – that Vettel showed his mettle, that elements of his driving were still as strong as ever, that his champion's traits have not been blunted – the underlying, controversial one is a step too far.
Maybe there were moments in 2019 where Vettel matched the incredibly high standard he set in his title-winning years, or even his first season with Ferrari in 2015.
But judging his season as a whole, there were too many mistakes and too big a pace deficit at times. His comeback was impressive but it's not enough to balance out the negatives compared to his glory days.
Saying 2019 was Vettel's best season is, therefore, a bridge too far. But Smedley knows that's a conclusion most will reach, which is why he says he'll get hammered for his theory.
He doesn't need people to agree with him. Smedley just wants to give credit where he thinks it's due.
If a critic bothers to scrutinise what he's said closely, they might just reassess Vettel, realise the level he was still operating at in a statistically poor season, and recognise what F1 is on the brink of losing.