The McLaren MP4-18 is the most famous unraced car in Formula 1 history.
That's a big claim, given how many cars have failed to turn a wheel in anger over the years, but the majority of those have belonged to small or brand new teams. While there's a charm to those stories of cars that never made it, nothing quite compares to a world championship challenger at the height of its powers failing to get its new car to a race.
But did the car race after all? We tackled these subjects and much more in a recent episode of Bring Back V10s – The Race's retro F1 podcast – with ex-McLaren F1 mechanic Marc Priestley joining us to give added insight from inside the team.
WHY THE DELAY?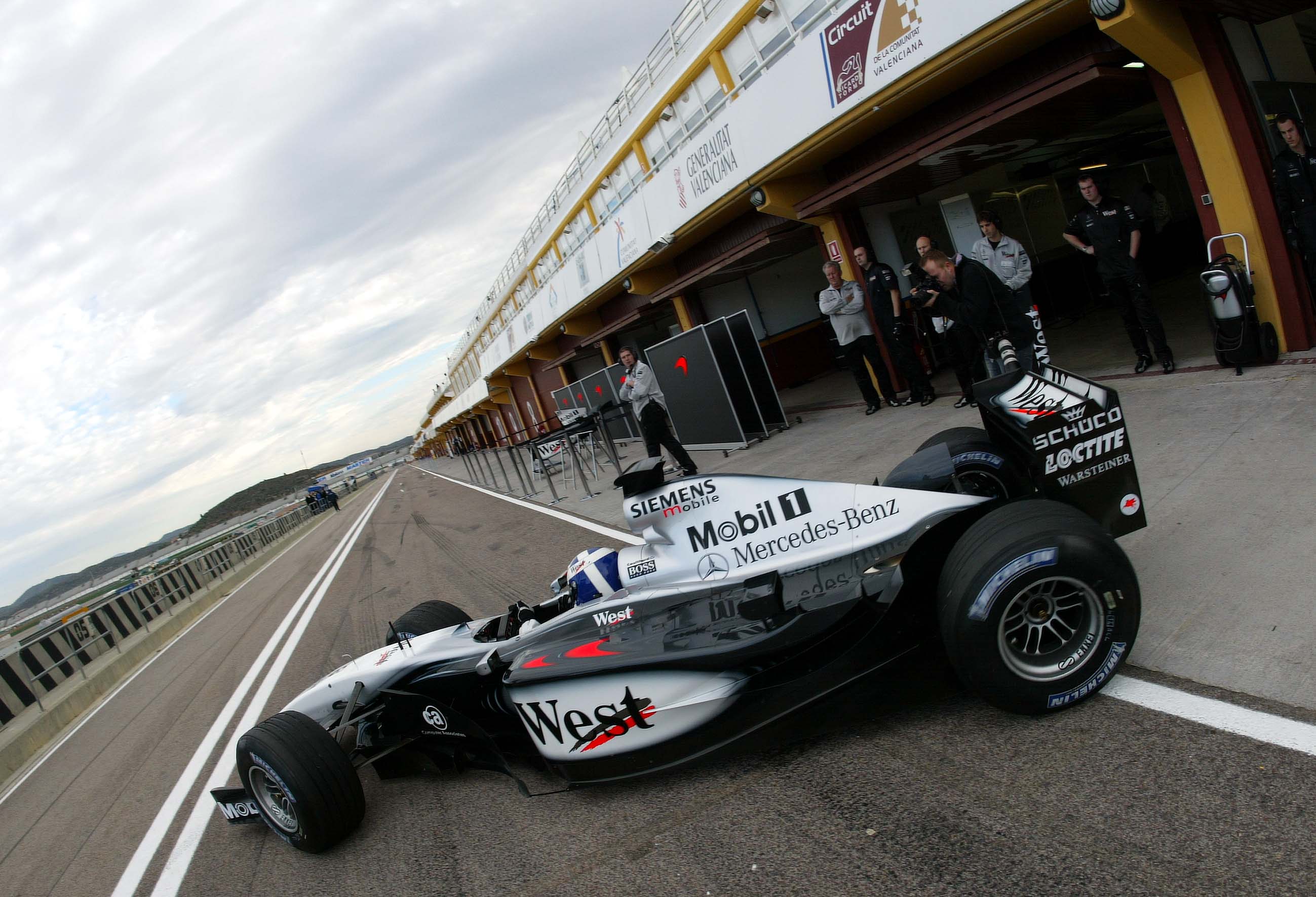 McLaren made it clear in November 2002 that its 2003 car would be released during the season rather than before it. This wasn't as alarming as it would be today: Ferrari had done the same at the start of 2002, and was planning to also release its 2003 car late.
Back in the days of extensive winter testing, McLaren set about running the updated 2002 MP4-17D on track. The car was going so well that even David Coulthard, who had been cautious about the decision to delay the MP4-18's introduction, was happy it was worth the wait for a car he was promised would be "a big step forward".
"If we were going to catch Ferrari, we'd have to go way beyond what people considered normal" :: Marc Priestley
Priestley: "What would be fairly common back then would be to finish the season, take a couple of weeks off, then start testing again with that year's car but the next year's rear end on it.
"I remember we had a briefing with Neil Oatley, who'd been put in charge of the updated car, and his explanation was that we were trying to push in so many extreme areas with the 18, and it was well worth doing that. If we were going to catch Ferrari, we'd have to go way beyond what people considered normal. So it was perfectly reasonable to have to wait a bit longer for it."
Newey called the original 2002 car "a clumsy design, not one of my best", which he put down to the implementation of McLaren's new 'matrix management structure' – an initiative Ron Dennis demanded Martin Whitmarsh put in place after Newey's negotiating hand was too strong when he'd tried to leave for Jaguar in 2001.
But in its new 'D' spec, the 17 was turning heads in testing, with even Michael Schumacher saying he was worried about McLaren.
M
c

LAREN'S SURPRISING START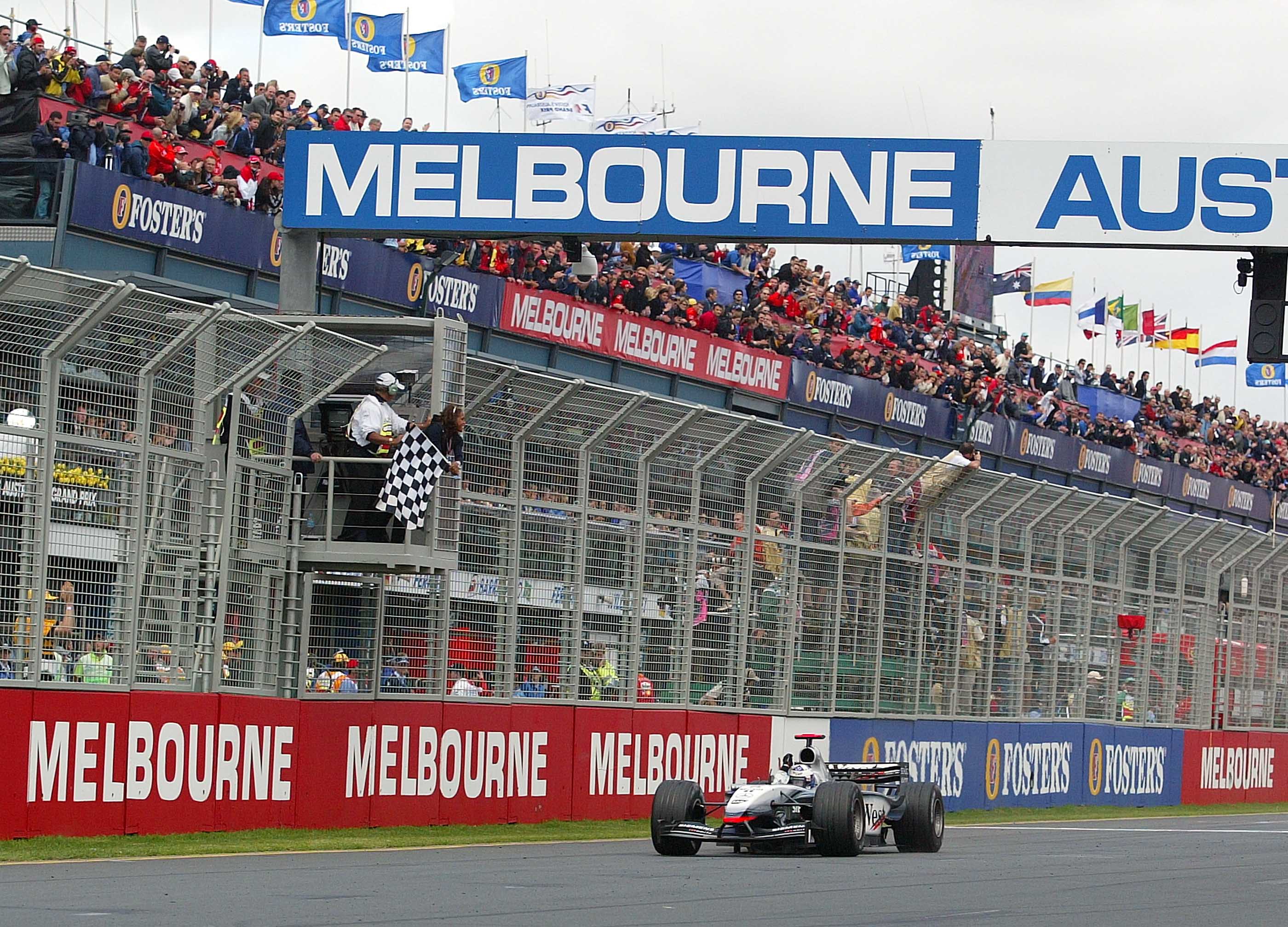 McLaren got off to the perfect start with the interim car. Coulthard won a frantic season-opener in Australia, and Raikkonen followed that up with his maiden win in Malaysia. It should have been three from three, but Raikkonen lost his Brazilian GP victory to Giancarlo Fisichella when the race was red-flagged and countback eventually handed the win to the Jordan driver.
The early success led Dennis to say McLaren was in a position "to be even more selective" with when it introduced the MP4-18, which still hadn't been revealed in public. McLaren said it would keep developing the MP4-17D, which was followed by a statement after Brazil saying the 18 was delayed and details of a "low-key launch" would be revealed within the next month – which would mean late-April.
Whitmarsh said McLaren would only race the new car once it was "as fast and reliable" as the 17D, which occupied first and second in the championship with Raikkonen and Coulthard after three races.
At the next round at Imola, Dennis said the MP4-18 would not race until "no sooner than Canada, and no later than Silverstone", giving McLaren a window between mid-June and mid-July for its race debut.
Priestley: "We knew the car wasn't ready, and it was alarm bells, 100%. But race results were great with the 17D. Kimi got his first win, and after that we were finishing second and third week in-week out, and we were leading the championship for a while. At that point there was a good argument that if the 17D was our definitive 2003 car, that would have been brilliant."
PRESSURE RAMPS UP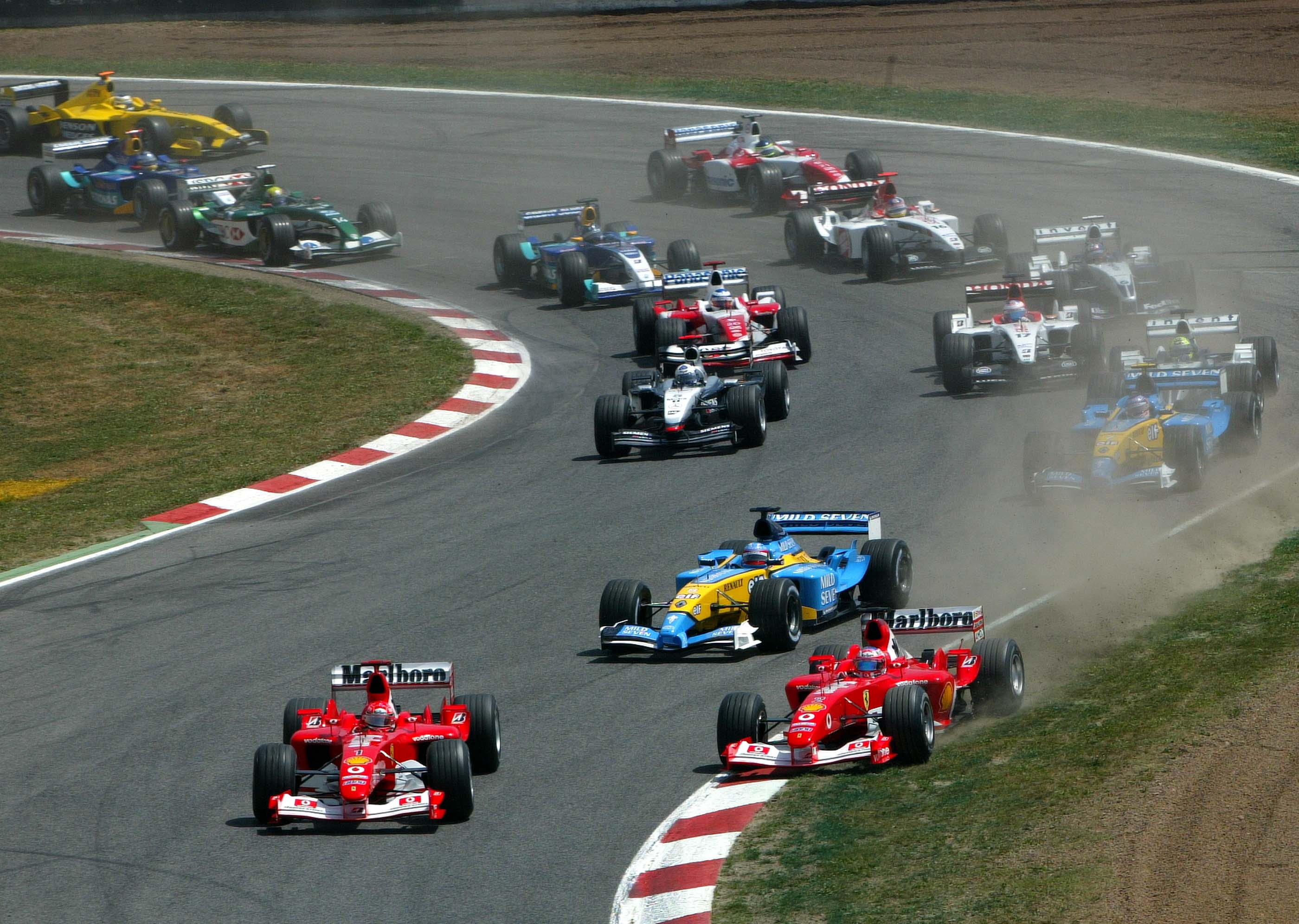 Ferrari's new car – the F2003-GA – arrived for the Spanish Grand Prix, and won on its debut with Schumacher. Coulthard felt that put pressure on McLaren to speed up the introduction of the MP4-18, calling in public for the team to get the car out "as soon as possible".
Newey continued to resist pressure to "rush" the car, as it felt McLaren would "shoot ourselves in the foot" by taking that approach.
Priestley: "To see Ferrari turn up with something big, while we were in the second year with our car, we knew at that point there was limited scope to keep developing the car we had. We needed to go a long way further than we were at that point."
CAR FINALLY LAUNCHES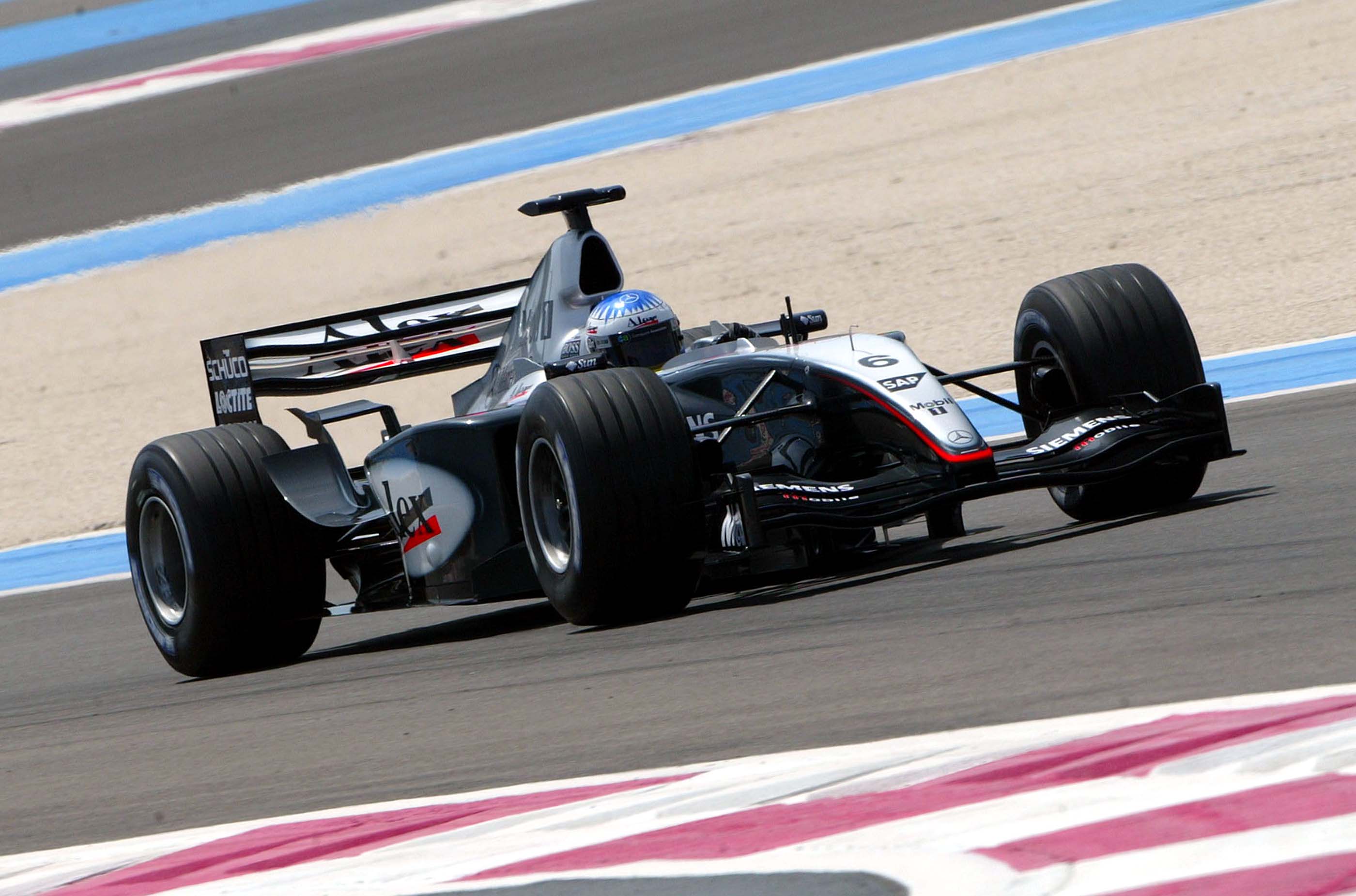 The MP4-18 was finally launched on May 20, delivering on McLaren's promise that it would look radically different. Newey had focused on taking the first steps towards the extreme rear-end packaging that is the norm in F1 today, and he said the new design had "more research put into it than any other car".
He admitted the delays to the car had been "frustrating", adding that McLaren had underestimated the level of resources required to keep one car racing competitively while trying to develop another for the same season.
"They already hated it after the first test. It was difficult to work on, it was coming back from every run on fire" :: Marc Priestley
Despite Schumacher building momentum with Ferrari's 2003 car and taking the championship lead from Raikkonen after victory in the Canadian GP, McLaren stated publicly that it was still leaning towards being "cautious" with the new car.
Priestley: "If we'd been on a regular timescale and trying to have the car ready for the first race in March, we'd have been running it long before Christmas back then. That's a couple of months of testing which would have perfectly normal.
"To introduce the car well after the start of the season, it didn't seem that unusual at that point to start thinking it would be another two or three months before it would race. Plus we had a car that was great already [the 17D], so we didn't have the pressure of achieving a deadline."
TROUBLES IN TESTING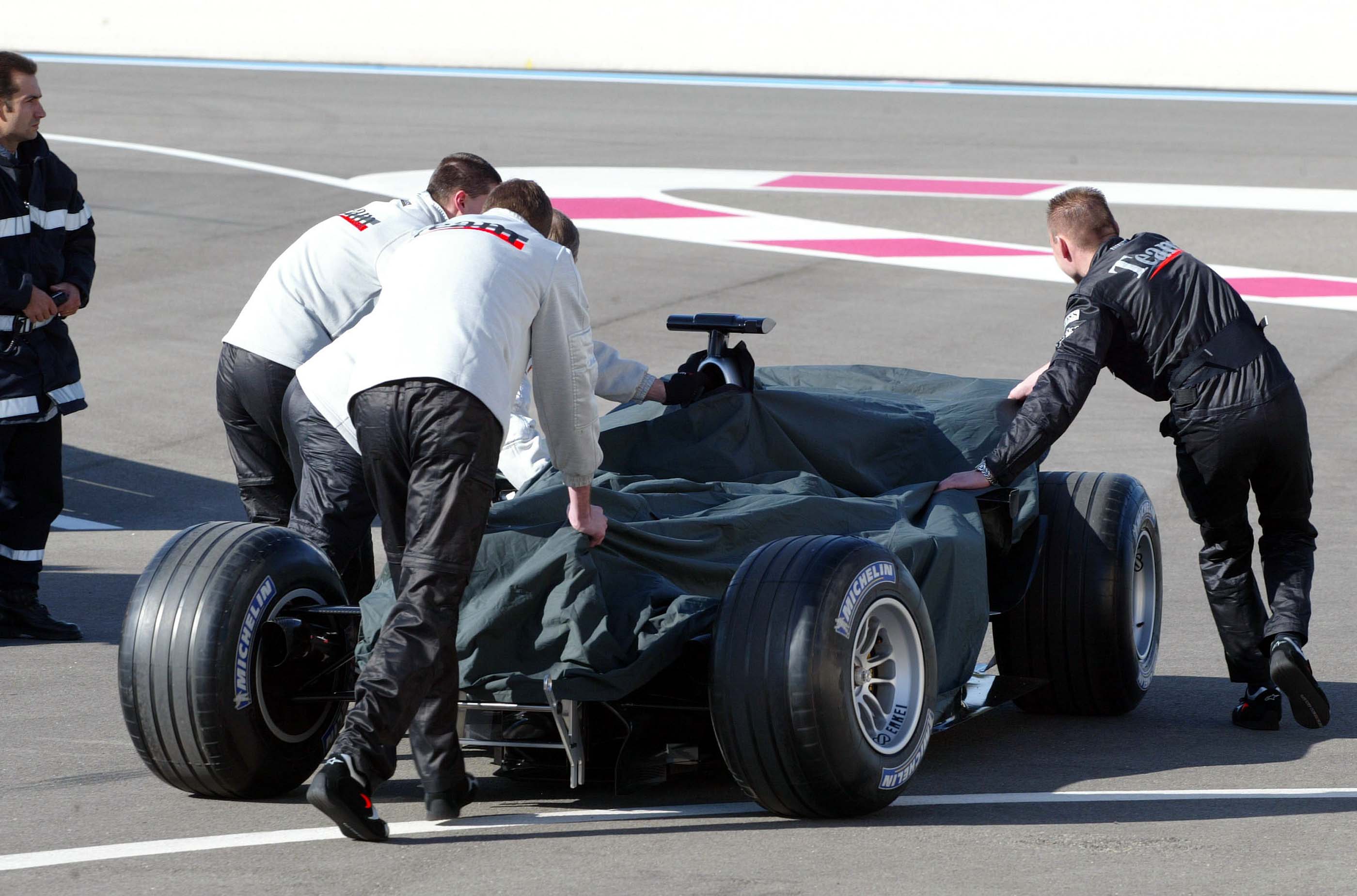 Once the MP4-18 started running on track, it was clear it had major problems. The radical packaging meant it was spectacularly unreliable, with mechanics needing to be ready with fire extinguishers at the end of every run because the tight rear bodywork was repeatedly catching fire.
Priestley: "The guys on the test team were coming back from the tests with the most horrendous reports. They already hated it after the first test. It was difficult to work on, it was coming back from every run on fire.
"Changes were hard to make on it, you had to remove huge chunks of suspension or take the floor off to make what would be simple changes on any other car. It was so complex and so fragile, so as a mechanic that translates into a lot of hard work.
"You can get around those things, but when it's failing out on track or sometimes even before it left the garage, we knew it was in trouble. At that point the guys in the test team were already putting money on the car never being raced.
"It was so disastrous. Every new car has teething troubles, but none of us had experienced anything like that."
Unfortunately for McLaren, reliability wasn't the only concern.
NEWEY WANTS A REDESIGN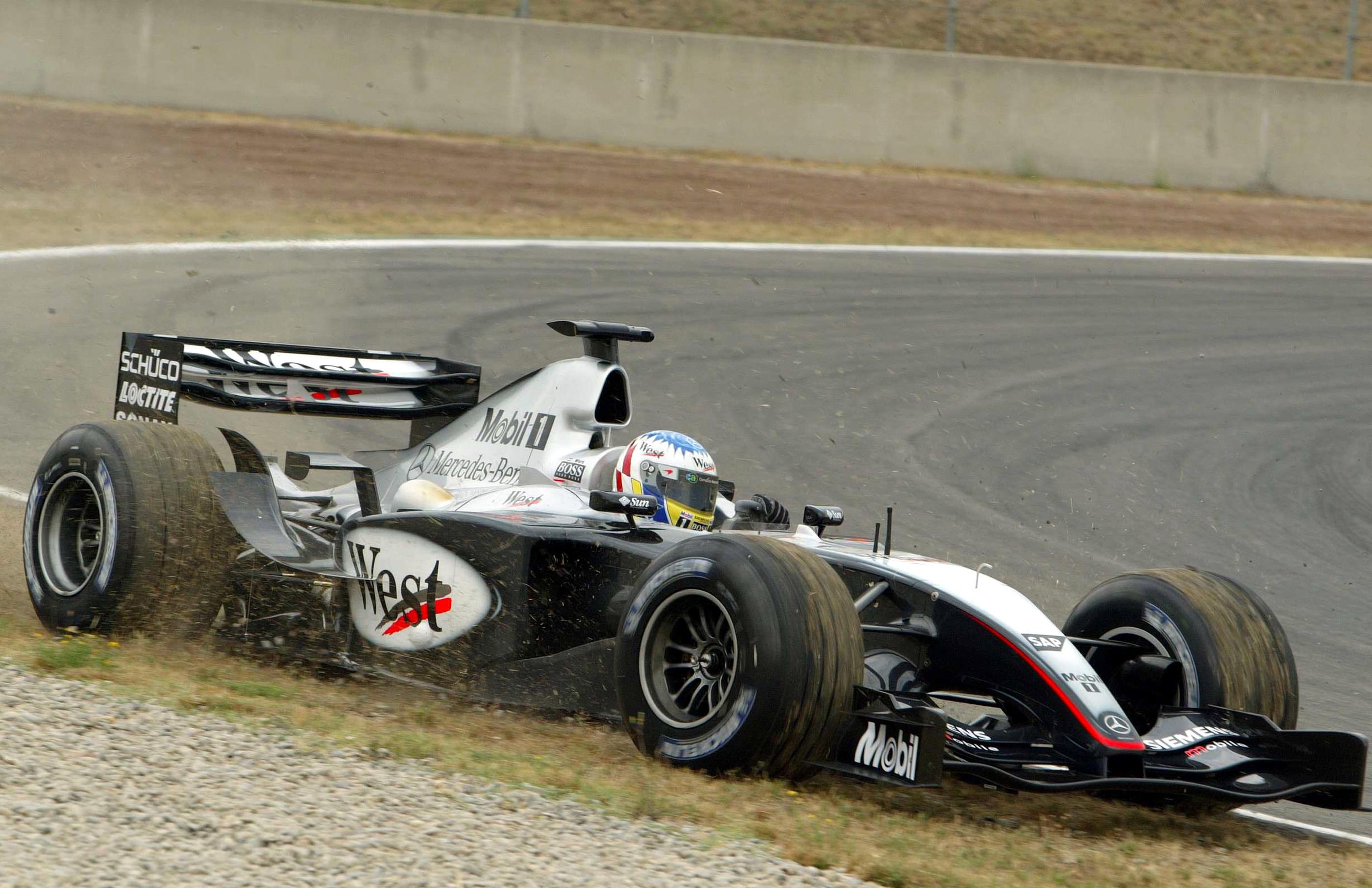 Once McLaren started pushing for performance in testing with the new car, it became clear the design was unpredictable on track. Test driver Alex Wurz and Raikkonen both had big crashes, which McLaren publicly put down to "driver error".
The statements in public from McLaren claimed the car was fast but unreliable, but behind the scenes Newey had worked out he had a "problem child" on his hands, and that the MP4-18 was aerodynamically unstable.
"Kimi doesn't take well to having something that wasn't his fault blamed on him. Inside he was very angry" :: Marc Priestley
Once Newey had got to the bottom of the problem, he called for a chassis redesign. In his book, 'How to build a car', Newey wrote: "The problem was related to the shape of the chassis and the front of the sidepod overloading the vortex that forms off a delta wing just in front of the sidepod, causing the vortex to be unstable and burst in certain conditions. The problem could be alleviated by trimming the wing, but this lost downforce.
"The proper solution was to reshape the chassis and sidepod to alleviate the high-pressure stagnant air that was forming above the wing. But this required a new chassis"
Priestley: "Kimi doesn't take well to having something that wasn't his fault blamed on him. Inside he was very angry. I'm pretty sure he refused to drive it again after that.
"Redesigning a chassis in the middle of a season is huge, you would never do that. It was a huge undertaking, for Adrian to suggest that. As soon as the chief designer says 'we need a new chassis', the first one is probably dead. Combined with all the other problems it had, it was doomed."
THE MP4-18 QUIETLY DISAPPEARS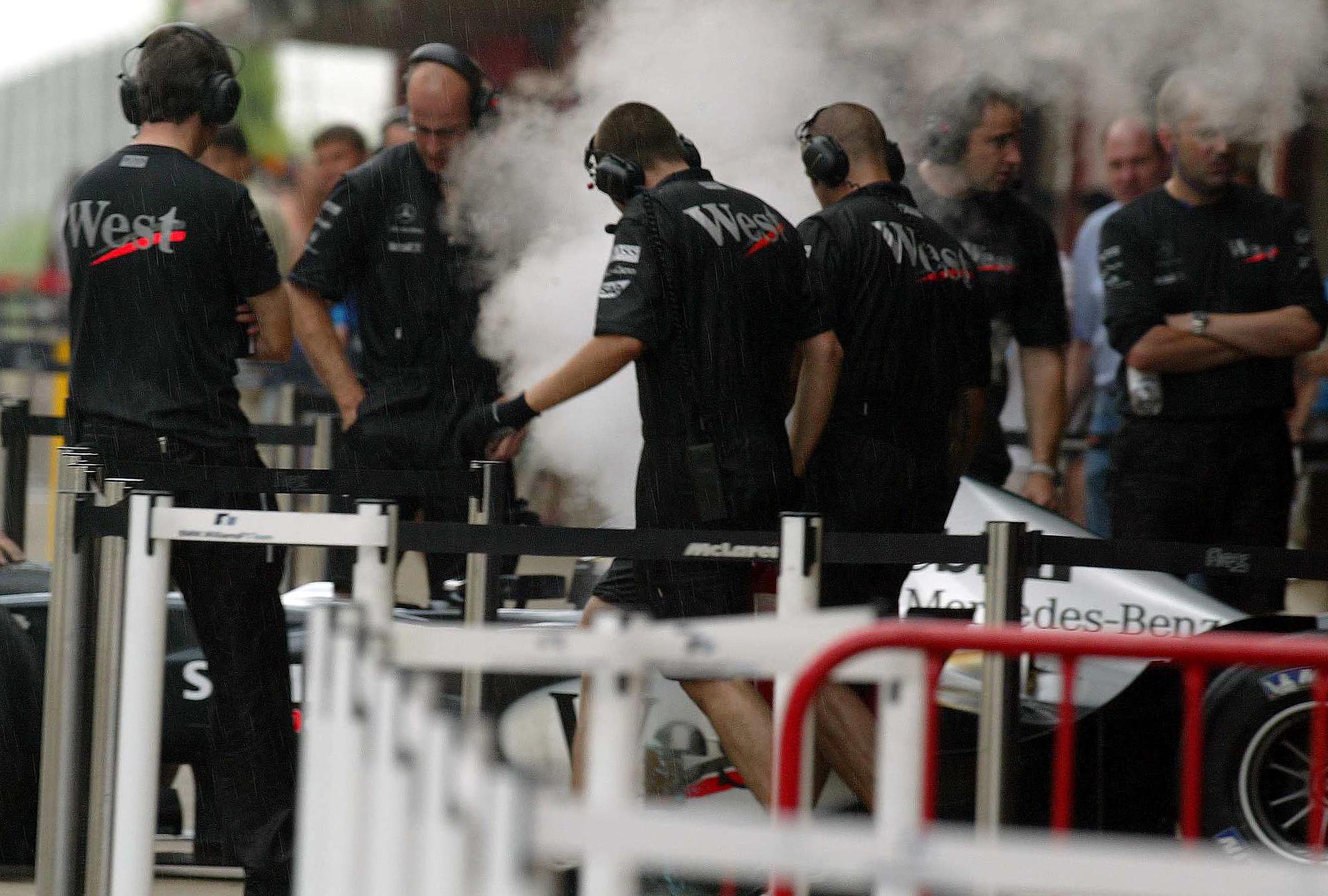 McLaren never formally announced that the MP4-18 wouldn't race in 2003. But ahead of a seven-week summer testing ban that was agreed by all the teams, Dennis said McLaren was "leaning more and more towards continuing with the 17D".
At the Hungarian Grand Prix Raikkonen finished second to first-time winner Fernando Alonso, but crucially Schumacher was lapped in eighth. That put Raikkonen just two points behind the Ferrari in the championship, having outscored him 19 points to 14 over the previous four races.
McLaren earmarked a pre-Italian GP test at Monza as a vital chance to get the MP4-18 race ready, but as that test approached Dennis said the focus was on making a step with the 17D, which had a new upgrade package. When asked if the 18 would race in 2003 he said it was "highly unlikely", and that was the last we heard of the car during that season.
Priestley: "The aero problems were one thing, but there were so many more than that. It had suspension issues, it was a fragile car. Adrian was so uncompromising in so many areas.
"I remember going to a test for some pitstop practice for the mechanics in case the car did end up racing, and when we got there, Mercedes had been working on the car for so long trying to fix a problem, that somebody had put a 'POLICE AWARE' sticker on the front of it – unfortunately things like that were quite common.
"It didn't run very much, and when it did it broke or it crashed, and the drivers came back scratching their heads. The decision was out of the team's hands really, they couldn't introduce it in 2003. The one thing that could have changed the outcome of the championship [Raikkonen missed out on the title by two points] would have been putting all efforts back onto the 17D earlier than they did."
DID IT RACE AFTER ALL?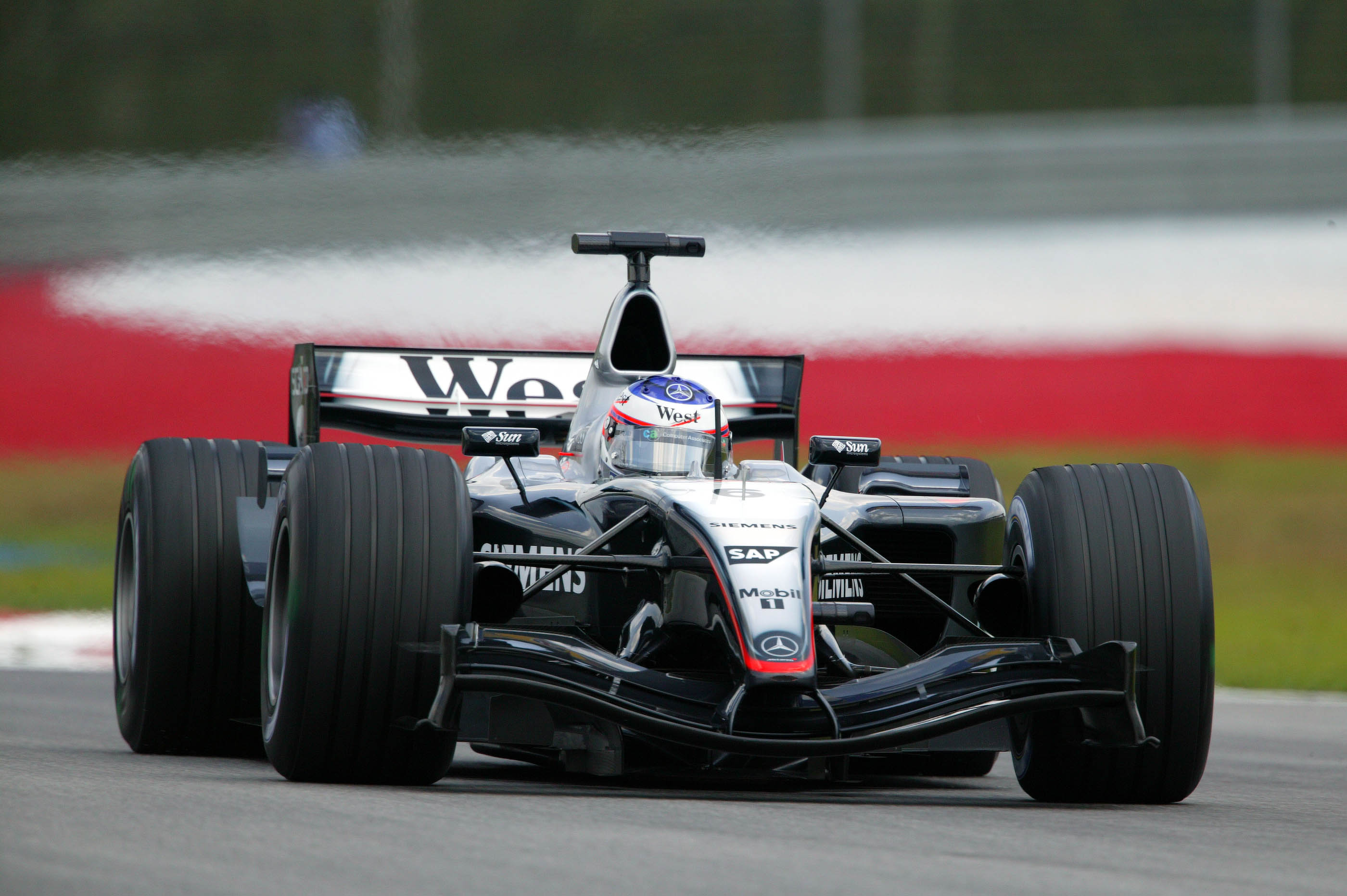 McLaren gave mixed messages through the late summer of 2003, with Newey claiming that once the MP4-18 was race-ready it would be used in 2004 as well, so he wouldn't need to design another car for the following year.
But Dennis was saying something different. He claimed there would be a new car for 2004 as well. Eventually it was revealed that McLaren would launch the MP4-19 after the 2003 campaign concluded, with Dennis saying its resemblance to the unraced 18 would be clear.
In his book, Newey claims the design wasn't just similar, it was identical, as McLaren took the MP4-18 and rebadged it.
This was against Newey's wishes, as he was still pushing to redesign the car. But he says he was outvoted in a meeting of all the engineering heads, which was called by Whitmarsh. Paddy Lowe and Pat Fry were leading the claims that the 18 could be finessed into a reliable and competitive car without the need for a total redesign.
The early part of 2004 proved Newey correct, as McLaren struggled with the MP4-19. Eventually he got his wish to redesign it, and the B-spec car took Raikkonen to victory at Spa. In Newey's words, "We could have had a decent season in 2004 if only we'd produced that car in the first place".
Priestley: "I remember that meeting happening. There was so much talk in the factory about all the department heads coming together, 'This looks like a serious meeting', and that's what it was. Adrian was put out by the management structure, but ultimately, the 19B he produced was a quick car and a step forward."
THE MP4-18's LEGACY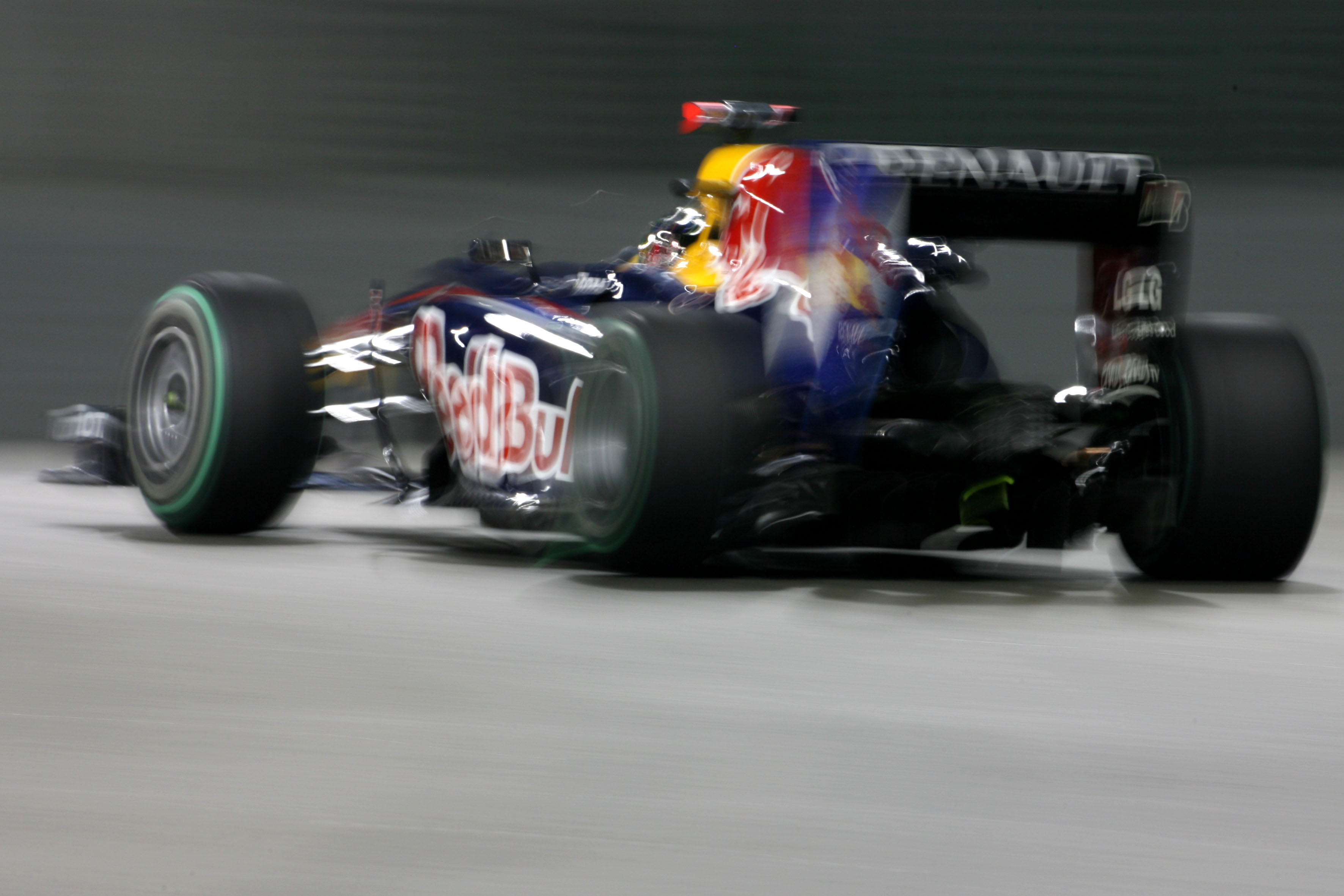 The MP4-18 will forever be remembered as an embarrassing episode in McLaren's history. But it unquestionably shaped F1 car design over the decade that followed.
Newey produced a championship-worthy car based on the same principles in 2005, even if Raikkonen missed out on the title to Renault's Fernando Alonso, and by the end of the 2000s at Red Bull he'd taken the ideas behind the MP4-18 to new heights that would usher in an era of dominance with Sebastian Vettel.
Formula 1 car packaging gets tighter and tighter every year, and that revolution can be traced back to a car that never even turned up at a grand prix.
Priestley: "I love innovation, and I was really proud that McLaren were pushing to this extent. If we were going to overhaul Ferrari we needed to go extreme. Things like the exhausts going into the floor, which we'd never seen before, and of course went onto be very successful many years later.
"The theory behind it was great. He achieved some amazing things with these concepts that went on to change Formula 1 in the future, but at this stage the practicalities let the MP4-18 down."