Formula 1 let itself down at the start of the V6 turbo-hybrid engine era, which was sorely mishandled as soon as it began in 2014.
But as F1 seeks to finalise new engine regulations for 2026 and beyond, the hybrid is still at the heart of it.
Which is why modern-day F1, under the management of Liberty Media compared to the Bernie Ecclestone-led start of the hybrid era, is still trying to correct a failure that's now lingered for nearly eight seasons of racing.
You'll see signs of it this weekend in Brazil. Literally, you'll see signs. F1 is introducing new hybrid branding as of the Interlagos weekend because now it is a priority to champion the hybrid formula.
We have the most efficient engine in the world and its a hybrid! To increase awareness of this incredible tech you will see our new graphics around the circuit from Brazil onwards. Next step is 100% sustainably fuelled hybrid that will be a game changer for global auto emissions pic.twitter.com/Nd9LnS9D7g

— F1 Media (@F1Media) November 10, 2021
This is a few years too late and a long way from how the era started. Anyone who was anti-hybrid didn't need to look too hard to find prominent support for their view that F1's engine technology had gone in the wrong direction.
Then-series-chief Ecclestone was openly slating the engines when pre-season testing had barely begun, questioning both their actual environmental merits and the need for that to be a technical priority, as well as kicking off what became incessant criticism over the engines' sound and the style of racing that they would require.
F1 left the door open for the idea of the hybrids being "s**t"-sounding (reigning champion Sebastian Vettel's description) engines that made grands prix turgid 'lift and coast' processions to become the dominant narrative – hardly surprising when its highest-profile figures were espousing it themselves.
Team bosses and some drivers rallied against that view, but the series itself did nothing to positively promote the technology and indeed missed tricks on a detail level – such as not turning up the trackside microphones at the opening grand prix. That meant the engines sounded quieter and worse to TV viewers than they had to those on-site.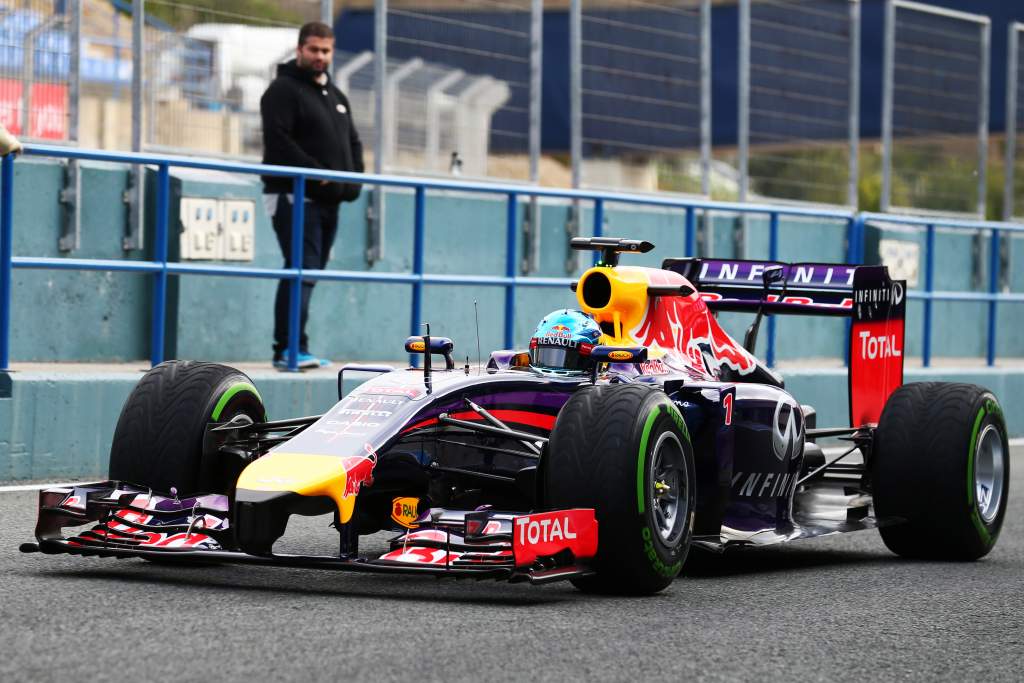 The new branding we'll see from Brazil shows F1 is still having to correct how badly mismanaged important aspects of its hybrid era have been.
One of F1's great triumphs with this engine is achieving more than 50% thermal efficiency which is a long way – more than 10% – better than any conventional vehicle has ever managed.
How many people know or care about that? Impossible to say. And it's not that those who are anti-hybrid would have loved the new formula if they'd known about this potential from the start – but it wouldn't have hurt. And more importantly, F1 would have been sending the right message instead of kicking its own product.
We've already seen a communication step change as F1 and the FIA have been trumpeting the development of biofuels and the push for 100% sustainable fuels for 2026.
Now it looks like the hybrid engine itself is finally being put on more of a pedestal, with talk of stressing the vital role a cleaner, smarter internal combustion engine can have in an automotive world that's becoming increasingly electrified and a real world that's facing serious climate threats.
More than ever, F1 needs to make strong cases to manufacturers, to partners and to host venues that it is not an irresponsible part of the problem.
At the core of its argument is its technology – technology that's been there for years but is only now getting the kind of prominent support it merits.