The 2020 Formula 1 season finally began with an incredibly dramatic Austrian Grand Prix, won by Valtteri Bottas.
This is how it unfolded, plus the as-it-happened comments from our F1 writers Edd Straw and Scott Mitchell.
Pre-race: Huge drama before the start as a stewards' review requested by Red Bull leads to Hamilton being penalised for failing to slow for yellows in qualifying after all. He is demoted from second on the grid to fifth under an hour before the race begins.
Start: Polesitter Bottas makes an immediate break as Verstappen has to fend off a heavy challenge from Norris. Hamilton is unable to gain any ground from fifth place.
Lap 1: Leclerc spends first lap attacking Perez for sixth but can't get past.
Lap 1: Bottas completes first lap with a 2.3s lead over Verstappen
Lap 1 order: 1 Bottas; 2 Verstappen; 3 Norris; 4 Albon; 5 Hamilton; 6 Perez; 7 Leclerc; 8 Sainz; 9 Stroll; 10 Vettel; 11 Ricciardo; 12 Gasly; 13 Magnussen; 14 Giovinazzi; 15 Kvyat; 16 Ocon; 17 Raikkonen; 18 Grosjean; 19 Russell; 20 Latifi
Edd Straw: "This will be a good test of Albon. Red Bull needs him to hold off Hamilton to assist Verstappen's strategy."
Scott Mitchell: "Already looks like the Ferraris are vulnerable in a straight line. Leclerc quickly dropped by Perez and under pressure from Sainz, but just about fended him off. Could be a long afternoon if that is going be a theme of the Ferraris' race."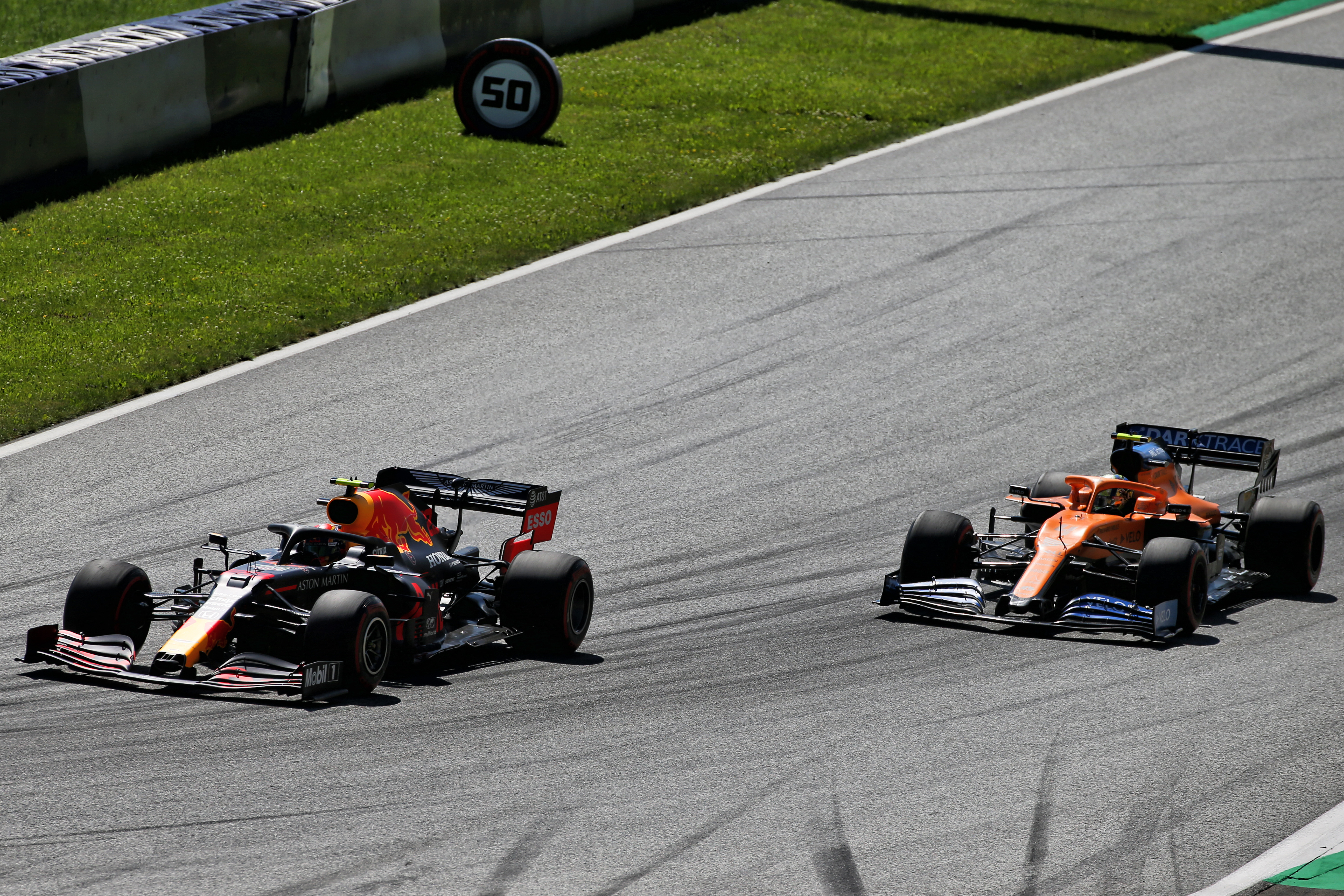 Lap 3: Albon cruises past Norris to take third place. Hamilton soon follows him.
Lap 5: Bottas sets a new fastest lap of 1m09.159s but Verstappen stays within 2.3s of him.
Edd Straw: "Leclerc has warned that 'the engines of the guys in front are smoking like crazy'. He's got Perez immediately in front of him."
Lap 7: Another new fastest lap from Bottas – 1m09.051s – and his lead is up to 3.2s.
Lap 9: Hamilton makes it past Albon for third using DRS before Turn 4. He is 7s behind leader Hamilton.
Lap 10 order: 1 Bottas; 2 Verstappen; 3 Hamilton; 4 Albon; 5 Norris; 6 Perez; 7 Leclerc; 8 Sainz; 9 Stroll; 10 Vettel
Lap 11: Second-placed Verstappen suddenly slows at the first corner. He crawls back to the pits and ultimately retires.
Scott Mitchell: "Verstappen says he kept getting anti-stall, and couldn't change anything in the car. What a blow for Red Bull and Honda, which brought an upgraded specification (for performance and reliability) to the season opener.
"His race is ruined and this is an early blow to his title prospects – giving 25 and 18 points away to the Mercedes drivers as it stands."
Lap 14: With Mercedes now running 1-2, Bottas is 7.4s clear of team-mate Hamilton.
Lap 17: Racing Point tells Stroll he has an engine problem. He's still running eighth, with a battling Vettel and Ricciardo behind him.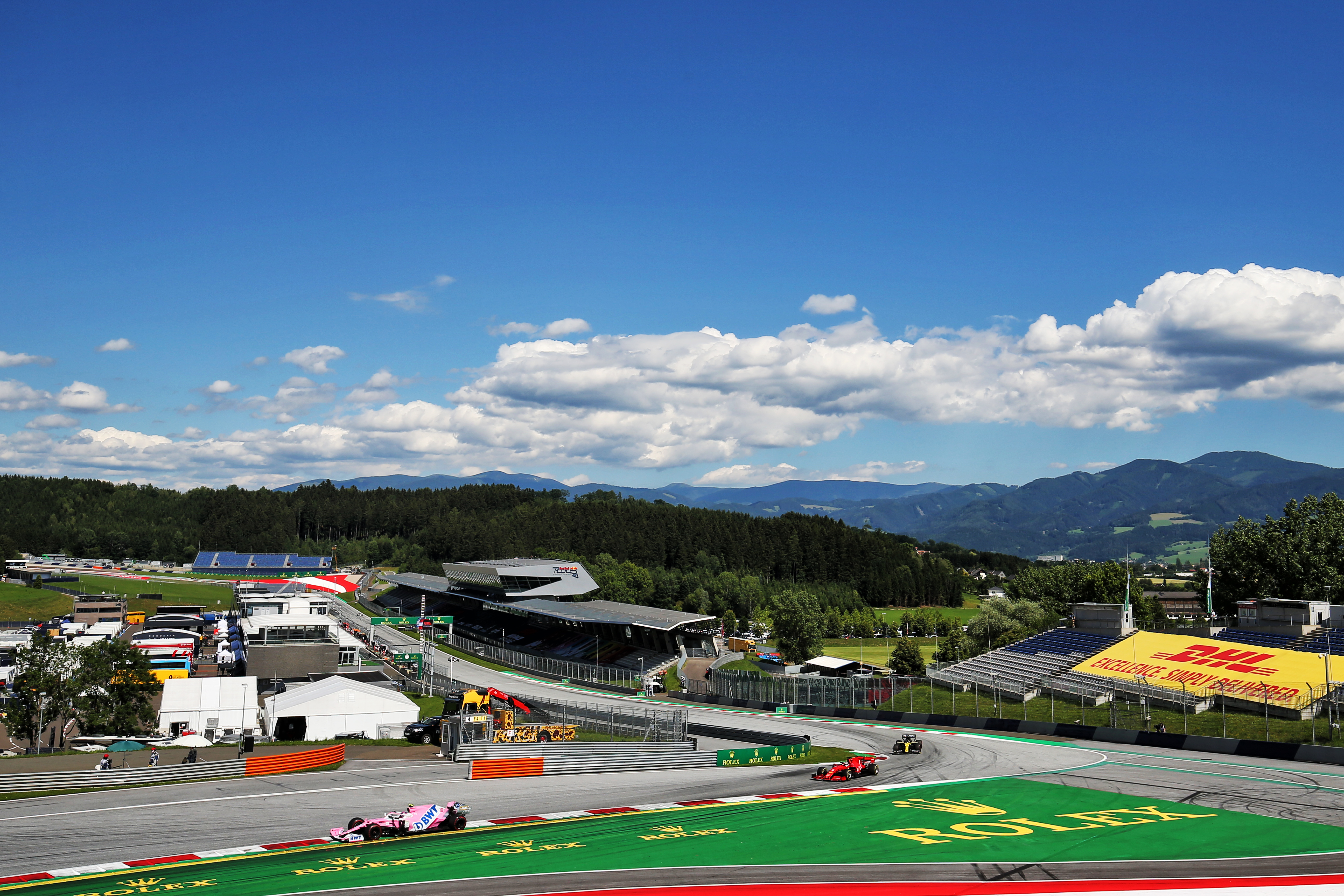 Lap 18: Ricciardo slows from 10th place, elevating Gasly into the points.
Lap 19: Stroll slows dramatically on the hill towards Turn 2 and Vettel breezes past into eighth. Stroll keeps going but is losing pace and is soon overtaken by Gasly too.
Edd Straw: "Stroll's problem has got much worse. It won't be long before Kvyat passes him for 10th."
Lap 20: Hamilton sets a new fastest lap of 1m09.000s and trims Bottas's lead to 6.0s.
Scott Mitchell: "Three of the four engine manufacturers with apparent engine worries and we're not even one-third of the way through the first race of the season. Race-wrecking for Verstappen/Honda and Ricciardo/Renault and Stroll's starting to slip back in the Mercedes-powered Racing Point."
Lap 20 order: 1 Bottas; 2 Hamilton; 3 Albon; 4 Norris; 5 Perez; 6 Leclerc; 7 Sainz; 8 Vettel; 9 Gasly; 10 Kvyat
Lap 21: Grosjean spins on the way out of Turn 4 and immediately pits but rejoins. Stroll brings the Racing Point into the garage.
Edd Straw: "McLaren's pace in this race is impressive. We had expected Racing Point to be quicker but Perez is now 3.3s behind fourth-placed Norris."
Lap 23: Hamilton is now consistently gaining on Bottas and has his team-mate's lead down to 4.3s.
Lap 24: Hamilton takes just over a second out of Bottas.
Scott Mitchell: "Mercedes is telling Hamilton to look after the car. It's far too early to suggest that's a hint of team orders. But it would make a lot of sense for Mercedes to focus on wrapping up this 1-2, rather than invite a reliability problem or incident by pushing too hard. Boring? Maybe. But pragmatic."
Lap 25: Raikkonen makes a scheduled pitstop and goes from mediums to hards.
Lap 26: Magnussen shoots off the road at Turn 3 while being overtaken for 11th by Ocon, and spins in the run-off area. The safety car is deployed.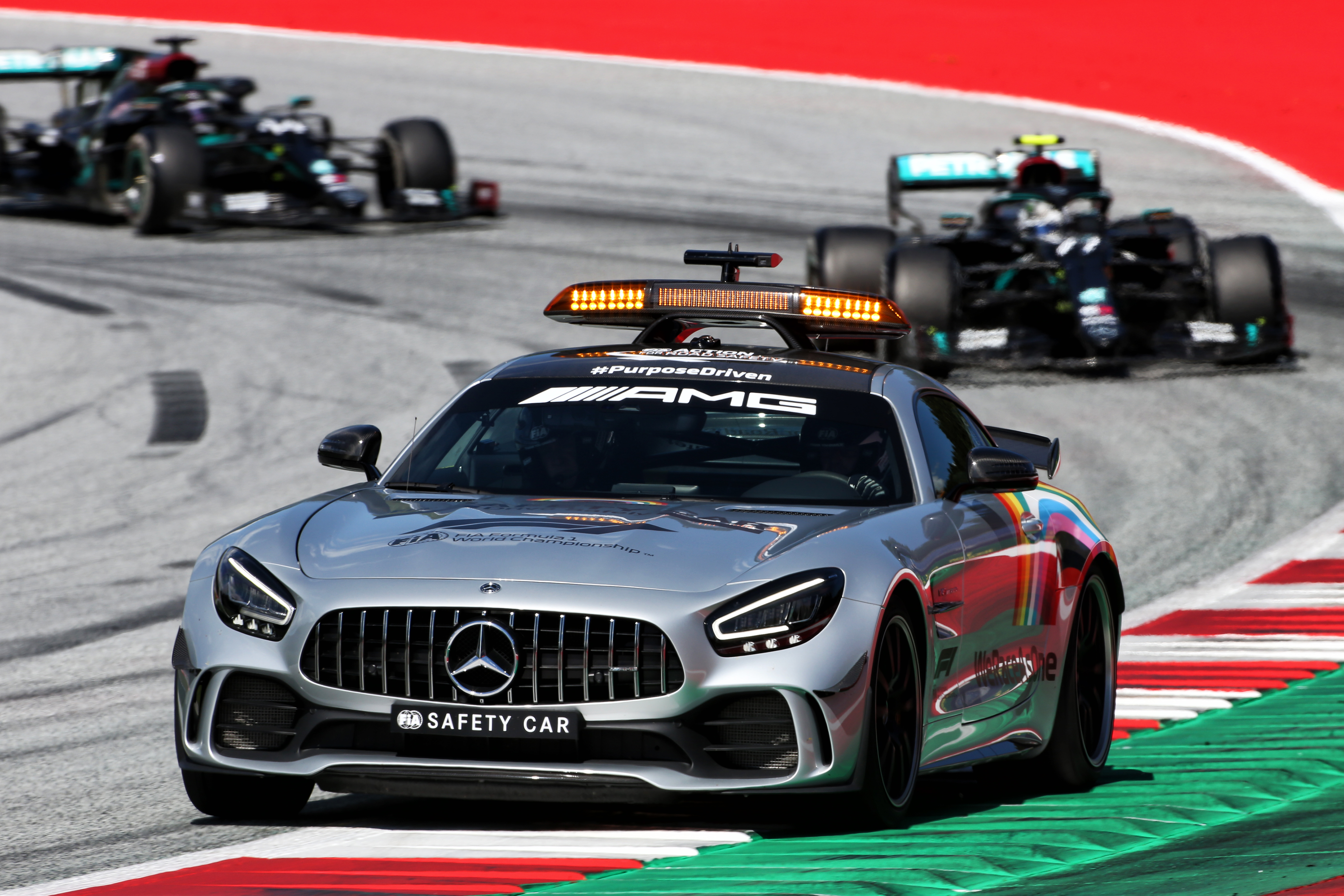 Lap 26: Everyone who hasn't yet pitted does so as the safety car comes out.
Order under safety car: 1 Bottas; 2 Hamilton; 3 Albon; 4 Norris; 5 Perez; 6 Leclerc; 7 Sainz; 8 Vettel; 9 Gasly; 10 Kvyat; 11 Ocon; 12 Giovinazzi; 13 Russell; 14 Raikkonen; 15 Grosjean; 16 Latifi
Everyone is now on hard tyres except Perez, who switched to mediums.
Edd Straw: "Interesting to note that Perez has taken mediums, while everyone else opted for the hards. If he can make them last, that could give him an advantage in his chase of Norris for fourth."
Lap 27: Hamilton says over team radio that he wanted the "opposite" tyre to Bottas. But both are on hards. Engineer Pete Bonnington replies that Hamilton's message is "understood".
Edd Straw: "That safety car has helped Hamilton. Under green flag conditions he'd have probably had to stop a lap later than Bottas and lost time. Now, he restarts right behind him."
Scott Mitchell: "With Albon and Norris right ahead of him, Perez will have a nice advantage when we rejoin. Given this is a driver who has supreme tyre management – like built-in traction control, says Racing Point – can we rule out a charge to third?"
Lap 31: Race restarts. Sainz attacks Leclerc for sixth on the outside into the Turn 3 hairpin without success. As he turns into the corner, Vettel tries a look up his inside but makes contact with the McLaren and spins down to 15th.
Edd Straw: "Unfortunately, Vettel's judgement in battle again let him down there. That was always going to end up badly. A shame for his season to start that way."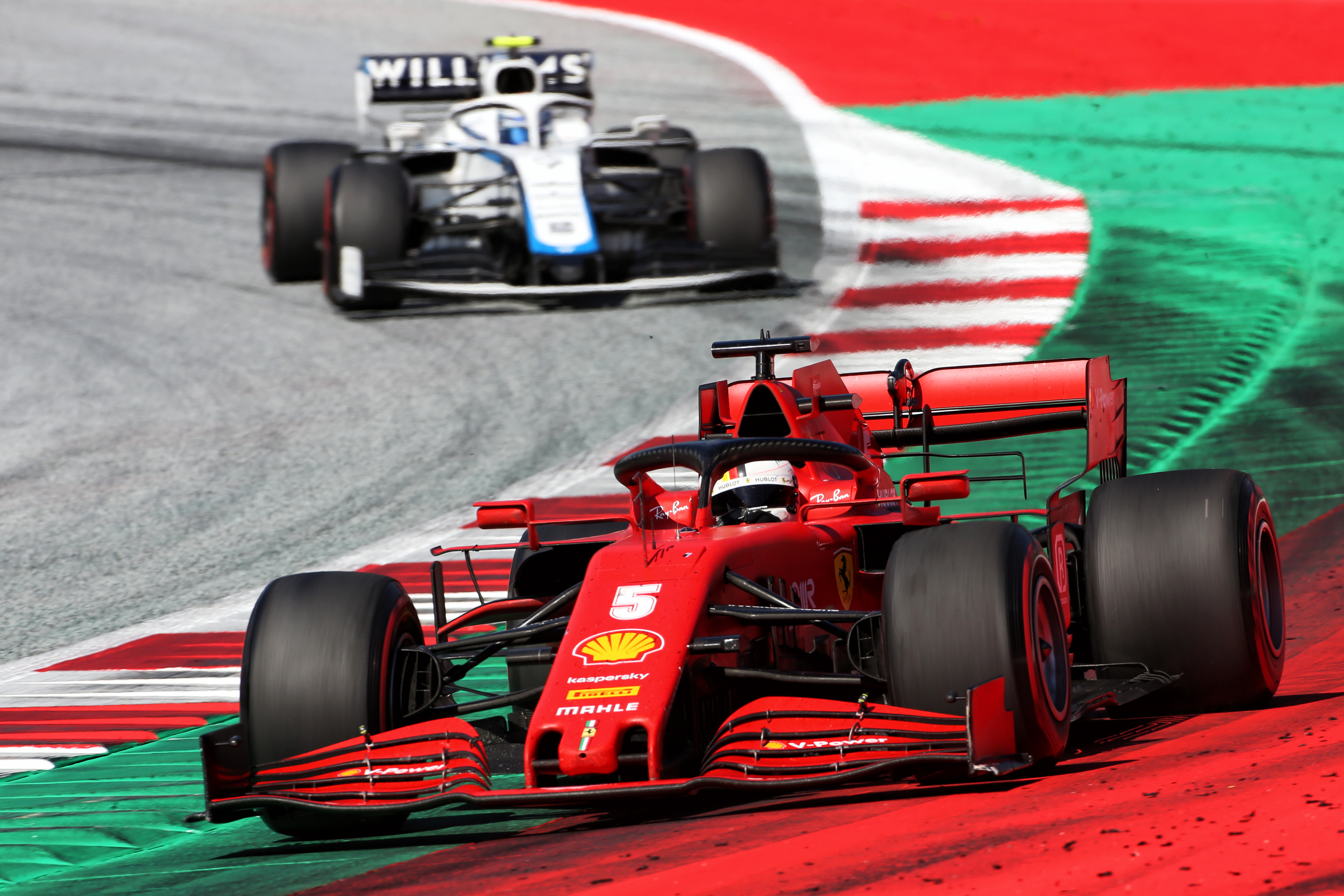 Lap 31: Bottas sets a new fastest lap of 1m08.733s on the first green-flag lap and establishes a 1.1s lead over Hamilton.
Lap 33: Perez sweeps past Norris approaching Turn 4 and takes fourth.
Lap 33: Another new fastest lap from Bottas – a 1m08.520s – but Hamilton virtually matches him.
Lap 34: Hamilton takes fastest lap with a 1m08.258s and closes to within 0.6s of Bottas.
Lap 35: Hamilton says he'll be "using my engine when I can". Mercedes responds that it will "soon be turning both cars down." Third-placed Albon is already 5s behind the leaders.
Scott Mitchell: "Mercedes looking to turn down their engines down 'soon' is evidence of the pragmatism mentioned earlier. Naturally that'll be disappointing for many to hear. But that's not a clear instruction not to fight, it just means Mercedes is conserving its equipment. Can still be some fun between Hamilton and Bottas here."
Lap 36: Fastest lap again from Hamilton, a 1m08.164s. He's half a second behind Bottas.
Lap 38: Bottas gets his lead back to a second with a run of laps slightly faster than Hamilton.
Lap 40: Hamilton picks the chase back up with a new fastest lap of 1m08.058s, getting Bottas' lead back down to 0.6s.
Lap 40 order: 1 Bottas; 2 Hamilton; 3 Albon; 4 Perez; 5 Norris; 6 Leclerc; 7 Sainz; 8 Gasly; 9 Kvyat; 10 Ocon; 11 Giovinazzi; 12 Russell; 13 Raikkonen; 14 Vettel; 15 Grosjean; 16 Latifi
Scott Mitchell: "The beneficiaries of the reliability dramas and Vettel's error are Albon (on course for a maiden podium), AlphaTauri (Gasly and Kvyat on for double points finish) and Ocon (now into the top 10 on his Renault debut). Still a decent chunk of this race left. But to finish on the podium/in the points, first you must finish!"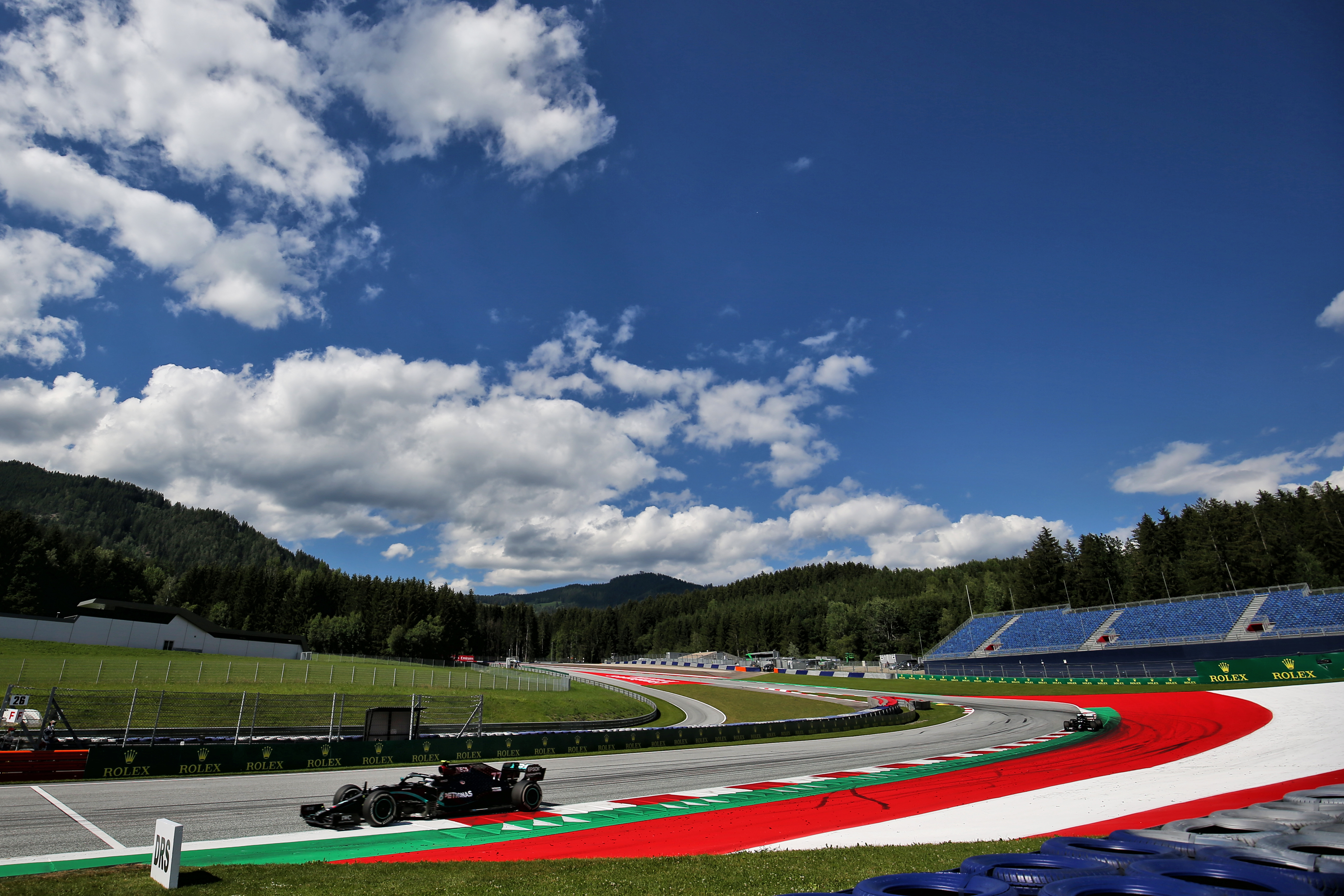 Lap 42: Both Mercedes drivers get the message: "sensor issues on both cars, please stay off the kerbs" over team radio. Hamilton, who is now right behind Bottas, responds that "he's using much more kerb than me".
Lap 45: Engineer Bonnington clarifies to Hamilton that the sensor problem is gearbox related. Hamilton falls 1.6s behind Bottas.
Scott Mitchell: "Hamilton has dropped back. So this is almost certainly him adhering to Mercedes' instructions. It's been stressed to both drivers this is a problem for both cars – a 'critical' gearbox issue, James Vowles has emphasised."
Lap 47: Bottas' engineer Riccardo Musconi tells the leader he's "in worse shape than the other car".
Gary Anderson: "The Mercedes drivers need to understand what kerbs are. They are still using them much more than they need to."
Lap 50: Grosjean is off the road again and heads slowly to the pits to retire.
Lap 50: Russell slows from 12th place with a loss of fuel pressure. He parks on the inside of Turn 4 and the safety car comes out again.
Scott Mitchell: "This is escalating into a really serious situation for Mercedes – two customer cars out of the race, both with apparent engine problems, and the two works cars nursing a 'critical' gearbox issue. If this gets any more severe, does Albon have a shot at a highly unlikely maiden victory?"
Lap 51: Albon, Norris, Leclerc, Kvyat, Raikkonen, Vettel and Latifi dive in for additional pitstops to switch to softer tyre compounds under the safety car.
Order and tyres: 1 Bottas (H): 2 Hamilton (H); 3 Perez (M); 4 Albon (S); 5 Norris (M); 6 Leclerc (M); 7 Gasly (H); 8 Ocon (H); 9 Sainz (M); 10 Giovinazzi (H); 11 Kvyat (S); 12 Raikkonen (S); 13 Vettel (S); 14 Latifi (S)
Glenn Freeman: "Oh that's an excellent strategy call from Red Bull. Soft tyres for Albon, and two Mercedes trying to nurse their way to the finish on used hards. Game on?"
Scott Mitchell: "Albon and Red Bull rolling the dice with the switch to soft tyres. Yeah, I can get behind that kind of aggressive push. Why settle for keeping the Racing Point and McLarens at bay when there's a shock win tantalisingly within reach?"
Lap 55: Racing resumes. Bottas gets an immediate jump while Albon attacks Perez for third and appears to get the position as the Racing Point locks up at the Turn 3 hairpin.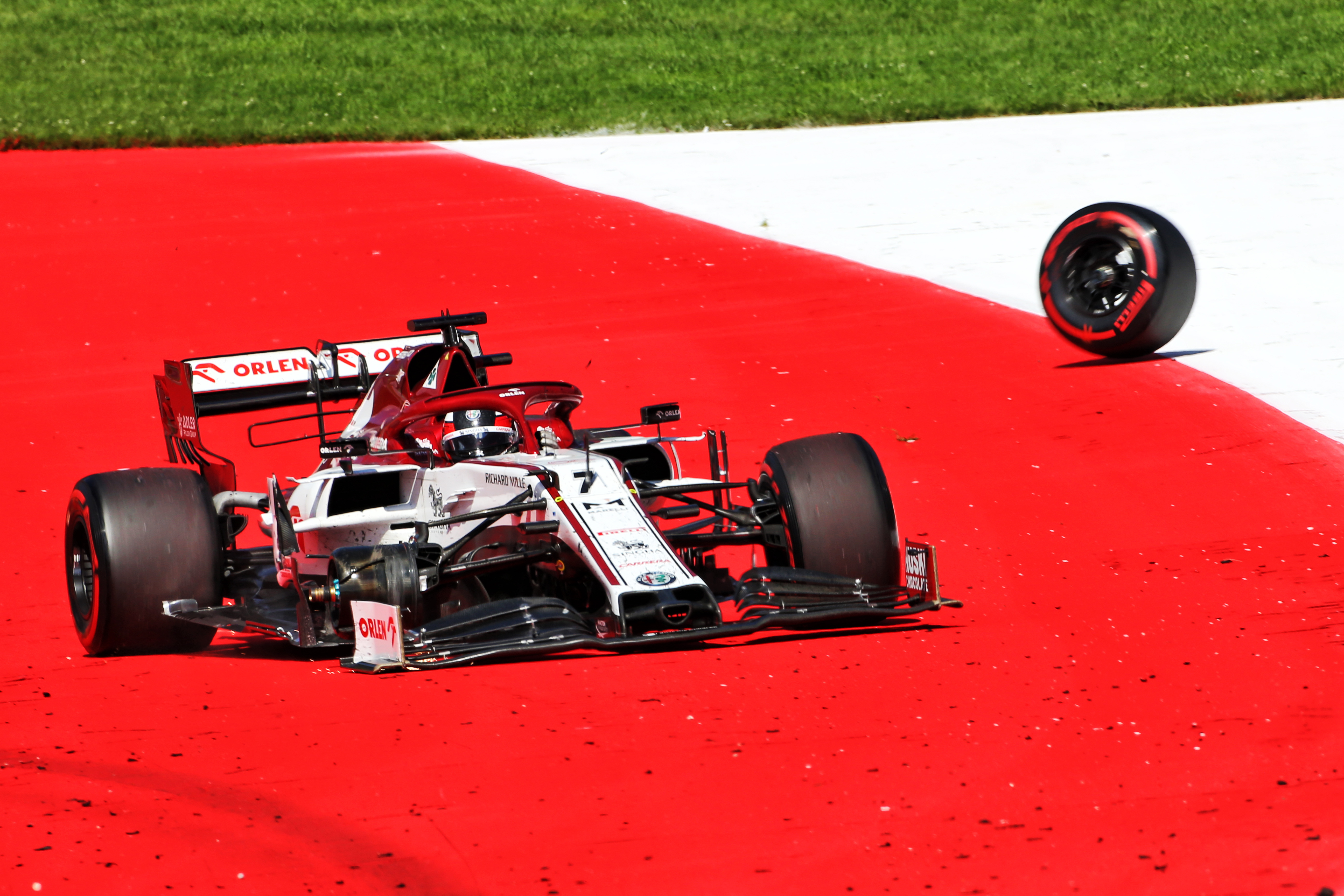 But the safety car is immediately deployed again because Raikkonen's Alfa Romeo has dramatically shed its right front wheel at the final corner as he came towards the restart.
Scott Mitchell: "I think Albon should get that position back. He was just ahead when the safety car was deployed. Let's see if he gets it back. If so, it couldn't have gone better for Albon – a Perez error granting him third place, and the field being backed up straight away so the Mercedes are right ahead."
Order: 1 Bottas; 2 Hamilton; 3 Perez; 4 Albon; 5 Norris; 6 Leclerc; 7 Gasly; 8 Sainz; 9 Ocon; 10 Kvyat; 11 Vettel; 12 Latifi; 13 Giovinazzi
Lap 58: Red Bull tells Albon he's allowed to pass Perez for third. He does so. Perez expresses some surprise on the radio. Sainz also lets Ocon back past for eighth after a similar call over who was ahead when the safety car came back out.
Lap 60: The safety car comes in again. Albon immediately attacks Hamilton for second, getting alongside on the outside of Turn 4. Contact is made and the Red Bull is sent spinning through the gravel and down to 13th.
Scott Mitchell: "So that'll be ANOTHER trip to the stewards for Mercedes and Red Bull.
"I'm not entirely sure that warrants a penalty. Albon launches one round the outside, Hamilton's on full lock and doesn't release to let the car run into the Red Bull.
"So who's to blame? Seems the definition of a racing incident to me."
Lap 63: Hamilton is warned again to take care of his gearbox, while the stewards announce they're investigating his clash with Albon.
Lap 64: Leclerc shoots past Norris to take fourth on the outside of Turn 4 then sets a new fastest lap of 1m07.901s.
Lap 65: Leclerc's charge continues as he passes Perez to take third.
Lap 66: Hamilton is given a five-second time penalty for the Albon incident. That would currently drop him to seventh, as he sits 2.4s behind Bottas on the road.
Lap 68: Trying to close back in on Bottas and pull away from the pack behind, Hamilton sets a new fastest lap of 1m07.712s that's immediately beaten by a 1m07.657s from Bottas.
Lap 68: Perez, running fourth on the road but potentially third, is also given a 5s time penalty – in his case for pitlane speeding.
Lap 69: Albon slows and retires, reporting a lack of power.
Lap 69: Norris grabs fourth on the road from Perez with a wheel-banging move at Turn 3.
Lap 70: Kvyat's AlphaTauri shoots off at Turn 1 with a dramatic rear puncture.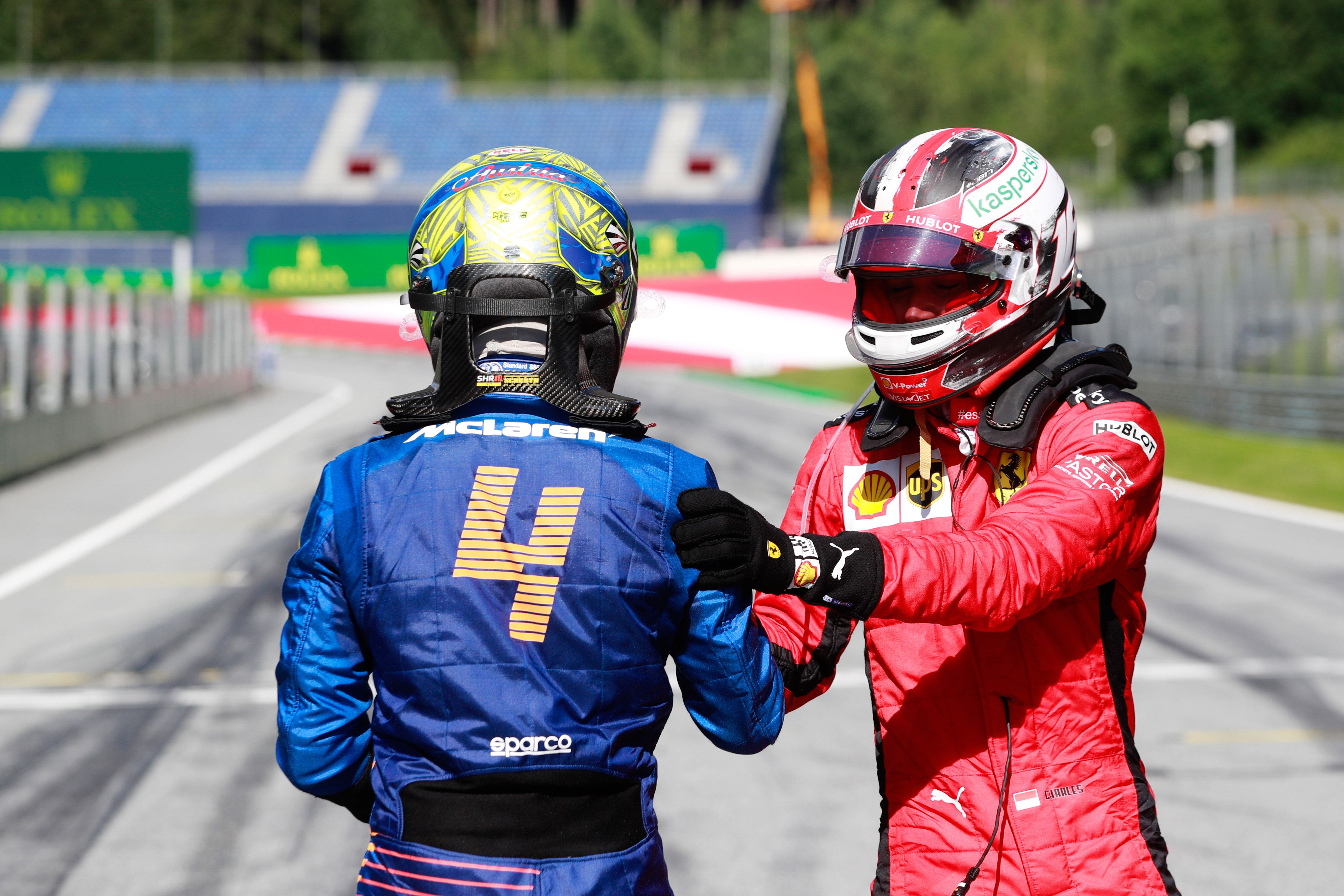 Lap 71: Bottas wins, with Leclerc and Norris moving up from fourth and third to second and third as Hamilton's penalty is applied. A new fastest lap from Norris on the final lap seals his podium by 0.198s on the timing screens.
Edd Straw: "That's an absolutely heroic final lap from Norris, the fastest lap of the race, to earn his first podium finish in Formula 1 by under 0.2s! Stunning from the McLaren driver. Opportunistic and utterly brilliant."
Lap 71: Perez overtakes Perez on the road on the final lap too and takes fifth.
Final order: 1 Bottas; 2 Leclerc; 3 Norris; 4 Hamilton; 5 Sainz; 6 Perez; 7 Gasly; 8 Ocon; 9 Giovinazzi; 10 Vettel; 11 Latifi
Race Results
| Pos | Name | Car | Laps | Laps Led | Total Time | Fastest Lap | Pitstops | Pts |
| --- | --- | --- | --- | --- | --- | --- | --- | --- |
| 1 | Valtteri Bottas | Mercedes | 71 | 71 | 1h30m55.739s | 1m07.657s | 2 | 25 |
| 2 | Charles Leclerc | Ferrari | 71 | 0 | +2.7s | 1m07.901s | 3 | 18 |
| 3 | Lando Norris | McLaren-Renault | 71 | 0 | +5.491s | 1m07.475s | 3 | 16 |
| 4 | Lewis Hamilton | Mercedes | 71 | 0 | +5.689s | 1m07.712s | 2 | 12 |
| 5 | Carlos Sainz | McLaren-Renault | 71 | 0 | +8.903s | 1m07.904s | 3 | 10 |
| 6 | Sergio Pérez | Racing Point-Mercedes | 71 | 0 | +15.092s | 1m08.305s | 2 | 8 |
| 7 | Pierre Gasly | AlphaTauri-Honda | 71 | 0 | +16.682s | 1m09.025s | 2 | 6 |
| 8 | Esteban Ocon | Renault | 71 | 0 | +17.456s | 1m08.932s | 2 | 4 |
| 9 | Antonio Giovinazzi | Alfa Romeo-Ferrari | 71 | 0 | +21.146s | 1m08.796s | 3 | 2 |
| 10 | Sebastian Vettel | Ferrari | 71 | 0 | +24.545s | 1m08.623s | 3 | 1 |
| 11 | Nicholas Latifi | Williams-Mercedes | 71 | 0 | +31.65s | 1m09.662s | 3 | 0 |
| 12 | Daniil Kvyat | AlphaTauri-Honda | 69 | 0 | +2 laps | 1m09.135s | 3 | 0 |
| 13 | Alex Albon | Red Bull-Honda | 69 | 0 | +2 laps | 1m08.432s | 3 | 0 |
| | Kimi Räikkönen | Alfa Romeo-Ferrari | 53 | 0 | DNF | 1m09.031s | 2 | 0 |
| | George Russell | Williams-Mercedes | 49 | 0 | DNF | 1m09.317s | 1 | 0 |
| | Romain Grosjean | Haas-Ferrari | 48 | 0 | DNF | 1m10.228s | 2 | 0 |
| | Kevin Magnussen | Haas-Ferrari | 24 | 0 | DNF | 1m10.72s | 0 | 0 |
| | Lance Stroll | Racing Point-Mercedes | 19 | 0 | DNF | 1m10.326s | 1 | 0 |
| | Daniel Ricciardo | Renault | 16 | 0 | DNF | 1m10.61s | 1 | 0 |
| | Max Verstappen | Red Bull-Honda | 10 | 0 | DNF | 1m09.351s | 1 | 0 |