Charles Leclerc led a shock Ferrari front row lockout at the Mexican Grand Prix, beating Max Verstappen who will face a post-qualifying investigation for impeding.
Verstappen had topped all three practice sessions and the first segment of qualifying, only to be beaten by both Ferraris come Q3.
Both Leclerc and Carlos Sainz found huge amounts of time between Q2 and Q3, Leclerc improved by seven tenths and Sainz found 1.1s to secure Ferrari's first grand prix front row sweep of the year.
Verstappen couldn't match either of them and ended up 0.097s shy of Leclerc and 0.030s adrift of Sainz.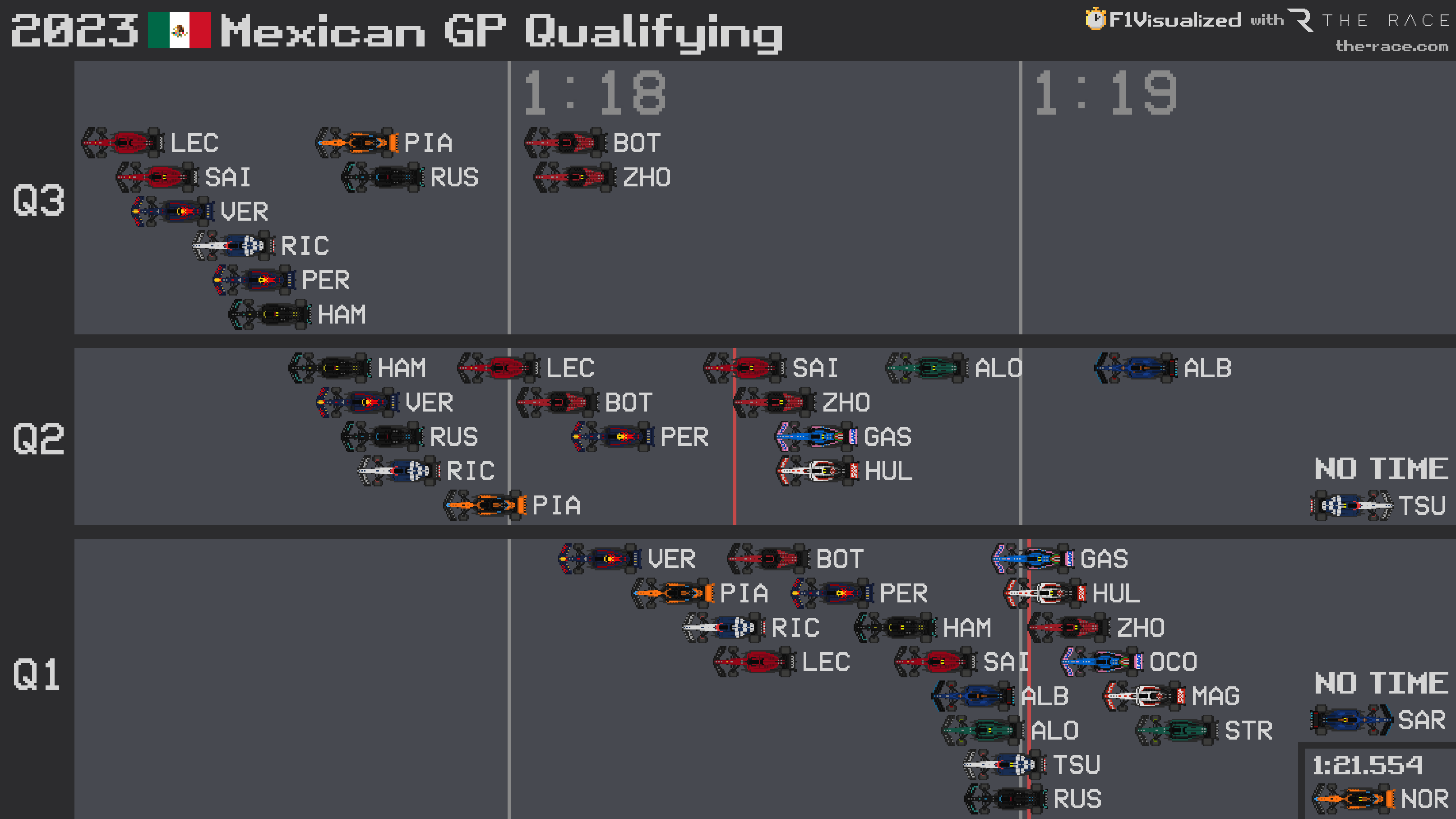 It could get even worse for Verstappen too as he – along with Fernando Alonso and George Russell - caused big queues at the end of the pitlane before joining the track for his final run in Q1 in Mexico.
He'll see the stewards shortly after qualifying to discuss a potential impeding offence.
Daniel Ricciardo qualified in a sensational fourth place in only his second weekend back in the AlphaTauri, having impressed throughout qualifying.
Home hero Sergio Perez had to settle for fifth place ahead of Hamilton, Oscar Piastri, Russell and the Alfa Romeo of Valtteri Bottas.
Bottas's team-mate Zhou Guanyu believed he was out of Q2 only to be promoted back into the top 10 by a last-gasp track limits deletion for Alex Albon - who was already baffled by his Williams's loss of pace after starring in practice.
He ran in the gap between most drivers' two Q3 runs and ended up with the slowest time in Q3, albeit one that gives him his best qualifying since his fifth place in Hungary.
Albon's deletion dropped him down to 14th, only ahead of Yuki Tsunoda in Q2. The AlphaTauri driver elected to not set a time as engine penalties mean he'll start at the back of the grid.
Pierre Gasly, Nico Hulkenberg and Alonso couldn't make it to Q3 either and ended up occupying positions 11th to 13th.
Esteban Ocon couldn't make it through to Q2 for the first time since Monza as he was knocked out in 16th place ahead of Kevin Magnussen and Lance Stroll.
McLaren's Lando Norris was the big-name casualty in Q1 as he was left with it all to do on the final lap – one that was curtailed by Alonso spinning and bringing out the yellow flags that forced him to abandon it.
Logan Sargeant didn't keep a representative laptime in Q1, qualifying 20th and last for the seventh time in his rookie F1 season. He'll also face a post-qualifying investigation for potentially overtaking Tsunoda under the yellow flags.
Qualifying Results
| Pos | Name | Car | Q1 | Q2 | Q3 |
| --- | --- | --- | --- | --- | --- |
| 1 | Charles Leclerc | Ferrari | 1m18.401s | 1m17.901s | 1m17.166s |
| 2 | Carlos Sainz | Ferrari | 1m18.755s | 1m18.382s | 1m17.233s |
| 3 | Max Verstappen | Red Bull | 1m18.099s | 1m17.625s | 1m17.263s |
| 4 | Daniel Ricciardo | AlphaTauri-Honda RBPT | 1m18.341s | 1m17.706s | 1m17.382s |
| 5 | Sergio Pérez | Red Bull | 1m18.553s | 1m18.124s | 1m17.423s |
| 6 | Lewis Hamilton | Mercedes | 1m18.677s | 1m17.571s | 1m17.454s |
| 7 | Oscar Piastri | McLaren-Mercedes | 1m18.241s | 1m17.874s | 1m17.623s |
| 8 | George Russell | Mercedes | 1m18.893s | 1m17.673s | 1m17.674s |
| 9 | Valtteri Bottas | Alfa Romeo-Ferrari | 1m18.429s | 1m18.016s | 1m18.032s |
| 10 | Guanyu Zhou | Alfa Romeo-Ferrari | 1m19.016s | 1m18.440s | 1m18.050s |
| 11 | Pierre Gasly | Alpine-Renault | 1m18.945s | 1m18.521s | |
| 12 | Nico Hülkenberg | Haas-Ferrari | 1m18.969s | 1m18.524s | |
| 13 | Fernando Alonso | Aston Martin-Mercedes | 1m18.848s | 1m18.738s | |
| 14 | Alex Albon | Williams-Mercedes | 1m18.828s | 1m19.147s | |
| 15 | Yuki Tsunoda | AlphaTauri-Honda RBPT | 1m18.890s | | |
| 16 | Esteban Ocon | Alpine-Renault | 1m19.080s | | |
| 17 | Kevin Magnussen | Haas-Ferrari | 1m19.163s | | |
| 18 | Lance Stroll | Aston Martin-Mercedes | 1m19.227s | | |
| 19 | Lando Norris | McLaren-Mercedes | 1m21.554s | | |
| 20 | Logan Sargeant | Williams-Mercedes | | | |