Consecutive best-of-the-rest championship finishes and a Ferrari contract didn't seem enough for Carlos Sainz Jr to convince everybody he was deserving of a seat at Formula 1's top table.
For whatever reason, there was an impression that Sainz was seen by some as nothing more than a solid driver. Whether that was because he'd been passed between Red Bull and Renault before finding a port in the storm at McLaren, because he'd 'only' beaten Lando Norris there and been humbled by Nico Hulkenberg previously, or because Ferrari had fallen away from the front in F1 and therefore him getting a drive there wasn't really indicative of a step up to the big leagues.
Sainz has never had the reputation of a Max Verstappen or a Charles Leclerc but he deserves to be taken seriously as a top F1 prospect, one who will grow to win races and maybe even fight for the world championship.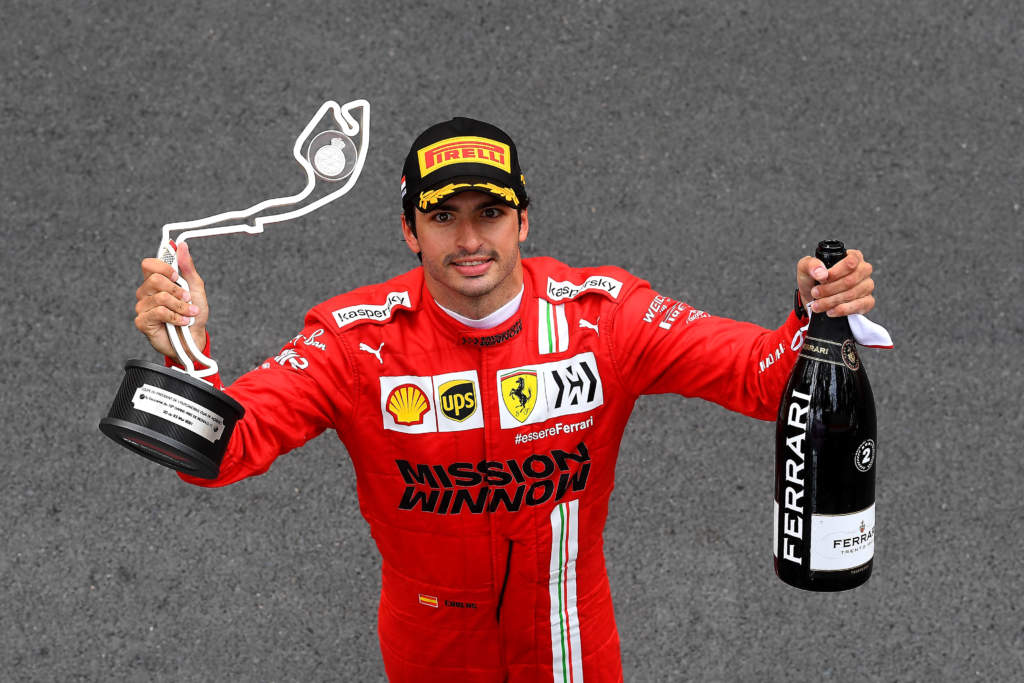 Anyone who thought he'd be shown up by Leclerc at Ferrari must concede that hasn't happened even when Sainz was at his most vulnerable, and anyone not convinced by what Sainz achieved at McLaren should probably reappraise him in light of Norris comprehensively beating Daniel Ricciardo early in 2021.
It's taken Sainz five races to score his first podium with Ferrari and in the process his second-place finish means he has almost four times as many points as his predecessor Sebastian Vettel did at the same stage last year, and just two fewer than Leclerc.
With that in mind it's worth acknowledging that Vettel had a worse Ferrari at his disposal than Sainz does, but Leclerc racked up 45 points in five races with some virtuoso performances at the start of last season. So the comparison is not completely invalid.
What is a little flattering to Sainz is the points gap to Leclerc, who missed out on even making the start in Monaco. So in one race, Sainz went from having 50% of his team-mate's points tally to 95%.
But that was because Leclerc paid the price for his own error.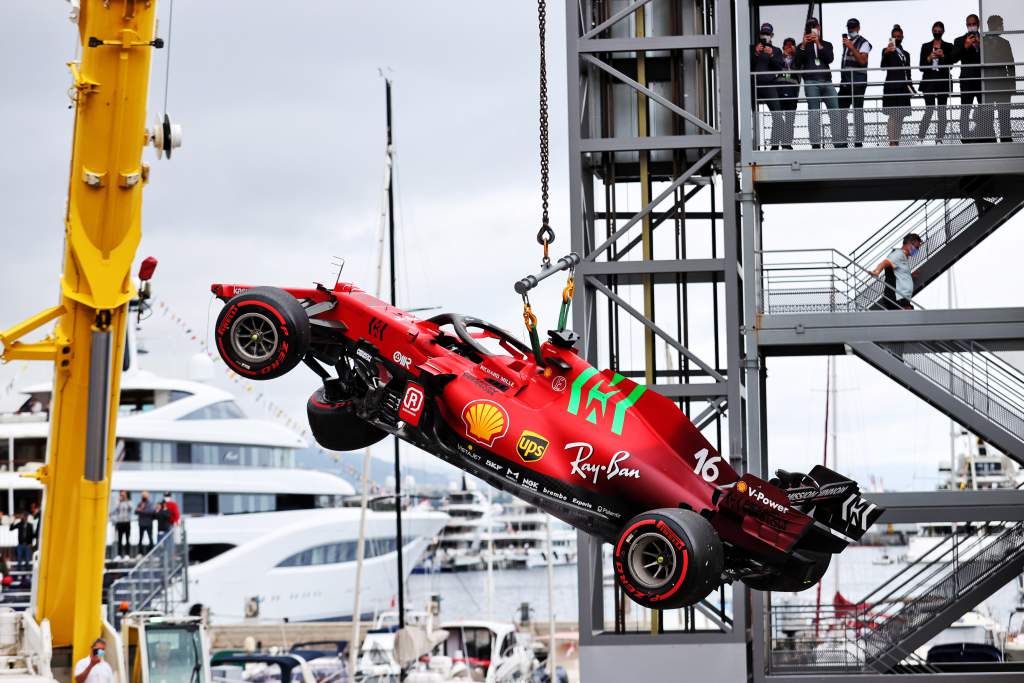 It was his mistake in qualifying and the heavy crash that helped secure him pole in Monaco that ultimately ruled him out of the grand prix.
So while Sainz was clearly pissed off to have slightly underperformed himself in qualifying, and still described his weekend as "bittersweet", he was the Ferrari driver who did the best job at converting Ferrari's mega Monaco pace into a serious end result. And in the process, he turned a solid start to life at Maranello into one that proves why he belongs there.
"To finish P2 after starting P3, it leaves me a lot more happy about the whole situation, about the whole weekend," said Sainz.
"I'm proud of it. Everything is going in the right direction for me with the team, I am adapting quickly.
"I obviously felt very sorry for Charles, I felt very sorry for the team, because I knew that the team this weekend could have potentially won the race and it would have been a massive boost for everyone.
"At least we've got a podium which I'm sure will help everyone's motivation and aspirations. But the bittersweet feeling is coming from knowing that maybe a potential win went out of our hands and I would have loved to share that podium with Charles."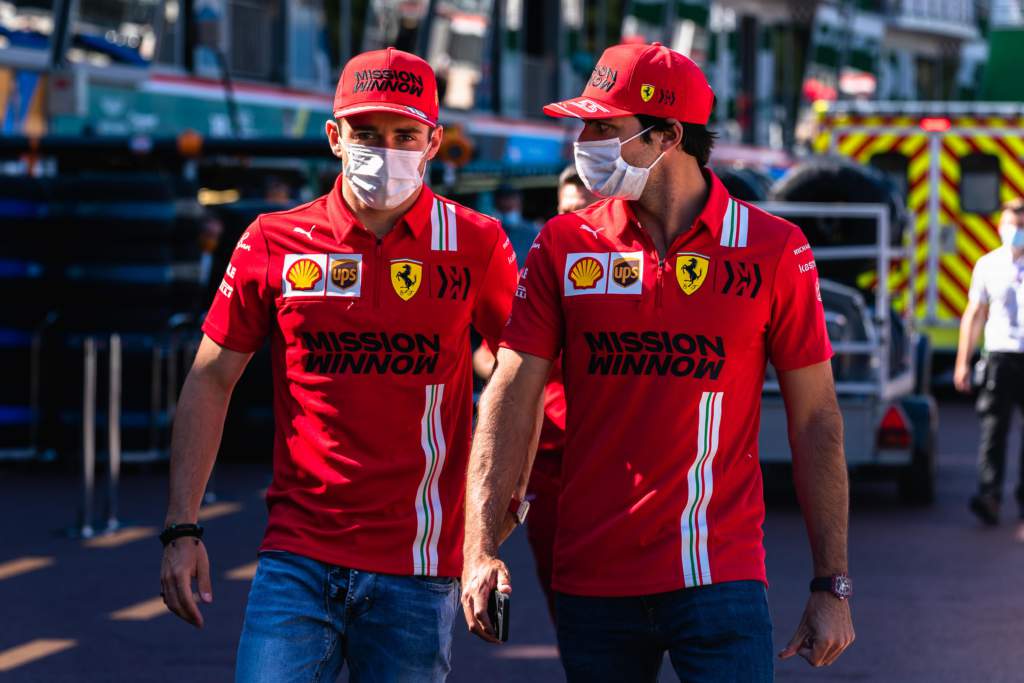 Sainz was always likely to quickly endear himself to his new team. He's a hard worker, he's got a wonderful range of skills inside the car, and he's an easy guy to like outside of it.
There is also a fierce desire to improve. It's why he wasn't celebrating qualifying fourth in qualifying, instead frustrated by an error in sector three on his first run and encountering traffic then a red flag on his second run. And it's why he's being "super self-critical" over his starts because he is determined to become "the best starter on the grid".
When Sainz was piecing together excellent races in his final weeks as a McLaren driver last year, Ferrari said it didn't need any further evidence of his ability. The point was that Sainz didn't need to vindicate Ferrari's decision.
But once he started driving for Ferrari, his performances did need to prove why he'd been signed – otherwise, it would mean the team had made the wrong choice.
"He is a good driver and we knew it," said Ferrari team boss Mattia Binotto in Monaco. "It's why we employed him.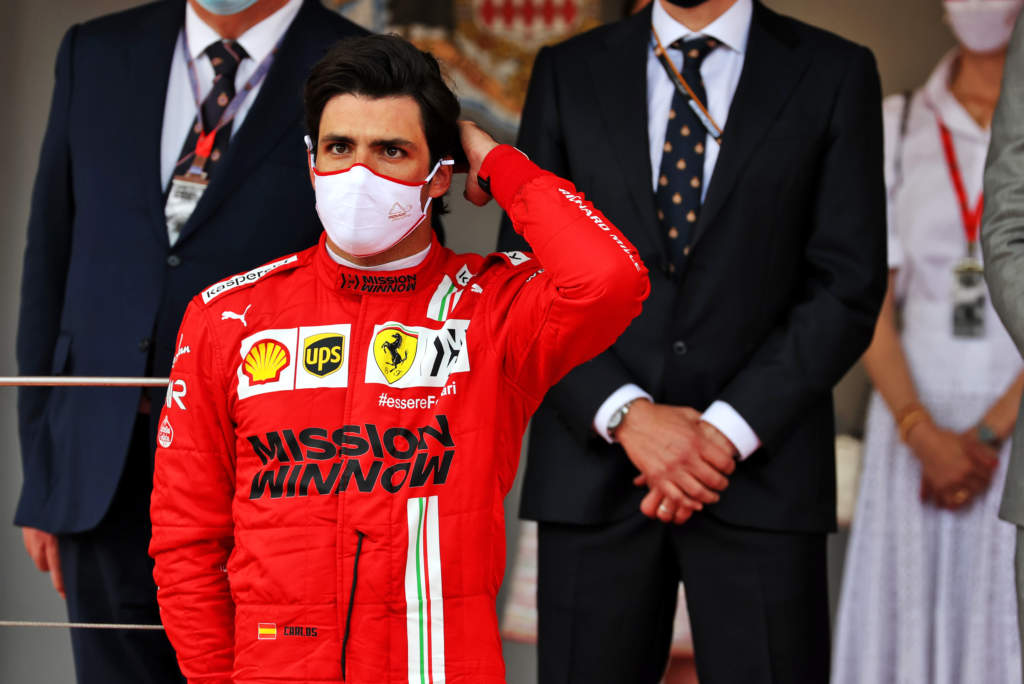 "He's showing how good he is and it's good for Ferrari that we made the right choice with him. We are pretty happy. He's integrating very well. He's running fast, he's a good leader inside the cockpit but as well outside.
"He's a good benchmark for Charles, he's pushing Charles as well to do better and that's what was really the objective."
The performance relative to Leclerc will be the yardstick Sainz is measured by. Chances are he'll come up short in the qualifying comparison – he's 4-1 down so far – but he's usually not trailing him by far and that's shown by Sainz's recent grid positions, putting his car on the first three rows in the last three grands prix.
We know Leclerc is capable of some magical Saturday performances but on Sunday, Sainz is a formidable operator.
That's where his evolution at McLaren was most impressive. And there's already plenty of evidence across the first five races that when Leclerc slips up, Sainz can be relied upon. After a miserable second stint in Portugal with poor tyre management, Sainz appeared to be well on top of the issue in the next races in Spain and Monaco.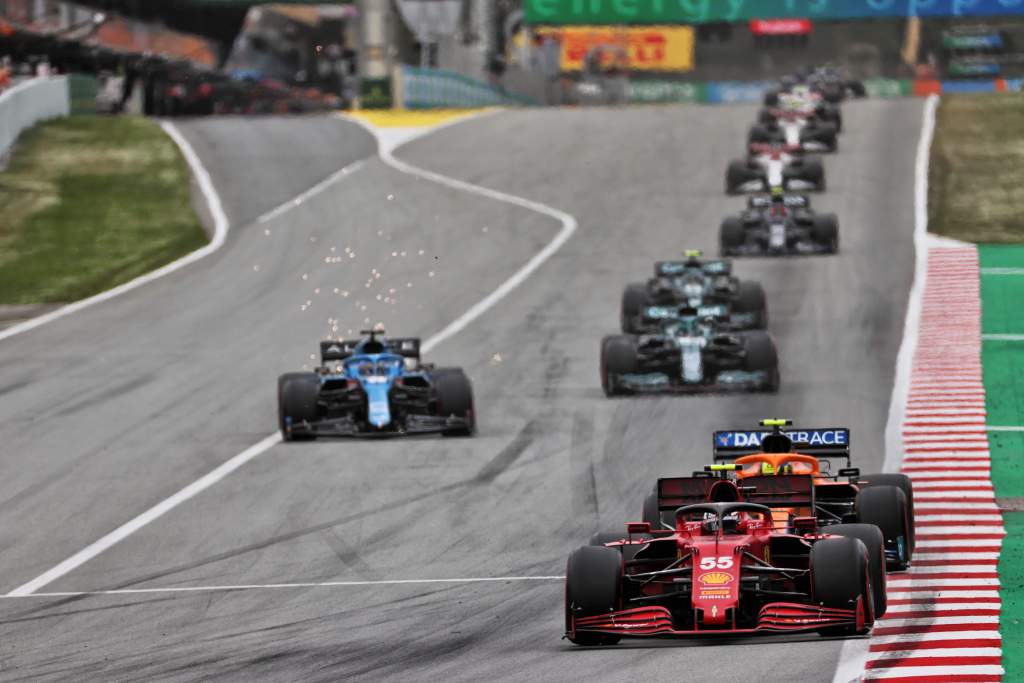 That's good for Ferrari because the ability to depend on Sainz will force Leclerc to cut out small mistakes. Otherwise, unlike with Vettel last year, his team-mate will take his place.
And while nobody's expecting Sainz to displace Leclerc in terms of the team's affections – it's pretty clear who will be the team leader in the long-term – it will sting Leclerc to see Sainz produce the first podium of the year in Monaco and if he makes other mistakes it'll be Sainz giving the team other important results as well.
OK, in Monaco, Sainz wasn't second quickest in qualifying and he didn't inherit the win that Leclerc was unable to fight for.
But he felt he would've been had he been allowed to complete his second run in Q3. In any case, he was still on the second row. So by any measure he was very close and in his fifth event for his new team, with such limited pre-season testing, that's a very strong foundation.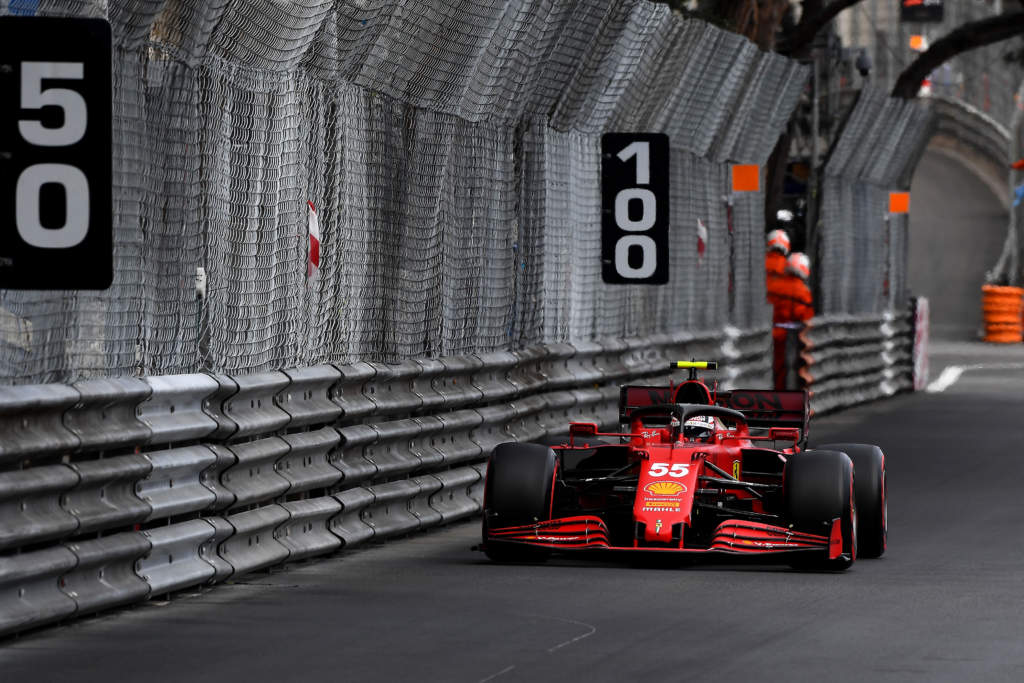 Look back to Bahrain, the three-day test and the opening round, and Sainz sounded like a driver who'd made the most of his restricted opportunities to adjust to his new team but was still lacking a bit of bite. He was happier than the likes of Sebastian Vettel and Sergio Perez, who were more obviously underprepared, if not quite as comfortable as Ricciardo and Fernando Alonso looked in their surroundings.
But that has proven to be a Bahrain mirage, perhaps triggered by the combination of familiarity with the circuit and the repeated use of it for both testing and the opening grand prix.
As the season progressed through its early stages, Sainz has emerged as the most consistent among those to have moved teams and also shown the highest peaks.
Of course there is still room for things to improve. Sainz wants more, and he'll be disappointed if he doesn't get it. In Monaco, despite how mega that result looks on paper and the fact he declared himself "happy" with his Sunday, he pointed out that "in general with the whole weekend, I'm still missing the possibility to win".
It'll take a while to be sure Sainz is making the most of this opportunity at Ferrari because until the car is capable of consistently fighting for poles and wins, the drivers will not be the limiting factor. And it may be that the most unconvinced members of the jury aren't ready to cast a verdict on Sainz until that changes, too.
It's simply impressive that Sainz has started so brightly at Ferrari and that supports the view that he has blossomed into a seriously good F1 driver. He has the credentials, the potential and the opportunity to achieve an awful lot over the rest of his career, something his eye-catching Monaco performance may help more people realise.