Daniel Ricciardo came into 2022 determined to put the struggles of his disappointing first season McLaren behind him. But the first six races haven't gone as hoped, and a comment he made after finishing a disappointing 12th in the Spanish Grand Prix hinted at the possibility that his future with the team might not be as straightforward as it once seemed.
Asked whether he had started talks with McLaren about 2023, Ricciardo indicated he'd yet to do so but said "I'm sure we'll talk before the summer, but we haven't talked about when we'll talk".
Yet last February, Ricciardo confirmed he had a three-year contract with McLaren. "I've got nothing to hide, it's three years," was what he said about what had only previously been described as a "multi-year deal".
Asked by The Race why such talks would be necessary given he said last year it was a three year deal, Ricciardo, uncharacteristically, struggled for words.
"That's true," he said. "So you've just made me answer something that I don't even need to answer!
"That is true. So, maybe I meant 2023 summer?"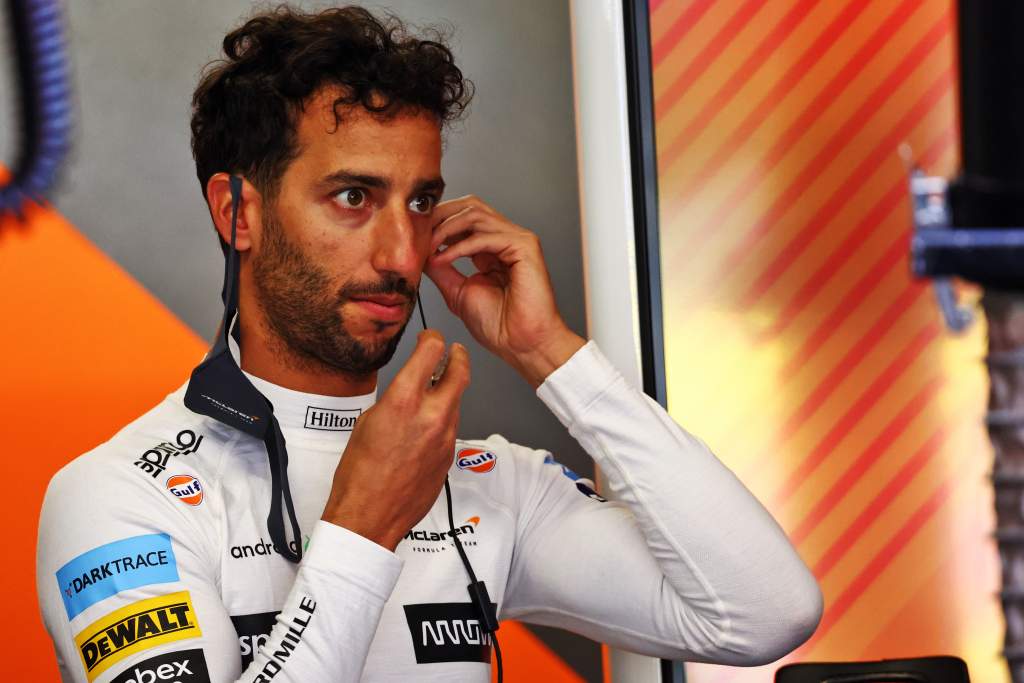 Ricciardo, wisely, declined to elaborate more when further questions were asked. And while it might just have been a driver who had just spent over an hour-and-a-half struggling in sweltering conditions misspeaking, it could also reveal that his McLaren future is not set in stone.
But regardless of whether Ricciardo unwittingly hinted at something or was just being imprecise with his answers to questions, McLaren is now at the point where it has to seriously consider his future with the team.
The hope was that a year working hard at deconstructing his driving and enhancing his technical understanding would mean Ricciardo was back to his brilliant best in 2022. Given the dramatic rule changes, the stage seemed set for a revival with Ricciardo potentially even better than ever.
But it's looked a lot like much of 2021 so far as he's been the clear number two given Lando Norris's advantage.
The numbers support that. Ricciardo is 39-11 down in terms of points scored, 5-1 behind in the qualifying head-to-head and has only been ahead of his team-mate once in the four races both have finished. And that, in Bahrain, was the consequence of Norris's strategic gamble on a weekend when McLaren was well off the pace.
The Spanish Grand Prix weekend was the nadir of Ricciardo's season. Although Ricciardo was the only McLaren driver to reach Q3, this was thanks to Norris having his final Q2 lap time deleted. Before he lost that lap for a track limits breach conferring little, if any, lap time advantage, Norris had been 0.310s faster.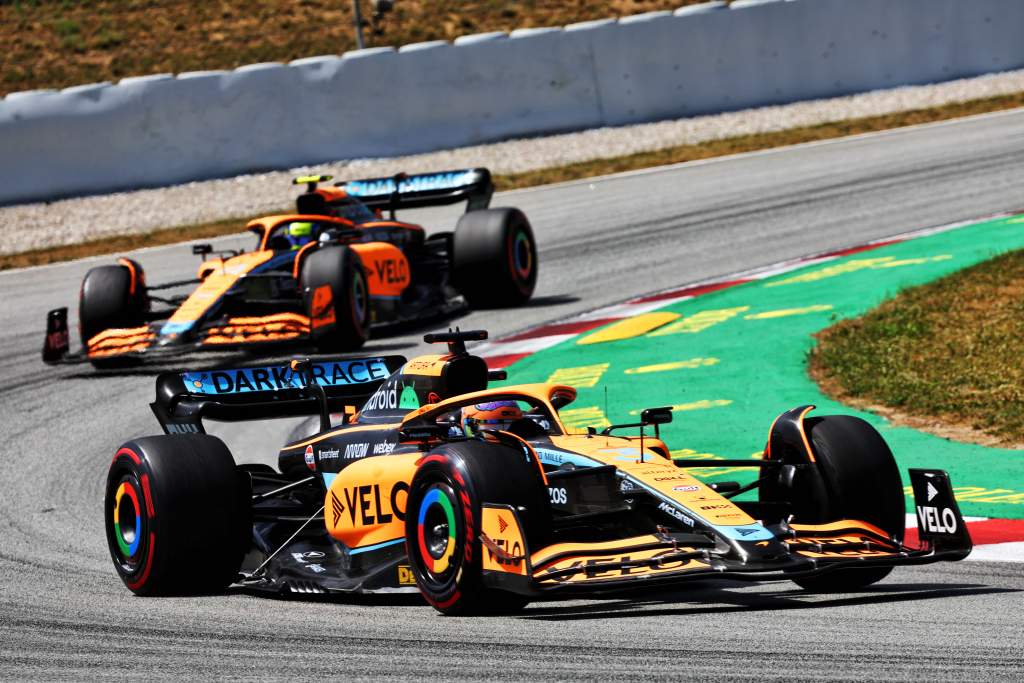 The underlying pace difference has been there all season in qualifying, to the point where that three tenths is actually the third-best gap between the two from Ricciardo's perspective. Given Norris was suffering from a visibly debilitating bout of tonsilitis, it was another disappointing qualifying for his team-mate.
But the race was a whole different level of disappointing, Ricciardo finishing 12th with his race pace nowhere near Norris. They ran similar strategies, with three stints on softs and one on mediums – albeit with Ricciardo using his mediums in the second stint and Norris in the third – but the average laptime difference (eliminating outliers) was over eight tenths of a second.
That's out of proportion with the pace gap Friday and Saturday appeared to indicate existed between the pair. Ricciardo himself was baffled by the fact he was "operating at a lower level of grip than everyone" and hoped a problem would be uncovered to explain it.
McLaren is still investigating and given how big a struggle Ricciardo had in the race, it would be a surprise if some problem wasn't uncovered. While Ricciardo said there were "little bits here and there" in terms of differences between his and Norris's set-ups, that could not explain such a big gap.
"I hoped to find something else, like an 'oh wow, this was wrong' or 'this was something'. When there's set-up [differences] you could say there's a couple of tenths, but I was just really slow.
"This felt more than set-up so hopefully there's something because I'm experienced enough now to try different things through the race.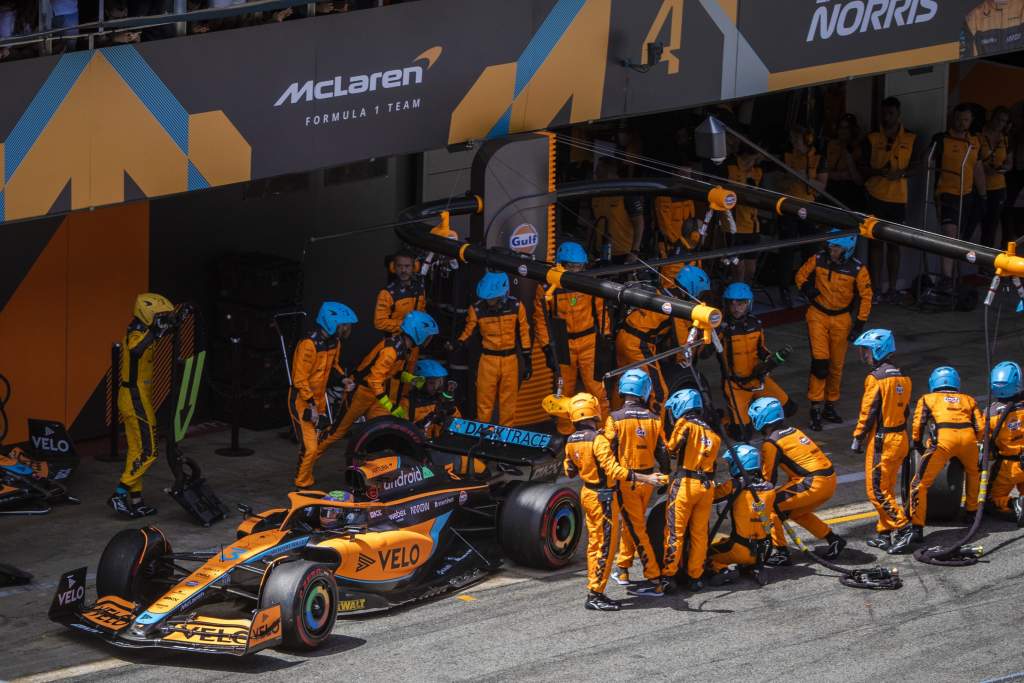 "I tried to push on the tyres, tried to be conservative, approach the corners [in] different ways, but the net lap time by the end was the same each time I crossed the line whether I'd used the tyres or not.
"So one of those ones where you're just kind of scratching your head."
But even if McLaren does find a reason for Ricciardo's struggles, it doesn't change the overall pattern. A driver who was signed on a lucrative contract has simply not produced the level of performance expected by McLaren, the watching world or Ricciardo's own illustrious history in F1.
His problems of last year were well-documented, with the style he'd honed in previous years in F1 not gelling with a car that didn't offer him the characteristics on turn in he required. He worked hard to reprogramme his style, with some success, but never to the point where he recaptured his old form. The first six races of this year have matched the pattern of the second half of last year.
While the fundamental change of the cars offered the tantalising prospect of a reset, the inherent characteristics don't necessarily favour Ricciardo. With front-end load tricky to produce for slower corners, the change is perhaps not well-timed.
Ricciardo admits "I want to execute more perfect laps and there's still not enough of those". The impression is of a driver who can't find a way back to his old heights and, although it's always risky to guess what might be going on in someone else's head, perhaps even asking himself if he can.
"I've definitely done enough miles now, so I don't think it's necessarily just more laps anymore," said Ricciardo when asked by The Race about his struggles.
"It's just probably just diving in perhaps little deeper. But some circuits it kind of feels natural or at home and then others I seem to just struggle a little bit more sometimes. So I'm still trying to figure it out sometimes.
"To be continued…"
Ricciardo will continue that process at Monaco this weekend, the place where he hit his lowest ebb in 2021. Then, he "refused to accept" he was so far off Norris's pace but later accepted he had some serious work to do on his driving.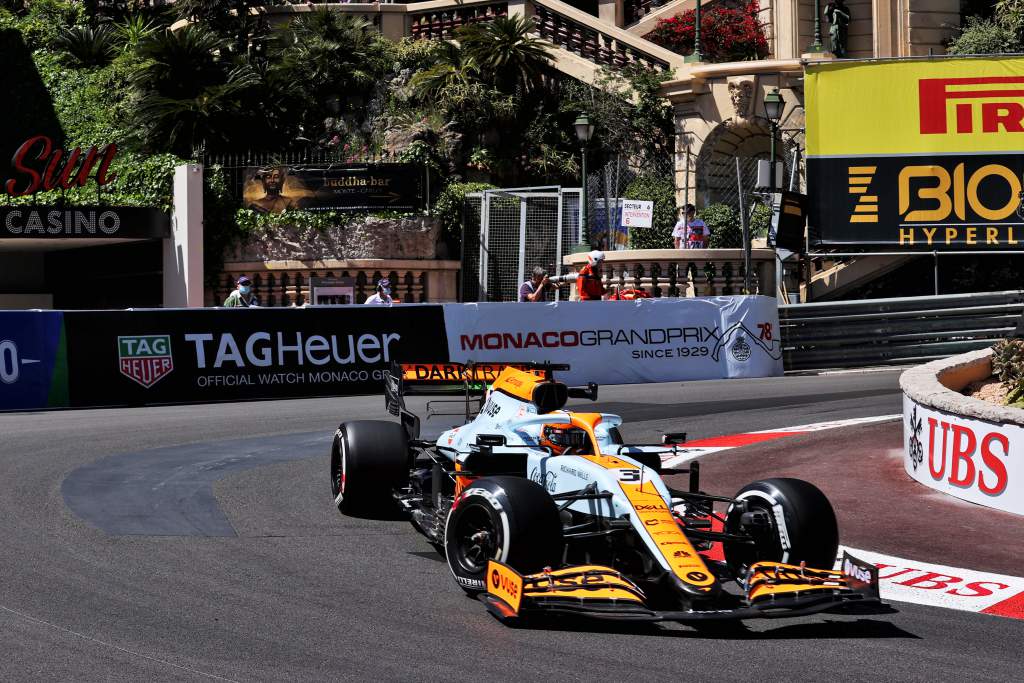 Nobody can fault Ricciardo's hard work in trying to turn things around at McLaren, but currently, the signs of progress are patchy at best.
With drivers like Colton Herta and Pato O'Ward on the radar and potential alternatives elsewhere in F1, McLaren has to be considering whether it's time to cut its losses on Ricciardo for 2023. As McLaren CEO Zak Brown admitted this week, Ricciardo has not lived up to expectations.
"Lando definitely has an edge," Brown told Sky Sports F1. "We obviously would like to see Daniel much closer to Lando and have a good intra-team battle.
"Daniel's just not comfortable yet with the car. We're trying everything we can and again it was a disappointing weekend.
"Short of Monza and a few races it's generally not met his or our expectations as far as what we're expecting.
"All you can do is keep working hard as a team, keep communications going, keep pushing and hope that whatever's not clicking at the moment clicks here shortly."
As for Ricciardo himself, he turns 33 in July and could have many years left ahead of him as an F1 driver. Given his exploits have thrilled F1 for many years and he has achieved great things with eight victories and two seasons – 2014 and '16 – where you can make a strong case that he was the best F1 driver of the season, the hope is 'peak Ricciardo' is still in there somewhere waiting to get back to his best.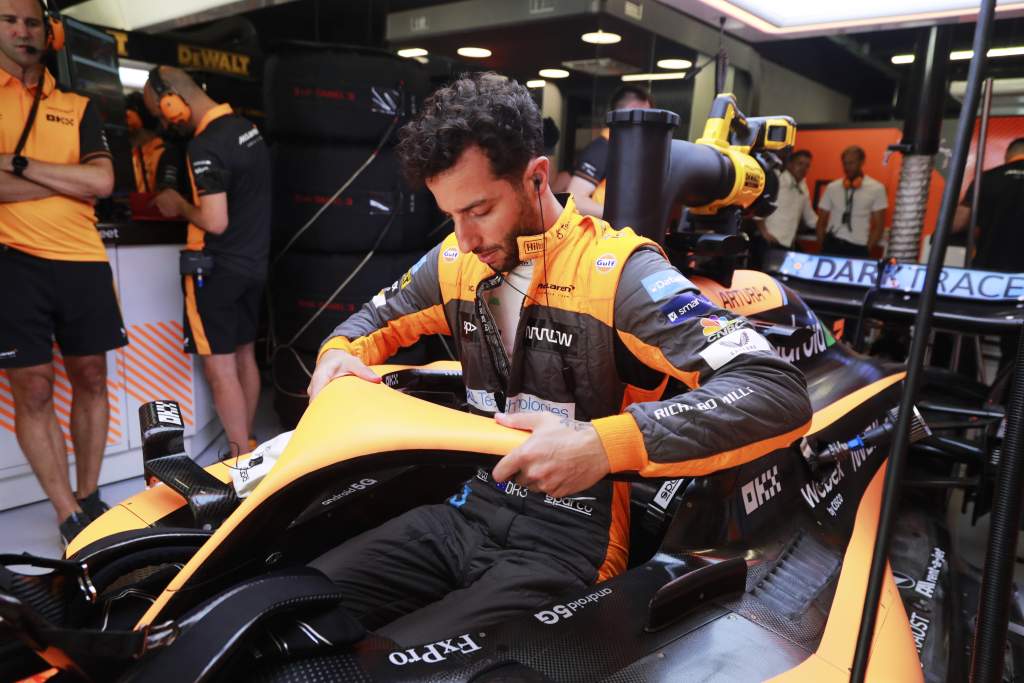 Certainly, grand prix racing would be all the better for that given he's capable of being a great driver and a superb ambassador for F1. The hope is things do click and that the popular Ricciardo has five years or more ahead of him as a driver operating at his best.
But the question is whether he has it in him to turn things around in terms of having both the ability to do so and the determination to do so, and McLaren's willingness to persevere.
If one or both of those things is lacking, it could be that when the time comes to talk about the future it will be about team and driver going in different directions in 2022.