Red Bull driver Sergio Perez took pole position in hugely eventful Saudi Arabian Grand Prix qualifying, which featured a terrifying crash for Mick Schumacher and a shock Q1 elimination for Lewis Hamilton.
Schumacher crashed hard when on a push lap in Q2 with five minutes to go, his Haas VF-22 smashing into a concrete barrier side on and having its whole rear section ripped off.
Conscious but apparently unable to get out of the car, he was attended to by the medical car staff before being taken to the circuit medical centre and subsequently flown to a Jeddah hospital by helicopter for a precautionary scan, despite the on-site medical inspection revealing no injuries.
The session only resumed after a red-flag stoppage of nearly an hour for barrier inspection and track clean-up.
Six-time champion Hamilton – on the podium in the Bahrain opener – was already long out of contention by that point. He never looked at ease throughout the Q1 session, struggling massively in the first sector in particular and sounding aghast on team radio at his gap to team-mate George Russell.
Facing elimination entering the final minutes, he told his team he was struggling to improve and was left with one final attempt on what were already fairly used soft tyres – and though it was an improvement, briefly elevating him out of the drop zone, Aston Martin's Lance Stroll immediately sent him back down, consigning Hamilton to a final 16th.
"So sorry, guys," he told Mercedes, having last been eliminated in Q1 in Brazil in 2017 when he'd crashed out.
The other Mercedes of Russell ultimately just squeaked through to Q3 – with a time set on medium tyres that he couldn't improve on softs – so it was not surprising when he proved well adrift of the pole battle in Q3.
Instead, it was another Ferrari – Red Bull contest, with Sainz initially taking provisional pole by 0.044s over Leclerc, with Perez a further tenth down and reigning champion Verstappen eight tenths off the pace after a first attempt in which he was stunned by a lack of grip.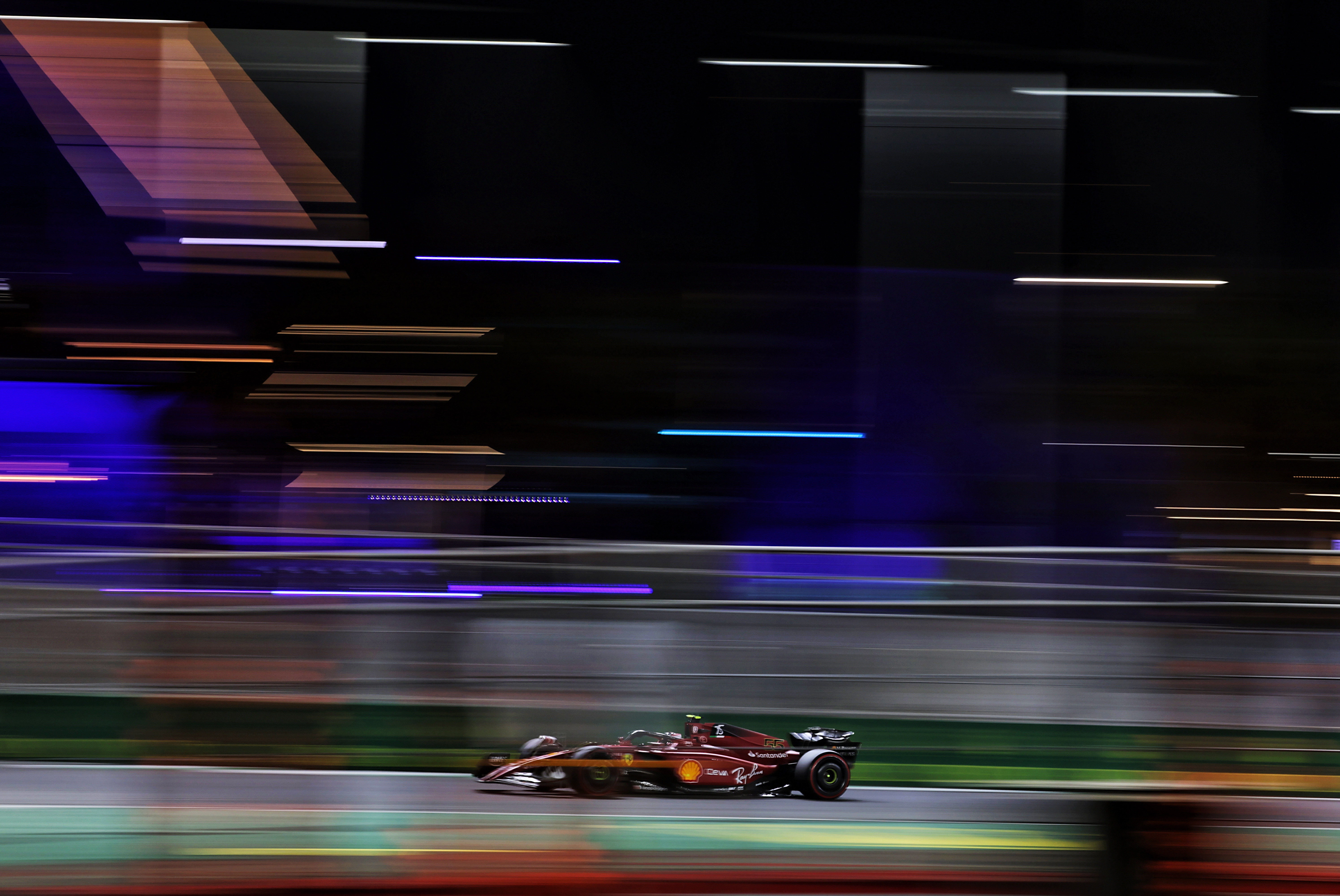 Like in Bahrain, Sainz failed to improve on his second attempt and was leapfrogged by two cars, with Leclerc jumping ahead before Perez pipped both to secure pole position – the first of his F1 career – by 0.025s over the Monegasque.
Verstappen recovered to fourth with his follow-up attempt but still ended up a quarter of a second down on his team-mate, with Alpine's Esteban Ocon and Russell making up row three, six tenths down on the reigning champion.
The order in Q3 was completed by Fernando Alonso (Alpine), Valtteri Bottas (Alfa Romeo), Pierre Gasly (AlphaTauri) and Kevin Magnussen (Haas).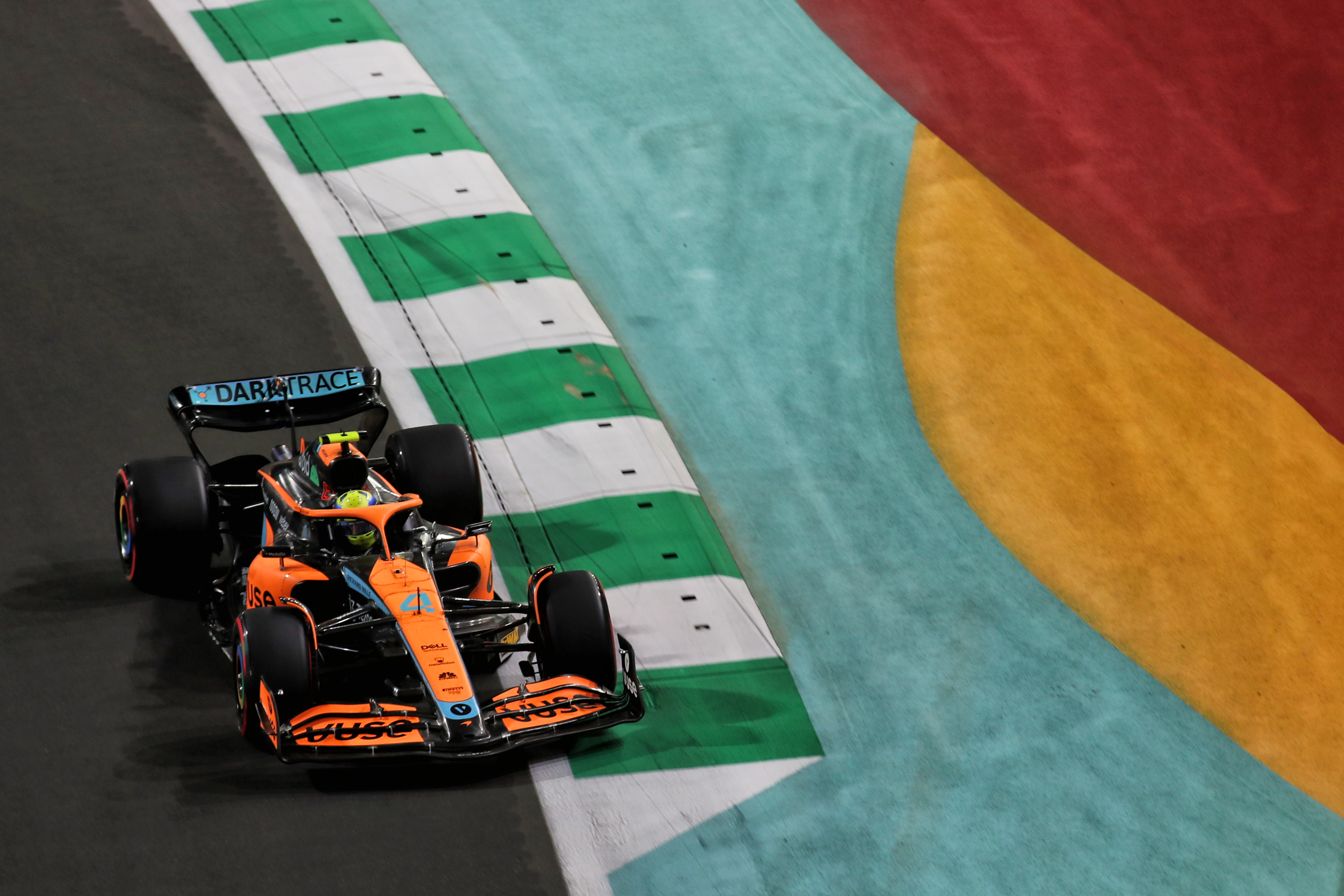 Last year's fourth-best team McLaren is yet to breach Q3 in 2022, with its two drivers Lando Norris and Daniel Ricciardo coming just short of pipping Mercedes man Russell for a spot in the pole shoot-out.
They are on course to share row six, although Ricciardo is under investigation for having potentially impeded Ocon while the latter was on a fast lap early on in Q2.
Placing behind the McLarens in Q2 were Alfa Romeo rookie Zhou Guanyu, Schumacher and Stroll, the trio who may stand to benefit if Ricciardo is penalised – albeit Schumacher's team boss Guenther Steiner admitted it was quite likely Haas would be down to just one car on Sunday's grid.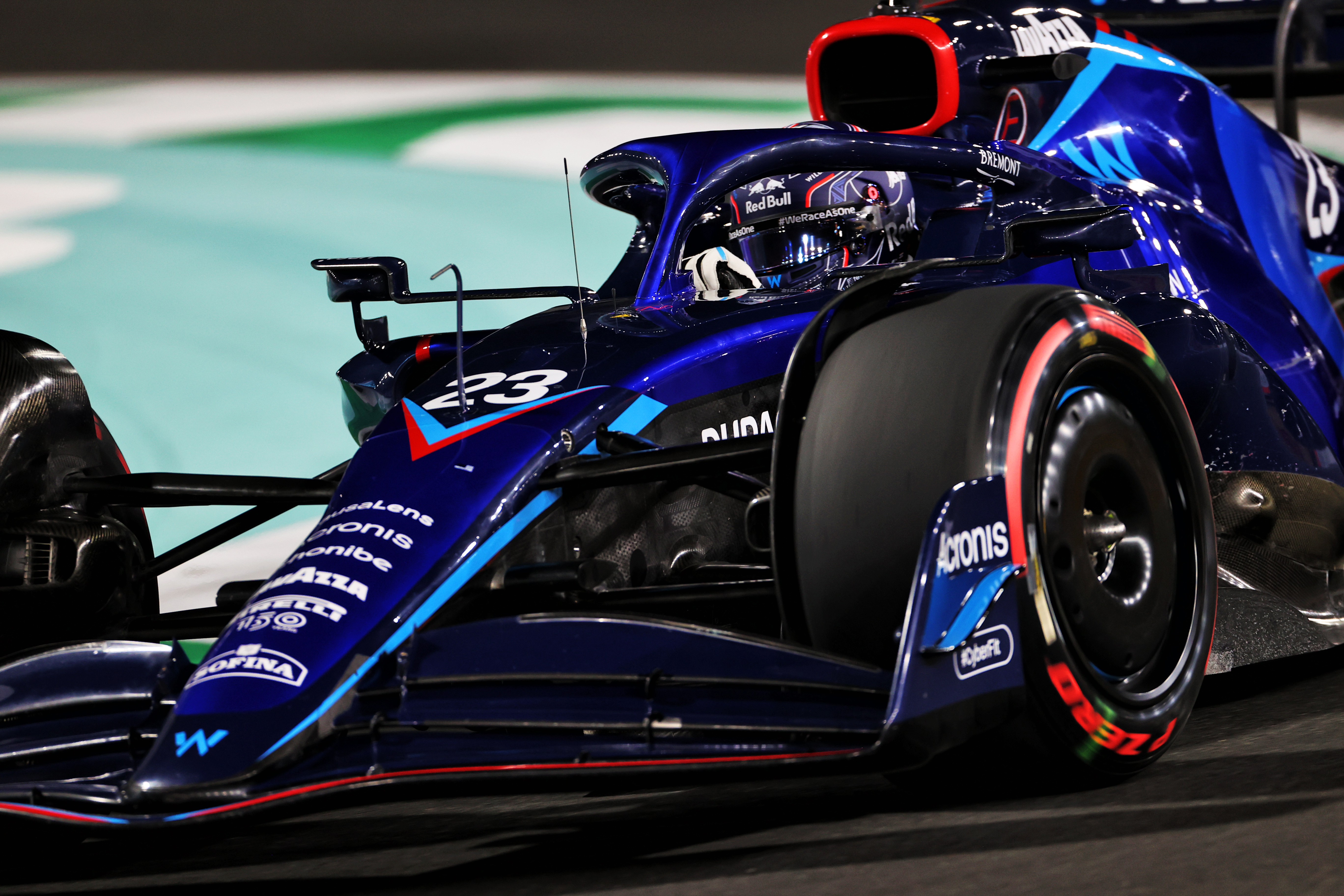 Williams driver Alexander Albon was a tenth and a half off Hamilton in 17th, narrowly beating Nico Hulkenberg – with Sebastian Vettel's stand-in losing just under three tenths to the other Aston Martin of Lance Stroll after having bested the Canadian in Bahrain qualifying.
Albon's team-mate Nicholas Latifi crashed out unhurt in the opening minutes of the first segment to bring out the first red flag, the rear stepping out on him entering the sweeping Turn 13 left-hander as he was sent towards a double impact with two rows of tyre barriers.
Despite this, he was not last thanks to having actually set a laptime, which was more than could be said for Yuki Tsunoda – who was called into the pits early on with what AlphaTauri called a "fuel-related issue" and didn't return.
Qualifying Results
| Pos | Name | Car | Q1 | Q2 | Q3 |
| --- | --- | --- | --- | --- | --- |
| 1 | Sergio Pérez | Red Bull | 1m29.705s | 1m28.924s | 1m28.2s |
| 2 | Charles Leclerc | Ferrari | 1m29.039s | 1m28.78s | 1m28.225s |
| 3 | Carlos Sainz | Ferrari | 1m28.855s | 1m28.686s | 1m28.402s |
| 4 | Max Verstappen | Red Bull | 1m28.928s | 1m28.945s | 1m28.461s |
| 5 | Esteban Ocon | Alpine-Renault | 1m30.093s | 1m29.584s | 1m29.068s |
| 6 | George Russell | Mercedes | 1m29.68s | 1m29.618s | 1m29.104s |
| 7 | Fernando Alonso | Alpine-Renault | 1m29.978s | 1m29.295s | 1m29.147s |
| 8 | Valtteri Bottas | Alfa Romeo-Ferrari | 1m29.683s | 1m29.404s | 1m29.183s |
| 9 | Pierre Gasly | AlphaTauri-Red Bull | 1m29.891s | 1m29.418s | 1m29.254s |
| 10 | Kevin Magnussen | Haas-Ferrari | 1m29.831s | 1m29.546s | 1m29.588s |
| 11 | Lando Norris | McLaren-Mercedes | 1m29.957s | 1m29.651s | |
| 12 | Daniel Ricciardo | McLaren-Mercedes | 1m30.009s | 1m29.773s | |
| 13 | Guanyu Zhou | Alfa Romeo-Ferrari | 1m29.978s | 1m29.819s | |
| 14 | Mick Schumacher | Haas-Ferrari | 1m30.167s | 1m29.92s | |
| 15 | Lance Stroll | Aston Martin-Mercedes | 1m30.256s | 1m31.009s | |
| 16 | Lewis Hamilton | Mercedes | 1m30.343s | | |
| 17 | Alex Albon | Williams-Mercedes | 1m30.492s | | |
| 18 | Nico Hülkenberg | Aston Martin-Mercedes | 1m30.543s | | |
| 19 | Nicholas Latifi | Williams-Mercedes | 1m31.817s | | |
| 20 | Yuki Tsunoda | AlphaTauri-Red Bull | | | |