Saudi Arabian Grand Prix winner Sergio Perez feels he was given "different information" to Red Bull Formula 1 team-mate Max Verstappen and wants to review the circumstances behind him losing the fastest lap point.
Perez and Verstappen were in control of the race as Red Bull streaked away to the its second easy 1-2 of the 2023 F1 season, yet the final stint looked much more tense than the team would have liked.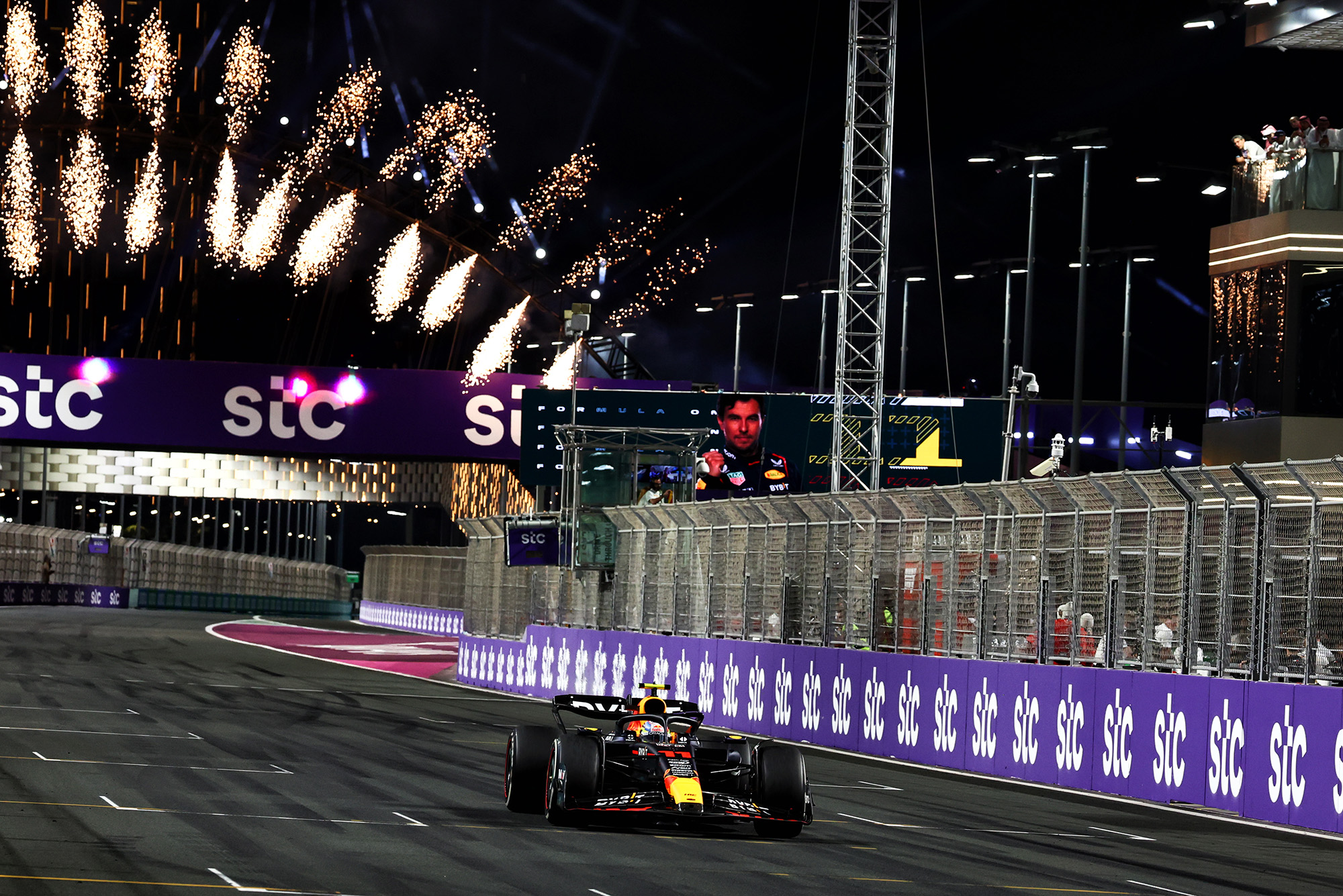 Verstappen, who had dropped out in the second qualifying segment on Saturday due to a driveshaft failure, was reporting hints of a potentially similar issue in the race – and, with the gap between Perez and him having stabilised around five seconds, the pair were told to manage the pace and run to a 1m33.0s target laptime.
But Verstappen did not acquiesce, continuing to lap in the low-1m32s margin and leaving Red Bull's requests for a confirmation that he'd understood and accepted the target laptime unanswered.
His silence meant that Perez – who reported a brake pedal going "long" – was then told the target laptime was no no longer 1m33.0s but 1m32.6s, much to his confusion.
That confusion was compounded when he was then told he was "free to push" – which team boss Christian Horner subsequently insisted was because reliability fears had been eased by data.
Verstappen did appear to accept second place and slow down at some point – something he insisted had been the case in the post-race press conference – but asked the team about the fastest lap, keen to take the bonus point away from Perez, who was on course to pick it up.
He was told "we are not concerned about that" but made it pretty clear that would not dissuade him – and came up with a lap three tenths of a second quicker than Perez's benchmark on the final tour, with Perez himself having clearly not pushed during that lap.
"With a few laps to go I asked what the fastest lap was," Verstappen said. "We were first of all free to race – and of course we had a target laptime to the end, but you know, there's a point on the line.
"It was the same also in Bahrain, it got asked. Especially when it's just between the two cars, I think it's quite normal that you ask for what the fastest lap is."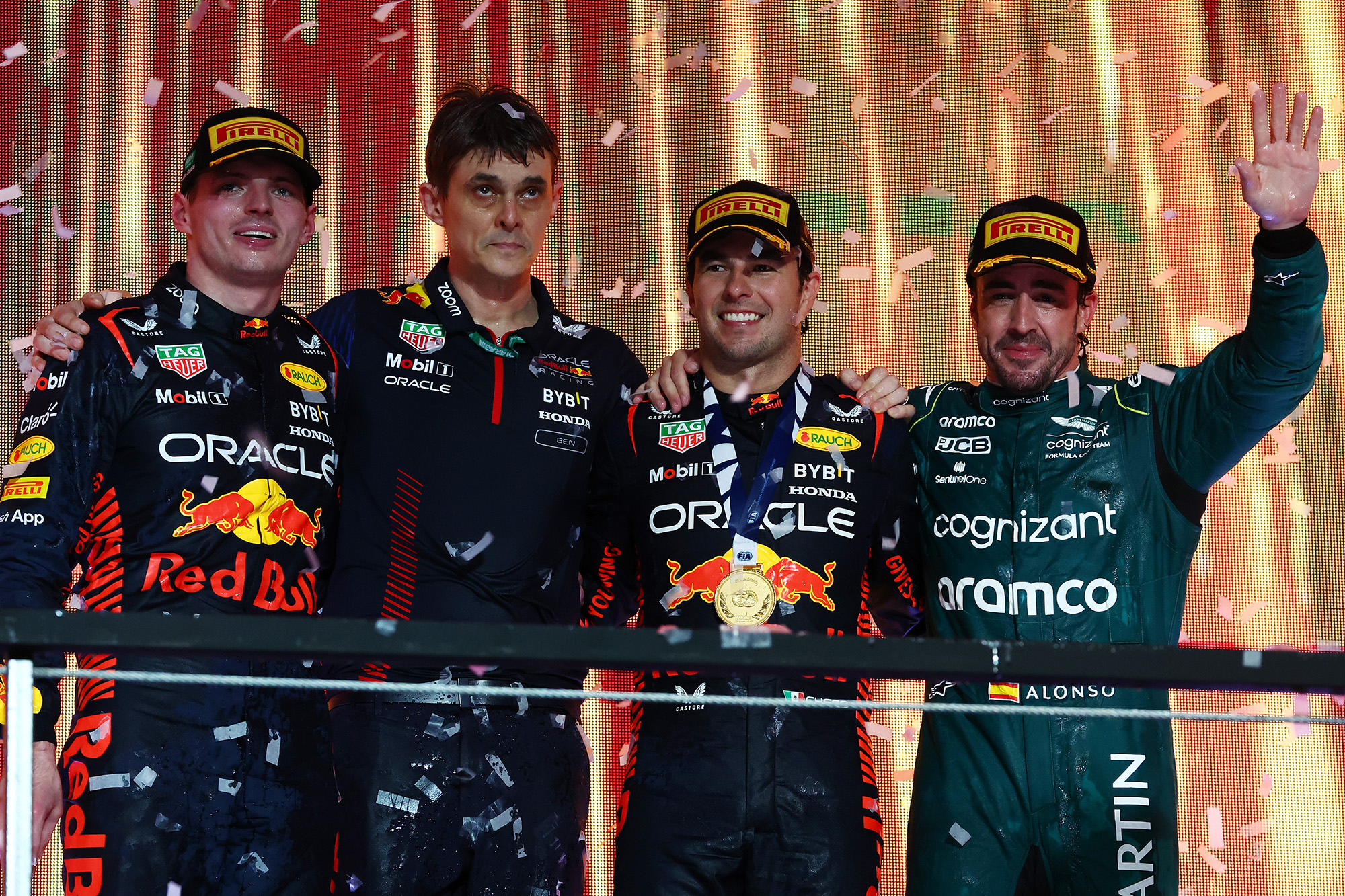 Perez, who would've led the championship coming out of Jeddah without Verstappen's late bid for fastest lap, did immediately appear to be caught out by what had transpired. In the cooldown room before the podium, he seemed surprised that Verstappen had ended up with the fastest lap and asked him what instructions he had received.
"Two laps from the end, they told me to keep a certain pace, they told me I had the fastest lap and to keep the pace, a certain pace," Perez said in the subsequent press conference.
"I though the communication was the same to Max, so it's something we need to review. Because I certainly got different information, and I just couldn't push there in the end."
Team principal Christian Horner, however, insists both drivers "absolutely" had free rein to go for fastest lap, despite the initial reluctance conveyed to Verstappen by his race engineer Gianpiero Lambiase.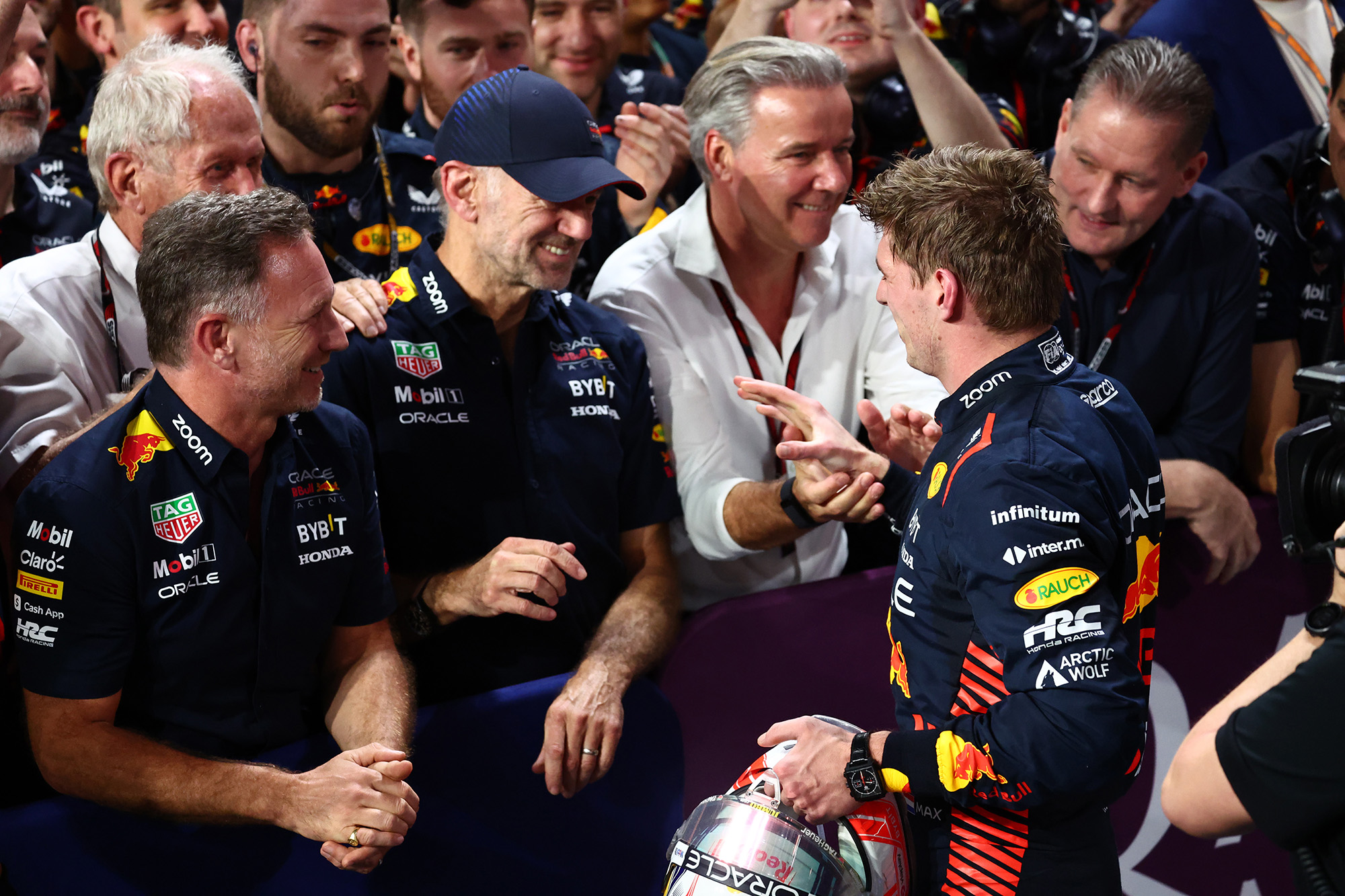 "We came to the conclusion that, 'you know what, it's the last lap. If it's going to go, it's going to go'. So… I think he's already come to that conclusion himself," said Horner.
He then went on to suggest Perez in fact did have a fastest lap attempt, but just backed out of virtually right away.
"Both drivers had the info of Checo had the fastest lap at that point, he asked what it was, so it was obvious why he was asking, he knew that Max was going to have a crack at it, and Checo gave it up after the first couple of turns, he was already a tenth and a half down and then you saw him back out of it.
"Inevitably, as Max said on the radio, the point for the fastest lap meant a great deal to him. And there was no reason for us not to let either he or Checo have a crack at it."