McLaren Formula 1 driver Lando Norris won the first race of the Veloce Pro Series on iRacing, but was held off by Martin Kodric in the reverse-grid race.
The two races were held around Silverstone with 2014 Holden Supercars.
Norris took pole position for the first race by a clear margin, six tenths quicker in qualifying than WRT Audi DTM driver Ed Jones in second place.
On the rolling start, Japanese F3 champion Sacha Fenestraz took the inside line for Abbey and then Village to force Jones out wide and take second place.
Mercedes F1 reserve Esteban Gutierrez capitalised on the battle in front of him to also overtake Jones and move into third place.
He and Jones then made contact going around Stowe for the first time, which dropped the Mexican to eighth, one place below where he'd qualified.
A minor mistake at the Maggots and Becketts section took Fenestraz, who gave his Holden a police-themed livery, off the racing line and let Jones retake second place down the inside of Becketts.
James Baldwin soon cost Fenestraz another place as he got a much quicker exit out of the slow-speed Village corner.
Unfortunately for Jones, he then disconnected from the session which meant he didn't secure his second-place finish and allowed everyone behind him to gain a place.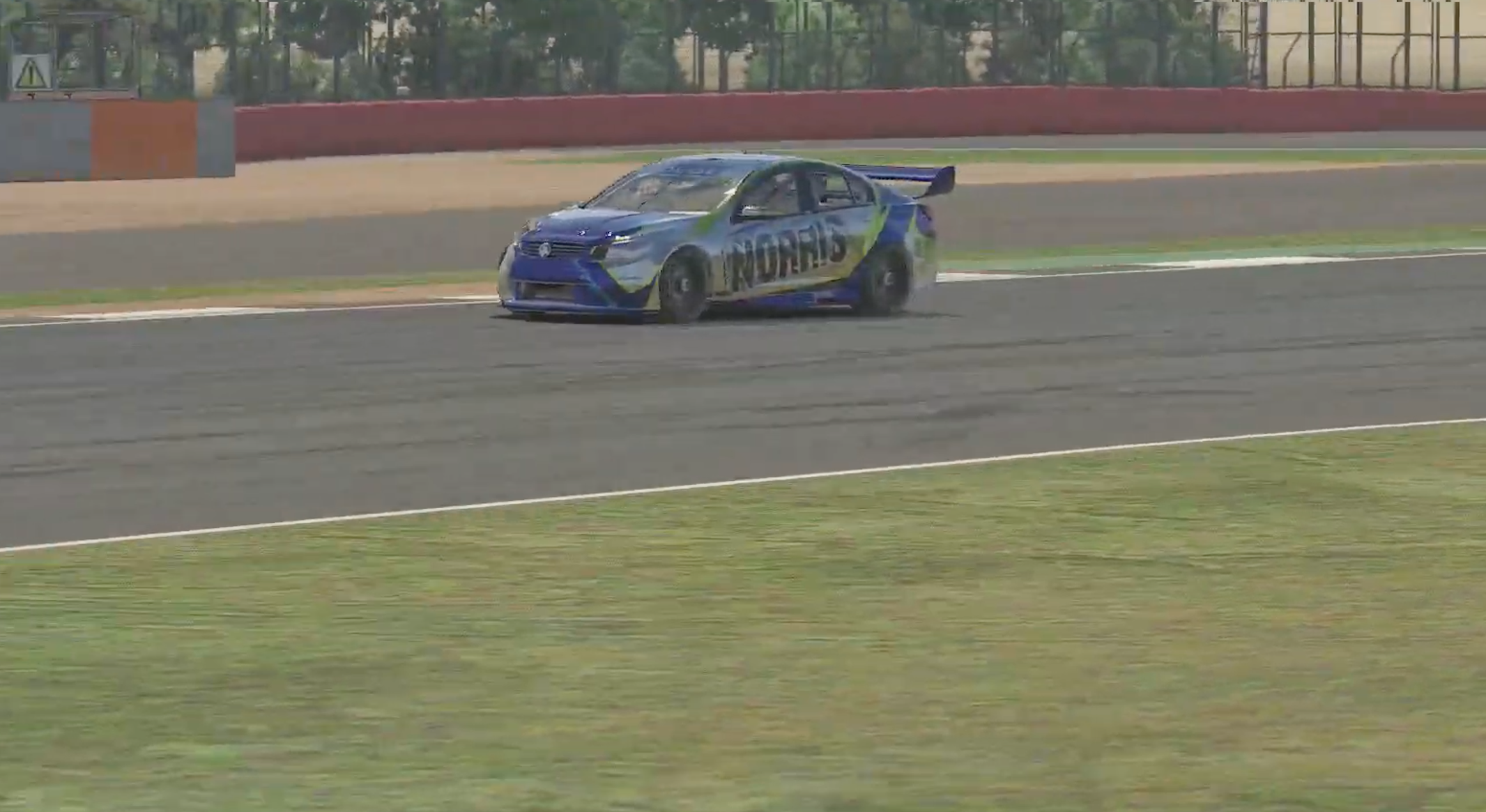 Norris proved to be the quickest driver by far as his lead was unchallenged from lights to flag and he won by just over 10 seconds from Baldwin and Fenestraz.
The second race forced Norris to do some overtaking though, with the top 10 reversed from the opener.
That meant 24 Hours of Le Mans class winner Harry Tincknell started from first place, with Martin Kodric alongside him.
McLaren GT factory driver Kodric made his move for first early as he caught Tincknell unaware by diving down the inside at Turn 4 and took the race lead.
The frontrunners from the first race asserted their superior speed straight away as Fenestraz moved up from eighth to second within one lap.
Norris, meanwhile, made up four places to run sixth by the end of the first lap. He clashed with Mercedes Formula E driver Stoffel Vandoorne on the run down to Village, which sent the Belgian into Baldwin and caused the simracer to roll into the next corner backwards.
Soon enough, Norris worked his way into contention for the race win, first overtaking Haas F1 test driver Louis Deletraz and then Fenestraz to move into second place, three and a half seconds away from race leader Kodric.
Norris was nine tenths of a second quicker than Kodric in his first lap in clean air, but with only three laps left to run he was unable to catch up to the McLaren GT3 factory driver before the 15 minutes had elapsed.
"I was praying that he was going to make a mistake because I knew with the laps we had left and the rate I was closing him down that it was possible but I needed that little mistake from him." Norris said.
"I made one mistake on the second-to-last lap into Turn 3, and that was the chance I lost to maybe get to him and pressure him that little bit more in the final few corners.
"Fair play, he drove well and he didn't make any mistakes."