Nicholas Latifi's late Abu Dhabi Grand Prix crash put the Williams driver into an odd pantheon of Formula 1 midfielders who unwittingly swung the course of a world championship decider.
Until last-placed Latifi slammed into the barriers eight laps from the finish while battling Mick Schumacher's Haas for 15th position and prompted a safety car, Max Verstappen's chance of catching Lewis Hamilton for the win that would settle the title looked remote.
Latifi politely but needlessly apologised for his accident, then later released a heartfelt statement in response to the appalling abuse and threats he'd received after the event. As this list shows, he's not the first driver to play an accidental role in a title decider, and he surely won't be the last.
2008 – TIMO GLOCK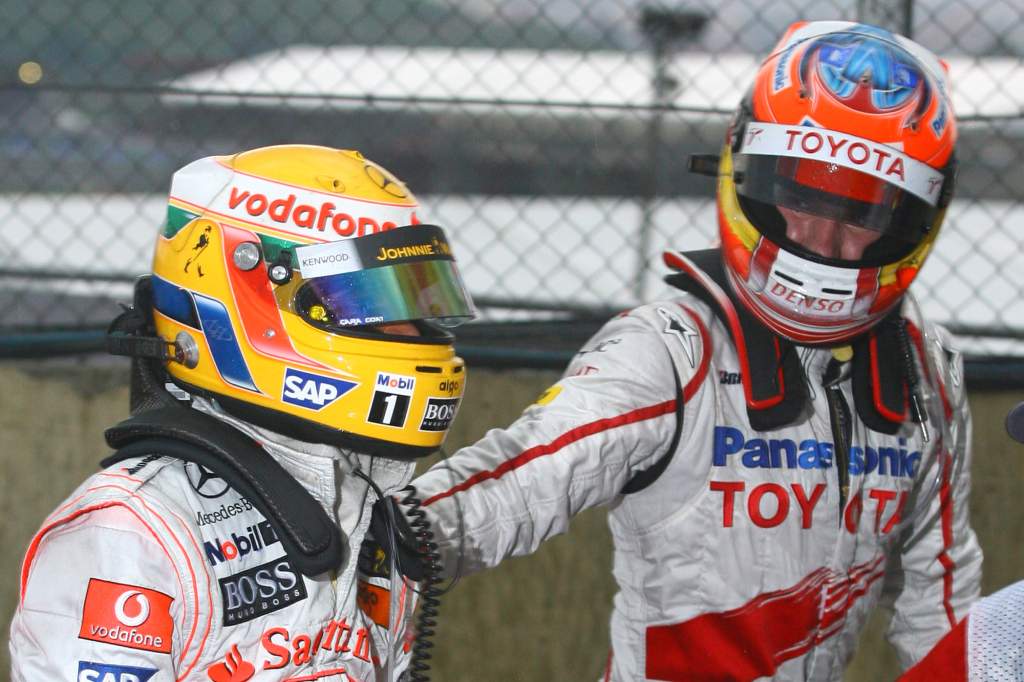 Before 2021 served up one title contender passing another for race victory and the title on the final lap, 2008 was unmatched for late drama to decide a championship.
That year Toyota's Timo Glock was the outsider unexpectedly thrust into the limelight.
The German was one of the few cars to gamble on staying out on slicks as rain started to fall in the closing laps of the Brazilian Grand Prix.
His gamble nearly paid off. Glock was seventh before other cars dived into the pits for intermediates, and he started the final lap in fourth.
But by then his pace had dropped by nine seconds, and his final lap was another 16 seconds slower. That was just enough to enable Sebastian Vettel and Lewis Hamilton to pass him at the final proper corner at Interlagos, giving Hamilton the extra point he needed to rip the title from race winner Felipe Massa's grasp.
Conspiracy theories have never quite gone away about this one. Glock says he still receives the accusations that he slowed down to let Hamilton take the title every time the Brazilian Grand Prix rolls around.
That is obviously nonsense, as the onboard footage from Glock's final lap shows just how difficult conditions were by then.
And the conspiracy theorists would do well to explain how Glock's Toyota team-mate Jarno Trulli – also on slicks – managed to set a lap time within one tenth of a second of what Glock managed.
Nothing else we saw during Toyota's expensive and ultimately unsuccessful time in F1 suggested the team would be that good at choreographing such a scenario.
1997 – NORBERTO FONTANA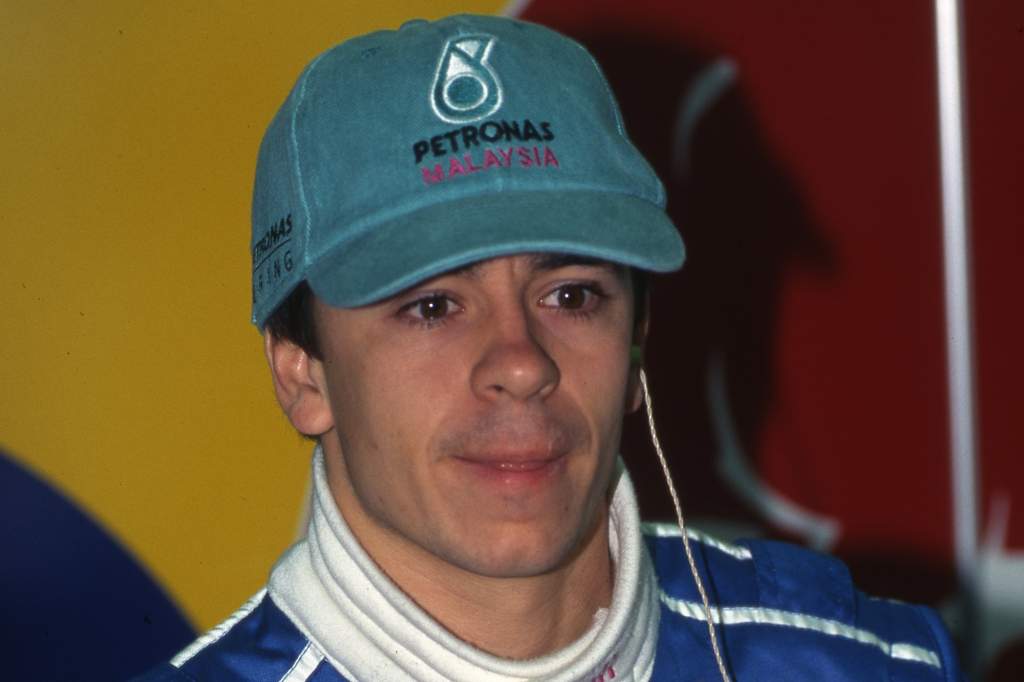 For nine years this controversy was based mainly on suspicion. Then Norberto Fontana came clean in an interview in 2006, confirming he'd been instructed by Ferrari team boss Jean Todt to hold up Jacques Villeneuve at Jerez if the Williams driver – fighting for the championship with Ferrari's Michael Schumacher – came up to lap him in his Ferrari-powered Sauber.
Fontana only got in the way for four corners, having made a big effort to stay out of Schumacher's way.
But he still managed to cost Villeneuve a couple of seconds, just as the Williams driver had got within one second of Schumacher's lead.
Ferrari and Sauber denied Fontana's version of events when he told his story, but a Sauber source recently told The Race Fontana's account was accurate.
Senior figures at Williams weren't bitter about the interference – perhaps because it didn't decide the title in the end. Some have even admitted they'd have done the same if a smaller team had been affiliated with Williams at the time.
2003 – TAKUMA SATO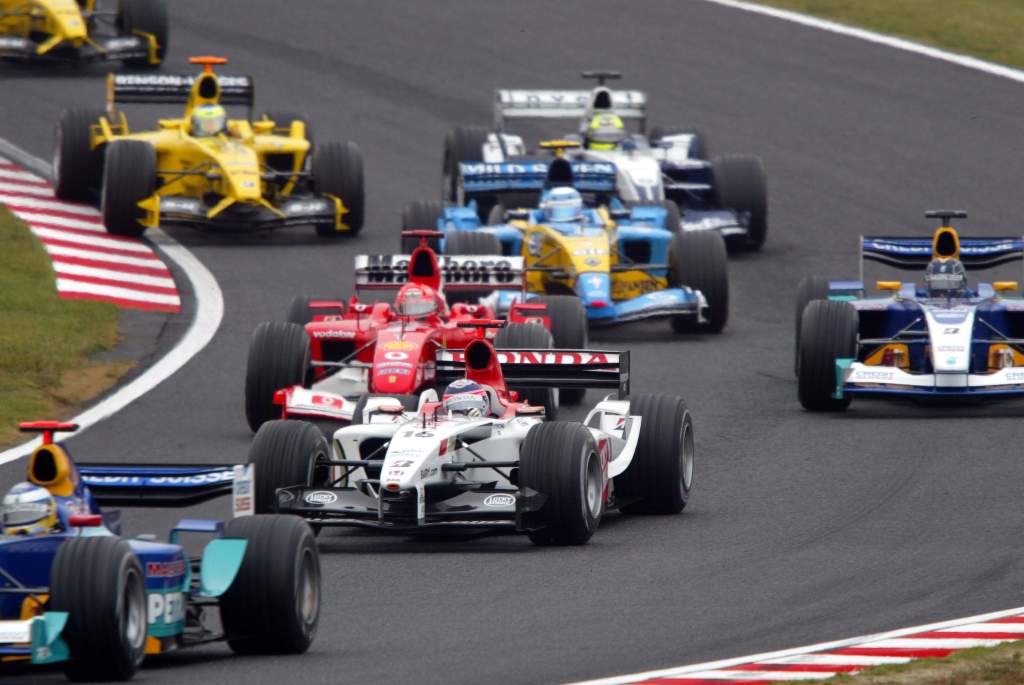 It was perhaps typical of Takuma Sato's eventful F1 career that in his only start of 2003 he ended up playing a massive role in how the championship was decided.
With a nine-point lead over Kimi Raikkonen and only 10 available per race in this era, Michael Schumacher didn't really need to do a lot to seal what was going to be a record sixth title.
But a showery qualifying session left him vulnerable. In the first season of the one-shot format, rain returning for the final five cars' laps meant Schumacher could only qualify his Ferrari 14th – six places behind McLaren rival Raikkonen, who'd been two cars earlier in the qualifying order.
And that put Schumacher alongside Sato on the grid, the BAR-Honda test driver called up for his home race ahead of his 2004 deal after Villeneuve's abrupt split with the team originally created around him.
Sato and Schumacher both made good early progress, but the Ferrari's bid to pass the BAR for ninth into the chicane on lap six ended with Schumacher diving into the (handily positioned) pitlane with his front wing askew.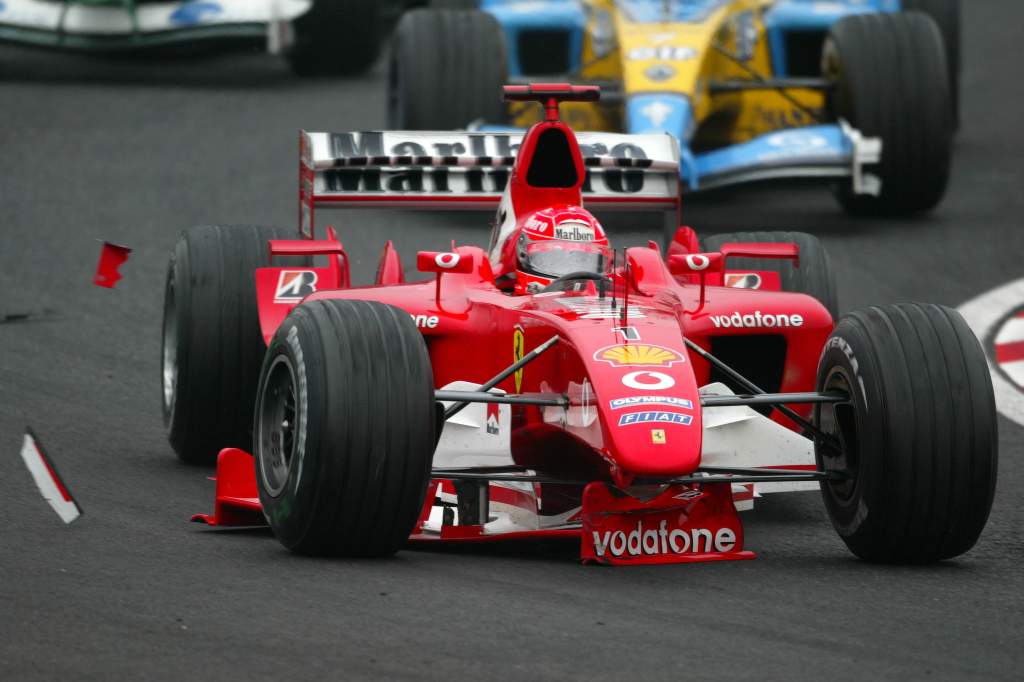 "In Formula 1, you accept that if somebody leaves the door open like he did you are allowed to go through," said Schumacher. "But obviously he saw it differently and decided at the last moment to slam the door shut on me."
In fairness, Sato didn't defend his line because Schumacher was nowhere near him approaching the braking zone. Or as Sato put it: "It was not the right distance for Michael to overtake me perfectly, so I just took my usual line. He was probably a bit optimistic about coming around me."
The pitstop for repairs dropped Schumacher to last and gave Raikkonen some hope.
In the end, Schumacher – despite a later near-miss in which he swerved while trying to pass Cristiano da Matta and left brother Ralf little choice but to clip him and spin – scrabbled to the eighth place he needed, though team-mate Rubens Barrichello resisting Raikkonen for the race win meant Schumacher was set for the title regardless.
2012 – BRUNO SENNA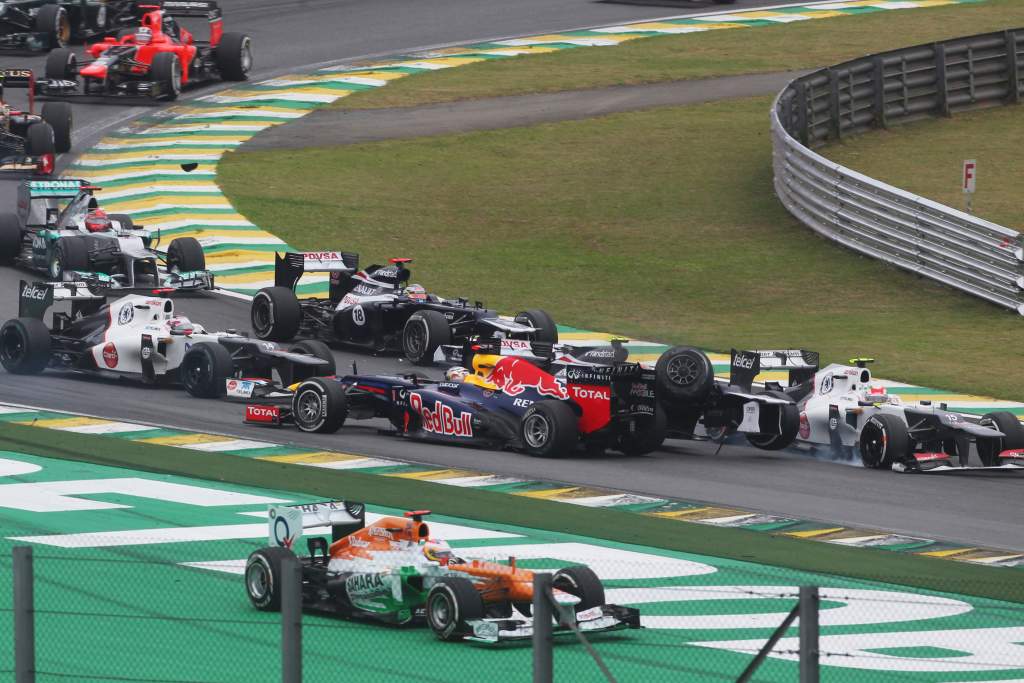 Thanks in large part to Bruno Senna, Fernando Alonso and Ferrari nearly pulled off an absolutely remarkable 2012 title win in a car that really wasn't competitive enough to have been anywhere near that position.
Alonso needed a moderate miracle at the Interlagos finale as he arrived 13 points behind rival Vettel's faster Red Bull and then qualified three places adrift of it in seventh.
That miracle appeared real on a drizzly first lap, as Alonso made a great start, Vettel made an average one and then lost more ground when pinched to the inside at the first corner by Red Bull team-mate Mark Webber. That moment, incidentally, was what prompted Vettel to retaliate in Malaysia the following year in the infamous 'Multi 21' team orders controversy.
Already two places behind Alonso, Vettel was then smacked into a spin at Turn 4 by Senna's Williams.
"When you are in the midfield you need to be a bit more careful with how you take the corners," said Senna.
"I was fully in control, absolutely everything was fine for me to take that corner there and he hit me very, very hard coming from the outside."
That was one take on it. Conversely, the fact Senna had been three cars back from Vettel going into the braking area and then steamed down the inside of Paul di Resta and Raikkonen before the contact meant it wasn't unfair for Vettel to be surprised he was there.
The Williams being instantly out with smashed suspension showed how hard the hit had been. Despite bodywork and exhaust damage that left Vettel down on power and with poor handling for the rest of the race, he picked his way back to finish sixth.
Had Alonso won, that wouldn't have been enough. But in a wild wet/dry race, the Ferrari didn't have McLaren-beating pace and he had to settle for second behind Jenson Button.
1984 – NIGEL MANSELL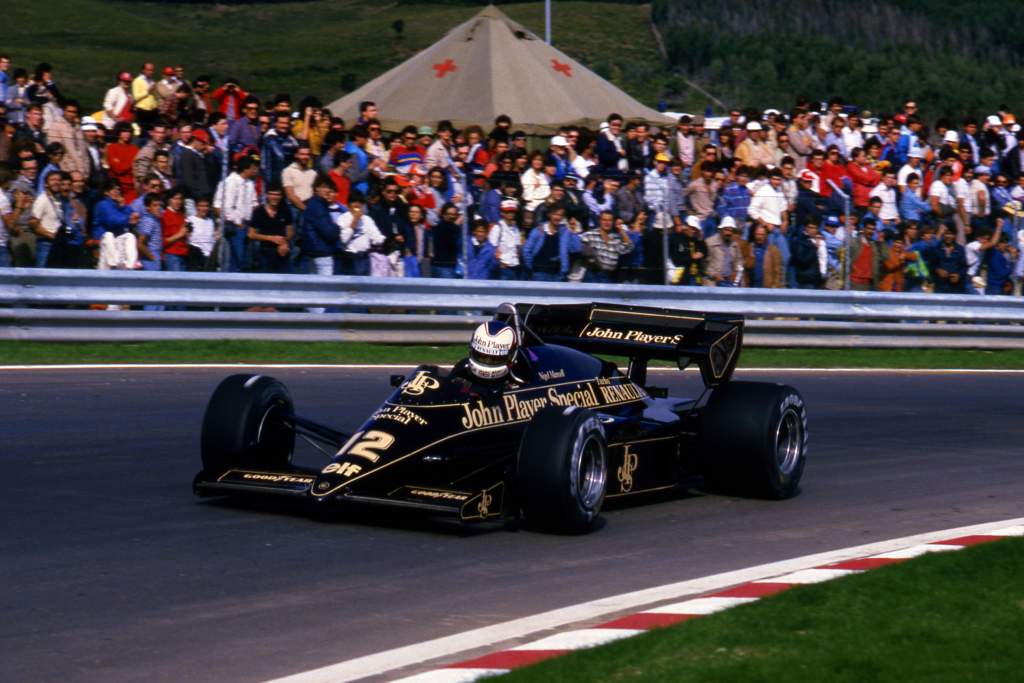 Niki Lauda's remarkable drive from 11th on the grid to claim the second place he needed to win the 1984 world championship by half a point required a bit of good fortune later in the Portuguese Grand Prix.
It took the Austrian just 33 laps to climb to third, but with McLaren team-mate Alain Prost leading, that wasn't going to be enough.
At that point Lauda was 38s behind Lotus driver Nigel Mansell, who held the second place he needed. By the end of lap 50 that gap had only come down to 30s, with 20 laps remaining.
But Mansell was running into brake trouble that would prove decisive in F1's closest final standings. He went off the track on lap 51, spinning and rejoining just five seconds ahead of Lauda, who'd just set back to back fastest laps.
Lauda passed him on the following lap, before Mansell went off again at the same place. The Lotus driver's race was over, and Lauda went unchallenged to the chequered flag and his final world title.
2002 – ALLAN McNISH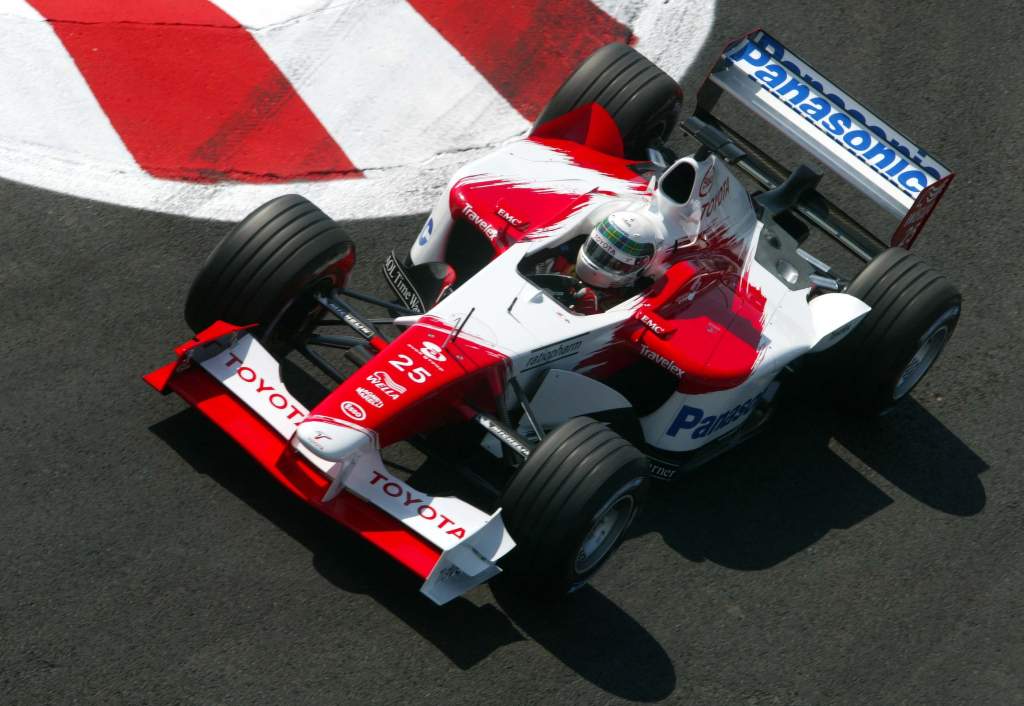 The 2002 French Grand Prix is unique in this list in that it's the only title decider we've included that wasn't the final race of the year.
In fact, this was the earliest an F1 championship has ever been wrapped up, with Michael Schumacher winning his fifth crown in July, just 11 races into a 17-race season.
Were it not for a late engine failure for Toyota's Allan McNish at Magny-Cours, Schumacher would have had to wait another week.
Five laps from the end McNish's engine blew up, dropping oil on the racing line at the Adelaide Hairpin.
Marshals displayed yellow flags for the stranded Toyota but not oil flags, so when race leader Raikkonen hit the brakes he slid wide on the oil.
Schumacher was just far enough back to see what was happening, moving slightly off line at the last moment so he didn't hit as much of the oil as Raikkonen did.
As Raikkonen scrambled back onto the circuit from the run-off area Schumacher firmly slammed the door in his face, chopping across his path to take the lead.
The incident cost Raikkonen a maiden F1 win. There was debate post-race about if Schumacher's pass counted as overtaking under yellow flags, with the counter-argument being that the rules didn't apply because of how far off the track Raikkonen went.
McLaren decided not to appeal on the grounds that it would distract from Schumacher's championship celebrations.
2010 – VITALY PETROV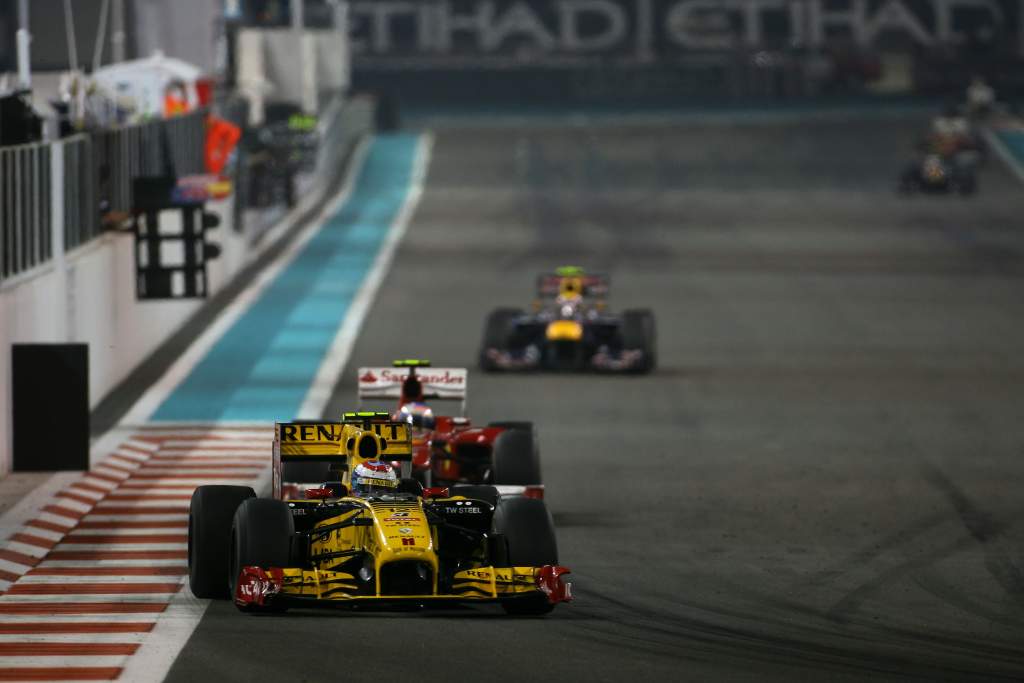 If you're among the F1 fans not fond of high-degradation tyres and DRS, here's the race you need to blame – because the 2010 Abu Dhabi Grand Prix showed how everlasting rubber and the impossibility of overtaking could combine to take the fizz out of what should've been an epic decider.
Alonso, Mark Webber, Vettel and Hamilton all still had a title shot going into the final race, but Alonso and Webber were the main protagonists, the Ferrari eight points ahead of the Red Bull up front.
They ran fourth and fifth early on behind Vettel, Hamilton and Button, putting Alonso on course to be champion in his first Ferrari season.
But focused on Webber, Ferrari covered the Red Bull's relatively early pitstop and both emerged behind the Renault of Vitaly Petrov – one of a group of cars that had stopped for tyres immediately under the safety car caused by a nasty lap one shunt involving Michael Schumacher and Tonio Liuzzi.
And behind Petrov was where Alonso and Webber stayed, as with no more pitstops needed and no clear chances to pass, they could only fume their way to seventh and eighth places behind the immovable Renault as Vettel – who pitted at a more normal time and rejoined clear of this queue – leapfrogged them both to snatch the title.
"I did my race," shrugged Petrov, who said he wouldn't have fought too hard if Alonso had ever had a proper lunge at him, but didn't see any need to wave the Ferrari past.
"If I was in his situation I would also be angry but he should be angry with himself or with his team because they did the wrong strategy or something."
1998 – ESTEBAN TUERO AND TORA TAKAGI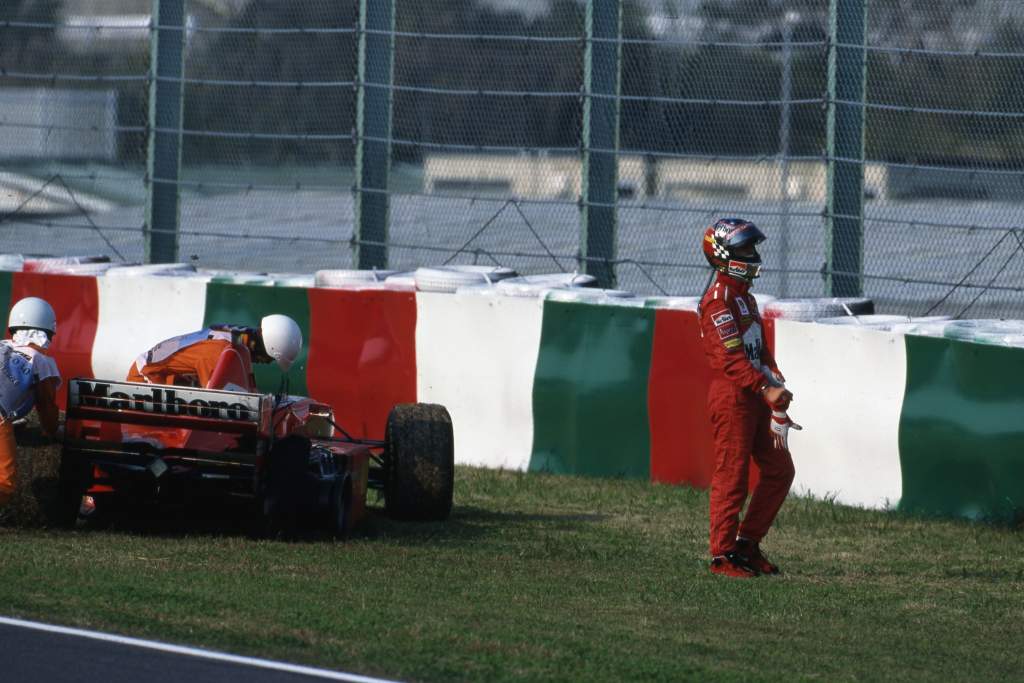 This one is a slightly speculative presence on the list as it's never been absolutely agreed that it was midfielders (OK, we're also maybe stretching the definition of midfielders here too) Esteban Tuero and Tora Takagi's collision debris that caused the puncture that ended Michael Schumacher's 1998 title chances.
Schumacher had already given himself a mountain to climb in the Suzuka finale by stalling on the grid from pole, handing rival Mika Hakkinen a clear shot at victory.
Needing to win with Hakkinen third or lower to end Ferrari's title drought, Schumacher made ferocious progress through the field.
By lap 22 of 51, he was up to third with only leader Hakkinen and the sister Ferrari of Eddie Irvine ahead. But though Irvine was sure to be compliant when Schumacher appeared on his tail, he still needed something to go wrong for Hakkinen to rescue his championship hopes.
Then last-placed Minardi driver Tuero's lunge at Takagi's Tyrrell into the chicane wiped both out and scattered plenty of debris across the track.
Probably not coincidentally, two minutes later Schumacher's right rear tyre burst as he approached the first corner, immediately doing enough damage to convince Schumacher there was no point trying the long limp back to the pits.