It was like last week – but more. At the same venue, on a softer tyre combination but a cooler track, a Red Bull with yet-more new components was even faster, enabling Max Verstappen to be even more dominant.
The 18s by which he beat Valtteri Bottas in the Austrian Grand Prix flattered the Mercedes; the gap had been almost half-a-minute with just 11 laps to go when Verstappen took a precautionary second stop because of a cut tyre concern – because he could.
"Incredible to be honest," he said immediately afterwards. "The car was on rails. On every tyre set we put on it was really enjoyable to drive. Pretty insane. I'm a bit amazed myself how today went. I didn't expect it to be like this. Incredible job by everyone to deliver something like this."
A Mercedes with nothing different – and a set-up experiment that didn't really bring anything – was left further behind than a week ago.
And popping up between the Red Bull and Mercedes in qualifying was an improved McLaren driven to brilliant effect by Lando Norris around a track at which its huge DRS effect is seen to maximum advantage.
It was enough to put Norris on the podium once Lewis Hamilton had taken kerb-induced bodywork damage just before the first stops that not only lost him a place to Norris but obliged him to surrender position to team-mate Bottas, who was able to take advantage of a 5s penalty for Norris to jump up to second at the pitstops. A very subdued fourth was all that Hamilton could muster from the weekend.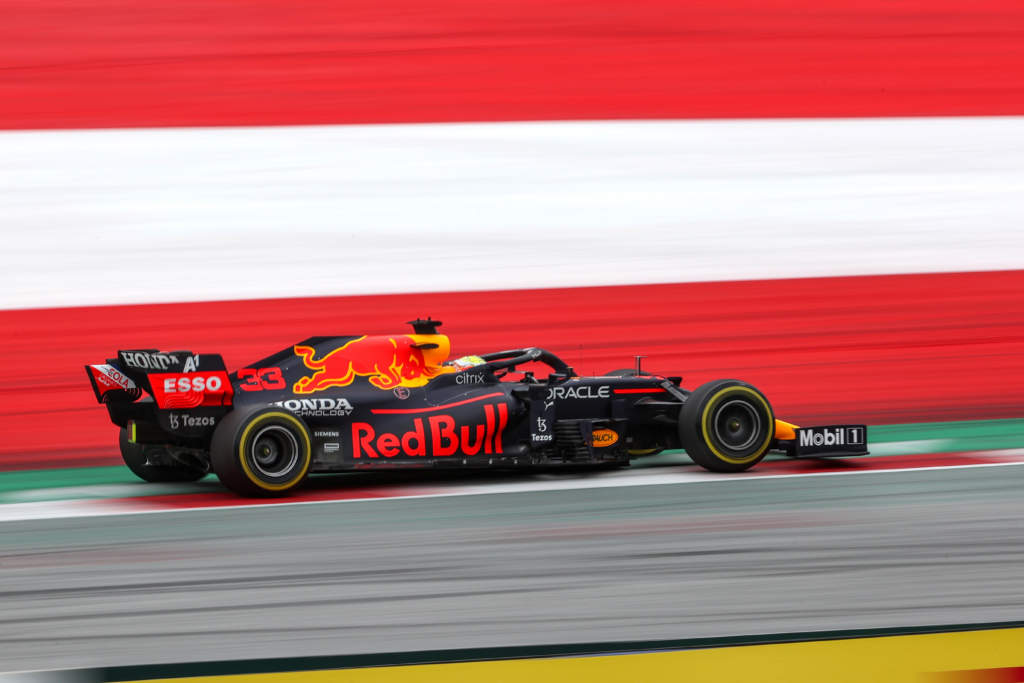 Verstappen, in a Red Bull with a new bargeboard arrangement designed as part of a package with the new diffuser introduced last week, was comfortably fastest all weekend. So confident has the team become with its raw pace that it is now beginning to run Fridays with a more conservative Honda power unit setting – taking the big picture perspective of a team chasing the world championship when reliability could yet decide things. But this victory puts Verstappen more than a race retirement ahead of Hamilton.
When might Red Bull look at switching off the development programme now that it's ahead and pulling away? "Around Abu Dhabi," said Christian Horner, only half-jokingly.
Running with more wing than the sister car of Sergio Perez – who is finally beginning to go his own way, having seemingly resigned himself to not being able to drive a Max set-up as fast as Max – Verstappen was only a little quicker than the Mercedes down the straights, less so than last week. But his advantage over the lap was bigger and after securing pole despite a less than ideal tyre prep lap, he was up and gone pretty much as soon as the lights went out.
The Mercedes found less time from the C5 softs in Q3 than most other cars and neither Hamilton nor the team felt that the Norris qualifying time was achievable by them, even if the Mercedes was still decisively quicker over a stint on the medium and hard tyres that everyone favoured for Sunday. Even Perez was able to shade Hamilton and Bottas to line up third.
So a papaya-coloured McLaren started a grand prix from the front row for the first time since Denny Hulme lined up on the outside of the 3×2 grid at Watkins Glen 1971. Norris retained position off the line and got involved in a fierce dice with Perez who desperately didn't want to be behind a McLaren that is extremely difficult to pass on the straight. This dice continued after a three-lap safety car interruption to retrieve the suspension-damaged Alpine of Esteban Ocon.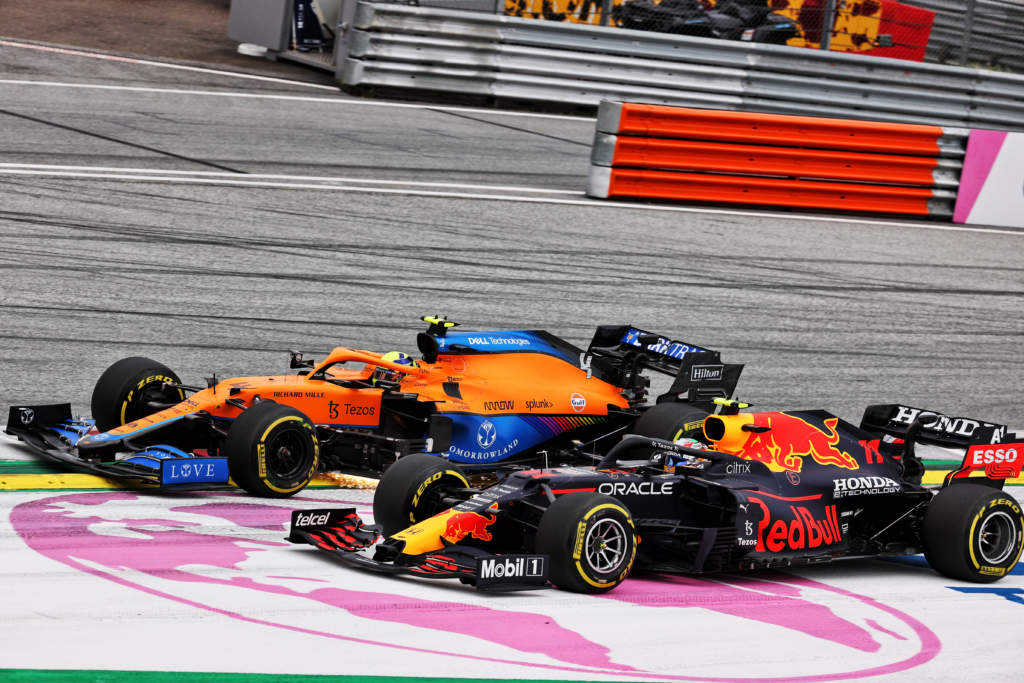 Perez got a strong tow from the McLaren on the restart, forcing Norris to go defensive on the pit straight, and was ahead but on the outside as they approached Turn 1. Norris claimed the turn, Perez took to the run-off and they ran wheel-to-wheel then for the next three right-handers, Norris always on the inside.
Eventually, as Perez refused to surrender the place without being quite ahead, the Red Bull ran out of track on the outside of Turn 4, dipping its outer-left into the gravel and losing a load of places as he rescued the ensuing moment.
That was his challenge over for the day as he'd spend the rest of the afternoon recovering through the midfield, getting involved in further adventures along the way, two of which (both involving Charles Leclerc's Ferrari) cost him a total of 10s in penalties – which dropped him from fifth on the line to sixth in the results.
All of which left the Mercedes being held up by Norris. On this perfect day for Verstappen, this was even more perfect, as it allowed him to simultaneously pull away at half-a-second per lap and bring in his tyres gently when on a high fuel level. If you can afford to do the tyres that favour in the immediacy of the moment, it pays back generously over a stint.
Bottas had passed Hamilton on the restart but had been repassed within two corners. They lined up close behind the McLaren but unable to pierce its defences. For as long as it held onto its rear tyre performance, that is. That was what would always give eventually, as the left-rear needed to be nursed to keep it from overheating.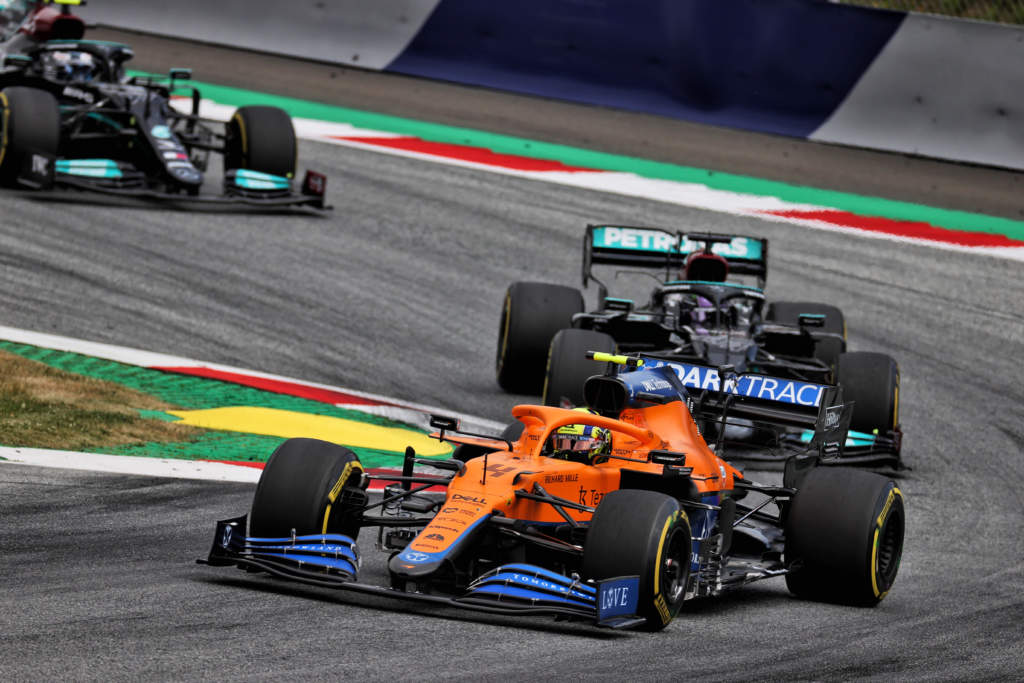 Watching Hamilton get stuck into pressuring Norris this way and that, Bottas decided to think strategically, reckoned it would be better to back away from their fight so as to have more rubber later on.
There was no reason from behind not to – as the soft-tyred pack led by Pierre Gasly's AlphaTauri quickly fell away from the top four. The C5 soft was not a good race tyre and its short range guaranteed a slower two-stop race. That was the fate of those whose only way into Q3 had been to use it – ie the AlphaTauris and the Aston Martins.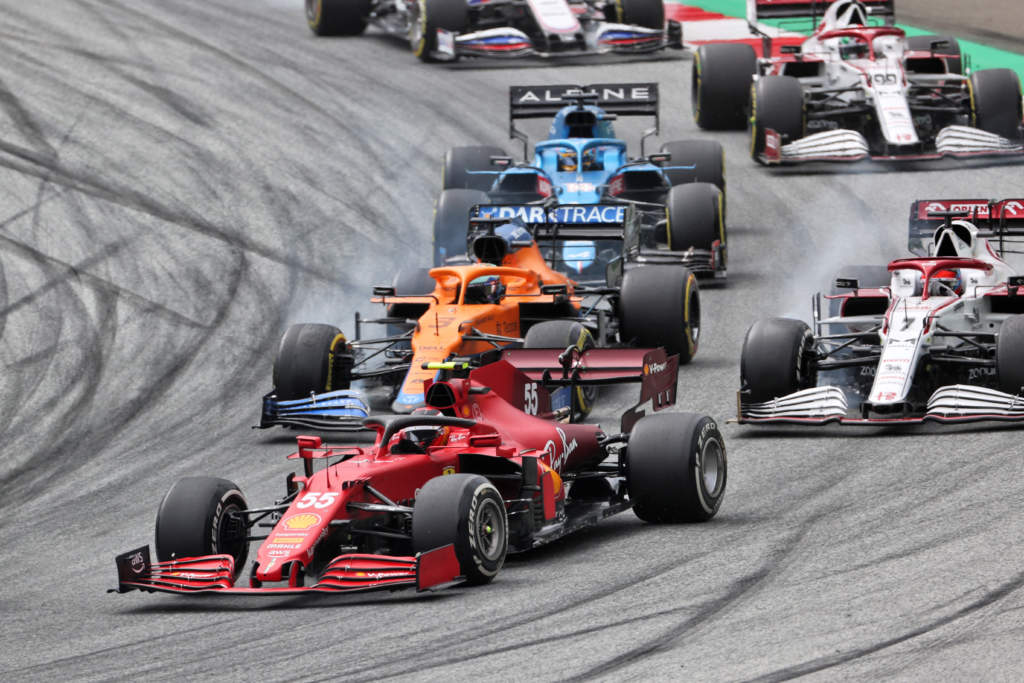 Only Carlos Sainz and Kimi Raikkonen had opted to start on the hard (C3). Turned out the medium (C4 this week) on which most of the field started was much the better tyre. In the greater heat of last week's race (53-deg C track temperature rather than 35-deg this time) the C3 was better than the C4. But apart from the two-stopping runners, there was little strategic variation, little difference in tyre performance and very little passing.
The soft runners were soon running in a long DRS train – Gasly, Yuki Tsunoda, Lance Stroll, Sebastian Vettel – with Daniel Ricciardo leading the one-stoppers waiting for them to pit out of the way. Perez, the Ferraris and Russell were in that queue. Alonso would later join it once he'd found a way by Raikkonen's Alfa.
So that was the foundation of the race's shape: Max out front running away, Norris delaying the Mercedes and, a long way back, the soft runners delaying those on harder, faster tyres.
Norris's traction was beginning to fade by the 19th lap. Hamilton looked set to get him then on the DRS run down to Turn 4 but got a little too greedy with the power out of 3.
But it happened on the next lap, Norris absolutely spot-on in positioning his car to make it difficult but not impossible, as he'd arrived at that stage of his tyre usage where holding the faster car up would begin to hurt his own chances. Hamilton noted it as he passed, noting, "Such a great driver, Lando."
"His brakes are on fire," noted Lando as the Mercedes finally passed. The clear air would quickly extinguish them – and he'd never get close enough to Verstappen to need to lean on them.
Max's day was playing out as the dream of a perfect race. "A little big of deg with the tyres," he noted on the 23rd lap, when his lead over Hamilton was 9.3s and still increasing. "They're getting slowly worse," he radioed on the 28th lap, his lead now over 11s. Upon being told of Hamilton's times, Verstappen responded with, "OK, then we're good."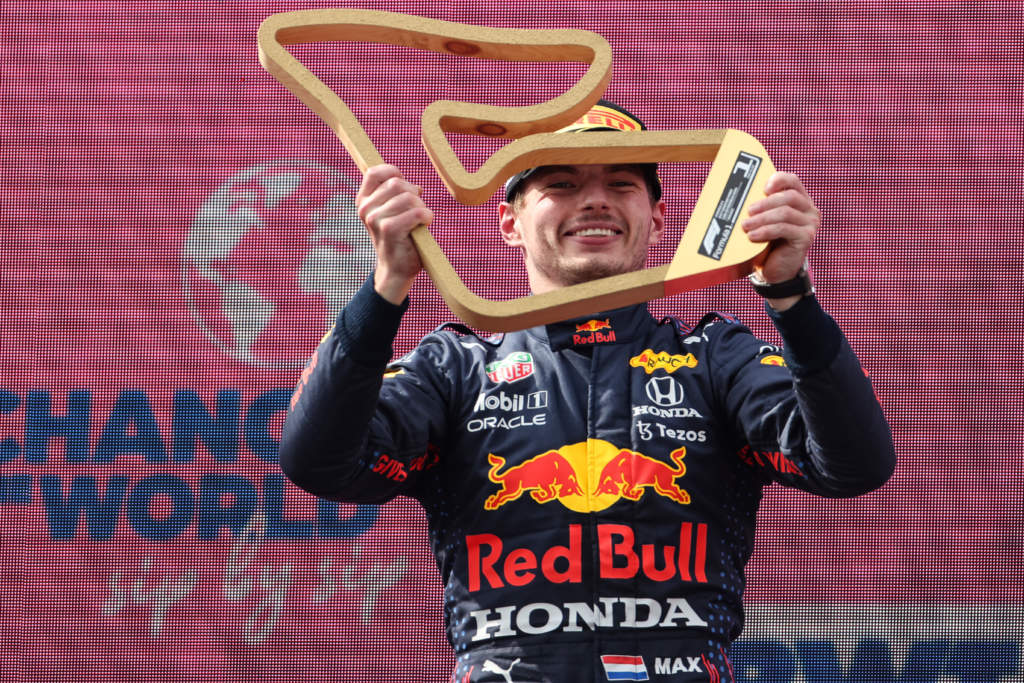 That's how his race was won. Even before a mark appeared on the right-rear that convinced the team to bring him in for a free pitstop, he'd already set the fastest lap. He'd only lower it further on his fresh set of hards for a maximum points score, extending his lead to 32. He's the only man in history to have won a championship status grand prix on three consecutive weekends. He's flying high and can do no wrong right now.
Just before Hamilton had passed Norris, it was announced that the McLaren driver would be penalised 5s – to be taken at his pitstop – for the incident with Perez. So Mercedes knew it didn't even need to undercut Bottas ahead; as long as he was within a couple of seconds he could just follow Norris in and know he'd come out ahead. Which is how it happened on lap 30. "That penalty cost us P2," Norris stated. Once he was behind he didn't have the pace to drive past the resistance and into the DRS zone behind Bottas.
Just as those stops were happening Hamilton ran hard over the kerbing at Turn 10 (the final turn) and something broke away on the rear corner of the floor, costing an instant loss of 30 points of downforce (somewhere in excess of half-a-second).
"There was no driving mistake," Toto Wolff emphasised. "It wasn't that he went over a sausage kerb or anything. It was just the loadings that occurred."
Hamilton was brought in next lap, with Verstappen responding a lap later. Verstappen would be through the fast sweeps of Turns 6-7 as Hamilton was just beginning the lap. The story now became that of Bottas and Norris re-catching Hamilton at around 0.5s per lap.
Much discussion on the pitwall as the gap closed down to awkward. 'Hold off,' Valtteri was initially told. 'You're free to race' quickly supplanted by 'Lewis will let you by'.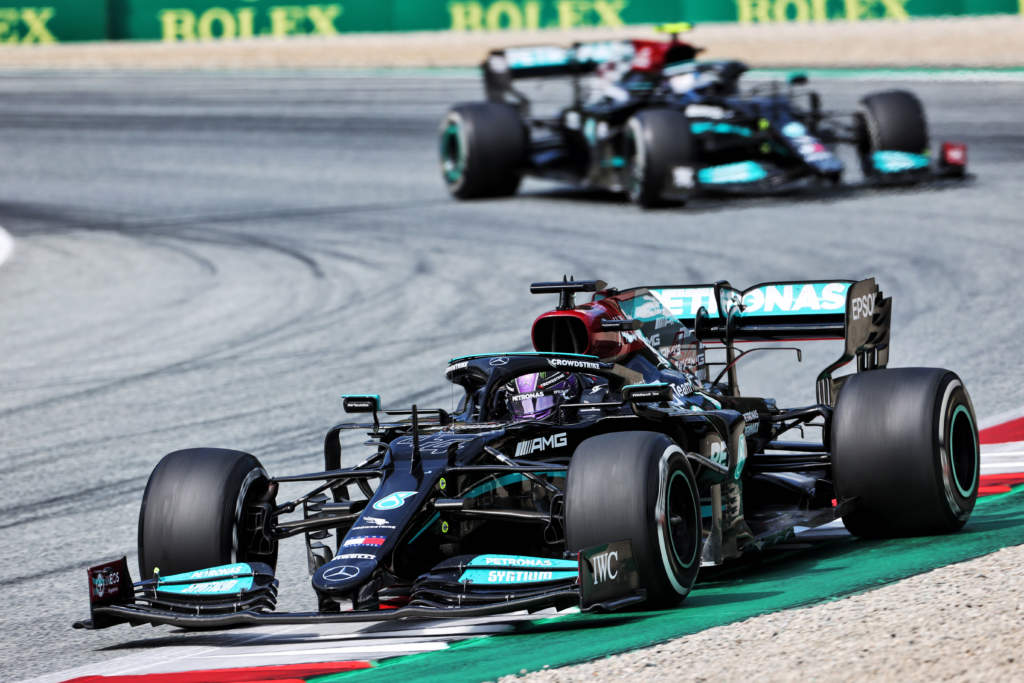 Hamilton was already indicating he didn't think he'd get this set of tyres to the end with the wayward rear and so even the initial plan of using Bottas' DRS to pull Hamilton along, clear of Norris's DRS reach, had to be abandoned and Hamilton was brought in again on lap 53. Even new tyres didn't give him the pace to re-catch Norris.
The two-stop/one-stop group played out with the recovering Perez, Ricciardo, Sainz and Leclerc all jumping the Gasly-led two-stoppers and George Russell and Fernando Alonso ending up ahead of all of them bar Gasly.
Ferrari switched Sainz and Leclerc as the former was on the faster medium tyres in the second stint and therefore better placed to pass Ricciardo – which he did on the last lap. In doing so he actually made up two places because Perez's second 5s penalty dropped him to sixth, between Sainz and Ricciardo.
Russell and Alonso enlivened the last few laps with a great clean but no-holds-barred dice which ended with Russell again falling out of the points. Even as Alonso was catching him he was regretting that it was Russell he'd be depriving, such is his respect for him. It seemed to be a day of the old guard acknowledging the quality of the next generation.
A ham-fisted Raikkonen defence against Vettel caused a major collision between them on the last lap out of Turn 4. Benefiting were Tsunoda (penalised twice for a repeat pitlane white line infringement), Stroll, Antonio Giovinazzi (car damaged in the first lap squeeze that put Ocon out) and Nicholas Latifi. But not the further-lapped Haas pair Mick Schumacher and Nikita Mazepin.
These are glory days for Red Bull and Verstappen and here they laid claim to their own bit of history in their own backyard – and in front of thousands of orange-shirted Max fans. The colours change with the seasons of racing and right now we seem in the midst of such a change.