The Ferraris were better than anyone expected around Monaco, the Mercedes was worse.
But through the middle the Red Bull was always likely to be super-strong here – and so it proved, with Max Verstappen delivering a copybook victory that looked nailed-on from the moment that Charles Leclerc's Ferrari suffered a left-hand driveshaft failure as he got on the power at the hairpin on his first lap out of the garage.
The failure was in a small component linking the driveshaft to the wheel internal and it may or may not have been connected to Leclerc's heavy accident in the dying moments of qualifying the day before.
The concern had been whether the accident had damaged the gearbox, but the gearbox worked fine. Whether the shock going through the whole transmission is what caused the damage at the opposite side to the impact is something that is still being investigated.
But it meant Leclerc was a spectator of his own vacant pole position slot, perhaps reflecting how a split-second of misjudgement had cost him such an unexpected golden opportunity, the hard Monaco walls always there ready to steal a dream.
Which at the start left Verstappen on the dirty side versus Valtteri Bottas on the clean side a few metres back. There was way more grip on Valtteri's side, as the support races had shown. Verstappen was taking no chances; the race would be won or lost here and he had no plans to lose.
So he angled himself super-aggressively towards the Mercedes and kept heading that way as soon as the lights went out. Bottas indeed got away faster but the door had closed – just – by the time he got there. That's all she wrote regarding Verstappen's victory. For this is Monaco.
With the circuit being one big no-overtaking zone, the game for Max then became one of choosing a pace which kept the soft tyres in shape long enough for a gap to drop into when the pitstop window opened. Which was always going to be a relatively gentle pace because those midfield cars would be running the medium or hard tyre – both of which were capable of running a very long time.
Norris sent Sainz a text after Spain saying Carlos could win Monaco, given everything he'd seen on the data
One day someone may be adventurous enough to set a scintillating pace from pole, leave everyone far behind, see if they can build up a 20s gap and pit before the tyres give out. But it wasn't this day. There's a championship to be fought.
This weekend was all about tyre management and dirty downforce. The Red Bull and Ferrari have plenty of the latter. Red Bull can't usually use it all because it's too costly in drag. Ferrari has that and its power shortfall to discourage it.
But on a low-speed circuit such as this where drag is almost irrelevant they could load their cars up, which became extra important in qualifying on a cool track which places such low energy into the tyres anyway. That extra low speed downforce compounded the advantage by getting the tyres working.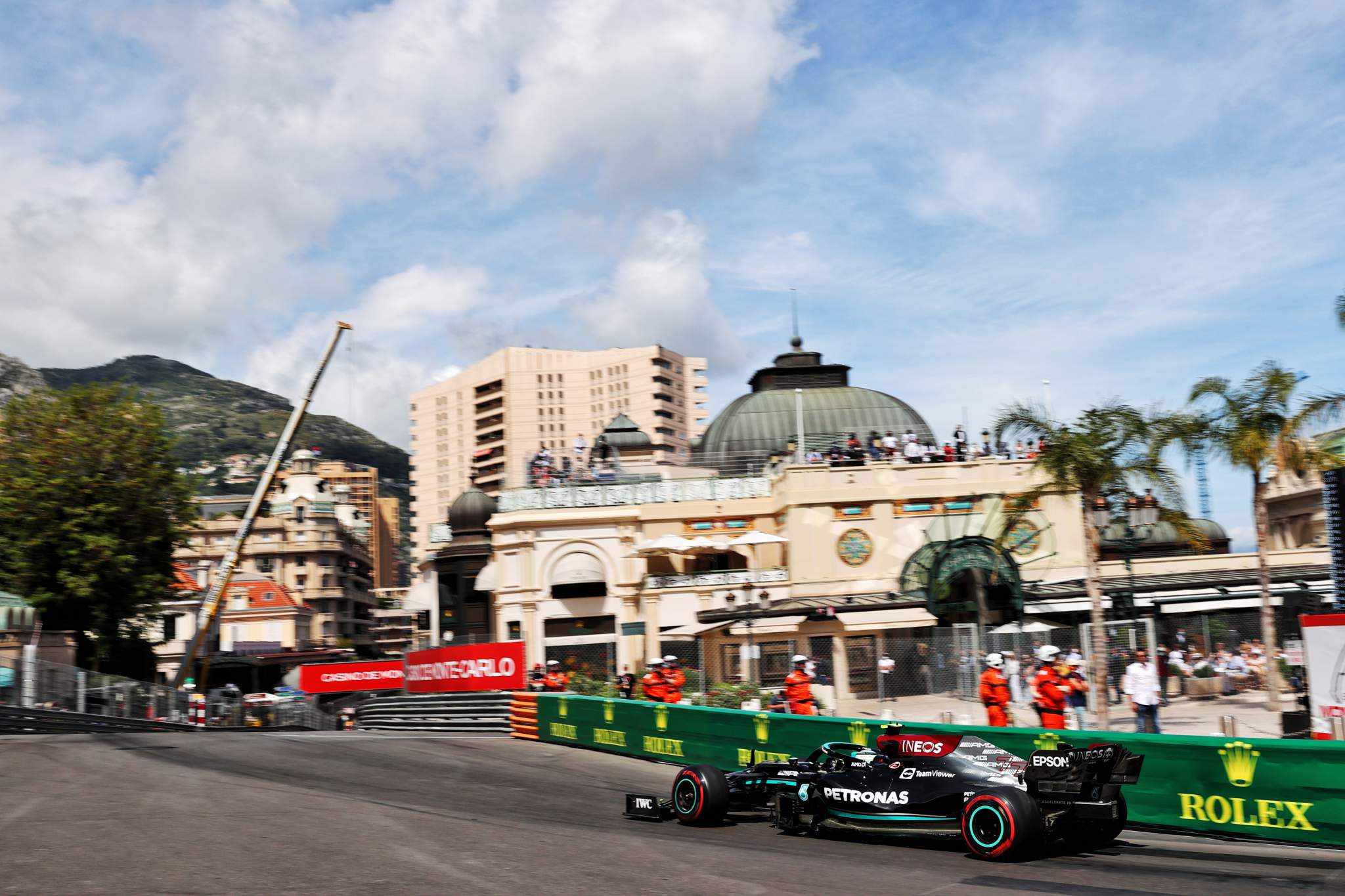 The Mercedes, disastrously, just could not get the rubber into the sweet spot – for much the same reason it was better than the Red Bull at Barcelona. It just gives the rubber an easier time, the input of the loads are less aggressive. A boon in Spain, a liability here.
Mercedes was already on its maximum wing in Spain and it cannot simply jack up the rear as Red Bull and Ferrari can to further boost low-speed downforce. As a low-rake, long-wheelbase car, Mercedes was always likely to find Monaco difficult when up against a Red Bull which even on conventional tracks is a close match.
But the Ferrari was a revelation in that it evidently had even better low-speed grip than the Red Bull.
Usually it's racing the McLaren 0.5s per lap back from Mercedes/Red Bull and in that contest it has already been noted how it can do a similar lap time to the McLaren despite a high speed cornering and power shortfall to it.
So it was already known the Ferrari had strong low-speed corner agility and grip. But not that it could possibly even ace the Red Bull around a track which placed extra value on such qualities.
Lando Norris had been watching carefully though. He'd sent Carlos Sainz Jr a text after Spain saying Carlos could win Monaco, given everything he'd seen on the data in the season to date.
Sainz didn't agree with this assessment – until, that is, he tried the car on Thursday. It was fantastic.
"I genuinely felt I could put it on pole and win my first grand prix," he said.
He looked, if anything, to be better keyed into the car than Leclerc, was more consistently fast in the practices. He'd done a scintillating sector 1 time on his first Q3 lap, was Leclerc-quick in the middle sector, but blew the lap with a bit of a run-wide moment at Rascasse, the front tyres possibly a little over-worked from that first sector.
That was possibly the moment Sainz lost the grand prix. Because he never got to complete his second run – as Leclerc's accident brought out the red flags. Sainz was convinced he was set for pole.
They all sought to give the rubber an easy time. Just a picturesque high-speed parade
Verstappen – who marginally bettered Sainz's sector 1 but was always well adrift of the Ferrari in sector 2 – also felt pole a possibility. Even Bottas (who was nibbling the Mercedes' tyres into the window better than Lewis Hamilton who'd lost all confidence with the car and its set-up) might have been somewhere close. As it was, their first runs defined the order as Leclerc/Verstappen/Bottas with Sainz's compromised lap putting him only fourth.
So into the race Verstappen led Bottas and Sainz equidistant for a few laps as they all sought to give the rubber an easy time, at around 2.5s slower than they were capable of going. Just a picturesque high-speed parade.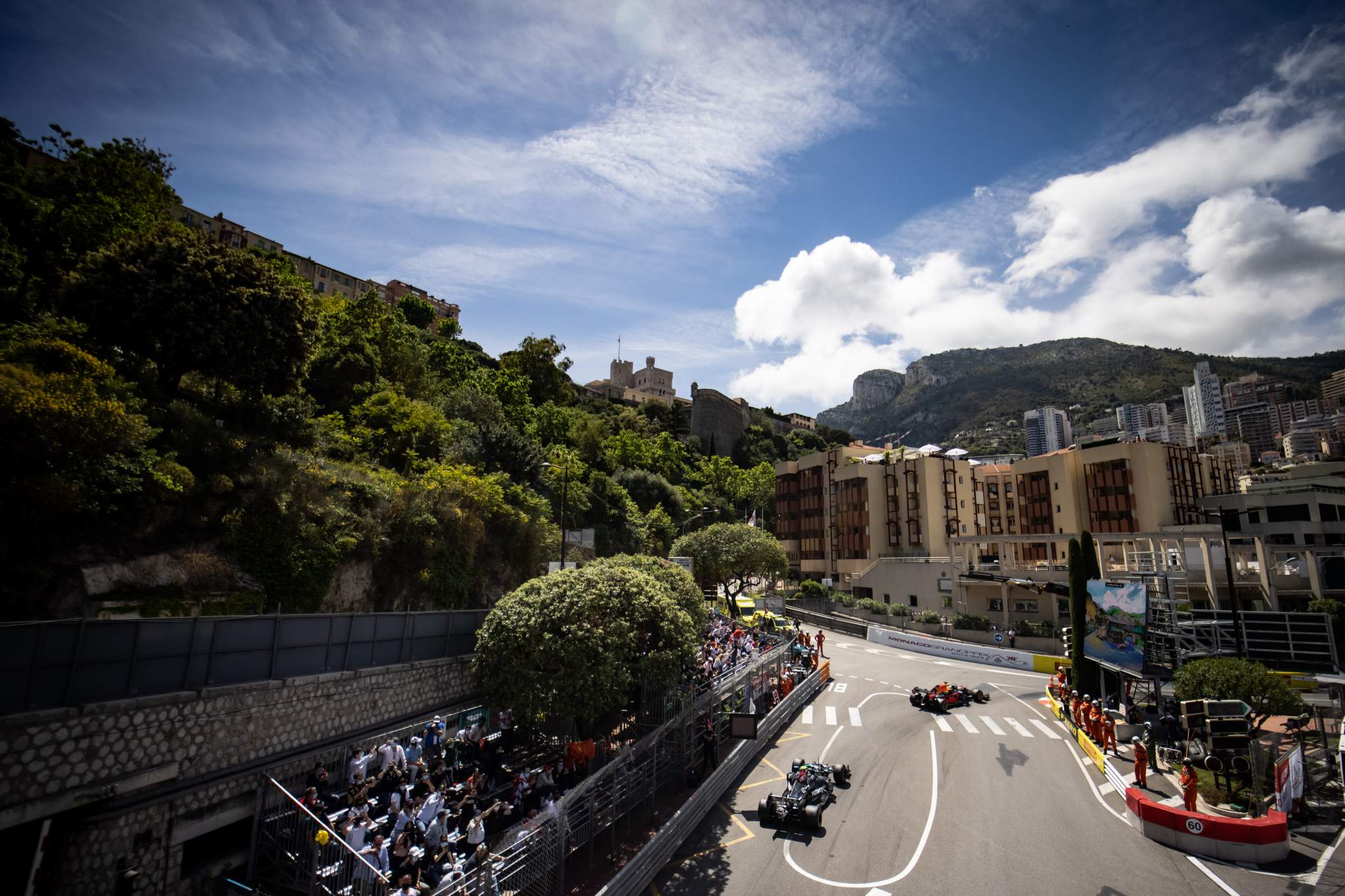 But the fast cars are still the fast cars and so the pace difference between them and the others as they all drove the same sort of race remained much as usual. The Red Bull, Mercedes and Ferrari dropped Norris' McLaren which had equidistant behind him Pierre Gasly's AlphaTauri, Sebastian Vettel's Aston Martin, Sergio Perez's Red Bull (again out-of-position in qualifying as his struggle to adapt to the car continues) and the battling Antonio Giovinazzi and Esteban Ocon (whose fight would run to the end).
Even at this gentle pace Bottas couldn't hold onto Verstappen for more than 10 laps, after which his tyre grip was falling away and he was beginning to hold up Sainz. Here was the Mercedes' problem with the tyres once more.
The only way of getting them even close to their correct temperatures was to run a very aggressive set-up. Hamilton had wanted to go further in this direction in qualifying but had been overruled – and now we were seeing why. The wear rate was off the scale, particularly at the rear and as the tread wore thin and the whole tyre cooled so the grip rapidly degraded.
This of course was perfect for Verstappen. For he didn't now need to worry about balancing out an undercut threat with a gentle pace. On the Red Bull pitwall they could see that so long as he didn't get much more than 20s ahead of seventh place Vettel, there would be no window for anyone else to drop into either, so they kept his reins tight, told him that regular 1m16s would be just fine.
By the 20th lap Bottas, still in second place but 3s behind and falling, wasn't even lapping as fast as Vettel – and so there was now no strategic threat to Verstappen's victory at all.
"I drove gentle because we were going long – and then we're the first to stop!" :: Lewis Hamilton
There was, then, a strategic stalemate through the field. The expectation going in was that the soft runners (ie the top 10) would begin pitting on lap 22-24. But with Verstappen under no threat, until someone made an undercut attempt in the midfield, triggering a domino effect, there was going to be nothing doing.
We were now at lap 29, Bottas was 4.8s behind Verstappen and falling further back, with no gap for the frustrated Sainz to drop into, so denying him an undercut attempt on the Mercedes.
The plan for Hamilton, who ran sixth for the whole first stint close behind Gasly, had been to run long. But that was when 'long' was 30 laps. Here we were at 29 laps and no one had come in yet!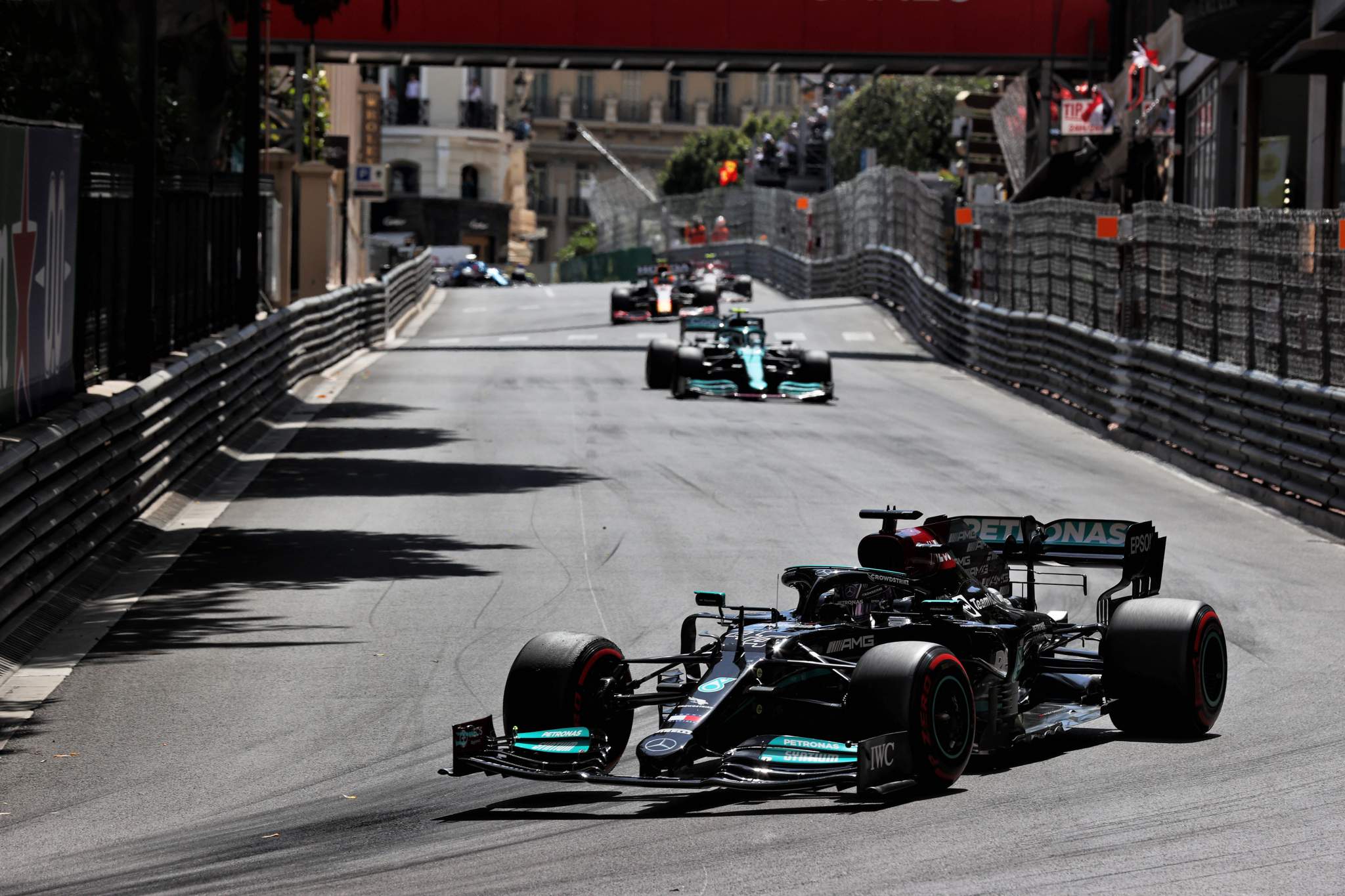 Mercedes knew that Bottas was running out of tyres. Hamilton was saying his tyres were fine but it stood to reason they wouldn't be far behind in their wear.
The original plan to run longer than the cars around him was looking increasingly unfeasible the longer the stint went on. Mercedes and Hamilton had hoped they might target a podium if they'd been able to run longer than anyone else. It was coming time to abandon that hope; they might have to take the crumbs of undercutting Gasly for fifth.
They monitored the gap for him to drop into; it was coming soon. Could he close the gap to Gasly? "I can't get any closer than this," Hamilton replied of the 1.5s gap, "without destroying my tyres."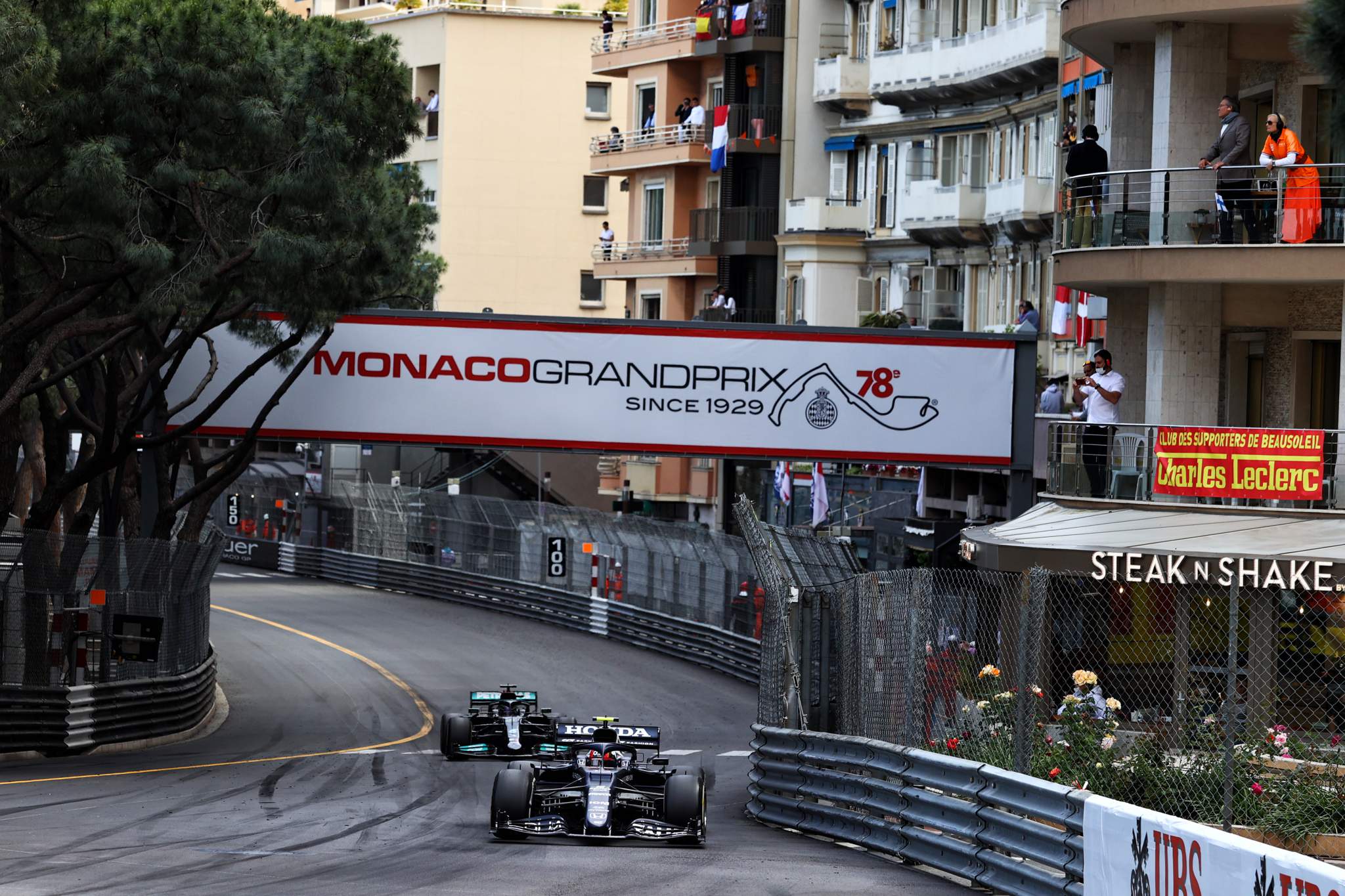 "Pit opposite to Gasly," Hamilton was told as he exited the Swimming Pool section on lap 29. The AlphaTauri carried on past the pit entry and Hamilton peeled in for his set of new hard tyres on which to get to the end.
The hards take a while to warm up on the most aggressive of cars, let alone the Mercedes. But this was a Mercedes vs an old-tyred AlphaTauri. It shouldn't have been a contest. But it was.
Gasly – exactly like three years ago here – had kept his softs in great shape and still had a lot of life in them and once Hamilton had pitted behind, he let rip with an in-lap more than a match for Hamilton's cold, hard-tyred out-lap. The AlphaTauri stop was good – and it exited still in front of the Mercedes. To Hamilton's utter dismay.
"How am I still behind him?" he asked in despair. But there was worse to come.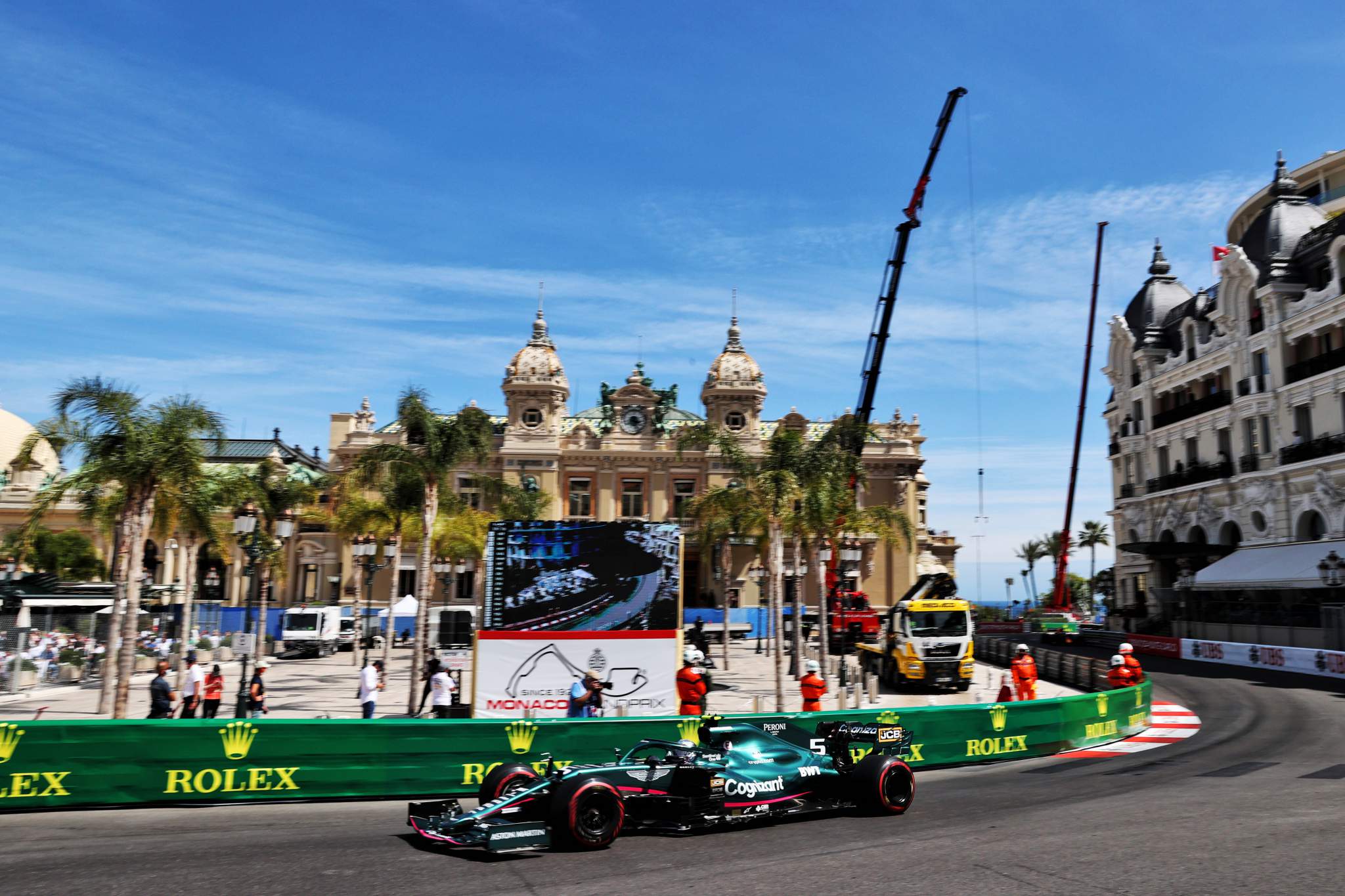 Vettel had been driving a quietly terrific race in the Aston Martin. He'd dropped back from the Gasly/Hamilton struggle for most of the first stint, taking care of the tyres, then as the pitstop window approached he upped the pace and for a time was lapping 0.5-0.6s faster than them, a comparable pace to Verstappen's at the time.
From not even being on Mercedes' radar, Vettel was very suddenly right with Gasly and after the AlphaTauri pitted his continued hard pace as his engineer told him to give it everything was enough to spring him past both the Mercedes and the AlphaTauri, helped by Gasly encountering lapped traffic on his out-lap. Gasly's initially slow pace on the hards had cost Hamilton further time – so helping Vettel get them both.
But it was oh-so-close as the Aston Martin and AlphaTauri raced wheel-to-wheel up the hill, neither giving an inch.
Vettel ⚔️ Gasly

🍿🍿🍿#MonacoGP 🇲🇨 #F1 pic.twitter.com/3zuj1YLXBI

— Formula 1 (@F1) May 23, 2021
"I thought we were going to end up in the harbour," said Gasly, "but it was fair. Very hard, but OK." And with that glimpse of the old steely Vettel, the Aston Martin vaulted into what was effectively sixth place.
This only enraged Hamilton further: "I drove gentle because we were going long – and then we're the first to stop!"
The rear tyres that had come off Hamilton's car were close to the end of their life, even at that gentle pace. There was no way to make the overcut work with this car's tyre usage and the pattern of this race.
"Lewis still had some rubber left on the tyre for what would have been a few decent laps," explained James Allison later, "but the chances are that Gasly probably wouldn't have stopped anytime soon and our fear was that Gasly was simply just going to stay out there as a roadblock forever and we had a window behind where we could do an attempted undercut."
That beautiful feeling Sainz had on Thursday as he saw how quick and effortless the Ferrari was made anything less than victory a comedown
It would probably not have been advisable to tell Hamilton that Vettel's stop had released Perez's Red Bull into free air and he would end up jumping past the lot of them.
The anticipated Gasly stop finally created a gap for Bottas to drop into and he was pitted from 4.5s behind Verstappen the lap after Hamilton.
He never made it back out. The right-front wheel could not be freed from its axle. The nut was jammed onto the stub axle and the wheelgun simply rounded off the nut. Strike one Mercedes.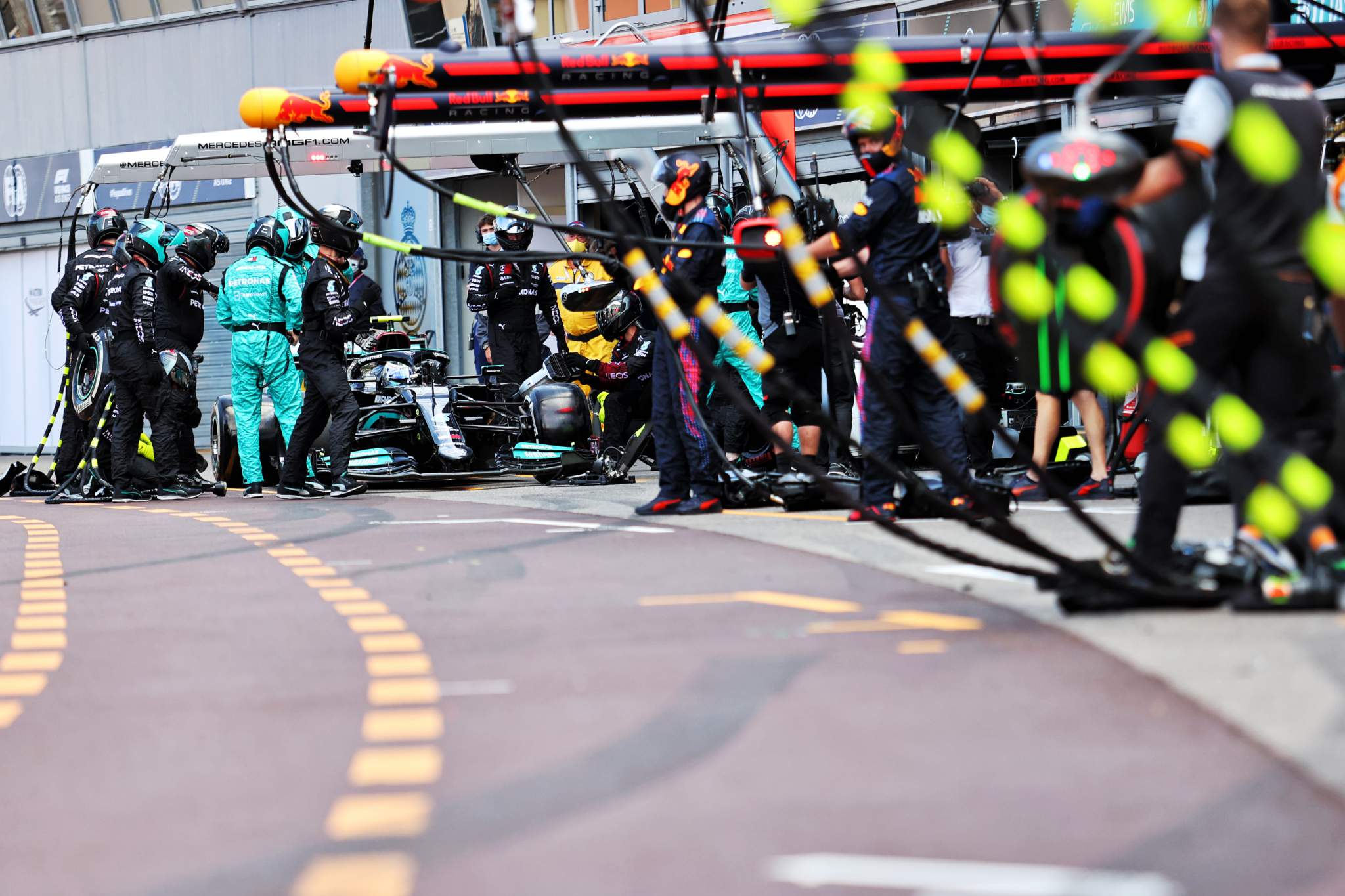 This promoted Sainz who pitted the lap before Verstappen. Max took it easy bringing the hard compound tyres in and so the gap between the Red Bull and Ferrari closed quite dramatically for three laps, until Sainz was within 3s. But it was just ebb and flow, nothing significant.
Either one of them could have won this race, but Verstappen had started from two places ahead and hadn't been delayed by Bottas's tyre-chewing Mercedes.
So Sainz took a podium as some sort of consolation, but it was difficult from him to feel anything other than what might have been.
That beautiful feeling he had as he keyed into the car on Thursday and saw how quick and effortless it was made anything less than victory a comedown. It was the first time in his career that he felt he had in his hands the car with which to dominate a grand prix.
Norris was faultless in securing the final podium place. Once he'd switched to the hard tyre the McLaren was nowhere near as nice to drive and Perez was catching him hand-over-fist. Norris remained calm, knowing he just had the place the car in the right bits of track.
Vettel's fifth secured his first Aston Martin points with a classy drive ahead of Gasly, Hamilton – who took a free pitstop for new tyres on which to set the fastest lap and the point that goes with it – and Lance Stroll, who did a long opening stint on hards to vault past the battling soft-tyred Ocon and Giovinazzi, with the Alpine driver fending off the Alfa Romeo.
The winner of the race made it sound simple.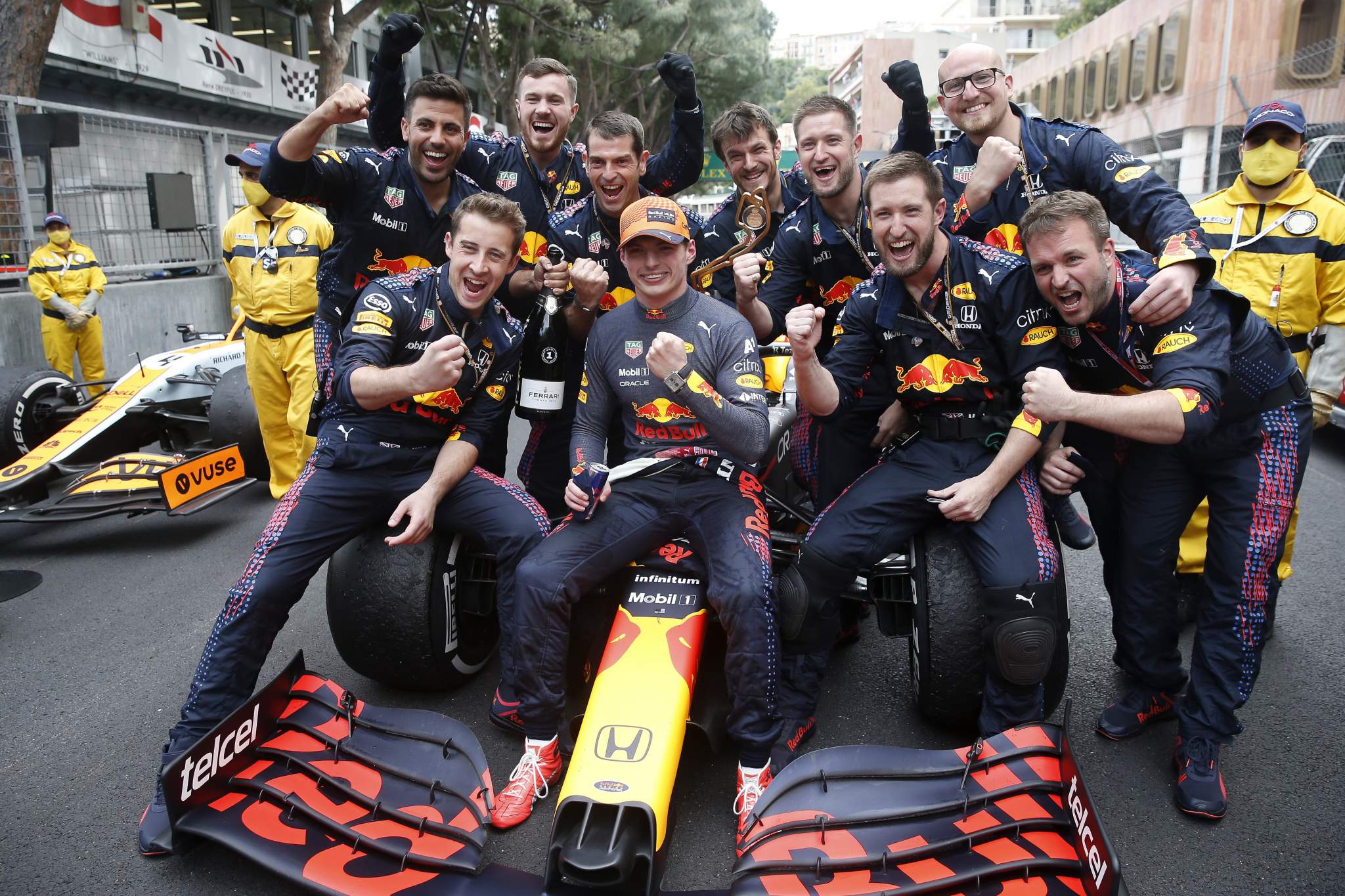 "Once we had the lead in turn 1, from there onwards we could manage the pace quite well and look after the tyres, because around here it's all about just keeping them alive and trying to go as long as you can and find a pit gap," said Verstappen.
He now leads the world championship for the first time in his career. The result which catapulted him there came rather easier than he may have imagined.
He's been super-fast in Monaco before, but, as he pointed out, he'd crashed too often to convert that speed, something which Leclerc might ponder upon. It's a thin, thin line.