Until the Hungarian Grand Prix actually gets underway, the background 'noise' continues to be about the Max Verstappen/Lewis Hamilton Silverstone incident, as the apparent flashpoint to the rivalry that's been brewing between them for years.
But the very fact that it has taken this long for a flashpoint to happen just underlines that very rarely in Formula 1 do we get the two top drivers in comparable cars.
Often it's only in extremis that we see their traits in full and so eras come to be defined often by a single incident – and Copse lap one of the 2021 British Grand Prix may well come to be the new Suzuka 1990, Turn 1, lap one – the two top dogs of the moment absolutely determined to prevail over the other and not prepared to concede an inch.
Ayrton Senna often used intimidation based upon his reputation, using the potent psychological link between his yellow helmet and his cut-throat reputation.
Michael Schumacher generally tried to avoid direct wheel-to-wheel confrontations – once he'd chopped across his rivals off the startline, that is – but had a couple of infamous cases of competitive panic when it was all threatening to get away from him, inducing him to make a professional foul.
Fernando Alonso was – and still is – just supremely good at racecraft and was absolutely relentless in pushing to the maximum all day in the sprint/tyre war era when that was what won you races.
Hamilton came along at the tail end of that era but his fight with Alonso was always one-step removed and controlled from within the same team, so their relative traits weren't as well-defined as they might have been.
Subsequently Hamilton has shown that he's supremely skilled in not quite crossing that line of foul, but capable of sailing very close to it if required.
"That was just one more thing that made it so difficult to compete with him," recalled Nico Rosberg, "because he would always have plausible deniability. He never quite crossed that line. He was brilliant at it."
Verstappen could be a little naughty in his early days – who can forget his move on the straight at Spa at over 200mph, forcing Kimi Raikkonen to brake to avoid an aircraft-scale accident – but has since matured into just hard and no-compromise.
These greats are all slightly different beneath their shared intense competitiveness, but that's generally only made really clear when there are two of them in title-contending cars, ideally fielded by different teams.
Any sport's following thrives off such rivalries, even more so when there's a hint of animosity. But while Hamilton vs Verstappen is indeed two supreme sportsmen slogging it out, a sort of four-wheeled Federer vs Nadal, it's actually way more complex than that. Because this is F1 and there are the complicating factors of teams and machinery.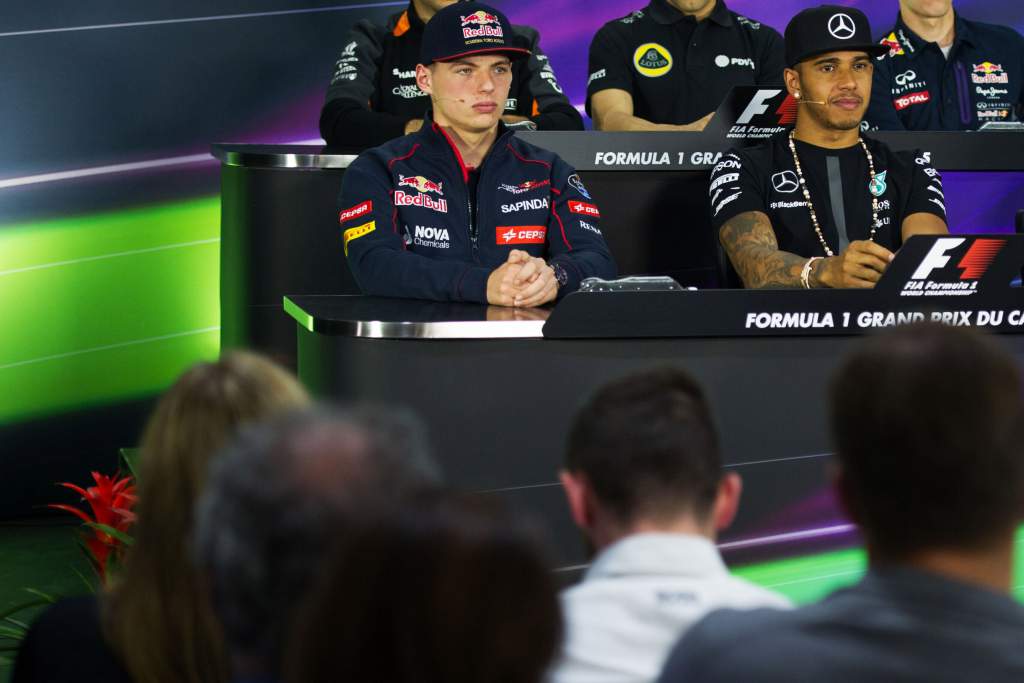 Hamilton vs Verstappen has been delayed by a few seasons because of the dominance of Mercedes and the failure of Red Bull to challenge that. At some point between Verstappen's debut in 2015 and this season, he was comfortably ready to go head-to-head with Hamilton. Not necessarily ready to prevail – but ready for that contest to push them each to their limits in a way more intense and complete than any rival Hamilton has had to face since his 2007 in-team fight with Alonso at McLaren.
The reasons we finally got there this season are to a large extent just random. The dynamics between Red Bull/Mercedes and between Hamilton/Verstappen are being dictated by the competitive shape of the season which in turn has been largely dictated by the diffuser/brake duct 2021 regulation changes, which came about essentially from Ferrari being hacked off about the 'pink Mercedes' Racing Point last year.
Quite aside from the progress made by Honda with its power unit into this year and Red Bull with its aerodynamics, that particular regulation change had a fundamental effect on the competitive state of play.
Joining up the airflows from the rear brake duct winglets and the diffuser strakes is a crucial part of the aerodynamic jigsaw. On a high-rake car, it is easier to do this because as the rear rises up, so the diffuser strakes rise up with it, bringing them closer to the brake duct winglets.
Cut both of those in half – which is what the late-notice tweak to the already restricted '21 regs did – and logically you affect the low-rake car more severely than the high-rake.
The only two low-rake cars last year were the Mercedes and the related Racing Point. Ferrari was extremely vexed about the whole 'pink Mercedes' issue and had refused to drop its appeal to the non-listed 'rear brake duct' penalties imposed upon Racing Point, which it felt were too lenient. Other teams dropped their appeals but Ferrari did not. At least not until shortly before it was due to be heard, which was around the same time as the further aero tweaks were made. Coincidence? Don't be naive.
No one could have known exactly how it was going to play out, but the early races this season made it clear that there was no longer a dominant Mercedes. The Red Bull was at least a match and sometimes more than that.
Increasingly more than that, actually, as Mercedes realised there was very little development potential left in its car under these regs – in contrast to the Red Bull which was responding very nicely to an aggressive aero programme. This first became clear in France and was rubbed in at the two Austrian races.
Silverstone potentially represented Mercedes' last stand; a low-drag-favouring track where it could offset its downforce deficit with its lower drag. Yet even there, the Red Bull was faster – as revealed in the sprint race and suggested every time the cars ran on a circuit of more than 40-degrees.
Hamilton had sneaked a pole on Friday only because the track temperature had dropped far enough to give Red Bull front tyre warm-up problems. Normal service was resumed as the temperatures soared for the rest of the weekend.
It was quite feasible that Copse, lap one of the British Grand Prix, was the last time Mercedes would see that Red Bull all year, given the respective development trajectories.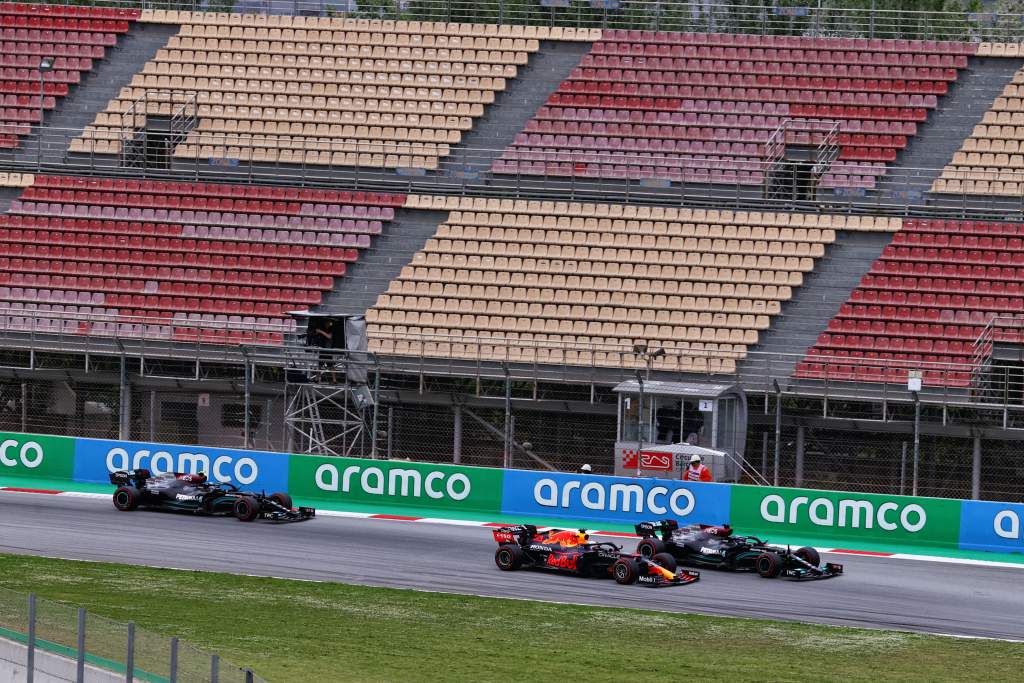 Hamilton, having backed out of Verstappen's super-hard challenges at Imola and Barcelona (pictured above), was in a situation where prudence was no longer necessarily the best course of action.
So all of those swirling circumstances – of pink Mercs, suspicious rivals, threats of appeal courts, regulation tweaks, Honda and Red Bull improvements, the final bringing together of these two super-talents, the development differences between the two cars – came to a millisecond point of conflict at Copse.
Unfortunately, it's quite possible that's the last we will see of this 'rivalry' in 2021. It's very rare in F1 for two cars to remain equal for long enough that the personal performance of the two title combatants will be the dominant factor.
That's why Copse two weeks ago may come to define that era.