There has been a general cynicism from the watching world about the pace of the Aston Martin, but not from within the Formula 1 paddock.
Even before the car took to the track the jungle drums were unusually busy about the windtunnel numbers Aston was producing at its base. "If those numbers are true," said a very established top team principal, "then that car is going to be very fast."
So other teams were not that surprised when the car proved quick in testing last week, not as quick as Red Bull but absolutely going bat to bat with Ferrari and faster than Mercedes. 'Low-fuel running' said the doubtful onlookers. 'No, it's quick, properly quick,' was the consensus of Charles Leclerc and Lewis Hamilton among others.
By that, they did not mean the head of the midfield and now Fernando Alonso has gone fastest in the single-lap runs of FP2, having been second quickest to Sergio Perez's Red Bull in the opening session. Still low-fuelled? Perhaps, but there isn't enough fuel to take out that makes the AMR23 anything other than a very quick car.
Forget the head of the midfield. This car is looking absolutely as quick as in testing – relative to Red Bull. And all it then takes is a niggle at Red Bull, with Max Verstappen struggling with a set-up problem, and hey presto Alonso goes quickest.
On the evidence of Friday, the Aston is a faster car than Ferrari and much faster than Mercedes in their current states of development. But realistically, it's probably still some way adrift of Red Bull, the pace of which was compromised by Verstappen's dissatisfaction with the car's behaviour which had changed since testing.
Having trailed team-mate Sergio Perez in the morning, he was initially still unhappy with the car at the beginning of FP2. "I feel the back of the car is jumping around a lot more than in testing," he reported over the radio before coming in for further adjustments.
Whatever was changed at that time seemed to work for, on his subsequent runs, he was fast. The lap which stood as second fastest, 0.169s behind Alonso and shading Perez, included a significant run-wide moment at the final turn. He then proceeded to set the long-run pace, with an average of a couple of tenths faster than Alonso.
However, even allowing for Verstappen's time-consuming moment, he'd still have been a few tenths adrift of the fastest time of testing (set by Perez), suggesting the track may not have been as quick as on the final day of testing. Or that the Red Bull has fallen out of its sweet spot. Dr Helmut Marko denied to Sky Germany after FP1 that the FIA had asked the team to increase its ride height as a result of it falling foul of the FIA metric.
"It was a difficult start to the day," said Verstappen. "In FP1 we couldn't get the balance right, which was a bit odd as we didn't experience this in testing. In FP2, the short-run laps weren't too bad and the car felt a bit more connected and with the long runs, the pace was good. Overall the car isn't too bad in the long runs.
"From FP1 to FP2 we went in the right direction, I just need to find my rhythm again. The Aston Martins are looking competitive, you could see that already from testing.
"There's still a bit more work to do, we know we have a competitive car, it's just about putting it all the pieces together."
The final embers of doubt about Aston's pace will probably dissolve away after this weekend. It's possible it ran its long runs with higher engine modes or lower fuel weight than the others, but there's nothing to actually back that up.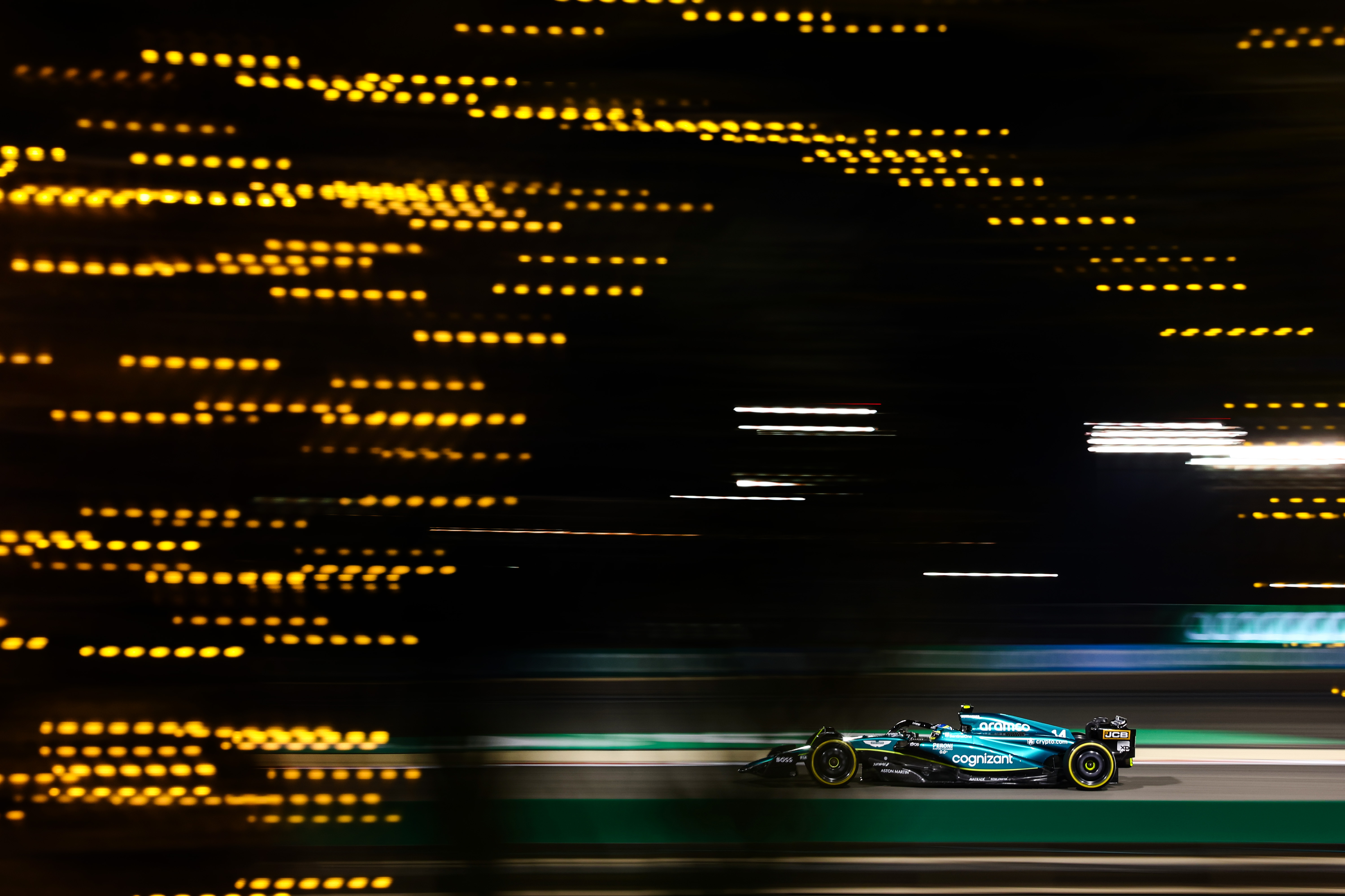 The Ferrari does not appear to be as planted upon corner entry as the Red Bull or Aston and its pace – already shy of those cars – falls further away the more laps it does. The Mercedes wasn't even that good and Lewis Hamilton – eighth-fastest on single-lap pace, around 0.5s adrift of Alonso (and therefore probably further than that from Verstappen in reality) – was not sugar-coating it: "We found out we are a long way off."
---
FP2 long-run pace
| | |
| --- | --- |
| Driver | Average |
| Verstappen | 1m37.2s |
| Alonso | 1m37.4s |
| Perez | 1m37.6s |
| Leclerc | 1m37.9s |
| Gasly | 1m38.1s |
| Norris | 1m38.1s |
| Sainz | 1m38.2s |
| Russell | 1m38.4s |
| Hamilton | 1m38.6s |
All long runs conducted on soft tyres
---
Other noteworthy performances included Nico Hulkenberg's return. He went fifth fastest overall in the Haas, splitting the Ferraris.
Pierre Gasly's Alpine was also quicker than both Mercedes in both single lap and long runs. The McLarens looked a difficult drive and Lando Norris was at his acrobatic best when setting a Hamilton-matching time.
Practice 2 Results
| Pos | Name | Car | Best Time | Gap Leader |
| --- | --- | --- | --- | --- |
| 1 | Fernando Alonso | Aston Martin-Mercedes | 1m30.907s | |
| 2 | Max Verstappen | Red Bull | 1m31.076s | +0.169s |
| 3 | Sergio Pérez | Red Bull | 1m31.078s | +0.171s |
| 4 | Charles Leclerc | Ferrari | 1m31.367s | +0.46s |
| 5 | Nico Hülkenberg | Haas-Ferrari | 1m31.376s | +0.469s |
| 6 | Lance Stroll | Aston Martin-Mercedes | 1m31.45s | +0.543s |
| 7 | Pierre Gasly | Alpine-Renault | 1m31.475s | +0.568s |
| 8 | Lewis Hamilton | Mercedes | 1m31.543s | +0.636s |
| 9 | Lando Norris | McLaren-Mercedes | 1m31.57s | +0.663s |
| 10 | Guanyu Zhou | Alfa Romeo-Ferrari | 1m31.586s | +0.679s |
| 11 | Esteban Ocon | Alpine-Renault | 1m31.608s | +0.701s |
| 12 | Valtteri Bottas | Alfa Romeo-Ferrari | 1m31.793s | +0.886s |
| 13 | George Russell | Mercedes | 1m31.882s | +0.975s |
| 14 | Carlos Sainz | Ferrari | 1m31.956s | +1.049s |
| 15 | Oscar Piastri | McLaren-Mercedes | 1m32.024s | +1.117s |
| 16 | Kevin Magnussen | Haas-Ferrari | 1m32.11s | +1.203s |
| 17 | Alex Albon | Williams-Mercedes | 1m32.44s | +1.533s |
| 18 | Yuki Tsunoda | AlphaTauri-Honda RBPT | 1m32.525s | +1.618s |
| 19 | Logan Sargeant | Williams-Mercedes | 1m32.605s | +1.698s |
| 20 | Nyck de Vries | AlphaTauri-Honda RBPT | 1m32.749s | +1.842s |