Ferrari driver Charles Leclerc secured pole position for Formula 1's Belgian Grand Prix in a wet-dry qualifying, though the penalised Max Verstappen set the fastest time.
Verstappen had a grid penalty confirmed during the session for exceeding his gearbox allocation for the season, and will therefore line up sixth on the grid.
The start of qualifying was delayed by 10 minutes following a Formula 2 qualifying session that was first red-flagged due to a single-car incident and then effectively neutralised by strong rainfall.
But it abated in time for the F1 session, and as the track dried teams switched over en masse from intermediate tyres to slicks in the closing minutes of the second segment, with the entirety of the pole shootout carried out on soft rubber.
Verstappen had a fairly tetchy discussion with race engineer Gianpiero Lambiase at the conclusion of the second segment, in which he finished only 10th.
That led to Verstappen vocally criticising the run plan and sequence of push laps as "s**t execution" – his criticisms then exasperatedly shot down by a sardonic Lambiase.
Verstappen then put it aside to dominate in Q3 courtesy of a final run that marked an improvement of nearly two seconds. He then apologised to Lambiase on the cooldown lap for "ranting".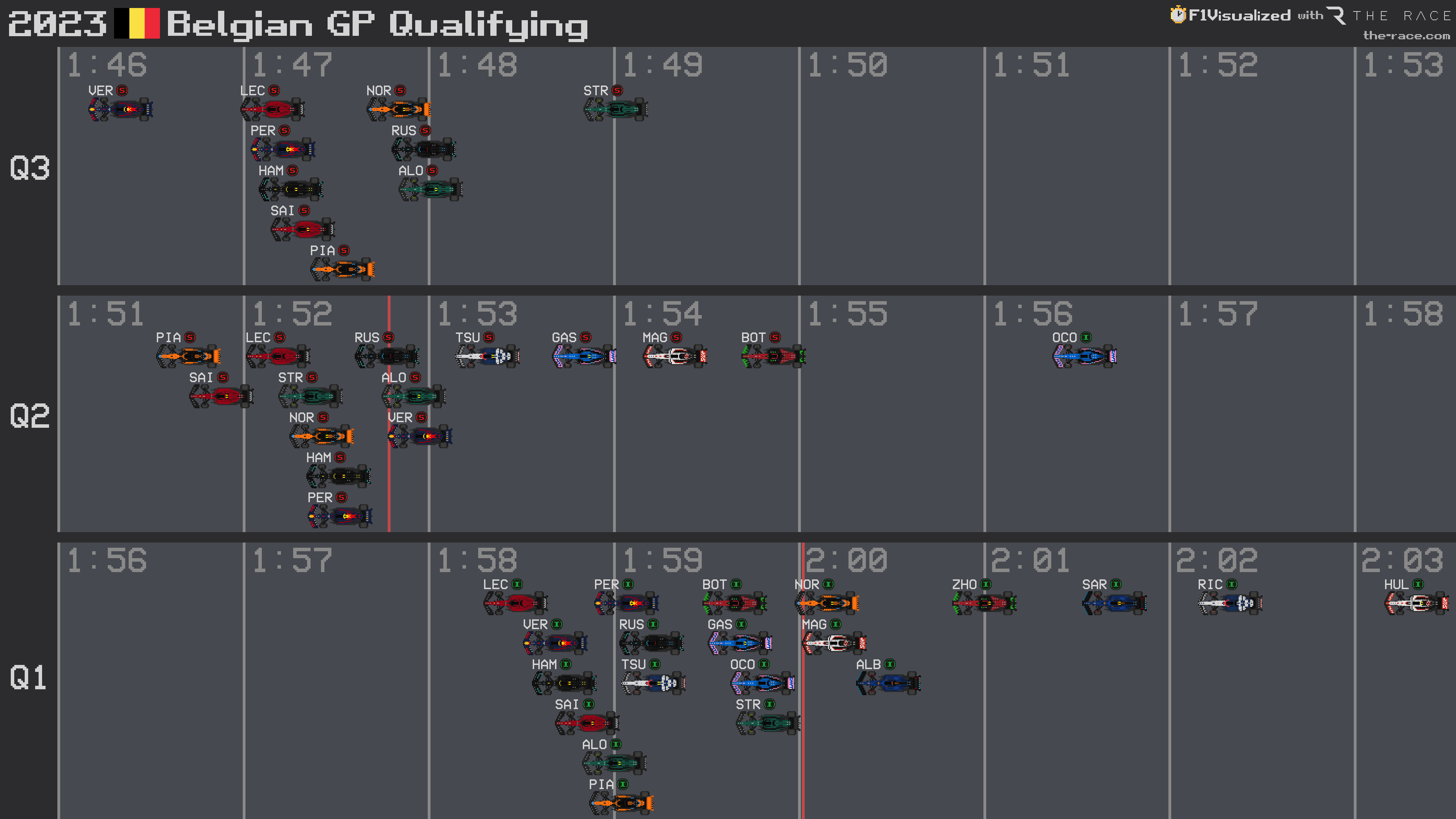 The laptime placed him eight tenths clear of nearest rival Leclerc, who had been fastest after the opening set of runs.
Verstappen's Red Bull team-mate Sergio Perez was eighth after his first Q3 attempt but ultimately rebounded to grab third place, which will translate to a front-row start.
Lewis Hamilton grabbed fourth in Q3 for Mercedes and will be joined on the second row by Ferrari's Carlos Sainz, under two tenths down on Leclerc despite the three-place gap.
McLaren's Oscar Piastri is the lowest-placed driver to benefit from Verstappen's grid drop, and will line up fifth, right ahead of the Dutchman.
Piastri's team-mate Lando Norris was three tenths off and seventh overall, looking on the back foot throughout qualifying ever since going off in the second part of Stavelot and sustaining apparent damage in the opening minutes of Q1.
Norris runs off into the gravel!

He manages to steer his way back onto the track#BelgianGP #F1 pic.twitter.com/zBMVo6vE17

— Formula 1 (@F1) July 28, 2023
The Q3 order was completed by George Russell – seven tenths off team-mate Hamilton – and the Aston Martin duo Fernando Alonso and Lance Stroll.
Hamilton was put under investigation for a potential case of rejoining the track unsafely after an off-track moment at Eau Rouge during Q1 in which he rejoined ahead of Russell, but the stewards took no further action after talking to the Mercedes team-mates.
Fresh off the news that it was parting ways with several more senior figures in its F1 set-up, Alpine saw both its A523s denied Q3.
Esteban Ocon has run wide, hit the wall and damaged his front wing 😩

The Alpine driver is on his way back to the pits with the ailing car #BelgianGP #F1 pic.twitter.com/JYFfxCtBDS

— Formula 1 (@F1) July 28, 2023
Esteban Ocon went off on slicks in Q2 coming through the downhill Liege left-hander, better known as the corner with no name, and damaged his car against the barrier, dragging the right endplate of his structurally-compromised front wing back to the pits to end his session.
AlphaTauri's Yuki Tsunoda ended up fastest of those eliminated in Q2, nearly four tenths down on the on-the-bubble Verstappen, and followed by Ocon's team-mate Pierre Gasly.
Kevin Magnussen (Haas) and Valtteri Bottas (Alfa Romeo) also slotted in ahead of Ocon in the Q2 order, with Magnussen having gone off through that same Liege corner and likewise tapped the barrier, albeit with less consequential damage. He was later given a three-place grid penalty for blocking Leclerc after rejoining, so falls to 16th.
Kevin Magnussen has a moment in the final moments of Q2 😳

And, he seems to get in the way of Leclerc on a quick lap too #BelgianGP #F1 pic.twitter.com/WrFXuy7Zuh

— Formula 1 (@F1) July 28, 2023
Williams, which had earmarked Spa as a potential prime scoring opportunity for its low-drag FW45, didn't impress in wet conditions – with both of its cars eliminated in the first segment.
Alex Albon was 16th, three tenths off advancing, compromised by a late off-track detour through Bruxelles. He has also been placed under investigation for how he rejoined after that, with Gasly having been on a fast lap behind him.
Alex Albon goes off and rejoins in front of Pierre Gasly on a quick lap 👀#BelgianGP #F1 pic.twitter.com/98e6cfTvJb

— Formula 1 (@F1) July 28, 2023
His rookie team-mate Logan Sargeant – kept in the pits for the first half of Q1 as the team continued to work on his FW45, damaged in a practice crash – only managed to get to 1.2s off Albon once he'd joined.
That was still good enough for 18th though, the Williams pair split by Alfa Romeo's Zhou Guanyu yet Sargeant ahead of both AlphaTauri's Daniel Ricciardo and Haas driver Nico Hulkenberg.
Ricciardo had set a laptime that, though four tenths off Tsunoda's, would've comfortably put him through to Q2, but it came as he, in his own words, "lost it a bit and drifted wide" coming up to the left-hander at Eau Rouge, cutting the kink as a result and making the laptime invalid.
His previous-best time was still good enough to keep him clear of Hulkenberg, at least, the German stymied by a hydraulic issue during the session and sent out too late, running out of time to do anything more than log a fruitless outlap on a drying track.
Qualifying Results
| Pos | Name | Car | Q1 | Q2 | Q3 |
| --- | --- | --- | --- | --- | --- |
| 1 | Max Verstappen | Red Bull | 1m58.515s | 1m52.784s | 1m46.168s |
| 2 | Charles Leclerc | Ferrari | 1m58.3s | 1m52.17s | 1m46.988s |
| 3 | Sergio Pérez | Red Bull | 1m58.899s | 1m52.353s | 1m47.45s |
| 4 | Lewis Hamilton | Mercedes | 1m58.563s | 1m52.345s | 1m47.87s |
| 5 | Carlos Sainz | Ferrari | 1m58.688s | 1m51.711s | 1m47.152s |
| 6 | Oscar Piastri | McLaren-Mercedes | 1m58.872s | 1m51.534s | 1m47.365s |
| 7 | Lando Norris | McLaren-Mercedes | 1m59.981s | 1m52.252s | 1m47.669s |
| 8 | George Russell | Mercedes | 1m59.35s | 1m52.605s | 1m47.805s |
| 9 | Fernando Alonso | Aston Martin-Mercedes | 1m58.834s | 1m52.751s | 1m47.843s |
| 10 | Lance Stroll | Aston Martin-Mercedes | 1m59.663s | 1m52.193s | 1m48.841s |
| 11 | Yuki Tsunoda | AlphaTauri-Honda RBPT | 1m59.44s | 1m53.148s | |
| 12 | Pierre Gasly | Alpine-Renault | 1m59.511s | 1m53.671s | |
| 13 | Kevin Magnussen | Haas-Ferrari | 2m0.2s | 1m54.16s | |
| 14 | Valtteri Bottas | Alfa Romeo-Ferrari | 1m59.484s | 1m54.694s | |
| 15 | Esteban Ocon | Alpine-Renault | 1m59.634s | 1m56.372s | |
| 16 | Alex Albon | Williams-Mercedes | 2m0.314s | | |
| 17 | Guanyu Zhou | Alfa Romeo-Ferrari | 2m0.832s | | |
| 18 | Logan Sargeant | Williams-Mercedes | 2m01.535s | | |
| 19 | Daniel Ricciardo | AlphaTauri-Honda RBPT | 2m02.159s | | |
| 20 | Nico Hülkenberg | Haas-Ferrari | 2m03.166s | | |