If you were under a rock at the weekend, perhaps you didn't see Lando Norris destroy the IndyCar field on his debut in its iRacing championship.
But dig a bit deeper and his outing told you so much more than just that Norris is a quick simracing driver. It hinted at the potential he has for megastardom on an unparalleled scale in the not too distant future.
Norris will need no introduction as a gamer-racer. He's gained a cult following from it, and when he rocked up for his IndyCar debut last weekend, the writing was on the wall for the opposition given how many laps of the Austin circuit Norris will have logged on iRacing in preparation for his grand prix Friday practice outing with McLaren there in 2018 alone.
Yes, IndyCar drivers like Simon Pagenaud have been practicing five hours a day to get on the pace in the IndyCar iRacing Challenge since it started five weeks ago. But Norris has probably averaged five hours per day for about seven years, not six weeks!
The IndyCar field was underprepared for Norris, demonstrated by many of the drivers calling him an "alien" as he topped practice sessions and won a practice race by nine seconds, asserting his dominance. He won the official race despite a spin in the early stages. Coanda Esports driver Sage Karam was the only driver in Lando's postcode and qualified at the back due to a couple of spins, before being taken out of the race.
Within all the practice we got the most fantastic experience of being able to listen to a full debrief from Norris, directed at his engineer for the weekend and his F1 engineer last year, Andrew Jarvis.
I've never seen someone actually copy word for word for so long. Interesting read tho if your bored 😁 https://t.co/lLlIHaEiUj

— Lando Norris (@LandoNorris) April 23, 2020
It showed how seriously the pair were taking it – especially when the debriefs were difficult to capitalise on because all the cars in the series use a spec-set-up – but also gave such a rare insight into an F1-level debrief, those of course being off-limits during a grand prix weekend. You might catch 30 seconds of one on the Netflix Drive to Survive episodes a year after that race has happened, but nothing as raw and live as we got from Norris and Jarvis.
That was all possible thanks to Lando's Twitch stream.
Twitch – if you aren't au fait with it – is a streaming platform used by top gamers from all categories. To contextualise just how big it is, 3.8 billion streams were beamed onto the internet in February alone. This in itself is no game.
Lando's stream is set-up similar to most gamers', with an inward facing camera to see what he is doing during the game and so he can address the camera when he wants. Then there's a camera on his feet to see what he's doing with the pedals, and the main camera is just a standard onboard from the car as if Norris was sat in it.
It meant we got to enjoy the practice sessions and practice races – which aren't broadcast by IndyCar – as well as the odd nugget, like the debrief with Jarvis we witnessed on Wednesday.
Some of the audience may not have realised the relevance of that debrief, and how rare it is to see that, because they aren't massive Formula 1 fans. Norris is drawing a whole new audience to him and in-turn F1 via Twitch. It's something no other driver is doing to this extent or this effectively.
That's why people are starting to realise how important Norris is to the future of F1. The current F1 TV audience is an older male demographic, and while that's OK for the big watch companies, does it work for most of the globe's major businesses?
No, they're targeting that younger audience, one that Norris has the best chance of anyone in F1 of accessing in the future. People are wondering where the next superstar is going to come from once Lewis Hamilton retires, but Norris is just that. He might not end up as interested in fashion or the culture of America as Hamilton, but he'll access the kids currently under 10 and constantly on a tablet or phone watching YouTube. That's where Norris's appeal lies.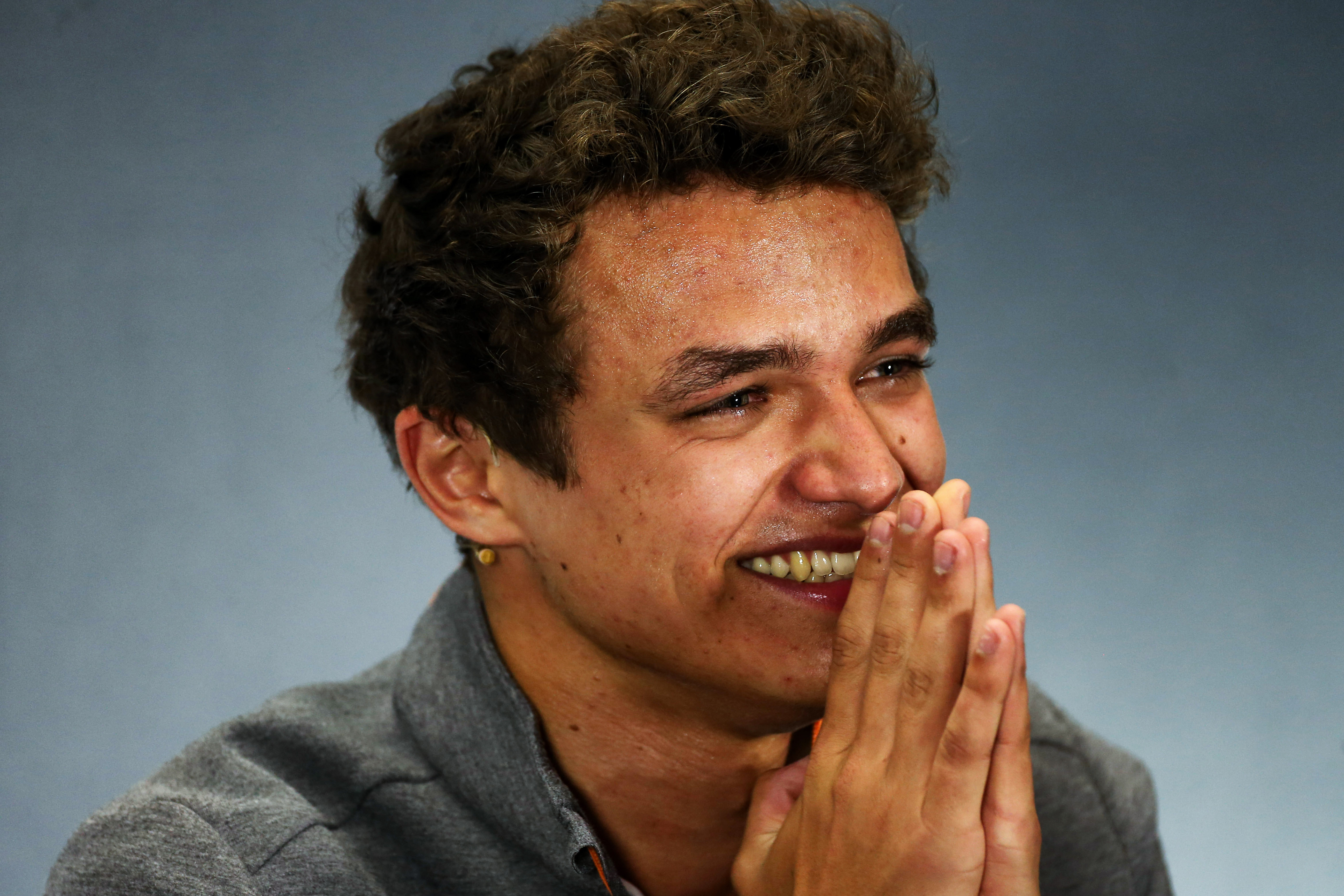 As esports becomes more important in motorsport, Norris will only become more immersed in it. Currently he's training and has a packed travel and media schedule due to the rigours of F1. If gaming becomes more and more important in the future as some predict, Lando will only have more time to get better on his sim and improve his reach on Twitch and suchlike.
But there's other gamer-racers, you may say. It's true, but none have the whole package. Norris has the F1 platform that already makes him a name – something the bigger sim-only racers will struggle with, not being widely known outside the gaming community. And where fellow F1 star Max Verstappen has the simracing ability of Norris and competes as regularly, Verstappen is far less active and interactive with his fans compared to Norris. Verstappen has just over 83,000 Twitch followers, Norris has north of 400,000. Not even a contest. Norris has a package the others can't match.
While the ADD Management concern that has looked after Norris from his karting days did a phenomenal job – making then unusual decisions for a future F1 driver like sending him into Ginetta Juniors at 14 – if it's encouraged anything Norris has been doing online, then that's another gold star in its book. But it doesn't come across as a management-steered decision, more as Norris just seeming to be a young person having fun while gaming – mixing his hours and hours of practice with some interaction with his fanbase. The fact that it's so chilled and laidback makes it even easier for fans to engage.
There is business behind this, though. It's free to watch Norris's Twitch – but fans can subscribe, the minimum cost of that being £5. According to the site twitchstats.net, Norris has over 4400 subscribers. So that's £26,000 at a minimum – if that figure is correct – that Norris has made out of subscribers alone on his Twitch.
Then there's the shoutouts and mentions. You can 'donate' to Norris in return for him naming you on his live stream, £3 for a message to pop up on the screen or £5 to have it read out by Norris. People can do this in the chat on the right-hand side of the Twitch screen. If 1% of the 7,000,000 people who have watched his stream donated £3, that's £2,100,000. The Race isn't declaring that's how much Norris has earned from Twitch – rather, it's simple maths that shows the money that is available to those who are successful on the platform.
The Twitch site itself is massive. It was acquired by Amazon in 2014 for £1billion. In March 2020, according to twitchtracker.com, there were over 5 million active users. Norris's total views rank 1512 overall, with over 7 million total views. The stats make for astonishing reading and you wonder how long it will take before Norris is making more from his Twitch than his McLaren F1 contract pays…
Norris is totally committed to his fans, and is often calling people out on his stream. He did it a few times mid-race last weekend, and even blamed a spin he had earlier in the race on the chat. His fans in that chat have become accustomed to Norris blaming them for distracting him and take the blame as part of the joke.
In fairness, when he isn't giving shoutouts, he's often muttering pop culture references, like last week when he was quoting Netflix's hit Tiger King in the middle of a COTA long-run. You can't help but be entertained by the randomness of it all if this a world that's new to you.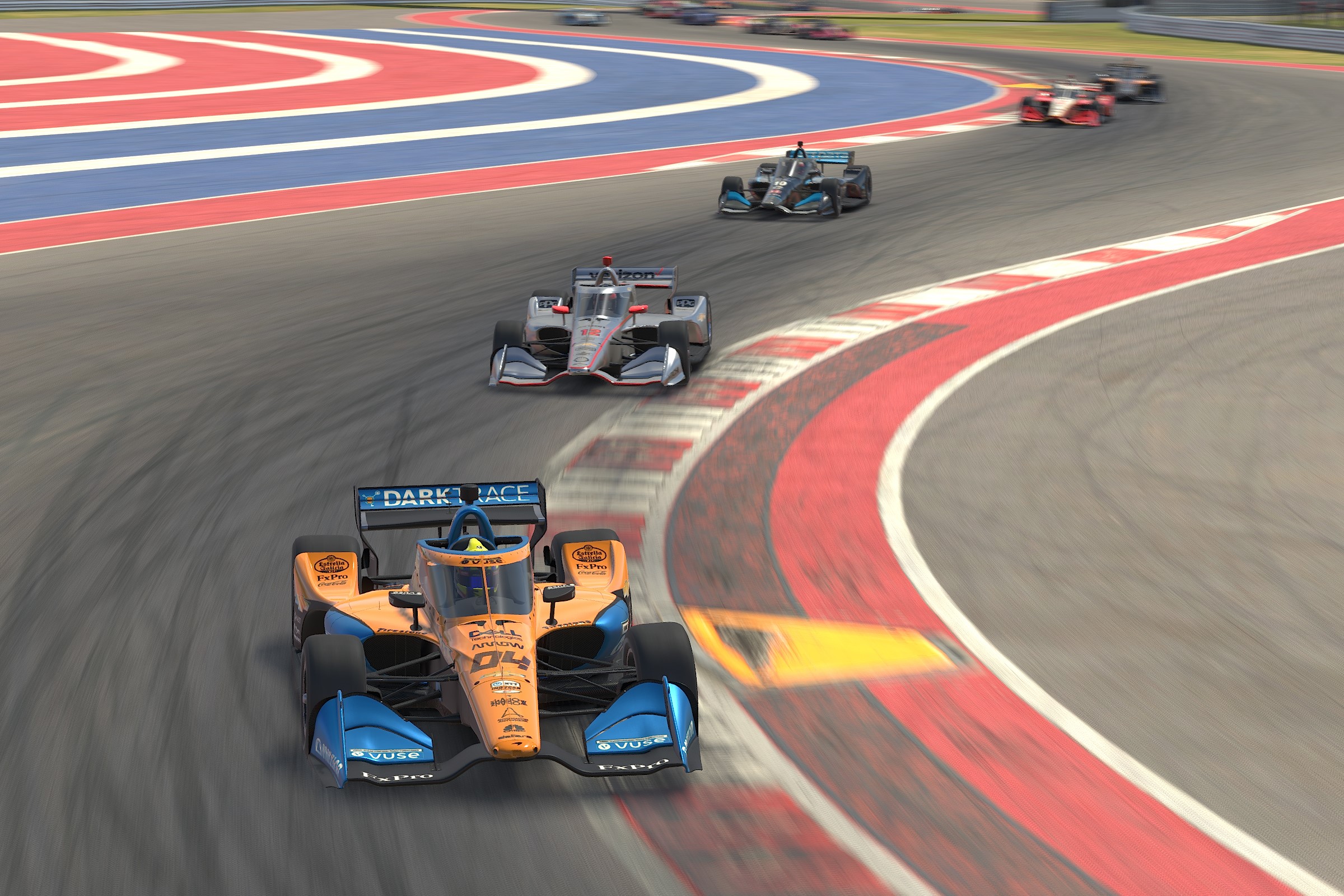 When asked about his Twitch by The Race following the Austin win, he said: "I love it. It's really enjoyable. Especially in this time [during the lockdown], I'm not living with anyone, I'm all alone. To be able to at least speak with my chat and answer questions and so on, it's really nice.
"They're all going crazy now. They think they're famous because you mentioned them.
"It's cool. It adds a bit more. It allows them to see more of what I do. Instead of just watching the actual stream from IndyCar, they get to see me and how I drive, see me and how I act and react to spinning, doing well in qualifying and everything.
"It's good for them to see more of what a driver does. Even though it's not real, it's virtual, a lot of things are real in how I act and react to things. That's really good.
"It does add some pressure. I have to split it between trying to interact and answer questions and say hello to my chat and focus on the next braking point for the next corner, which often goes very wrong.
"I can't multi-task with those two things particularly well. If I ever do make a mistake, I normally blame it on chat because I keep trying to read it while driving. I'm blaming my spin on them!
"It's just good fun. It adds a bit more. It's good for the fans to interact."
Among drivers, Norris has had a huge headstart to the whole Twitch business. On the team side, the equivalent to that has been Williams and its Esports division.
While most F1 teams have entered merely the official F1 Esports championship, or a couple of others like Red Bull, Williams is everywhere. NASCAR, MotoGP, DiRT, a whole load of championships and disciplines it doesn't compete in.
Williams Esports head Steven English told The Race that Esports is so important because: "This is the demographic that everyone wants to reach, every brand, every sport in the world has been struggling to reach that younger generation because they don't watch TV in a traditional way.
"They have so many options for how they chose how they want to engage that it's very difficult to reach them."
That's why Williams is trying to establish itself outside F1 in many virtual arenas it hopes will grow into the next big thing when it comes to esports.
There's no doubt the simracing and esports arena is only set to grow, especially as the recent coronavirus pandemic can show what can be done with it, and has opened it up to a captive audience who are sat at home with nothing to do.
If esports does continue to grow, then Norris is the only truly well-rounded driver with the draw of being a real-F1 star and a household Twitch name. That is what makes Norris the most valuable driver in motorsport's future.