Lewis Hamilton overruled a late precautionary pitstop his Mercedes Formula 1 team wanted in the Turkish Grand Prix because he feared a repeat of his dramatic pitlane crash in China in 2007.
Hamilton had stopped to change to intermediates on lap 10 of 58 in Sunday's race at Istanbul and took a used set rather than a new one.
He ran those tyres to the end, a strategic move that swung the grand prix decisively in his favour.
When he brought his car to a stop post-race, the inters were worn to slicks in the middle, and the wear looked excessive.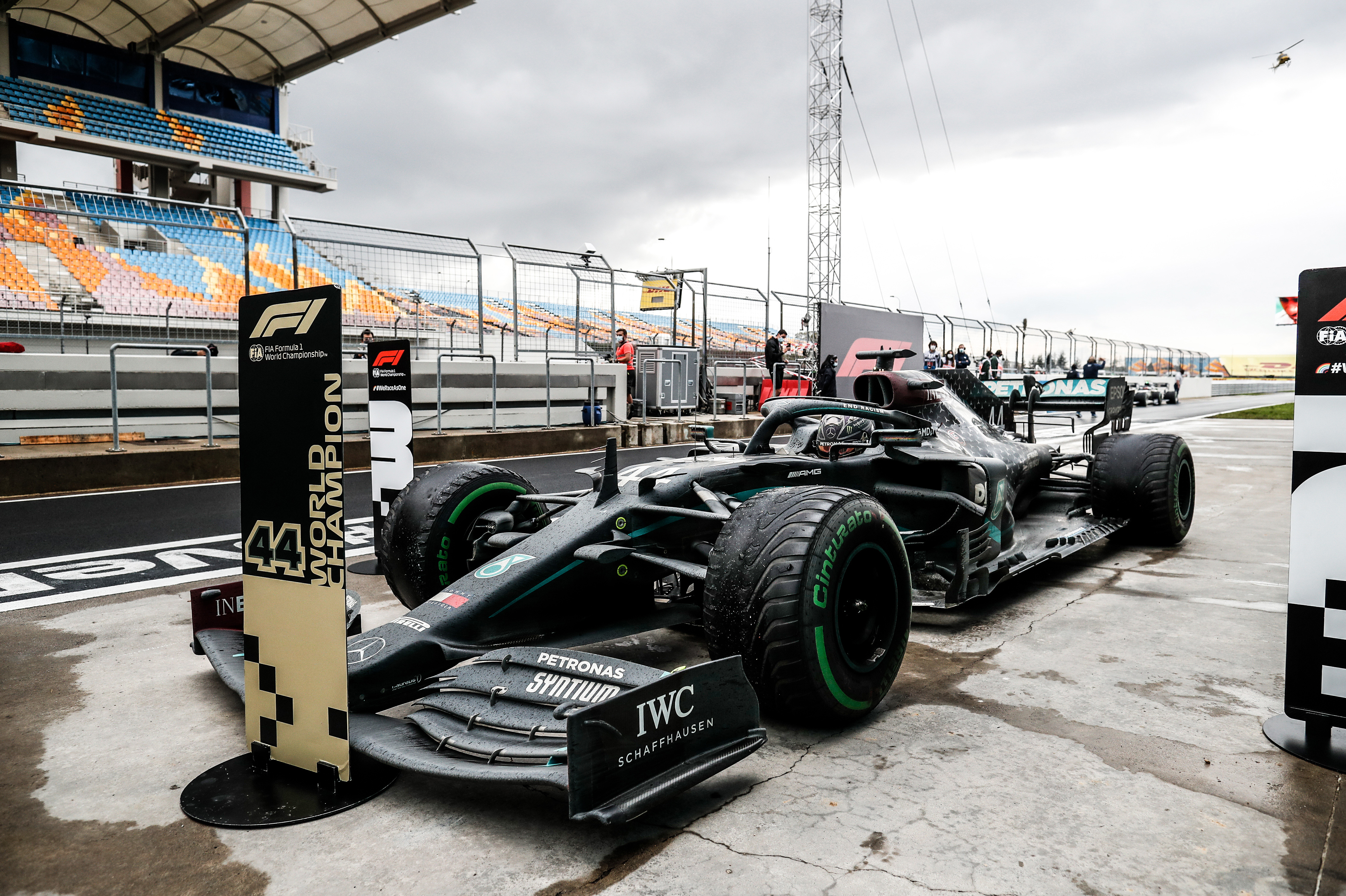 There was concern from both driver and team late on about the condition of Hamilton's tyres.
It was there that the memory of Hamilton's Chinese Grand Prix crash 13 years ago, one that played a huge role in costing him the 2007 championship, first came into his mind.
"What I want to know is, there's no concern about any of these tyres blowing up, right?" :: Lewis Hamilton
In similar transition conditions back then, Hamilton went off the road in the Shanghai pit entry and had to retire from a race he had earlier been in control of. That allowed Kimi Raikkonen (and Fernando Alonso) to take a crucial slice out of his championship lead and set the stage for Raikkonen to snatch the crown at the finale a fortnight later.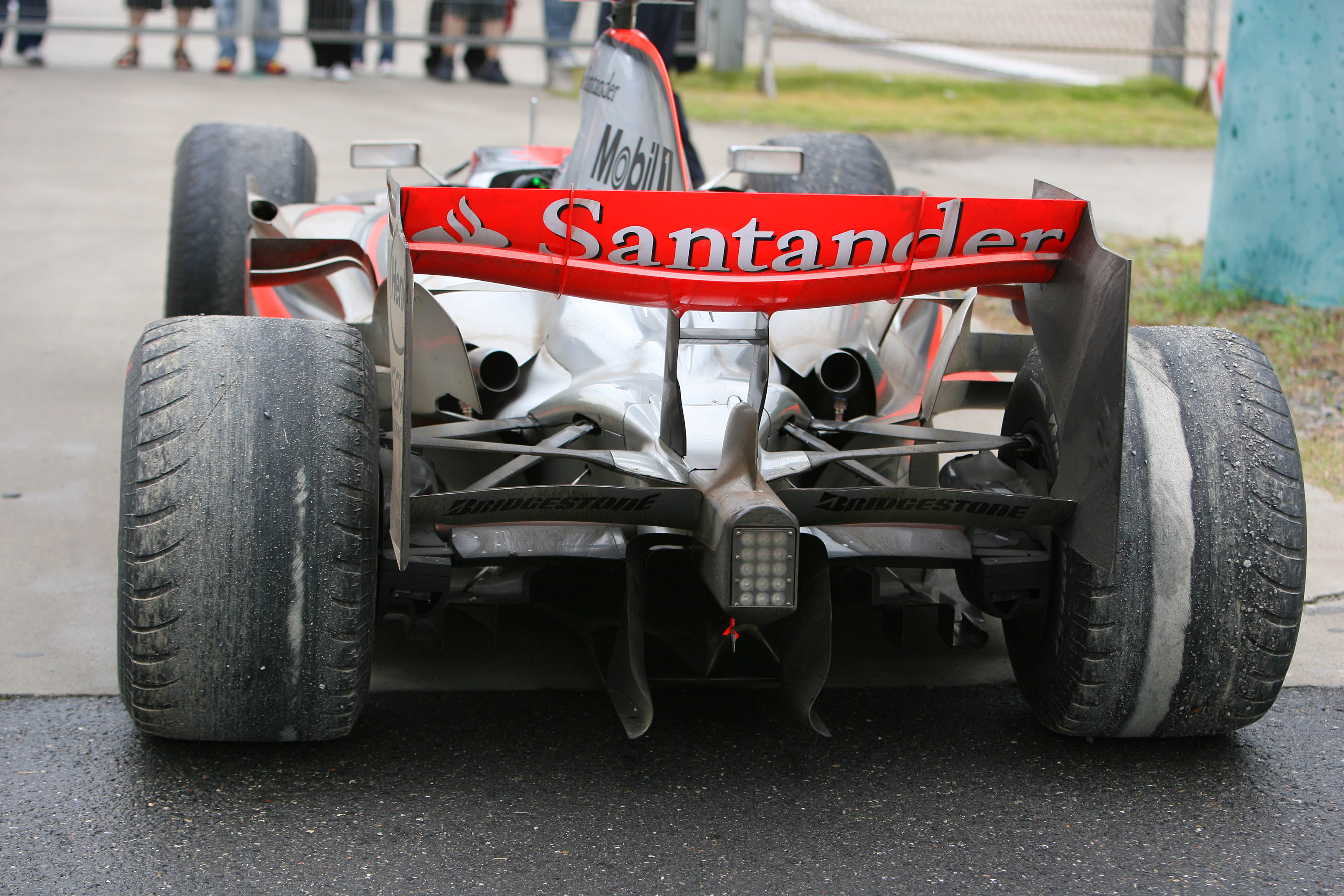 On Sunday Hamilton started getting vibrations and was "looking out for that bald tyre that I had in 2007".
But, "just like in 2007", he couldn't see the rear tyres in his mirrors: "I couldn't see the tread and whether or not it had gone through to that level."
That explains the radio message just over six laps from the end, when Hamilton said unprompted: "What I want to know is, there's no concern about any of these tyres blowing up, right?"
Mercedes had assured him there was not, because the state of the tyre was not its concern.
"They haven't got a lot of rubber on them but to be honest in a race when you transition from inter to dry, every set you take off should look like that," said Mercedes trackside engineering director Andrew Shovlin after the race.
"They should be bald because that's when you know you're at the transition, so the appearance wasn't really the worrying bit."
What Mercedes feared late in the race was either a puncture as the tyre wore thin or, much worse and much more likely, the increasing threat of rain.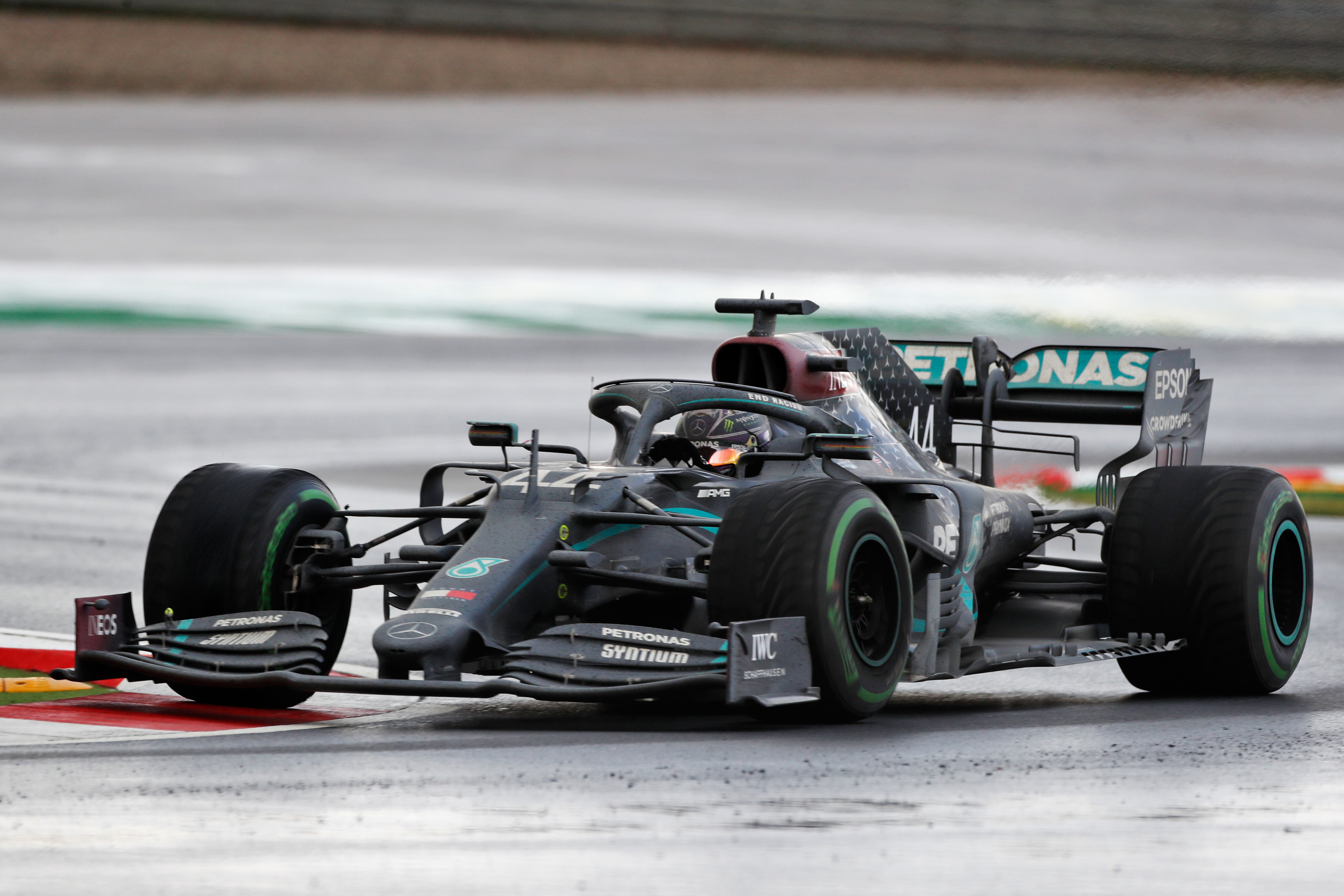 As the inters had worn to part-slicks they had become a potent weapon on the drying track. But they would be utterly hopeless if the rain came.
This was at the heart of Mercedes' late effort to get Hamilton to pit, as he had just established a pitstop's margin over second-placed Sergio Perez, who was also going to the end on badly-worn intermediates.
"I'm gonna stay out Bono, I think… I hear you… but it's gonna be slippery in that pitlane" :: Lewis Hamilton
Hamilton's race engineer Peter Bonnington first messages with fewer than five laps to go to say: "Potential rain in the last laps of this race. We have the stop to Perez. If we just build that gap a little bit more we'll take a safety stop. Make sure of no surprises."
Three and a half laps from the end Bonnington warned that Mercedes expected the rain to hit at the exit of Turn 8 first.
Hamilton gave it a few seconds' thought before replying: "If it is going to rain these tyres will not work…"
That suggested Hamilton was on board with Mercedes' desire for a safety stop. But he kept thinking about it. And with two and a half laps remaining he asked how long was left, adding: "I think it might be alright."
Still, Bonnington issued the instruction to pit, reiterating that it's "just to cover off the rain, that is the biggest risk". And he did so again as Hamilton entered the back straight, telling him: "Box box. We have five seconds in hand. Just be super careful on the pit entry."
Hamilton may already have made up his mind by this point, or perhaps the final part of Bonnington's message crystallised the concern that had been forming over the last few minutes. Either way, as he headed towards the final sequence of corners, Hamilton went with his instinct.
"I'm gonna stay out Bono, I think…" he said. "I hear you… but it's gonna be slippery in that pitlane."
So, he stayed out. Mercedes remained ready in the pits next time around just in case Hamilton changed his mind, but he assured them it was in hand. And it was.
Post-race, Hamilton confirmed his fears of repeating the gut-wrenching moment from Shanghai as a rookie with the title on the line.
He weighed up the options and decided that to head into the pitlane was to confront a clear risk (George Russell had crashed there on a reconnaissance lap when on fresh wet tyres). Staying out was to accept that rain might come, but could be handled if it did.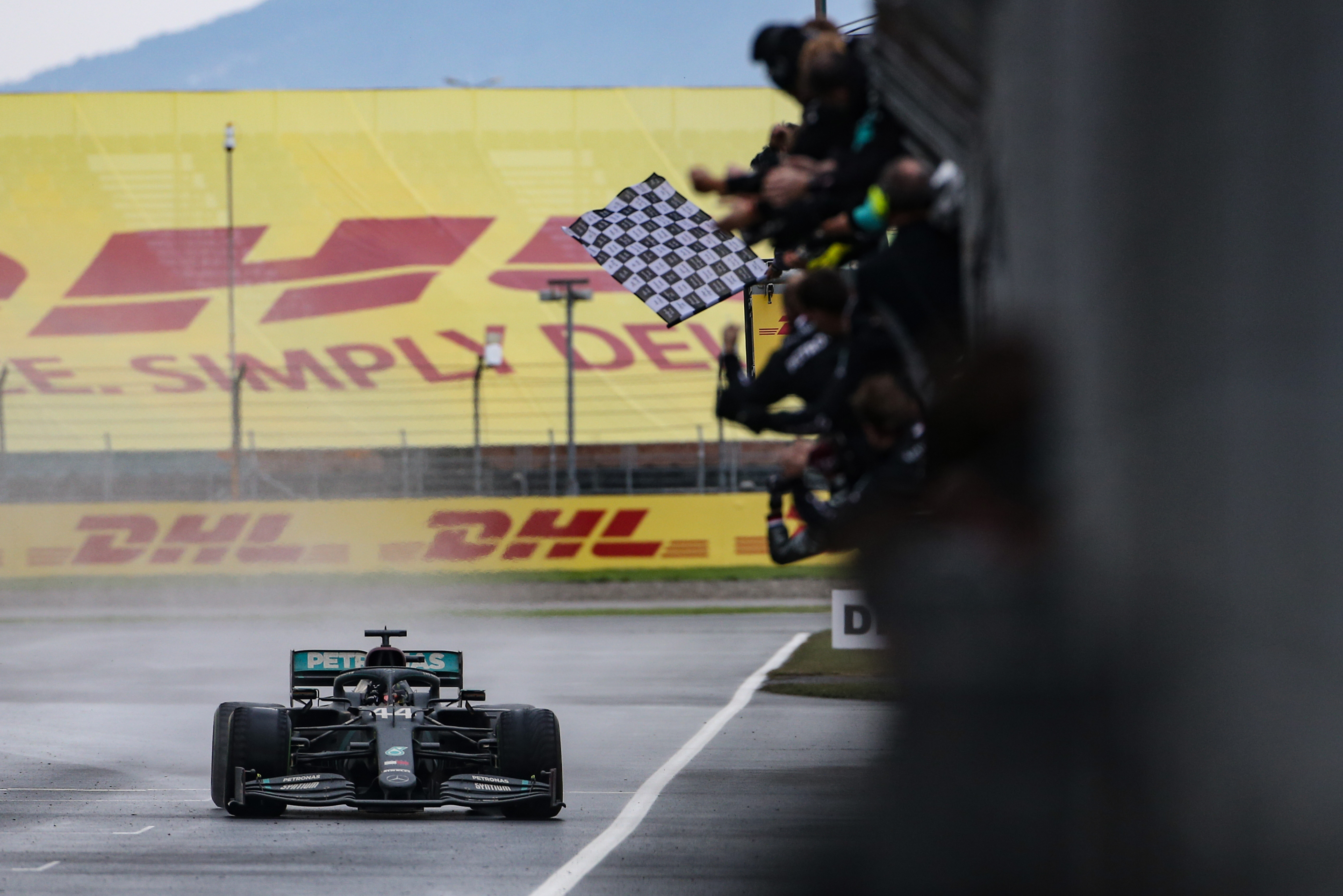 "What I'm learning as I get older is, most often, my gut feeling is right," said Hamilton.
"And, like intuition, the first thought that I have is usually the right one, choice-wise. So I'm learning not to question myself.
"Back in 2007, I was a rookie. I was massively skilled but didn't have the knowledge, didn't have the experience to be able to lead the team, to tell them what was needed.
"If I knew what I knew now, I'd say 'guys, I have to come in, I'm coming in'. I didn't know at the time I could tell my team that that was the case. I was still learning what I could and could not do."
That's not to say Hamilton went about it solo, because he was relying on Mercedes to keep him updated on the physical condition of his tyres.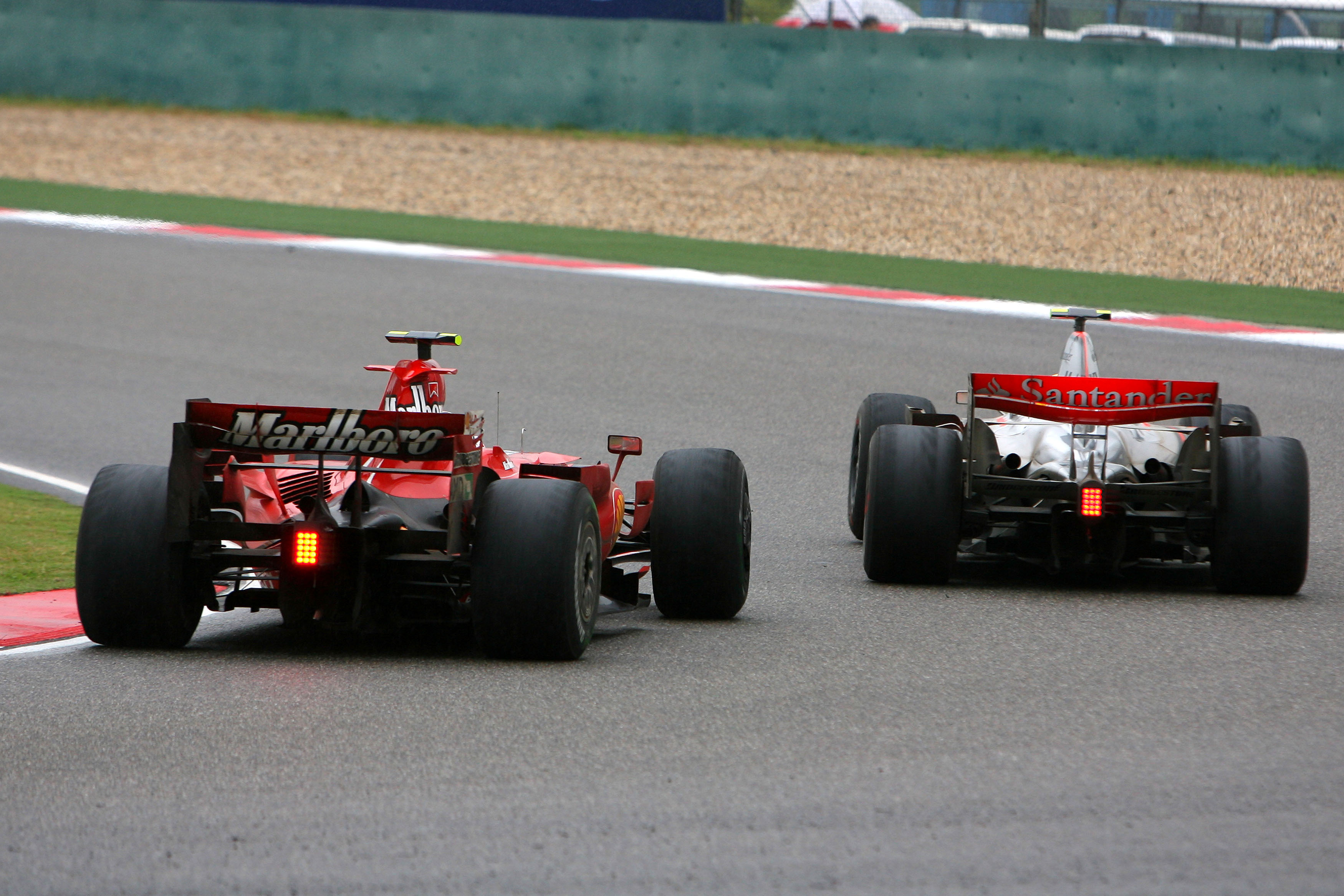 But the crucial factor that prevented a repeat of probably Hamilton's worst moment in his F1 career was that he had a control of the situation that his 2007 self (pictured being caught by Raikkonen at Shanghai) lacked.
That also started with doing everything he could to protect the tyres from getting near being down to the canvas.
"That's why I was asking the team, and I was having to save the tyres through the high speed," he said.
"Trying to not kill them but keeping temperature up was really key. That's brake balance, that's how you use them on the exit of the corners, it's the lines that you have to navigate to take – there was a lot of wet patches still out there. And as soon as you touch that, you're off.
"So, the key today was really just keeping my wits about me."
That went for planning ahead as well as handling the challenge in the present. So, Hamilton's victory was rooted in mental acrobatics as well as his deft physical touch.
And though the situation was not a like-for-like comparison to China in 2007, it required the calibre of driver Hamilton lacked the experience to be 13 years ago, but has emphatically evolved into since then.