Lewis Hamilton completed a clean sweep of fastest times in Austrian Grand Prix practice sessions on Saturday morning, in another Mercedes 1-2, as Red Bull edged closer to the champion team.
Red Bull had an inconclusive Friday in which minor incidents meant it didn't set truly representative flying laps.
But Max Verstappen had remained bullish at the end of the opening day and then got to within 0.283s of Hamilton's practice three benchmark lap of 1m04.130s as put Red Bull third behind the two Mercedes.
Valtteri Bottas was again second to his reigning champion team-mate, 0.147s slower than Hamilton.
Ferrari remained over half a second off the pace, as Charles Leclerc and Sebastian Vettel finished the session back in fifth and seventh.
They were again beaten by the flying Racing Point, as Sergio Perez grabbed fourth with a late lap that put him within 0.475s of Hamilton and under two tenths of a second down on Verstappen.
Ferrari stuck to soft tyres throughout, allowing Vettel and Leclerc to both have spells on top while Mercedes was still focused on medium tyre runs.
They were knocked back when Mercedes and Red Bull took softs, Leclerc and Vettel ending up either side of Alex Albon's sixth-placed Red Bull.
Lance Stroll couldn't quite match Racing Point team-mate Perez's pace as he took eighth ahead of Pierre Gasly's AlphaTauri and Lando Norris in the leading McLaren.
Renault spent long spells in the top six as it also ran only on softs, but finished the morning down in 11th and 12th with Esteban Ocon and Daniel Ricciardo.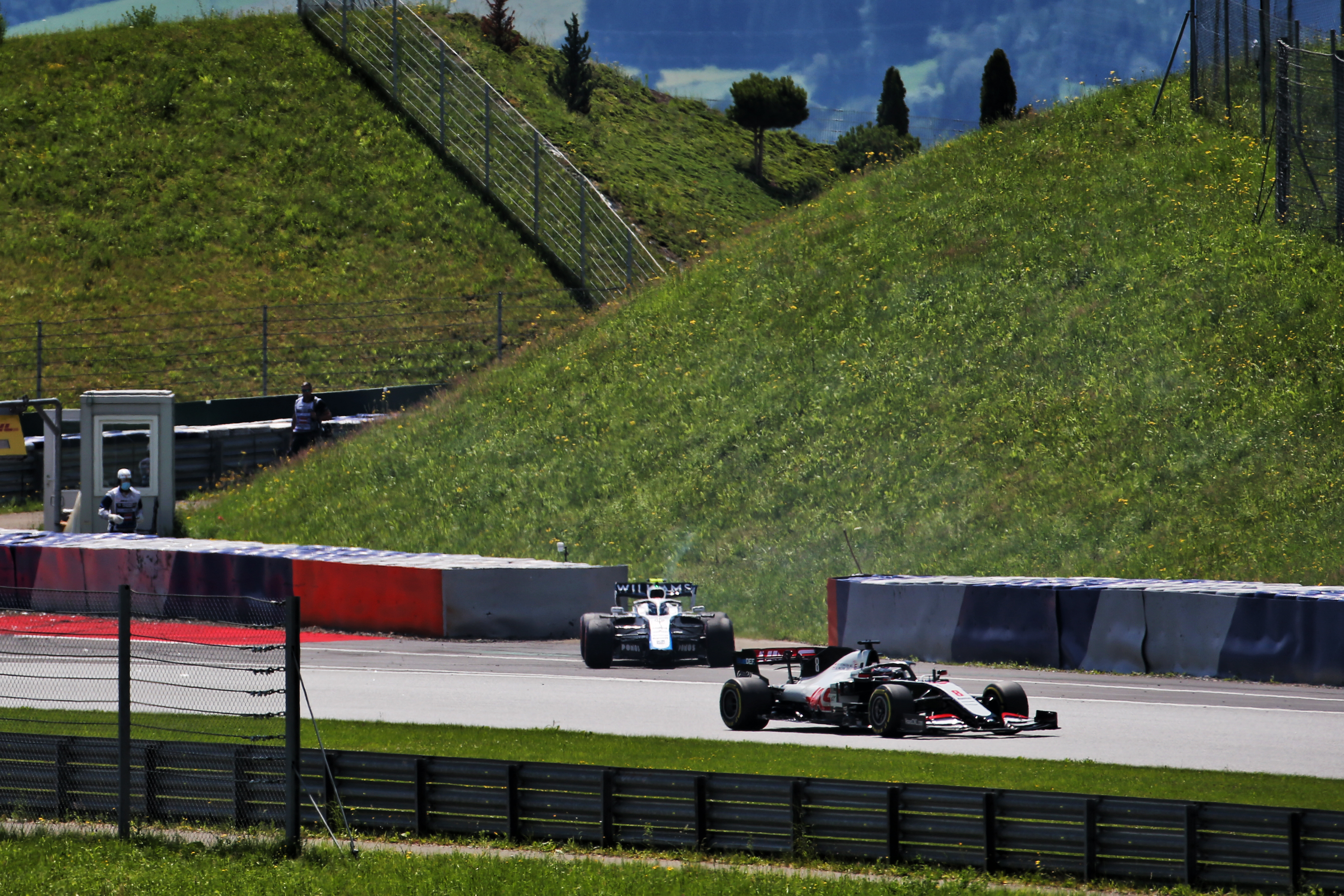 The session featured the first red flag of the season, caused by Nicholas Latifi putting his Williams into the Turn 1 wall after 25 minutes.
He lost control over the kerbs on the corner's exit and speared into the barriers, damaging both ends of the car.
But while that left Williams with a repair job ahead of qualifying, it could at least be buoyed by its car's pace.
Though Latifi's crash left him stranded at the back, his team-mate George Russell outpaced Kevin Magnussen's Haas and both Alfa Romeos to take 16th.
Practice 3 Results
| Pos | Name | Car | Best Time | Gap Leader |
| --- | --- | --- | --- | --- |
| 1 | Lewis Hamilton | Mercedes | 1m04.13s | |
| 2 | Valtteri Bottas | Mercedes | 1m04.277s | +0.147s |
| 3 | Max Verstappen | Red Bull-Honda | 1m04.413s | +0.283s |
| 4 | Sergio Pérez | Racing Point-Mercedes | 1m04.605s | +0.475s |
| 5 | Charles Leclerc | Ferrari | 1m04.703s | +0.573s |
| 6 | Alex Albon | Red Bull-Honda | 1m04.725s | +0.595s |
| 7 | Sebastian Vettel | Ferrari | 1m04.851s | +0.721s |
| 8 | Lance Stroll | Racing Point-Mercedes | 1m04.918s | +0.788s |
| 9 | Pierre Gasly | AlphaTauri-Honda | 1m04.949s | +0.819s |
| 10 | Lando Norris | McLaren | 1m04.95s | +0.82s |
| 11 | Esteban Ocon | Renault | 1m05.037s | +0.907s |
| 12 | Daniel Ricciardo | Renault | 1m05.088s | +0.958s |
| 13 | Carlos Sainz | McLaren-Renault | 1m05.177s | +1.047s |
| 14 | Daniil Kvyat | AlphaTauri-Honda | 1m05.29s | +1.16s |
| 15 | Romain Grosjean | Haas-Ferrari | 1m05.363s | +1.233s |
| 16 | George Russell | Williams-Mercedes | 1m05.565s | +1.435s |
| 17 | Kevin Magnussen | Haas-Ferrari | 1m05.648s | +1.518s |
| 18 | Antonio Giovinazzi | Alfa Romeo-Ferrari | 1m05.654s | +1.524s |
| 19 | Kimi Räikkönen | Alfa Romeo-Ferrari | 1m05.773s | +1.643s |
| 20 | Nicholas Latifi | Williams-Mercedes | 1m07.049s | +2.919s |