Formula 1 world champion Lewis Hamilton says he uses Black Lives Matter as a message for equality, not to advocate the "completely different" political movements that have co-opted the message.
Black Lives Matter is a phrase that formed the basis of an anti-racism social media movement but has also spawned groups operating under the name with specific principles and policies.
Some of those organisations, such as Black Lives Matter UK, have caused controversy with messages about defunding the police and the Israeli-Palestinian conflict – something English football's Premier League distanced itself from after adopting Black Lives Matter messaging in support of racial equality.
Hamilton, F1's only black driver in history, has been a regular user of the Black Lives Matter slogan and as all 20 F1 drivers gathered at the front of the grid before Sunday's Austrian Grand Prix he wore a shirt with the words on the front, while the other drivers' shirts read 'End Racism'.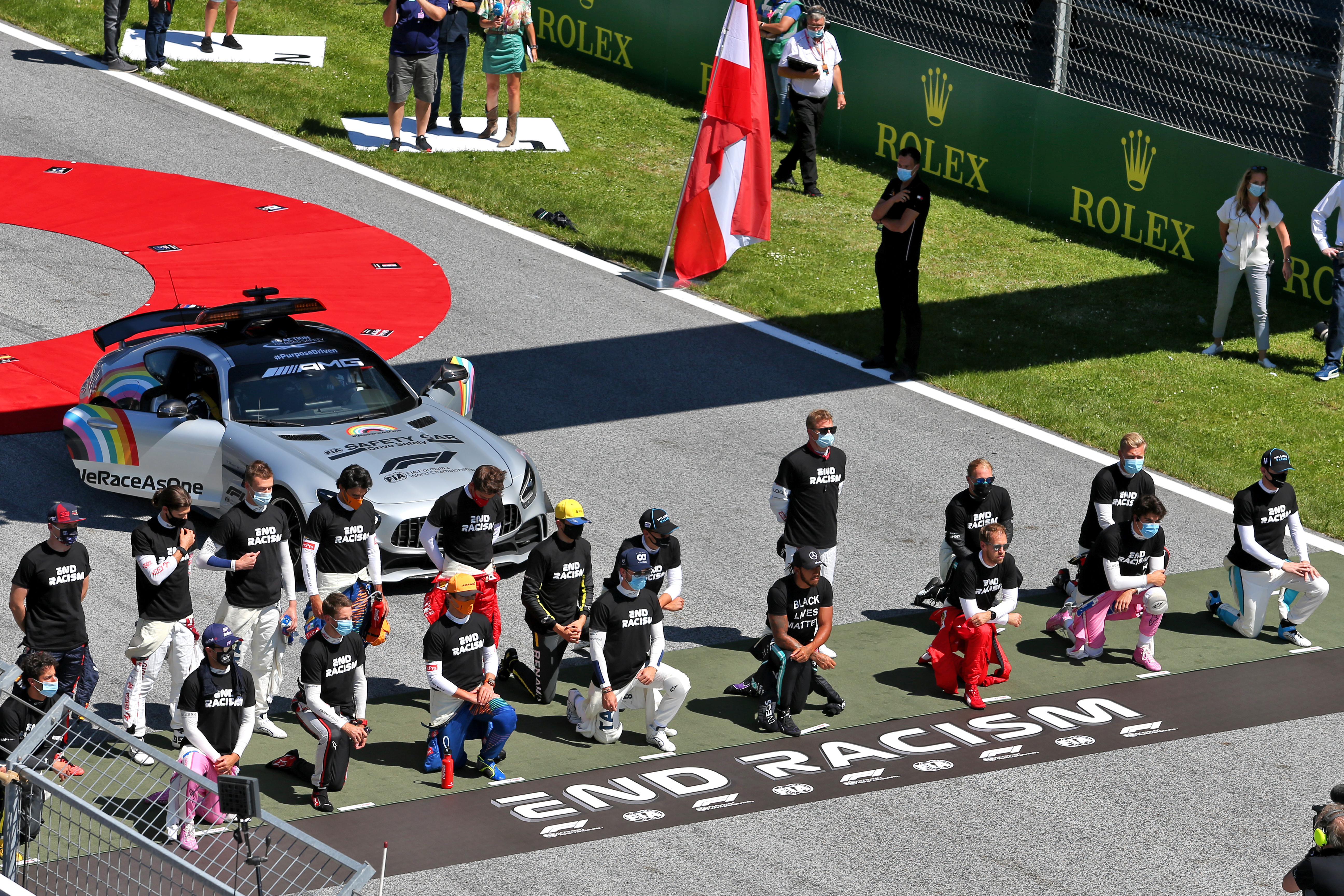 The looseness of the use of Black Lives Matter has caused confusion given the controversy around specific organisations and actions, but Hamilton has echoed the Premier League's sentiments that it is a standalone message not support of a political issue.
Asked by The Race for his thoughts on the conflation of the Black Lives Matter message with controversial political organisations and the confusion it has caused, Hamilton said: "You're right. There are certain people that are speaking about it and making it more political than I would say that it is.
"I think it's UK Black Lives Matter that have spoken on some more political issues.
"But I think the people that are out at rallies, the people out there marching, are fighting for one cause and that's for the equality. It's not a political thing, necessarily.
"When I went to London, that's what we were out there doing.
"When I wear this shirt, when I speak out, that's what I'm supporting.
"I'm not supporting, necessarily, the political movements, that's something completely different.
"So I think it's important to try and keep them separate."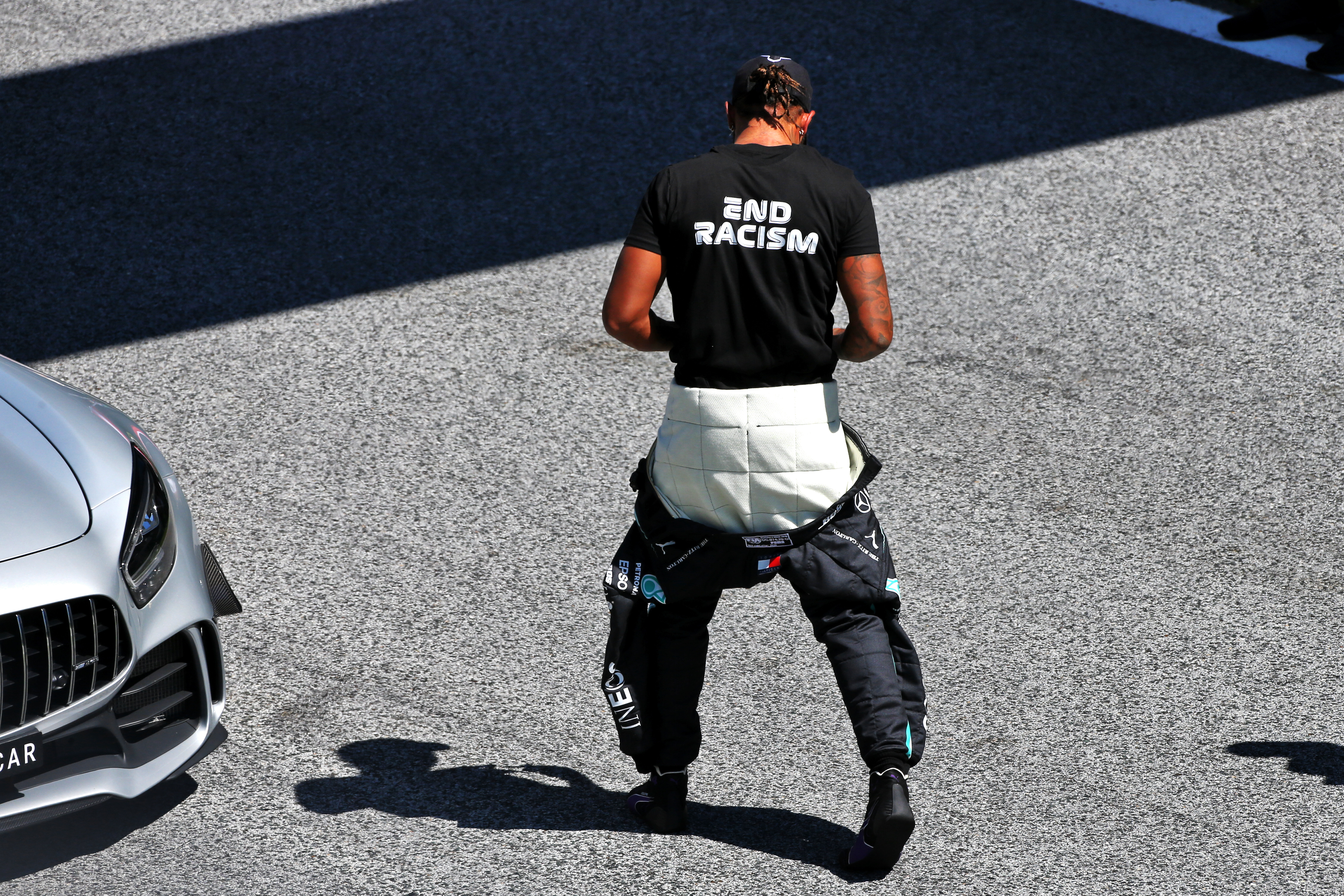 The question of whether the entire grid would take the knee before the start of the race, for example as every player in the Premier League before kick-off did when English football restarted recently, was a recurring one throughout the Austrian GP weekend.
Charles Leclerc and Max Verstappen said on Sunday they would not take the knee, with Leclerc citing the potential for controversy in countries where the gesture may be misunderstood.
Alfa Romeo drivers Kimi Raikkonen and Antonio Giovinazzi, plus McLaren's Carlos Sainz Jr and AlphaTauri's Daniil Kvyat, all remained standing while the rest of the grid kneeled on the start line – but everyone wore the 'End Racism' T-shirts.
Hamilton said he didn't know everyone's "different reasons or opinions" but what he had discussed with some of the drivers was a "private" thing that he wouldn't disclose.
He supported his fellow drivers' decision not to kneel and said it was not something he was trying to demand.
"Nobody should be forced into a scenario where they have to kneel," said Hamilton.
"There is a story out there that's really incorrect, I never requested or demanded anybody to take the knee.
"I never even brought it up, it was brought up by Formula 1. And it was brought up by the GPDA.
"When we did the drivers' briefing Seb [Vettel] and [Romain] Grosjean brought it up and asked the drivers whether or not they would do it, and there were obviously several that said they wouldn't.
"I'm really, really grateful for those who did kneel along with me.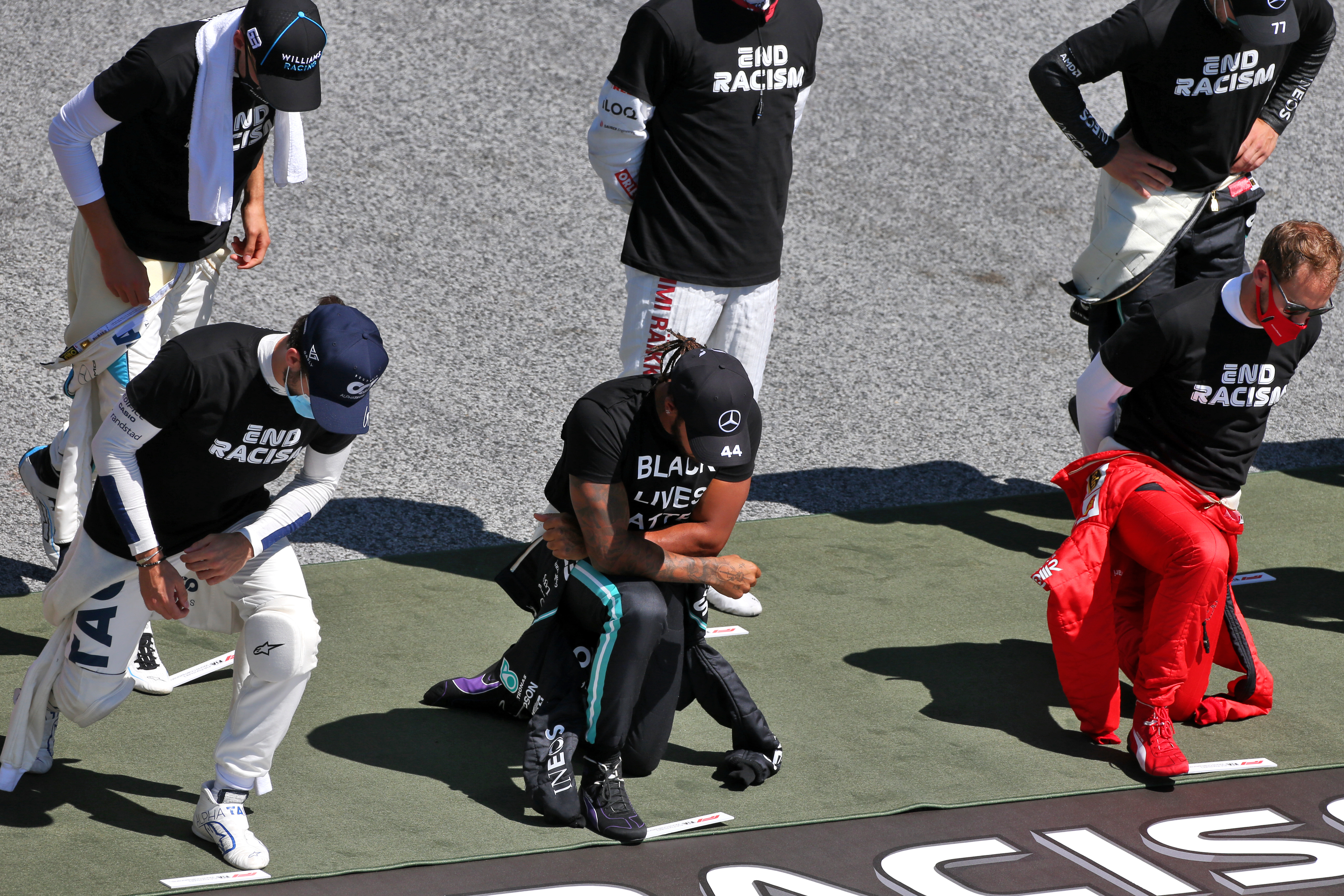 "I think it's still a really powerful message but ultimately whether you kneel or do not kneel that's not going to change the world.
"And it's a much, much bigger issue across the world than just something as little as that.
"But everyone had a right to their own personal choice, and for me personally that was what I felt was right to do."
Hamilton regrets dropping Kaepernick tribute before
Kneeling in a show of anti-racism and promoting equality has its roots in the United States and NFL player Colin Kaepernick kneeling during the national anthem.
Then-San Francisco 49ers player Kaepernick wanted to take a stand against oppression of black people in the US and initially did that by sitting during the national anthem in a preseason game.
He then began to kneel during the anthem before every game after a conversation with former player and army veteran Nate Boyer.
Hamilton revealed on Sunday evening in Austria that he has spoken with Kaepernick in the past and part of his conviction to take a stand now goes back to a previous season when he was convinced not to wear a Kaepernick tribute helmet for the United States Grand Prix.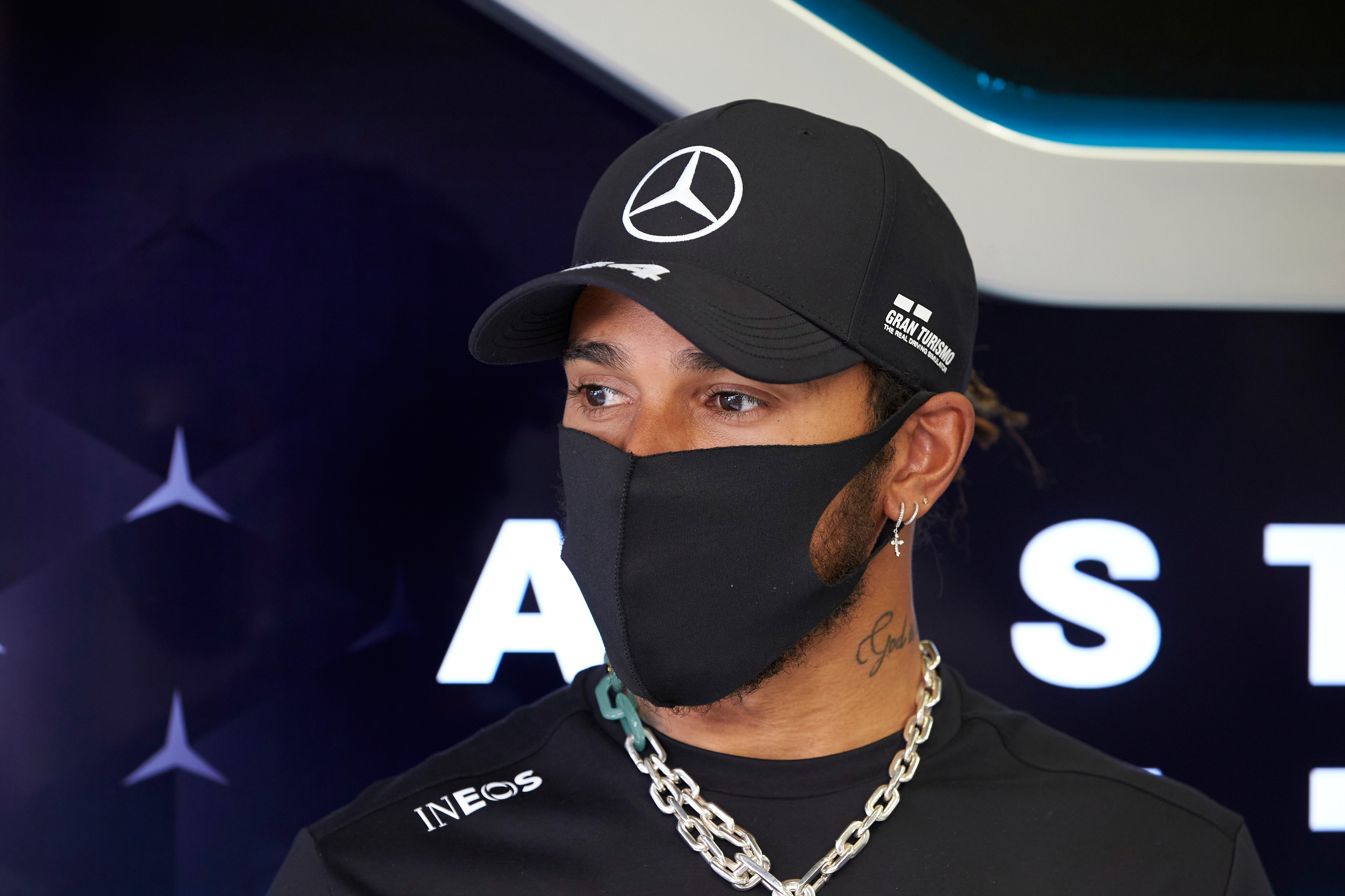 "I don't know if I'll continue to [kneel]. This all started with Colin Kaepernick in the NFL," said Hamilton.
"And I thought it was a really powerful statement that he made, and then he lost his job.
"And he didn't get his job back and he was a great athlete.
"But I'd actually spoken to him a couple years ago, shortly after the US GP.
"I had a helmet and everything made in red for his top with his number on the top.
"But back then, I was kind of silenced. I was told to kind of back down and don't support it, which actually I would say that I regret.
"So it was important for me to make sure that during this period of time, I did my part, and I think moving forwards I need to try and continue."
Hamilton would not elaborate but The Race understands he was not gagged by his team or F1, but was advised by senior figures that the matter was so serious that it carried a serious risk of Hamilton being denied future entry to the US.
As well as racing in America, Hamilton is a frequent visitor to the country for business and personal reasons.
Hamilton said no thought had yet been given on whether the kneeling would continue when F1 returns to the Red Bull Ring this weekend for the Styrian Grand Prix part of the Austrian double-header, or in future races.
He said the most important thing was to maintain awareness of the issue so it didn't "die a silent death and disappear and see no change".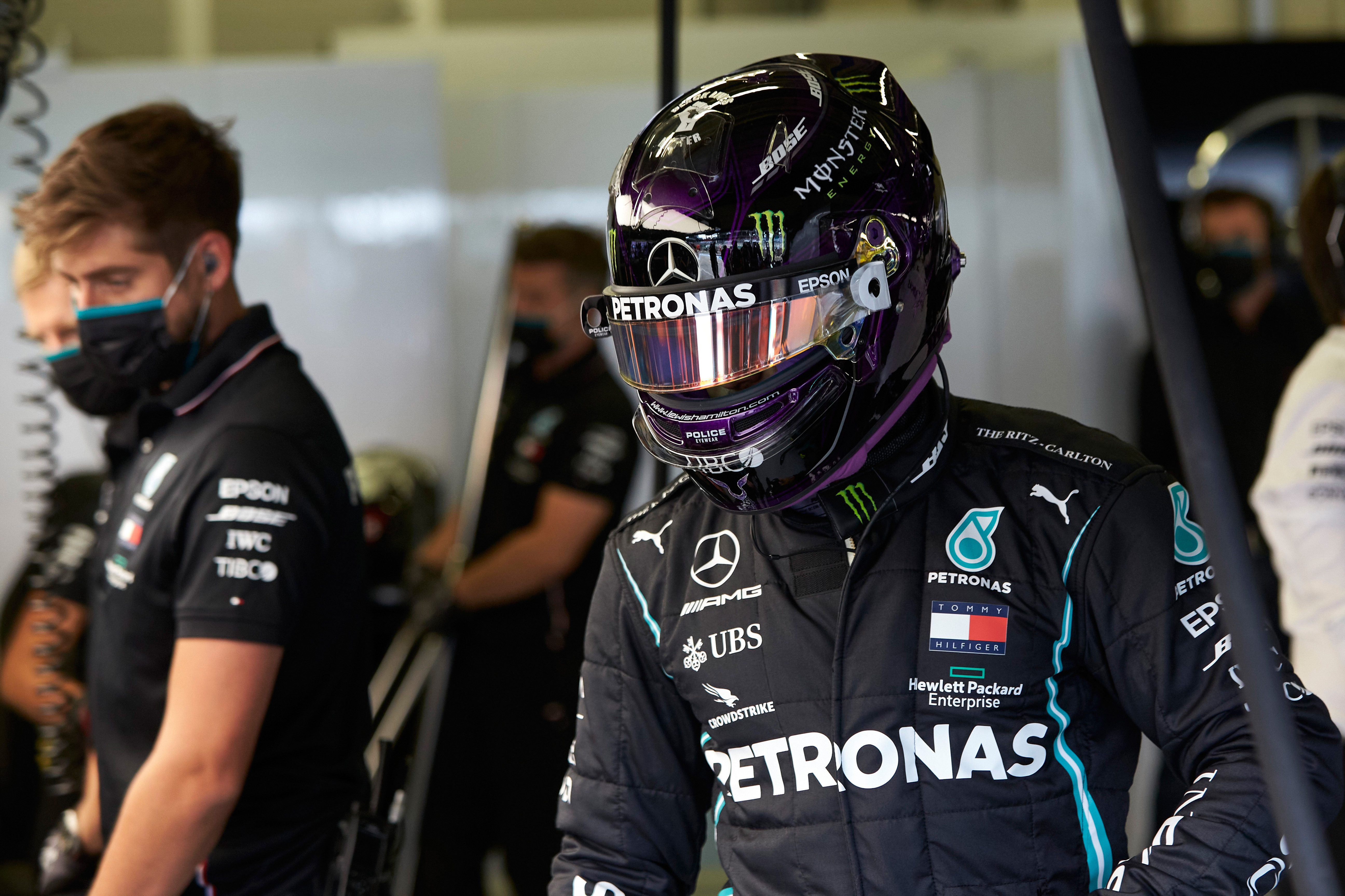 Hamilton also said everyone, including himself, had to look at their accountability and try to improve their everyday actions, because gestures like kneeling are of limited value.
He will consider whether he repeats the gesture but said he "definitely" doesn't want to do it during a national anthem.
"But I would say definitely in the background I'll continue to support, continue to try to improve my education on the situation and hopefully encourage others," he said.
"I really don't want it to be a case of people feeling forced. I want people to be excited to be a part of the change.
"I want to encourage people to really take notes and think 'you know what I've been so fortunate to not have experienced racism, but I can try to understand what it must feel like, and I don't want people to feel that way, I don't want my kids to feel that way, so I want to be part of the change so in the future, a kid can lead a better life quality'.
"That's really what it's all about."