Romain Grosjean says his family's suffering, believing he had died in his Bahrain Grand Prix crash, made him cry and was the hardest part of the accident to deal with.
Grosjean escaped from a car-splitting, fiery crash last Sunday with only burns on the back of his hands, but his survival was only known to the public after a wait of just under three minutes before footage of him out of the car was shown.
Extensive replays then revealed the magnitude of Grosjean's accident and the incredible nature of his escape.
Grosjean told French media earlier this week that he will seek psychological help to deal with the impact of the crash, as he wants to return to racing as soon as possible.
Speaking to assembled F1 media, including The Race, on Thursday morning for the first time since the accident, he revealed it was his family's distress that took its toll rather than his own concern.
"What is the hardest for me is not what I went through," he said. "This is my life, my job and the risk we take.
"But it's what I put people through. My family, my parents, my wife, my kids, my friends, for [more than] two minutes, their friend, their father, their husband was dead.
"And that is what I'm working on because that is what makes me cry, that I made people suffer to that extent."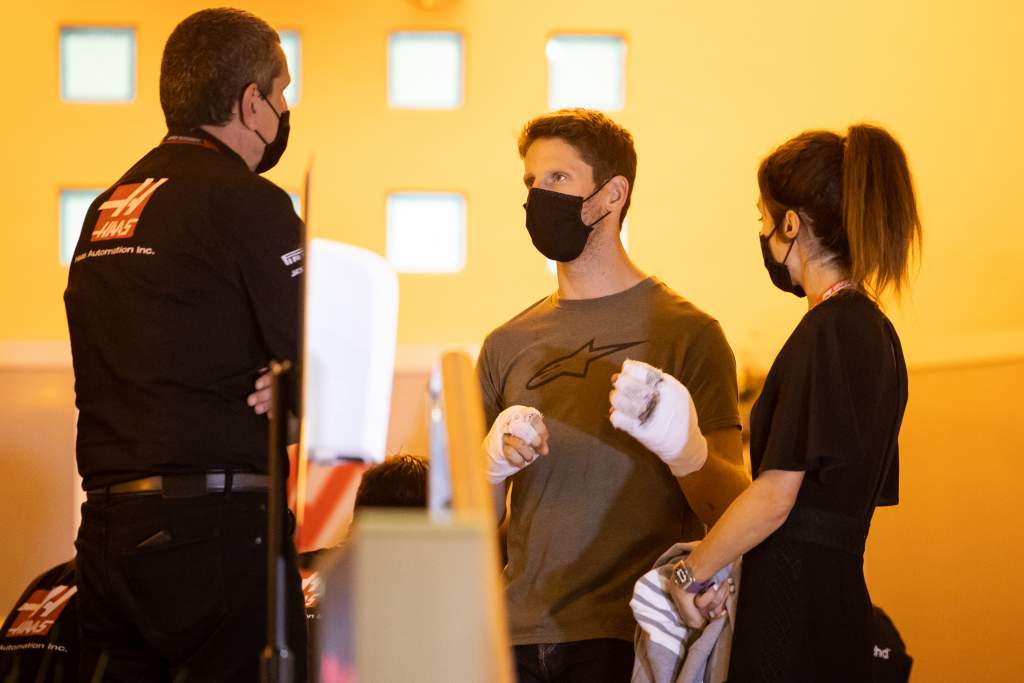 Grosjean also discussed in detail how his family responded, from his three young children reacting in different ways to his wife Marion only being able to fly to Bahrain on Wednesday evening.
"My kids have many questions," said Grosjean. "My oldest son Sacha was worried that I would come all black, all burned. That I would never be the same.
"So, he was very relieved when he saw me and I looked the same.
"My son, Simon, five years old, is convinced that I have a love shield and that I can fly.
"He doesn't process the fact that I could walk out of the car, he thinks I flew off the car. He's convinced, and that's why they think I'm a superhero.
"My daughter, three years old, it's a bit harder to know exactly what she thinks.
"She draws something every day for my hand injury, and she sends me a kiss every day and a hug, and she thinks I'm gonna heal like this.
"But they're OK because yesterday I video-phoned them and they wouldn't even come to see me, they were playing outside!
"Probably the first time I was happy they wouldn't come to see me! Because that means that they were OK, they are back to their life.
"Sacha, seven years old, went in front of his class for 45 minutes in the morning talking about it. His friends asked questions and he explained and he told them what I told him.
"Marion, I think it's been very hard for her, and she flew to Bahrain. Wednesday night she arrived.
"For her it was key to hug me because even though she could see me in the video… I guess it was hard to process that yes, I was in one piece.
"So, she flew, she hugged me and I think since then it's getting better."
View this post on Instagram
Grosjean said that despite the difficulty of the experience for his family he has already informed them of his "selfish" desire to race again.
"The first video call I did with my wife, my kids and my dad, I say, I will race in Abu Dhabi," Grosjean said.
"And you can imagine the reaction, they weren't very impressed with me. And I won't blame them. And I will always understand that they don't accept it.
"It's very selfish but it's what I need, and it's what I want to do.
"If it doesn't happen, well, I'm alive. I will have plenty of other opportunities in the future. I'll have a superlicence in 2021 and we've seen that no one is safe from COVID. So, let's see."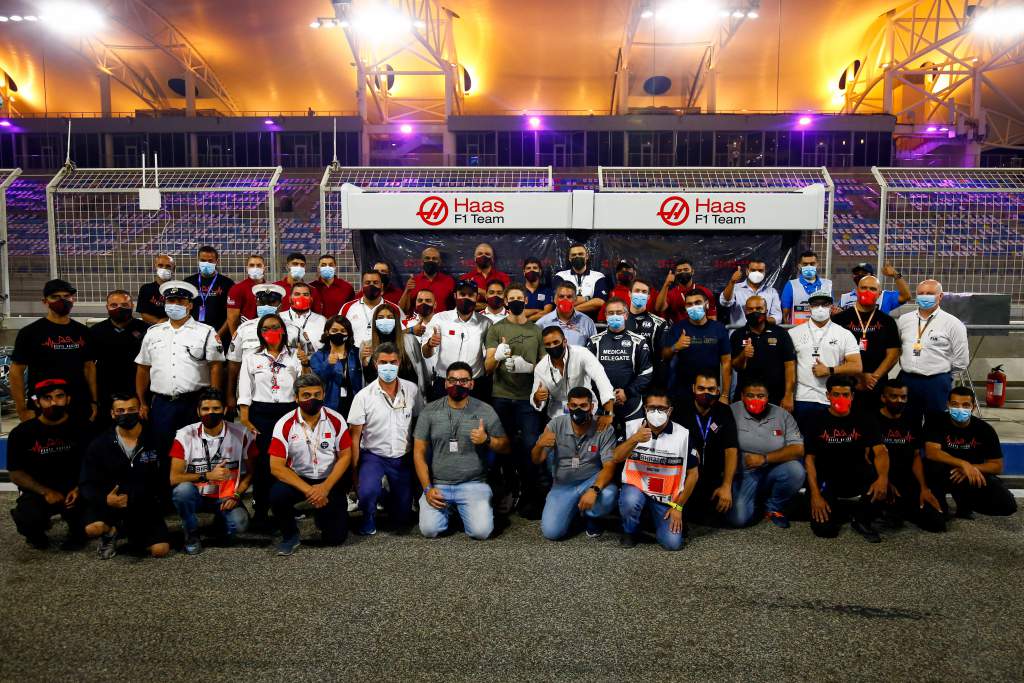 Whether he is able to take part in the Abu Dhabi season finale depends on the recovery of his left hand.
Grosjean said he has been told burn recovery is "not an exact science" and doctors have not ruled out a skin graft.
With that in mind, Grosjean said that while he wants to return in F1 again, and he will still seek the racing comeback he desires elsewhere, what he will not do is sacrifice his long-term condition.
"I've got 60 years or so to go with my left hand," he said. "So, one race, it's important to me, but it's not as important as living a normal life for the rest of my life.
"It's a target and I think it helps me to keep positive and keep moving.
"The first step yesterday was to go to the track, and one of the first things I did was I went to the car, looked over the halo and the cockpit and just to see if there were any strange feelings, panic, scare moments and it was fine.
"Already that's kind of a positive step."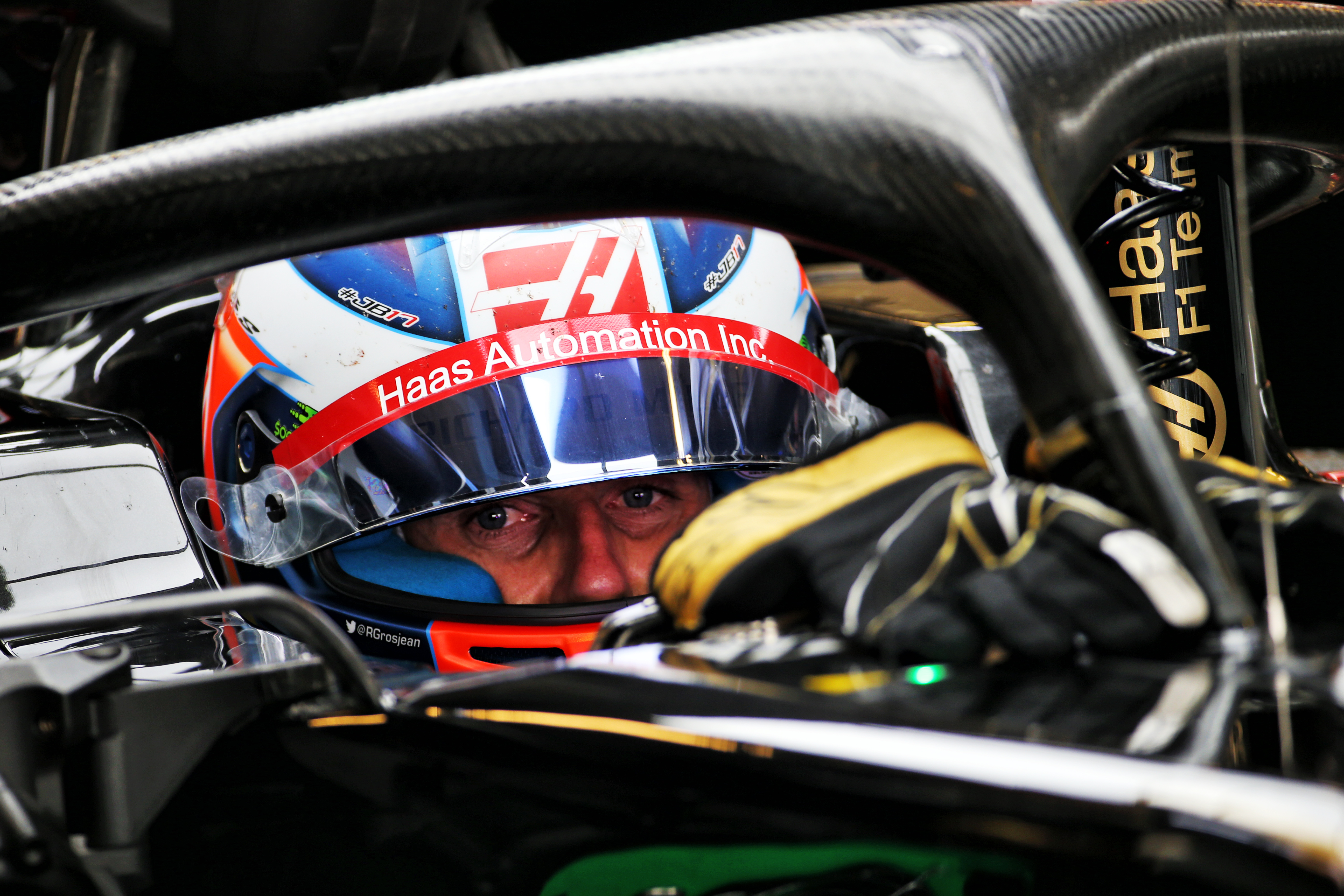 Having lost his F1 seat, Grosjean was looking at securing an IndyCar drive for 2021. He had previously had reservations about racing on ovals, but that concern had faded when he fully understood the limited presence of oval circuits on the calendar.
However, he has admitted that this crash could prompt him to revise his position.
"The first and only target at the minute is to try to get back to Abu Dhabi and understand how it works for me," he insisted.
"We were talking about IndyCar at one point. Having the thought now to add the risk of ovals where you can have a big shunt and having my family, far away and seeing on TV, it's hard and I don't know if I could make it.
"I've decided not to take any decision for now, until I maybe get to race in Abu Dhabi, get some more time.
"Last week the priority was to sign a contract and find a way to go racing in 2021. The priority now is a bit different and if I don't race in 2021 I'll be cycling, kitesurfing, spending time with my kids, enjoying life and having time off that I didn't have since I was 17, probably."