Haas has a new Ferrari-style front wing at Formula 1's Monaco Grand Prix this weekend.
When it comes to this upgrade, it's the age-old story that balance is more important than total aerodynamic load. You can add loads of rear wings, but you need the front end to go with that rear to create the balance the driver needs.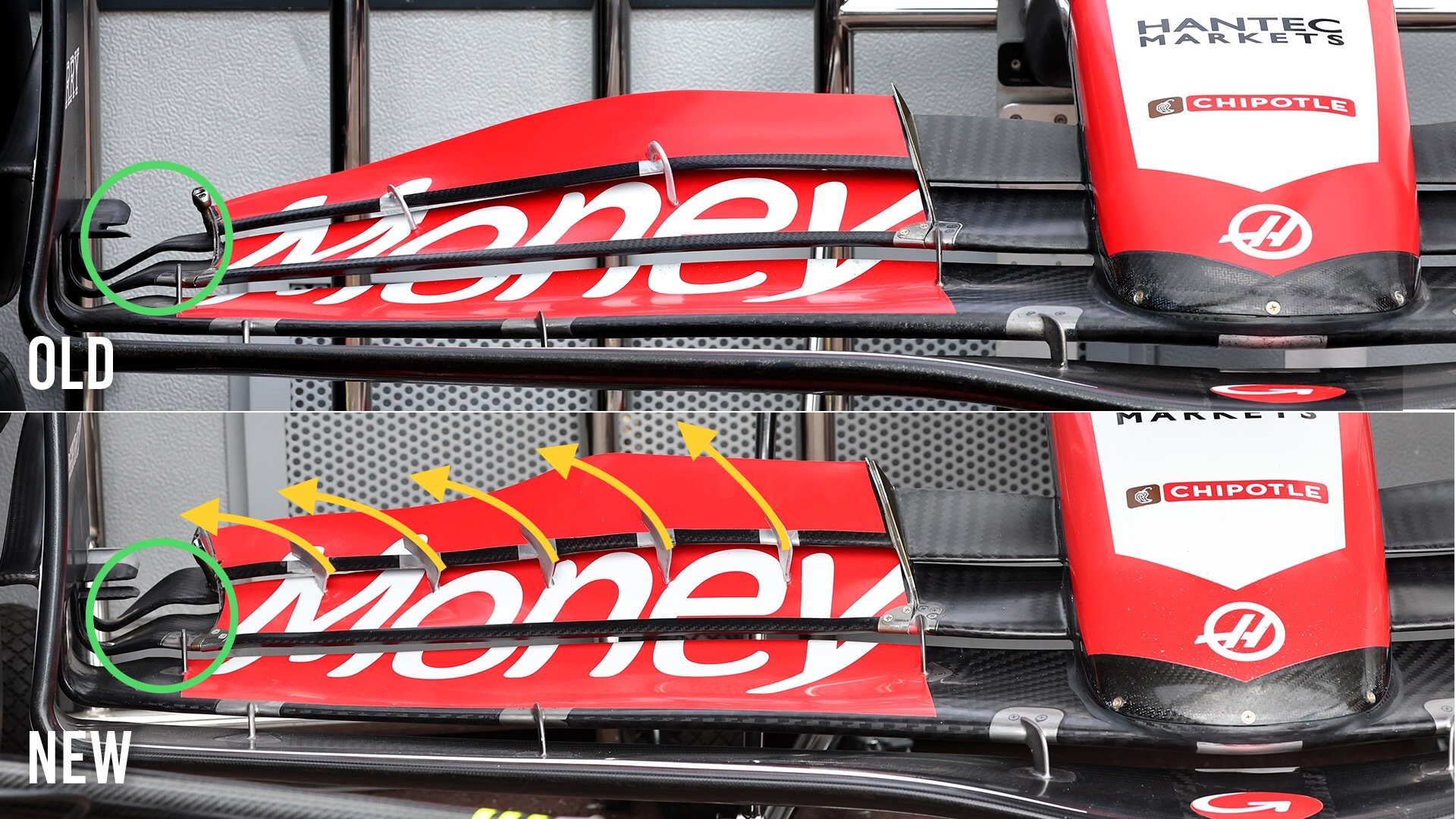 This comparison of the normal Haas front-wing detail with the Monaco front wing shows how the team has approached achieving this.
Haas has also gone down the Ferrari route of adding the five (yellow arrows) outwash rear flap supports. You can see the angle of these increase as they go outboard to increase the outwash around the front tyre. This a design that was originally intended for introduction at Imola, and will be carried over into future races.
I don't think there is as much difference in the area inside the green ellipse as it looks like there is. As both noses are sitting on the same nose stand the angle of the older version being higher up is a bit more horizontal to the newer version.
It will be interesting to see how all the teams go about this extra downforce balance requirement. Normally, the front wing detail and rear edge trim would be optimised for medium-to-reasonably high downforce setups.
Then there would be a small window of adjustment to trim the car's balance for those kinds of circuits. But if – and when – you head outside of that level of downforce for say Monaco (high downforce) or Monza (low downforce) then the normal adjustment would be the trim line on the trailing edge of the rearmost element of the front wing.
The major thing you have to be careful of is that the extra front wing detail required to achieve the required balance for Monaco does so without losing rear downforce. If this happens all you are really doing by adding the extra rear downforce is adding drag.