Ferrari has lodged a protest against Sergio Perez and Max Verstappen for touching the pit exit line after a Monaco Grand Prix pitstop.
Red Bull won the race with Perez and took third with Verstappen, while Ferrari's poleman Charles Leclerc fell to fourth amid poor strategic handling of the changing weather. Carlos Sainz took second in its other car.
A race control message said it was "noted" that Perez had touched the pit exit line in his pitstop to change to slicks, while onboard footage suggested Verstappen had also done the same.
No further action was taken, but Ferrari team principal Mattia Binotto said he intended to get clarification from the FIA over this.
Then during his post-race media briefing, Red Bull team boss Christian Horner was informed that Ferrari was protesting it.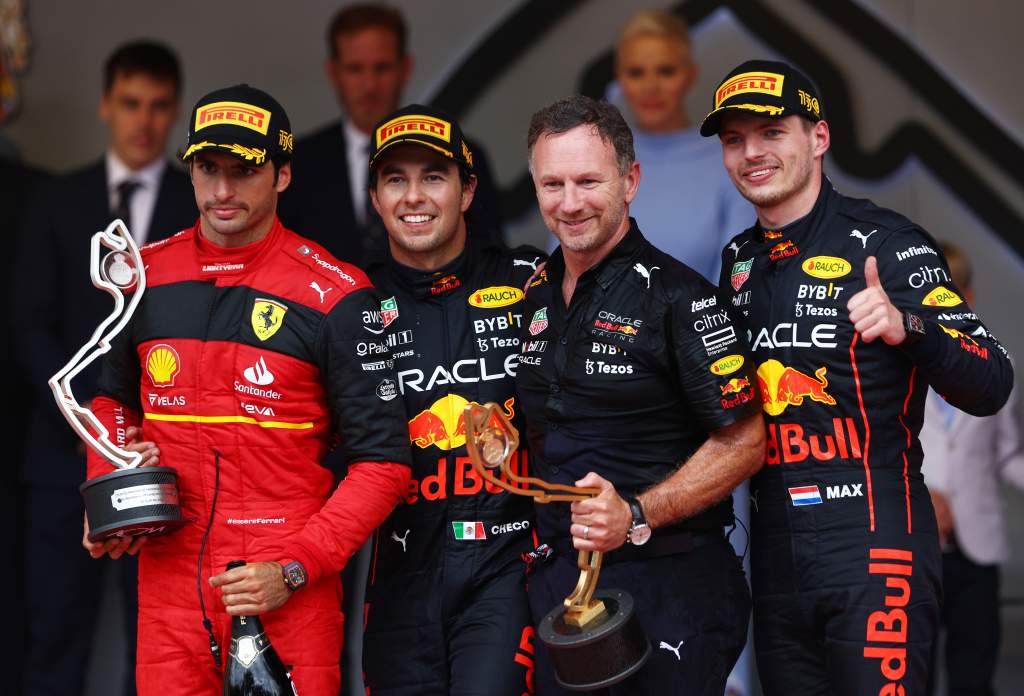 "Ferrari have made a protest against Max," Horner told assembled journalists including The Race, but added "all the footage we've seen we've been content with" and said there had been no communication with the FIA on the matter during the race.
The official FIA summons then revealed that Ferrari had actually protested both Perez and Verstappen.
Binotto said Ferrari's point was that while the actual regulations permitted what the Red Bulls had done, the race director's notes for the Monaco GP did not and they should take precedence.
Those notes state "drivers must keep to the right of the solid yellow line at the pit exit when leaving the pits and stay to the right of this line until it finishes after Turn 1 [Sainte Devote]".
"As Ferrari we are disappointed because we believe that there was a clear breach of the regulations by the two Red Bulls going on the yellow line exiting the pits," Binotto had earlier told Sky.
"I think it was not close, it was on the line.
"If you look at the regulations and the sporting code, the wording says crossing, but then we had a clarification in Turkey 2020 to avoid any discussions and you look at the race director's notes it indicates staying to the right.
"Being on the line is breaching the race director's notes and I think it is the duty of the cars to follow the race director's notes.
"So I think that is something that is clear and we are still seeking clarification from the FIA, and we are happy to have their feedback as soon as possible."
Verstappen admitted his pit exit had been on the limit as he tried to make sure he got out ahead of Leclerc.
"I needed it, otherwise he would have passed me," he said.
"My pit exit was probably the most fun I had in the race, trying to stay ahead. Summed up my race."